Earth River SUP 12-6 V-II Review
Inflatable Boarder is reader-supported and may earn a commission when you buy through links on our site. Learn more
The Earth River SUP 12-6 V-II is an extremely tough and stable touring board that's a great choice if you're looking for speed and the ability to paddle longer distances. Measuring 12'6″ x 32″ x 6″ and weighing in at 26 pounds, the ERS 12-6 V-II provides a nice blend of speed and stability and the V-II construction adds additional rigidity and durability when compared with the company's SKYLAKE line.
Founded in 2012, Maryland-based Earth River SUP is a company that is focused entirely on producing high-end inflatables. Behind the diverse range of Earth River SUP paddle boards is a world-class design team led by an MIT Engineering graduate, an ACA Level III Instructor, and a leading commercial designer.
The Earth River SUP line includes models designed for all types of paddling activities and conditions, and the company has a great reputation for standing behind the gear that they make. They also have a growing lineup of paddling accessories, including pumps, paddles, leashes, dry bags, and more.
In this comprehensive review of the ERS 12-6 V-II iSUP, we'll discuss this board's features, construction, specs, pros and cons, what's in the box, and the ERS warranty.
In a Hurry? Here's a Quick Summary…
Pros

Super durable


Excellent straight line tracking


Top-shelf build quality


Fast


Very stable


Glides well


Extremely rigid


Fun to paddle


Versatile triple fin setup (removable)


Raised foot bar at rear of traction pad


Nice kick tail


D-ring at nose is great for towing


Heavily-padded, removable neoprene carry handle cover


High-quality wheeled SUP backpack included


Rock solid 2-year warranty
Cons

No grab handles at nose/tail


Would like additional D-rings for more gear tie-down points


Paddle not included Buy it here and get a free paddle


SUP leash not included


Heavier than the ERS SKYLAKE line
Price & Where to Buy it
Earth River SUP 12-6 V-II Review: Board Overview
ARVE Error: src mismatch
url: https://www.youtube.com/watch?v=KKFnWCaeMao
src in: https://www.youtube-nocookie.com/embed/KKFnWCaeMao?feature=oembed&enablejsapi=1&origin=https://www.inflatableboarder.com
src gen: https://www.youtube-nocookie.com/embed/KKFnWCaeMaoActual comparison
url: https://www.youtube.com/watch?v=KKFnWCaeMao
src in: https://www.youtube-nocookie.com/embed/KKFnWCaeMao?enablejsapi=1&origin=https%3A%2F%2Fwww.inflatableboarder.com
src gen: https://www.youtube-nocookie.com/embed/KKFnWCaeMao

The Earth River SUP 12-6 V-II is an extremely well-made inflatable SUP that incorporates ERS' thermal fusion technology. All of the boards in the company's V-II lineup feature a second layer of super tough, military-grade fabric that is fused to the drop stitch core. This advanced manufacturing process increases the rigidity and overall durability of the V-II boards, but there's a slight trade-off — a few extra pounds of added weight.
While the 12-6 V-II is a bombproof board that provides rock solid rigidity when fully inflated to 15 PSI, it is heavier than the boards in ERS' SKYLAKE line. A few extra pounds is no big deal to many paddlers, but if you'd prefer a lighter version of this board with many of the same features, we'd recommend checking out the Earth River SUP 12-6 SKYLAKE model.
The top deck of the 12-6 V-II features a premium quality EVA foam traction pad with a diamond pattern. This deck pad provides outstanding grip, and the company has incorporated a raised foot bar and wedged kick tail at the rear of the pad. The raised foot bar makes it extremely easy to know where your feet are located on the board without having to look down, and the kick tail is extremely useful for performing pivot turns and other advanced maneuvers.
Mid-board is a carry handle which is covered by a removable neoprene cover. The neoprene cover features a velcro closure for quick and easy removal, and it really makes the board a lot more comfortable to carry around. The fact that the cover is removable is great as it gives you the option of also having a low-profile, lay flat handle — perfect for things like SUP fitness.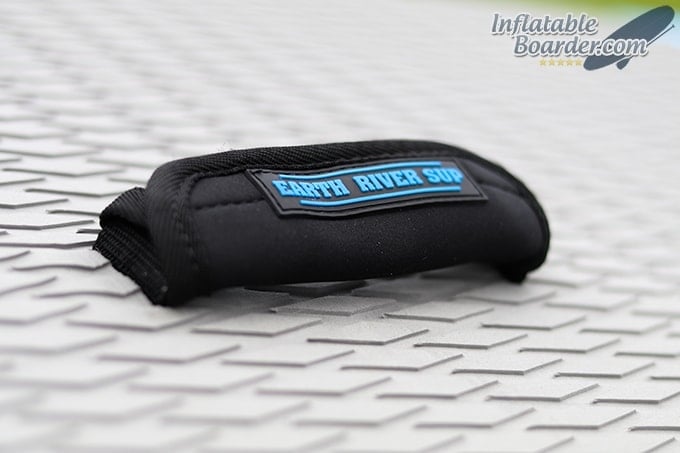 At the board's nose are four stainless steel D-rings and a bungee cord storage area for securing dry bags and other gear. There's also a heavily-reinforced D-ring at the tip of the nose for towing the board.
The tail of the 12-6 V-II features a Halkey Roberts-style air valve and a 6th D-ring for attaching a SUP leash…
On the underside of the board is a versatile tri-fin setup which includes two small side click fins and a large center fin. All three gummy fins are removable and unbreakable, and the large center fin is secured with a simple screw system that doesn't require tools.
Paddling Performance
The Earth River SUP 12-6 V-II performs great in the water and is incredibly fun to paddle. The shape, length, and triple fin configuration all contribute to the board's outstanding tracking ability, and it's a fast-paddling SUP that really moves in the water.
While longer boards are always a bit more challenging to maneuver, the raised kick tail really comes in handy when performing quick pivot turns…
Pumped up to 15 PSI, this board is extremely rigid and it feels almost as stiff as a traditional hard board. The 32″ width of the 12-6 V-II also gives it great stability, making it an excellent choice for paddling in choppy conditions.
Earth River SUP 12-6 V-II
Durability

Features

Versatility

Stability

Speed

Portability

Warranty

Customer Support

Price
Specs
| | | |
| --- | --- | --- |
| | Length | 12'6″ |
| | Width | 32″ |
| | Thickness | 6″ |
| | Weight | 26 pounds |
| | Max Capacity | 350 pounds |
| | Price | |
What's Included
In the box, you'll find Earth River SUP's premium-quality wheeled iSUP backpack, a dual-action pump with built-in pressure gauge, and an inflatable paddle board repair kit with a valve wrench, glue, and two PVC patches. ERS also includes a 2-year warranty which covers any and all manufacturing defects.
Earth River SUP's ultra-durable roller backpack is one of the finest we've ever reviewed. It's extremely well-constructed and made of top-shelf materials.
The bag features padded grab handles on the top and side, and there's a hard plastic handle on the bottom of the backpack which is really convenient whenever you're pulling the bag in and out of the car. On the back of the bag above the shoulder straps is a fourth grab handle that is made of nylon webbing.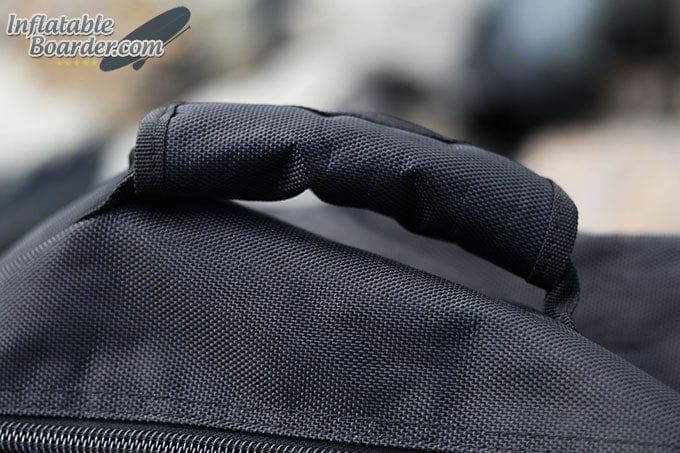 The Earth River SUP logo is nicely embroidered on the front of the backpack, and there's a large zippered storage compartment which is the perfect size for storing the included SUP pump and accessories.
Located at the bottom of the bag are two oversized roller wheels which really make this bag super easy to pull around. The large wheels have a deeply grooved traction pattern which is great if you're pulling the bag through grass, dirt, or sand.
On the rear of the bag are two padded backpack straps, a removable sternum strap, and a padded waist strap. The sternum strap and waist strap are fully adjustable and really help to secure the bag when it's on your back and fully loaded with gear.
In the future, we'd really love to see a SUP leash and paddle added to Earth River SUP's accessory bundle, but if you use the link and coupon code below, you'll get a special discount as well as a free 3-piece travel paddle.
Where to Buy it + 5% Discount Coupon Code
You can pick up Earth River SUP's 12-6 V-II touring board here. In addition to free shipping, a free 3-piece SUP paddle, and no tax (unless you're in Maryland), you can also use the coupon code BOARDER for a 5% discount (promo code doesn't apply to open box boards and closeouts).
Final Thoughts
The Earth River SUP 12-6 V-II is a super nice, high-end inflatable touring SUP that is built like a tank and provides enough stability even for beginners. The rock-hard rigidity and straight-as-an-arrow tracking performance make the 12-6 V-II a joy to paddle, and we love how fast this board is.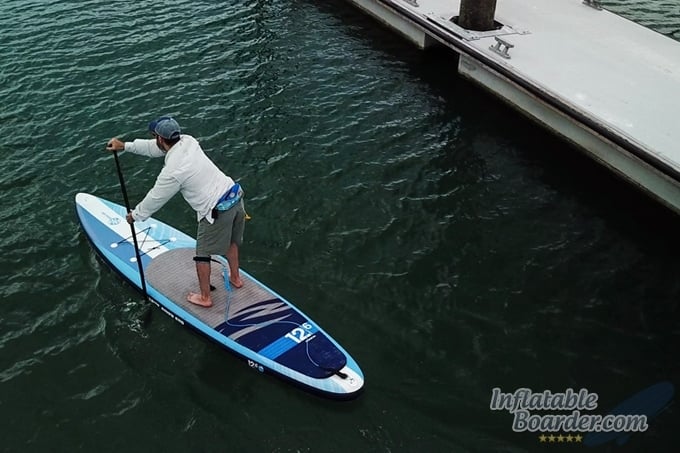 Having said that, there are some minor things that we'd change if given the chance. First of all, we'd love to see additional D-rings added for securing more gear — these are particularly useful and something that today's best touring SUPs include. Of course, not everyone is interested in overnight excursions and multi-day paddling adventures where you need to bring along tons of gear, but it would be nice to have the option.
While on the topic of D-rings, the bungee cord storage D-rings could also be moved closer to the board's rails to make the bungee storage area larger. This would give you added storage space and make it much easier to slip larger bags under the bungee cord.
We really like the towing D-ring at the nose, and incorporating a grab handle either there or at the tail would be another nice addition. This would make it easier to pull the board in and out of the water, and it would be especially helpful with this model given the board's larger size.
At the end of the day, if you're in the market for a fun inflatable touring SUP that performs extremely well and is backed by a solid warranty, the Earth River SUP 12-6 V-II is a fantastic choice. This is a board that's designed for serious use by a company that's super passionate about both the sport and the gear they make, and there's a reason why these boards are currently in use at several ultra-demanding SUP instructional schools.