A popular inflatable SUP board that was initially introduced last season, the BLACKFIN Model X has received a number of exciting new features and improvements this season…
iROCKER's best-selling lineup of inflatable paddle boards is well-known for their great build quality and affordable price points, and the recently launched BLACKFIN SUP line is geared towards paddlers who want a higher-end inflatable paddle board with premium features and accessories.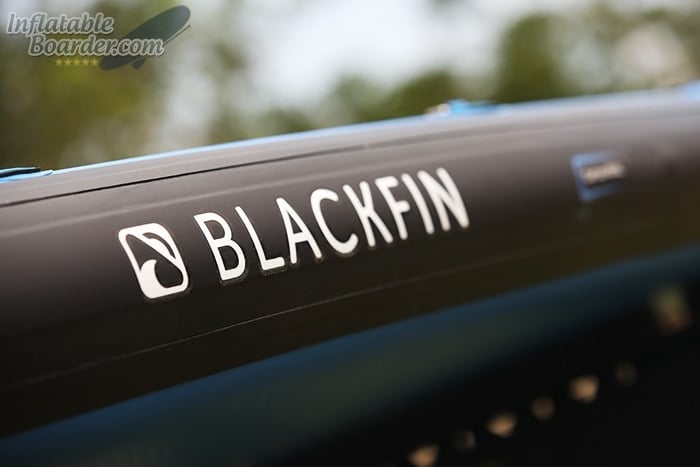 Founded by Dave Erwin and Steve Elder, Jacksonville-based iROCKER SUP has quickly become a well-known brand in the world of inflatable paddle boards. The company's growing iSUP line currently consists of 8 models ranging in size from 10′ to 13'6″ in length, and their new premium BLACKFIN SUP lineup includes the 10'6″ Model X (which we're covering in this review), the faster 11'6″ Model XL, and the brand new BLACKFIN Model V touring SUP.
We've recommended iROCKER paddle boards for quite some time due to their bombproof build quality, great features, generous warranty coverage, and affordable pricing. The BLACKFIN SUP boards offer the same great build quality and warranty, but they take things to a whole new level in terms of premium features and a massively upgraded accessory bundle.
In this updated 2019 BLACKFIN Model X review, we'll take an in-depth look at all of the features that make this board unique, the new lighter weight construction and overall build quality, paddling performance, what's included, pros and cons, where to buy it, and how you can save some money to get the very best deal. We'll also tell you about some optional accessories that are worth considering and for those who prefer video, we've included several on this page including our in-depth review, setup, and unboxing videos.
In a Hurry? Here's a Quick Summary…
Pros
New lighter weight construction
Bombproof durability
Very rigid
Extreme stability
Tracks well in the water
Versatile
Attractive design
Blue bottom hides dirt and grime better than previous version
Carbon rail
New action mount for GoPro camera and other accessories
Convenient toolless fin system
Removable tri-fin setup for easier packing, racking, and storage
Grab handles at nose and tail
Dual bungee storage areas
D-ring for towing
Additional D-rings for attaching a kayak seat or shoulder strap
Safety handles at nose and tail for kids (removable for 2019)
High-quality, Blackfin branded traction pad
Carbon fiber shaft paddle
New Full Throttle dual-chamber triple action SUP pump
Enlarged wheeled roller backpack
Two color options this year (Blue, Teal)
2-year warranty
30-day money back guarantee
Great customer support
Cons
Carrying handle's neoprene cover isn't removable
GoPro camera mount needs thicker washer
Price & Where to Buy it
Add a header to begin generating the table of contents
BLACKFIN Model X Review: SUP Overview
Subscribe to our YouTube Channel!
Measuring 10'6″ x 35″ x 6″ and weighing in at only 25 pounds this year, the 2019 BLACKFIN Model X is an incredibly stable board that's tough enough to handle anything and everything you can throw at it. From the minute you pick the Model X up, you can tell that this board was designed to withstand serious abuse.
As far as the board's aesthetics go, iROCKER once again did a fantastic job on the overall design this year. From the colors and design elements to the BLACKFIN SUP branding, everything is tastefully done. While this is obviously quite subjective, the overall design of iROCKER's BLACKFIN Model X is one of the nicest we've seen when it comes to inflatable SUPs.
(*Drag slider below to compare the 2018 and 2019 Model X)
Features
The top deck of the BLACKFIN 10'6″ Model X features a top-shelf traction pad — a multi-color EVA deck pad that is neatly embossed with the BLACKFIN logo. The traction pattern on this pad is unbelievably comfortable and much easier on the hands and feet than the style that you typically see on all-around boards, making the Model X a fantastic option for yoga/SUP fitness enthusiasts.
(*Hover over hotspots for additional details)
Large front bungee area for securing dry bags, backpacks, Crocs, and other gear.
1 of 11
Rear bungee area for additional storage — perfect for those times when there's a passenger or pup at the nose.
2 of 11
Convenient center carrying handle makes it easy to carry the Model X around when inflated.
3 of 11
Grab handle at tail is ideal for pulling the board in and out of the water as it elevates the fins, preventing damage.
4 of 11
Front grab makes it easier to handle the board on the beach and in the water.
5 of 11
New action mount at nose makes it easy to secure a GoPro camera, fishing rod holder, waterproof speaker, and other accessories.
6 of 11
Removable kids' safety handles give children a safe and secure place to hold onto when riding at the nose of the board.
7 of 11
New removable kids' safety handles at tail gives children a spot at the rear of the board to ride along.
8 of 11
D-rings along board's rails for attaching the optional kayak seat kit, shoulder carrying strap, or tying down additional gear.
9 of 11
Reinforced carbon fiber rails for additional rigidity and toughness.
10 of 11
Premium EVA traction pad provides excellent grip and outstanding comfort.
11 of 11
At the center of the traction pad is a high-quality carrying handle that's covered by a BLACKFIN-branded neoprene cover. While the handle's neoprene cover isn't removable, it does have a fairly low profile which we like…
Located along the sides of the traction pad are six stainless steel D-rings for attaching the optional BLACKFIN kayak seat or shoulder carrying strap (more on that below). iROCKER added two more D-rings to the rails this year which is great as they can also be used as additional gear tie-down points for a SUP cooler, camping gear, etc.
At the nose are six more D-rings and an enlarged bungee cord storage area for securing a dry bag, your camping or fishing gear, and more. Just as they've done on the iROCKER ALL-AROUND 10′, ALL-AROUND 11′, 10'6″ CRUISER, and the rest of the BLACKFIN SUP line, the company has incorporated two neoprene safety grips into the bungee storage area which gives children a great place to hold onto while sitting on the nose of the board. These handles are even removable this year which is a nice touch.
Also located at the nose is a heavy-duty grab handle which really comes in handy whenever you're pulling the board in and out of the water. The handle has a very comfortable neoprene cover sewn in. There's also a new Action Mount which is super handy for attaching your GoPro camera, fishing rod holder, waterproof speaker, and other accessories.
At the tail of the BLACKFIN Model X are four more stainless steel D-rings and a second bungee cord storage area — the board's dual bungee cord storage areas really give you a lot of options when it comes to carrying additional gear. It's also great for those times when there's a passenger or pup riding at the nose and you need to secure a bag or other gear.
Another great new feature for 2019 is the integration of kids' safety handles into the rear bungee storage area. Now, children can ride along at the nose or tail of the board and just like the front set, these are also removable.
There's also another neoprene covered grab handle that's branded with the Model X logo as well as a high-quality Halkey-Roberts style inflation valve. This rear grab handle is ideal for pulling the Model X in and out of the water as it elevates the fins, preventing damage caused by rocky beaches and other hard objects.
The bottom of the Model X features the handsome BLACKFIN logo across the middle of the board and there's a D-ring strategically located on the underside of the nose for towing or tethering. We really like the fact that the company has gone with a solid blue bottom this year as it hides dirt and grime a lot better than the 2018 model's predominately white underside.
The Model X once again comes with a versatile tri-fin setup, but this season iROCKER transitioned to a removable triple fin configuration which allows for easier packing, racking, and storage. The two smaller side fins feature a simple but secure lever lock system while the large center fin features a top-shelf U.S. fin box for added versatility.
Construction
iROCKER made the decision this year to move their BLACKFIN lineup over to a lighter weight composite PVC construction. One of our only complaints about the BLACKFIN SUPs last year was the fact that they were a bit on the heavy side — we're happy to report that this season, iROCKER managed to reduce the overall weight of the Model X from 29 to 25 pounds (despite adding more features such as additional grab handles, D-rings, and an accessory mount).
Replacing the previous quad-layer build is a new triple layer composite construction that is dramatically lighter without sacrificing durability or stiffness. The BLACKFIN SUPs are still bombproof boards and they once again feature a carbon fiber rail for additional rigidity and toughness. When pumped up to the recommended inflation pressure of 14-18 PSI, the BLACKFIN Model X is super stiff and feels very similar to a hard board.
Lastly, all of the hardware on this inflatable SUP is top notch and the fit and finish are exactly what you'd expect from a premium board.
Paddling Performance
As you might expect, the BLACKFIN Model X isn't the fastest board on the water, but it moves surprisingly well for a board that's 35″ wide. The board doesn't feel sluggish at all, and tracking is also quite good.
The stability department is really where the Model X shines, however. The widest board in the company's lineup and even more stable than the popular iROCKER CRUISER, the BLACKFIN Model X feels rock-solid under the feet and really inspires confidence — even when it comes to first-time paddlers.
The BLACKFIN Model X is also an extremely versatile board. Perfect for beginners and advanced paddlers alike, this board is perfect for paddling with children or a dog and it can handle everything from flatwater cruising to challenging whitewater conditions. The Model X is also a great choice for fishing and yoga/SUP fitness workouts.
Setup Video
Subscribe to our YouTube Channel!
Likes and Dislikes
One of our top recommendations last season, the Model X has only gotten better for 2019. This board packs on even more value this season with all of the added features and the dramatically reduced weight.
We really love the front and rear kids' handles and our children love the fact that they can both ride along at the same time. The fact that the handles are now removable is also great for paddlers who don't find them useful.
The Model X's new Action Mount is also a fantastic addition. In addition to capturing amazing GoPro footage of your paddling adventures, you can also use it for a variety of other fun accessories including a waterproof speaker or fishing rod holder.
Another nice change this year was the transition to three removable fins. Being able to completely remove all of the fins allows you to roll the board up into a more compact form for easier packing and if you happen to use a roof rack, the new boards are much easier to stack.
Lastly, we really like the fact that iROCKER made a second color option available this season. Both the Teal and Blue colors look amazing and we hope that they eventually do the same with the Model XL.
As far as downsides go, it's honestly pretty difficult to find fault with this board. Really the only two things that we'd change on the 2019 Model X is making the neoprene carrying handle cover removable and increasing the size of the rubber washer that comes with the GoPro mount (something the company has already said they're going to do). Other than these two very minor gripes, there's honestly nothing we'd change about this board — it's fantastic as-is.

BLACKFIN 10'6" Model X Rating
Durability

Features

Versatility

Stability

Speed

Portability

Warranty

Customer Support

Price
Specs
| | |
| --- | --- |
| Length | 10'6″ |
| Width | 35″ |
| Thickness | 6″ |
| Weight | 25 pounds |
| Max Capacity | 450 pounds |
| Price | |
What's Included
When it comes to high-end inflatable paddle boards, people expect to receive a premium-quality SUP accessory bundle — iROCKER does not disappoint with their bundle of BLACKFIN SUP accessories.
The company includes a premium wheeled roller backpack (enlarged for 2019), upgraded carbon fiber shaft paddle, new Full Throttle dual-chamber triple action SUP pump, coiled leash, repair kit, and BLACKFIN sticker pack…
Unboxing Video
Subscribe to our YouTube Channel!
Backpack
A huge upgrade over iROCKER's standard iSUP backpack, the BLACKFIN wheeled roller backpack is an extremely sturdy bag that's very well designed. One of the only complaints we heard about this bag since its launch last year was that it was a bit on the small size and we're happy to report that the company has enlarged the bag for 2019 — it's nice and roomy, offering plenty of room for the board and accessories.
On the front of the bag is a large zippered storage compartment that is big enough to accommodate the included dual-chamber SUP pump. The front of the bag also features a see-through luggage ID window, compression straps, and a heavy-duty grab handle located at the top.
There are additional grab handles and compression straps located on both sides of the bag, and the bottom of the bag features a fourth grab handle that is made out of durable plastic. All of these handles are really helpful whenever you're pulling the board in and out of your car.
The wheels that iROCKER incorporated into the bottom of the backpack are oversized and feature deeply grooved traction which comes in handy when pulling the bag through sand, grass, etc. Also, the company strategically positioned the wheels on the front of the bag which prevents them from digging into your back when the bag is on your shoulders. Additionally, this design keeps the bag's straps from dragging on the ground when you're rolling the bag around.
On the back of the bag are two nicely padded backpack straps. The comfortable straps are fully adjustable and feature plastic D-rings for attaching gadgets and other small accessories which clips and carabiners.
The back of the bag is also cushioned, and there's an adjustable sternum strap and a padded waist belt for stabilizing the bag when it's on your shoulders.
Paddle
The BLACKFIN carbon fiber SUP paddle is essentially an upgraded version of iROCKER's standard fiberglass paddle. Featuring the same blade and reliable 3-piece design, the BLACKFIN paddle comes with a shaft that's made out of lightweight carbon fiber. The shaft has a very nice matte finish to it and it's neatly branded with the BLACKFIN logo…
The edge of the blade is protected by a tough rubberized coating which keeps it from being damaged by rocks and other hard objects. Also, iROCKER has extended the length of this new paddle to 86 inches which makes it a better choice for taller paddlers.
Full Throttle Pump
iROCKER included a dual-chamber pump with the BLACKFIN Model X last season and this year they've raised the bar once again with a new-and-improved version of that pump. For 2019, the Model X ships with the company's upgraded Full Throttle pump which is even faster and easier to use than last year's version.
Featuring a highly-efficient dual-chamber design, the Full Throttle Pump has three modes. Inflating the Model X with this new pump is really easy — just start inflating the board with the pump in setting #1, and as the pumping gets increasingly difficult, bump the setting to #2 and then ultimately to #3 to finish the inflation process.
This top-shelf iSUP pump also comes with a convenient built-in pressure gauge that's integrated into the handle.
Leash
Also included with the BLACKFIN Model X is a 10′ coiled SUP leash. Branded with the BLACKFIN logo on the ankle cuff, this comfortable leash features dual stainless steel swivels to eliminate tangles and a hidden velcro storage pouch for stashing your keys.
Repair Kit
Last but not least, the Model X comes with a BLACKFIN sticker pack and an inflatable SUP repair kit. Included in the repair kit is a valve wrench, three PVC patches, and replacement lever locks for the fins.
Optional Add-ons
In addition to the impressive new range of BLACKFIN inflatable SUPs, iROCKER has also introduced a nice selection of BLACKFIN accessories that are available as optional upgrades. While not essential, they're nice add-ons to consider and will definitely increase the overall enjoyment that you get from the board.
Kayak Seat
An accessory that gives the Model X even more versatility is the BLACKFIN Kayak Seat Bundle. This easy to use kit includes a foldable kayak seat, mounting straps, matching carbon fiber kayak blade attachment, and zippered storage pouch.
To install the kayak seat, simply attach the metal hooks to the four D-rings located along the rails of the Model X. The included mounting straps are fully adjustable and it's easy to shorten or lengthen them for the perfect fit.
To assemble the kayak blade attachment, just remove the uppermost shaft section from your BLACKFIN paddle and slide the kayak blade into place. Then, simply line up the pins with the holes and close the lock mechanism.
Last but not least, the included storage pouch conveniently clips onto the back of the seat and can be easily removed whenever you want to take it with you.
Insulated Cooler Bag
Another great accessory that was initially introduced last season is the BLACKFIN SUP Deck Cooler Bag. This fully insulated cooler bag has a convenient lunchbox design that is easy to carry around when it's not strapped to your board.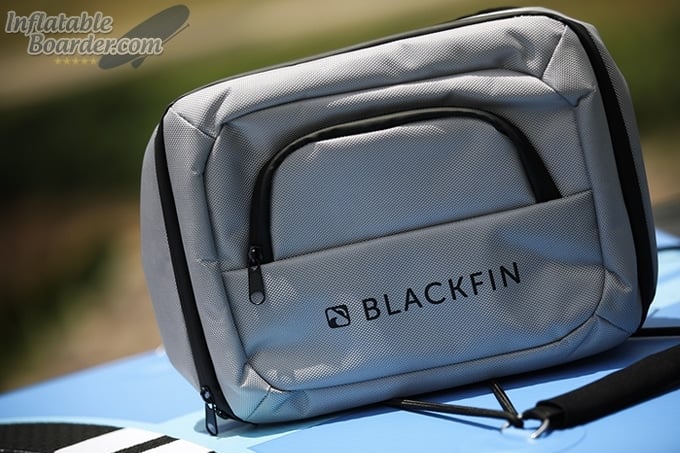 On the front exterior of the bag is a zippered storage pocket for stashing small accessories, and there's a handy carrying handle on the top as well as an elastic bungee cord on the back. There are plastic hooks attached to the bungee cord which can be quickly clipped to the Model X's D-rings, but our preference is to simply slip the bag under one of the board's bungee storage areas.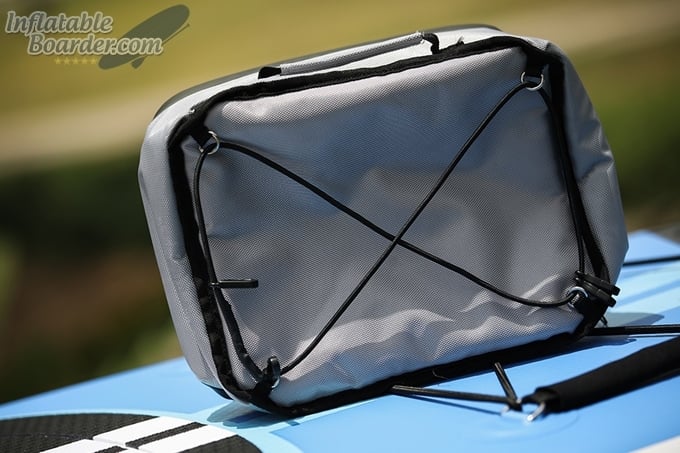 The inside of the bag features an insulated liner that does a good job of keeping drinks and snacks cold while you're out on the water.
Weighing in at only 15.2 ounces, the BLACKFIN SUP Cooler is an incredibly lightweight and versatile bag that is perfect for keeping things cool during a paddle, road trip, or day at the beach.
Shoulder Carrying Strap
Another popular add-on accessory is the BLACKFIN Shoulder Carrying Strap. A much more convenient way to carry your board to the water and back, this handy strap is fully adjustable and features a grippy rubber lining on the underside of the strap pad. there are also four plastic D-rings attached to the top of the strap for securing small accessories.
Each end of the strap quickly attaches to one of the D-rings along the board's rail, and once the board is over your shoulder, it'll give you an additional free hand for carrying extra gear.
iROCKER Electric Paddle Board Pump
A brand new addition to iROCKER's accessory line for 2019 is this new electric iSUP pump. While the included double-chamber Full Throttle Pump does a great job of inflating the Model X, there's nothing better than the hands-free convenience offered by an electric paddle board pump.
Lightweight and fairly compact in design, iROCKER's pump plugs directly into your vehicle's cigarette lighter adapter and will automatically inflate the Model X in approximately 12 minutes. There's an auto-shutoff safety feature to prevent over inflation and the pump also includes a handy set of alligator clips that you can connect directly to your car battery.
BLACKFIN Waterproof Bluetooth Speaker (by Speaqua)
Another great new accessory added to iROCKER's range for 2019 is the BLACKFIN Waterproof Bluetooth Speaker. Available in two colors, this tough speaker is 100% waterproof, submersible, sand/dust proof, and even floats.
This versatile speaker features a removable suction cup and there's even a threaded insert that allows it to be securely screwed onto the new Action Mount at the Model X's nose…
This little speaker produces a surprisingly rich sound and is incredibly fun to bring along on the water. In addition to being able to use it with your phone, the speaker also has 4GB of built-in memory that can store up to 1,000 songs — perfect for those times when you don't want to bring your phone along.
The rechargeable battery provides up to 5 hours of tunes and there's a speakerphone/microphone with caller-ID function. Last but not least, the speaker supports dual-pairing which means that you and a friend can wirelessly connect and sync your speakers together while out on the water.
Action Mount
If you've got a board without an action mount or just want the ability to secure more than one accessory to your BLACKFIN Model X, iROCKER now sells add-on action mounts that you can quickly and easily attach to the deck of your board.
Waterproof Phone Case
Also available this season from iROCKER is a waterproof cell phone case. Capable of holding phones up to 6.5″ x 3.5″ in size, this case includes a convenient lanyard and many smaller phones even float if you blow air into it before sealing it up.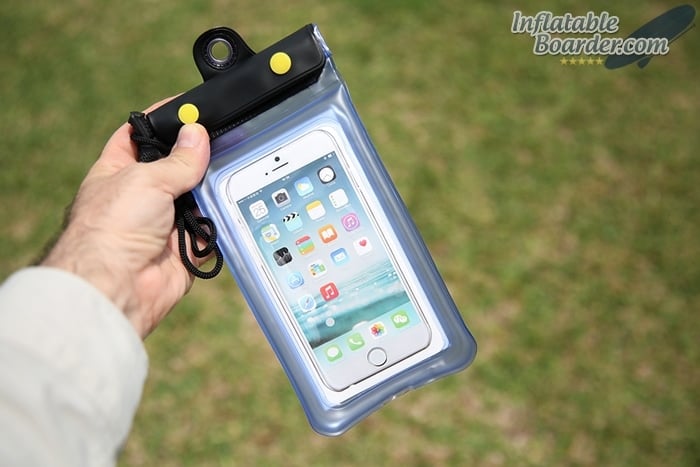 Cell Phone Holder
An accessory that goes great with iROCKER's waterproof phone case is the new cell phone holder. This quickly screws on to the Model X's action mount and keeps your phone accessible at all times while you're paddling.
Fishing Rod Holder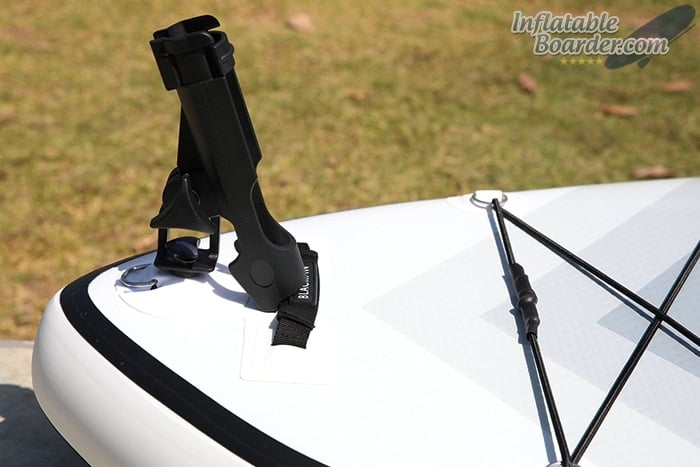 A brand new accessory for 2019, iROCKER's fishing rod holder quickly attaches to the Model X's Action Mount, giving anglers a convenient and secure spot to place their rod when they're out on the water.
Warranty
The entire BLACKFIN SUP line is covered by iROCKER's same rock-solid 2-year warranty which covers any and all manufacturer defects. Additionally, the company offers a generous risk-free 30-day money back guarantee for added peace of mind.
Where to Buy it
You can order the brand new BLACKFIN Model X at iROCKER's official online store. In addition to offering fast, free shipping and super low prices, iROCKER doesn't charge sales tax on orders unless it's required by your state.
If you don't live in the U.S., you can still order the BLACKFIN Model X and any of iROCKER's other paddle boards through the following links: Canada, UK/EU, and Germany
*SPECIAL LIMITED TIME OFFER
iROCKER is offering a really nice promo on combo purchases at the moment — just add any two regular iROCKER or BLACKFIN boards to your cart and you will automatically see a discount applied when checking out (no iROCKER coupon code or promo code is needed).
Is the BLACKFIN Model X a good board for paddling with kids and dogs?
Absolutely — in fact, this model is one of our favorites this season for parents and pet owners. For children, the safety handles that have been integrated into the nose's bungee storage area are very helpful and the extreme stability of this board will help your children to feel safe and confident on the water. As far as pups go, the outer PVC layer is practically indestructible so you don't have to worry about damage from your dog's nails. Additionally, there is ample room at the nose for your pooch to comfortably sit or stand.
Is the BLACKFIN Model X worth it?
iROCKER's premium BLACKFIN range offers a tremendous amount of value and is a better choice than many boards costing nearly twice as much. The BLACKFIN Model X comes loaded with upgraded features, top-shelf accessories, and a 2-year warranty for added peace of mind.
iROCKER vs. BLACKFIN — which is better?
We highly recommend both lines, but in terms of which one is best, this depends entirely on you. The regular iROCKER lineup is a bit more affordable and doesn't include the premium features or upgraded accessories of the BLACKFIN SUP line. Also, both BLACKFIN boards include a carbon rail which adds even more durability and stiffness. Bottom line — if you can afford the slightly higher price tag and prefer extreme stability and premium upgrades, we'd recommend the BLACKFIN boards. If you're working with a tighter budget and just want a stable, well-built board without the added bells and whistles, go with one of the regular iROCKER models.
Can I fly with the Model X?
Yes, both BLACKFIN boards are great options for airplane travel as they can be conveniently checked with the rest of your luggage. Just pack the board up in the included backpack and bring it along with you on all of your vacation adventures — you won't have to spend money anymore on SUP rental fees. Also, since the Model X is such a versatile all-around board, it can be used on lakes, bays, rivers, and oceans anywhere in the world.
What type of care and maintenance is required for the BLACKFIN Model X?
Honestly, not much! First of all, it's always a good idea to give your board a quick rinse after paddling (especially if you've been paddling in saltwater conditions). Secondly, don't leave your board sitting out in the hot sun for extended periods of time as the heat will cause the air in your board to expand and potentially damage it by blowing a seam. This is obviously not an issue when you're paddling as the water keeps the board nice and cool. Additionally, the sun's ultraviolet radiation can deteriorate materials over time, so a little 303 Aerospace Protectant from time to time will provide added protection and prevent UV damage. 303 Aerospace Protectant won't damage PVC, rubber, or plastics, and it's safe to use on the Model X — just don't apply it to the traction pad though as things can get a little slippery. Last but not least, if your board begins to look dirty, you can give it a quick wash with some mild soap and water.
Can the BLACKFIN Model X be used without the center fin?
Yes, you can use the board with just the two fixed side fins in shallow water or whenever tracking performance is not essential. Additionally, the BLACKFIN Model X features an upgraded U.S. fin box which gives you the ability to experiment with different center fin setups.
How long does it take to fully inflate the BLACKFIN Model X with the included pump?
Inflation time varies depending on how quickly you pump, but it typically takes 5-10 minutes to pump the board up to 15 PSI.
Is the Model X be used for tandem paddling?
The BLACKFIN Model X was not designed for tandem paddling, but it's certainly capable of supporting two adult paddlers. If you're interested in doing some leisurely flatwater paddling it'll work just fine, but for serious tandem paddling, we'd recommend a board that's been specifically designed with that in mind.
Does the BLACKFIN Model X work well for SUP fishing?
While not specifically designed with SUP fishing in mind, the BLACKFIN Model X is a great board for anglers who are interested in extremely stability, durability, and versatility. The dual bungee storage areas and multiple D-rings provide plenty of places to secure fishing gear and a SUP cooler, and this is a board that you'll be able to use for a variety of other purposes when you're not out catching fish.
Can I buy a BLACKFIN Model X SUP in stores, or only online?
At this time, the BLACKFIN line is only available for purchase on iROCKER's website — you won't find them on Amazon or in stores. By bypassing the normal retail channels and selling direct to the consumer, iROCKER is able to sell their boards at much cheaper price points than their competition.
Is the BLACKFIN Model X a good inflatable paddle board for beginners?
Both BLACKFIN paddle boards offer outstanding stability and are ideal for SUP beginners. First-time paddlers will have absolutely no trouble standing up on the Model X thanks to the board's 35" width, and this board is a great option for confidence building with beginner paddlers. We highly recommend this board for paddlers of all skill levels.
Where is the BLACKFIN Model X made?
All iROCKER inflatable SUPs are designed in Jacksonville, FL and manufactured at one of the top iSUP factories in China.
I want to know how to install the BLACKFIN kayak seat kit - is it difficult to do?
Attaching the BLACKFIN SUP seat to the top of the Model X is a simple job that only takes a minute to do. After setting the seat on the top deck of the board, just clip the straps to the D-rings along the rails and adjust to your desired length.
Final Thoughts
We're really excited about all of the new changes that have been made to the 2019 BLACKFIN Model X — as good as this board was when it was originally introduced last season, things have only gotten better. This board is absolutely loaded with great features and we really love the stunning design and fine attention to detail.
Bottom line: If you're looking for a beautiful inflatable SUP that's affordable and comes loaded with premium features and accessories, the bombproof BLACKFIN Model X should be at the top of your list. The Model X is an extremely stable board that offers amazing versatility and it's a SUP that's been designed for serious use.