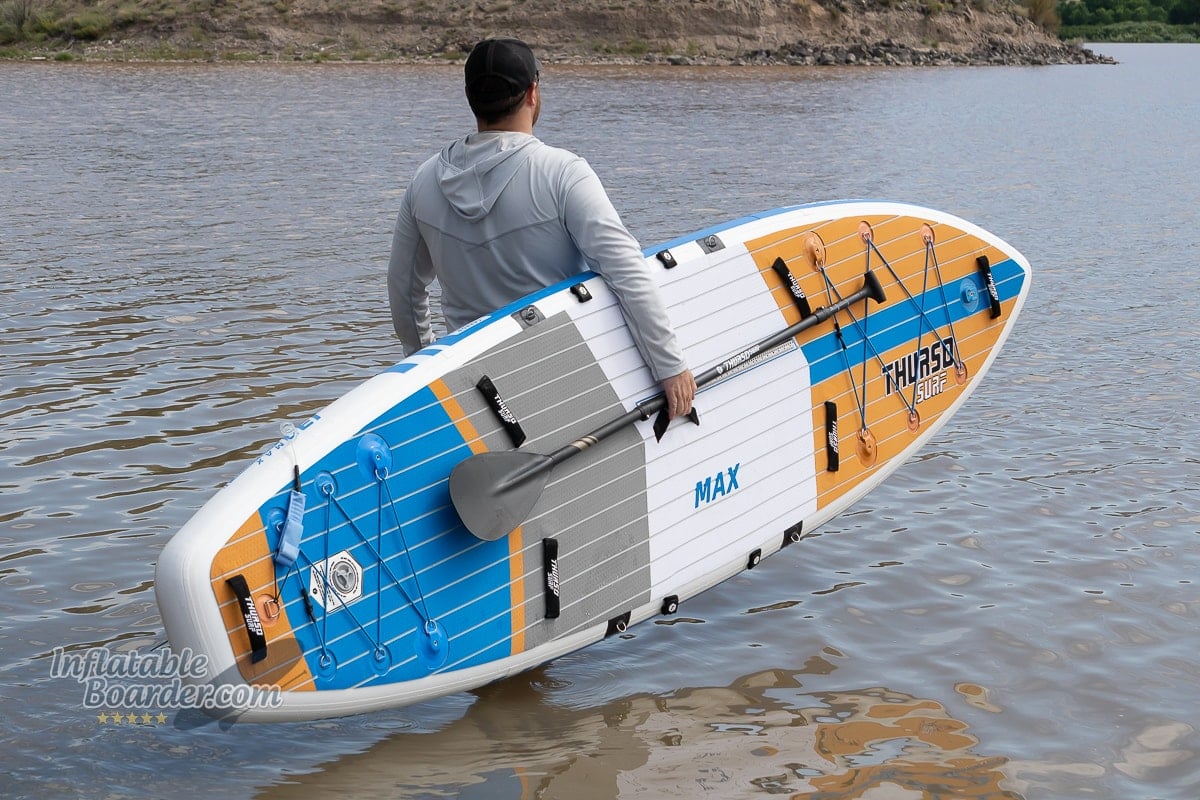 Thurso Surf Max iSUP: Overview
The Thurso Surf Max Multi-purpose paddleboard is a large, stable paddleboard great for fishing, cruising, paddling with a passenger, or just about anything else. The Max can be inflated to up to 20psi for maximum stiffness and stability and features a full-length deck pad for comfort and grip everywhere on the board.
— Thurso Surf Max Summary Ratings and Review —
THURSO SURF Max Multi-Purpose iSUP
Construction & Durability

Features & Versatility

Stability

Speed

Maneuverability

Tracking
Overall Score
The Thurso Surf Max Multi-Purpose is a wide all-around iSUP that's great for fishing, passengers, beginners, and much more.
Pros
Very stable size and shape
Advanced materials throughout the board increase stiffness
High maximum pressure for best performance
Excellent paddle included
Multiple cargo areas, tie down points and paddle holders
US fin box (center) and FCS side fin boxes for versatility
Great accessories
2 year warranty
Cons
The passenger handles are fixed in place, it would be nice if they could be removed if not needed.
There are many threaded accessory mounts, but no mounts for fishing racks or other Scotty-style accessories.
Construction and Durability
The Thurso Surf Max Multi-purpose paddleboard (do you mind if I just call it the Max?) is built for stability and durability. The dual PVC layers and carbon fiber rails add great stiffness, but also add weight.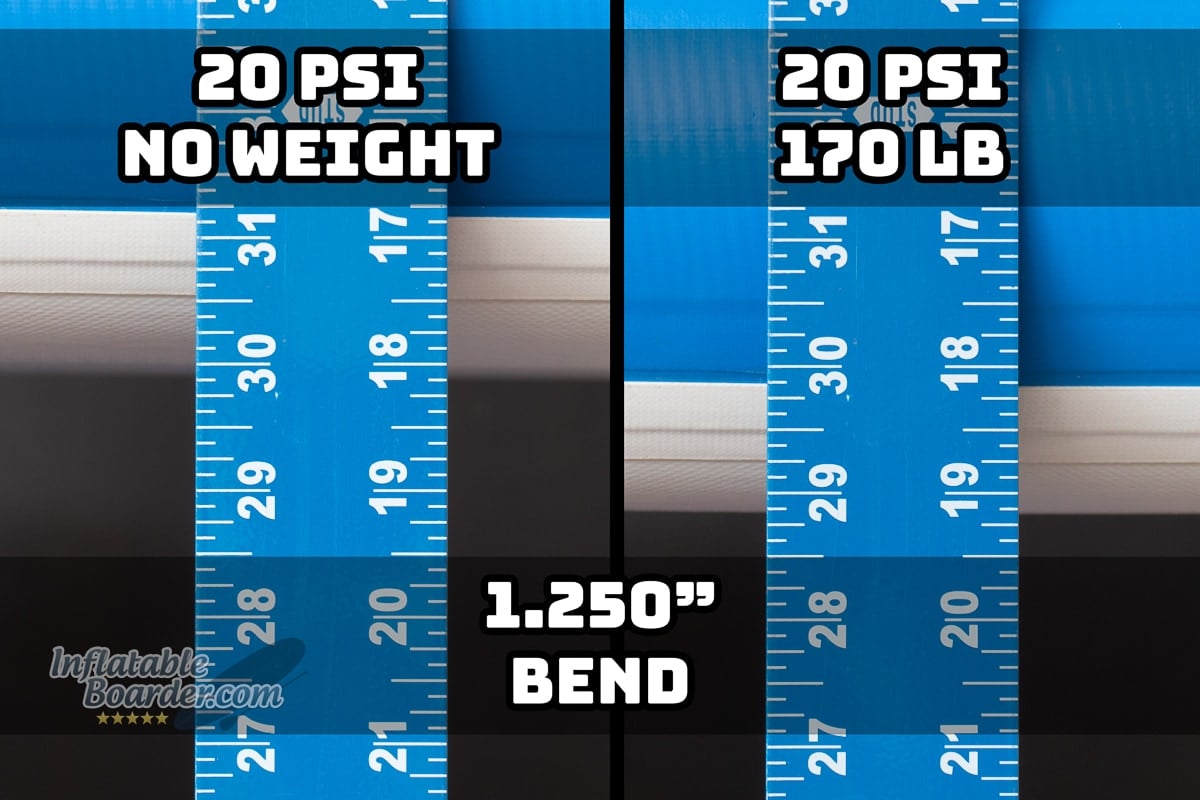 The Max uses a woven drop stitch construction, dual layer PVC shell and carbon fiber reinforced rails to create a paddleboard that is incredibly stiff at the recommended 15psi, but for those wanting an even tighter ride or to accommodate a larger payload, can be inflated to 20psi. The 2022 Max has shed a few pounds from its previous versions (now 31lb vs 33lb) but is still on the heavy side.
I did notice the extra weight, but only when carrying the Max side-by-side with other boards of the same size (but lighter construction). I did not notice the extra weight when paddling the Max, however it was a little sluggish in our speed testing.
One of the benefits of this heavy-duty construction is its stiffness. The Max feels great on the water at just 15psi, and even better at 20psi. There's very little flex and vibration when bouncing on it, and none noticed while paddling.
The Max also uses a full-size US fin box for the center fin and standard two-tab/click-fin boxes for the side bites (with optional, but recommended, grub screws).
The carbon fiber reinforced rails help increase the stiffness of the board and also protect it from abrasion and punctures. The full-length deck pad also helps protect the deck of the board from punctures from fishing equipment, dogs, anchors, or anything else you may bring along with you.
I've got no doubt that the Max will last for many, many years if treated well. Like all iSUPs, avoid dragging it on the ground, bumping into sharp objects, leaving it fully inflated in the sun, and putting it away wet in order to maximize the board's lifespan.
Specifications
Dimensions
Length
11'6"
Width
34"
Thickness
6"
Weight
Max Capacity
300 pounds
Board Weight
31 pounds
Kit Weight
(SUP & accessories)
pounds
Buying Info
List Price
$949
Warranty
2 years
Returns period
30 days
Features, Accessories and Versatility
The Max is decked out for pretty much all of your paddling needs. It's built with fishing in mind, but can easily accommodate passengers or pets, camping gear, or be used for some yoga or relaxation thanks to the full-length deck pad.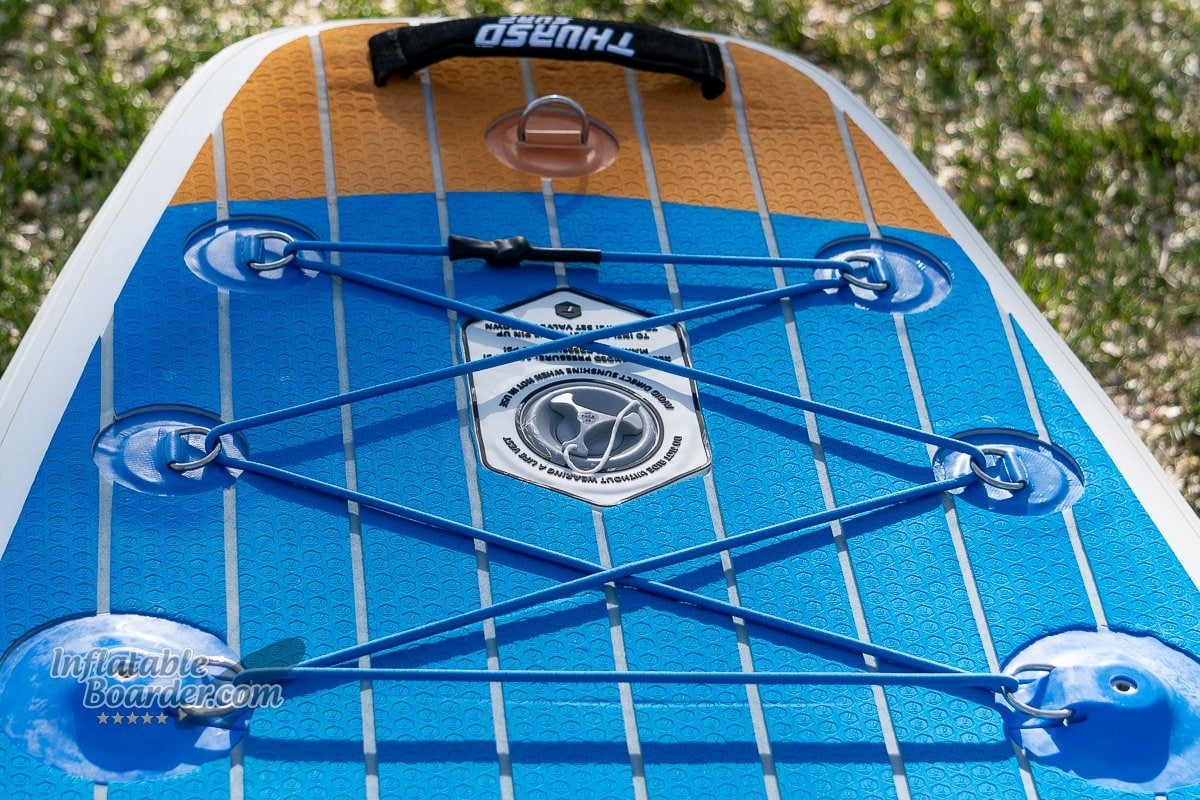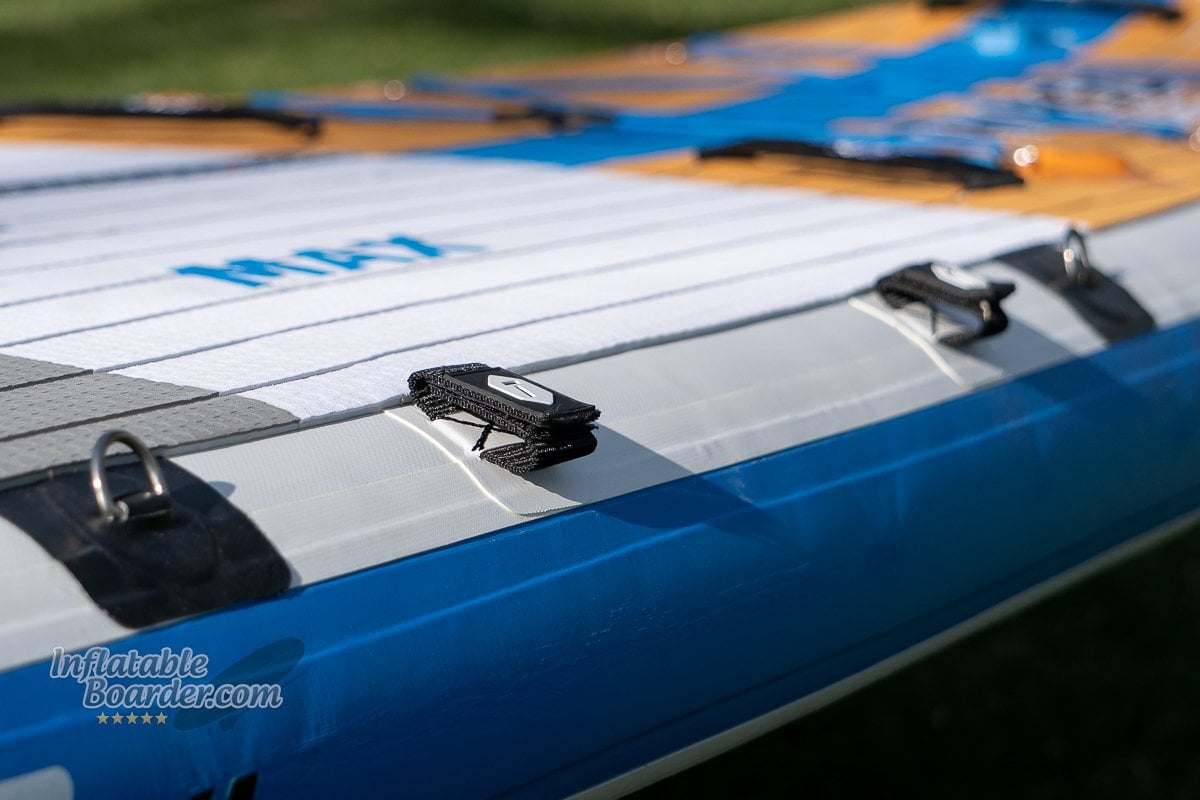 The Max is feature-packed from nose to tail. There is a GoPro-ready action mount (that also features a threaded insert) and carry handle at the nose of the board, and a large, 6 D-ring, cargo area on the front of the board with integrated threaded action mounts. Just behind that you'll find the first set of grab handles. These handles are great for passengers, but also make convenient points for carrying the board and to hold on (and help get back on) if you find yourself in rough waters.
Along each side of the Max are kayak seat-compatible D-rings and a set of velcro paddle holders.
Built into the full-length deck pad is a 27" (70cm) ruler so you can't cheat your friends in a fishing competition (not that you'll need to). It also helps make sure that your catch is within the legal limit.
Behind the standing area we've got another set of grab handles. These handles I'm not so much a fan of because they are not removable and they do stick up from the deck. To me, these handles create more of a trip hazard and are less of a utilitarian feature. Most paddlers will put a passenger in front of them to better balance the board where there is more volume, so these handles would really only come in handy if paddling with two passengers. While doable, the Max is not really the right board for a party. Replacing these handles with either additional threaded action mounts or Scotty mounts for a fishing rack would be a more useful feature to most paddlers looking at the Max.
At the tail of the board there's another 6 D-ring cargo bungee (though in a smaller layout), the inflation valve, leash D-ring and carry handle. Under all of these goodies is a full-length, grooved and embossed deck pad. The full length pad adds lots of useful space to the board, especially if you are paddling with a passenger or dog.
Under the board, the Max has a 2+1 fin setup with a full-size US fin box for the center fin and two-tab/click-fin style side fin boxes. This is possibly the most versatile option for fins a board can have on a non-surf-specific SUP. These fin boxes are compatible with thousands of different fins for different purposes. Thurso Surf includes a "flex fin" shape center fin and two matching side bites with their kit. The center fin comes with a pressure-fit system so there is no need for tools or bolts to install the fin. Just press it in, and pull it out. The side fins are both click-fins, so you can simply insert them, pull them to the back of the fin box until the click, and get out on the water, or you can use the included grub screws to lock them in place (I always use at least one grub screw).
The Max has a new travel bag for 2022. It's made of a lightweight material and has way more than enough space inside for everything. The overly-large size of the bag is actually too much, though. Because the bag is so large and light, and has only one circumferential compression strap, the bag doesn't have enough structure to easily roll it on its wheels or comfortably carry it with the backpack harness – which is, unfortunately, also under-sized. While I appreciate the move to lighter materials for the bag (I've not seen any durability problems yet), it is harder to use.
The double-chamber, triple-action hand pump, though, is a breeze to use. Even though the Max is a large board, it still only takes about 8 minutes to inflate to 15psi with the hand pump. Of course you can pump faster or slower, and inflating from 15-20psi does take more time and a good amount of effort. Smaller paddlers may find it difficult to inflate beyond 15psi, but the same is true for most hand pumps.
Paddle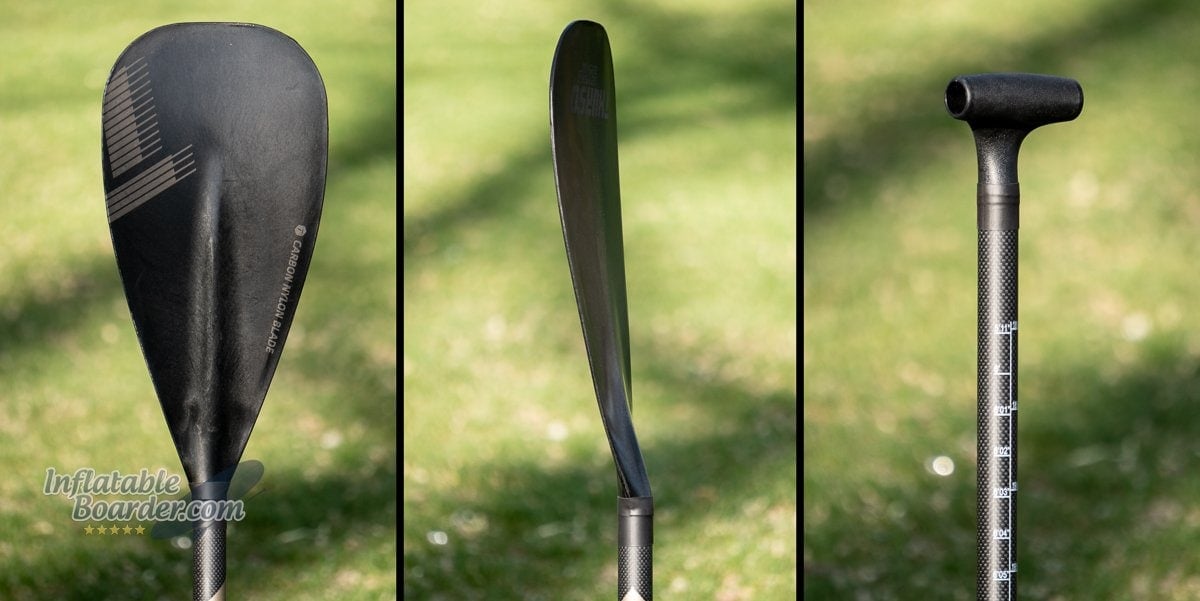 The carbon fiber/nylon paddle that comes with the Max is great. While not the lightest carbon/nylon paddle we've tested (nor the heaviest), it has plenty going for it in the performance department. The medium-large blade and slightly stiff paddle shaft is very well matched for the larger size Max iSUP. It's very easy to take just a few powerful strokes to get the Max up and running.
I do, personally, prefer to use smaller paddles than what I should be using (on paper), but find that this paddle blade doesn't feel like it takes a ton of effort to paddle quickly.
The handle of the Thurso Surf carbon fiber hybrid paddle is also a little different from what other brands use. Instead of a rounded palm grip, the Thurso Surf paddle uses a T-grip with a rubberized coating. This grip gives you maximum security when holding the paddle and provides clear tactile feedback for how the paddle blade is oriented without needing to look.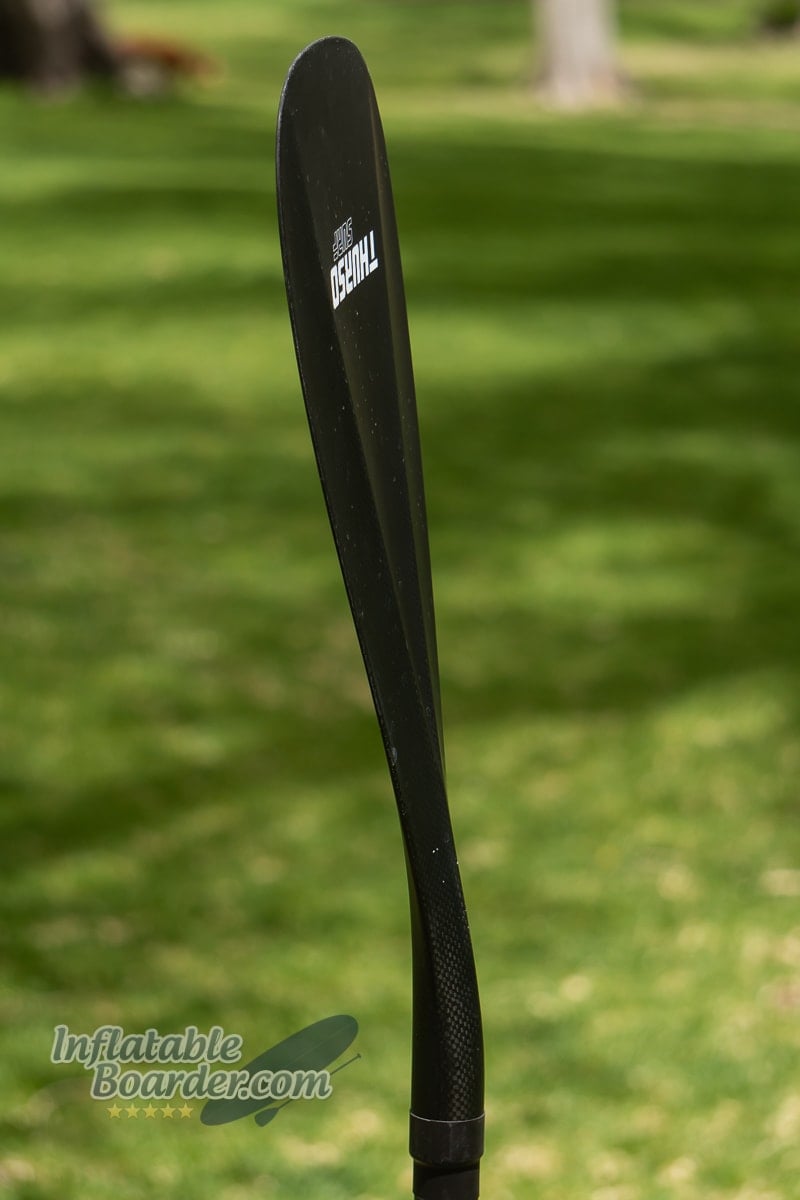 The optional carbon fiber blade upgrade reduces the overall paddle weight by 4 ounces and has a slightly smaller surface area. The molded carbon fiber blade features a "flat" double dihedral power face.
Another thing that Thurso Surf does a little differently is they don't require you to buy a whole new paddle if you decide you want to upgrade to a higher-end option. The carbon elite blade is designed to replace the paddle blade you already have, saving you nearly half the cost of a new carbon fiber paddle. The carbon elite blade is a very nice upgrade. The blade size shrinks just a little bit, but also reduces the weight of the paddle by 4oz and increases the power output with a stiffer construction than the stock nylon blade.
Stability
The Thurso Max is built for stability, and it definitely comes through. It's a great option for beginners, larger paddlers, and anglers.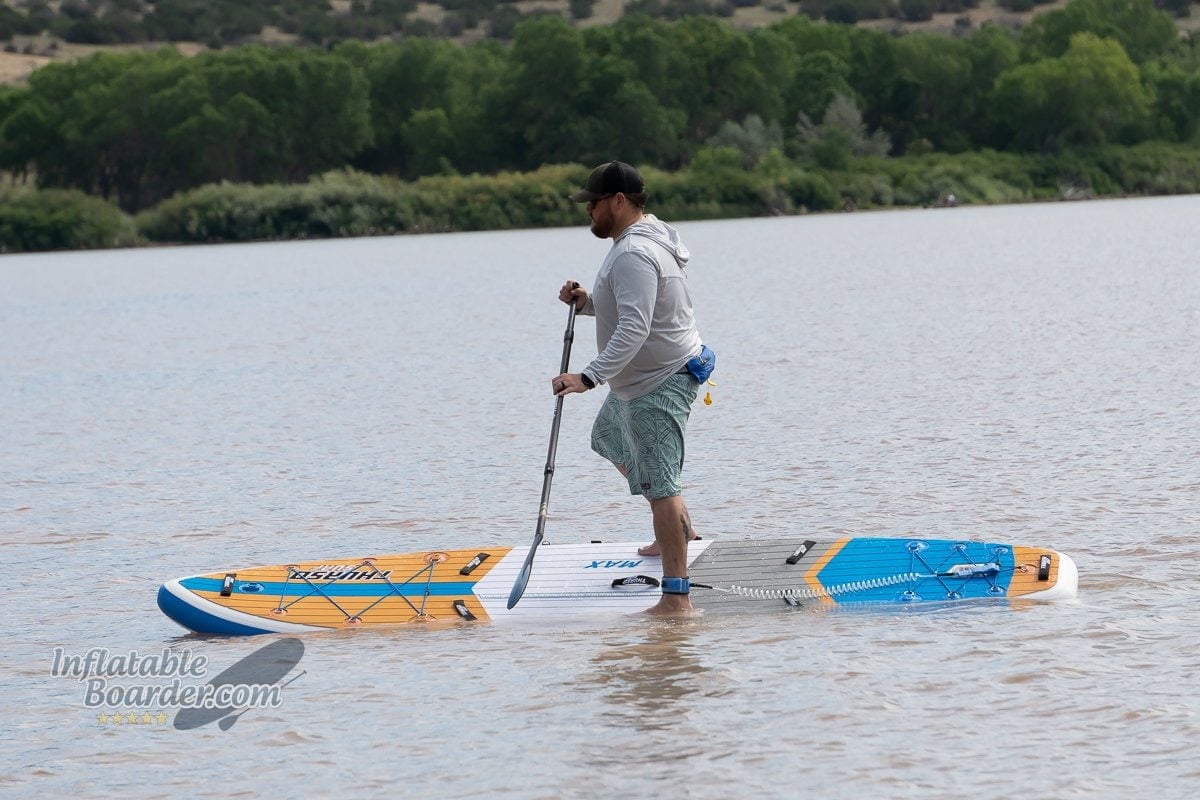 The Max's 34" width keeps it incredibly stable on the water. Most of that width is maintained through the board's length giving it a higher volume for a higher carrying capacity (370 lbs). The wide, square, tail and broad nose increase the Max's stability as you move around the board or load it up for a day on the water.
There is not really any noticeable flex in the Max while paddling normally or moving around. While jumping on the board I did feel some flex, however it was minimal and had a comfortable rebound rather than a bouncy feel.
The Max also keeps its stability while on its edge. This secondary stability helps keep you upright in choppy conditions and gives you more time to correct any imbalances before potentially going for a swim. Though with the excellent stability on the Max, you'll find that's not likely to happen.
The full length deck pad is comfortable and extremely grippy. The entire length of the pad is grooved and textured for really good grip whether you are barefoot or wearing shoes. This also makes it even more comfortable for pets and passengers as they also get to benefit from the grippy deck pad no matter where they are on the board.
Speed
The Max is not one of the fastest iSUPs we've tested, even compared to other iSUPs the same size, but it's also not the slowest. While we don't recommend it for sprint racing, it still offers enough efficiency to help get you to your favorite fishing hole without being worn out.
Wider paddleboards like the Max are not known for their speed, and that's OK. The Max offers an incredibly stable ride and high carrying capacity. In our speed test, the Max paddled comparably with other large (11'6" x 34") iSUPs.
While cruising, the Max's extra stiffness does give a smooth and efficient feel. Some wider boards really feel like they are pushing a lot of water at the nose, but the max keeps this to a minimum.
Maneuverability and Tracking
The Thurso Surf Max gives paddlers many different fin options to customize their maneuverability and tracking performance. The US and FCS fin boxes give you the option of hundreds of different fins to suit your needs. Using the included three fins all together I found the Max was a little hard to turn, but tracked very well.
Using regular forward sweep strokes to turn your paddleboard is an easy, beginner friendly way to steer. While at a standstill, the Max needs quite a few of these strokes in order to turn a complete circle. It took an average of just under 9 strokes to complete this maneuver during testing in calm conditions.
Now, there are several ways to turn your board and the forward sweep is one of the least efficient. With reverse sweeps, the Max turned much faster (just over 4 strokes) and of course stepping back for a pivot turn was faster yet. The excellent deck pad gives secure footing while stepping back to the tail, and the wide shape and square tail make it very stable for beginner and intermediate paddlers who are learning this skill.
While paddling, the max steers well, but also does a great job of maintaining its course.
Getting from Point A to Point B is usually easiest in a straight line. Tracking performance describes how well a paddleboard maintains that straight line. The Max did very well tracking straight while cruising – and even handled a light side-wind without much diversion. While sprinting I did have to provide some steering input, but this is pretty common for such a wide board.
The max has a 2+1 fin setup with the center fin using a US fin box and the two side fins using FCS (also referred to as "two-tab") fin boxes. In my opinion, all paddleboards should be using either (or both) of these fin box standards. These are standard fin boxes that came from surfing. Paddlers can easily get replacements for any of these fins at any paddleboard or surf shop, borrow one from a friend, or find a different size or shape to match their needs.
Warranty and Customer Support
Thurso Surf offers a 2 year warranty for their iSUPs, a 1 year warranty on bags and pumps, and a 60 day warranty on paddles and leashes. We'd like to see the accessory warranty extend to at least 1 year, however any manufacturing issues with these components will be apparent very quickly. If you have any questions for Thurso Surf you can reach them through their website form, email, or social media.
Value
When determining the value of a paddleboard kit we look at more than just the price. We consider the construction, performance, and quality of the entire kit, the product's warranty and customer support, and then we compare that to similar options across the market. The Thurso Max is in the mid-range price group and offers a great amount of versatility and quality. Overall it's a great value for paddlers looking for a larger, stable iSUP for a variety of different activities.
Overall Impressions/Review Summary
The Thurso Surf Max is a great iSUP for anglers, larger paddlers, beginners wanting a very stable board, and anyone paddling with a passenger or pet. I would like to see some more flexibility with the passenger handles and the option for a fishing rack mount in a future version. The full length deck pad, variety of on-board features, and high quality accessories all add up to an excellent kit with great performance.
Thurso Surf Max Multi-Purpose iSUP FAQ
What is the difference between the Max and the Waterwalker 132?
The Max is longer and wider than the Waterwalker 132 (11'6" x 34" vs 11' x 32"). It offers more stability and a higher carrying capacity. The Max also has more on-board features than the Waterwalker 132. Both use the same high-quality construction and materials.
How long does it take to pump up the Thurso Surf Max?
Using the included triple-action pump it takes about 10 minutes to inflate the Thurso Max. We do recommend getting a 12v electric iSUP pump to make this processes easier and hands-free.
Can I leave the Thurso Surf Max inflated, or does it always need to be deflated?
You can leave the Max fully inflated for short periods of time, however you should at least partially deflate it if the board will be out of the water for any extended length of time to avoid over-pressurization.
How do I clean and store the Thurso Surf Max?
Always rinse your iSUP with fresh water after use. Before rolling it up, allow the board to dry completely. Store your board somewhere dry and out of the sun. If you keep it in an unheated space during the winter, always bring the board inside to warm completely prior to unrolling the board to prevent possible damage to the PVC.