Sea Gods Elemental Wave CX: Overview
The Sea Gods Elemental Wave CX is a lightweight, beautifully designed cruiser-style all-around iSUP. With a stable shape that paddles efficiently and a variety of options for accessories and options, there's not much that can't be done with the Elemental Wave CX. Like all of Sea Gods' paddle boards, the Elemental Wave also sports some incredible artwork by Minneapolis, MN, artist Heather Renaux. For 2023, the Elemental Wave CX not only got a fresh coat of paint, but Sea Gods upgraded the board to their new Cross-Woven (CX) construction.
— Sea Gods Elemental Wave CX Summary Ratings and Review —
Sea Gods Elemental Wave CX
Construction & Durability

Features and Versatility

Stability

Speed

Maneuverability

Tracking
Overall Score
The Elemental Wave is a beautiful all-around cruiser iSUP.
Pros
A true all-around iSUP that performs well for a variety of SUP activities
Lightweight CX Construction sheds 3 lbs of weight from the previous ULF version
The combination of the new interior drop stitch construction and fusion PVC keep the board very rigid
The classic cruiser/longboard shape is stable and efficient
Compatible with a wide range of accessories including a kayak seat
Customize performance with a standard US fin box
Beautiful artwork on bot the deck and hull of the board
Lifetime warranty
Cons
With the narrower tail I'd like to have a raised kick pad for better control when sinking the tail for turns or light surfing
The kit paddle does a good job matching the intended use of the Elemental Wave CX, but I'd like to see Sea Gods introduce a full-carbon fiber paddle upgrade option.
Construction and Durability
For 2023, Sea Gods upgraded their entire lineup to their lightweight "Cross-Woven" CX construction that they first introduced in the Skylla.
The new CX construction from Sea Gods starts with a specialty drop-stitch core. The base fabric layers for the deck and hull are made with a woven pattern (like a rug) rather than the traditional knitted pattern (like a sweater). This woven material uses less yarn (so it weighs less) and eliminates significant amounts of stretch and flex compared to the knitted fabrics.
Between the base fabric layers there are thousands of yarns that are stitched directly from one layer to the other. These "space yarns" are stitched together in a crossing pattern that creates X-like shapes inside the board instead of the normal V-shape patterns. Much like a bridge trestle, this X-shape maximizes strength and allows the board to use fewer space yarns – saving even more weight.
A piece of 0.7mm thick PVC tarpaulin material is heat-fused directly to the fabric base layers. This Fusion construction technique eliminates adhesives from the construction process and creates a more rigid material than hand-glued layups. Many years ago, single-layer board constructions were considered to be lower-quality, but the advent of fusion constructions and higher-quality materials, like those found in the Elemental Wave CX, have flipped that notion on its head.
The top and bottom layers are joined together by a heat-molded interior seam to complete the airtight chamber of the board. A second PVC layer is then wrapped around the rail to help stiffen the board and protect the interior seam. Lastly a thin seam-reinforcement strip is added to the top and bottom of the outer rail for additional protection.
All together these materials and construction processes produce a lightweight (just 18 lbs!), durable, and rigid iSUP. The Sea Gods Elemental Wave CX is rated for use up to 20 PSI internal pressure.
In our static bend test, we loaded the Elemental Wave CX with 170 lbs of weight and measured its deflection in the middle of a 7' span. Usually lightweight boards tend to struggle in our bend test, but the Elemental Wave CX easily beat the odds with just 1.22" of bend. Our running average from over 80 boards is currently at 1.57" (lower numbers indicate less bend).
On the water, the Elemental Wave CX performed just as well. While standing on the board, paddling normally, and even while casually walking around and changing position I did not notice any real flex in the board. Jumping, paddling hard, and stomping my way up and down the board did produce some moderate flex, but with a very controlled and comfortable rebound. Sometimes a very stiff board can produce a trampoline-like effect when it flexes, but the Elemental Wave CX had a smooth response and quickly settled out after getting it to flex.
Specifications
Dimensions
Length
10' 6"
Width
32"
Thickness
6"
Weight
Max Capacity
250 pounds
Board Weight
18 pounds
Kit Weight

28 pounds
Buying Info
List Price
Warranty
10 years
Returns period
30 days
Features and Accessories
The Elemental Wave CX is stable without being a slouch on the water. It's also set up with multiple options for cargo and accessory mounting. Whether you are on the water for a sunrise and coffee cruise or heading out for some light fishing, the Elemental Wave CX is ready.
The Elemental Wave CX's size and shape give it a great blend of stability, playfulness, and versatility. With a US fin box you can customize and fine tune the board's performance for different uses and conditions.
I would like to see the Elemental Wave CX get a raised kick pad in its next iteration. The drawn-in tail is small enough to be helpful in catching a few waves from time to time and a kick pad will give you more control and confidence in doing so.
Along with the board itself, Sea Gods also includes a carbon fiber/nylon paddle, all-around toolless fin, coiled ankle leash, repair kit, and a high-quality wheeled backpack to carry it all in. While Sea Gods does warn that the artwork can be damaged if not taken care of, the board itself is built to last and backed with a lifetime warranty.
Paddle
The Sea Gods Elemental Wave CX comes with a carbon fiber and nylon paddle that fits a variety of paddlers and is compatible with a second blade to convert to a kayak paddle.
The Sea Gods carbon/nylon hybrid paddle features a medium-large blade (about 92 square inches) with an elongated teardrop outline. It weighs just over 30 ounces which is about average in weight for "kit" paddles that come with the iSUPs we've tested. The blade itself is made from fiber-reinforced nylon while the rest of the paddle is made of carbon fiber composite material.
This paddle blade is well suited to easy cruising and casual paddling with the Elemental Wave CX. The teardrop shape puts most of the surface area low down so you can get a more powerful stroke even if the blade isn't fully submerged in the water. On the power face of the paddle (the side facing the paddler) there is a double-dihedral shape molded onto the paddle. This inverted V helps direct the flow of water to prevent the paddle from fluttering (twisting) during the paddle stroke.
The carbon fiber shaft has a medium amount of flex for comfort, but still lets you easily transfer power from your body to the blade for a high-quality stroke. The handle section has a size scale and an anti-twist indexing groove to keep the handle aligned with the blade. The hand grip is made of molded carbon fiber and has a comfortable T-grip shape rather than the more pear-shaped palm grip more commonly found on SUP paddles. T-Grips allow you to wrap your thumb under the handle for a more secure grip and a better feel for how the blade is oriented in the water.
We did have a few issues with a few of our Sea Gods paddles over the last two years. A couple of the paddles did not have the blade and indexing groove properly aligned, and over this last winter I had some of the adjustment clamps come unglued from the paddle shaft. Re-gluing the clamp is a relatively straight forward repair to do at home if that does happen, but the mis-aligned paddle blade is not. Sea Gods does warranty their paddles for a full year, so if you do have any issues with the paddle contact Sea Gods for a warranty claim.
Overall I found the Sea Gods paddle to be comfortable to use for casual paddling over long periods of time (no strain from a too-large blade or a too-stiff shaft) and can handle the occasional sprint.
Stability
The Elemental Wave CX combines a classic longboard/cruiser shape and 32" width for excellent stability for paddlers of all skill levels.
When I first began paddling the Elemental Wave CX I figured it would be a relatively stable board, but I was surprised at how comfortable it felt for two reasons. First, I had already been paddling the Carta Marina CX (which has the same width, but is a foot and a half longer and has a wider tail) before I jumped on the Elemental Wave CX for the first time. Second, at 230 lbs I'm only about 20 lbs shy of the maximum recommended paddler weight. Sometimes a 10'6" all around board can feel a little squirrely to me, but not the Elemental Wave CX.
I found that the Elemental Wave CX was very stable underfoot while standing and paddling and had just a little bit of the "light board twitch" sensation. Lightweight boards have less mass to resist moving, whether that's forward or side-to-side, so they can sometimes feel a bit "twitchy" for heavier paddlers as we naturally shift weight from foot to foot. While there was a little bit of this twitch, after just a few minutes I stopped noticing it. Taller or heavier beginner paddlers (over 6' or 200 lbs) may find this to be a little shaky, and may want to consider the Diatom CX – a wider all around/cruiser style iSUP – instead.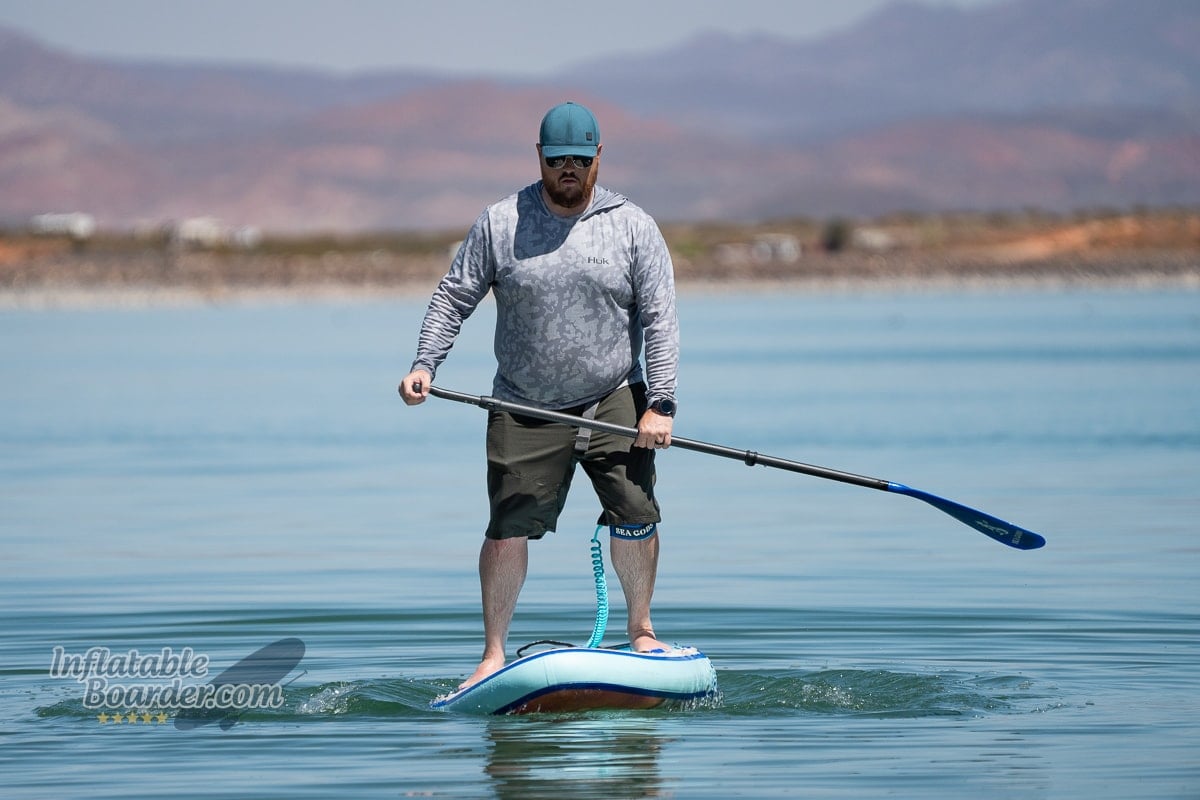 What really impressed me was the Elemental Wave CX's secondary stability – or how stable a board feels when it isn't flat. I found the Elemental Wave CX to feel more comfortable than the larger Carta Marina CX when rolling from side-to-side or when holding the board on its rail. It's hard to pinpoint exactly why, but I'm willing to bet that the difference in shape (particularly at the nose) between the two boards lends a little bit more of the Elemental Wave CX to remain in contact with the water when tilted.
I also found it easy to walk around on the Elemental Wave CX, however the stability did drop noticeably once I reached the tail for some pivot-turning. The smaller, rounded tail sinks a little faster and doesn't offer as much support as a wider or more squared-off tail. Since there's no kick pad at the back of the board it's also harder to control when the tail is underwater and the nose is lifted. I'd really love to see Sea Gods add raised kick pads to their boards for even better stability and control while turning, catching a wave, or downwinding.
Speed
All around iSUPs like the Elemental Wave CX are designed to offer an even performance profile across all aspects of paddling. But that also means they don't necessarily maximize any particular characteristic, either. Speed is usually the biggest sacrifice for an all-around iSUP, but maximum speed isn't an all-around board's focus to begin with.
The Elemental Wave CX performed pretty much as expected in our sprint and top speed tests. With an average sprint speed of 5.3 MPH (8.5 KMH) and a top speed of 5.4 MPH (8.7 KMH), the Elemental Wave CX is not going to be our first pick for racing (but the Sea Gods Ketos CX is definitely at the top of the list). However, those are very typical speeds for an all-around iSUP. The Elemental Wave CX does accelerate quickly and gets up to speed in just a handful of paddle strokes thanks to its lightweight, but rigid, construction.
While paddling at a more normal pace, the Elemental Wave CX performed very well. At a casual cadence of 25 strokes per minute, I was moving along at a consistent 3.5 MPH (5.6 KMH). This is definitely on the quicker side of things for all-around iSUPs.
With each paddle stroke we take any SUP will glide for a certain amount of distance before it begins to slow down. There are all sorts of design and construction elements that go into how far a board will glide – length, width, shape, rigidity, and more all play a role.
On the grand scale of iSUPs, the Elemental Wave CX is sort of short and wide, but does have a pretty regular size and shape for all-around iSUPs. When pausing between paddle strokes, the Elemental Wave CX traveled an average of just over 17' before slowing down. To make it possible to compare boards across different sizes we compare this to the board's length as a glide ratio. The Elemental Wave CX has a glide ratio of just over 1.6 board-lengths per stroke. Most all-around boards fall between 1.4-1.7 board lengths, which puts the Elemental Wave CX near the top of the list for all-around iSUP efficiency.
Maneuverability and Tracking
The Elemental Wave CX has a longboard/cruiser-inspired shape that's designed for fun, casual paddling. It's easy to maneuver and steer, but it's not made for long-distance paddling like the Carta Marina CX touring board.
All around paddle boards can be highly variable in their maneuverability and tracking performance. It's always a balance between the two and every choice made in the shaping and design process impacts these characteristics. The light weight construction and surf-style all-around fin work with the Elemental Wave CX's 10'6" length to keep it highly maneuverable.
When using a forward sweep stroke in our maneuverability test (paddling in an arc from the nose to the tail of the board), the Elemental Wave CX is able to make a complete 360° turn in just 4.5 strokes. That's pretty darn quick! If you need to do an about-face even faster, reverse sweep strokes (paddling in an arc from tail to nose) will whip the Elemental Wave CX around in a full circle with just 3.5 strokes on average.
Stepping back to the tail of the board for a pivot turn was easy thanks to the comfortable stability, excellent rigidity, and great deck pad. I did lose some stability and experience some twitchiness when I got all the way back on the tail, but otherwise pivot turning was quick and easy. A raised kick pad on the tail of the board would greatly increase stability and control when lifting the nose out of the water.
With quick maneuverability usually comes a trade off in long-distance tracking. That is the case with the Elemental Wave CX. While it's not at the same level of tracking as the longer Carta Marina CX touring iSUP, the Elemental Wave CX does have average tracking for its length as an all-around iSUP. In our 10-stroke tracking test (10 strokes on a single side), the Elemental Wave CX wandered an average of around 24° off course.
10 strokes is a lot to take on a single side with an all-around board to begin with, so in real-world use, the Elemental Wave CX does hold its course fairly well. It also responds to steering input very quickly. When I did find myself going the wrong way, a quick adjustment with the paddle is usually all I needed to get the Elemental Wave CX back on course.
Part of the maneuvering/tracking performance comes down to fin selection. Changing the size and shape of your fin can noticeably change how well your board turns or tracks. The Elemental Wave CX comes with a 9" surf-style all around fin that prioritizes maneuverability a little more than tracking. With a standard US fin box you can swap out the fin for a huge variety of options to really dial in the performance you want.
Warranty and Customer Support
Sea Gods is known for their lifetime warranty on their inflatable iSUPs. If you experience any manufacturing defects over the reasonable life of your board, simply contact Sea Gods for a warranty claim. In addition to the lifetime warranty for the boards, all of the included accessories are warrantied for 1 year, and there is a 30 day return period if you decide that the Elemental Wave CX isn't quite what you want. To contact Sea Gods you can reach them via phone , email, online chat, or through their social media channels.
Overall Impressions/Review Summary
The Sea Gods Elemental Wave CX really embodies the idea of an all-around paddle board. It's stable enough for beginners and offers plenty of versatility to try different aspects of the sport. But it is also playful and performs well enough for intermediate and advanced paddlers to enjoy as well. The artwork is, as usual for Sea Gods, absolutely stunning. I've really enjoyed the Elemental Wave CX and look forward to paddling it more this summer.
Sea Gods Elemental Wave CX iSUP FAQ
What is the difference between the Elemental Wave CX and Elemental Wave ULF?
The Elemental Wave CX utilizes Sea God's newest materials and construction that first debuted in 2022 with the Skylla. The CX construction is lighter and stiffer than the ULF version, but otherwise the Elemental Wave shares the same size and shape between the two constructions.
Should I get the Elemental Wave CX, Carta Marina CX, or Diatom CX?
The Elemental Wave CX is a cruiser-style all-around iSUP through and through. It's stable and has higher maneuverability than the Carta Marina CX. The Diatom CX is a Wider-shape cruiser for larger paddlers, beginners who want more stability, or for those who want a board for occasional SUP yoga. The Carta Marina CX is more of a touring board built for longer distance paddling.
Is the Elemental Wave CX compatible with a kayak seat?
Yes, the four D-rings around the middle of the board are placed to fit perfectly with the Sea Gods kayak seat. The included carbon fiber/nylon paddle is also compatible with the Sea Gods kayak paddle blade attachment for double-bladed paddling.
Can I paddle with kids or dogs on the Elemental Wave CX?
Yes, but you'll want to make sure to stay under the 250 lbs maximum capacity.