Best Paddle Boards For $500 | 2023 Budget SUP Guide
Inflatable Boarder is reader-supported and may earn a commission when you buy through links on our site. Learn more
Are you shopping for a new inflatable paddle board, but on a budget? Then it's even more important that you don't buy a cheap SUP that doesn't last and starts falling apart on you after one season. That's why we've put together this list of our top picks for for the best inflatable paddles boards for 500 dollars.
Rest assured that every iSUP on this list still meets our requirements for quality construction, a reasonable warranty from a brand with a track record for good customer service, and good performance. In this buyers guide we'll tell you how the paddle boards compare to each other — what's the same and what's different — as well as what you'd gain if you could bump your budget up a bit more.
Our top picks for 2022 come from three brands with a wide range of boards. Read more about their full lineups and how their SUPs compare here: iROCKER SUP, Bluefin SUP, and GILI Sports
With that, let's get started.
The Best Budget Paddle Boards for Beginners
If you're a paddler on a budget or you just don't want to spend too much until you're sure this sport is for you, then these are the paddle boards for you. We think these are the best low-cost SUPs available for beginners that:
still have good quality construction
provide a reasonable warranty
are a reputable brand that will be around to provide customer service should you need it after the sale
While you might be able to buy a SUP for half this price on Amazon or at a big box store, chances are neither it nor the company will be around a few years from now (we've seen it happen all too often).
Nautical 11'6 (by iROCKER)
10'6″ x 32″ x 6″
Availability: US, Canada, UK, Europe, Australia
Introduced by iROCKER in 2020, you can think of the Nautical line as simpler, no-frills cousin of iROCKER's super-popular All-Around boards. An immediate hit, the Nautical 11'6 is the longest board on this list, making it a good option for larger and taller paddlers, or anyone who prefers a longer SUP. We particularly recommend the longer length if you plan on having kids or dogs as frequent passengers.
The Nautical 11'6 was updated for 2022 to add a rear cargo bungee area, a single action mount, child safety grab handles, and new colors. It also has D-rings for attaching an optional kayak seat, and a front cargo area. This gives it a similar set of features, less some action mounts, for buyers considering the iROCKER ALL AROUND 11, but who found the price too high.
The Nautical comes with one of the nicer backpacks of the budget SUPs, a fiberglass paddle, dual-stage pump, safety leash, and repair kit. These are pretty typical quality for accessories at this price range, but not nearly as nice as you'd find on iROCKER's mid-priced boards. Since all the accessories, like pumps, are compatible across the iROCKER lineup we're seeing a lot of families buy one "nice" board and then a few Nauticals for the kids.
The Nautical 11'6 also only includes a one year warranty, which is short compared to the other two paddle boards in this category, and something we wish iROCKER would extend to at least two years. The big advantage is that iROCKER SUPs are available for sale essentially everywhere for our international readers.
For all of the details, check out our full hands-on iROCKER Nautical 11'6 paddle board review.
Nautical 10'6 (by iROCKER)
10'6″ x 32″ x 6″
Availability: US, Canada, UK, Europe, Australia
A foot shorter than the Nautical 11'6, the Nautical 10'6 is otherwise identical to its longer sibling. It's a great option for smaller paddlers or anyone who prefers a shorter board. This may be the "goldilocks" length for solo paddlers who don't plan on having frequent passengers. For comparison, the Nautical 10'6 is almost identical in length to the Bluefin and GILI SUPs listed below.
The Nautical 10'6 board features are identical to the Nautical 11'6 and it comes with the same accessories: a backpack, a fiberglass paddle, 2-stage pump, safety leash, and repair kit.
As above, we wish it had a longer warranty than one year, but appreciate iROCKER's wide availability globally for sales and after-sales warranty repair.
Read our full hands-on iROCKER Nautical 11'6 review for all the details.
Bluefin Cruise 10'8
10'8″ x 32″ x 6″
Availability: US, UK, Europe, Australia
The Bluefin Cruise 10'8 is the shortest all-around board in the Cruise lineup from UK-based Bluefin SUP. Cruise is Bluefin's lower cost line with fewer board features and more basic accessories compared to their higher end Cruise Carbon line. Paddlers looking for a longer board could also look at the Cruise 12′, although this would definitely push you above the $500 budget.
Bluefin keeps the features simple with a single action mount and front cargo area, but for an incredibly low price and an unheard-of five-year warranty!
For accessories, Bluefin includes a pretty basic backpack, fiberglass paddle, 2-stage pump, safety leash and repair kit. What sets it apart from the others on this list is the included kayak seat and kayak blade, normally a costly add-on from most brands.
For more thoughts, read our full hands-on Bluefin Cruise 10'8″ paddle board review.
GILI Air 10'6
10'6″ x 31″ x 6″
Availability: US
Newly updated for 2022, the GILI Air 10'6 is definitely trying to take the crown for features when it comes to budget priced boards. It now sports three action mounts, a side-mounted paddle holder, both front and rear cargo areas, and a terrific backpack. It's not exaggerating to say the GILI Air sports features we used to only see on mid-priced SUPs.
While we really like the many improvements made to the GILI Air, we do need to mention that the Air is only 31 inches wide so it will be a little less stable than all the other 32 inch wide SUPs on this list.
Accessories are an interesting mix for the GILI Air. First, they give you an option of an aluminum or fiberglass paddle — we much prefer the fiberglass option if you can swing the price difference. The backpack is incredibly high quality — essentially the same bag that's used on the rest of their lineup. Finally, there's a 2-stage pump, safety leash, and repair kit.
GILI covers the board with a 2-year warranty.
How Our $500 Paddle Board Top Picks Compare
So how do these budget-friendly inflatable paddle boards stack up against each other? Let's take a look at a few areas:
Length
This one's pretty straight forward. All of these boards clock in right around 10'6″ +/- except for the Nautical 11'6. So if you're looking for a longer board, that's your SUP.
Color Choice
The Bluefin Cruise comes in one color, the GILI Air gives you six color options, and the Nautical SUPs currently come in four colors.
Features
All the boards include the basics: EVA foam deck pad, carry handles, D-rings for kayak seat, three quick release fins. Here are where they differ meaningfully:
Action mounts: GILI fits three action mounts on the Air. Everyone else only has one.
Cargo bungee areas: GILI and Nautical have both front and rear. Bluefin has front only.
Paddle holder: GILI only.
Child safety handles: iROCKER only.
Accessories
Again, all the paddle boards include the same basic accessories – backpack, paddle, 10 foot coiled leash, pump, repair kit. Here are the interesting differences:
Backpack: GILI takes the cake for nicest backpack with higher grade material, more padding and lots of pockets. Nautical is a close second while Bluefin's is very basic.
Paddle: GILI actually gives a choice between an aluminum paddle (not our favorite) and fiberglass. Nautical and Bluefin both stick with fiberglass, which we feel is the better choice.
Pump: These are all pretty much equivalent.
Leash, repair kit, fins: All fairly standard.
Kayak Kit: Bluefin stands out from the crowd by including a kayak seat and extra paddle blade in their package. This is an optional extra from all the other brands.
Warranty & Return Period
Here iROCKER is the shortest with only one year on their Nautical SUPs (versus two years on all their other SUPs). GILI covers the Air with a two-year warranty, but Bluefin takes the cake with a five-year warranty.
All three companies provide a "money back" period of 30-60 days to return the board after delivery if it's not what you were expecting, which is great for peace of mind.
Country Availability
If you're buying outside of the United States, then knowing which brands are available in which markets can get considerably more complicated. Nautical is definitely the most widely available, followed by Bluefin. Currently GILI is only available in the US with free shipping.
How We Compared Prices for $500 SUPs
So we started by looking at the US pricing for all-around paddle boards. Several of these inflatable SUPs are available internationally and while they're still generally aggressively priced in each market, their prices vary by region.
You may also note that a few of these iSUPs technically have a list price for over $500. However, these tend to be some of the most frequently discounted boards by these brands in sales and promotions; in our experience with a little patience you can almost always buy these SUPs on sale for $500 or even less. So we opted to include a few paddle boards with list prices over the $500 mark.
How To Find The Best Discount
Which brings us to how to find that great sale. We track all of the best sales and discounts from top brands on our SUP sales and discounts page. You'll definitely want to check it out before you buy to find the best deals available in your country.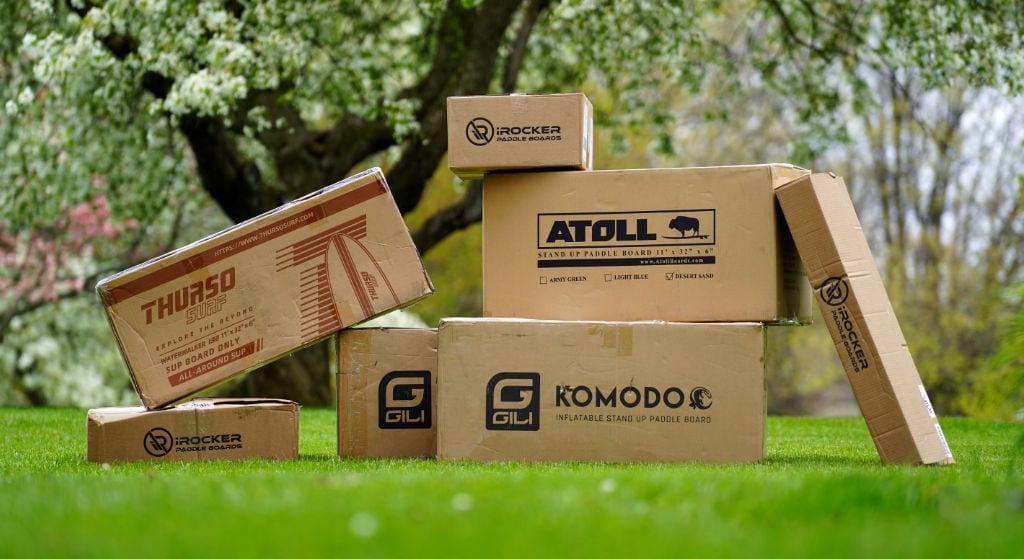 We've Found the Best SUP Sales For You
Check out our Ultimate SUP Deals Page for even more of best SUP sales and paddle board discounts from this and many other top inflatable SUP brands.
More Inflatable SUP Buying Guides
Get our top pick recommendations for the best inflatable paddle boards in our buyers guides based on our own hands-on testing and reader feedback.