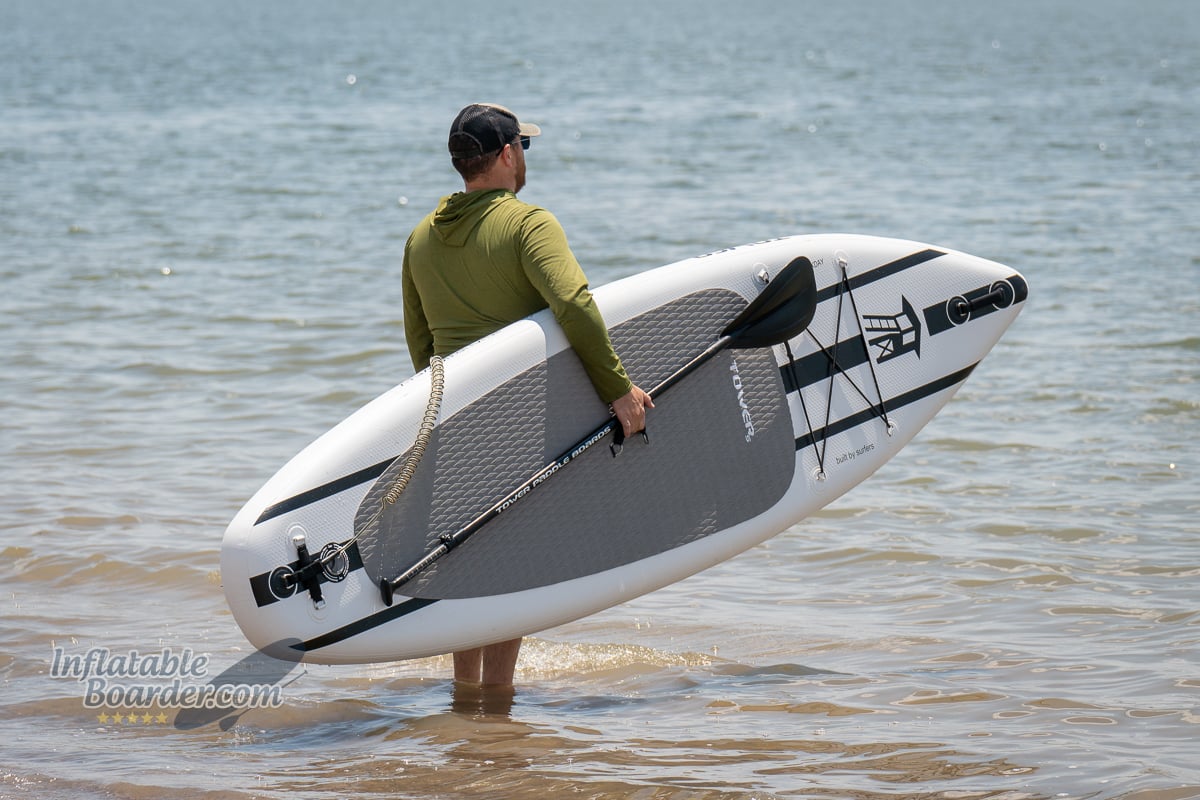 Tower S-Class All Around iSUP: Overview
The Tower S-Class (short for "Starter Class") All Around is an entry-level paddleboard for new paddlers on a budget. The S-Class uses a simple, lightweight construction for an effective, but pocket-friendly build. While the S-Class is less expensive than Tower's Premium Series iSUPs, it comes with the same kit of accessories. Its performance, kit, and price make The S-Class All Around Tower's most valuable offerings for paddlers.
— Tower S-Class All Around Summary Ratings and Review —
Tower S-Class All Around
Construction & Durability

Features and Versatility

Stability

Speed

Maneuverability

Tracking
Overall Score
The S-Class is an entry level all-around paddle board with a basic kit.
Pros
Lightweight board is easy to transport
Double-layer construction keeps the S-Class quite rigid
Front cargo area can accommodate your daily essentials (dry bag, water, shoes, etc)
Diamond-texture deck pad provides good traction
Hook and Pin fin is easy to use
1 year warranty
Cons
The overall shape of the board is less stable in choppy conditions
The board is covered with printed references to the Tower owner's Business self-help book
Construction and Durability
The Tower S-Class uses a machine-laminated construction that is lighter weight, easier to make, and maintains nearly the same rigidity as Tower's "Premium Series" iSUPs.
The Tower S-Class All Around iSUP begins its life the same way as all of Tower's paddle boards. Two layers of knitted fabric are joined together with thousands of "space yarns" that set the thickness of the board. These yarns keep the board a consistent thickness throughout and prevent it from ballooning into a round shape when inflated. The fabric layers then get a PVC coating layer.
This is where the S-Class and Tower's Premium and Elite Series iSUPs diverge. Rather than this raw material then going to a different assembly line for individual hand lamination by a person, it is instead fed through another machine at the raw material stage that laminates a thinner layer of reinforced PVC tarpaulin to the first layer of PVC. The final outcome is a material that is thinner and lighter than the hand-laminated process. Because it is machine laminated it also has lower error rates in manufacturing and fewer chances for cosmetic blemishes caused by wrinkles, air pockets, or glue blobs between the layers.
Once the second layer of material is applied, the board's shape is cut from the raw material and is ready for final assembly. The deck and hull layers are brought together and joined around the rail (edge) of the board by hand-gluing a layer of PVC material. This first PVC rail layer creates the airtight chamber for the board. A second, wider layer of PVC material is then glued over the first to provide additional durability and rigidity. Lastly all of the exterior elements of the board (deck pad, handles, fin boxes, etc.) are glued to the board.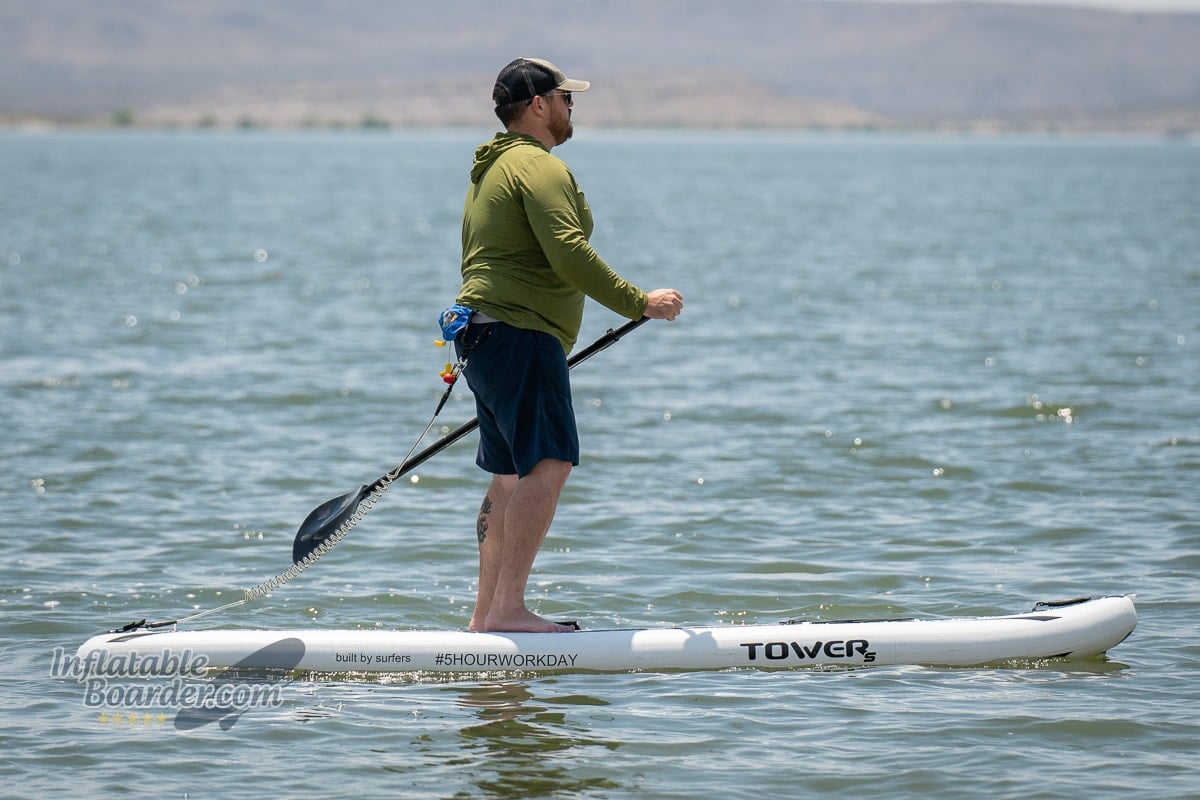 All together this creates an inflatable paddle board that weighs just 19.5 lbs (nearly 6 lbs lighter than the same-size Tower Premium Series iSUPs). So how well does this lighter construction compare to Tower's hand-glued boards? In our 170 lbs static bend test the results were nearly identical. The Tower S-Class bent just 1.77" (45mm) whereas the Premium Series Yachtsman and Mermaid each bent 1.73" (44mm). I was quite surprised at how close these two constructions are in measured rigidity. However, as is always the caveat, the bend test gives us a number to compare, but it can't tell us how a board does on the water.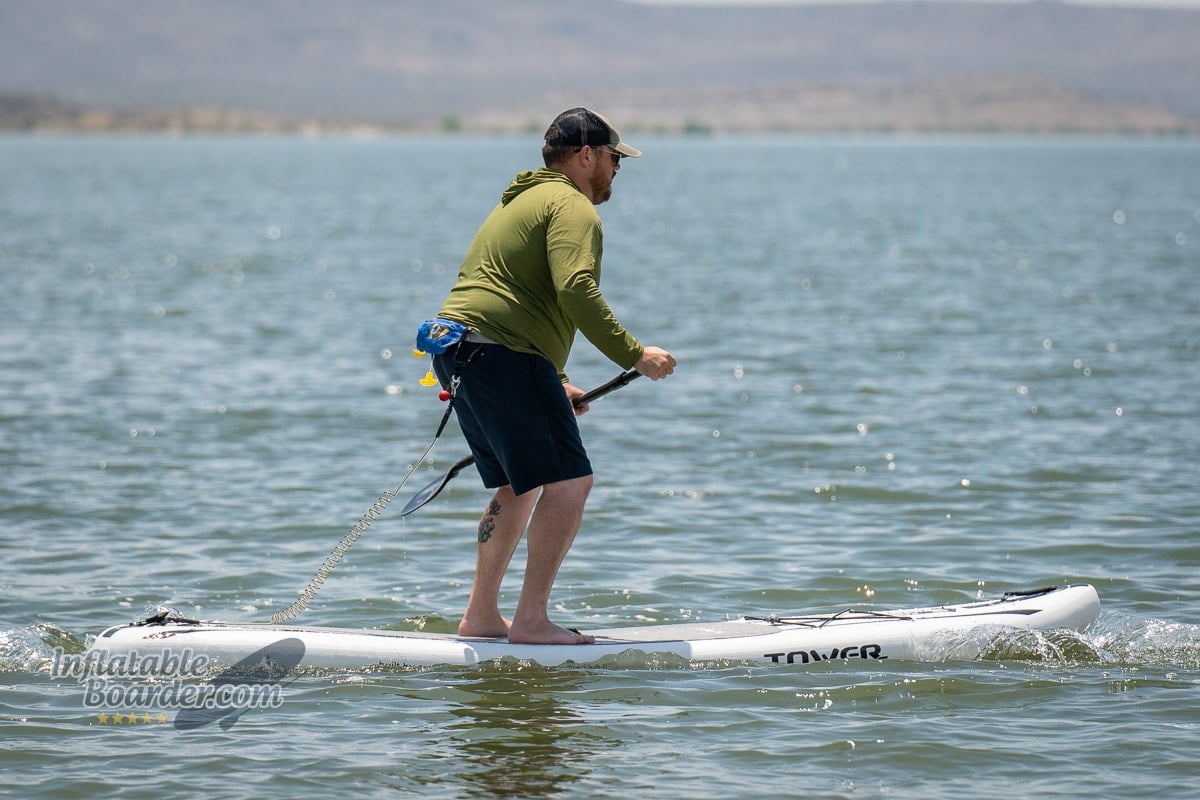 When you are standing and paddling casually on the S-Class All Around there is just a small amount of perceptible flex. As you paddle harder or if you are bouncing around on the board (shown above) the S-Class does produce a moderately high amount of flex. However there is a big difference here in how that flex feels on the S-Class vs the Premium Series iSUPs. The heavier, slightly stiffer Premium Series boards have less flex overall but with a quicker and tighter feeling rebound. Sometimes that can feel a bit bouncy (especially on boards like the Tower Elite Xtreme). The S-Class has a little more flex, but has a slower, softer, and more comfortable rebound.
The S-Class, like all of Tower's iSUPs has a maximum recommended internal pressure of 12 PSI for "optimal performance" according to Tower. This is lower than most modern iSUPs (generally 15 PSI minimum). In the case of the S-Class, it's also the only Tower iSUP I received that has pressure information included on the board – which strangely recommends up to 15 PSI. However all of the physical documentation and online documentation available from Tower indicated the maximum recommended pressure is only 12 PSI. If Tower increases their maximum recommended pressure to at least the norm of 15 PSI, then the S-Class (and really all of their boards) will be stiffer and likely perform better on the water.
Tower likes to talk a lot about their board constructions and how durable they are, but openly belittles the same construction they use for the S-Class calling it's construction "disposable." In our experience machine lamination is actually less prone to manufacturing error than hand-glued boards, and seems to be the direction the entire industry is moving toward. It is quickly becoming the preferred construction method of high-end iSUP brands around the world. I would like to see Tower work to try and help the industry move forward by improving the machine lamination process rather than simply down-talking anything that isn't their, now 13 years old, hand-glued construction method.
Specifications
Dimensions
Length
10' 4"
Width
32"
Thickness
6"
Weight
Max Capacity
275 pounds
Board Weight
19.5 pounds
Kit Weight

25 pounds
Buying Info
List Price
Warranty
1 years
Returns period
30 days
Features, Accessories and Versatility
The S-Class All Around has the same basic feature set as Tower's other all-around style iSUPs. It comes with just enough features and accessories to be on the water, but not much else.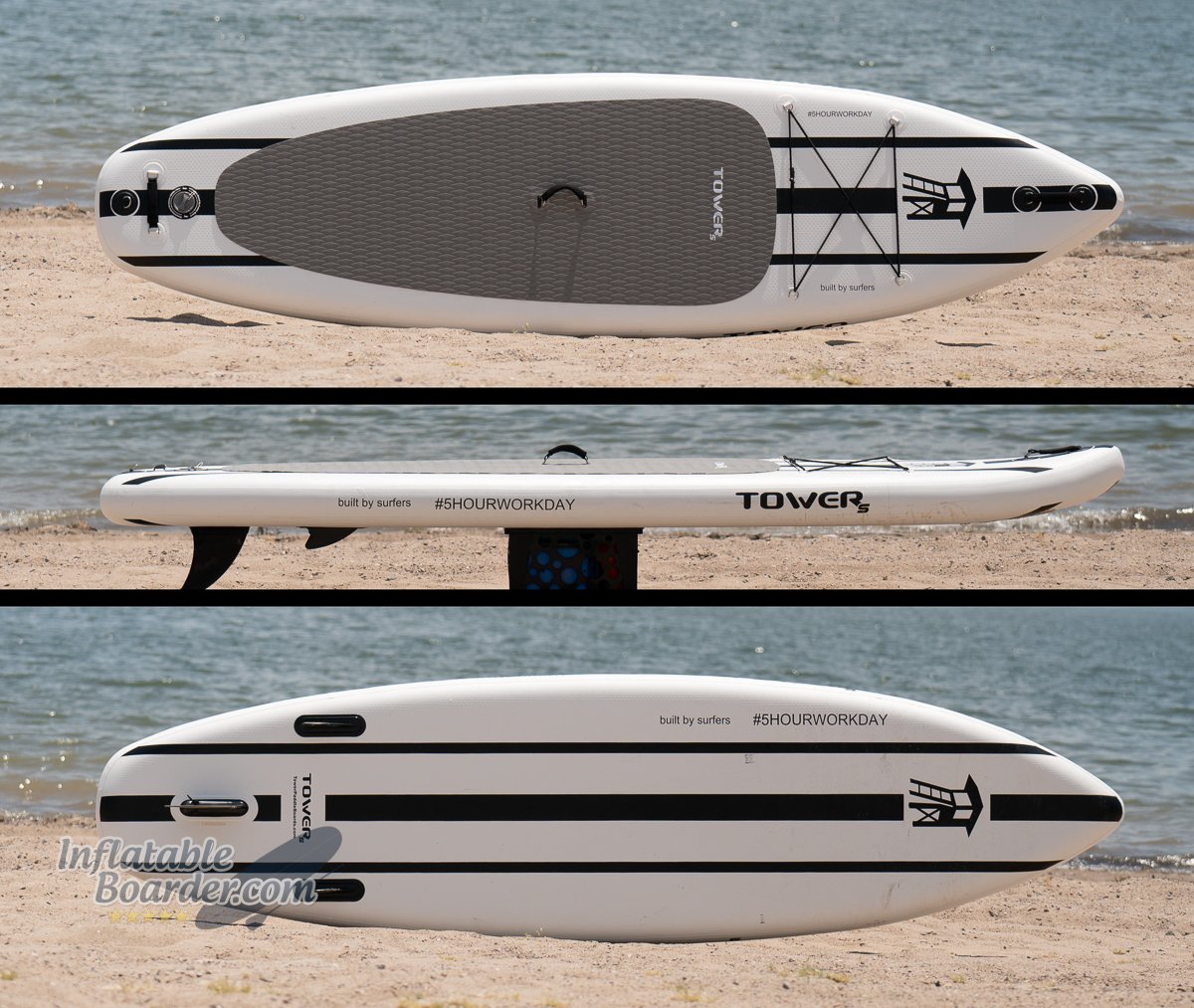 The Tower S-Class includes the same basic kit of accessories as all of Tower's paddle boards. With the board you get a fiberglass/plastic paddle, a small repair kit, a 9" center fin, and a single-chamber/single-action hand pump. A transportation/storage bag and leash are not included with this kit. While this is a pretty significant negative for the significantly more expensive Premium and Elite series boards from Tower, it's more forgivable for the far less-expensive S-Class All Around.
Paddle
The Tower kit paddle features a fiberglass shaft and a large ABS plastic blade. These elements do pair well with the S-Class All Around.
Tower's kit paddle features a fiberglass shaft and large ABS plastic blade to create a soft, comfortable paddling feel. Normally a blade this large might be hard or uncomfortable for smaller paddlers to use, but with the flexible blade material and paddle shaft the amount of power and torque that can be applied through the paddle is more limited.
The fiberglass shaft is lighter and more comfortable to use than cheaper aluminum alternatives. It flexes when under load without permanently distorting its shape like Aluminum paddles are prone to do (especially with larger blades). However, even with the use of fiberglass and a thinner, more flexible blade material, the overall weight of the Tower paddle is still quite high at 34 ounces. This makes it one of the heaviest non-aluminum paddles I've tested. Over time the weight of the paddle can take its toll and tire you out more quickly than a lighter paddle.
The handle section is also made of fiberglass and the palm grip is made of plastic. Occasionally I felt like the grip would feel "soft" in my hands, but it held up well even during faster sprint paddling. There is a length scale on the paddle handle so you can easily reset the paddle each time you use it. There are no indexing marks or tracks, though, so you will need to manually check that the handle and blade are aligned after each adjustment.
Stability
The S-Class All Around has good stability in calm waters, but becomes less stable in choppy conditions.
There are lots of different components that go into paddle board stability. Chief among them are the board's size and its shape. The Tower S-Class is 10'4" x 32" which tracks as a pretty average sized all-around iSUP. However, the S-Class's tapered shape and moderate nose rocker means that it is only 32" wide for a very small section in the middle of the board and the actual length in contact with the water is closer to 9'6". Both of those shape features reduce volume and surface area in contact with the water at any given time, which can reduce stability.
While standing and paddling casually on the S-Class All Around in calm conditions I felt very stable. I didn't feel the board twitching or rolling at all and could easily walk around on the board. However as the wind picked up things began to change. Even with a mild wind producing small chop the initial stability of the S-Class dropped noticeably. It became harder to stand and paddle casually, and much harder to move around on the board.
In calm conditions I could easily tilt the S-Class on its rail and dip the rails back and forth without issue. The board would dip under the surface and re-emerge without any problems. The tapered shape did make holding the board on its rail more difficult. As the side of the board draws into the sharp nose and toward the tail it lifts out of the water when on its side. Again that creates less contact area between the board and the water than a more parallel shape.
As paddling conditions became less than perfect the secondary stability (when the board is not flat on the water) again decreased and the board became more difficult to balance on as it tilted and rolled with the small chop.
Overall the stability of the S-Class is very similar to that of the Tower Premium Series iSUPs as they share the same shape and size. If the shape were tweaked to have a more parallel mid section or a wider tail then the stability in all conditions would noticeably increase.
Speed
The Tower S-Class is a cruiser-style all-around iSUP that's not meant for high-speed paddling. As such, it performed basically right as we expected it to in both our sprinting and cruising speed tests.
In our sprinting speed test, the Tower S-Class actually outperformed all of the Tower all-around style boards, though not by huge margins. I was able to paddle the S-Class at a sustained sprinting speed of 5.2 MPH (8.4 KMH) and reach a top speed of 5.4 MPH (8.7 KMH). In comparison the Tower Yachtsman and Mermaid both paddled at 4.9 MPH and 5.1 MPH for sustained and top speeds. The S-Class is still within the normal range for all-around iSUPs in our testing, as were the other Tower all-around boards.
In our cruising speed test the S-Class performed just as well as the Tower Premium Series boards with a casual cruising speed of 3.5 MPH (5.6 KMH) while paddling at a comfortable 25 strokes per minute pace. Again this falls squarely within the expected range for all-around boards of this size.
The one speed metric that we test for where the S-Class did not quite keep up with the premium series iSUPs is in its gliding efficiency. We test a board's glide by measuring how far it travels with each stroke before it slows down. The S-Class moved an average of 15.5 feet with each stroke giving it a glide ratio of 1.5 board lengths per stroke. The Tower Premium Series all-around boards all came in at 16.5 feet, or 1.6 board lengths per stroke. The more efficiently a board moves through the water the less effort it will take to paddle longer distances. However these two results are still very close to each other and both also fall within the expected range for all-around iSUPs of this size. During this test I focus on taking high-quality strokes with good power. I did feel that the S-Class flexed more during this type of paddling than the Premium Series boards, which tracks with their overall rigidity on the water as well.
In all, the Tower S-Class keeps pace with its more expensive counterparts quite easily. Increasing the maximum pressure of the board or using a more rigid paddle would also help to increase the overall speed and efficiency of these paddle boards, including the S-Class.
Maneuverability and Tracking
Maneuverability is a common strong point among Tower's iSUPs. The S-Class is no different with very easy turning and steering. Similarly, it also struggles more in its straight-line tracking and requires more steering input to stay on course.
The S-Classes' tapered shape and single surf-style fin help make it very nimble on the water. The board is very easy to turn with basic sweep strokes (paddling in an arc from nose to tail) and steers readily as you are paddling. In our maneuverability stress test the S-Class needed just 5 forward sweep strokes to turn in a full circle from a stand still. Turning with a reverse sweep (from tail to nose) was likewise extremely fast needing just over 3.5 strokes on average.
While the S-Class makes turning incredibly easy, it does make paddling in a straight line a little more challenging. In our tracking test we paddle toward a target taking 10 strokes on a single side then measure the difference between our new course and original target with a compass. In those 10 paddle strokes, the Tower S-Class deviated an average of 22°. This is slightly better than the Tower Yachtsman and Mermaid, though not by much. We typically see all-around iSUPs of this length stay on course a little bit better (usually closer to 15°) but tracking is greatly impacted by the number, size, and shape of the fins on the board.
The Tower S-Class has two, small, fixed side fins and a single 9" removable center fin. The small side fins are primarily aesthetic and are too small to provide any real impact on the maneuverability and tracking performance of the board. The 9" center fin does all of the heavy lifting in this area of board performance. The included fin is a "dolphin" or "surf" shape fin that has a wide base to help with tracking, but a narrow tip that allows the board to spin and turn more easily.
The hook-and-pin fin box system is fairly unique and not commonly found on other SUPs. The fin is pulled into the fin box from the front, then pressed down and attached with a small plastic pin. The pin presses into place and expands for installation, but has no method of releasing the pressure for removal, so you just have to pull it back through the fin box. I do worry about the overall longevity of this style of locking mechanism, however the larger issue with this system is its compatibility and available fin options. Because this is a fairly unique style of fin, the only reliable source I've found for replacement fins is from Tower directly. This means that you are less likely to be able to find a replacement locally or borrow a fin if you leave yours at home or lose it entirely, especially since the board does not include a storage bag. Tower does make a 4.5" version for shallow water paddling, but those are your only two options for compatible fins.
Warranty and Customer Support
Tower Paddle Boards warranties the S-Class All Around iSUP for just 1 year and offers no explicit warranty on any of their accessories. There is a 30-day return window for new/unused boards (less shipping fees). If you have any questions, you can contact Tower via telephone, email, by appointment at their California retail shop, and through social media.
Overall Impressions/Review Summary
The Tower S-Class has been my favorite of Tower's paddle boards to review for one very, very good reason. The S-Class performs almost identically to the Premium Series iSUPs in on-water performance and rigidity testing, and in most of the on-water performance testing with their Elite Series Xtreme all-around board, but it does so at a fraction of the price. All three categories include the exact same accessory kit – and lack the exact same pieces. But where that feels to be incredibly mis-matched with the far more expensive Premium and Elite Series, it's far more appropriate for the price range of the S-Class all around. Overall the Tower S-Class is the best value all-around paddle board option currently available from Tower.
Tower S-Class All Around iSUP FAQ
What is the difference between the Tower Starter and Premium Series iSUPs?
The Tower S-Class uses a lighter weight, thinner machine-laminated double layer construction whereas the Premium Series iSUPs use a heavier, thicker, hand-glued double-layer construction. The S-Class performs nearly identically to the Premium Series all-around boards in our rigidity and on-water performance testing.
Is the Tower S-Class All Around iSUP good for beginners?
The S-Class offers beginner paddlers a maneuverable all-around board that is comfortably stable in calm conditions at an approachable price point. However beginner paddlers who will regularly be in less-than-ideal conditions (swell, surf, lots of boat wake), may struggle with the S-Class's stability.
How long does it take to inflate the Tower S-Class iSUP?
It takes around 8-10 minutes to inflate the Tower S-Class iSUP to the
recommended 12 PSI using the included hand pump.
Can I use the Tower S-Class iSUP with a kayak seat?
No, the Tower S-Class is not compatible with kayak seat accessories.
Can I paddle with kids or pets on the Tower S-Class All Around iSUP?
You can paddle with small kids or pets on the S-Class iSUP, but you'll need to be mindful of the 275 lbs weight limit and the change in stability as you adjust your position to accommodate a passenger.