Launched in March 2018, the BLACKFIN Model XL is the largest inflatable paddle board in iROCKER SUP's new range of premium inflatables. Since introducing their initial iSUP models a few years back, Jacksonville's iROCKER has quickly built a reputation for providing ultra-durable and dependable inflatable SUPs at super affordable price points.
The new BLACKFIN SUP line takes everything up a notch, with premium features and a high-end accessory bundle that is nicer than many boards costing twice as much. Currently, there are two models in the BLACKFIN range: the 10'6″ BLACKFIN Model X, and the 11'6″ Model XL. With talk of more models to come, we're certainly excited to see how things develop down the line.
iROCKER founders Steve Elder and Dave Erwin are extremely attentive to customer feedback, and we've watched the young company make significant improvements to their product line over the past several years. From new models to enhanced accessory offerings, it's obvious that this company is intently focused on delivering exactly what their customers are asking for. The 2018 iROCKER inflatable SUP range is the most impressive to date and our top pick this year if you're looking for feature-rich inflatables that offer bombproof durability at super affordable price points.
In this review of the brand new BLACKFIN Model XL SUP, we'll go over all of this board's features, specs, overall build quality and construction, likes and dislikes, what's in the box, optional add-on accessories, warranty coverage, and where to buy it. We'll also share all current iROCKER coupon codes and promotional discounts so you can save some money and get the best deal.
In a Hurry? Here's a Quick Summary…
Pros
Incredibly durable (quad-layer construction)
Extreme stability
Super rigid
Tracks well in the water
Versatile
Attractive design
Carbon rail
Convenient toolless fin lock system
Grab handles at nose and tail
Dual bungee storage areas
D-ring for towing
Additional D-rings for attaching a kayak seat
Safety handles at nose for children
High-quality, logo embossed traction pad
Upgraded carbon fiber shaft paddle
Ultra-efficient triple action SUP pump
Deluxe wheeled roller backpack
2-year warranty
30-day money back guarantee
Great customer support
Cons
A bit on the heavy side
Carrying handle's neoprene cover isn't removable
Price & Where to Buy it
Table of Contents
BLACKFIN Model XL Review: SUP Overview
The BLACKFIN Model XL iSUP measures 11'6″ x 34″ x 6″ and weighs in at 32 pounds. This is a wide and extremely stable stand up paddle board with a maximum weight capacity of 485 pounds, making it ideal for large paddlers and those times when you need to bring along plenty of gear. Previously, the company's most stable board was the popular 10'6″ iROCKER CRUISER, but their new BLACKFIN models now offer even greater stability.
Perfect for beginners through advanced paddlers, the Model XL is extremely versatile and can be used for SUP fishing, flatwater paddling, river riding, touring, yoga/SUP fitness, and even in super choppy whitewater conditions.
iROCKER has really stepped up their game in 2018 with major design improvements in the aesthetics department, and the boards in the new BLACKFIN line are simply stunning. From the striking blue colors and accenting to the BLACKFIN branding, everything is tastefully executed. These are eye-catching new models that look amazing in the water, and they're definitely two of the nicest looking boards we've reviewed.
Features
The top deck of the 2018 BLACKFIN Model XL is covered by a high-quality EVA foam traction pad that provides outstanding grip and comfort. Instead of using a diamond pattern and crocodile texture as you see on iROCKER's regular boards, the company neatly stamped the BLACKFIN logo into the deck pad which is a really nice touch. This traction pad is super comfy on the hands and feet, making it perfect for SUP fitness.
In the middle of the traction pad is a tough nylon webbed carrying handle that is covered by a soft and comfortable neoprene cover. The sewn-in cover features a rubber BLACKFIN logo patch, and there are 4 stainless steel D-rings located along the edges of the deck pad for attaching the BLACKFIN kayak seat or shoulder strap. They can also be used as additional cargo tie-down points if you're going to be packing a ton of gear.
At the nose of the board are 6 more D-rings and a generously-sized bungee cord storage area that is great for stashing a dry bag, Crocs, camping gear, fishing supplies, and more. As with the 2018 iROCKER ALL-AROUND 10′ and ALL-AROUND 11′ models, the company integrated children's safety handles into the bungee storage area. These are perfect if your kids enjoy riding along on the nose of your board, as it gives them a safe and secure place to hold onto. There's also another grab handle at the tip of the nose for pulling the board in and out of the water.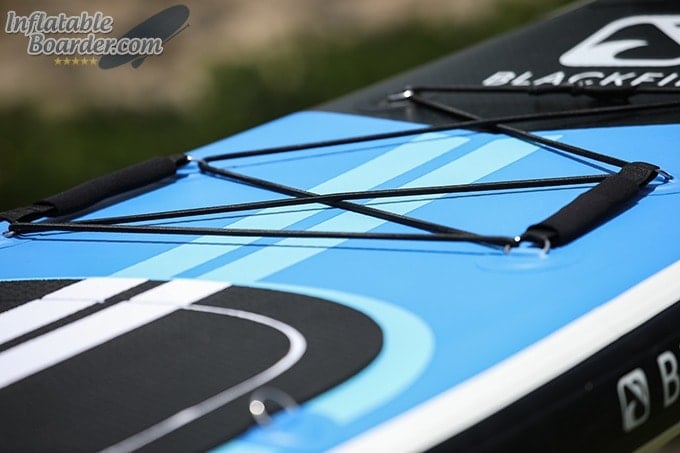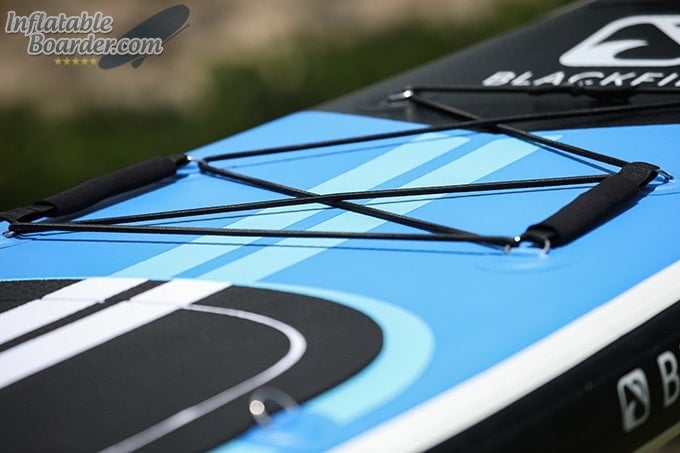 The tail of the BLACKFIN Model XL iSUP features another grab handle which is covered by a soft neoprene cover, as well as a D-ring for attaching the included leash and a high-quality Halkey Roberts-style inflation valve.
There's also a second bungee storage area at the board's tail which we absolutely love — in addition to providing more onboard storage space, the dual bungee cords also give you an alternate spot to stash your dry bag whenever the nose of your board is occupied by a child or your dog.
On the bottom of the Model XL is another D-ring at the nose for towing or tethering, and the board features a triple fin setup with two fixed side fins and a large center fin that is removable. iROCKER upgraded the fin box on the BLACKFIN boards to a U.S. fin box, giving you the added versatility of being able to swap out the center fin. The fin quickly and easily attaches to the board without tools using a simple bolt and washer.
Construction
The BLACKFIN Model XL is designed with extreme durability in mind. In addition to the tough drop stitch material and bombproof quad-layer PVC construction, the board features a stiff, reinforced carbon rails which add even more durability and rigidity. Of course, the tradeoff with this beefed-up construction is added weight, but if you're willing to accept a few extra pounds in return for the added toughness and reliability that the Model XL offers, you won't be disappointed.
From the D-rings to the inflation valve, all hardware on the BLACKFIN Model XL is top-notch. The fit and finish is also excellent, just as you would expect with a premium inflatable stand up paddle board.
Paddling Performance
On the water, the Model XL is extremely rigid, stable, and a bit faster than the shorter BLACKFIN Model X. This isn't a board that is designed primarily with speed in mind, but it glides well and is super fun in the water.
For those interested in a longer touring SUP but need something that offers a bit more in the stability department, the 34″ wide BLACKFIN Model XL is an ideal choice. The majority of inflatable touring boards are 30″-32″ wide, so you'll notice much more stability with the Model XL thanks to its wider profile. Also, the dual bungee storage areas and additional D-rings give you plenty of places to secure dry bags and camping gear for multi-day, overnight SUP excursions.
Likes and Dislikes
To be honest, there's not much to complain about with the new BLACKFIN Model XL. This is a very nice inflatable paddle board that is incredibly durable and loaded with premium features. The BLACKFIN lineup packs a ton of value and in our opinion, these boards could easily be sold with a much higher price tag.
We love the fine attention to detail and well-thought out design of the BLACKFIN Model XL. The logo stamped traction pad is a nice touch that you really only see on much more expensive boards, and the dual bungee storage areas and twin grab handles at the nose and tail are extremely handy whenever you're pulling this big board in and out of the water.
For parents of small children, the kiddie grab handles which have been nicely integrated into the front cargo area are amazing. Our 2 1/2 year old absolutely loves taking the BLACKFIN SUPs out as the comfortable handles provide a safe and secure place for her to confidently hold onto.
A friend's son also came up with another fun and creative way to take advantage of these padded handles…
We also really like the high-quality U.S. fin box, beefed-up construction, and carbon reinforced rail. When fully inflated, the BLACKFIN Model XL is super stiff and feels very similar to a hard board under the feet.
When it comes to dislikes, there are really only two minor things that come to mind. First of all, the board is a bit on the heavy side at 32 pounds. This is understandable given the board's heavily-reinforced construction, but we wanted to mention it.
Secondly, it would be awesome if the carry handle's sewn-in neoprene cover wasn't permanently attached. Adding a simple velcro closure would allow you to remove the cover — great for activities like SUP fitness where a more lay flat handle is preferable. Having the ability to remove the cover completely would also speed up the drying process after a day on the water.
BLACKFIN Model XL Rating
Durability
Features
Versatility
Stability
Speed
Portability
Warranty
Customer Support
Price
Specs
| | |
| --- | --- |
| Length | 11'6" |
| Width | 34" |
| Thickness | 6" |
| Weight | 32 pounds |
| Max Capacity | 485 pounds |
| Price | |
What's Included
The SUP accessory bundle that comes with iROCKER's new BLACKFIN SUP line is top-shelf. As we mentioned in the beginning of this review, the Model XL's included accessories are nicer than many boards costing twice as much.
We love the fact that the BLACKFIN Model XL comes with everything that you need to start paddling. In the box is a premium wheeled SUP backpack, 3-piece carbon fiber shaft travel paddle, dual-chamber triple-action pump, 10′ coiled SUP leash, iSUP repair kit, BLACKFIN SUP sticker pack, and user manual.
BLACKFIN Wheeled Roller Backpack
The Model XL comes with iROCKER's new wheeled BLACKFIN travel backpack. This is an impressive SUP backpack that is well-made and gives iROCKER fans something that they've been clamoring for — a bag with wheels.
On the front of the bag is an oversized, zippered storage pocket which is large enough to hold the dual-chamber BLACKFIN pump, fin, leash, and other small accessories. There are also several compression straps that allow you to cinch the bag down once it's fully packed.
The top of the bag features a heavy-duty nylon grab handle that is covered by a thick rubber grip. There is also a see-through luggage ID window that's perfect if you're planning to fly with your board (once packed, the bag can be conveniently checked with your other luggage).
Both sides of the bag feature durable grab handles, and there's another sturdy grab handle that's made out of plastic on the bag's bottom. The bottom of the bag is heavily reinforced which adds protection and also helps the board to stand upright when loaded.
Also located at the bottom of the bag are two oversized roller wheels that feature deeply-grooved traction — perfect for those times when you're pulling the bag through dirt, sand, grass, or gravel. The roller wheels are super smooth and pulling the bag behind you is nearly effortless — definitely a nice option to have when it comes to sprawling airport terminals or long walks to the beach.
It's also nice that the company strategically placed the wheels on the front of the bag which prevents them from digging into your back when it's packed and on your shoulders. Of course, this also keeps the straps from dragging on the ground when you're wheeling the bag around.
Located on the back of the bag are two heavily padded shoulder straps. These straps are fully adjustable and feature nylon webbed loops and dual plastic D-rings for attaching small accessories or electronics with a carabiner.
The rear of the bag also features a thick back pad that is covered by a breathable mesh material, and there's an adjustable sternum strap and waist belt for additional stabilization when the bag is fully loaded and on your shoulders.
Whether you're wearing the BLACKFIN travel bag on your back or rolling it behind you, it's a super convenient way to transport your board. The bag is durable and well-designed, and the variety of grab handles really comes in handy when you're pulling the bag in and out of your car.
3-piece Carbon Shaft BLACKFIN Paddle
The included 3-piece BLACKFIN SUP paddle features the same reliable design as iROCKER's regular paddle, but the BLACKFIN version includes an upgraded carbon shaft. The lightweight carbon shaft has a premium matte finish and it's neatly branded with the BLACKFIN logo.
To assemble the paddle, simply line up the holes with the locking pins and lock everything into place. The locking pins are extremely secure and prevent unwanted twist while paddling — a common issue that you see so often with other 3-piece paddles.
The blade of the BLACKFIN travel paddle is made out of ultra-durable nylon and there's a protective rubber coating along the outer edge that helps to prevent damage from rocks and other hard objects.
Ultra-Efficient Dual Chamber Pump
The BLACKFIN Model XL comes with a very nice SUP pump that is similar in design to Red Paddle's Titan Pump. The ultra-efficient dual-chamber pump features three different settings for inflating your board, and it significantly reduces the time and effort needed to inflate your board.
On the back of the pump is a small dial with three well-marked modes:
Max Capacity
Medium Pressure
Max Pressure
When you begin to inflate the Model XL, select mode 1 — Max Capacity. This setting will allow you to quickly add air to your board. Once you notice that the pumping becomes more difficult, kick things into mode 2 — Medium Pressure. Finally, you can move the selector to Max Pressure when needed to finish inflating the board to the desired pressure (recommended inflation pressure is 14-18 PSI, by the way).
Last but not least, the BLACKFIN SUP pump features a convenient built-in pressure gauge so you'll always know exactly how much air is in your board during the inflation process.
SUP Leash
We love the fact that iROCKER promotes SUP safety by including a 10′ coiled ankle leash with all of their boards. The BLACKFIN leash features a heavy-duty coiled cord that doesn't drag in the water behind you when you're paddling. There are dual swivels on both ends of the cord to prevent tangling, and the ankle cuff is well-padded with a soft and comfortable neoprene material. The BLACKFIN branded ankle cuff also features a hidden key pocket for securing your keys while you're out on the water.
Repair Kit
The BLACKFIN Model XL's repair kit is neatly packaged in a screw top plastic canister and it includes a valve wrench and three PVC patches.
In the unlikely event that your board gets damaged, you can quickly and easily repair it yourself by following these simple steps:
After deflating the board, clean the damaged area well with rubbing alcohol
Carefully apply adhesive (not included) to the surface of your board as well as the matte side of the PVC repair patch
Apply a thin layer of adhesive to the area around the edge of the patch to ensure an airtight seal
Give the glue 24 hours to dry
User Manual & BLACKFIN Sticker Pack
Lastly, iROCKER includes a cool BLACKFIN sticker pack and helpful user manual with the Model XL. Inside the user manual are detailed instructions on care and maintenance, water safety, board inflation and deflation, fin installation, repairs, and paddle assembly.
Optional Add-On BLACKFIN Accessories
In addition to their new BLACKFIN range of premium SUPs, iROCKER is also launching a nice line of BLACKFIN-branded accessories. These will be available shortly, and we wanted to cover them as they're great add-ons.
BLACKFIN Kayak Seat Kit
First of all, the company has a new BLACKFIN kayak bundle that's available for purchase. This kit comes with everything needed to transform your BLACKFIN Model XL paddle board into a kayak, and the entire kit folds up neatly for easy transport and storage. Included with the seated kayak conversion kit is a padded seat, zippered storage pouch, and matching carbon shaft paddle attachment.
To install the kayak seat, simply attach the strap hooks to the four D-rings located along the sides of the traction pad. Then, just tighten the adjustable straps to the desired length. Assembling the kayak paddle blade is also really easy to do — instead of sliding the paddle's normal handle into the middle section of the paddle shaft, just attach the included paddle blade.
Lastly, attached to the rear of the kayak seat is a handy zippered storage pouch which is great for stashing small accessories.
Insulated BLACKFIN SUP Deck Bag
Another great accessory that will be available is the BLACKFIN deck bag. This is a fully insulated bag that is well-made and features a convenient carrying handle at the top so you can carry it around like a lunchbox.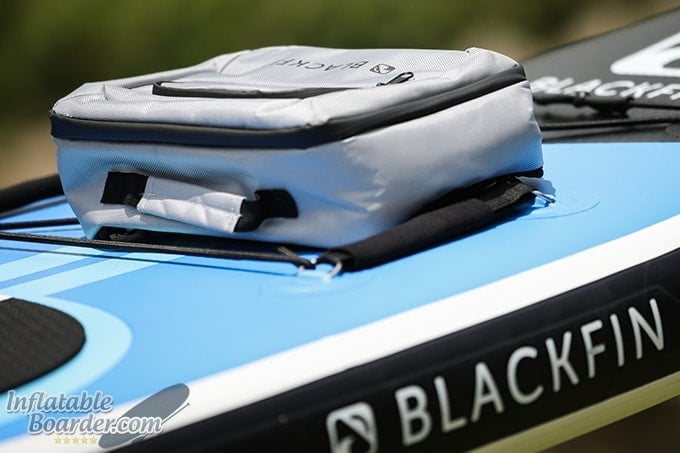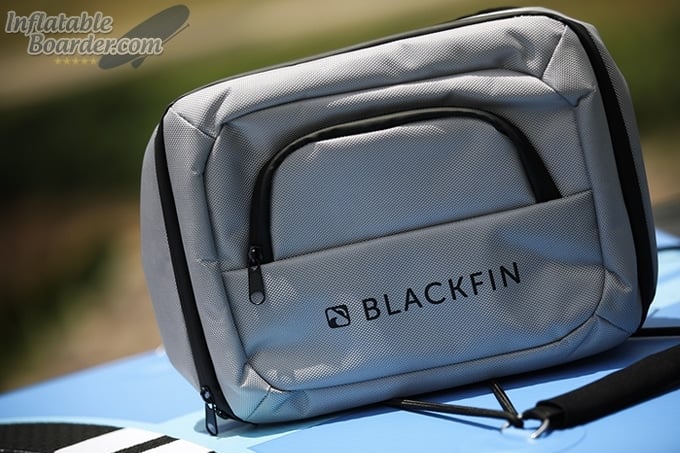 On the top exterior of the bag is a zippered storage pouch, and there's an elastic bungee cord with plastic mounting hooks on the bottom of the bag for securing it to the deck of your paddle board. Of course, the bag will also slip right under either of the Model XL's existing bungee cord cargo areas.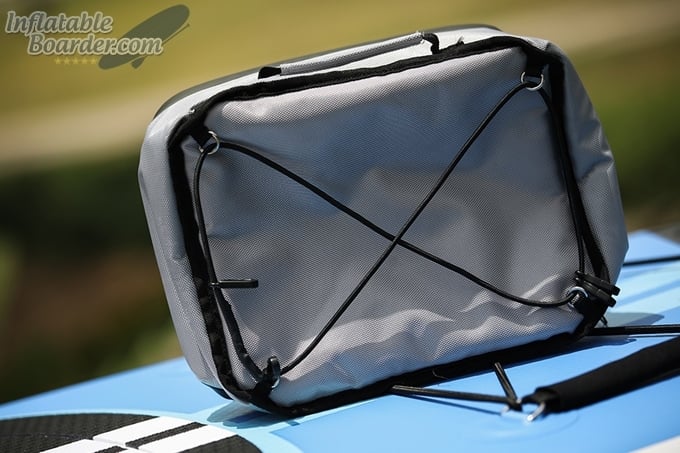 Shoulder Strap
Last but not least, iROCKER is releasing a convenient shoulder carry strap which securely attaches to two of the D-rings located along the board's rails. This carrying strap is adjustable and comes with 4 plastic D-rings for attaching small items with a carabiner, and the underside is lined with a grippy rubber material to keep the strap from slipping off of your shoulder.
Warranty
As with all iROCKER paddle boards, the BLACKFIN Model XL is covered by a rock-solid 2-year warranty. This covers you in the event of any manufacturer defects, and the company also throws in a 30-day money back guarantee for added peace of mind. iROCKER stands behind the gear that they make, and they're well-known for providing a high-level of customer service both before and after a sale is made.
Where to Buy it + Special Offers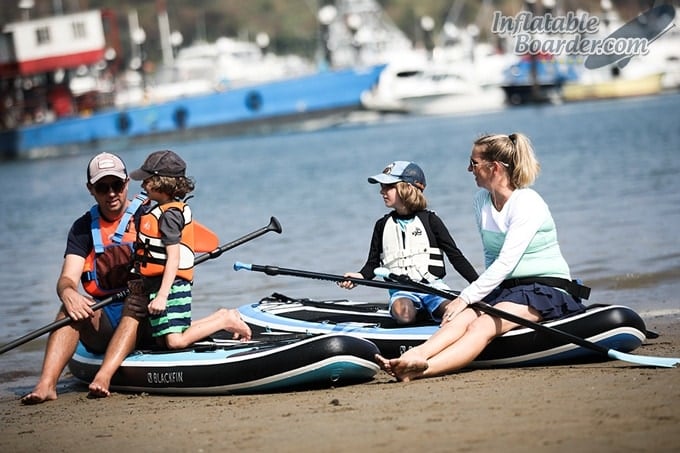 The brand new BLACKFIN Model XL iSUP is in stock and ready to ship at iROCKER's official online store. In addition to offering the lowest prices and a 30-day money back guarantee, iROCKER also includes free shipping and no sales tax unless you happen to live in Florida. If you currently live outside of the U.S., you can still buy the BLACKFIN Model XL and any of iROCKER's other boards by using the following links: Canada, UK/EU, and Germany
Also, there are currently two special promotions running. First of all, iROCKER is throwing in a free BLACKFIN swag bag with all BLACKFIN SUPs. Included in the swag bag is a BLACKFIN coozie, lanyard, and hat.
Secondly, iROCKER is running a great combo deal promo at the moment — buy any two BLACKFIN or iROCKER SUPs and the company will hook you up with a nice discount when checking out. Just click here, add the boards to your shopping cart, and the discount will automatically be applied to your order when you check out (no iROCKER coupon code is needed).
Final Thoughts
As with the 10'6″ Model X, we were extremely impressed by the 2018 BLACKFIN Model XL. This is an incredibly well-built board that is super fun, feature-rich, and surprisingly affordable. In terms of overall quality, features, and included accessories, the new BLACKFIN Model XL rivals boards costing twice as much, yet it's priced only slightly higher than the regular iROCKER SUP models. If you're looking for a versatile, top-shelf board that won't break the bank, this is it.