Red Paddle Co SUP Reviews | Paddle Boards Compared 2021
Inflatable Boarder is reader-supported and may earn a commission when you buy through links on our site. Learn more
Red Paddle Co makes some of the best inflatable paddle boards on the market, and their updated lineup continues to lead the industry when it comes to durability, features, board stiffness, and overall performance.
A well-known favorite in the inflatable paddle board world, the popular range of Red Paddle Co SUP boards combines the best in cutting-edge design, functionality, performance, and reliability.
Currently, the 25-model Red Paddle iSUP line consists of the popular Ride boards (all-around use), Sport and Voyager lines (touring), Wind and Windsurf models (windsurfing), Race and Elite lines (racing), Whip (surfing), Snapper (junior-sized board), Wild (whitewater), Activ (for pilates, SUP fitness, etc.), and a few multi-paddler models…
Where to Buy Red Paddle SUPs
United States
Red Paddle Co SUPs are sold at a number of local retailers. If you're looking for a reliable online source, we've vetted the following retailers and believe you will get good service and support from them:
Red Paddle Co SUP Comparison Chart
What's Included with a Red Paddle SUP?
In addition to making some of the highest-quality inflatable paddle boards on the market, Red Paddle's SUP accessory bundle is also top-shelf. This year's range of Red Paddle inflatable SUPs includes the following:
Red Paddle Co Titan Pump – Arguably the best SUP pump made, this ultra-efficient hand pump features a unique dual-cylinder system which allows you to pump your board up faster and with less effort.
All Terrain Backpack – One of the nicest iSUP backpacks around, this carry bag features a foil lined interior to keep things cool, durable double stitched construction, integrated roller wheels, super comfortable straps, and much more.
Water Resistant Phone case – Keep your phone dry while you're out on the water with Red Paddle's water resistant cell phone case.
iSUP repair kit – Quickly and easily patch up a damaged board with the included repair kit.
2-year warranty – A change made last year, Red Paddle Co has doubled their previous 12-month warranty. All Red Paddle SUP boards are now covered for a full 2 years.
Why We Recommend Red Paddle Co Boards
Founded by visionary John Hibbard, Red Paddle Co knows the world of inflatables inside and out. A company that is super passionate about their brand and the gear they make, they continue to push the envelope year after year when it comes to iSUP design, durability, and overall performance.
While other SUP companies outsource the production of their inflatables to shared manufacturing facilities, Red Paddle keeps it all in-house using a private production facility that allows them to closely monitor every step in the Tec Air production process.
MSL Fusion Technology
The Red Paddle brand name is synonymous with quality, and their well-thought-out board designs and cutting edge features lead the industry. Constructed with MSL (Monocoque Structural Laminate) Fusion technology, all Red Paddle SUP boards are lightweight, super stiff, and ultra-durable. We also appreciate the fact that Red Paddle's boards aren't plagued with the wrinkles and other cosmetic blemishes that you see with many other iSUPs.
All Red Paddle inflatable SUPs feature a high-quality drop stitch core, machine-pressed traction pads, heat-treated seams, top-shelf air valves, and triple reinforced rails for the ultimate in durability.
Rocker Stiffening System (RSS)
Red Paddle's proprietary RSS technology has been added to several of the company's iSUP models, adding additional rigidity and taking overall performance to the next level. The RSS system involves the use of battens which can quickly and easily be slid into special rail slot pockets, resulting in up to a 40% increase in stiffness.
Boards that are fitted with Red Paddle's Rocker Stiffening System paddle faster in the water and provide a stiffer ride experience that is quite similar to that of a hard SUP.
Attention to Detail
With Red Paddle Co boards, every single feature and design element is well-thought out and meticulously executed. From the Red logo-embossed traction pads and high-quality hardware to the Railblaza and Ram Mount-compatible fittings, Red Paddle SUPs are impressively designed inside and out.
Red Paddle Co SUP Reviews
Red Paddle Co Warranty Information
Red Paddle Co does not directly offer exchanges or refunds on products (terms may vary depending on the retail you purchase from). Items returned for defective workmanship will be repaired or replaced and you are responsible for shipping which is common. Any products returned to Red Paddle Co for warranty inspection must receive prior return authorization, which is done by email.
Red Paddle Co requires you to register your board within 3 months of purchase to activate the extended warranty. However, they really upped their game with a new 5-year warranty starting with their 2020 line of boards. For your board to qualify for the full 5-year warranty it needs to be purchased between October 7, 2019 and October 6, 2020. Those purchased in 2018 and 2019 still have their 2-year warranty. All of their accessories come with a 1-year warranty which is average or better.
We are disappointed that it was so hard to find their warranty information on their website, but we think they offer a rock-solid warranty once we did find the details. Click here to read the warranty guarantee.
Red Paddle Co Sales and Discounts Codes
There are frequently special promotions or discount codes available for inflatable SUPs. Click here to check our "Ultimate Deals Page" for the most current deals available on Red Paddle Co paddle boards and other top inflatable SUP brands.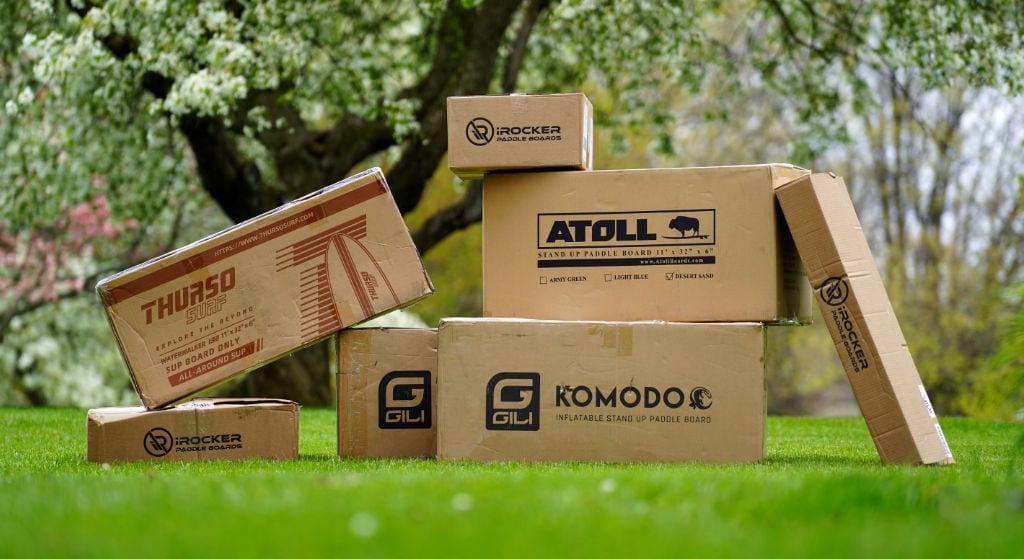 We've Found the Best SUP Sales For You
Check out our Ultimate SUP Deals Page for even more of best SUP sales and paddle board discounts from this and many other top inflatable SUP brands.