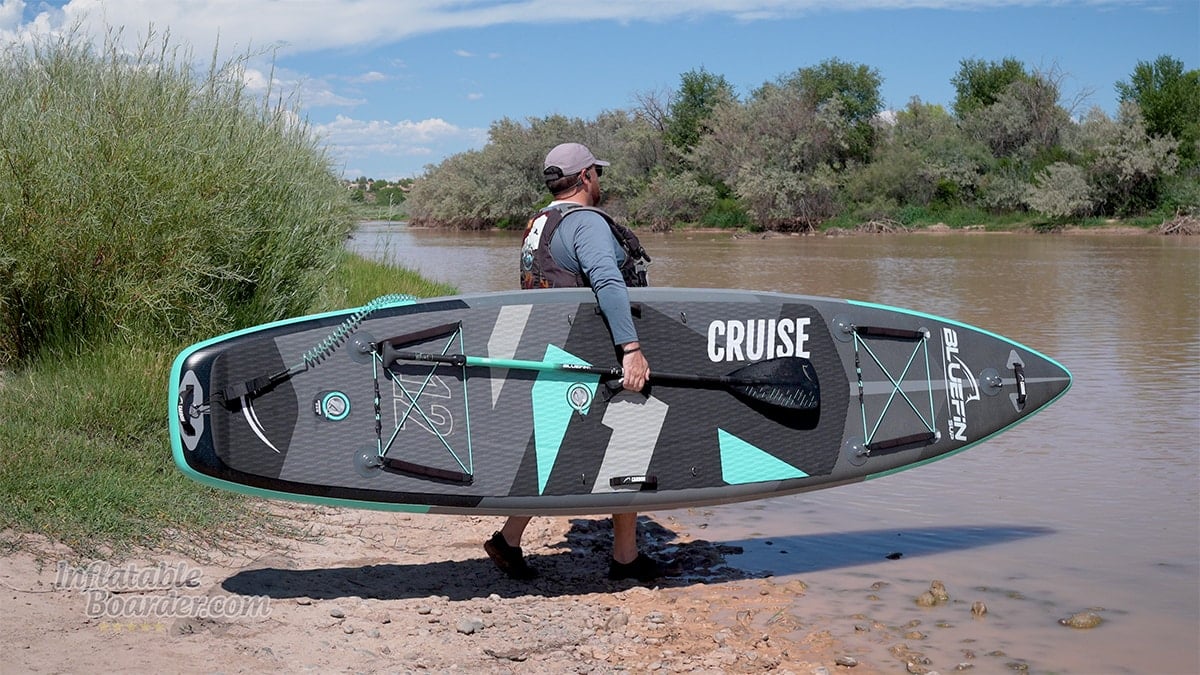 Bluefin Cruise Carbon 12' iSUP: Overview
The Bluefin Cruise Carbon 12' rides the line between a dedicated touring iSUP and an all-around paddle board. The extra length of the 12' board helps increase tracking and speed, but at 32" wide it still has beginner friendly stability and a high weight capacity. As part of Bluefin's Carbon series, the Cruise Carbon 12' also features a double air chamber design for increased rigidity and an additional margin of safety.
— Bluefin Cruise Carbon 12' Summary Ratings and Review —
Construction & Durability

Features and Versatility

Stability

Speed

Maneuverability

Tracking
Construction and Durability
The Cruise Carbon 12' uses Bluefin's updated Exo Surface Laminate material, high density drop stitch, and carbon fiber fabric rail reinforcements for extreme durability and increased rigidity.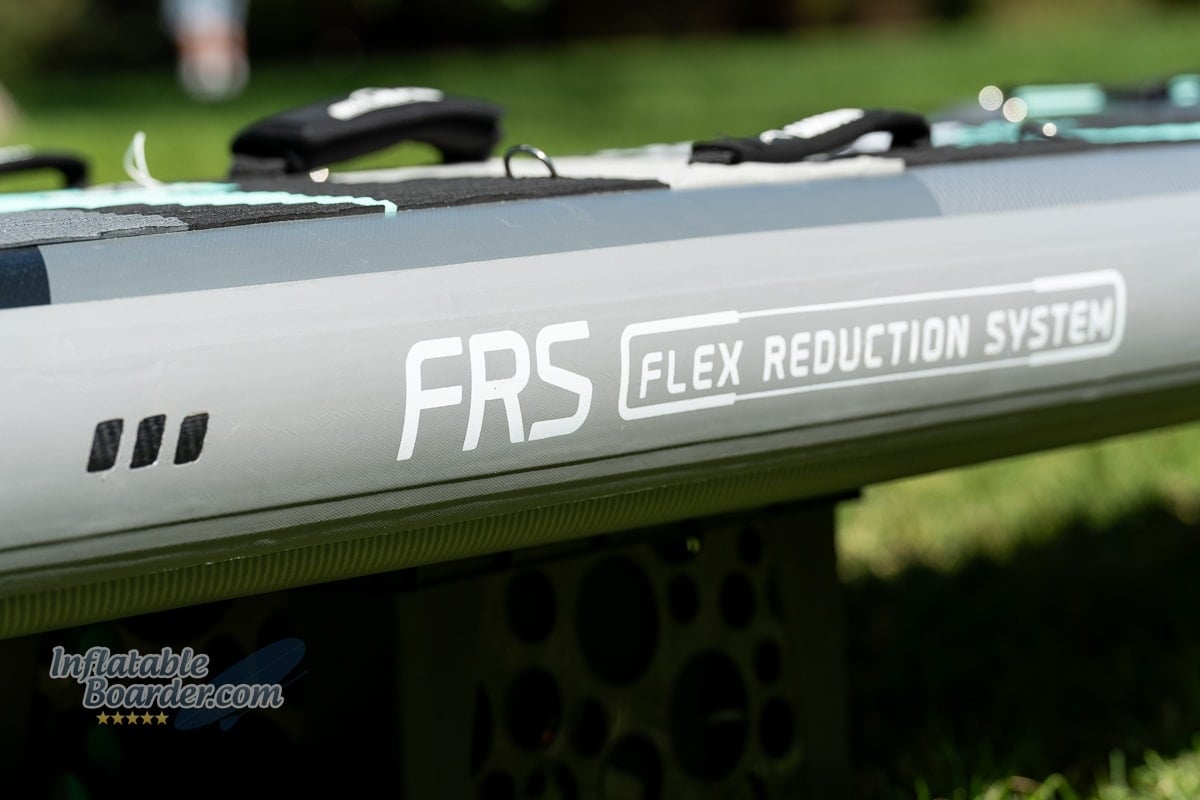 Inside of each paddleboard, including the Cruise Carbon 12', there is a sandwich of fabric material. Two knitted sheets of polyester fabric are joined together by thousands of 6" long yarns running between the two layers. This drop stitch core is what gives iSUPs their flat shape and rigid feel. Bluefin uses a high density drop stitch material to help keep the Cruise Carbon 12' as stiff as possible.
The outer PVC shell is made of two layers that Bluefin calls their Exo Surface Laminate (ESL). The first is a PVC material that is applied directly to the inner fabric layer. Then a second layer of reinforced PVC tarpaulin is machine-laminated to the first layer for additional durability and rigidity. Once the shape of the board is cut from this fully-assembled core and double layer material, the top and bottom are machine-glued together with a band of PVC material around the edge of the board that becomes the inner rail.
The Cruise Carbon 12' has two air chambers. One is in the center of the board, and the other makes up the rest (sort of like a donut with a donut hole placed in it). Both air chambers are made of the same materials and are joined together with a strip of PVC around the central portion on both the deck and hull.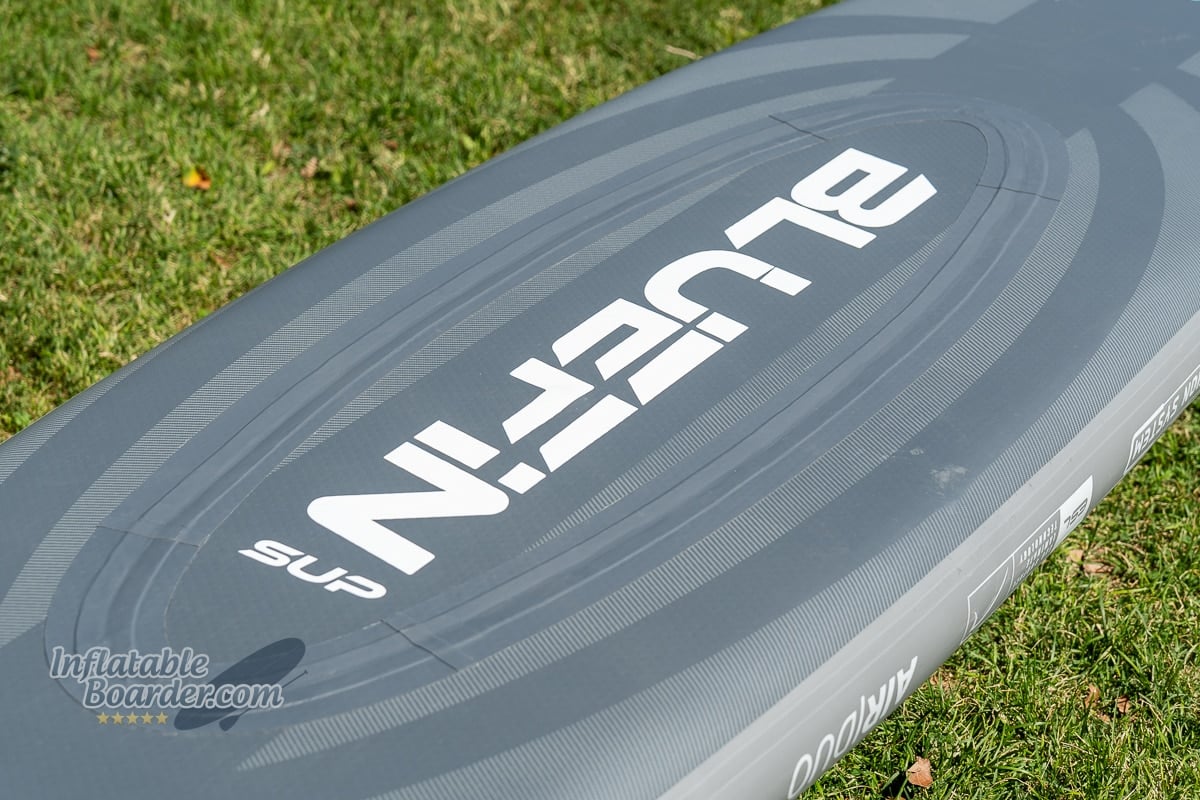 On the outside of the board another, wider, layer of PVC material is also glued around the first to help protect it and increase stiffness. Finally a strip of carbon fiber fabric is sandwiched between the outer rail and a third layer of PVC along the middle section of the board. This Flex Reduction System (FRS), as Bluefin calls it, is designed to increase the abrasion resistance of the board in some of the highest-wear areas and to help increase rigidity on the water.
Once the deck pad, D-rings, threaded mounting points, and fins are added to the deck and hull, the full board weighs 33 lbs. The Cruise Carbon 12' is rated to a maximum recommended pressure of 15 PSI for both air chambers.
Having two air chambers serves two purposes. First it can add some rigidity to a board, though it's not the end-all of features to do so. Second, it can add a small margin of safety while paddling. The concept makes sense – if for some reason one air chamber is punctured, the other can still provide flotation. However, I'm not convinced of its viability for this purpose in practice. The outer chamber is the most likely to take damage as it's most exposed and surrounds the inner chamber. The volume of the inner chamber is very low, and with a mostly deflated board hanging in the water (much less with any equipment strapped to it) it's not going to be an easy task to paddle back to shore if you are any great distance away, especially if there are strong winds or currents.The other concern is that these designs in general create more seam-length on the board which creates more potential failure points to begin with. A second air chamber might help in an emergency situation, however a properly fitted (and worn) life jacket/PFD, paddling with a partner, and carrying a reliable communication device are far more important for your personal safety than relying on a double-chambered board.
With all of these stiffening elements and high weight of the board, I was very interested to get it on the saw horses and see how it stacked up in our dry land bend test. With 170 lbs of static weight and the board set on a 7' span, the Bluefin Cruise Carbon 12' bent 1.46" (3.7 cm). That puts the Cruise Carbon 12' at just a touch stiffer than our total running average of 1.56". Considering the weight of the board and the number of elements included with the stated purpose of stiffening the board, I was a little underwhelmed. However, as we've seen several times, the proof is really in the pudding and how the board feels on the water is far more critical than how it does in our bend test.
With the both chambers fully inflated to 15 PSI, it was time to put the Bluefin Cruise Carbon 12' on the water. I couldn't feel any noticeable flex while I was standing on the board or paddling normally. There was a slight bounce as I walked around, though not much, and only the tiniest bit of noticeable flex when paddling hard in a sprint. By jumping up and down on the board I was able to generate a moderately high amount of flex. The rebound feeling in the board was a little odd as the flexing motion moved through the two different air chambers. This seems to be quite standard for double-chamber iSUPs, though, as I've felt the same sensation in all such models I've tested. Unless you spend a lot of time bouncing up and down on your board, this isn't a large concern at all.
Overall the Bluefin Cruise Carbon 12' had good stiffness and feel while on the water, and that's the most important part of our rigidity testing.
Specifications
Dimensions
Length
12' 0"
Width
32.5"
Thickness
6"
Weight
Max Capacity
385 pounds
Board Weight
33 pounds
Kit Weight

52 pounds
Buying Info
List Price
Warranty
5 years
Returns period
60 days
Features, Accessories and Versatility
The Bluefin Cruise Carbon 12' is a touring SUP at heart with the versatility of an all-around board. At 12' long and just over 32" wide this paddleboard has the volume and stability for larger paddlers, the speed and efficiency for distance paddling, and enough built-in features to satisfy nearly any SUP activity.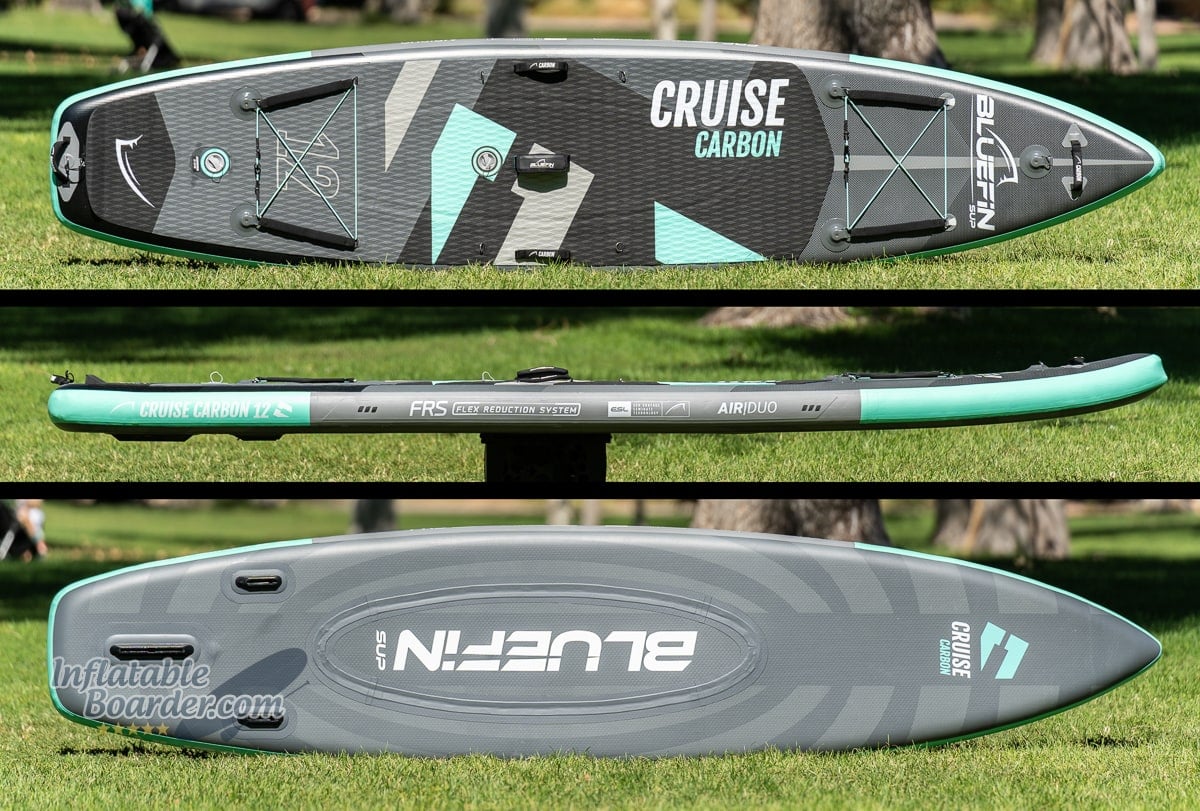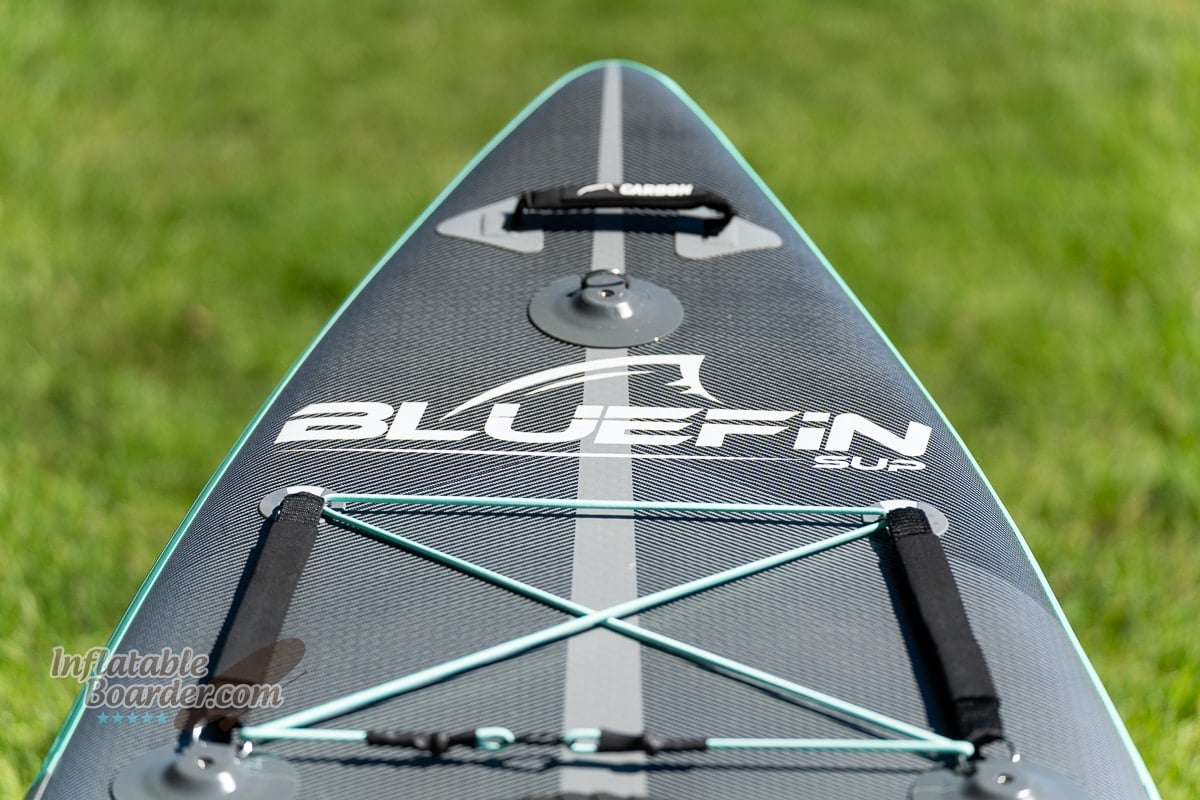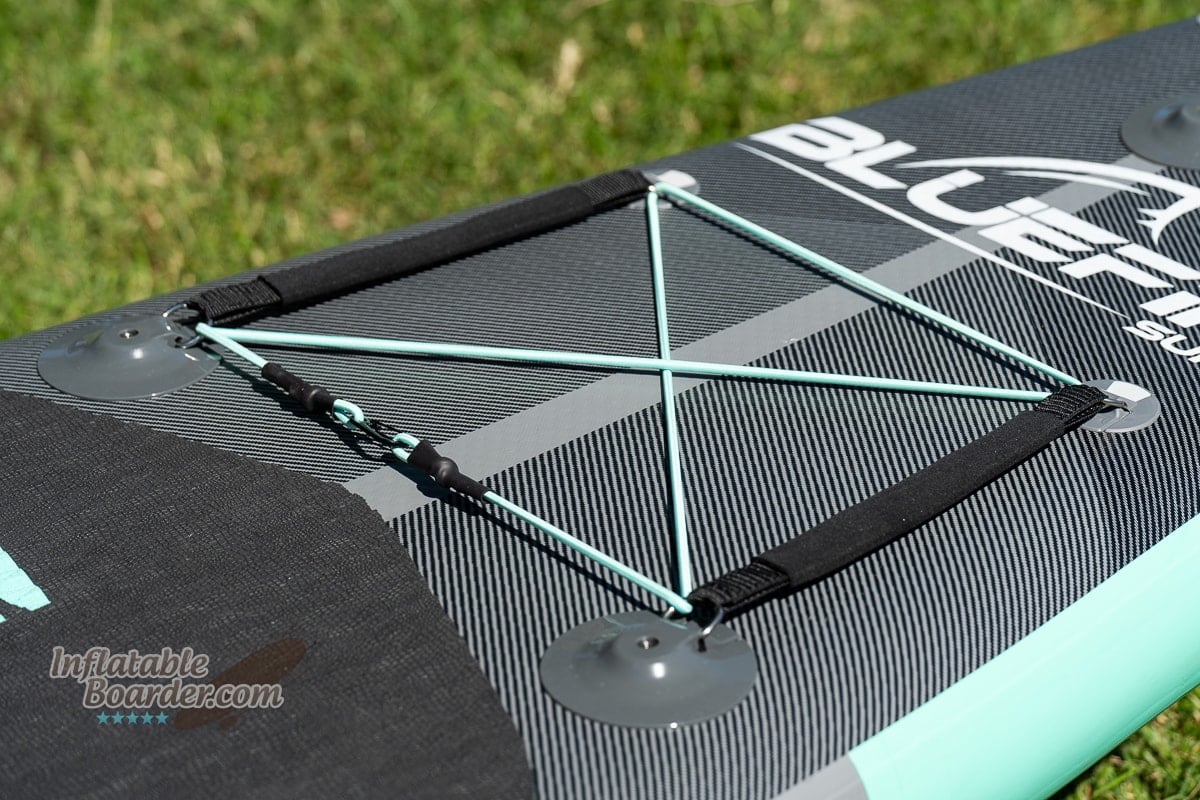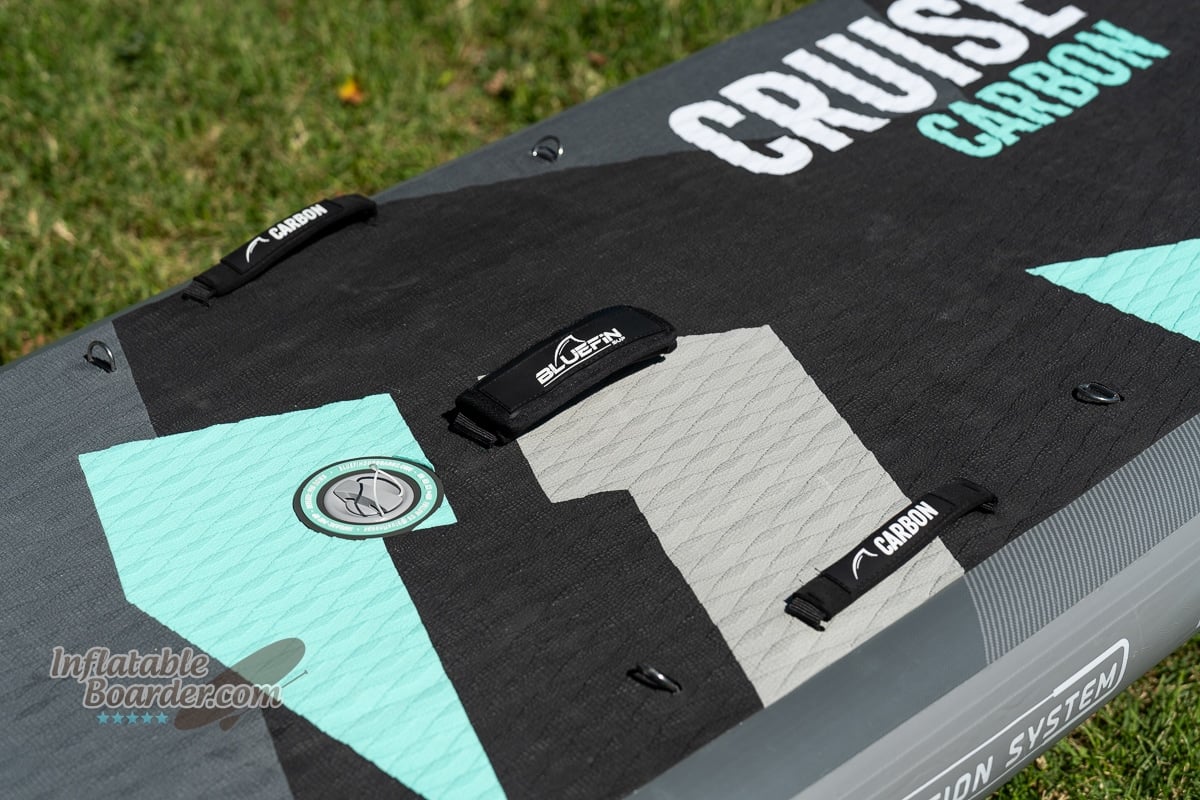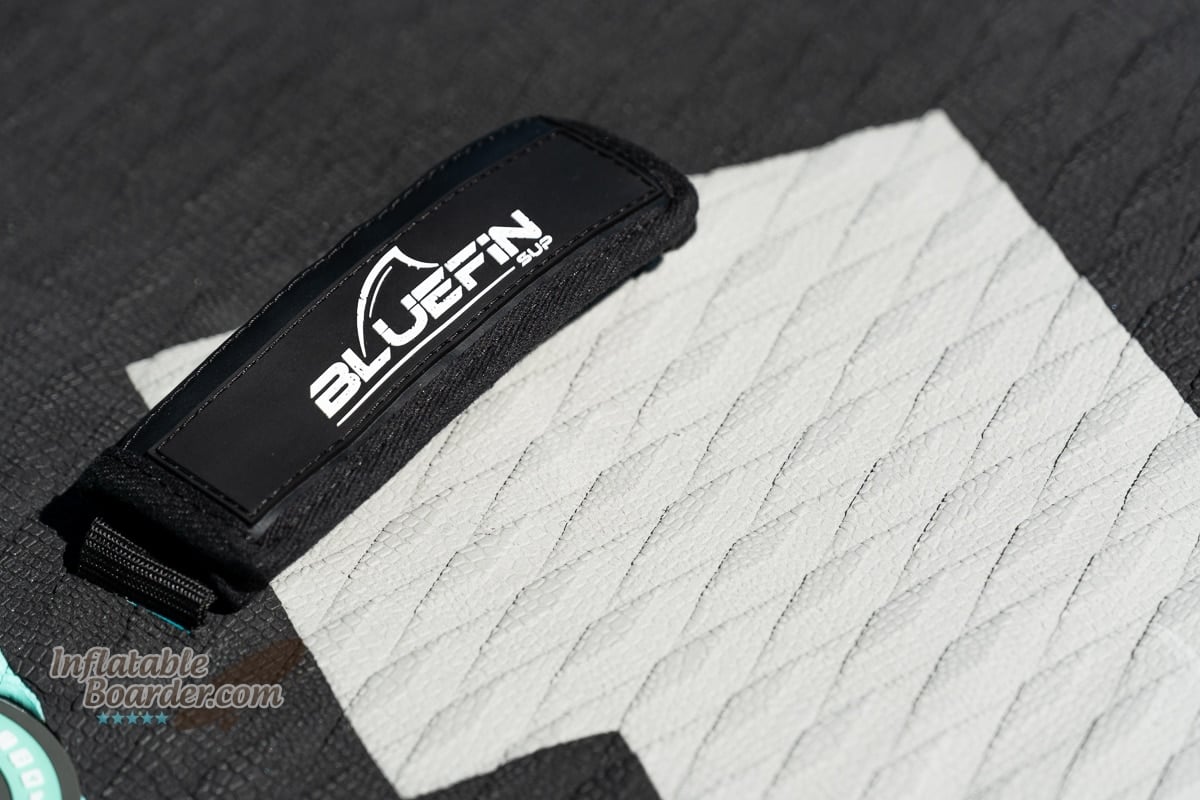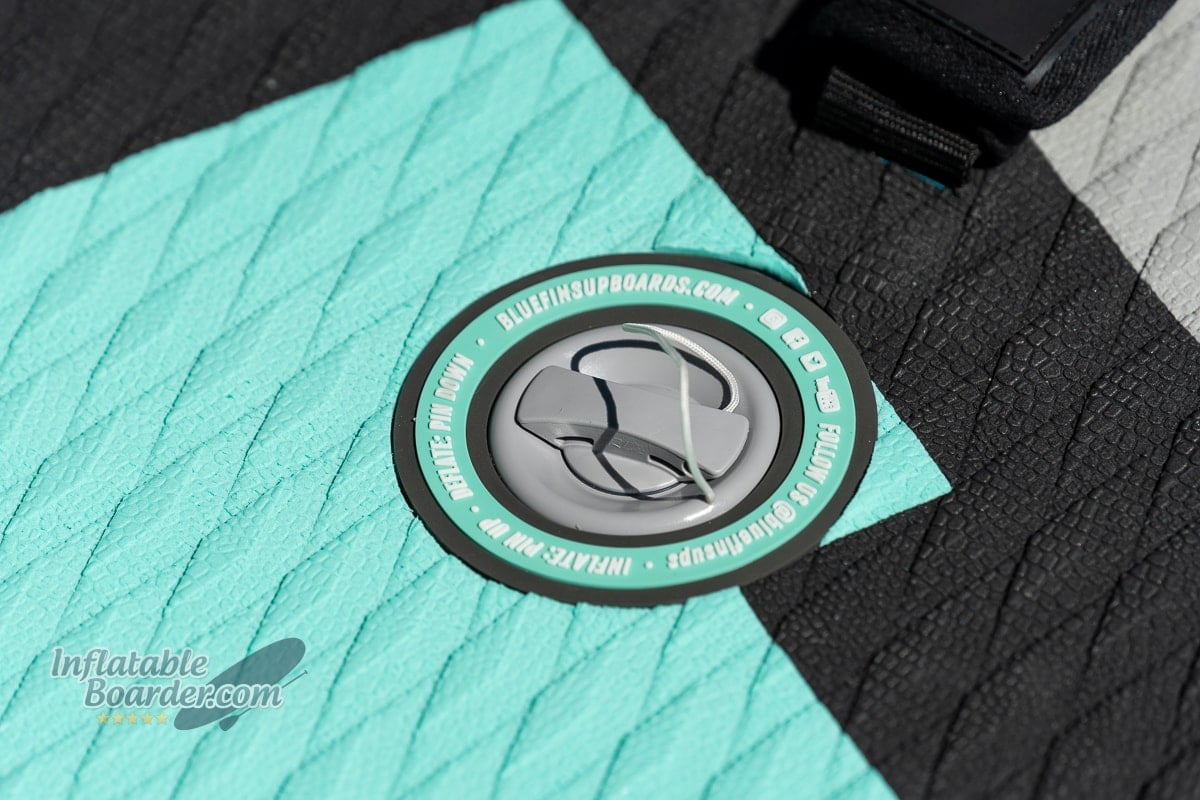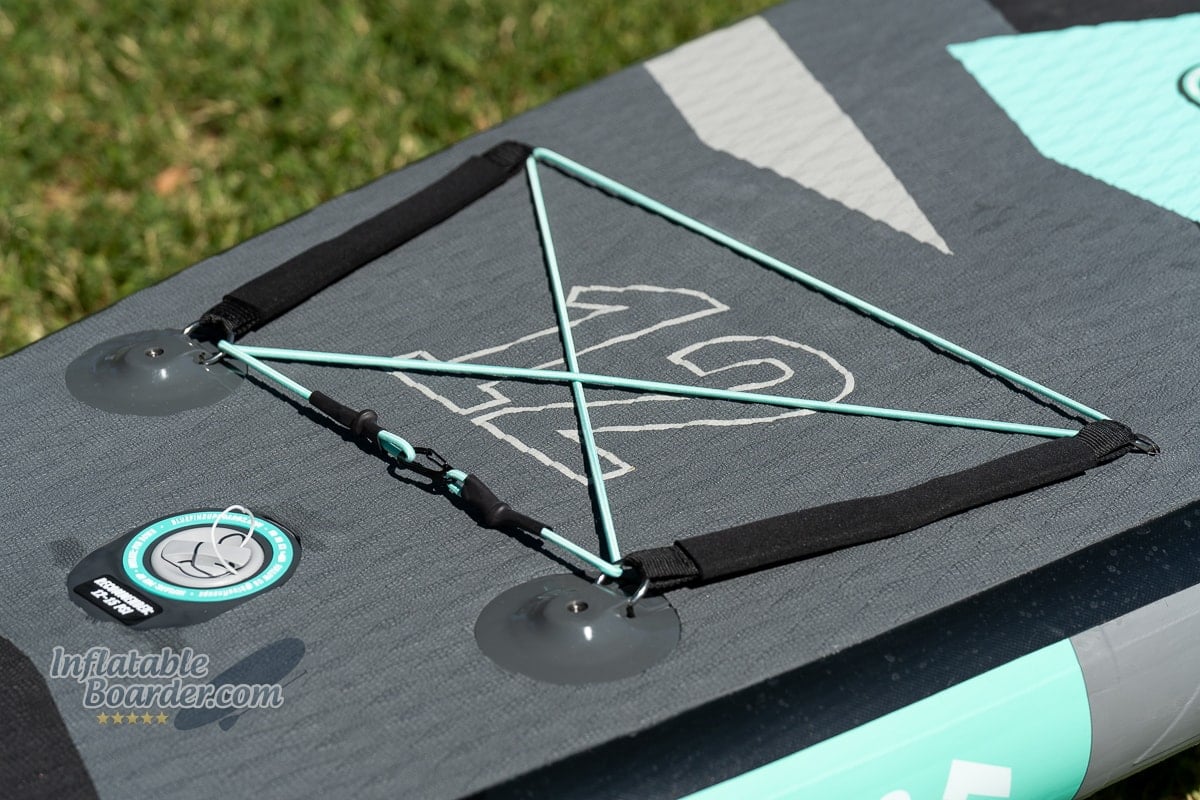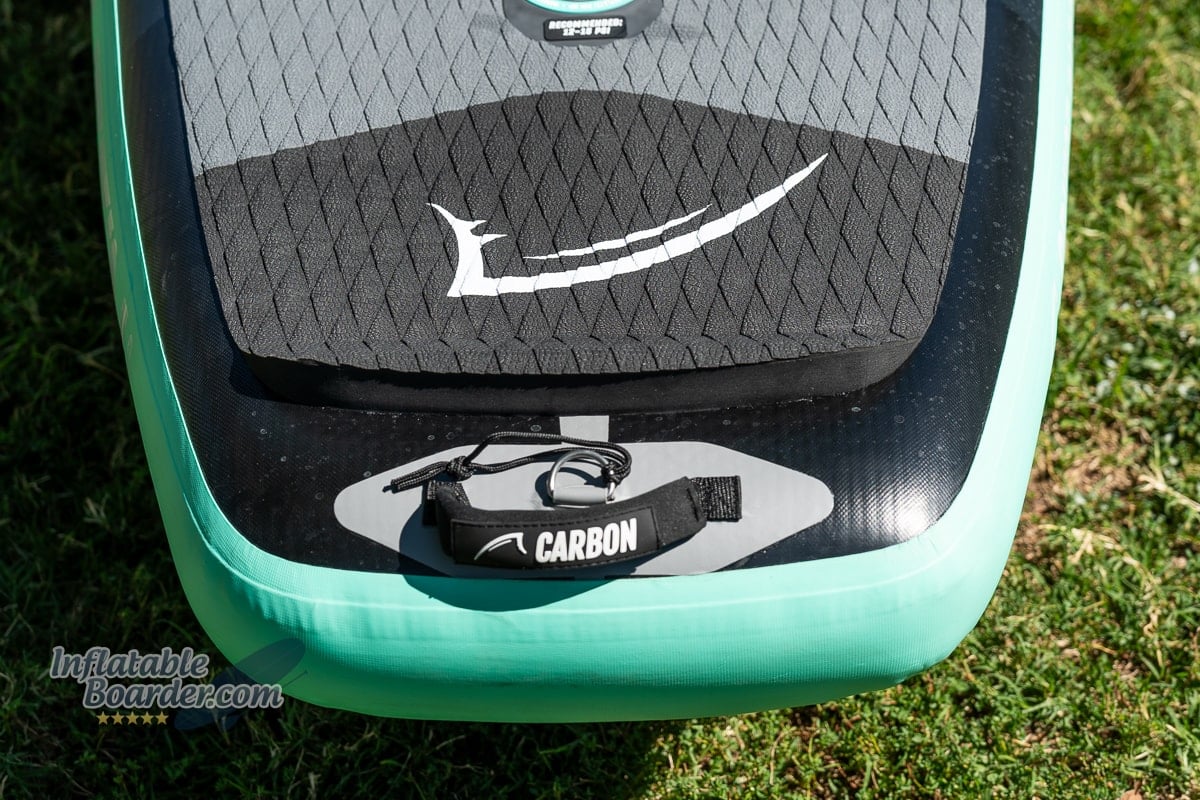 The Cruise Carbon 12' offers enough cargo space, passenger space, and accessory mounting options to rival most all-around iSUPs. It even includes a kayak conversion kit for those who prefer to sit and paddle. One notable feature not present is a dedicated paddle holder. Paddle holders are great for the hybrid paddler who likes to frequently switch between SUP and Kayak modes and wants to keep the alternate paddle part handy by their side.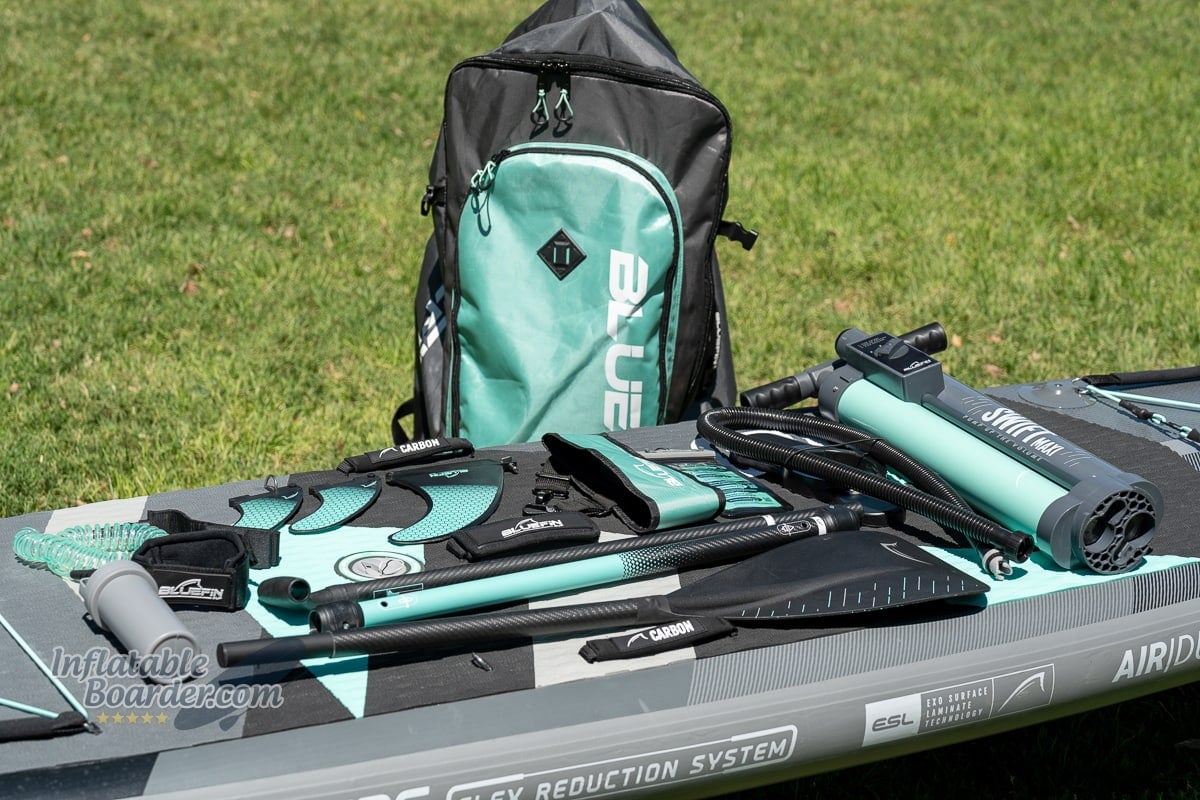 The Bluefin Cruise Carbon 12' includes quite an extensive kit. In addition to the basics (board, leash, fins, repair kit, paddle) you also get a triple-action hand pump, shoulder carrying strap, waterproof phone case, and a complete kayak conversion kit. All of this fits into the wheeled Bluefin SUP bag that comes with the board.
Paddle
The Bluefin Drive Carbon paddle blends a carbon fiber shaft and nylon blade to balance weight, performance, and cost.
The Cruise Carbon 12' comes with the Bluefin Drive Carbon hybrid paddle. This paddle uses a carbon fiber shaft with pressure clamps and push pin holes on each side so it can be used both as a SUP paddle with the included handle section or as a kayak paddle with an additional paddle blade (which does come with the Cruise Carbon 12'). The total paddle weight in SUP configuration is just shy of 34 ounces. That does make it relatively heavy, but it feels balanced in your hand.
The paddle has a moderate amount of flex in both the shaft and the blade. While this does reduce the total amount of power and speed you can get from this paddle, it makes paddling far more comfortable (especially for longer days on the water) than a more rigid paddle. The flex also makes the medium-large blade more comfortable for smaller paddlers.
The handle section is also made of carbon fiber with a round T-grip rubberized handle on top. There are length markings along the handle, but there is no indexing method, so you'll need to make sure that your handle is properly aligned with the blade after you adjust the length.
Stability
The Cruise Carbon 12' has great stability thanks to its extra width, higher volume, and wider tail.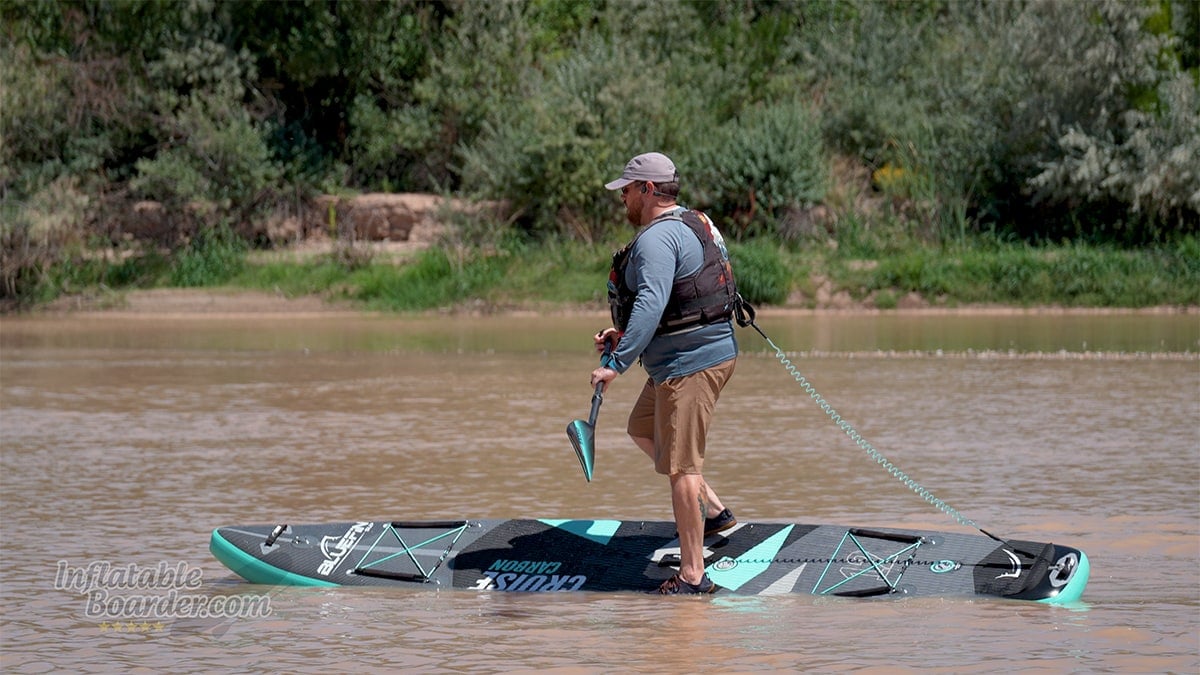 At 32" wide, the Cruise Carbon 12' is more of a crossover Touring/All-Around SUP or Adventure Touring board than it is a dedicated Touring SUP. This gives the Cruise Carbon 12' a great amount of stability – similar or more stable than most 10-11' all-around boards – especially with its wide, square tail.
Once I was on the Cruise Carbon 12' I didn't feel any rolling, twitching, or other movement from the board that I didn't put into it. While paddling, the stability only gets better as you dig the paddle into the water like an extra support.
The deck pad provides excellent traction for both bare feet and while wearing shoes. With this newer version of the Cruise Carbon 12', the deck pad has been extended back over the entire tail of the board, giving you secure footing as you walk all the way back for a pivot turn. The wide square tail gives a lot of support when stepping back to allow you to focus on your paddle strokes rather than your balance.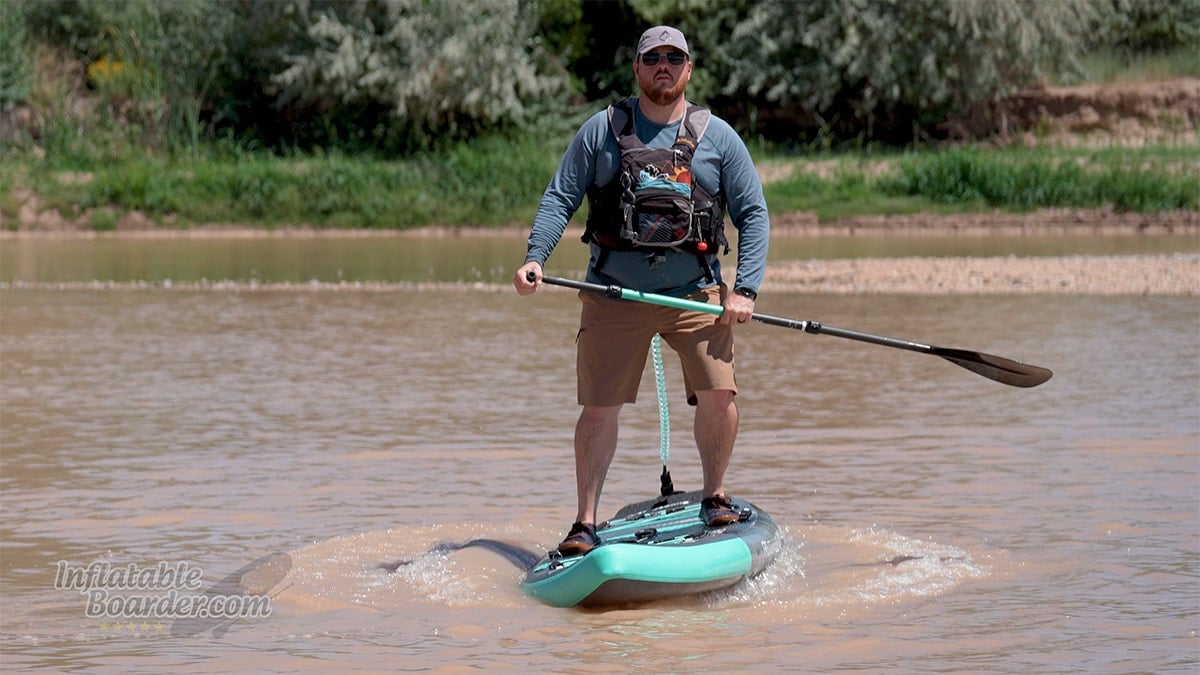 The Cruise Carbon 12' also does a great job of keeping things stable when things around you get a little less steady. The wide outline helps keep more of the board in contact with the water when it is tilted on its edge. This gives you more "secondary" stability in rough conditions, which gives you more time to correct and reset the board before going for a swim!
Speed
The Cruise Carbon 12' has great speed performance on the water. While it's not as fast as many dedicated touring iSUPs, it definitely moves quicker than all-around boards of the same width.
Paddle board speed is impacted by many, many factors, however one of the most telling is board size and shape. Longer paddle boards have a longer waterline, this increases their theoretical hull speeds, and narrower boards have less drag in the water than wider ones. The Cruise Carbon 12' splits the difference between longer/narrower Touring and shorter/wider All-Around boards in many categories, including speed.
In our sprinting speed test, the Cruise Carbon clocked an average speed of around 5.4 MPH for a sustained sprint, and showed up with a peak speed of 6.0 MPH. Both of these are above what we typically see for all-around iSUPs, and at the lower end for touring iSUPs.
Where the Cruise Carbon really shines is in its cruising speed and efficiency. At a relaxed, but continuous pace of 25 strokes per minute, the Cruise Carbon averaged 3.9 MPH. That places it much more in line with touring iSUPs than all-around boards. The same is true for its gliding efficiency. Once up to a cruising speed, the Bluefin Cruise Carbon 12' moves an average of about 21 feet per stroke before noticeably slowing down, giving it a glide ratio of 1.8 board lengths per stroke.
Overall the Cruise Carbon 12' does an excellent job of bringing some speed and efficiency to the water while still keeping beginner-friendly stability performance and a higher weight capacity.
Maneuverability and Tracking
Maneuverability and tracking are two sides of the same coin, it's hard to keep them both perfectly balanced all the time, and often it's better to have one shine through more than the other. In this case, the Cruise Carbon 12' focuses on tracking performance rather than agility.
Our maneuverability testing is designed as a stress-test rather than a real-world scenario. This lets us easily and consistently compare different boards. In our testing we use a forward sweep stroke (paddling in an arc from nose to tail) to turn the board in a full circle from a standstill. The Bluefin Cruise Carbon 12' needed an average of 14 strokes to make a complete turn while using all three included fins.
That is a very large turning radius. However, most of the time paddlers are either not turning in a full circle, or can use other, more efficient strokes. For example, using a reverse sweep stroke (tail to nose) turns the Cruise Carbon 12' in the same full circle with only 4.5 paddle strokes.
Of course other techniques can be used for faster turning or for smaller changes in direction. Bow draws are very effective at turning the board in smaller increments and pivot turns can whip the Cruise Carbon 12' around in just a couple of paddle strokes.
While the Cruise Carbon 12' didn't do so well in our maneuverability testing, it did great in our tracking performance test. Here we get the board up to a cruising speed moving toward a distant target, then take 10 paddle strokes on a single side. We then measure the distance between the original target and the new course using a compass. The Cruise Carbon 12' did a great job with an average course deviation of just 14° in 10 strokes on a side. Again we see the Cruise Carbon 12' blurring that line between all-around boards (usually 15-20°) and dedicated touring boards (usually 5-10°). Considering most folks will switch sides slightly more frequently, this is a great result. Additionally, simple adjustments to your stroke technique can keep your board on track while paddling on a single side indefinitely.
With a 2+1 fin setup, the Cruise Carbon 12' has a lot of versatility for fin choice. The center fin box is a standard US fin box that is compatible with thousands of different types of fins. The Cruise Carbon 12' includes a 9" surf-style center fin and two 5" surf-style side fins. If you do want to improve your tracking performance you can swap in a larger touring-style fin. Or if you want to improve your maneuverability you can use a shorter center fin (or no center fin). The two side fins use a fliplock style fin box. While this doesn't have as many different fin options available as a two-tab fin box, the included 5" fins are a great option for shallow water paddling.
Warranty and Customer Support
Bluefin offers a very generous 5 year manufacturer's warranty for their inflatable paddle boards, including the Cruise Carbon 12'. Additionally, all of Bluefin's accessories are covered by a 12 month warranty. Bluefin also offers a 60-day return window for unused items if you decide you'd like a different model iSUP. If you have any questions, Bluefin customer service is available via email, online chat, and social media.
Overall Impressions/Review Summary
The Bluefin Cruise Carbon 12' is a great crossover iSUP for the paddler who wants one board that is equally comfortable cruising around the lake as it is going on a three day camping trip. While it is heavier than most other iSUPs its size, once you get it on the water, that weight isn't really noticeable. The bevvy of included accessories is, frankly, dizzying (and is almost like playing tetris to get it all in the bag – but it does fit!). With a five year warranty and a comfortable paddling performance, the Bluefin Cruise Carbon 12' is a great option for larger paddlers looking for an all-around board, or anyone looking for that faster experience without sacrificing stability.
Bluefin Cruise Carbon 12' iSUP FAQ
What's the difference between the Cruise Carbon 12' and the Cruise 12'?
The Cruise Carbon 12' has a double air chamber construction and carbon fiber fabric reinforced rails for increased rigidity and abrasion resistance compared to the Cruise 12'.
Should I get the Cruise Carbon 12' or the Cruise Carbon 10'8"?
The Cruise Carbon 12' has better tracking performance and a higher weight capacity than the Cruise Carbon 10'8". However the Cruise Carbon 10'8" is noticeably more agile than the 12' version. If you like to paddle longer distances over open water, then the Cruise Carbon 12' is a great choice. If you frequently paddle on smaller bodies of water, then you may appreciate the increased agility of the Cruise Carbon 10'8".
How long does it take to inflate the Cruise Carbon 12'?
It takes about 10 minutes total to inflate the Cruise Carbon 12' (both chambers) to the maximum 15 PSI using the included triple-action hand pump.
How much does the Bluefin Cruise Carbon 12' weigh?
The Bluefin Cruise Carbon 12' weighs 33 lbs as the board only, and the entire kit packed into the wheeled carrying bag weighs 51 lbs.
Is the Bluefin Cruise Carbon 12' compatible with a kayak seat?
Not only is the Bluefin Cruise Carbon 12' compatible with kayak seat attachments, but it includes a full kayak conversion kit including seat and extra paddle blade.