Red Paddle Co 10'8″ Ride Review
Inflatable Boarder is reader-supported and may earn a commission when you buy through links on our site. Learn more
The Red Paddle Co 10'8″ Ride is one seriously cool stand up paddle board that does so much so well. It is an iSUP that excels in most water conditions, is constructed of a kryptonite-like inner woven core material, and it packs up into a convenient backpack when you are done. It's no wonder that it is one of the world's best-selling inflatable SUP boards. Throw the 10'8″ into the back seat of your car for those weekend getaways or a spontaneous stop at your local beach. Going paddling at some gnarlacious locale? Grab the Red Paddle 10'8″ Ride and go.
With more and more people today living the apartment or tiny house life, we have to thank Red Paddle Co for bringing the joy of stand up paddle boarding (SUP) to thousands who don't have the garage space to store a traditional hard paddle board. The Red Paddle Co 10'8″ Ride board is the slightly larger version of the most popular paddle board on the planet, and it's small and light enough to throw in the Red Paddle Co carry bag for closet or under the bed storage.
In this Red Paddle Co 10'8″ Ride review, we'll be going over some of the improvements made this year, the specs and best features, what comes with it, whether or not the Red Paddle Ride 10'8" price is reasonable, and more.
In a Hurry? Here's a Quick Summary…
Pros

Excellent build quality


Great paddling performance


Super versatile


Stable


High-quality accessories included
Cons

Warranty is only 12 months


Paddle not included
Price & Where to Buy it
Red Paddle 10'8″ Review: Improvements for 2016
The new 2016 Red Paddle Co 10'8″ Ride paddle board uses a new and improved construction technique which has resulted in an even lighter board. Pick the 10'8″ up by its carry handle and you'll instantly be surprised at just how light it is.
The rails on the 2016 Red Paddle Ride 10'8" SUP are smooth; so smooth that it is noticeable over previous models.
The centre carrying handle is beefier and more comfortable on the hands than previous models. The back end now also has a handle, which is useful when you need to drag the inflatable SUP out of the wash.
Rounding out our list of improvements for the Red Paddle SUP 10'8" this year are better quality D-rings, which are now more industrial and durable.

Red Paddle Co 10'8" Ride
Durability

Features

Versatility

Stability

Speed

Portability

Warranty

Customer Support

Price
Red Paddle Ride 10'8" Pros
Red Paddle Co's line of inflatable SUP boards
offer several advantages over their hard-shell cousins. The Red Paddle Ride 10'8" stand up paddle board is rigid for superior performance, yet the surface is soft enough to protect you from getting hurt.
The 10'8″ Ride is compact and lightweight when deflated and rolled up, and it is easily carried by one person under their arm or in the included Red Paddle Co bag. When it's time to paddle out, just a quick inflate with the Red Paddle Co pump (also included) and you're good to go. No need for expensive car racks or large storage spaces. The Red Paddle Ride 10'8" board was designed to be conveniently stored on a shelf, in your closet, or under your bed.
The Ride 10'8″ is part of Red Paddle's all-purpose lineup of inflatable paddle boards, which features four different sizes. The 10'8″ is certainly not a dainty board. At almost 5 inches thick, it's more rigid and durable than an average 4 inch board. The 34" width provides outstanding stability and glide even for newbies, and it can handle a full-grown 265 pound paddler with no problem whatsoever.
The Red Paddle Co SUP deck pad has a racy appearance, and it won't mark or tear as easily other iSUP deck pads.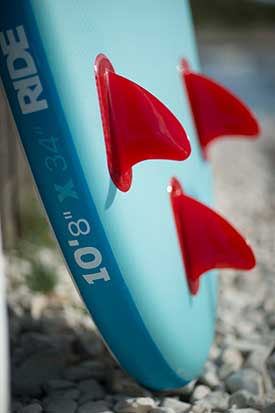 The 10'8″ Ride comes with the most popular Red Paddle fin setup—three attached fins, known as the Red Paddle Co iFin system. Most boards from Red Paddle Co come with these built-in fins. They are molded to be ultra-durable and super easy to pack up and transport. The three fin system leads to superior tracking capability, so you can use the 10'8″ in surf, whitewater, and flat water paddling. You don't need any special tools with these attached Red Paddle Co fins, nor will they come loose when you least need it.
Versatility is what the Red Paddle Ride 10'8" paddle board is all about. In addition to being super stable and easy to paddle, it's also fast and glides effortlessly through the water. The board is rigid enough to surf with, and unlike other iSUP boards that flex uncontrollably, the 10'8″ has excellent rigidity. The Red Paddle 10'8″ PSI allowance goes all the way to 25 PSI, about 10 PSI higher than most other iSUP boards.
Easy Set Up
The 10'8″ Ride packs into an easy to carry Red Paddle Co backpack that gets top marks for both looks and carrying comfort. Easily carried with comfortable, well-padded backpack straps, the 10'8″ is so lightweight (28 pounds) that anyone can transport it.
If you're lacking a bit in the patience department (like me), you want an inflatable board that is on the water in no time flat. The Ride is quick to set up and takes just a few minutes to get going. Using the new Red Paddle Co Titan Pump, the 10'8″ inflates fully in no time. The Dual Cylinder pump system combined with the Hi Flo handle means the time and energy required to inflate your board with the Titan Pump is minimal.
Red Paddle Co 10'8″ Ride Specs
| | | |
| --- | --- | --- |
| | LENGTH | 10'8" |
| | WIDTH | 34"/863mm |
| | THICKNESS | 4.7"/120mm |
| | LENGTH | 296 litres |
| | RIDER WEIGHT | up to 120kgs/265lbs |
Red Paddle 10'8″ Ride Review: Construction
The 10'8″ Ride is made of high density drop stitch material using a process called Tec Air. It boasts an outstanding double layering "board within a board" laminate technique, along with four layers along the SUP rails. What a difference this makes—rails are typically the weakest section of a board, and many other manufacturers get away with a single layer of laminate. I repeat: Red Paddle Co. uses four layers! That obviously says a lot about the durability of this board.
The patented Red Paddle Co RSS stiffening system creates a truly rigid board—the 10'8″ is stronger and stiffer than many other boards. On the outside of a Red Paddle Co SUP, you'll see thousands of dimples spread from nose to tail and rail to rail. These are the internal threads. The Red Paddle Co 10'8″ Ride stand up paddle board design differs from other boards on the market, which use a cheaper, linear stitch system.
With Red Paddle's patented RSS system, the 10'8″ Ride SUP is up to 40% stiffer than other inflatables of the same size and thickness. You literally get the best of both worlds—the convenience and portability of an inflatable, with the stiffness of a traditional hard shell SUP.
Red Paddle has also developed what they call MSL Fusion. MSL fuses a second layer of hard-wearing polymer to the drop stitch core, rather than hand gluing. This completely removes hand gluing errors and cosmetic blemishes. MLS Fusion also saves nearly 5 precious pounds in weight, and makes the 10'8″ stiffer at lower pressures.

What's Included with the Red Paddle Ride 10'8″?
The current Red Paddle Co 10'8″ Ride package for sale comes with a pile of goodies. In the box is the impressive Titan Pump, an awesome heavy duty Red Paddle backpack, a waterproof Red Paddle Co phone case, a 'Pumped Up' SUP pressure gauge, and a board repair kit. There's a lot of cool stuff included in this package, and it's all top-quality gear.
The Red Paddle Co Warranty
The Red Paddle Co warranty is a 12-month guarantee against any manufacturing defects. The company has a great reputation and stands behind everything they make.
Red Paddle Co 10'8″ Ride FAQ
Can the Red Paddle Ride 10'8" handle a dog?
Absolutely. The heavy-duty materials used by Red Paddle to construct the 10'8″ means that your dog's nails pose no threat. Just remember that it's important to bring along a life jacket for your dog!
Can I fly on airplane with the Ride 10'8″?
You sure can, just roll the board up and throw it in the Red Paddle Co bag. You can check it when you get to the airport and pick it up with the rest of your luggage whenever you arrive.
How does the Red Paddle 10'8″ test in surf conditions?
The 10'8″ is a lot of fun in smallish surf, but I wouldn't plan on taking it to Pipeline.
How long can I leave the Red Paddle Ride 10'8″ inflated for?
Red Paddle Co recommends that you store your 10'8″ Ride out of direct sunlight, and you should reduce the PSI to 15 if you're not planning to use it for a while.
What is recommended as far as the Red Paddle 10'8″ PSI goes?
25 PSI for larger riders, 15-22 PSI for everyone else.
I'm 5'9″ and weigh 185 pounds, is the 10'8″ the best board for me?
Riders that are your size would be better off with the Red Paddle Co 10'6″ Ride.
How should I clean my Red Paddle Co 10'8″ Ride?
You can give your board a good wash and rinse with some mild soap and water. Just be sure to dry the board completely before rolling it up.
Does the 10'8″ come with a leash? If not, where can I buy a Red Paddle leash?
The 10'8″ package does not include a leash, but you can buy one here.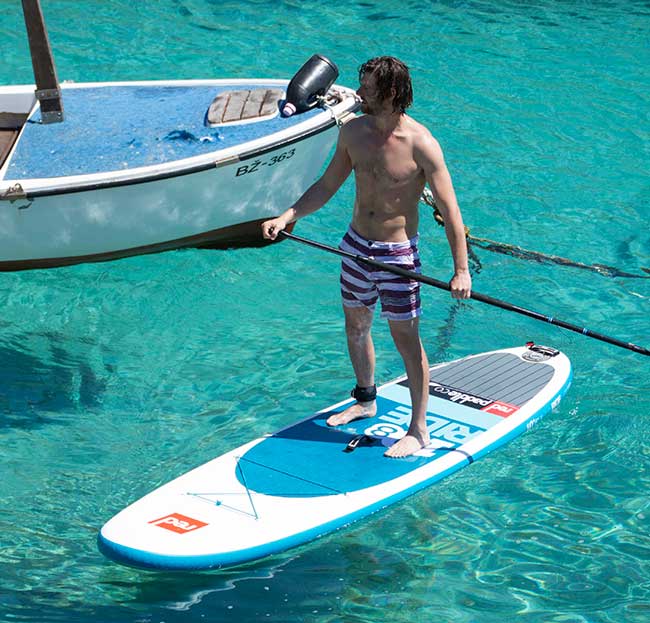 Final Thoughts
It's true that the Red Paddle Co 10'8″ Ride inflatable stand up paddle board is more expensive than much of the iSUP board competition, but we feel the additional cost is warranted due to the fact that the 10'8″ is such a high quality board that's built to last. Red Paddle uses top of the line materials on the 10'8″ Ride, and after factoring in the added extras that come with the board, a higher Red Paddle Co 10'8″ Ride price is to be expected. If you're working with a tight budget and need a board that is more affordable, we'd recommend checking out the iROCKER vs. Red Paddle Co comparison section on our website.
We hope you've enjoyed this Red Paddle Co board review. At the end of the day, if you're looking for an drop-dead gorgeous inflatable SUP that is heavy on features and build quality, you'll be hard-pressed to beat the Red Paddle Ride 10'8" inflatable stand up paddle board.