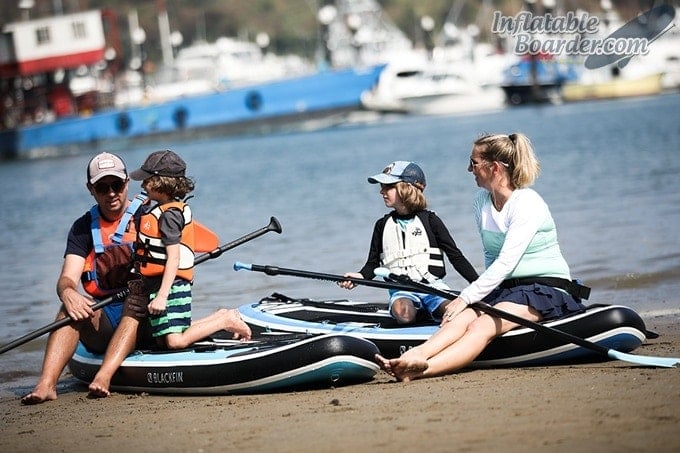 While stand up paddleboarding is a wonderful family activity, many parents haven't been properly educated on the important topic of water safety for kids. SUP is the fastest-growing watersport in the world, and while we consider it to be a safe sport overall, there are a few important things to keep in mind before paddling out with your children.
To help educate parents and children on the importance of SUP safety, we've put together this fun infographic which lists our easy, 7-step water safety checklist for paddleboarding parents. Please help us get the word out by sharing it — thanks!
#1: Avoid Spots with Waves, Wind, and Strong Currents
When preparing to paddle out with your children, it's important to avoid areas with rough water, waves, wind, and strong currents. Calm lakes and bays are the safest places to paddle board with your kids, and they're also more enjoyable.
It's also a good idea to look for spots that offer plenty of places to get in and out of the water, and you need to make sure that there isn't a lot of motorized boat and personal watercraft traffic.
#2: Make Sure Your Child is Accompanied by an Adult
If your child is old enough to paddle their own SUP, it's important to make sure that they are always accompanied by an adult. Unfortunately accidents do happen, and having an experienced adult present at all times will help to ensure your child's safety while on the water.
#3: Wear a PFD (Personal Flotation Device)
Wearing a SUP PFD is a must anytime you and your child are out on the water. While adults have the option of wearing a belt-style PFD, children under the age of 13 must wear a USCG-approved life jacket.
#4: Use a SUP Leash
A paddle board leash is another must-have SUP accessory. SUP leashes ensure that paddlers won't get separated from their boards if they happen to fall off. Strong winds and currents can quickly move a board out of reach, so a SUP leash is an important safety accessory that can literally save lives.
#5: Review Proper Paddling Technique
If you're going to bring your child along on your SUP, it's important that they know where and how to sit. Since your SUP will be more unstable in the water with two people onboard, it's best if your child sits in a stationary position toward the front of the board.
Older children who are able to paddle their own board should be taught proper paddling technique.
#6: Don't Forget the Sun Protection
Overexposure to the sun is dangerous for kids and adults alike, so it's always important to exercise caution while on the water. Sunscreen and proper attire (sun hats, swim shirts with SPF protection, etc.) can greatly reduce the risks associated with sun exposure.
#7: Bring Along Plenty of Water and Snacks
Paddleboarding is great exercise and a super fun way to experience the outdoors, but it's important to give your body the fuel it needs. Staying hydrated and bringing along some healthy snacks will ensure that you and your kids are up to the challenge!
Share This FREE Infographic On Your Site
Just copy the code below and paste into your site:
Recommended Reading
If your child is old enough to paddle on their own, be sure to check out our best paddleboard for kids guide. We highly recommend inflatable SUPs for children as they are lighter, easier to transport, and far more forgiving when it comes to falls.