Gili Sports Adventure 11' Review | 2023
Inflatable Boarder is reader-supported and may earn a commission when you buy through links on our site. Learn more
Gili Sports Adventure 11': Overview
The Gili Sports Adventure 11' all-around iSUP is designed to take you wherever your adventures lead. Whether you are cruising your local marina, exploring a new bay, or fishing the flats, the Adventure 11' can do it all. It's excellent tracking, speed and stability make the Adventure 11' a stand-out choice for paddling longer distances in less-than-ideal conditions.
The Adventure 11' has enough volume for most all paddler sizes without being so large to be cumbersome to paddle. We recommend the Adventure 11' for paddlers 5'6" to 6'2" tall and 150-250lb. Smaller paddlers may feel more at home on the Gili Sports Mako (10'x32") and larger paddlers, or those carrying lots of cargo, may want to consider the Adventure 12' (12'x32") or the Gili Sports Meno series iSUPs.
— BRAND BOARD Summary Ratings and Review – —
Gili Adventure 11'
Construction & Durability

Features and Versatility

Stability

Speed

Maneuverability

Tracking
Overall Score
The Adventure 11' Tracks incredibly well, is quick and efficient on the water, and is a veritable Swiss Army knife with a variety of features built into the board.
Pros
Tracks very well
Stability
20 D-Rings plus threaded action mounts
Scotty mounts
Paddle holder
Kayak seat compatible
Triple flip-lock fins
Center "touring" fin
Raised kick pad
Passenger handles
Ample cargo space with removable bungee cords
Cons
Fin placement reduces maneuverability
Large paddle may not be ideal for smaller paddlers
Construction and Durability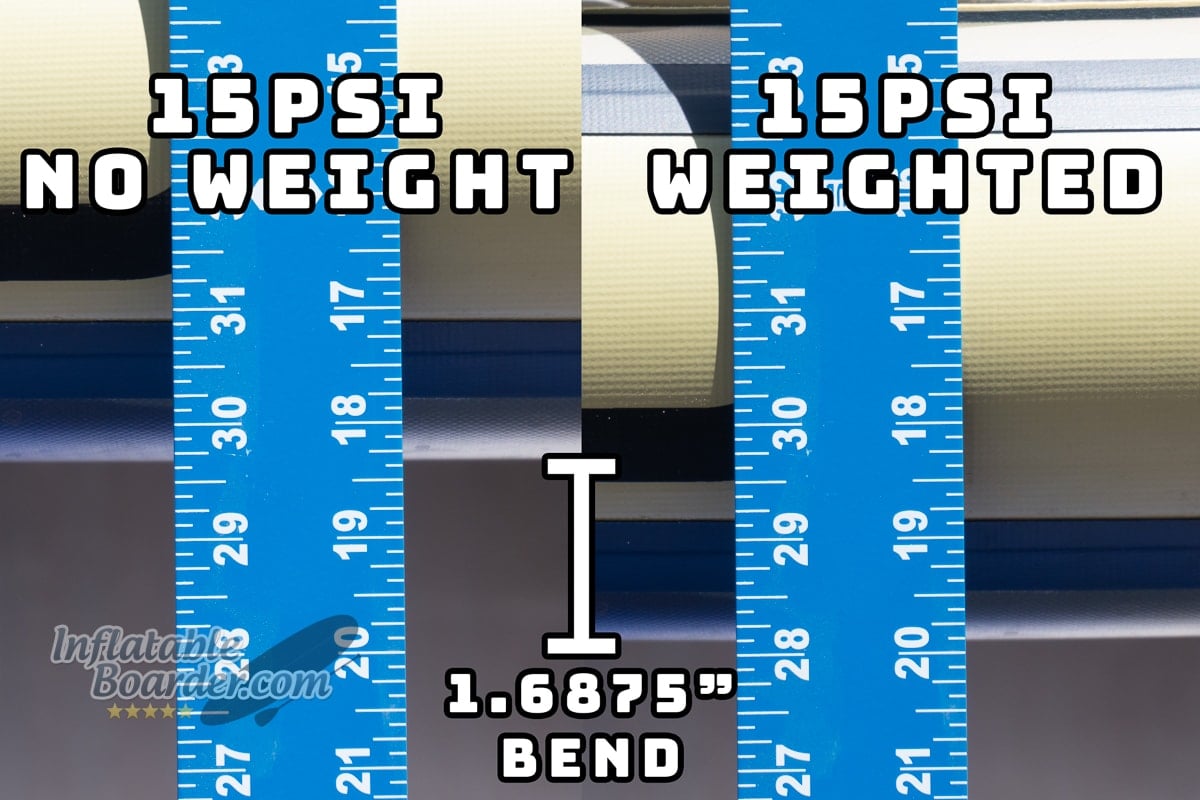 Gili Sports uses a dual-layer fusion PVC material for the deck and hull (top and bottom) of the Adventure 11' wrapped around a 6" drop stitch core. Fusion materials like this typically indicate that two layers of PVC have been melted together, rather than glued. This construction keeps the board weight down while still providing excellent durability and measurable stiffness. The rails (sides) of the board are additionally wrapped with another layer of PVC and the edges of this rail strip are reinforced with additional PVC seam tape for even more impact and abrasion resistance.
The Adventure 11' is rated to 15 psi internal pressure – which is fairly standard for modern inflatable paddleboards. At the maximum recommended pressure there is only a slight flex detected when bouncing on the board (below). While this is a fun test for us to do, this flex isn't really noticeable when paddling normally, but is felt a little when sprinting the board.
During testing we did not see any indication of any durability concerns. With normal use and care, the Adventure 11' will be taking you out on the water for years to come. As always, avoid over-pressurization, sharp objects, dragging your board on the ground, and make sure it is thoroughly dried before storing to maximize the longevity of any iSUP.
Specifications
Dimensions
Length
11' 0"
Width
32"
Thickness
6"
Weight
Max Capacity
290 pounds
Board Weight
22 pounds
Kit Weight
(SUP & accessories)
38 pounds
Buying Info
List Price
$648.99
Warranty
2 years
Returns period
60 days
Features, Accessories and Versatility
To paraphrase my favorite Parks and Recreation character, the Gili Sports Aventure 11' specializes in "stacks on stacks on stacks" of features to make an extremely versatile paddleboard.
Let's take a look at some of the highlights starting at the tail of the board. On the bottom we've got a standard triple-fin setup using fliplock fins. The Adventure 11' comes stock with a touring-style center fin and two shorter side bites. You can easily customize this for your needs. Want maximum tracking and stability? Use all three. How about a little extra speed and better maneuverability? Just use the center fin. Shallow water got you dragging? No worries, just swap the center fin for those two side bites and you'll be cruising the flats in no time.
On the deck we've got a raised kick pad and diamond-groove deck pad in the rear for maximum grip and stability when stepping back for a pivot turn. There's a medium-size cargo area in the rear with removable bungee cords and passenger handles as well.
The Scotty mounts integrated into the deck let you attach a fishing rack or number of other Scotty-mount compatible accessories to be within easy reach just behind you. While you're fishing there are velcro paddle holders on the side of the Adventure 11' to keep your paddle out of the way, but secure and accessible. If you prefer to sit, Gili Sports also has a kayak seat accessory kit available that works seamlessly with the Adventure 11'. There are also two threaded multi-use mounts at the front of the deck pad, just before the cargo area for action cameras, rod holders, speakers, or just about anything else you can secure with a standard M8 bolt.
Now one thing that can happen with all of these built-in features is they can start to crowd the standing area – either around the handle, or "on your way" if you are stepping back to to pivot-turn the board. I'm glad to report that I did not experience any such issues while paddling the Adventure 11'. The placement of each of these items is very thoughtful and only adds to the board's usefulness rather than detract.
On the front of the board we've got another large cargo area with removable handles and bungee cord, and a combination multi-use mount and D-ring at the nose. If you're keeping score at home, that's 20 D-rings, 3 threaded multi-use mounts, and 2 Scotty mounts. I have a lot of accessories for my SUPs, and I would have a hard time filling each of these spots.
The carry and storage bag for the Adventure 11' has several zippered pockets (including one very prominently labeled "fin pocket" on the outside. While it does not have wheels, the padded backpack harness and padded side handle are comfortable to use. There are also four compression straps on the sides to help keep everything in a tight-knit package and easier to carry.
Paddle
The large blade size provides a lot of power, while the medium rake and curve make the paddle easy to use in a variety of situations.
Paddles are a very personal part of paddleboarding. Without them we won't get very far (believe me, prone paddling with your hands is not ideal!), but with the wrong one we may tire ourselves out too quickly, or not be able to efficiently propel our boards.
Gili Sports offers several paddle options with the Adventure 11'. There's a standard fiberglass/nylon combination (included in the base price and what we used to test the Adventure 11') and there are carbon fiber/nylon and full carbon fiber options as well (each slightly more expensive). The big differences between these options (and an aluminum option that comes standard on different models) are their weights and stiffness. They all have roughly the same size and shape blade, though the full carbon fiber blade will also be more stiff than the nylon blades.
The fiberglass/nylon paddle is a good balance between weight, stiffness and cost. While not the lightest, the fiberglass shaft does noticeably reduce weight from the aluminum version while providing a slightly-soft feel while paddling. This is a really good thing because the blade is quite large and catches a significant amount of water with each paddle stroke. For larger paddlers (like myself) this can be really beneficial. We can easily put our weight into the paddle and get more power with each stroke, but for smaller paddlers this can become tiring rather quickly if paddling with a high cadence.
Overall the Gili Sports paddle is great for those paddling at medium or slower rates, or for larger paddlers who like to put down a lot of power with each stroke. There's just enough curve in the power face and just enough rake (the angle the blade meets the shaft) to complement each other without impacting performance.
Choosing higher end options like the carbon/nylon and full-carbon paddles comes down to how much of a premium you'd like to spend to save some weight with each paddle stroke. Over time this can add up, so while a casual paddler may not greatly benefit from a lighter paddle, those going on longer trips and expeditions should really consider it.
Stability
There are so many factors that determine stability it can be really hard to judge how a board will actually feel on the water just by looking at its specs.
The Gili Sports Adventure 11' feels great underfoot while standing flat on the board (what's called primary stability) and has very little flex, bounce, or excess rocking during normal use. The wider touring fin has more surface area than the more commonly seen "flex" (commonly referred to as "dolphin" or "shark" fin shaped) fins. This helps the board better resist rocking from side to side.
But where the Adventure 11' really shines is when balancing on the board's rails (edges). This secondary stability is really important for paddlers in choppy conditions or who like to play in rivers where you often find yourself in this position. The Adventure 11' has a very gentle tapering shape when viewed from above which, along with the extra surface area in the fin, gives a very consistent feeling when transitioning from the hull to the rails. This is also great for all of the anglers out there who shift their upper body weight when casting. The resistance to rocking back and forth and great stability when on an edge help you feel even more secure on the board.
Stepping back on the board for a pivot turn, you do lose some stability as the rails taper to the medium-width square tail. Once there, the diamond-groove deck pad and raised kick pad give you a really firm purchase with your feet for a nice secure feeling while wheeling around on the tail.
Speed
Speed on a paddleboard is as much about efficiency as it is power. If a board doesn't move well through the water, it doesn't matter how much power you put into the paddle.
Thankfully, The Adventure 11' does glide easily across the water and performed excellently in our speed tests. There is just enough rocker in the nose of the board to prevent the Adventure 11' from digging down into the water when increasing the speed. The paddleboard's overall stiffness makes accelerating a breeze, but it could be improved. There is a little bit of noticeable flex in the board when paddling hard which does slow things down just a little bit. An additional PVC layer, a hull/deck stringer, or extra reinforcements on the rails of the board would stiffen the Adventure 11' and increase its top speed even more.
Many paddlers, though, aren't participating in sprint races on an 11' all-around board though. And for those paddlers, there's great news: the Adventure 11' glides extremely smoothly at casual and cruising/touring speeds. The flex essentially disappears and the distance just melts away with a steady, comfortable cadence.
Maneuverability
While testing the Adventure 11' we found that the turning radius was a bit wide – averaging over 8.5 forward sweep strokes to make a complete circle. However, it does respond well to course corrections while paddling. The fins on the Adventure 11' are placed very close to the tail of the board which increases tracking, but does create this larger turning radius.
There are three ways to turn the Adventure 11' quicker, though. The first is to change the fin setup. By removing the side fins you will reduce the turning radius without sacrificing too much stability or tracking (If you take the center fin out, you'll lose lots of both). The second is to use reverse sweep strokes. These strokes start at the tail and move toward the nose in a large arc. The downside is they do slow you down considerably. Using reverse sweeps, the Adventure 11' makes the same 360° turn in only 4 strokes.
Finally, intermediate and advanced paddlers can take advantage of the diamond-groove tail pad and raised kick pad in the rear to pivot turn the Adventure 11' in about 2 strokes for a full circle. But this technique is limited and if you have passengers or a heavy load on the board it won't be nearly as effective.
Tracking
While the Adventure 11' may not be the fastest in the corners, it tracks straight incredibly well. Those same fin features that give it a wide turning radius help it maintain a straight course while paddling.
While paddling casually and cruising, the Adventure 11' eats up forward momentum and spits out a straight line. What this really means is that you can paddle on one side of your board for longer before needing to change sides. This increases your efficiency on the water and reduces fatigue, letting you paddle longer and farther. While sprinting, the small amount of flex noted above did cause a bit of bouncing, making it necessary to change sides more frequently, but overall still tracked very well.
Ultralight paddleboards can sometimes run into problems with wind and chop – throwing them off course too easily. With a board weight of 22lb the Adventure 11' has just enough mass to help reduce impacts from waves and wind without being overly heavy. This is great news for those exploring farther from their home shores.
Warranty and Customer Support
Gili Sports backs the Adventure 11' iSUP with a 2 year warranty against manufacturing defects. It's been our experience that any manufacturing issues (with any board or brand) will typically make themselves known quite quickly, but it's great to see Gili Sports standing behind their product for longer. The bag and accessories are also covered under warranty, though only for 1 year and 90 days respectively. Once you get your Adventure 11', there is a 60 day return window if you do not like it for any reason. There is a 20% restocking fee for non-warranty returns. If you have any questions or problems, you can contact Gili Sports through social media, email, phone, or via a web site form.
Value
We take a holistic approach to assessing the value of an inflatable paddleboard kit rather than just ranking them strictly by price. When considering the type of board, price range, accessories, warranty, support, and performance, we find that the Gili Sports Adventure 11' is an excellent value for new and intermediate paddleboarders, doubly so if you are able to purchase it during one of Gili Sports' sales.
Overall Impressions/Review Summary
The Adventure 11' iSUP by Gili Sports is a great option for paddlers of all skill levels. The durable and stable platform is easy for beginners to learn on, while still keeping a level of performance appreciated by intermediate and advanced paddlers. The excellent tracking performance, great stability and overall versatility make the Adventure 11' an easy recommendation for those who like to get out and explore.
Paddlers under 5'6" may want to consider the Gili Sports Mako (10'x32") for similar performance in a more manageable size. Paddlers over 250lb or those gearing up for longer trips should take a look at the Adventure 12' or the Gili Sports Meno 11.5' or 12.5' options.
Gili Sports Adventure 11' iSUP FAQ
What is the difference between the Mako 10', Adventure 11' and Adventure 12'?
All three are 32" wide and 6" thick. The Mako 10' is a better option for paddlers 5'6" or shorter and swaps the rear Scotty Mounts for threaded multi-use mounts. The Adventure 12' is better suited for those paddlers who are carrying lots of equipment or wanting to paddle farther more efficiently. The Adventure 12' also gains an extra Scotty mount in the front of the board.
How does the Adventure 11' compare to the Gili Sports Air 10'6" or Air 11'6"?
The Adventure 11' is built with an extra layer of PVC for a stiffer, higher-performing ride. The Air 10'6" and 11'6" are lighter and lack a few of the on-board features of the Adventure 11'.
How long does it take to pump up the Adventure 11'?
The included hand pump takes between 6-10 minutes to inflate the Adventure 11' depending on how quickly you pump. Gili Sports also makes a 12v electric pump and optional battery that can easily inflate the Adventure 11' for you.
Can I leave the Adventure 11' inflated, or does it always need to be deflated?
Absolutely, you can leave the board mostly inflated. It's best to reduce the pressure inside the board for storage. Just don't let the board sit out in direct sunlight for extended periods of time, as this can cause damage from over pressurization and long-term damage from UV exposure.
Can I take passengers or pets on the Adventure 11'?
For sure! The Adventure 11' is perfectly suitable to bring along small passengers or pets. There are removable passenger grab handles in the front and rear, and the dual-layer fusion PVC is more than capable of handling Fido's nails.
Does the Adventure 11' work with a kayak seat?
Yes. Gili Sports has an optional kayak seat and paddle attachment available. Simply connect the four buckles of the kayak seat to the indicated D-rings in the middle of the board, adjust the tension, and you're ready to go!