Gili Sports Air 11'6″ Review | 2023
Inflatable Boarder is reader-supported and may earn a commission when you buy through links on our site. Learn more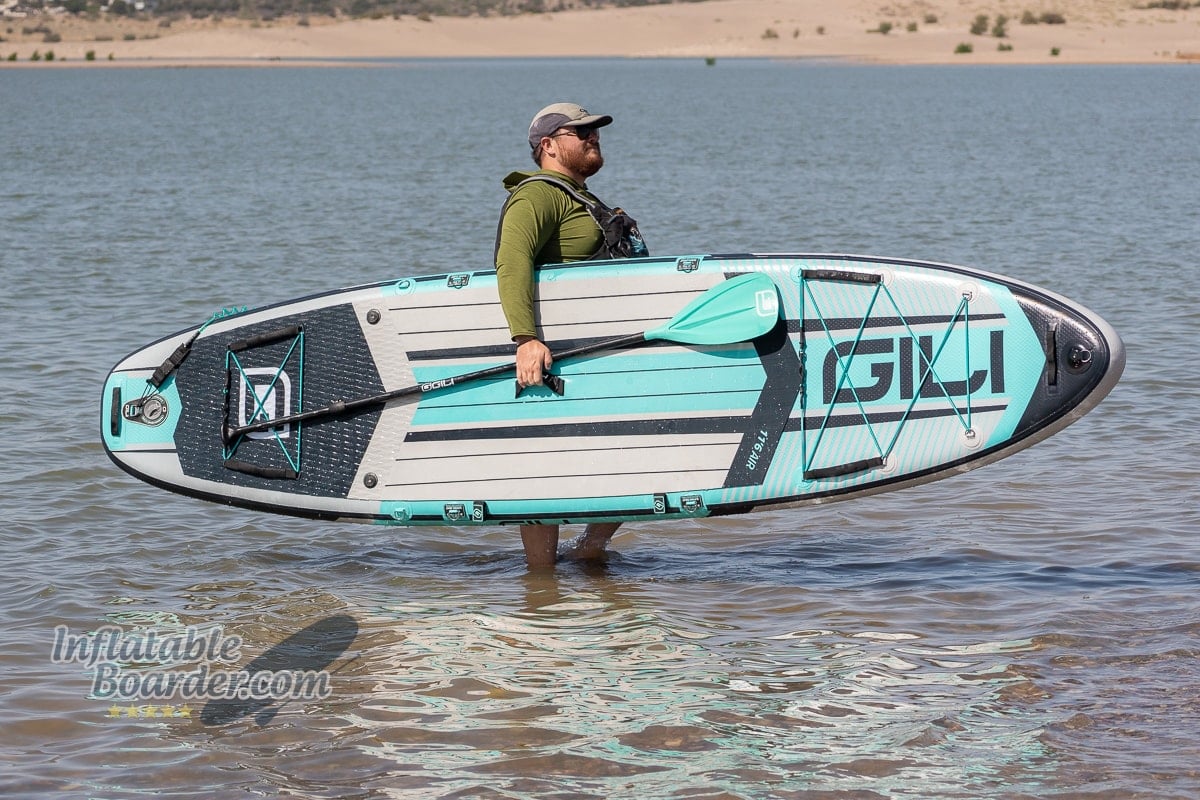 Gili Sports Air 11'6″: Overview
The Gili Sports Air 11'6" is a great, low-cost, entry-level iSUP for beginners. This lightweight board has plenty of features for all kinds of paddling and has enough volume for average to larger paddlers, paddlers with kids or dogs, or those seeking a little bit of adventure while on the water.
— Gili Sports Air 11'6″ Summary Ratings and Review —
Gili Sports Air 11'6"
Construction & Durability

Features and Versatility

Stability

Speed

Maneuverability

Tracking
Overall Score
The Air 11'6″ is a great budget option for larger beginner paddlers.
Pros
Tracks well
Paddle holder
Kayak seat compatible
Removable cargo bungees
Diamond groove deck pad on tail
Great value
Excellent warranty
Cons
Single layer construction
Aluminum paddle should be upgraded to fiberglass
Construction and Durability
The Air 11'6″ (and the smaller Air 10'6") is a budget-friendly iSUP option by Gili Sports. The Air 11'6" is lightweight thanks to its single-layer PVC construction. While not the stiffest build available, the single-layer PVC is still plenty strong enough for general use. Two layers of PVC are wrapped around the rails of the board for both abrasion resistance and additional stiffness.
When bounce- and bend-testing the Air 11'6" there is a very noticeable bend in the board. The degree of bending isn't any worse than the Air 10'6", but is amplified by the extra foot of length of the Air 11'6". The Air 11'6" does have a slower, less-springy, rebound than the Air 10'6", which does actually improve the overall feel and stability of the board.
While paddling the Air 11'6", you can feel some flex in the board, but not to the same degree experienced when bouncing on it. The overall feel of the board while paddling is very stable, and while it's not as stiff as the Gili Sports Adventure 11', the Air 11'6" certainly doesn't feel like a wet noodle, either.
With regular care and maintenance, the Air 11'6" will last for many years. Because the body of the board is made with only one layer of PVC, it won't be as abrasion/puncture resistant as the dual-layer options (like the Adventure 11'), so extra care should be taken when moving it on land and when launching and landing. I do recommend using a tarp or purpose-built landing mat when inflating/deflating as well.
Specifications
Dimensions
Length
11' 6"
Width
32"
Thickness
6"
Weight
Max Capacity
295 pounds
Board Weight
21 pounds
Kit Weight
(SUP & accessories)
36 pounds
Buying Info
List Price
$595
Warranty
2 years
Returns period
60 days
Features, Accessories and Versatility
There are a bunch of great features built right into the Air 11'6" that make it a super versatile option.
The extra length of the Air 11'6" over the Air 10'6" adds carrying capacity and increases the board's tracking ability. On that longer platform the deckpad is very comfortable and incorporates a diamond texture on the tail. This change in texture adds even more grip when stepping back to the rear of the board for pivot turns and surfing.
The two cargo areas are large enough to hold medium size dry bags or a small deck bag cooler. Both bungee cords are removable (an upgrade over the 10'6" version) and both areas also incorporate removable neoprene handles for passengers.
The nose of the board also has a combination D-ring and multi-use threaded mount that can be used for an action camera, speaker, fishing rod holder, or any other accessory that uses a standard M8 threaded bolt.
The middle of the board also has D-rings spaced for use with an optional kayak seat attachment or carrying strap. On the right side of the board are two velcro loops that can be used as a paddle holder. On the bottom of the board, the Air 11'6" has a 2+1 fin setup with snap-lock fins. The center fin has a touring-fin shape for extra tracking and stability. If you want a little more speed, you can easily remove the side fins to reduce drag. If you need more maneuverability or will be paddling in shallow water, then you can use the two side fins without the center fin. These features really help the Air 11'6" live up to the all-around category. Whether you are cruising around, practicing yoga, fishing, or heading out for a workout, the Air 11'6" is designed to do it all.
They carrying bag has three zippered pockets on the outside to organize your fins, leash, repair kit, and everything else you need on the water. The bag itself has plenty of room for the board, pump, and paddle. If you do need more space, there are six total compression straps on the outside of the bag you can use to hold down a jacket or PFD.
Paddle
The aluminum paddle that is included with the Air 11'6" has room for improvement. Overall it's an OK paddle for just cruising around, but the aluminum shaft is susceptible to bending if used with too much force. The large blade is a little over-sized for most paddlers, and makes it too-easy to put that extra force into the handle.
Gili Sports does offer an optional $45 (at the time of this writing) upgrade to their fiberglass/nylon paddle. I highly recommend that anyone purchasing the Air 11'6″ or 10'6" go for this paddle upgrade. It not only prevents issues like deformation, but is also lighter while still being well-balanced.
Stability
The Air 11'6″ has a great size and volume for average to larger paddlers. When stepping onto the board you can feel a little bit of the flex from the single-layer construction, but it is not really apparent when paddling. It's easy to stand on the Air 11'6" without much effort and there is very little rocking or rolling from side to side.
What was really impressive to me was how stable the Air 11'6" is when you hold it on its edge. It takes almost as little effort to do this as it does to stand flat on the board.
This secondary stability is great when paddling with passengers that move around a lot (especially dogs) as it means you won't be constantly working to stay upright. Beginners will have no issues with stability on the Air 11'6".
Speed
When speed testing the Air 11'6" I found that it was quick and consistent on the 100m sprint. While there was some flex and bob with the Air 11'6" it was not as apparent as on the Air 10'6", and the longer board did come out ahead in overall top speed. Most people are not sprinting their all-around iSUPs at full power, though.
While cruising around on the Air 11'6" the glide was very smooth, and ultimately quite good as well, averaging about 1.8 board-lengths with every stroke before losing speed. The Air 11'6" also finished its ¼ mile testing at a comfortable 4:44 time (a little over 3mph) with a cruising paddle cadence.
The Air 11'6" is not the fastest iSUP we've tested overall, but it does have great gliding and cruising qualities for a fun and efficient time on the water.
Maneuverability and Tracking
When testing maneuverability, we like to see how many forward sweep strokes it takes to turn in a complete circle. The Air 11'6" clocks in at just under 6.5 strokes per 360° – not the most maneuverable, but certainly not the least, either.
While this is a great test to compare one board against another, it's not very useful in the real world. While cruising around on the Air 11'6" I found it to be easy enough to turn wherever I needed to go. As you pick up speed it becomes a little harder to turn, but it still responds well to steering strokes and ruddering with the paddle blade.
The longer length and touring-style center fin on the Air 11'6" do give it better than average tracking, though. While paddling around at cruising speeds, I found it very easy to keep to my typical 10-12 strokes per side without pushing too far off course either direction. However the tracking performance does dip considerably when sprinting. In this case the flexibility of the board comes back into play causing bouncing, flexing, and turning with each powerful paddle stroke.
Warranty and Customer Support
Gili Sports offers a two-year warranty on all of their inflatable SUPs, including their budget-friendly options the Air 11'6″ and Air 11'6". The included accessories are covered under a 90 day warranty, and the bag is covered for an entire year from manufacturing defects. If you have any questions about, or run into any issues with your Air 11'6″, Gili Sports is available via phone, email, social media, and through their website.
Value
The Air 11'6" balances versatility, construction, performance and price very well. The only hesitation in calling this package a fantastic value (over just a good value) is the aluminum paddle. The fiberglass paddle upgrade is absolutely worth the additional cost, though. If you choose to purchase the Air 11'6" you'll definitely be pleased with the quality of the board and how it performs on the water. The two-year warranty is also one of the best when looking at low-cost inflatable paddleboards.
Overall Impressions/Review Summary
The Air 11'6″ is a great iSUP for beginners on a budget who still want to do a little bit of everything and do it well. The higher weight capacity and longer length is great for taller or heavier riders, or those paddling with passengers or a whole day's worth of food and water. The tracking performance is a great benefit for those who like to explore their local lakes and bays, and it still has plenty of maneuverability for all of the river paddlers out there.
Smaller paddlers (under 5'8") may prefer the shorter length of the Air 10'6", and those paddlers who can stretch their budgets a little further will certainly enjoy the additional performance of the Adventure 11'. For any paddler on a budget, I think the Gili Sports Air 11'6" makes a fantastic all-around iSUP.
Gili Sports Air 11'6″ iSUP FAQ
What is the difference between the Air and Adventure iSUPs from Gili Sports?
The Air 11'6"/10'6" is a low-cost all-around iSUP great for beginners who aren't looking to spend a lot of money, but still want to get on the water. The Adventure 11' is a great mid-range all-around iSUP for those who know they will want to spend more time on the water and want the extra performance and durability from the dual-layer construction. The Adventure 12' is a touring-oriented all-around for those who regularly, but not always, like to paddle long distances and have the skill to maneuver a longer board.
How does the Gili Sports Air 11'6" compare to the Nautical 11'6"?
These two iSUPs are very similar in performance. Most paddlers will have a hard time telling them apart if they were blindfolded. The primary functional differences are the number of threaded multi-use mounts and the fin shape. The Nautical 11'6" does come standard with a fiberglass paddle.
How long does it take to pump up the Air 11'6"?
The included hand pump takes between 6-10 minutes to inflate the Air 11'6" depending on how quickly you pump. Gili Sports also makes a 12v electric pump and optional battery that can easily inflate the board for you.
Can I leave the Air 11'6" inflated, or does it always need to be deflated?
Absolutely, you can leave the board mostly inflated. It's best to reduce the pressure inside the board for storage. Just don't let the board sit out in direct sunlight for extended periods of time, as this can cause damage from over pressurization and long-term damage from UV exposure.
Can I take passengers or pets on the Air 11'6"?
Smaller passengers and pets will certainly enjoy a ride on your Air 11'6". If you do regularly paddle with passengers, we do recommend taking a look at the Air 11'6" or Adventure 11' if your combined weight will be close to the maximum weight capacity of the Air 11'6".
Does the Air 11'6" work with a kayak seat?
Yes. Gili Sports has an optional kayak seat and paddle attachment available. Simply connect the four buckles of the kayak seat to the indicated D-rings in the middle of the board, adjust the tension, and you're ready to go!