NIXY SUP Reviews | 2022 New Paddle Boards Compared
Inflatable Boarder is reader-supported and may earn a commission when you buy through links on our site. Learn more
NIXY SPORTS, headquartered in Irvine, California, is a company with a singular focus: designing and manufacturing their visions for the ideal inflatable paddle boards. Unlike many other brands, they don't also sell hard boards or market multiple lines of SUPS at different price points. Instead, the founders are committed to designing a single "goldilocks" lineup of feature-packed boards, often incorporating advanced construction technologies, because they believe in selling "only the inflatable SUPs that we'd want to buy ourselves."
Avid travelers with a background in design and engineering, NIXY founders Nicolas and Ale Szczedrin have built a SUP brand known for top-shelf build quality and good value. This husband and wife team fell in love with paddle boarding several years ago, and they've become extremely passionate about the sport due to the incredible convenience and portability of SUPs.
In 2022 they launched their fourth generation of boards — shortened to "G4." The expanded NIXY SUP lineup boasts six models with the addition of the ultra compact variant of the Huntington G4 (their previously existing compact SUP) and the brand new Monterey G4 touring SUP. The boards range in length from 9'6″ to 12'6″.
Why We Recommend NIXY SUPs
One of the stand-out features we love about NIXY SPORTS is that they keep their lineup simple. Each board serves a distinct purpose and there isn't a proliferation of models just to hit different price points.
Clearly their boards aren't the cheapest, but they pack in a lot of value for the price. They'll interest buyers wanting a premium board at a reasonable cost. They also appeal to paddlers concerned about weight: NIXY's already light boards shed additional weight with the incorporation of woven dropstitch construction used in the 2022 G4 series.
Like all of our top pick boards, their SUPs come with everything that you need to get out on the water including a pump, paddle, leash, repair kit, and SUP travel backpack to pack all of those items in. More importantly, the NIXY accessories are consistently some of the highest quality included accessories we've seen each of the past few seasons and they've only improved for 2022.
NIXY also provides a solid 2-year warranty on their boards and generous 30-day money-back guarantee (see more details below). All of our interactions with their customer service have been friendly and helpful; we've also not had any bad customer experiences reported to us. It's clear that good service is important to NIXY.
NIXY Paddle Boards Compared
What's New for 2022
NIXY has incorporated several significant changes across their lineup for 2022. While you'll want to check out our individual reviews for all of the details, here are the highlights:
Woven drop stitch construction: Reduces board weight, increases strength and stiffness when inflated, yet makes the board more pliable and easier to roll when deflated.
US/FCS compatible center fin box: Use the convenient tool-less NIXY thumbscrew attached fin OR now you can use your favorite US/FCS fin.
Threaded accessory mounts: You may know them as "action mounts" – attach all your favorite accessories like GoPro cameras.
Adjustable / removable bungy storage: Front and rear cargo storage areas can be tightened, loosened, or removed entirely.
Carbon Fiber Hybrid Paddle: A brand new carbon fiber hybrid paddle that is is lighter and more ergonomic than before.
2 Chamber/3 Stage Pump: The updated pump features removable handles and folding feet to pack up even more compactly.
3-wheel Travel Backpack: The updated backpack is slimmer than before with new drain holes in the side paddle pockets to let water out.
Fresh Designs and Colors: NIXY has given the whole G4 family a visual refresh with an eye-catching new set of designs and colors that we think will appeal widely.
NIXY SUP Reviews (2022)
NIXY Huntington G4 Ultra Compact
Travel SUP | 9'6″ x 32″ x 6″
The renamed NIXY Huntington G4 Ultra Compact is the next generation of the company's Huntington compact board. This game-changing SUP weighs only only 18.75 pounds and packs down into about half the size of regular inflatable SUPs.
The ultimate platform for adventure travel, it measures 9'6″ x 32″ x 6″ inflated, but folds in half along the centerline and then rolls up to an unbelievably small size for unparalleled packability. To accommodate this, it features removable dual US/FCS compatible fins and offset hardware on the deck.
It comes with a compact carrying bag, 4-piece paddle, compact dual-chamber, triple action pump, and leash. If you're looking for a lightweight, super portable board that you can take anywhere, the new NIXY Huntington G4 is our top pick this season.
NIXY Huntington G4 Compact
Travel SUP | 9'6″ x 32″ x 6″
An exciting new addition to NIXY's lineup for 2022, the NIXY Huntington G4 also measures 9'6″ long and weighs only 18.75 pounds like its ultra compact sibling. However, it sports a single center removable fin (tool-less, in a US/FCS compatible finbox). Because of its centered hardware, this board is rolled up like a normal SUP, so it doesn't get quite as compact as the other Huntington.
It comes with standard-sized accessories including a rugged rolling backpack, 3-piece carbon fiber hybrid paddle, dual chamber/triple action pump, 10′ coiled ankle leash, and repair kit.
This is a straight tracking, responsive board that's a great option for kids, smaller paddlers, or travelers who want a lightweight, compact board, but aren't yet ready to go ultra-compact. Check out our NIXY Huntington SUP board review for full details.
NIXY Newport G4
All-Around SUP | 10'6″ x 33″ x 6″
A fun all-around inflatable paddle board, the 10'6″ long NIXY Newport G4 weighs in at a surprisingly lightweight 21 pounds. At 33″ wide, it's also more stable than the average 32″ wide all-around SUP without compromising speed and maneuverability. Whether fishing, flat water paddling, whitewater, or paddling around with your kids and pup — the NIXY Newport can do it all.
The Newport has been completely redesigned this season with lighter weight construction. Features include newly removable front and rear bungee storage areas, five new action mounts, 3 grab handles, 16 D-rings, a rail mounted paddle holder, and comfortable new logo stamped deck pad, and carbon fiber reinforced side rails. The Newport packs a ton of value.
For more info, be sure to read our in-depth NIXY Newport SUP board review.
NIXY Venice G4
Cruiser/Fitness SUP | 10'6″ x 34″ x 6″
A super stable platform that is designed those who enjoy extra stability — cruisers, beginners, yoga enthusiasts — the 10'6″ long NIXY Venice supports a maximum weight of 350 pounds. Like NIXY's other inflatables, the Venice is very lightweight and incredibly easy to carry around.
Like the Newport, the Venice has been completely redesigned this season with lighter weight construction. With a deck pad that extends all the way to the nose and removable bungee cargo areas, the Venice offers a the ultimate open deck area for fitness and Yoga. Other features include five new action mounts, 3 grab handles, 16 D-rings, a rail mounted paddle holder, and carbon fiber reinforced side rails.
To learn more, be sure to check out our full-length NIXY Venice SUP board review.
NIXY Monterey G4
Touring/Expedition SUP | 11'6″ x 34″ x 6″
New for 2022, the NIXY Monterey G4 is purpose built for serious touring and expedition paddle boarding. Weighing 25 pounds and supporting a maximum capacity of 400 pounds, the board includes 18 d-rings, 10 action mounts, 2 Scotty mounts, and 2 adjustable/removable bungee storage areas to maximize gear mounting options.
In addition to NIXY's standard carbon fiber rails, this is their first board to include dual air chambers for additional rigidity, performance, and safety.
NIXY Manhattan G4
Performance SUP | 12'6″ x 28″ x 6″
A performance board designed for speed, the NIXY Manhattan is a fast board that's ideal for cruising lakes and paddling longer distances. Featuring NIXY's lightweight dual-layer fusion construction, the Manhattan weighs in at only 23 pounds and it's capable of supporting up to 350 pounds of weight.
This season, the Manhattan has been nicely upgraded into a much more feature-rich touring SUP. The removable dual-bungee storage areas give you plenty of onboard cargo capacity for your gear and the front and rear grab handles make it really easy to handle the board around the water.
If you're looking for a fast paddling board that is affordable and constructed with the latest technology, this is a great choice. Check out our full NIXY Manhattan SUP board review for more info.
Optional NIXY Accessories
NIXY offers a nice range of optional accessories that you'll want to consider to add convenience or capability to their iSUPs.
NIXY Warranty & Returns Policy: Our Thoughts
NIXY provides a 30-day risk-free return policy, which takes the worry out of your purchase should you find it's not the right board for you. You only pay return shipping (we recommend keeping your packaging until you're sure you're keeping the board). We appreciate that they don't charge a restocking fee like some brands.
They offer a 2-year limited warranty on all NIXY SUPs, which is pretty standard for mid-tier and premium paddle boards. Included accessories receive a 90-day warranty, which is a bit above average. The NIXY warranty page is also one of the most to-the-point warranties we've seen. See the NIXY warranty page on their site for more details.
Where to Buy NIXY Inflatable SUPs
United States & Canada
If you're looking for the best price on one of NIXY's inflatable paddle boards, we recommend placing your order directly through NIXY's website. NIXY offers the lowest prices, FREE shipping in the US, no sales tax (unless you're in California), and top-notch customer support. Unfortunately, free shipping is not currently available in Canada.
International
NIXY will ship internationally on request, but the shipping can get quite expensive. Contact NIXY for more information.
NIXY Sales & Discounts Codes
Depending on the season, NIXY will often have a special promotion going. Check out the current deals here:
NIXY SUP Sales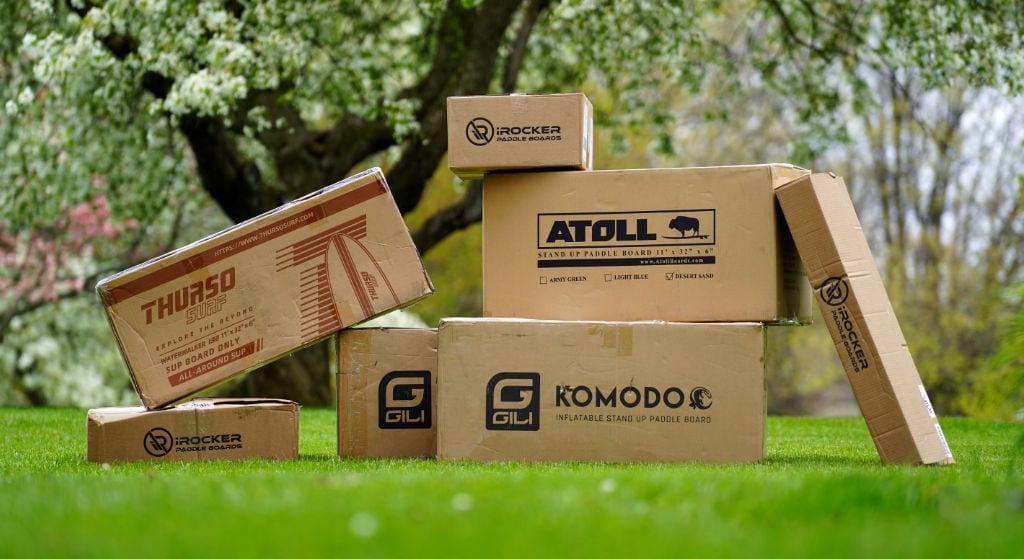 We've Found the Best SUP Sales For You
Check out our Ultimate SUP Deals Page for even more of best SUP sales and paddle board discounts from this and many other top inflatable SUP brands.