Gili Meno 12'6″ Inflatable SUP Review | 2023
Inflatable Boarder is reader-supported and may earn a commission when you buy through links on our site. Learn more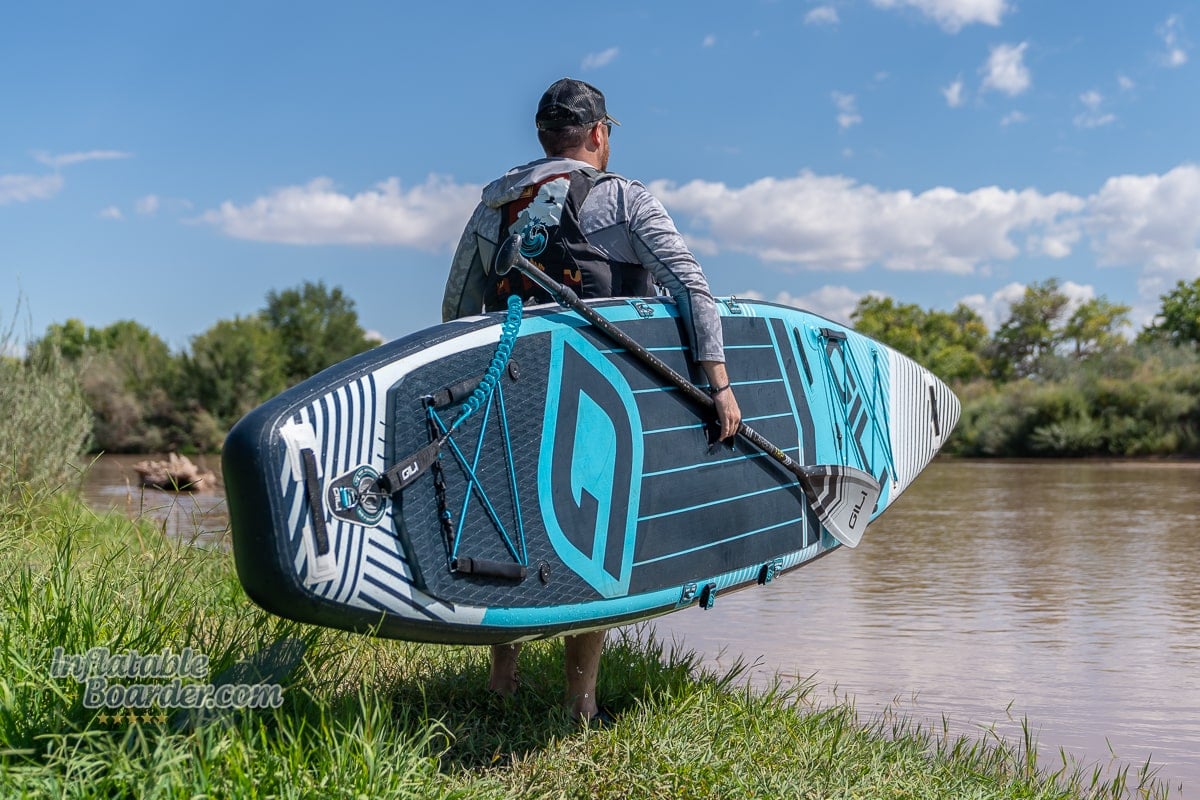 Gili Sports 12'6" Meno Touring: Overview
The Gili Sports 12'6" Meno Touring inflatable paddleboard is built to take you places you've never been and bring everything along with you to have a good time. This, relatively, wide touring SUP is efficient on the water without sacrificing stability. So whether you are heading to the other side of the lake for a nice picnic lunch, or loading up for a week long camping trip, the 12'6" Meno Touring has you covered.
— Gili Sports 12'6" Meno Touring Summary Ratings and Review —
Gili Sports 12'6" Meno Touring
Construction & Durability

Features and Versatility

Stability

Speed

Maneuverability

Tracking
Overall Score
The 12'6" Meno Touring is a wider touring board that prioritizes stability and maneuverability.
Pros
Dual layer PVC shell and carbon fiber reinforced rails provide excellent stiffness and durability.
31" width provides more stability than the average touring board
The single fin balances tracking, glide, and maneuverability well
The High Flow hand pump is quick and easy to use
Dual threaded action mounts on the rear and front of the board provide plenty of options for accessories without getting in the way
EVA foam deck pad is soft and grippy, and features a diamond-groove pattern and raised kick pad for extra control on the tail
Cons
The carbon fiber and nylon paddle blade feel a little unbalanced
The wheeled carry bag could benefit from a more durable exterior
Construction and Durability
The 12'6" Meno Touring uses double layer PVC, double layer rails, and carbon fiber rail reinforcements to increase stiffness and durability.
The Meno series is Gili Sports' flagship line of inflatable paddleboards. These boards share much of the same construction as the Adventure series iSUPs, but with a few added elements. Both lines use a linear drop-stitch core, dual-layer Fusion PVC shell, and two rail PVC rail layers. Both also feature top and bottom rail-seam reinforcement strips.
Besides the more specialized shapes found in the Meno series, the 12'6" Touring also gets the CarbonTech rail. This is a layer of carbon fiber fabric sandwiched between the rail and an outer PVC layer. The CarbonTech rail does two things. 1) it provides more abrasion and puncture resistance along the rail (where you are most likely to bump or rub the board) and 2) it increases the overall stiffness of the board. While we typically think of carbon fiber being used with epoxy or other resins to create a solid, stiff sheet or tube, the carbon fiber fabric is instead stabilized with a flexible coating (so it can still be rolled up). While this does not create a solid material, the carbon fiber increases the stiffness of the board by not allowing the rails to flex outward. This small change does noticeably increase the stiffness of the board. The Adventure 12' (12' x 32" x 6") is very similar to the 12'6" Meno Touring in size and construction – except for the CarbonTech rails. In our bend test, the Adventure 12' deflected 1.625" when loaded with 170lb, while the 12'6" Meno Touring only deflected 1.1875" – that's a 27% increase in stiffness!
You can also feel (and see) the difference on the water. While the Adventure 12' is still a relatively stiff board, it did have a moderate amount of flex which was noticeable while moving around on the board. The 12'6" Meno Touring, on the other hand, has less noticeable flex while paddling, walking, or bouncing on the board.
The dual-layer fusion PVC and reinforced rails also provide plenty of durability for the Meno Touring. With proper care and maintenance PVC paddleboards will last for 10 years or more. As always, store your boards totally dry and indoors for best longevity.
Specifications
Dimensions
Length
12' 6"
Width
31"
Thickness
6"
Weight
Max Capacity
300 pounds
Board Weight
24 pounds
Kit Weight
(SUP & accessories)
37 pounds
Buying Info
List Price
$955.00
Warranty
2 years
Returns period
60 days
Features, Accessories and Versatility
The 12'6" Meno Touring iSUP is ready for adventure. It's got loads of cargo space and tie down points, four threaded accessory mounts, and a comfortable and grippy deck pad.
Touring paddleboards are designed to travel long distances efficiently and quickly. Their longer and narrower shapes keep them fast on the water, but sometimes at the expense of stability or carrying capacity. The 12'6" Meno Touring balances the need for speed with the need to be able to do other things as well! I'll get more into the shape of the board and how it impacts its performance in those sections below. For now let's take a look at what's on the board.
First up we've got a ton of cargo space. In addition to the large front bungee and the medium rear bungee, there are 14 d-rings on the deck of the board that can be used to tie down anything from a water bottle to a cooler (and everything in between). The front cargo bungee is not readily removable, however the rear bungee has two clasps to easily remove it if needed. I would like to see this rear cargo area expanded with another pair of d-rings closer to the standing area. This would let you carry more cargo in the rear to better balance the board, and/or more easily attach a cooler behind the standing area (which can also double as a seat).
There are four threaded accessory mounts – two at the front cargo area and two at the rear cargo area – that can be fitted for cameras, phones, fishing rods, gps units, speakers, cup holders, and more. I like the placement of these mounting points. They are reachable while you are on the board without having to venture all the way to the nose or tail (where it's less stable), and they don't crowd the standing area like fishing tackle rack mounting points tend to do.
The deck pad is quite large, but does stop a bit shy of the front cargo area, so if you do have a kid using the passenger handles in the front of the board, they are left to kneel on the PVC shell itself, which can get a little slippery at times. The rear of the deck pad seamlessly transitions from brushed EVA to a diamond-groove pattern behind the large Gili Sports logo, and it ends with a raised kick pad. The extra texture and raised kick pad do a great job of increasing traction and control when stepping back to the tail for a pivot turn. As you lift the nose of the board, the raised kick pad begins to level out and provide a more level platform for your rear foot.
The 12'6" Meno Touring comes as a complete package with almost everything you need to get on the water – just add a PFD! In addition to the 9" touring fin that you'd expect to use with a touring board, the Meno Touring also includes a 4.5" and 3" fin for shallower conditions. I'll get more into those fins in the Tracking section below.
The included High Flow hand pump has two chambers and three inflation settings to make inflating the Meno Touring relatively effortless. By using two different chambers, you can engage both of them to inflate the board to a low pressure by pumping on the up and down stroke, go from low to medium pressure with both chambers pumping on just the down stroke, and then finish filling the board to it's recommended 15-18 PSI using just the smaller chamber. This process takes about 10 minutes with some casual pumping, but times will vary based on how quickly you pump. As always, we recommend an electric SUP pump to make this task even easier.
The wheeled carry bag has plenty of space to hold all of the 12'6" Meno Touring kit and compression straps to keep it all held in place. The backpack straps and handles are well padded and there are pockets on the outside of the bag. The top "fin pocket" is made of nylon mesh, and I've found this mesh to tear easily when moving the bag around between home, the car, the beach, etc., so instead I recommend storing the fins in the large, solid nylon, pocket on the front of the bag instead.
Paddle
The 12'6" Meno Touring iSUP kit includes a carbon fiber and nylon paddle as an upgrade over the fiberglass and nylon paddle included with several of Gili Sports' other iSUPs. While the paddle is lighter overall, it does feel a bit unbalanced.
The Gili Sports carbon fiber/nylon paddle is, on one hand, an entry into carbon fiber paddles included with the kit, and on the other hand, doesn't really add much over the fiberglass version that comes with several of Gili's other boards. The reason why is because the blade is essentially the same between the two. The relatively heavy nylon blade balances well with the slightly heavier fiberglass shaft paddle, but is too heavy for the lighter-weight carbon fiber shaft. In your hand this means that even though the carbon fiber version is overall lighter, it actually feels heavier as you swing the unbalanced paddle between paddle strokes. The large blade size also means it puts more torque on your body with each stroke. This is fine for casual paddling and short distances, but over long periods of time (like you might find yourself paddling on a touring paddleboard) these two things add up to sore shoulders and backs – especially if your form isn't spot-on.
Now for the good news. Gili does make a fully carbon fiber version of their paddle (including the paddle blade) that is lighter and smaller. This fixes both the weight distribution and extra torque issues. You can opt to upgrade your paddle to the full carbon fiber version at the time of purchase for your 12'6" Meno Touring board for about ⅓ the cost of the paddle sold separately – which is a great deal. I do highly recommend making this upgrade to match the higher performance of the 12'6" Meno Touring.
The shaft and handle sections of the carbon fiber/nylon paddle are – you guessed it – carbon fiber. They provide a lightweight and stiffer paddling experience than the fiberglass paddle and are comfortable in the hand. The Palm grip is well-shaped and smooth (some textured handles can rub uncomfortably). The adjustable handle section has a length scale printed on it so you can easily set your paddle to the same length each time, but it does not have any indexing, so you will need to make sure to align the handle to the blade properly.
Stability
The Meno Touring iSUP adds an extra inch of width over most touring boards to increase stability when loaded up or in choppy conditions.
At 31" wide, the 12'6" Meno Touring brings the stability of an all-around iSUP to a touring board. The extra width makes it very easy for paddlers to transition from an all-around board, and is also a good option as a beginner board for those who know they want the speed and efficiency of a touring board, but may not want to jump right onto a narrower 27"-30" model.
While standing on the board there's no noticeable rocking or tilting and it is quite easy to stand. It feels very similar to many 32" wide all-around boards thanks to the extra volume it gains from its length. Walking around on the board is quite easy and there isn't any strong bouncing or flexing. The small amount of bounce that I can feel moving around on the board is well controlled and low-energy (rather than feeling like a trampoline).
Tipping and holding the Meno 12'6" onto its rail is easy to do with a wider stance, but also very easy to hold in place. The mid section of the board holds much of its width rather than quickly tapering from the wide point. This gives you a really consistent feel to its stability if you adjust your standing position to balance weight distribution for equipment or passengers.
The square tail is neither too narrow nor too wide and provides a comfortable amount of volume and stability when standing on the kick pad for pivot turning.
I would not hesitate to put a relatively new paddler on the 12'6" Meno Touring, and it can be a good beginner board for someone who knows they want to get into more touring- or expedition-style paddling down the road.
Speed
Touring paddleboards are known for their speed and efficiency. While the Meno Touring does trade a little bit of speed for its extra stability, it's not much!
The biggest factor in the speed of any paddleboard is the paddler themselves. I could go out and buy the same running shoes as Eliud Kipchoge, but I'm certainly not going to run a 2-hour marathon (let's be real, I'm not even finishing the marathon). However, that doesn't mean the right equipment can't help you go faster.
The Meno Touring is a little on the wide-side for a touring iSUP (though not the widest option available in this category), and it does take a small hit to its top speed because of it. Though not much.
In my speed testing, I found the Meno Touring to still offer a quick sprint and fast cruising speeds. In the 100m sprint test, the Meno Touring clocked in at 41 seconds on average. That's only a quarter-second slower than the (29") Thurso Surf Expedition 150 and a half-second slower than the (30") Hydrus Paradise. None of these boards are really designed for racing, but rather for efficiency over a long distance.
We determine efficiency by measuring how far a paddleboard will glide before noticeably slowing down between paddle strokes. In my testing I found the Meno Touring has a glide ratio of just over 2 board-lengths per stroke. We typically see touring boards with glide ratios between 1.8-2.3, and all around boards with glide ratios between 1.3 and 1.7, so it's definitely keeping pace there.
While cruising on the Meno Touring with a long-distance cadence (paddling at a rate I can maintain for several miles at a time) it's ¼ mile time was 3:46 – or about 4-10 seconds slower than the Thurso Surf Expedition 150 and Hydrus Paradise. Considering the width differences between the boards, that is a very small difference, but one that will add up over a longer paddle. Of course that also depends on the paddler and the conditions.
Maneuverability and Tracking
The 12'6" Meno Touring iSUP does an excellent job of balancing both maneuverability and tracking. Touring iSUPs normally give up some maneuverability to keep you on course, but the Meno Touring keeps things nimble on the water.
The 12'6" Meno is a surprisingly nimble paddleboard. At 12'6" long and 31" wide I fully expected it to take a fair amount of effort to turn, but was pleasantly surprised when it came time to test using the 9" touring fin.
With typical forward turning strokes (a forward sweep) it took just over 5 strokes to turn a full 360° from a standstill. For a longer touring board like this I would expect to be somewhere between 7 and 10 strokes!
Turning the Meno Touring using reverse sweep strokes was also faster, since you are working against the fin rather than with it, and of course pivot turning was incredibly easy thanks to the medium-width tail and raised kick pad.
While paddling it was very easy to steer and turn the 12'6" Meno Touring, though once you get some forward momentum making a full circle becomes a rather long endeavor.
Having only a single fin really helps to increase the maneuverability, and small differences in placement of the fin box forward and backward can make a huge difference in maneuverability from board to board as well.
Maneuverability and tracking are usually quite related to each other. As performance improves in one, it typically drops in the other. Finding the right balance point between the two for any given board design can be a bit tricky.
As a touring iSUP, the Meno Touring should track straight very well as this drastically increases your efficiency over long distances.
Using the 9" touring fin, I found that the Meno Touring does still do a good job of tracking straight, but not quite as well as some other touring boards. In our 10-stroke tracking test we get the board moving in a straight line toward a distant target, then take 10 high-quality forward strokes on one side of the board and measure how far off course we are pointed at the end. The 12'6" Meno Touring had an average course deviation of 10° at the end of 10 paddle strokes. This is still a good result, and is better than pretty much any all-around board that I've tested, but isn't quite as good as some other touring iSUPs that clock in at less than 5° of deviation.
Overall the Meno Touring does track well, and for the average paddler taking 5-6 strokes per side it will stay on course very easily.
The Meno Touring kit includes three different fins to match how and where you are paddling. There is only a single flip-lock fin box on the Meno Touring. On an all-around board we typically like to see two or three fin boxes to give the user a little more flexibility in how they can set up their paddleboard, but with a touring board a single fin reduces drag in the water, and in conjunction with the longer board, does a great job of keeping the board tracking straight when using a longer touring fin.
In addition to the 9" touring fin, Gili Sports also includes a 4.5" and 3" fin with the 12'6" Meno Touring. These shallow-draft fins increase the board's maneuverability, but also decrease its tracking and stability. However they can be very useful when paddling rivers or shallow bodies of water where you need more maneuverability or less draft depth.
Warranty and Customer Support
Gili Sports includes a 2 year warranty with their inflatable paddleboards and a 90-day warranty on accessories. Bags are warrantied for 1 year. Additionally there is a 60-day worry-free return period where you can return your board, but it is subject to the cost of shipping and a 20% restocking fee. A 2 year warranty is an industry standard minimum and I'd like to see a longer warranty period for the paddle and pump, but overall Gili's products are made well and customers who have needed replacement parts have had an easy time navigating that replacement. You can contact Gili Sports via social media, email or by calling them directly.
Value
The Gili Sports 12'6" Meno Touring iSUP is a great option for paddlers who want an efficient touring board, but still want to maintain a higher level of stability. It's performance is excellent, it includes a good set of accessories (though I do recommend upgrading the paddle) and a standard warranty. Overall when comparing these items and the price of the Meno Touring to other options it is a fantastic value, especially when it is on sale.
Overall Impressions/Review Summary
The Gili Sports 12'6" Meno Touring is a great touring or expedition paddleboard for those who want a little more stability on the water. Newer paddlers, those paddling in rough conditions, or those taking more equipment with them on their trips will appreciate the 31" width. While it's not the fastest touring board we've tested, the extra width also does not reduce the overall speed and efficiency to any large degree. I do recommend upgrading the paddle to the full carbon fiber version for a lighter and more balanced paddling experience.
Gili Sports 12'6" Meno Touring iSUP FAQ
Is the Gili Sports 12'6" Meno Touring good for beginners?
Yes! The Meno Touring's extra width increases its overall stability compared to narrower touring iSUPs. This makes it a much better choice for beginners who are interested in starting with destination paddling.
How long does it take to inflate the 12'6" Meno Touring iSUP?
With the included High Flow hand pump it takes about 10 minutes to inflate the Meno Touring iSUP to the recommended 15-18 PSI.
Can I use a kayak seat with the 12'6" Meno Touring iSUP?
Absolutely! There are four d-rings around the middle of the board that are placed specifically to be compatible with a kayak seat.
Can I take my dog with me on the 12'6" Meno Touring iSUP?
Most likely. The Meno Touring has a weight capacity of up to 300lb and the wide, parallel shape makes it very stable even when changing standing positions to accommodate a dog or other small passenger.
Is the 12'6" Meno Touring iSUP a good value?
Yes. The Meno Touring has excellent construction and performance on the water. It comes with a great set of accessories and 2 year warranty. Gili Sports often has sales throughout the year making the Meno Touring an even better value, especially for paddlers on a budget.