Best Inflatable SUP Brands | Our 2023 Recommendations
Inflatable Boarder is reader-supported and may earn a commission when you buy through links on our site. Learn more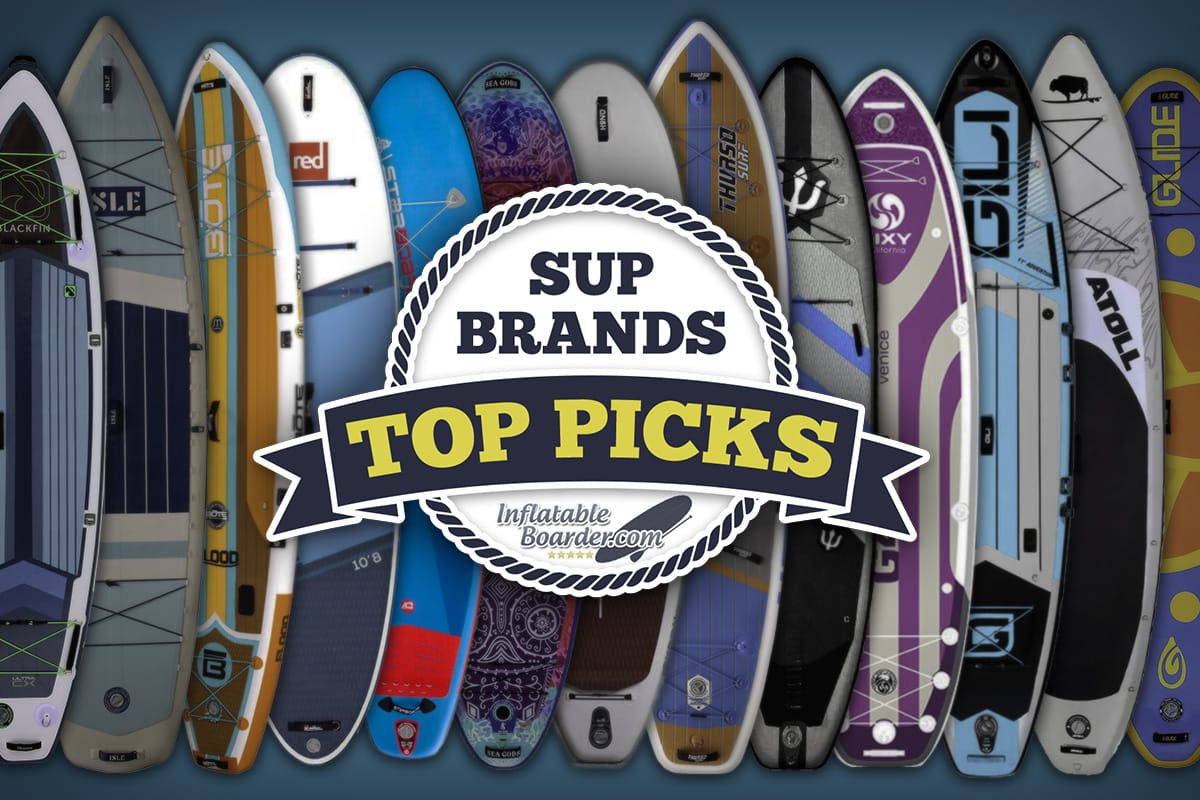 As independent paddleboard and equipment reviewers, we have the privilege of working with many, many different brands and products with the ability to write honest and straightforward reviews for our readers. Unlike some other review outlets, InflatableBoarder.com does not accept any payments from brands for any of our reviews, rankings, recommendations, or other content. We may receive an affiliate commission when you use our links to make a purchase (at no additional cost to you). That is how we can continue to bring you high quality content on the latest equipment and SUP news. This also lets us choose which brands we work with (and believe me, there are a lot of brands out there that don't make the cut). When we look for brands and products to work with and review our primary considerations come down to quality, value, dedication to paddlesports development, and customer service.
We feel that each of the brands we work with meets a high standard in all of these categories – and that is reflected in our reviews. Each brand has it's benefits and specialities and they can't truly be compared to each other as they all make different products for a wide range of users. Below you'll find a list of the brands for which we reviewed iSUPs and other paddling equipment in 2022 and 2023.
With all of that in mind it's important to note that this "Best" page is not directly ranked with a single "Best" brand at the top – and likewise the last-listed brands are certainly not the worst (or even bad!). Unfortunately we are constrained by the medium of a web-browser! If we had a way to present all of these brands, all at once (and still be intelligible), we would.
The one, and most important, thing these brands all have in common – our recommendation.
Best Inflatable Paddle Board Brands
iROCKER
Availability: US, CAN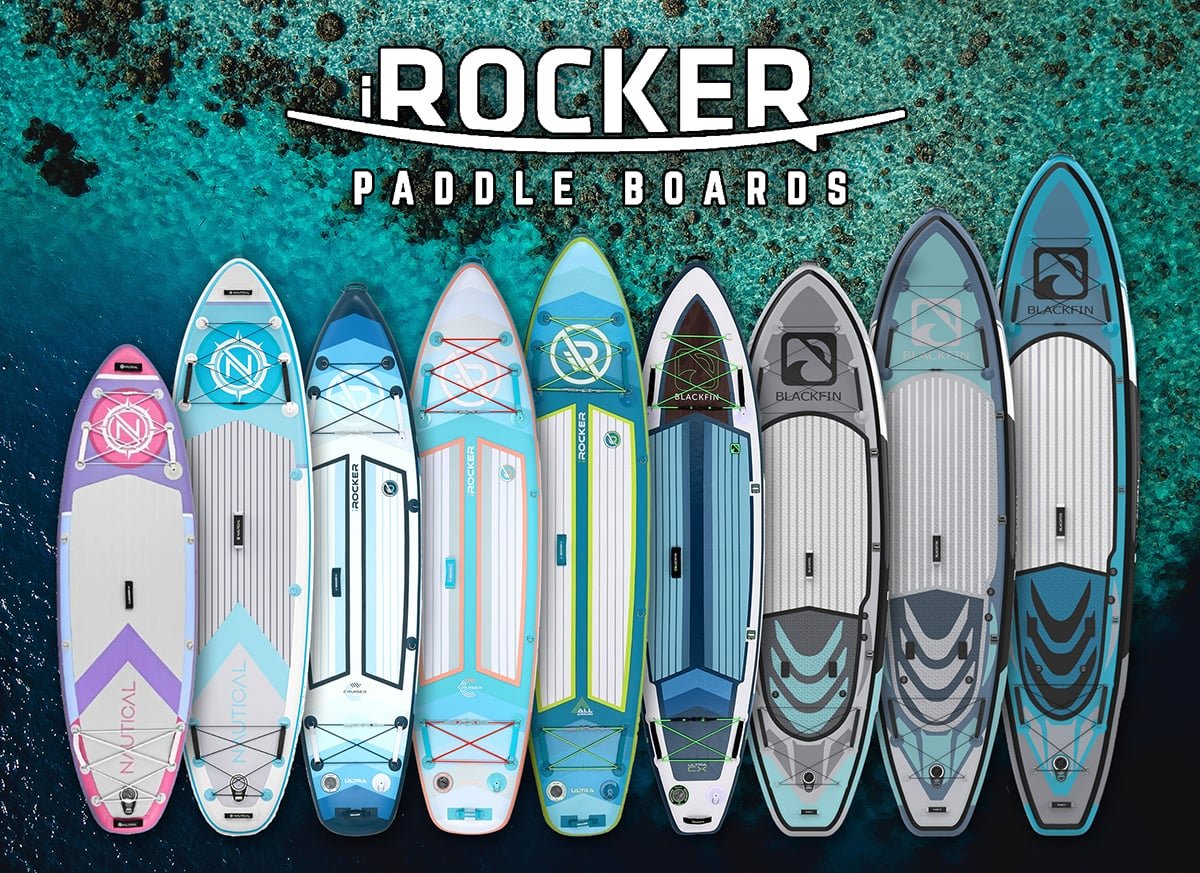 Since its founding in 2013 iRocker has become a near-household name in the SUP Industry. With a decade of experience designing inflatable paddleboards, iRocker has focused on bringing quality, feature-rich iSUPs to the market at affordable prices. The iRocker sub-brands Nautical and Blackfin further expanded the company's range of products for both first-time buyers on a budget and paddlers looking for serious adventure. In 2022, iRocker brought the concept of the compact iSUP – a lightweight, but high-performance, paddleboard that packs down to half the size of a traditional iSUP – to the masses with their new Ultra series.
The Nautical line of paddleboards is available in three sizes (including a kid's SUP) and delivers a feature-rich paddleboard in an affordable package. iRocker's new Ultra-series iSUPs blend advanced materials with a folding design to create a truly compact iSUP that doesn't compromise on performance. Blackfin iSUPs are the most durable, stable, and rigid of iRocker's lineup and are built adventure-ready.
Why we like iROCKER:
Excellent product range for all paddlers and budgets
Feature-rich designs for versatile use
Quality construction backed by a 3 year warranty (2 years for Nautical iSUPs)
Progressing the sport with cutting edge designs and materials in their Ultra series iSUPs
Great value at reasonable prices
---
Isle Surf and SUP
Availability: US, CAN, UK, EU
Isle Surf and SUP began making stand up paddleboards in 2004 – just two years after famed surfer Laird Hamilton began popularizing the sport beyond a handful of surfers in Hawaii – making Isle one of the oldest SUP-specialist brands around.
Isle's current lineup of stand up paddleboards includes a wide range of both rigid epoxy boards and inflatable SUPs. The popular Isle Pioneer 2.0 offers beginner friendly stability at a great price point while the Isle Switch 2-in-1 is a high-performance hybrid iSUP and Kayak with the capacity and efficiency for long-haul expeditions. Isle's iSUP kits come at a great value and with a 2-year warranty backed by excellent customer service.
Why we like Isle:
Wide range of iSUPs and paddlers
Innovative board designs and constructions
Excellent customer service
High value iSUP kits
---
Bote
Availability: US, AUS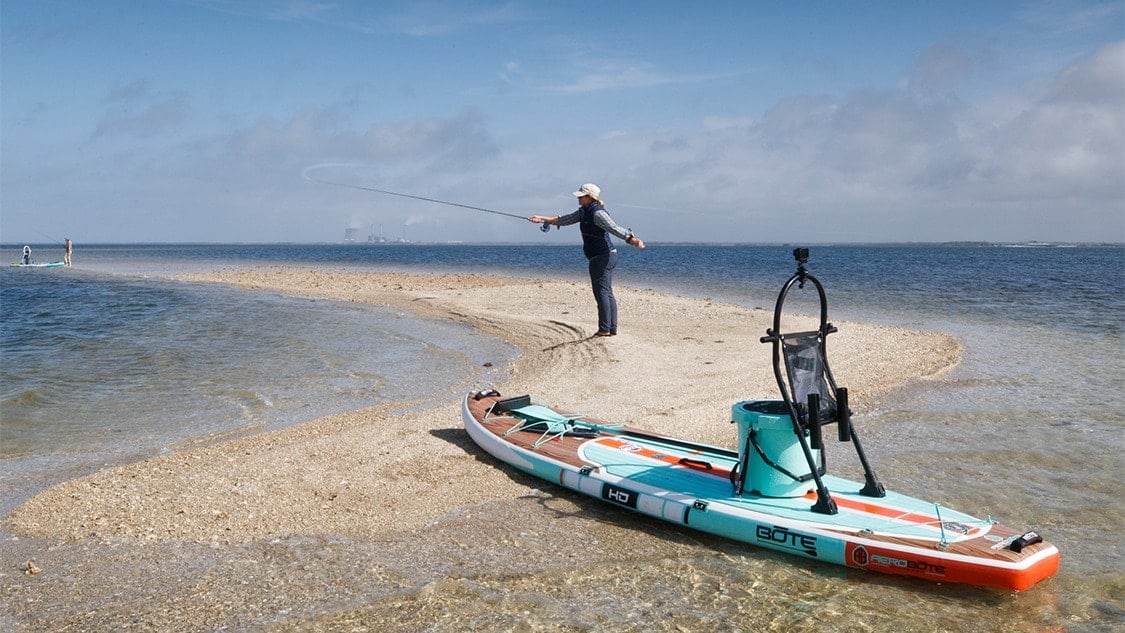 In 2009 Bote's founders were on the hunt for their perfect lifestyle paddleboard. When they couldn't find what they were looking for, they started Bote to build boards that suited their needs – and it turns out the needs of thousands of other paddlers! Bote's iSUP designs often focus more on SUP fishing, but also the laid-back cruising lifestyle that Bote has built around their products.
Why we like Bote:
Excellent fishing SUP designs
Versatility across their entire lineup
Eye-catching color options
High quality customer service
---
Bluefin SUP
Availability: US, UK, EU, AUS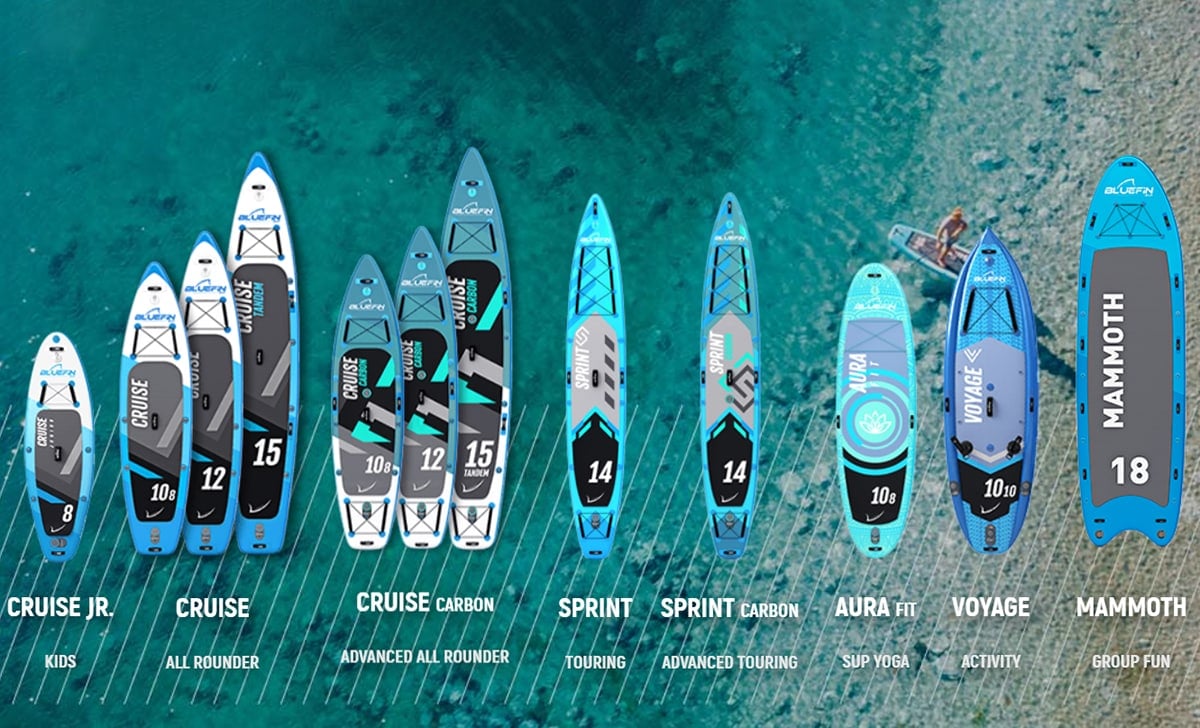 UK-Based Bluefin SUP hasn't stayed constrained to Great Britain, but has become a global brand known for packing a huge amount of value into iSUP kits that are easily affordable for the first-time SUP buyer. Bluefin has a large range of iSUPs from the Cruise Jr. Kid's SUP to the truly huge Mammoth Group SUP. Bluefin also warranties their products against any manufacturing defects for 5 years – much longer than the standard 1-2 year warranty provided by many other brands.
Why we like Bluefin:
Great range of sizes and constructions for every paddler level
High value iSUP kits with a dizzying array of included accessories
Affordable prices for the first-time buyer
5 year manufacturer's warranty
---
Red Paddle Co.
Availability: Worldwide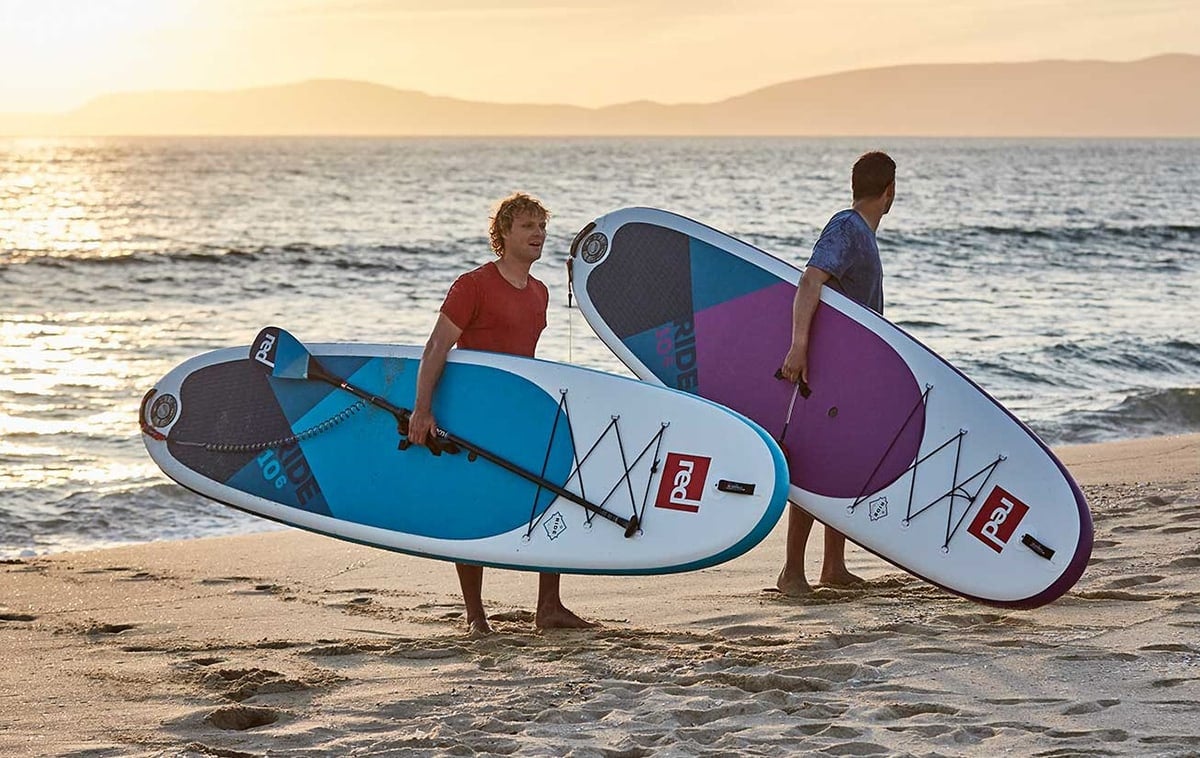 The Red Paddle Co. brand is synonymous with high-quality and advanced design within the paddleboard industry. As pioneers of the fusion construction process with their Monocoque Structural Laminate (MSL) material, painstaking attention to detail during their construction process, and innovative designs, it's easy to see why Red Paddle Co. is a leader in the industry. While these features and benefits do come at a cost to the consumer, Red Paddle Co. iSUPs are known for their durability and longevity.
Why we like Red Paddle Co.:
Top-notch construction and materials
High-performance and innovative designs
5 year warranty
Dedication to progressing the sport of stand up paddleboarding and iSUP technology
---
Starboard
Availability: Worldwide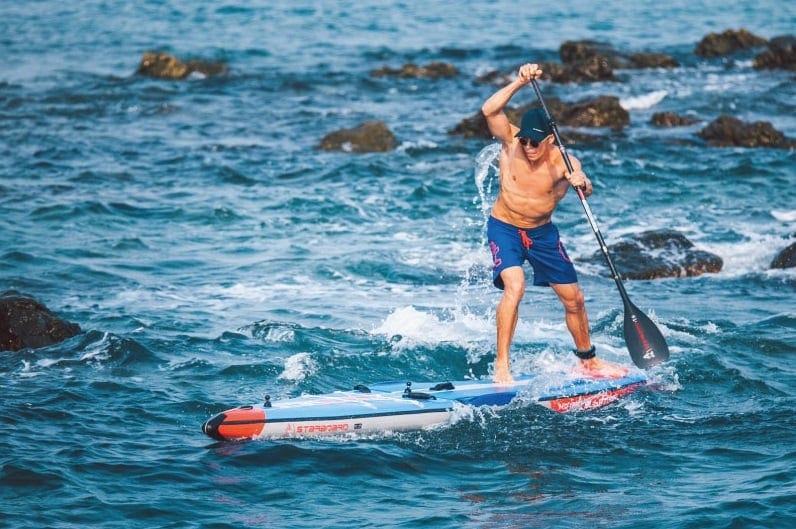 Starboard is one of the best-known companies in Stand Up Paddleboarding as well as surfing, windsurfing, foiling, and more. Most notably, Starboard dominates the field of SUP racing with their podium-leading All Star composite SUP, and more recently their All Star Airline inflatable racing SUP. But racing is just a fraction of Starboard's great iSUP lineup. Whether you are looking for a recreational cruiser, hard core touring board, dedicated surfing iSUP, and of course high-performance racing iSUPs, Starboard has inflatable boards for all paddlers.
Why we like Starboard:
Incredibly high-performing iSUPs in a range of specialties
Versatile and approachable iSUPs for new and intermediate paddlers
High-quality welded-seam construction
Pedigree and dedication to stand up paddleboarding and water sports in general
---
Sea Gods
Availability: US, CAN, AUS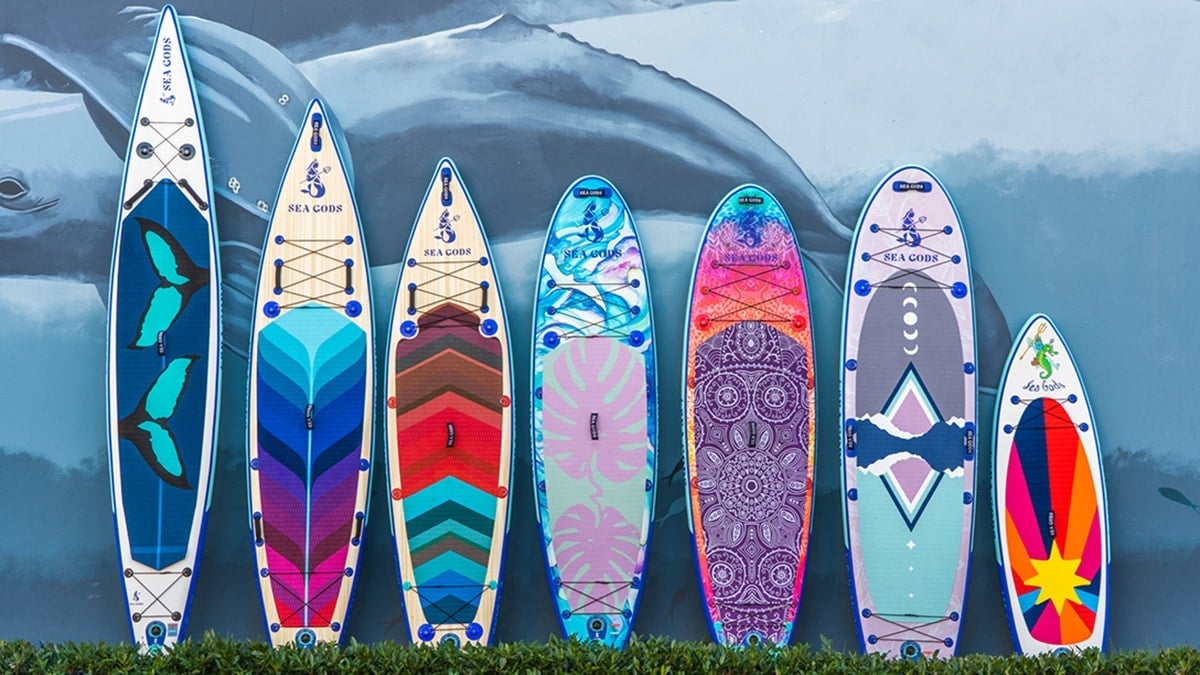 A relative newcomer, Sea Gods was founded in 2018 by Mandy and Ryan Johnston to create paddleboards as beautifully inspiring as they are high quality and performing. Sea Gods iSUPs are built with high-quality fusion PVC material and the new 2023 lineup all feature woven fabric base layers with cross-woven drop stitching for an ultralight, ultra stiff, and ultra high quality ride. Each board features a beautiful design created by professional artists to bring your iSUP to life.
Why we like Sea Gods:
Full range of high-quality iSUPs built to last
Beautiful, head-turning artwork
High-performing shapes for all paddlers from kids to yogis to downwind thrill seekers
Lifetime warranty
---
Honu
Availability: US, UK, EU, AUS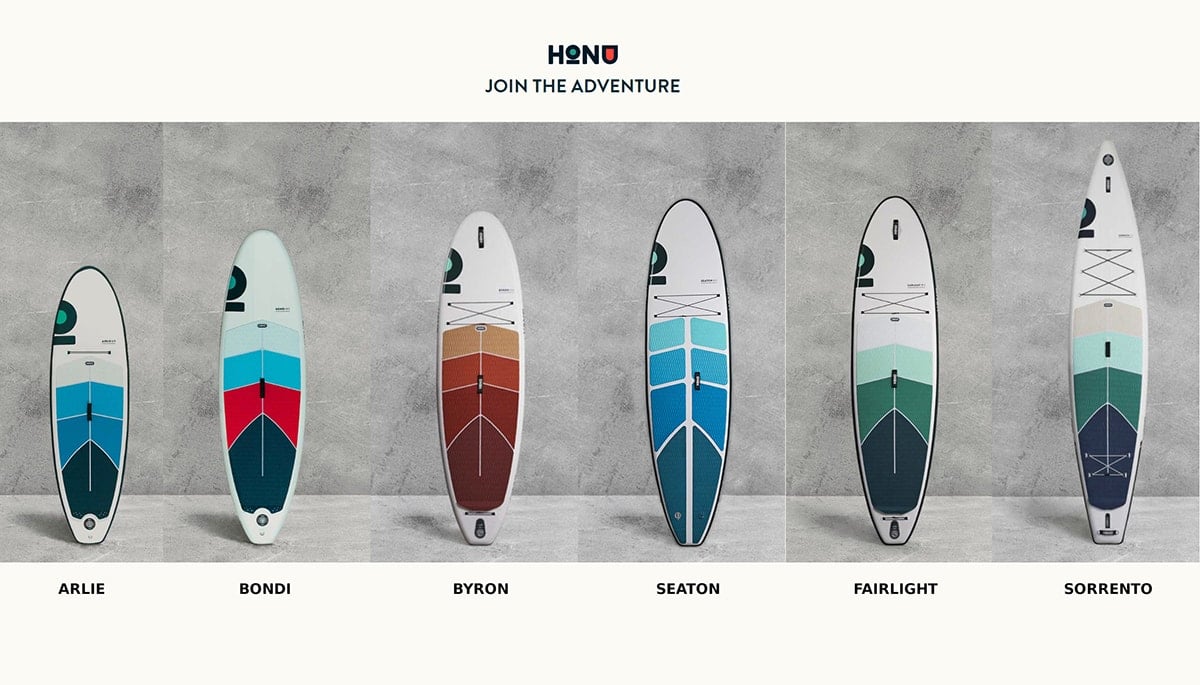 While Honu iSUPs have only been available in the US for the last few years, Honu Boards are built on over 20 years of experience designing and building paddleboards in the company's home base of Australia. Honu iSUPs focus on the paddling experience first and foremost. Their beautifully minimalist designs are paired with the latest iSUP construction technologies. The result are inflatable paddleboards that paddle incredibly well, are built to last, and keep you coming back for more time on the water. In addition to their fantastic iSUPs, Honu's line of carbon fiber paddles put a high-performance paddle in your hand at a nearly unbelievable price.
Why we like Honu:
Minimalist aesthetics with a performance-oriented design
4.7" thickness increases stability and surfing performance in their all-around and surfing iSUPs
High performance paddles at a great price
"2+2" year warranty that includes 4 years of repair service
---
Thurso Surf
Availability: US, CAN, UK, EU
Thurso Surf's lineup of inflatable paddleboards brings high-quality and highly durable construction to its entire lineup, rather than limiting it to only a few models. Each Thurso Surf iSUP is built with woven drop stitch fabric, dual layer PVC, and carbon fiber reinforced rails. Combined with a fantastic set of accessories, the Thurso Surf lineup offers performance well beyond its price.
Why we like Thurso Surf:
Durable and rigid construction across the entire lineup
Great balance of features and functionality without overcrowding the board
High quality accessories from bag to paddle and everything in between
High value at reasonable prices
---
Hydrus Board Tech
Availability: US, CAN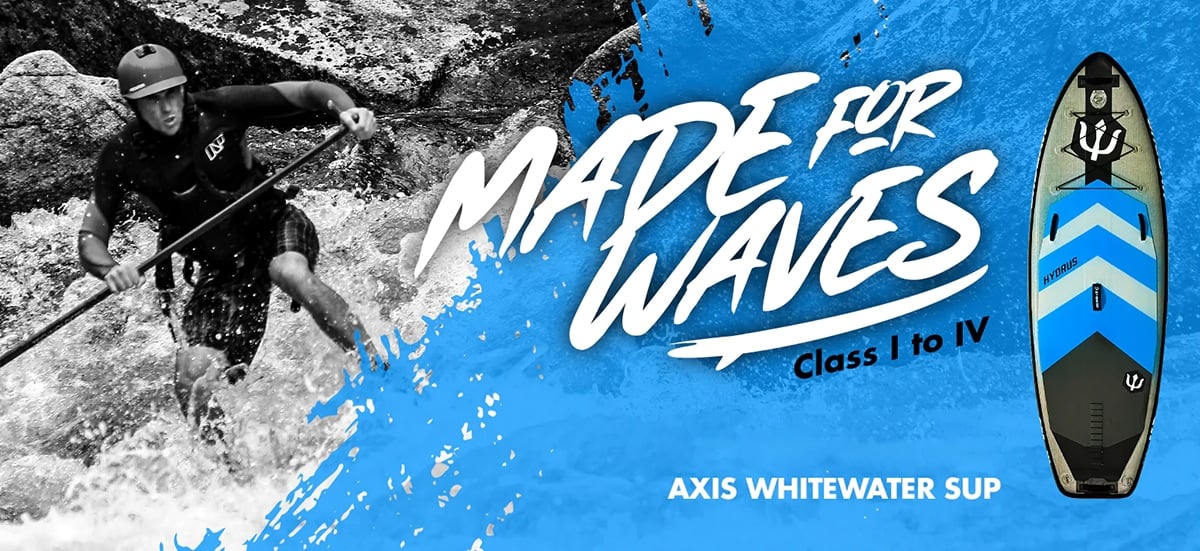 Hydrus Board Tech was created by brothers Nick and Jason Zawadski to create function-first paddleboards that won't let you down by using the best materials and construction available. After starting with a focus on their proprietary Armalight hard SUPs and surf boards, Hydrus inflatables soon came to market with the same ethos. By using a layer of aramid fiber between their dual-layer PVC shells and welding their seams rather than gluing them, Hydrus has created a lineup of iSUPs that are so durable that offering a lifetime warranty is no problem for Hydrus! These iSUPs are made equally well for the casual lake cruise or the hardcore whitewater SUP enthusiast (and everyone in between).
Why we like Hydrus Board Tech:
Ultra durable construction
Function-first designs that frequently outperform their size class
Top quality customer service and lifetime warranty
Focus on developing the sport and the industry across all categories
---
Nixy Sports
Availability: US, CAN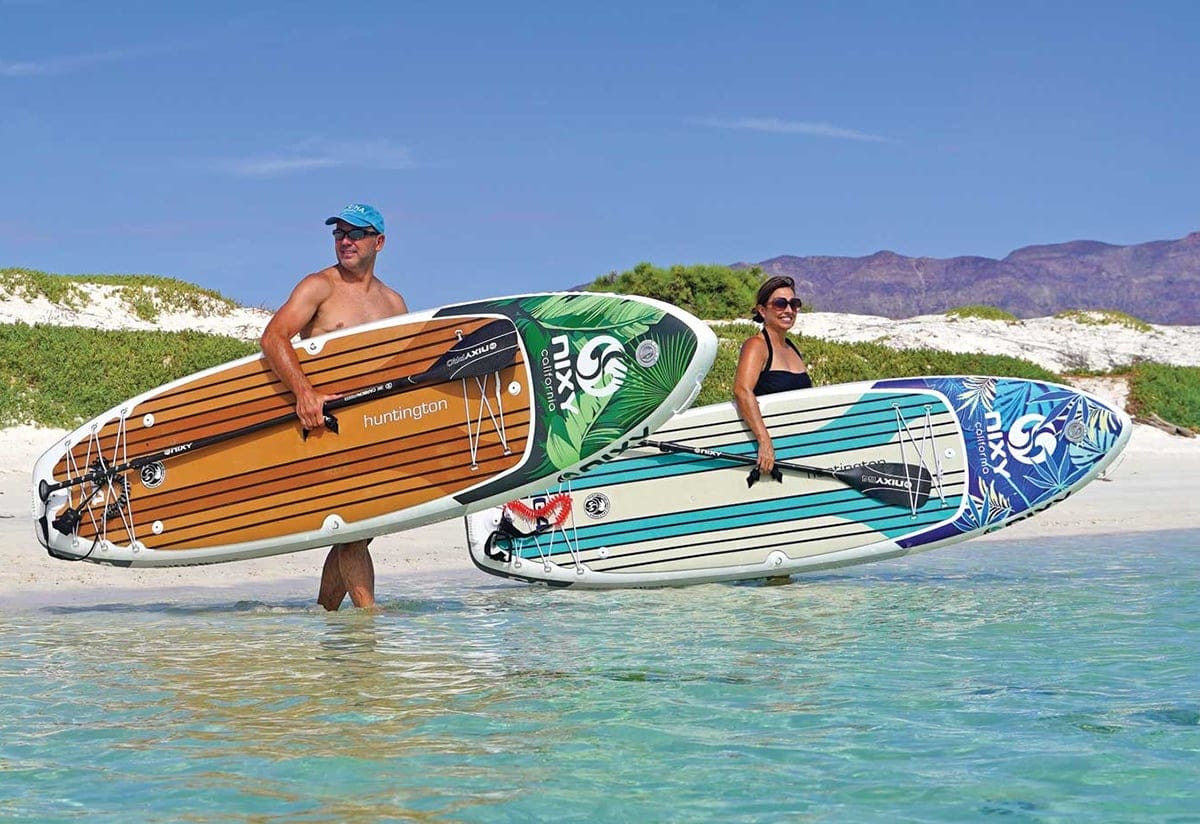 California-based Nixy Sports began making inflatable paddleboards to meet their own paddling needs across the Pacific coast. Each of their boards is inspired by the paddling location it's named for. By using ultralight fusion-laminated PVC and woven drop stitch fabrics, Nixy's 4th Generation (G4) iSUPs offer great rigidity and performance in very lightweight packages. In addition to a wide range of paddleboards, Nixy also makes a huge range of performance carbon fiber paddles in a variety of blade sizes (and colors) to match any paddler. Nixy Sports also has tons of great accessories from navigation lights to changing robes to make your paddling experience safe and comfortable.
Why we like Nixy:
Lightweight, rigid, and high-performance designs
Fantastic paddle choices for paddlers of all sizes
Excellent quality paddle, pump and bag included with each iSUP
Great choice of additional paddling accessories for all of your needs
Amazing value for a performance-oriented iSUP
---
Gili Sports
Availability: US, International Shipping Available
Gili Sports has a huge range of inflatable paddleboards for every paddler at every budget. Their budget friendly Gili Air iSUPs bring functionality and versatility to the water at a great price. The Adventure series iSUPs can be rigged for cruising, fishing, and even expedition paddling. The Gili Meno iSUPs bring in advanced construction for even better performance and durability. They also offer not one, but two sizes of Kid's iSUP and Group iSUP so you can truly bring along your entire family when you hit the water with Gili.
Why we like Gili Sports:
Large product lineup with options at each budget and size level
Loads of onboard features built into every board
Easily customize your kit with higher-end paddles at reduced prices
---
Atoll
Availability: US, International Shipping Available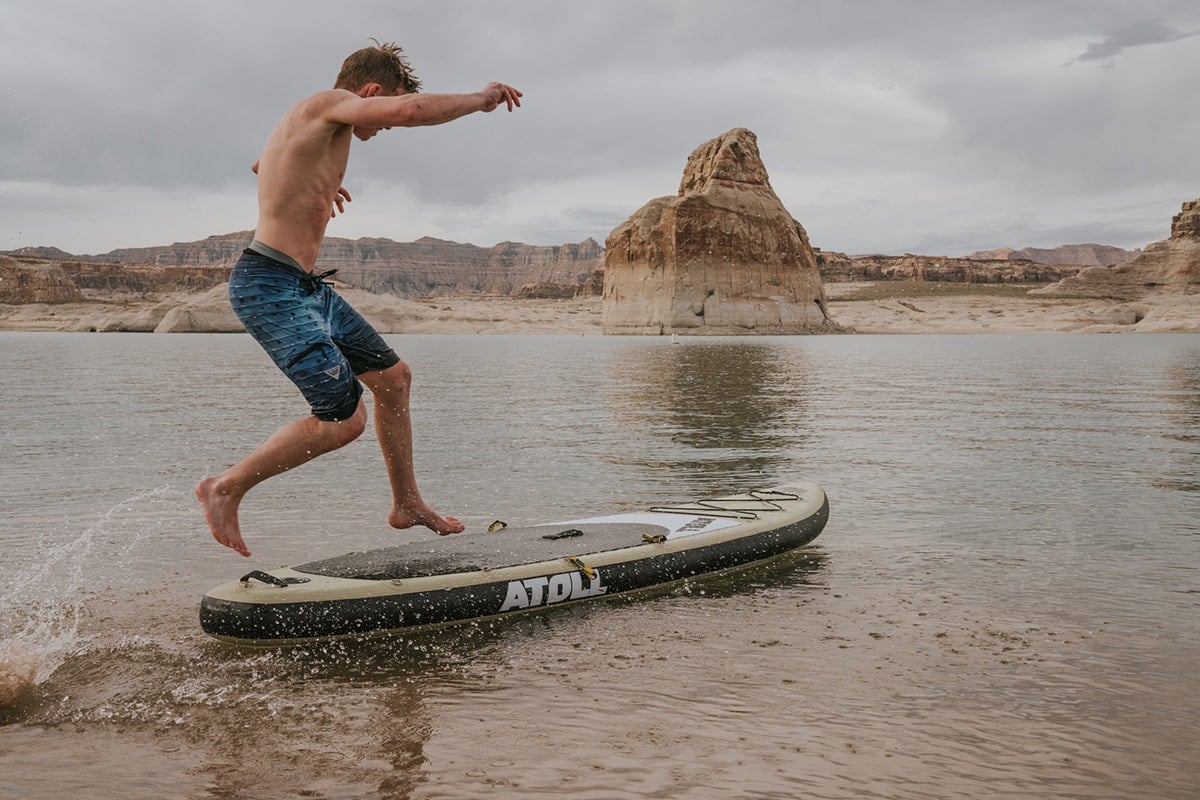 Atoll iSUPs have a little bit of a cult following in the paddleboard world – and for good reason. By focusing on creating their perfect All Around iSUP, Atoll has built a truly lightweight, versatile paddleboard that's ready for any adventure. In 2022 Atoll also announced their Youth iSUP built on the same platform as their highly-lauded 11' x 32" iSUP, but in a kid-friendly 9' x 30" size.
Why we like Atoll:
Lightweight construction for easy transportation
Versatile feature set has everything you need for a morning, or a week, on the water
Standard US fin box expands the Atoll iSUP's versatility
---
Glide SUP
Availability: US, International Shipping Available
Glide SUP is dedicated to creating some of the most durable paddleboards on the market – whether it is their GSS-coated hard boards (often subject to their "Will It Break Wednesday" video series) or their ultra-durable O2 inflatable iSUPs, Glide takes durability seriously. Glide's iSUPs come in five varieties to meet your paddling needs. Their O2 Retro all-around, O2 Lotus yoga SUP, O2 Angler fishing sup, O2 Lochas whitewater SUP, and the O2 Quest touring board all feature the same great dual-layer reinforced PVC construction with welded rails. Glide's modern-vintage colorways match their just-what-you-need feature set, and are now available in three different colorways (Blue, Purple, and Green) for 2023.
Why we like Glide:
Highly durable and rigid construction
Extra-long or full-length deck pads on all iSUPs
Lifetime warranty
Great value iSUP kits
---
Kokopelli
Availability: US, CAN, International Shipping Available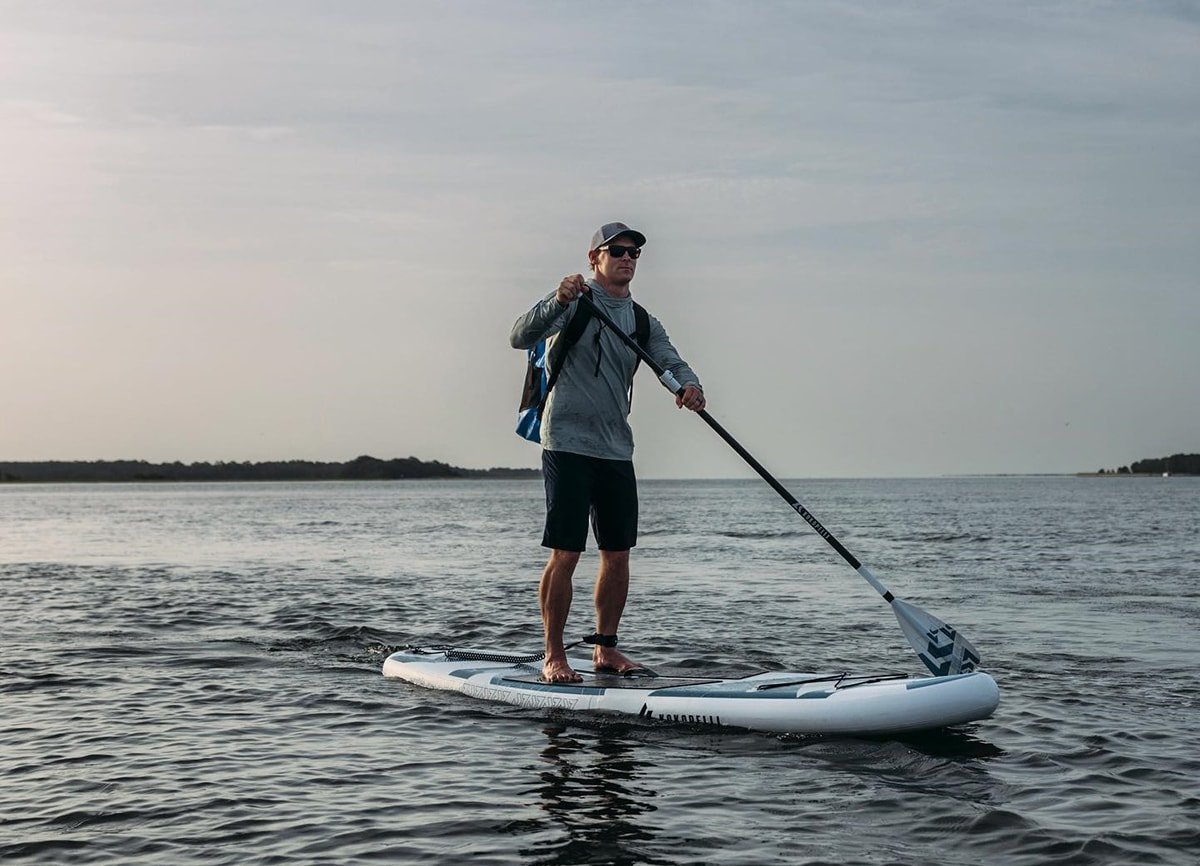 Kokopelli entered the SUP space in 2022 with the launch of their Chasm-Lite inflatable paddleboard. While this is Kokopelli's first iSUP, they have been making ultralight packrafts for over a decade. The Chasm-Lite is the world's first "Pack SUP" and is designed to be taken anywhere you want to go. By using advanced materials and sizing the board for ultralight hikers, the Chasm-Lite weighs just under 13lb and the entire kit – including the paddle, pump and bag, is under 20lb. It all fits into a drybag backpack the size of most day hiking bags (being worn by the paddler in the photo above).
Why we like Kokopelli:
Truly unique products that allow for exploration both on and off the water
Insane portability – the Chasm-Lite can fit in the overhead storage of most airlines
High quality construction
Lifetime warranty
---
What We Look For in Paddleboard Brands
Quality
Let's face it, there are a lot of inflatable paddleboard brands out there. However not all iSUPs are made the same. It's very easy for a fly-by-night, dropship "company" to begin selling low-quality iSUPs on Amazon for ultralow prices. Those are not paddling companies. The products they sell are essentially pool toys shaped like SUPs. There are corners cut at every step in manufacturing and with every choice in materials and accessories. I've seen these iSUPs catastrophically fail before they are even fully inflated for the first time (and often these "companies" offer no warranty or simply ghost their customers).
When we here at inflatableboarder.com look for iSUP companies to work with, one of the first things we ask is "how do you build your paddleboards." Time after time, the brands that are honest and upfront about their materials and constructions produce more durable and higher quality iSUPs than those that hide (or don't even know) their constructions. We look for brands that not only make high-quality boards, but also push the bounds of iSUP construction and develop their own materials and processes.
Value
Value is critically important to any consumer, but value is also much more than finding the lowest price. Brands can fine tune every aspect of the shape, design, and construction of their iSUPs and in doing so create differently-performing products at a variety of price points. In addition to the paddleboard itself, we also look at the quality and performance of any included accessories (bags, paddles, fins, etc.). Higher quality accessories can dramatically increase the overall value of an iSUP kit, while lower quality accessories can quickly lower it. Lastly, we look at warranties. Companies that are willing to back their products with longer warranties know that their products are made to a higher quality standard and will last longer. Nobody wants to replace their paddleboard every year, and cheaply-made paddleboards offer an overall lower value than a slightly more expensive, but far better made option.
Customer Service and Paddlesports Enthusiasm
Customer service isn't just about return periods and warranty processes. Buying a paddleboard can often lead to lots and lots of questions. Is this the right size or shape for me? What accessories do I need? How well does this SUP do in choppy conditions or flat conditions? And the list goes on. Some companies go above and beyond to help customers find the right paddleboard – even if it isn't their own – while trying to contact other companies is essentially like yelling into a black hole! We evaluate customer service response when we explore new SUP companies to work with. Additionally, we look for those companies who aren't just copy/pasting the work of others in their products. We're always seeking out the brands – big and small – that focus on creativity and ingenuity to help progress the sport of stand up paddleboarding forward.
Final Thoughts – Best SUP Brands
There are a lot of SUP Brands – a whole lot of great brands, and a whole lot of brands that could use some improvement. It's important to look at the company as a whole when choosing a new stand up paddleboard and not just the product. We've worked directly with each of the brands listed here and have personally reviewed their products (not just re-wrote their specifications like some publications do!). While each of these brands has its own strengths and areas to improve, we've found that all offer a great product and great value to paddlers of all kinds. We get questions about "what SUP should I buy" all the time, and our recommendations range the entire gamut of this list to match each individual paddler. If you're looking for more help after reading our guides and reviews, feel free to drop us an email using the contact form at the bottom of this page.
More Inflatable SUP Buying Guides
Get our top pick recommendations for the best inflatable paddle boards in our buyers guides based on our own hands-on testing and reader feedback.