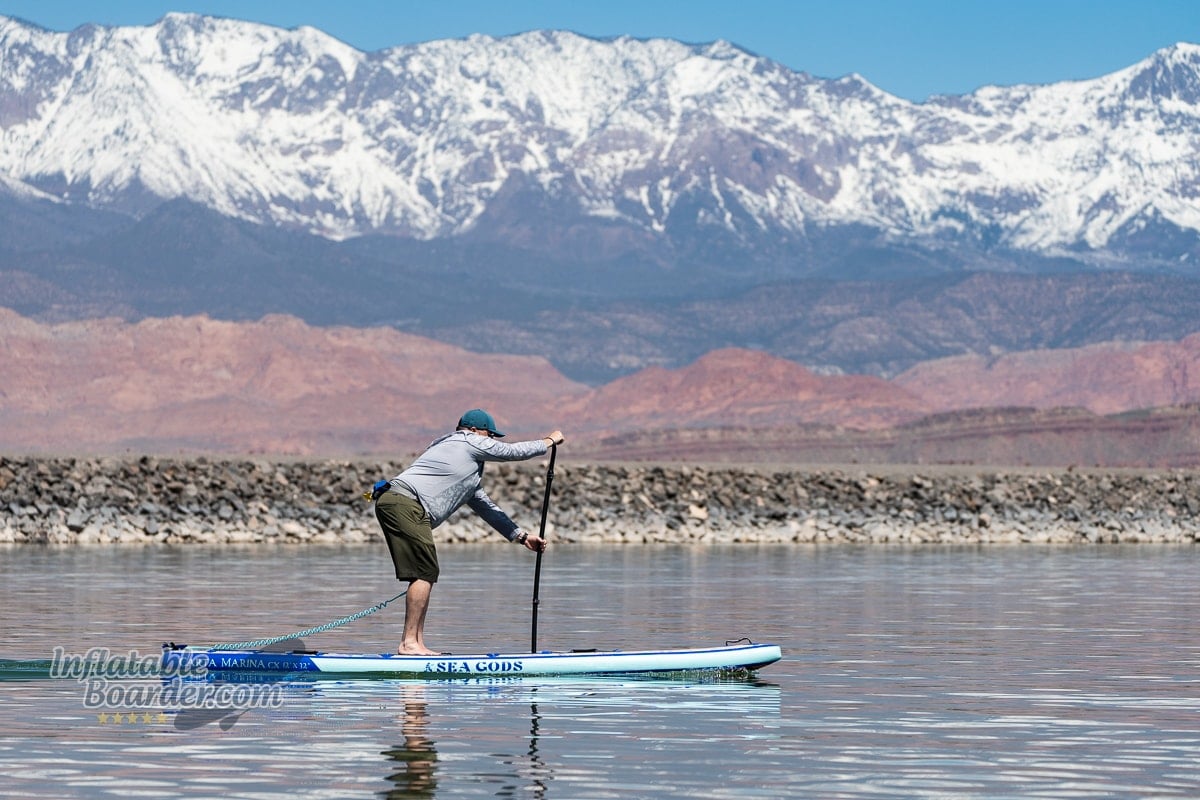 Sea Gods Carta Marina CX: Overview
The Sea Gods Carta Marina CX is a touring board that offers so much more to paddlers. It is slightly smaller and slightly wider than a traditional touring iSUP, which makes it an incredibly great crossover board between touring and all-around use. But the Carta Marina CX still boasts excellent performance for those paddlers who want to explore farther and faster. With an updated construction, the Carta Marina CX is light, rigid, efficient, and just an all-around blast to paddle.
— Sea Gods Carta Marina CX Summary Ratings and Review —
Carta Marina CX
Construction & Durability

Features and Versatility

Stability

Speed

Maneuverability

Tracking
Overall Score
The Sea Gods Carta Marina CX is i crossover touring/all-around iSUP that's just as comfortable paddling long miles or cruising the bay with a passenger on board
Pros
The overall shape and size balance speed, efficiency, stability, and maneuverability very well
The lightweight CX construction makes the board even more portable and still retains excellent rigidity
Numerous accessory and cargo options let you outfit the Carta Marina CX for many different SUP activities
The medium-size square tail provides great stability even while stepping back for quick turns
The Carta Marina CX has my favorite new artwork for the 2023 lineup
The high weight capacity makes it easy to load up for adventures, or bring a friend along with you
Sea Gods offers a lifetime warranty for their iSUPs
Cons
I'd love to see a raised kick pad added to the rear of the board for better stability and control while on the tail.
The Carta Marina CX is made for long distance and faster paddling, a full carbon fiber paddle upgrade option would be a welcome match for this board.
Construction and Durability
The Carta Marina CX uses Sea Gods' new "Cross-Woven" materials and construction to create a lighter board that still has excellent performance on the water.
In 2022, Sea Gods first introduced their CX construction with the Skylla. It was a smash hit and a no-brainer to upgrade their entire line of paddle boards with this lightweight build.
Starting from the inside, the Carta Marina CX gets a new drop stitch core. Instead of traditional knitted fabric layers (like a sweater) under the deck and hull, the fabric is woven together (like a rug). This keeps the yarns running in straight lines reducing the amount of material needed to make the fabric and reducing the amount of stretch and flex in the material. The top and bottom fabric layers are joined together with thousands of "space yarns" that give the drop stitch material its name. These yarns are stitched at angles that cross over each other so when the board is inflated they make X shapes rather than the traditional V shape stitching. This Crossed drop stitching provides more strength with fewer yarns, further reducing the board's weight. Overall the 2023 Carta Marina CX dropped 4.5 lbs compared to the 2022 Carta Marina ULF while maintaining the same size and shape.
The PVC shell of the Carta Marina CX is a 0.7mm thick layer of reinforced PVC tarpaulin material that is heat-fused directly to the fabric base layer of the drop stitch core. This fusion construction eliminates glue traditionally used between layers of material and creates a more rigid shell. The deck and hull are then sealed together with a heat-molded inner rail seam. An outer seam layer is applied around the board to protect the inner seam. Lastly, narrow PVC rail-reinforcement strips cover the top and bottom edges of the rail for increased durability.
With a new drop stitch core and fusion PVC laminate shell, the Sea Gods Carta Marina CX is lightweight (21 lbs) and retains excellent rigidity. In our static bend test, we loaded the Carta Marina with 170 lbs of weight and measured how much it bent between a 7' span in the middle of the board. In this stress test, the Carta Marina CX bent just 1.26", easily walloping our overall running average of 1.57".
On the water, the Carta Marina CX remained impressively stiff. I did not notice any flex while standing on the board, moving around on the board, or during regular paddling. The only time I did feel the Carta Marina CX flexing under my feet was while bouncing on the board to make it flex, and while paddling as hard as I could during our speed testing. Even so, the flex was minimal and the Carta Marina CX recovered nicely with a soft and well-controlled rebound.
Specifications
Dimensions
Length
12' 0"
Width
32"
Thickness
6"
Weight
Max Capacity
350 pounds
Board Weight
21 pounds
Kit Weight

31 pounds
Buying Info
List Price
Warranty
10 years
Returns period
30 days
Features and Accessories
The Sea Gods Carta Marina CX effectively blends the efficiency of a touring iSUP with the versatility and capacity of an all-around paddle board.
Sea Gods Carta Marina CX is built with a feature set that is ready for just about any activity on the water. There is a significant amount of cargo room and mounting points to help you pack for extended-length trips. I would like to see the front cargo area expanded just a little bit. There is a lot of real estate on the nose of the board that can't be used to help hold bulkier items because of the placement of the cargo area D-rings. By stretching the placement and expanding it about 12" forward, the Carta Marina CX would be even more capable for long-distance touring trips.
The 32" width shape is quite a bit wide when it comes to a touring iSUP, which is why I feel that the Carta Marina CX is more like a touring-oriented crossover paddleboard. For those familiar with biking, the Carta Marina CX would be like a bikepacking gravel rig rather than a randonneuring road bike. It's still going to move you efficiently over long distances with a lot of equipment, but just not quite as fast as a dedicated touring iSUP. But at the same time, the extra width provides more stability for heavier loads (or paddling with a passenger) and greatly increases the overall versatility of the board.
The Carta Marina CX comes as a complete kit with an upgraded double chamber/triple action hand pump, coiled ankle leash, 9" semi-flexible toolless touring fin, and a repair kit. This is all packaged in Sea Gods' heavy-duty roller backpack.
Paddle
The Sea Gods Carta Marina CX comes with a carbon fiber/nylon hybrid SUP paddle that's well suited to casual cruising and light-duty touring.
The Sea Gods carbon fiber/hybrid paddle has a carbon fiber shaft and handle with a round-bottom teardrop shaped blade made of fiber-reinforced nylon. The carbon fiber shaft helps reduce the paddle's overall weight (30.1 ounces on my scale) and very pleasantly blends the right amount of flex and stiffness for comfortable cruising. There is just enough flex that you don't feel stress in your joints with each stroke, but still enough stiffness to let you transfer power to the blade for powerful strokes when desired.
The blade's teardrop shape puts most of the surface area near the tip of the blade for easy propulsion if the blade is not entirely submerged. On the power face of the paddle blade there is a double-dihedral (inverted V shape) to help direct the flow of water around the blade and prevent any fluttering or twisting during your paddle stroke. Overall the blade has about 92 square inches of surface area which puts it in the medium-large size category.
When paddling for longer distances many paddlers will choose a smaller-bladed paddle. This makes each stroke feel a little bit easier, even if the power output is lowered in kind. After hours of paddling, you will ultimately have a higher average speed (and feel better) by giving your muscles a lower-torque paddle stroke. The same goes for a lightweight paddle. With every paddle stroke you lift the entire weight of the paddle and with a casual pace of 1500 strokes per hour, a few ounces can add up to hundreds of pounds of lifting! I would love to see Sea Gods create a full carbon fiber paddle upgrade option with a slightly smaller blade. The smaller blade and lightweight would make an ideal companion for the touring-centric Carta Marina CX.
Stability
With its wide shape and extra length, the Carta Marina CX provides more stability than your typical all-around or touring iSUP.
32 inches is very wide for a touring paddle board, but is an average width for an all-around SUP. As a crossover board, the Carta Marina gives you the great primary stability (while flat) that you expect from an all-around board, but with better efficiency on the water. Lightweight boards are easier to get moving in one direction or another than a heavier board, including rocking and rolling from side to side.
The Carta Marina CX does have an occasional twitchy feel from side-to-side as it takes very little energy to tilt the board. I call this the "light board twitch" and I've noticed it more as inflatable technology allows boards to be built at lighter weights. It's not a problem, per se, but it is something to be aware of for newer paddlers. I never felt like the Carta Marina CX was unstable, but rather it can sometimes have a lively feel under your feet.
When you put your weight to one side to sink the rail of the board, the Carta Marina CX holds its position relatively easily. It is very quick to respond to changes in weight distribution, so while it was stable on its rail, I found it a little tricky to keep holding the board on its edge.
While rocking the board from side to side the Carta Marina CX easily and smoothly dipped its rails under the surface and came back up without any overly-buoyant "popping" sensation.
Moving around on the board was likewise easy, and the stability remains high as you move toward the tail thanks to the medium size square tail shape.
Overall the Carta Marina CX is pleasantly stable whether it is flat, on its edge, dealing with chop, or when moving around on the board.
Speed
We typically expect touring-style paddleboards to be efficient and quick on the water. The Carta Marina CX did not disappoint us here, even with its 32" width.
One benefit of the Carta Marina CX's light weight is snappy acceleration. At just 21 lbs and with a combination of a tapered nose and smooth rocker profile, the Carta Marina CX can jump up to speed with just a few paddle strokes.
In our sprint-speed testing, I found the Carta Marina to carry an average sprint speed of around 5.6 MPH (9.0 KMH). That's pretty consistent with the average for most touring-style iSUPs I've tested. The top speed I was able to reach was not much faster though, at only 5.7 MPH (9.2 KMH). This is a bit lower than average as I'm able to get top speeds closer to 6 MPH on most touring iSUPs.
The big reason why the top speed is a little lower is primarily due to the Carta Marina CX's width. When you make a board wider it adds stability, but it also adds drag, diminishing the maximum speed of the board.
But top-speed isn't everything, and with a touring iSUP, especially a crossover board like the Carta Marina CX, efficiency is king.
While cruising at a more casual pace, the Carta Marina CX did quite well. We test the cruising speed at a targeted 25 strokes per minute pace. This is just a hair slower of a cadence than constantly paddling for me. At 25 strokes per minute, the Carta Marina CX kept up a consistent 3.9 MPH (6.3 KMH), which is quite fast even for dedicated touring iSUPs.
We refer to how far a paddle board will travel between paddle strokes before significantly slowing down as its glide. The more glide it has, the farther the board will travel with each stroke, making it easier to paddle longer distances
The Carta Marina CX traveled an average of 22.8 feet per stroke for a glide ratio of 1.9 board-lengths per stroke. Where does this place the Carta Marina CX? Well, all-around iSUPs tend to have glide ratios of between 1.4-1.7 board-lengths per stroke, and touring iSUPs tend to fall between 1.7-2.2 board lengths per stroke. The Carta Marina CX manages to easily keep its efficiency up with dedicated touring iSUPs while still maintaining the stability and carrying capacity of an all-around board.
Maneuverability and Tracking
The Carta Marina CX has a size and shape between a dedicated touring board and an all-around iSUP. Overall the maneuverability and tracking performance also sits between the two categories, with a little bit of a lean toward the straighter-paddling touring boards.
Longer paddle boards are typically harder to turn than shorter ones. There's just physically more board to push sideways through the water and longer boards tend to stay straighter on their own. At 12' long, the Carta Marina CX is long for an all-around board and short for a touring board.
Our maneuverability test is designed to be difficult for boards to turn in order to really show off their ability on the water. From a stand still we use forward sweep strokes (starting at the nose, arcing away from the board and then back to the tail) to turn the board in a full, 360°, circle. Forward sweeps are a common turning stroke, but because they also impart forward motion, they aren't the fastest way to turn a paddle board. This creates a sort of "stress" test.
The Carta Marina CX took an average of 6.5 forward sweeps in order to make the full-circle. The first few strokes were quite effective, but as the forward momentum begins to build it becomes harder to swing the board around with each successive stroke. We normally see test results between 4-6 strokes for all-around boards, and 6-9 strokes for touring SUPs. The Carta Marina is right in the happy middle of maneuverability between the two – turning is neither too easy or too difficult.
When using other paddle strokes like Reverse Sweeps or Bow Draw strokes, the Carta Marina is quicker to respond and easier to turn. The medium-size square tail gives the board a good amount of stability while standing at the rear of the board and makes pivot turns quick and smooth, letting you turn a full circle in as few as 2 strokes (with a little bit of practice).
In our tracking test, we determine how well a paddleboard stays on course during one-sided paddling. We begin by picking a target on the horizon, then paddling towards it. Once the course is established we take 10 forward strokes on one side of the board and then determine where our new course is taking us. We measure the difference using a sighting compass to get an accurate account of how far the course has changed.
After 10 paddles strokes on a single side, the Carta Marina CX only deviated from its original course by an average of 13°. Again we find the Carta Marina CX performing in that space between all-around paddle boards (typically around 20° deviation) and touring paddle boards (typically less than 10° deviation).
Most beginner and intermediate paddlers will find themselves switching sides more frequently than 10 paddle strokes. Like speed, much of a board's tracking ability in real world situations will come down to paddler technique.
With this overall maneuverability and tracking performance riding the line between all-around SUPs and touring boards, you can actually get the best of both worlds. The Carta Marina CX will stay on course when you want it to, but still be easily maneuvered if you change your mind.
What fin(s) you use on your paddle board can make a big difference in maneuverability and tracking performance. The Carta Marina CX comes with a tool-less 9" touring fin. Instead of using a standard fin bolt, you can add or remove the plastic plugs in the base of the fin to adjust the friction fit inside the fin box. Sea Gods also uses a standard US fin box, so if you do want to change the performance of the Carta Marina CX or swap to a shallow-water fin, you can do that with your choice of hundreds of different compatible fins.
Warranty and Customer Support
Sea Gods is known for their lifetime warranty on their inflatable iSUPs. If you experience any manufacturing defects over the reasonable life of your board, simply contact Sea Gods for a warranty claim. In addition to the lifetime warranty for the boards, all of the included accessories are warrantied for 1 year, and there is a 30 day return period if you decide that the Carta Marina isn't quite what you want. To contact Sea Gods you can reach them via phone , email, online chat, or through their social media channels.
Overall Impressions/Review Summary
The Sea Gods labels the Carta Marina CX as a touring iSUP, but I think it's much more than that. It has the speed and efficiency of a touring paddle board combined with the stability and carrying capacity of an all-around SUP. It's lightweight and nimble on the water, but lets you easily explore more distant locations. I do wish the front cargo area was expanded a bit to make it easier to carry larger payloads for longer, multi-day trips. But with its current cargo capacity, stability, speed and accessory compatibility, the Sea Gods Carta Marina CX is a well-built, do-it-all paddleboard perfect for those wanting more than just an all-around or touring iSUP.
Sea Gods Carta Marina CX iSUP FAQ
What is the difference between the Carta Marina CX and Carta Marina ULF?
The Carta Marina CX utilizes Sea God's newest materials and construction that first debuted in 2022 with the Skylla. The CX construction is lighter and stiffer than the ULF version, but otherwise the Carta Marina shares the same size and shape between the two constructions.
Should I get the Carta Marina CX, Elemental Wave CX, or Ketos CX?
The Elemental Wave CX is a cruiser-style all-around iSUP through and through. It's stable and has higher maneuverability than the Carta Marina CX. The Ketos CX is a racing/downwind iSUP designed for advanced riders. It trades stability for speed. The Carta Marina CX sits between the two offering both great stability and high efficiency on the water.
Is the Carta Marina CX compatible with a kayak seat?
Yes, the four D-rings around the middle of the board are placed to fit perfectly with the Sea Gods kayak seat. The included carbon fiber/nylon paddle is also compatible with the Sea Gods kayak paddle blade attachment for double-bladed paddling.
Can I paddle with kids or dogs on the Carta Marina CX?
You sure can. With a maximum capacity of 350 lbs and the great stability from the Carta Marina CX's size and shape you can easily paddle with a passenger or dog. There are even two sets of removable passenger handles if the seas get a bit bumpy.