GILI SUP Reviews | Paddle Board Reviews 2021
Inflatable Boarder is reader-supported and may earn a commission when you buy through links on our site. Learn more
An inflatable SUP startup that came onto the scene in 2018, GILI Sports initially launched their brand with the affordably priced 10'6″ AIR all-around model. Building on their success with the AIR, in 2019 the company rolled out their second board — the Adventure 11′ iSUP with MSL fusion construction and a host of additional features.
2020 sees the lineup expand to four boards, welcoming the wider Kodomo with a full-length deck pack that's great for yoga, and the premium 35″ wide Meno in two lengths.
GILI Sports is owned and operated by entrepreneur and world traveler, Jay Regan. Jay's primary goal with his SUP company startup is to provide unbeatable value and a first-class customer service experience. From what we've seen thus far, GILI seems to be a brand with a bright future ahead of it. The company listens well to feedback and has a good track record of taking care of their customers — we're looking forward to seeing how this new company develops as it continues to expand with the introduction of new models.
Where to Buy GILI Inflatable SUPs
United States
The entire GILI inflatable SUP range is available through the company's official online store. In addition to getting the guaranteed best price on your board, the company also throws in free shipping and you won't be charged sales tax.
GILI Sports SUP Lineup Comparison Chart
GILI SUP Reviews
GILI AIR
Budget All-Around SUP | 10'6 " x 31″ 6″
GILI's first model, the GILI 10'6″ AIR is an extremely affordable, entry-level board that is a good budget choice for beginners. The versatile 10'6″ AIR is 31″ wide and 6″ thick, and it's a board that offers good overall stability.
One of our concerns with this board was the tracking due to its single fin configuration, but the company quickly responded by adding two additional side fins which have improved performance. If you're looking for a fun all-around inflatable paddle board that is priced incredibly well, GILI's 10'6″ AIR is an excellent choice. For more info, be sure to read our GILI Sports 10'6″ AIR SUP board review.
GILI Adventure 11′ & 12′
All-Around SUP | 11′ x 32″ x 6″ and 12′ x 32″ x 6″
A brand new addition to the company's lineup last season, the 11′ GILI Adventure is a higher-end inflatable that glides well and is loaded with great features.
Measuring 11′ x 32″ x 6″, the Adventure is an all-around board that has a more aggressive shape than the AIR, delivering nice improvements in terms of speed and tracking capability. This board is also built with lightweight MSL fusion construction and comes with an upgraded carbon fiber shaft travel paddle. Check out our in-depth GILI Sports Adventure 11′ SUP board review for more details on this brand new model.
GILI KOMODO
All-Around SUP | 10'6″ x 33″ x 6″
The new GILI 10' 6" KOMODO is a well-designed all-around board. Measuring 10'6" x 33" x 6" when inflated, the width provides stability and the pointed nose – speed. Because there is full coverage with a traction pad and support of up to 350 lbs., it is easy to bring the kids and dog on board or use it for yoga. Created to be one of the most stable boards, it is great for touring, yoga or fishing.
Constructed using Triple Layer Fusion Technology, this board offers durability and strength yet is 20% lighter.
The complete Komodo iSUP Package includes adjustable travel paddle, inflatable backpack, 2-Stage Hand Pump, 8′ Coiled Leash, Snap-In Center Fin, Snap-In Side Fins, & Repair Kit.
GILI MENO 10'6″ & 11'6″
Multi-Purpose SUP | 10'6 x 35″ x 6″ and 11'6″ x 35″ x 6″
Added in 2020, the new GILI MENO is intended to be a premium stable multi-purpose paddle board for fishing, fitness, and general paddling. Able to hold up to 450 lbs of weight, it gives plenty of room to bring the kids and dogs along for the ride. The 35″ width provides great stability yet is still fairly maneuverable. The Meno features bungees on the nose and tail for storage and the front, rear and center grab handles make it easy to transport the SUP.
Three built-in mounting platforms hold fishing rods, fish finders or an action camera. Stand-out features are 18 D-rings to attach gear to, a high flow dual-chamber pump to inflate the board quickly and a contstuction that provides rigidity makes this a great board for a family.
The board claims military grade durability while still maintaining a light weight by using a triple-layer laminated PVC. The interchangeable center fin kit includes a 9″ Race Fin, 4.5″ Speed Fin, and a 3″ River Fin.
GILI Accessories
GILI Sports Warranty Information
GILI offers a 60-day return guarantee so if you don't like your board you can get a full refund with a 20% restocking fee – a practice of several companies. We are assuming shipping fees are on you, but they don't explicitly state it. An additional $50.00 per board is charged for board returns from Alaska or Hawaii.
They offer a 2-year warranty on all of their inflatable SUPs which is common. In addition, they cover paddles, pumps and leashes for 90 days and bags up to a year – a solid warranty when compared to others.
They are one of just a few companies that emphasizes not accepting any shipment that looks like it might be damaged. If you do accept a delivery and find damage when you open it, you have 3 days to contact them.
There are no surprises in their warranty, but shipping fees could be clarified. Their information is an easy read and their site makes sure you know how to contact them with any questions.
Read their warranty in full on the company website.
GILI SUP Sales and Discount Codes
During the year, GILI will often have special sales or a discount code available. Here are some are the best GILI deals at the moment:
GILI SUP Coupon Code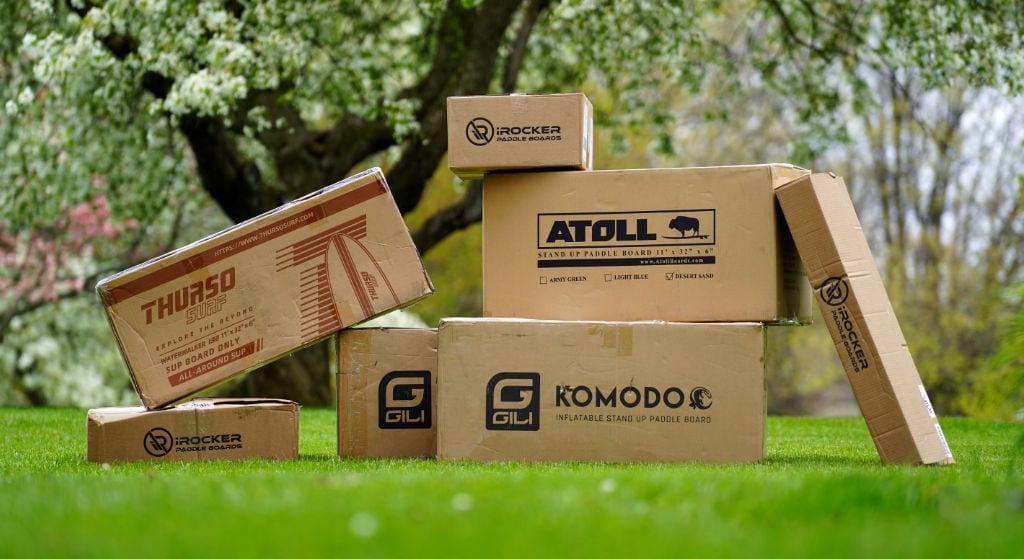 We've Found the Best SUP Sales For You
Check out our Ultimate SUP Deals Page for even more of best SUP sales and paddle board discounts from this and many other top inflatable SUP brands.