A popular choice when it comes to midrange inflatable paddle boards, the Atoll Board Co 11′ SUP is a stable board that glides well and is a lot of fun to paddle. Since this model's introduction a few years ago, the company has made some nice improvements which we'll cover in this review.
Headquartered in Huntington Beach, CA, Atoll Board Co currently has one inflatable SUP model and a small line of paddle board accessories. In this review of Atoll's 11′ inflatable SUP, we'll cover this board's features, specs, construction, paddling performance, what's included in the SUP accessory bundle, and more. We'll also share a special coupon code promotion at the end of this review that'll save you a ton of money on the board.
In a Hurry? Here's a Quick Summary…
Pros
Very light
Stable
Good rigidity
Beginner-friendly
Super versatile
Tons of D-rings
Versatile universal fin box
Large bungee storage area
Comes with everything you need to paddle
2 year warranty + 60 day money back guarantee
Great customer support
Cons
Only available in Army Green Now available in Army Green, Red, and Blue
Neoprene carry handle cover not removable
Included accessories are fairly basic
Price & Where to Buy it
Atoll 11′ Inflatable SUP Review: Board Overview
One of the first things you'll notice about Atoll's 11′ SUP is the military-themed design, which is something that some will love and others will hate (we happen to love it). The dark army green color of the board is nicely accented by the board's black rails and light-colored bottom, and a few months ago the company launched two brand new colors which also look really good — Red, and Blue.
Previously, the lack of color options was a reservation of ours, so we were excited to see these new color options added to the mix. The new colors are much more appealing to female paddlers and anyone who just doesn't appreciate the military-themed look — we expect they'll be great sellers for the company.
Measuring 11′ x 32″ x 6″ and weighing in at only 19 pounds, the Atoll 11′ iSUP is a lightweight board that provides great stability in the water. It's a solid choice for beginners as well as more experienced paddlers, and the board's tapered shape helps it to cut through wind and chop well. This board is also extremely versatile and it can be used for a wide variety of activities such as flatwater paddling, SUP fitness, fishing, overnight camping expeditions, and more.
Features
The top deck of the Atoll 11′ SUP features a nice black and white EVA foam traction pad that is branded with the Atoll logo. There's also a durable nylon webbed carrying handle located at the middle of the board that is covered by a soft neoprene grip, and located along the sides of the deck pad are 8 stainless steel D-rings for attaching a kayak seat, tying down gear, or securing a cooler.
Previously, there was a grab handle at the nose of the board but that's been eliminated. At the front of the board are 6 additional D-rings and an oversized bungee cord storage net for securing your stuff. With a total of 15 D-rings on this board, we love the fact that there are so many options for tying down or stashing gear.
Moving to the rear of the board, you'll find another D-ring for attaching the included SUP leash. There's also a neoprene covered grab handle that is super convenient for pulling the board in and out of the water. Having the grab handle at the tail of the board ensures that the fins are up off the beach, helping to prevent possible damage from dragging.
On the flip side, the Atoll 11′ Cruiser Deluxe has a 2+1 fin configuration with a large, removable center fin and two smaller side fins that are permanently fixed. We like the fact that Atoll used a high-quality universal fin box on the board — this adds versatility as you can swap out fins.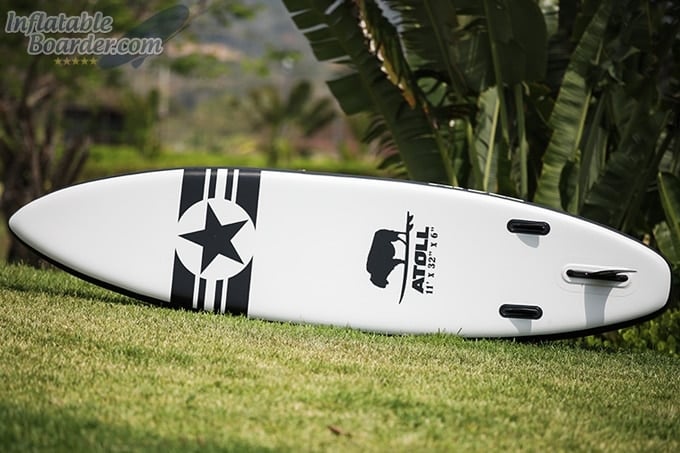 Construction
The latest version of Atoll's 11′ inflatable paddle board features Fusion Light Construction which dramatically slashed the board's weight. The Atoll 11′ SUP is extremely light at only 19 pounds, and the high-quality drop stitch core and dual-layer military grade PVC contribute to the boards excellent overall durability and stiffness.
Paddling Performance
In the water, Atoll's 11′ inflatable SUP is a lot of fun. The board glides and tracks well, and the tapered nose helps it to cut through choppy conditions. The Atoll 11′ also feels very stable in the water, and it's a great choice for paddling around your dog or small children.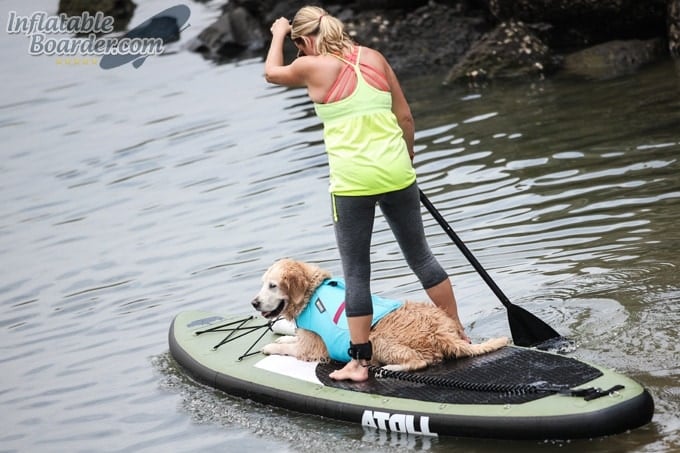 Likes and Dislikes
We really like the overall design of this board, and as we mentioned, the company has already addressed one of our reservations with the introduction of two new color options. We also really like the fact that the company loaded the board up with so many D-rings, as it gives you so many options when it comes to securing gear, a cooler, etc.
The ultralight weight of the board and its performance in the water are also strong points.
One minor thing that we would change is in regards to the neoprene covered carry handle — we would include a velcro closure and make the neoprene cover removable. In addition to being able to remove it for faster drying, this would give you the option of a more lay flat handle which is preferable for activities like SUP fitness.
Another area where we'd love to see some changes made is in the SUP accessory bundle, which we'll discuss shortly.
Atoll 11' Inflatable Paddle Board Rating
Durability

Features

Versatility

Stability

Speed

Portability

Warranty

Customer Support

Price
Atoll 11′ SUP Specs
| | |
| --- | --- |
| Length | 11′ |
| Width | 32″ |
| Thickness | 6″ |
| Weight | 19 pounds |
| Max Capacity | 350 pounds |
| Price | |
What Comes With it?
The Atoll 11′ SUP comes with everything you need to start paddling. In the box is an Atoll SUP backpack, 3-piece aluminum paddle, dual-action pump, 10′ coiled SUP leash, repair kit, user manual, and Atoll sticker pack.
Backpack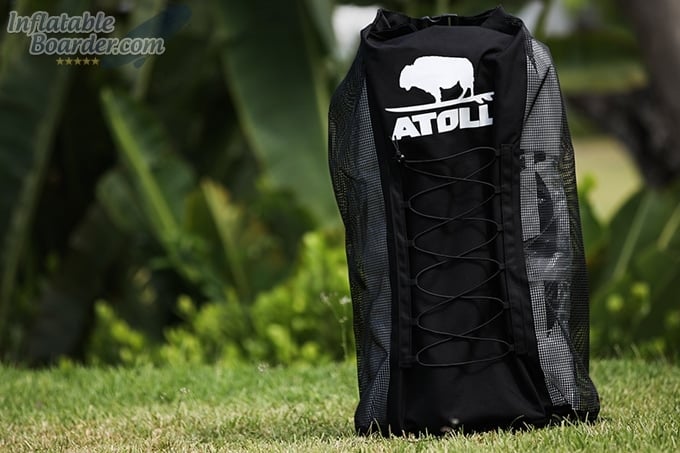 Atoll's SUP backpack is basic, but it gets the job done. A bag that will surely appeal to minimalists, this lightweight backpack features rubber/plastic mesh sides that allow the interior of the bag and its contents to dry out quickly.
Located on the front of the bag is a large elastic bungee area. In addition to providing some external storage, the bungee cord can be tightened to cinch the bag and contents up once everything is packed.
The top of the bag features a roll top closure that is similar to what's used on most dry bags. The bag opening also has a full velcro closure to keep everything inside nice and secure.
On the back of the bag is a grab handle as well as two fully adjustable shoulder straps.
Overall, this is a nice lightweight SUP backpack that will keep your gear organized and make storage and transport more convenient. If you're planning to do any heavy traveling, we'd definitely recommend a bag with a more robust design as the mesh sides and material of this backpack will most likely get destroyed by airline baggage handlers. In the future, we'd really love to see Atoll upgrade the bag to a more durable wheeled SUP backpack which would be better suited to serious travel.
Paddle
Included with the Atoll 11′ inflatable SUP is a basic 3-piece paddle. This paddle features a black aluminum shaft and a nylon blade.
The blade on this paddle has a lot more flex than most of the other paddles we've reviewed, and ours had a slight warp to it when we pulled it out of the box. This could probably be corrected with the application of some heat and a little force, but it's not likely that it has much of an impact on the paddle's performance.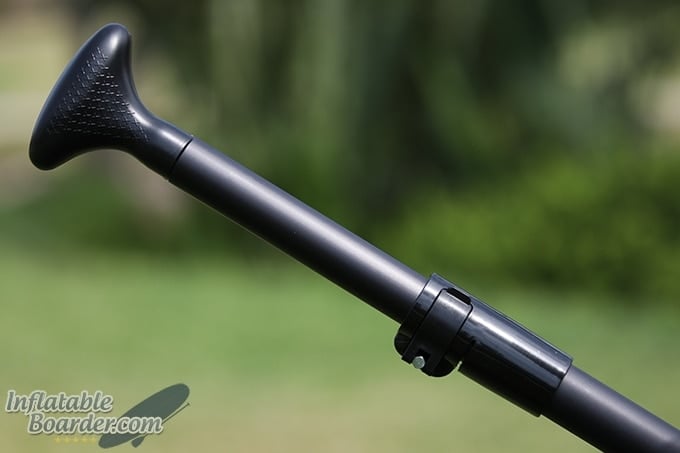 As we mentioned with the backpack, the paddle is another area where the company could make improvements. A lighter, higher quality carbon fiber paddle would be a nice addition to the SUP bundle and would add more value.
Pump
The Atoll 11′ comes with a high-quality BRAVO SUP pump that does a good job of inflating the board. The pump features a built-in pressure gauge and dual-action, which means it can add air to your board on both the up and downstrokes.
Leash
We love the fact that Atoll Board Co promotes SUP safety by including a 10′ coiled SUP leash with their board. The included leash features dual metal swivels to prevent tangling and it has a comfortable neoprene ankle cuff with a built-in key storage pocket.
Repair Kit
Also included with the board is an iSUP repair kit. Inside of the plastic orange canister you'll find adhesive, three PVC patches, and a valve wrench.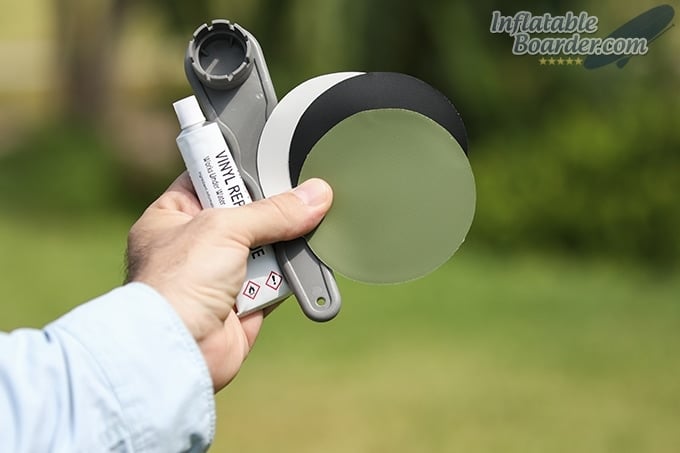 User Manual/Sticker Pack
Last but not least, the Atoll 11′ SUP comes with a helpful user manual and Atoll sticker pack.
Warranty
Atoll covers their inflatable SUP with an excellent warranty — 2 years on all manufacturer defects as well as a full 60-day money back guarantee.
Where to Buy it + Special Discount Offer
You can order the 11′ Atoll SUP direct from the company through their official online store. Atoll offers fast, free shipping and you won't be charged sales tax on your order unless you happen to live in California. Additionally, the company is running a special promotion right now that will save you a lot of money — buy any two boards and enter the promo coupon code 100off2 at checkout to get an additional $100 off.
You can also buy Atoll's 11′ inflatable paddle board from Amazon. While Amazon also offers free shipping, you'll be charged sales tax on your purchase and won't be able to take advantage of the special $100 off combo deal promo.
Final Thoughts
We were impressed with Atoll's 11′ SUP and found it to be a lot of fun on the water. We really like the fact that the board weighs in at only 19 pounds and it has excellent rigidity when inflated to 15 PSI. The company is well-known for providing outstanding customer service and their 2-year warranty shows that they're serious about standing behind their gear.
Overall, this board is a good choice for anyone who is in the market for a stable, durable, and fun all-around inflatable SUP, and it should provide many years of memorable paddling adventures.