Atoll 11' (2023): Overview
The Atoll 11' is the epitome of the all-around iSUP – there's not much it can't do. It offers great stability, good paddling performance, and versatility to match. Whether you are just learning to stand, heading out for an overnight fishing trip, or paddling for fitness, the Atoll 11' can do it all.
— Atoll 11' (2023) Summary Ratings and Review —
Atoll 11' (2023)
Construction & Durability

Features and Versatility

Stability

Speed

Maneuverability

Tracking
Overall Score
The Atoll 11' is truly a do-it-all iSUP, but it could benefit from an update in materials.
Pros
Dual layer PVC
Great stability
Very maneuverable
US fin box
Super-grippy deck pad
Large cargo area up front
Kayak seat compatible
Fiberglass/carbon fiber paddle
Cons
Noticeable flex on the water
Tracking performance has room for improvement
Construction and Durability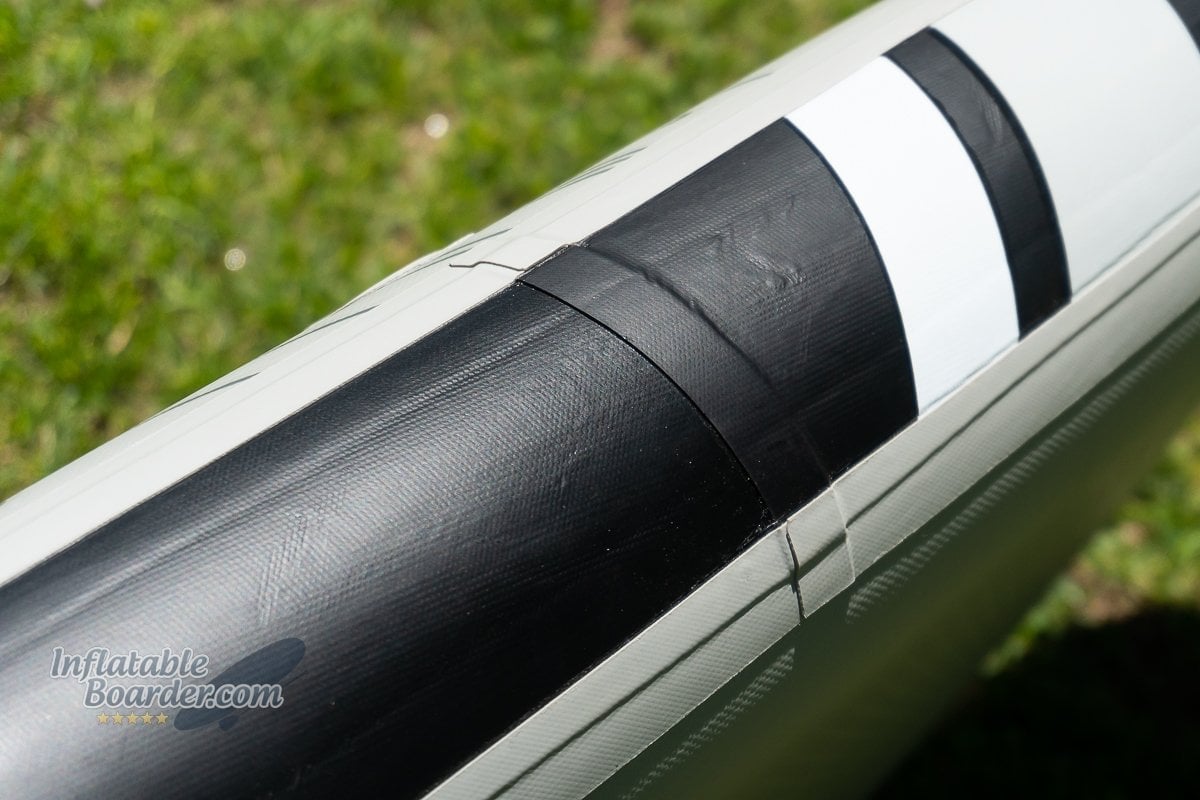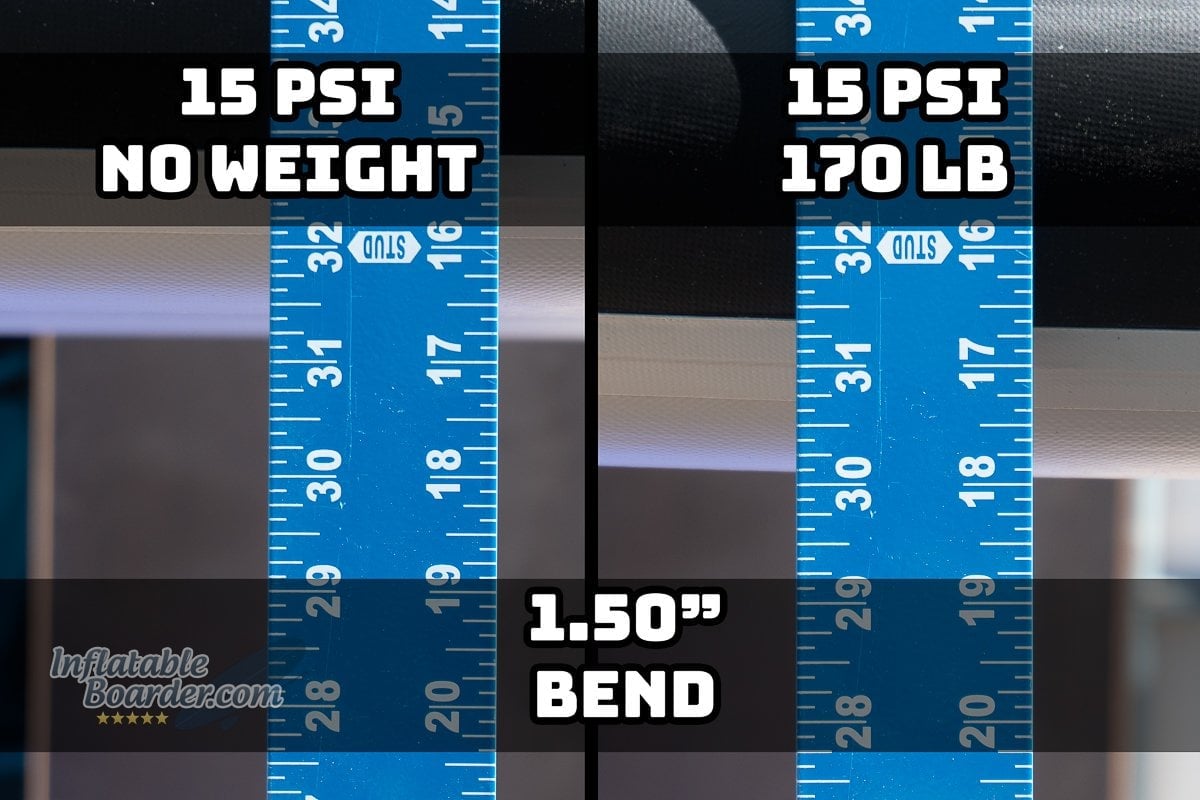 The Atoll 11' is designed as a lightweight, do-it-all inflatable paddleboard. The board itself uses a dual-layer PVC shell wrapped around a 6" thick drop stitch fabric core. This construction keeps weight to a minimum without sacrificing durability and abrasion resistance.
The top and bottom layers of PVC are sealed with a single layer of PVC around the rail of the board, which is then reinforced with another strip of PVC material on both the top and bottom seams.
This dual-layer design is quite standard for inflatable paddleboards in the lower-middle price ranges. It does produce a high-quality board, but also leaves lots of room for improvement both with the materials themselves and the construction technique. Other, similarly-priced boards offer significant materials and construction advantages over the Atoll 11'.
While standing and paddling on the Atoll 11' I did notice some flex in the board, particularly as I was paddling quickly. The 15 PSI maximum rating is not quite enough to keep the board stiff while sprinting, causing it to bend with each stroke. Paddling casually the flex was significantly less noticeable and did not create any performance issues. The Atoll 11' did perform well in our static bend test. While this testing is a good benchmark for construction, we've found that it doesn't always translate directly to how a board will actually feel on the water.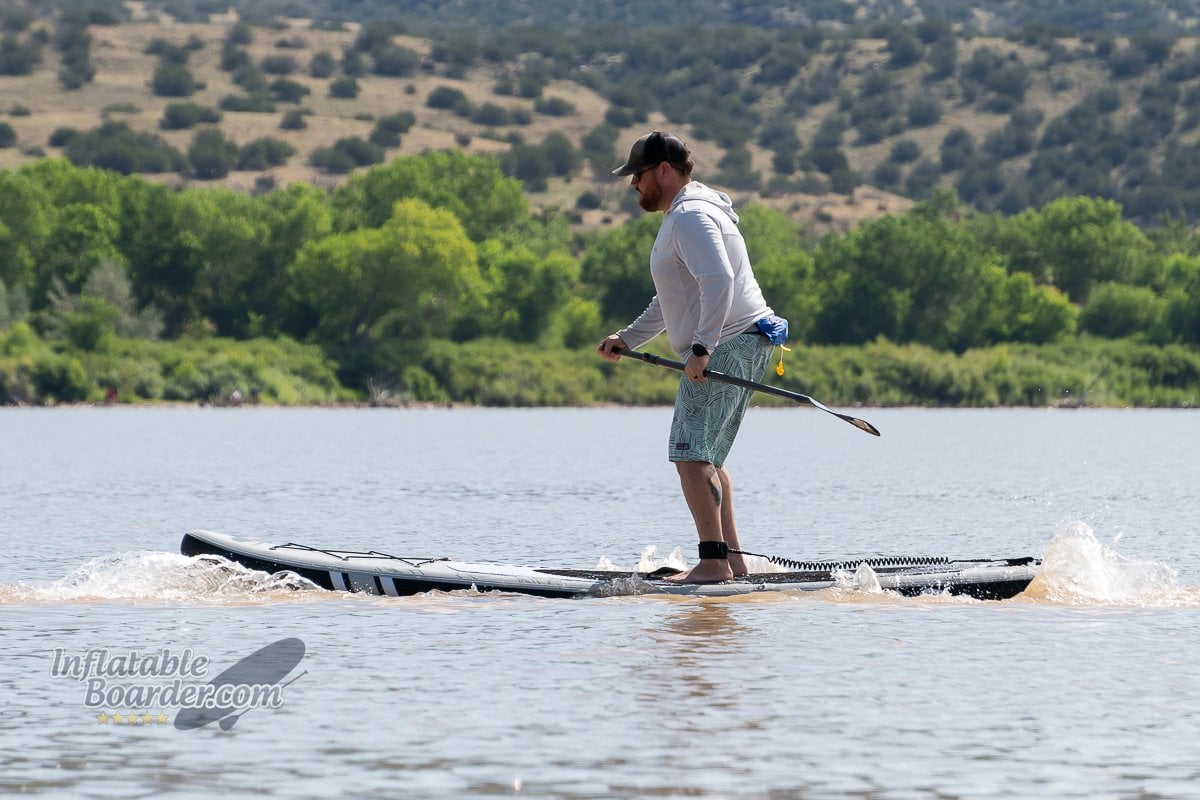 Specifications
Dimensions
Length
11' 0"
Width
32"
Thickness
6"
Weight
Max Capacity
315 pounds
Board Weight
21 pounds
Kit Weight
(SUP & accessories)
38 pounds
Buying Info
List Price
$749.99
Warranty
2 years
Returns period
60 days
Features, Accessories and Versatility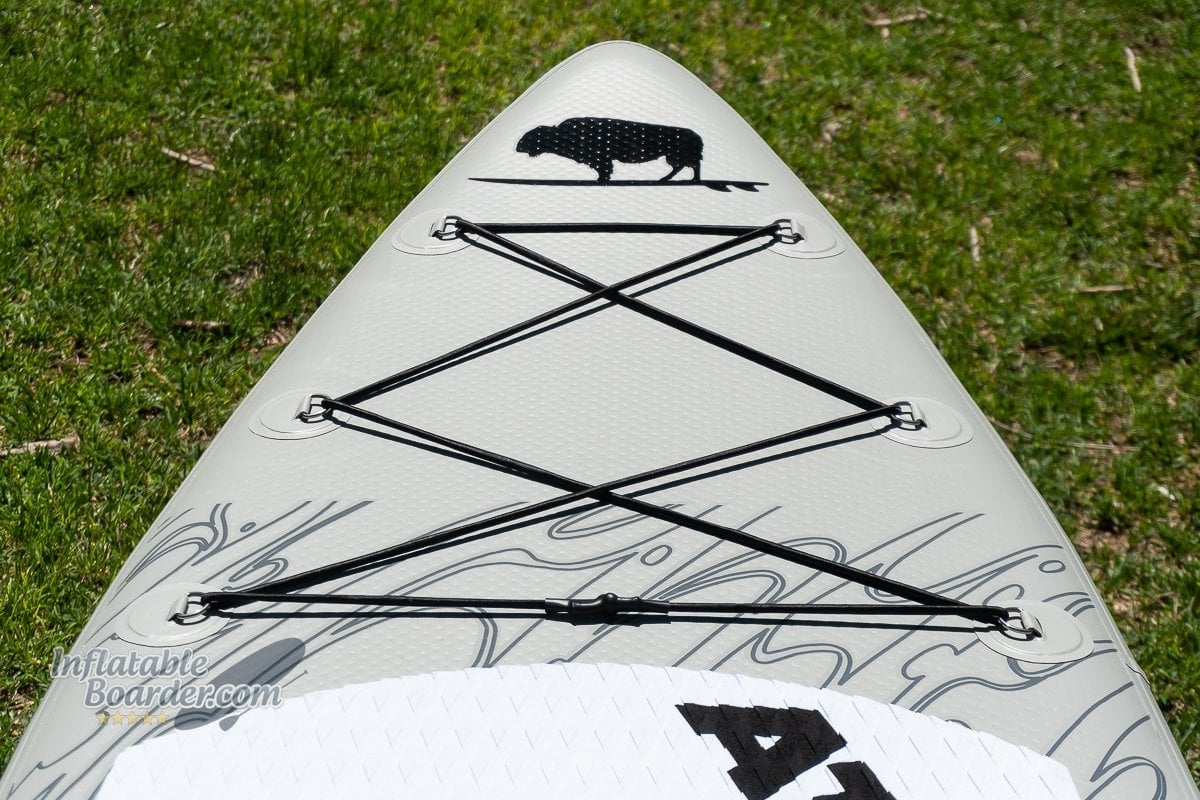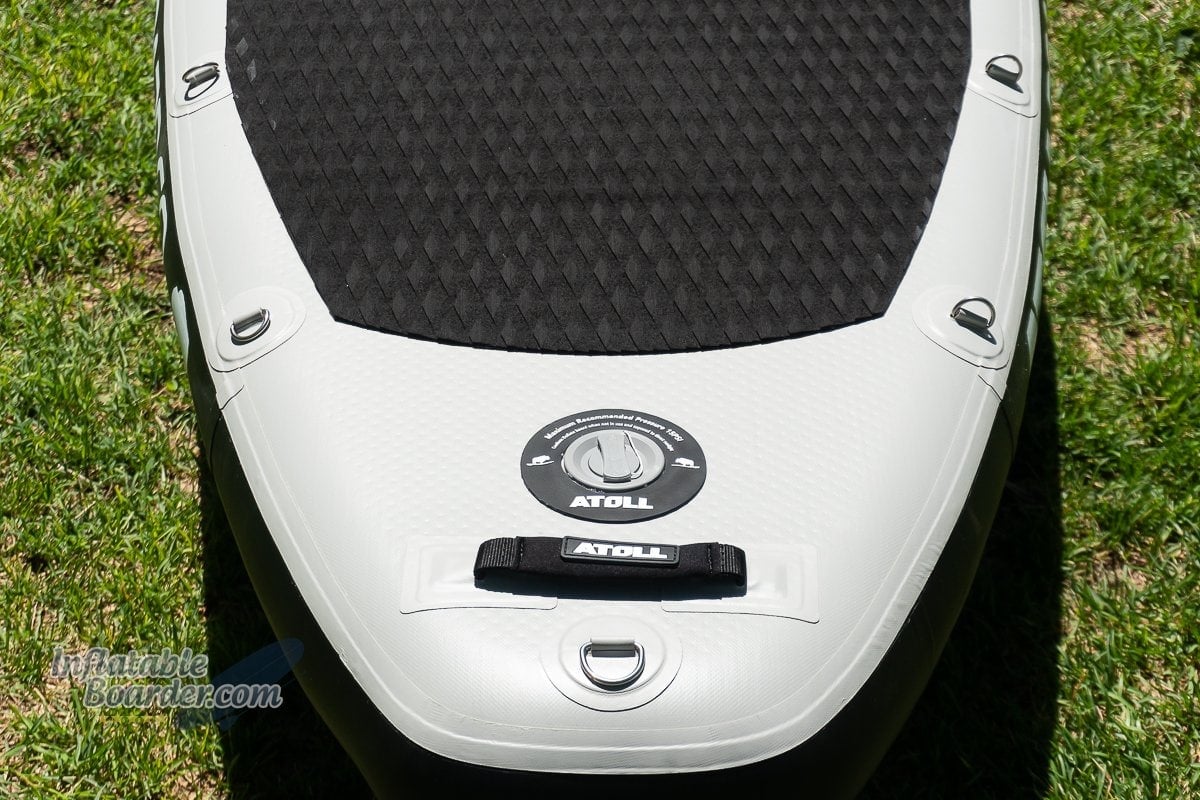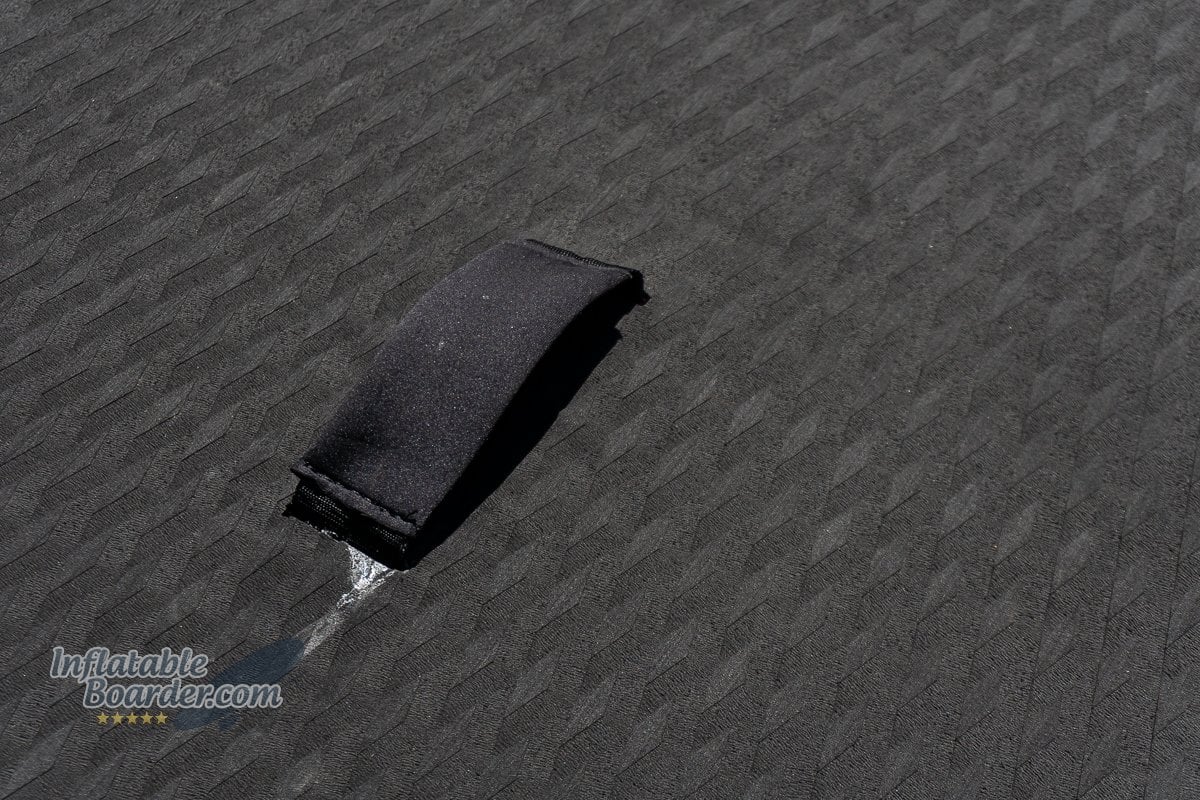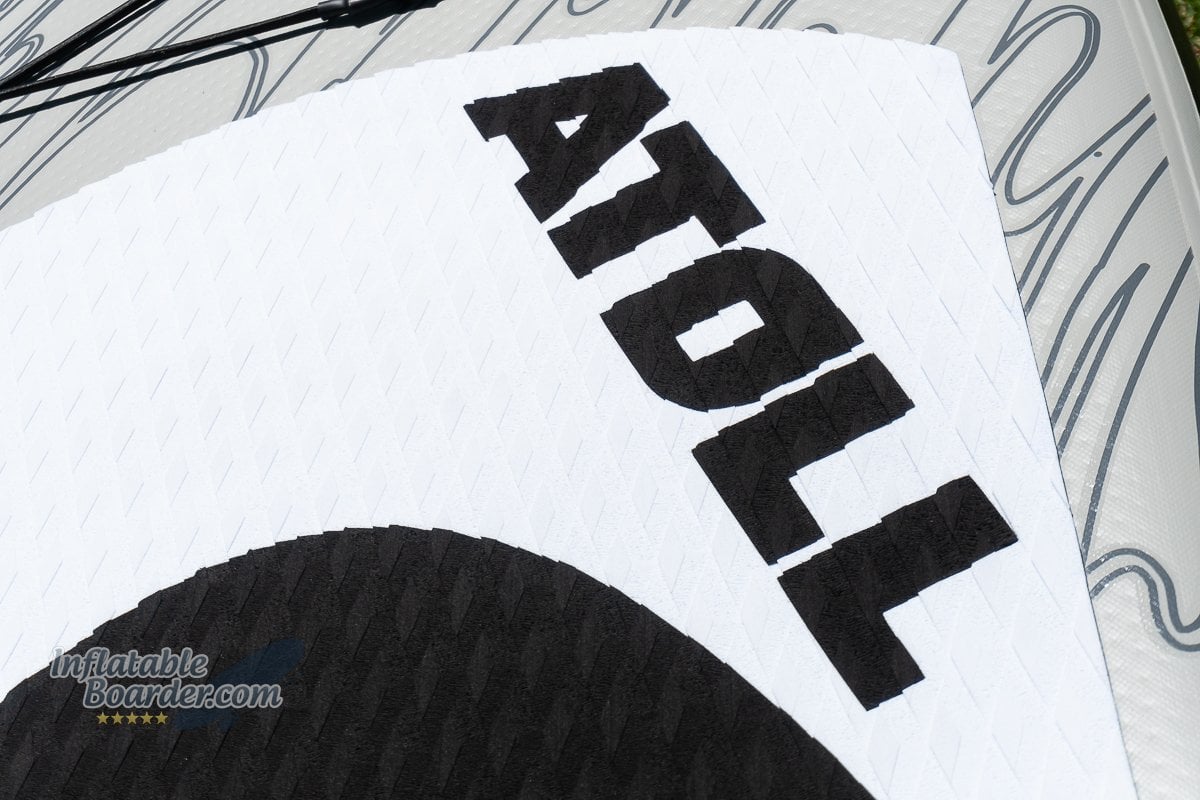 The Atoll 11' includes everything you need to get started paddleboarding, but keeps the board itself minimalist without losing functionality.
The deck features a ¾ length fully-diamond groove deck pad for excellent traction. It's long and wide enough to make moving around the board comfortable and secure whether you are changing stances or practicing yoga. The deck pad continues all the way to the tail of the board where it ends at the inflation valve, leash anchor, and rear carry handle.
The front of the board has a large cargo area with plenty of room for your daily paddling needs like water and sunscreen all the way up to large dry bags for overnight trips. Along the side of the board are 4 pairs of d-rings. The first two are spaced farther apart and are compatible with kayak seats. They can also be used to customize more storage space or tie down coolers, crates, or other items.
While at first glance the Atoll 11' seems to be lacking features compared to some other iSUPs, the versatility remains nearly the same and encourages users to customize the board to their liking. Two things I do believe are missing are a mount for accessories (like fishing rod holders or action cameras) and a front carry handle.
The Atoll bag is rather straightforward. It's a medium-weight nylon build with a basic backpack harness. There is a medium-sized zipper pocket on the front for your fin and leash, and the rest of the kit – board, pump, paddle, repair kit – all fit easily inside the main compartment. The four compression straps around the outside tighten the bag up to keep everything from shifting around while carrying it. The kit is light enough overall that not having wheels is not so much of an issue, but I do feel the bag material may have durability issues if it is routinely handled roughly or dragged on rough surfaces (like truck bed liner).
The double-action pump is easy to use and can get the Atoll 11' pumped up to its maximum pressure of 15 PSI fairly easily. Smaller paddlers may have a harder time generating enough force with the single chamber pump though.
Paddle
The Atoll 11' paddle is a fiberglass/carbon fiber/nylon hybrid that balances weight and stiffness well.
The majority of the paddle shaft is made of fiberglass and is wrapped in a layer of carbon fiber. This lets the paddle shaft flex just enough as you use it to reduce fatigue on your body. Depending on how paddles shafts are made, 100% carbon fiber paddles can be made so stiff they can actually make the paddler more tired even if the paddle is lighter.
The blade itself is a lightweight nylon that balances well with the rest of the paddle. It is a little flexible which can create some fluttering when paddling very hard (like in a sprint) but for the most part is not noticeable.
The handle section is made entirely of composite materials and has a comfortable palm grip. It is scaled so users can find what length works best for them and easily set it every time, but it is not indexed to keep it oriented the correct way – so be mindful of how the handle is oriented to the blade when clamping it.
Stability
At 11' long and 32" wide, the Atoll 11' has a pretty significant amount of volume and a standard, beginner-friendly, width. This means that as you step onto the board for your first time or your thousandth time, the board is quite easy to balance on. It doesn't roll or rock while standing on flat water.
If you are in choppier conditions and the board begins to tilt from side to side, you're in good hands as well. The secondary stability – how stable the board feels when it is on its edge – is also quite good. This means that you won't feel like you are tipping over just because the board is at a slight angle and you have plenty of time to shift your weight or bend your legs to correct the board. In very choppy conditions it's sometimes best to go ahead and lean on that edge just a little to let the water move under the board rather than splash over top of it.
The diamond groove deck pad is a great feature that offers excellent traction with both bare feet and while wearing water shoes. Because the entire deck pad is textured this way, it doesn't matter where you are standing, you won't slip. Okay, if you are paddling in winter and some water has frozen into ice on your board, you may still slip (this may have happened to me once or twice on a few boards), but otherwise the traction is excellent.
Speed
Speed on a paddleboard involves a number of factors – length, width, shape, stiffness, the paddler, paddle, what you had for breakfast, etc. At 11' long, the Atoll is at the longer end of all-around iSUPs without being extra wide. I was hoping this would create a nice, fast ride during my top-speed testing, but was left with more of an average score instead.
Two things that I noticed while sprinting on the Atoll 11' were that it did flex a noticeable amount with each stroke and that the tracking performance dropped significantly. Both of these lead to inefficiency while paddling – and thus a lower speed.
While cruising and casually paddling, the flex was far less noticeable and the tracking performance improved. In the quarter mile circuit test I once again finished with an average speed. I also like to test the glide of each board – how far will it travel on its own between paddle strokes before it noticeably slows down. What I found was that the Atoll 11' will generally travel about 1.7-1.8 times its own length before slowing down. This is on the higher side of average for an all-around iSUP, but it didn't seem to translate to above average speeds. I'd love to see a future version of this board with some additional stiffening construction techniques added as I feel that would greatly increase its performance.
Maneuverability and Tracking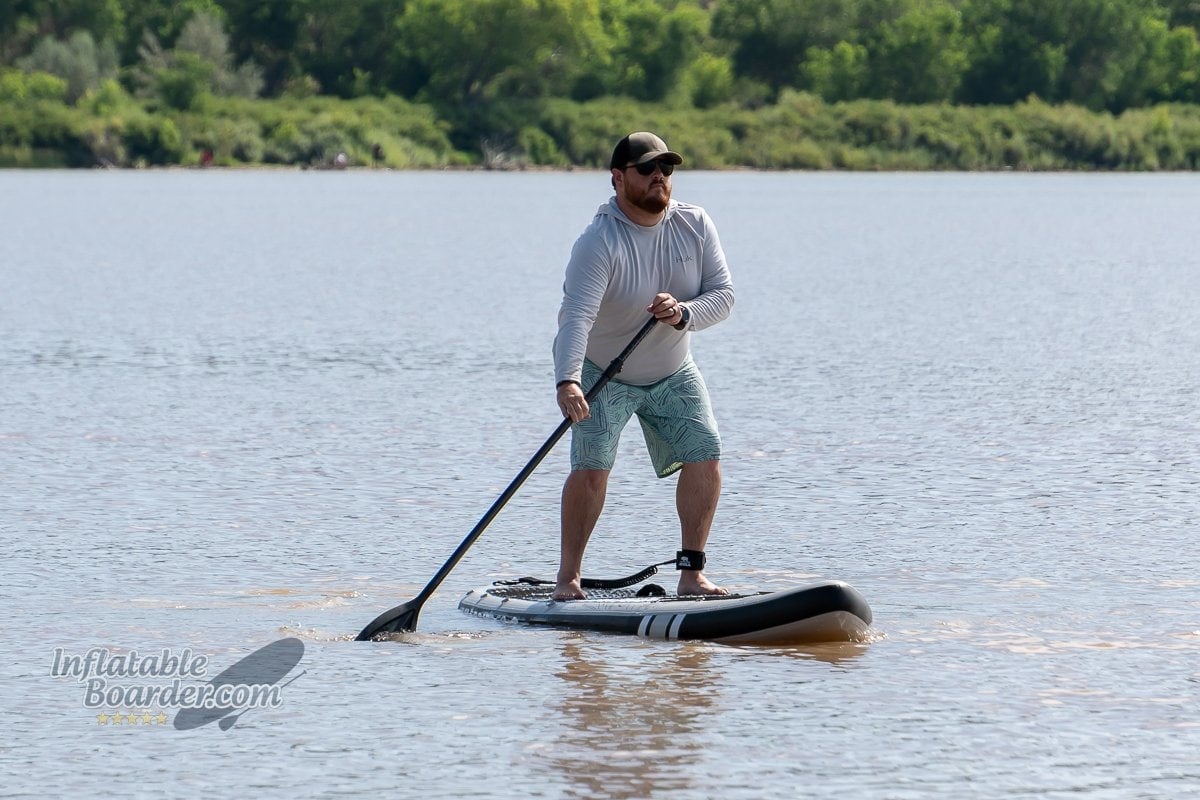 I was honestly surprised at just how maneuverable the Atoll 11' was on the water. Most all-around paddleboards of this size take between 6-9 paddle strokes to turn a complete circle from a standstill. This varies based on exact dimensions, fin setups, rocker profiles, stiffness, and more. The Atoll 11' about made me dizzy getting around 360° in just over 4 paddle strokes in every one of my tests! I would expect to see that kind of maneuverability in boards that are significantly shorter, way more rockered, or both.
Turning with reverse sweep strokes was just as easy, but didn't have the same class-defying results (all paddleboards are faster to turn using reverse strokes than forward strokes).
Stepping back onto the tail of the board for a pivot turn was likewise easy to do. The super-grippy deckpad gives a secure feeling all the way to the tail, and the Atoll 11' slices around on its tail with ease. I'm a big advocate of raised kick pads on every board – mostly because I like to play around on every board I use – so I do wish the Atoll 11' had one for an even more secure surf stance.
Where the maneuverability of this board blew me away, the tracking performance left me wishing for a better balance between the two. The same characteristics that impact turning also impact the ability to paddle straight.
Here I found that while casually paddling and cruising, the Atoll 11' did drift off course faster than average. It was easy to steer back using draw strokes at the nose, but it was needed more frequently than I like to see in an all-around board.
During testing I found the Atoll 11' tended to drift about 25° off target over the course of 10 paddle strokes on a single side. Most beginner paddlers are changing sides far more often so it's not as noticeable, but intermediate paddlers that are working on their form will certainly notice this.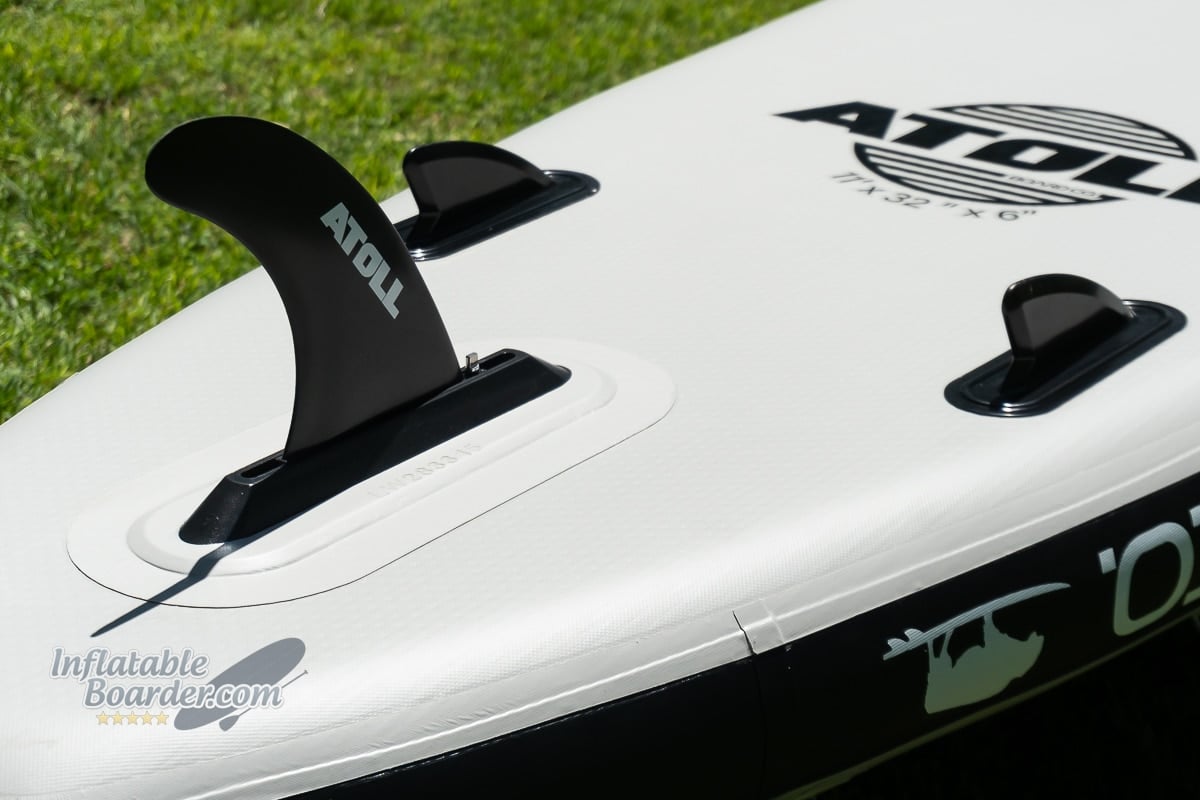 I'm a huge fan of standards among accessories – fin boxes first and foremost among them. The US fin box standard has been around for decades and offers paddlers the choice of hundreds of different size and shape fins to meet their needs. I'm glad that Atoll has decided to keep with the US fin box standard to give users the flexibility and choice in the fins they use.
What I'm not a huge fan of are fixed gummy side fins. These small rubber fins are typically 1.5-2" deep and don't really add much to the tracking equation. Over time they tend to get bent as the board is rolled up, which may actually decrease tracking performance.
The all-around shape fin Atoll has included with this board is definitely a contributor to the maneuverability and tracking performance. To better balance the two, I would like to see Atoll switch to a "hatchet"-style or "touring"-style fin that's better suited to straight line tracking. The maneuverability performance is so high already that I don't think it would greatly detract from that, but it would increase the tracking performance.
Warranty and Customer Support
Atoll provides a 2-year warranty on their inflatable paddle boards along with a 60 day return period. Return shipping is at the cost of the customer and may be subject to a 15% restocking fee. You can reach Atoll via email, social media or phone.
Value
When assessing the value of any paddleboard we take into account the price of the board along with its performance, construction, warranty and customer service, and we also compare it to other, similar options. Overall I found the Atoll 11' to have average performance for a mid-grade all-around paddle board, but lacking in some accessories and features. While the board overall presents a great option in the all-around space, when factoring in the current price of the Atoll 11' paddleboard kit it does not present the best value overall.
Overall Impressions/Review Summary
Overall I've found the Atoll 11' to be a great all-around iSUP. It is a great size and shape for a variety of activities from yoga to overnight trips and everything in between. The Atoll 11′ may not have the most number of glued-on features of any all-around board, but doesn't limit its versatility. In the next version I'd like to see an upgrade to the durability of the bag and a higher efficiency hand pump, but otherwise I'm very pleased with how the Atoll 11′ iSUP performs on the water.
Atoll 11' iSUP FAQ
Can I take my kid or dog on the Atoll 11' iSUP?
Absolutely. The Atoll 11' offers excellent stability and enough volume to support an adult and child or dog on the board. The high quality PVC and deck pad are plenty durable enough for dog claws as well.
Is the Atoll 11' iSUP good for beginners?
Yes it is! The Atoll 11' is a great option for beginners. It offers excellent stability and great maneuverability. The deck pad is grippy and not over-crowded with gadgets.
Can I take the Atoll 11' iSUP fishing or camping?
The AToll 11' iSUP is ready to be customized for your adventures. The large cargo area up front can hold dry bags of camping gear, and the extra d-rings along the board can be used to tie down or attach coolers, fishing gear, more camping equipment, or anything else you plan to bring.
How long does it take to inflate the Atoll 11' iSUP?
Using the included double-action hand pump it takes 10-12 minutes to inflate the Atoll 11' iSUP to the recommended 15 PSI. This time will vary with how fast/hard you pump and some smaller paddlers may take longer.
Can I leave the Atoll 11' iSUP inflated?
Yes and no. Any time an inflatable paddle board is out of the water for more than a few minutes you should relieve some of the pressure from the board to account for pressure changes from temperature. If storing your board for a longer time, it's best to only keep it lightly inflated and stored in a cool, dry location. Never leave an inflated paddle board in direct sunlight as it can over-pressurize the board and cause a seam failure.