Isle Explorer Pro 12′ iSUP Review | 2023
Inflatable Boarder is reader-supported and may earn a commission when you buy through links on our site. Learn more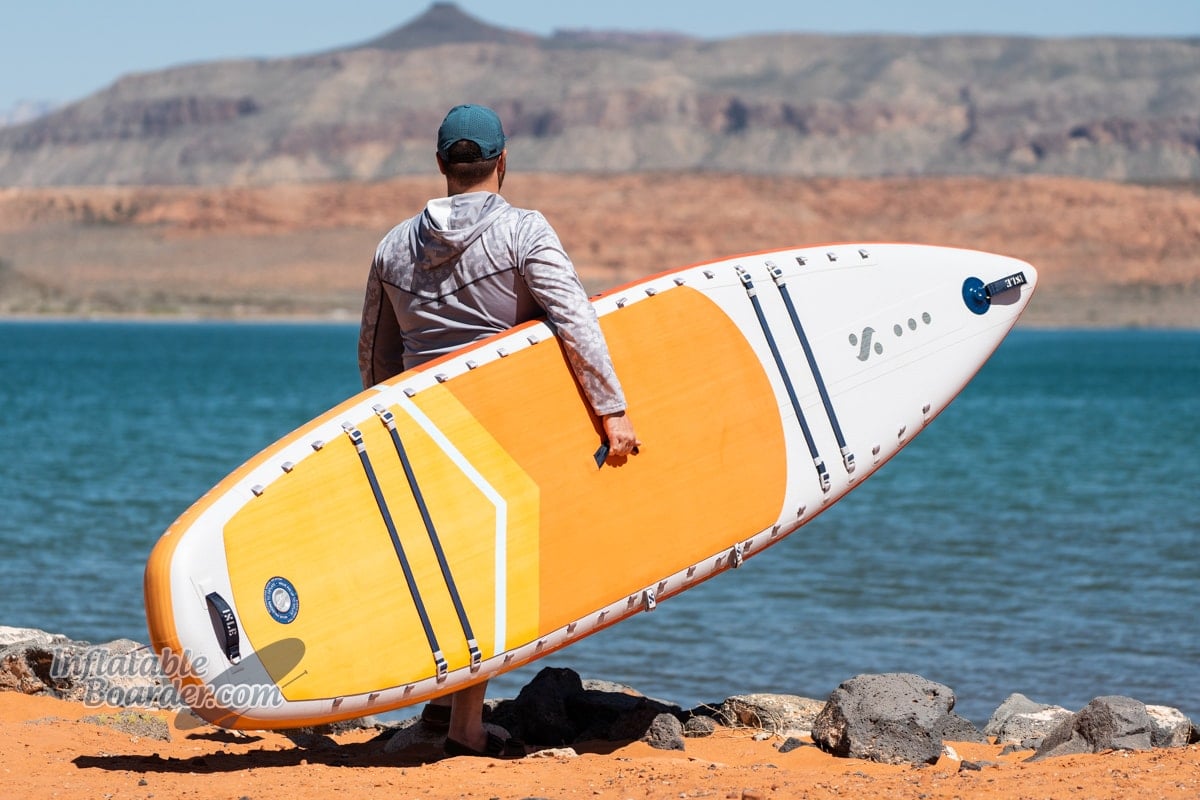 Isle Explorer Pro 12': Overview
The Isle Explorer Pro 12' is a brand new all-around/touring crossover iSUP filled with some extremely advanced technology that blurs the lines between inflatable and rigid paddle boards. The new Airlite Protech construction from Isle makes the Explorer Pro 12' extraordinarily rigid, amazingly stable, and incredibly high-performing on the water. Not only does the Explorer Pro 12' offer the versatility of an all-around and touring iSUP, but it also paddles extremely well as a sit-on-top kayak. If you are looking for a portable, do-it-all, paddle board that can truly do it all well, look no further than the Isle Explorer Pro 12'.
Specifications
Dimensions
Length
12' 0"
Width
31.5"
Thickness
6"
Weight
Max Capacity
332 pounds
Board Weight
23 pounds
Kit Weight

pounds
Buying Info
List Price
Warranty
4 years
Returns period
60 days
— Isle Explorer Pro 12' Summary Ratings and Review —
Isle Explorer Pro 12'
Construction & Durability

Features and Versatility

Stability

Speed

Maneuverability

Tracking

Warranty & Customer Support
Overall Score
The Isle Explorer Pro 12' is a crossover all-around and touring iSUP that performs well on the water and is extremely versatile. It also makes an excellent sit-on-top kayak when paired with the Isle inflatable kayak seat.
Pros
An excellent crossover touring/all-around paddle board (and kayak)
Incredible rigidity with Isle's new Airtech Prolite construction
Light weight at only 23 lbs
Very efficient paddling makes long-distances melt away
Great stability with a wide tail and parallel rails
The included touring fin nicely balances maneuverability and tracking
Quick and easy accessory swaps and cargo customization with the Isle Link system
Works great as both a paddle board and kayak
High quality bag, leash, and accessory dry bag are all included
4 year warranty for the board and 2 year warranty for accessories
Cons
I'd like to see a raised kick pad at the tail of the deck for more control when stepping back for pivot turns and riding bumps.
The Explorer Pro 12' has a gentle nose rocker that works well in flat and mild conditions, but could benefit from additional lift in the nose for paddling in choppier waters and rowdier rivers.
Construction and Durability
The highlight of the new Isle Pro-series iSUPs is their unique construction dubbed "Airtech Prolite." Airtech Prolite is a combination of three different components and is the special sauce that gives the Explorer Pro 12' near hard-board rigidity in an inflatable package.
The first Airtech Prolite component is the Airtech Lite fusion PVC shell that Isle first premiered in the Switch 2-in-1 paddle board. This uses a combination of a woven fabric base layer, crossed drop stitch yarns and the reinforced PVC shell that uses heat and pressure to fuse directly to the fabric base layer instead of relying on a glue lamination. Woven fabrics, crossed drop stitch fibers, and fusion PVC all work together to reduce weight without sacrificing stiffness.
The second component is the PowerFuse seam. PowerFuse is Isle's own seam-welding process that mechanically bonds the deck, hull, and interior rail band together into one single piece of material for ultimate durability and longevity compared to traditionally glued seams.
The third, and most unique, component of the Airtech Prolite construction is the Infinity Fiber stringers placed strategically around the board. To put it simply, Infinity Fiber is a fiberglass fiber in a plastic resin. Whereas epoxy and polyester resins turn fiberglass into a totally rigid material (for hard SUPs, surfboards, boats, paddles, and more) the plastic resin and fiberglass fibers remain moderately flexible and allow the board to be deflated and rolled up as usual.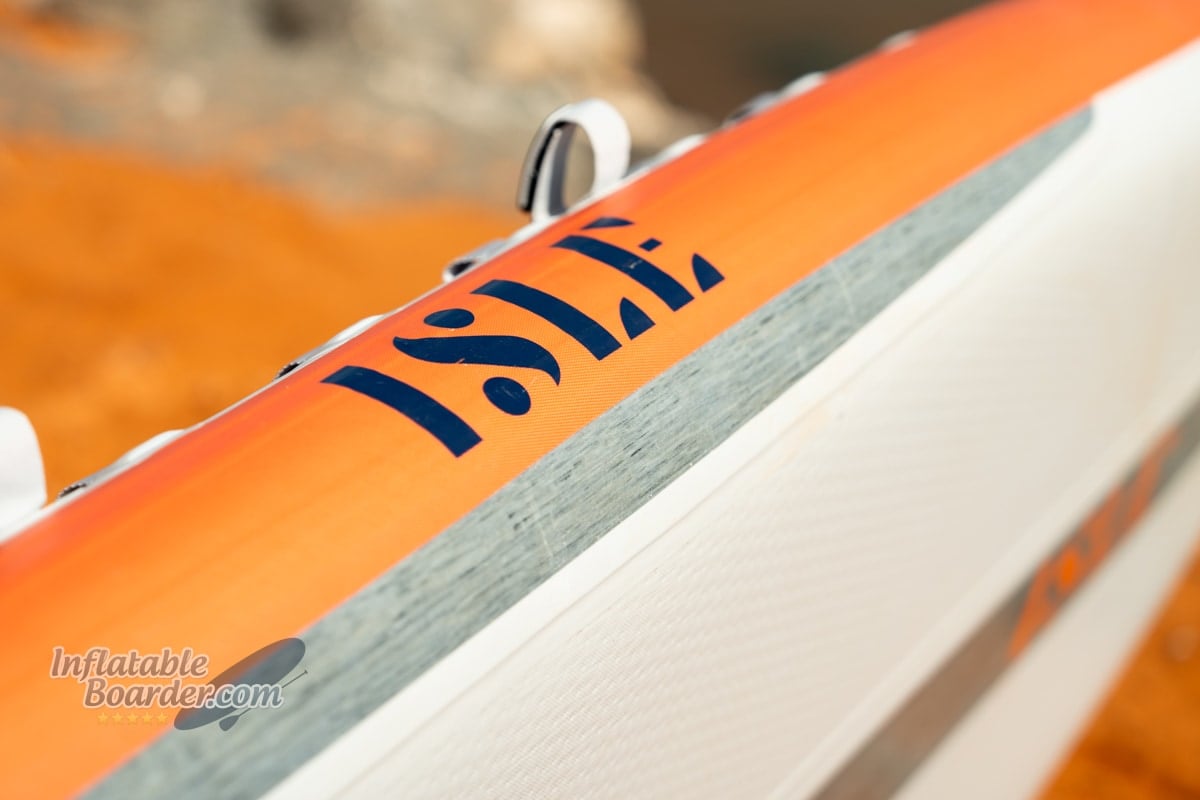 The Infinity Fiber stringers are found along the midline of the Explorer Pro 12' on the deck and hull covering most of the board's length. You'll also find Infinity Fiber stringers along the top and bottom of the rail through the middle of the Explorer Pro. These four stringers are specially shaped to drastically increase rigidity while still letting the board roll up when deflated.
Isle Vice President of Product Jimmy Blakeney likens the shape of these rail reinforcements to a "slap bracelet" toy – the slightly curved shape retains a huge amount of rigidity until it is rolled back up in a specific way.
What does this all mean? Well, the Isle Explorer Pro 12', and Isles other Pro-series iSUPs, are incredibly rigid both on and off the water, all while maintaining a relatively light weight.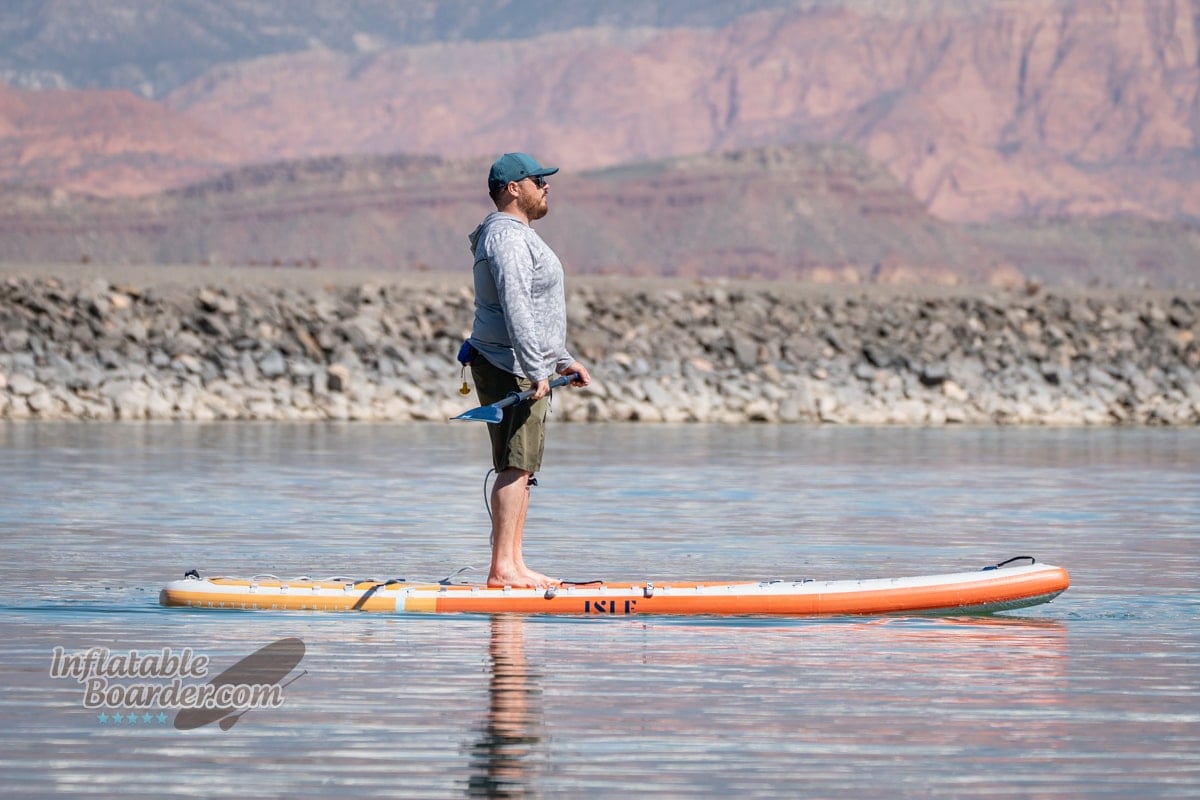 On the water, the Explorer Pro 12' feels incredibly rigid. While standing and paddling on flat water I was not able to feel or see any flex in the board at all. Once I began jumping up and down on the board I did find a small amount of flex – primarily at the nose and tail where the Infinity Fiber reinforcements end. With that small flex I did feel a very tight and powerful rebounding feel. The best way I can describe it is like an extremely tight trampoline – it flexes less when standing, but gives a kick when you jump on it. I do want to reiterate that while I was paddling, and even when I was sprint-paddling, I could not feel the flex or rebound.
On the sawhorses, we put the Isle Explorer Pro 12' through our 170 lbs bend test.
I've now had to switch from measuring deflection in inches to millimeters!
At its maximum pressure of 17 PSI, the Explorer Pro 12' bent 2.2 millimeters (0.866 inches) with 170lbs. It's now our stiffest-tested board even though it's only recommended to use at 17 PSI vs 20 PSI+.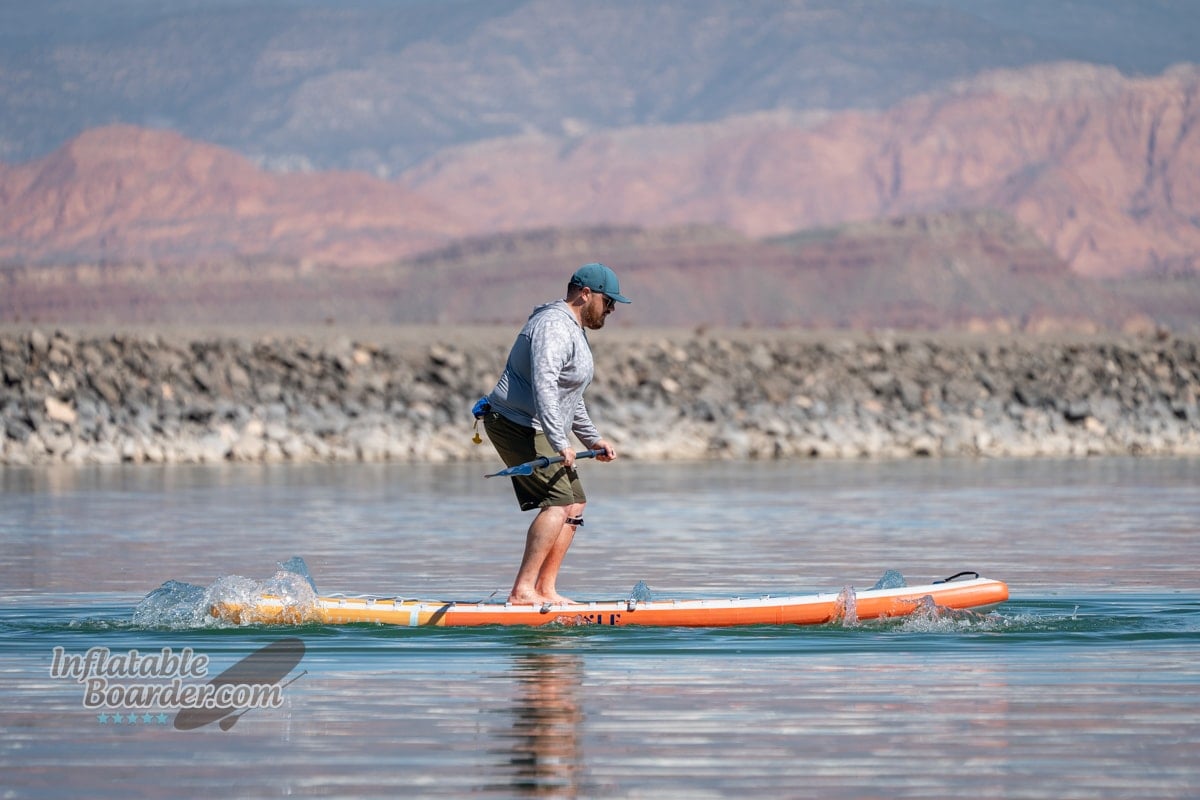 The Explorer Pro 12' wasn't alone with these amazing results. The Isle Explorer Pro 14', and Isle Explorer Pro 12′ all have to share the top of the podium with each other with the same score.
When I first heard Isle's boast of creating a "rigid inflatable" with their new construction, I was skeptical. I've seen similar (but not the same) systems implemented in other inflatable boards with results that I would not consider to come close to rivaling a rigid board on the water or off. However, my hat is off to Jimmy and the rest of the Isle product team. These are some truly incredible inflatable paddle boards.
Features, Accessories and Versatility
The Explorer Pro 12' balances a super-clean look with a ton of functionality and versatility thanks to the Isle Link system. The overall shape and size of the board lends it to a variety of different uses from casual cruising to overnight trips. The excellent integration with Isle's kayak accessories also makes the Explorer Pro 12' a fantastic sit-on-top kayak.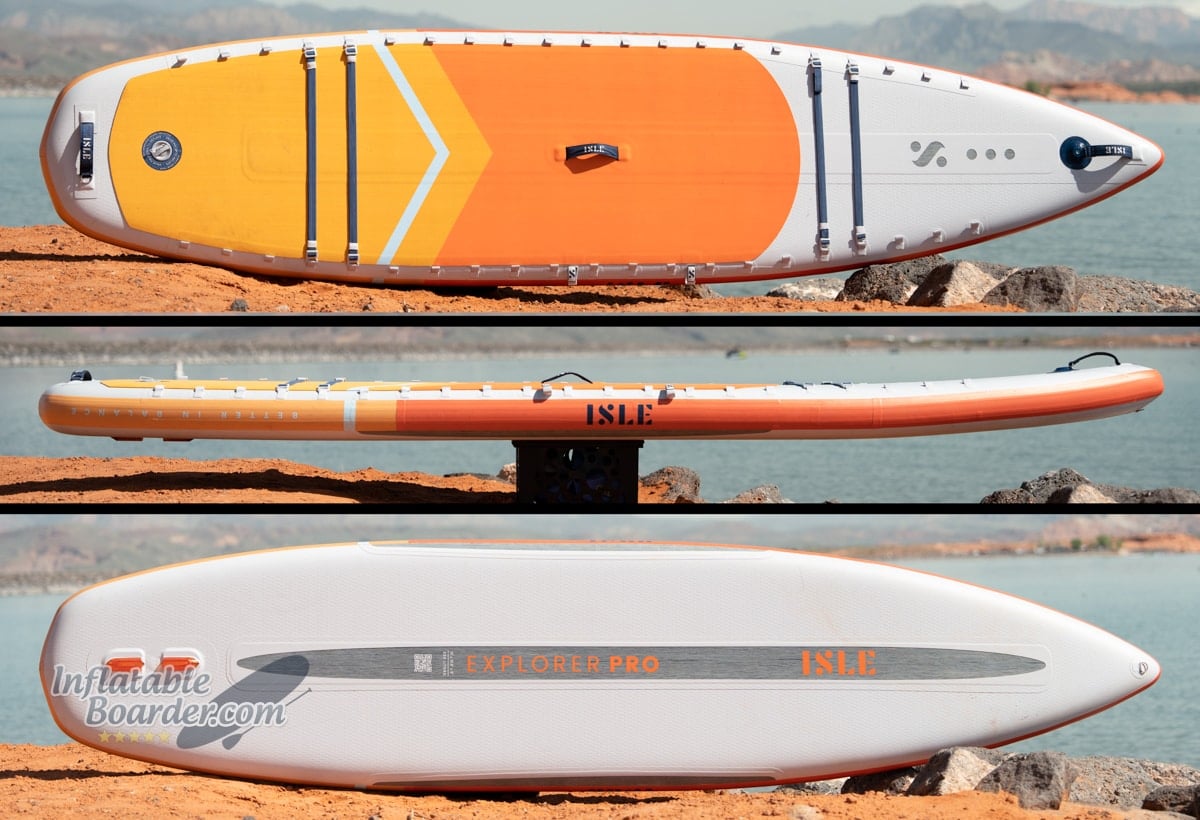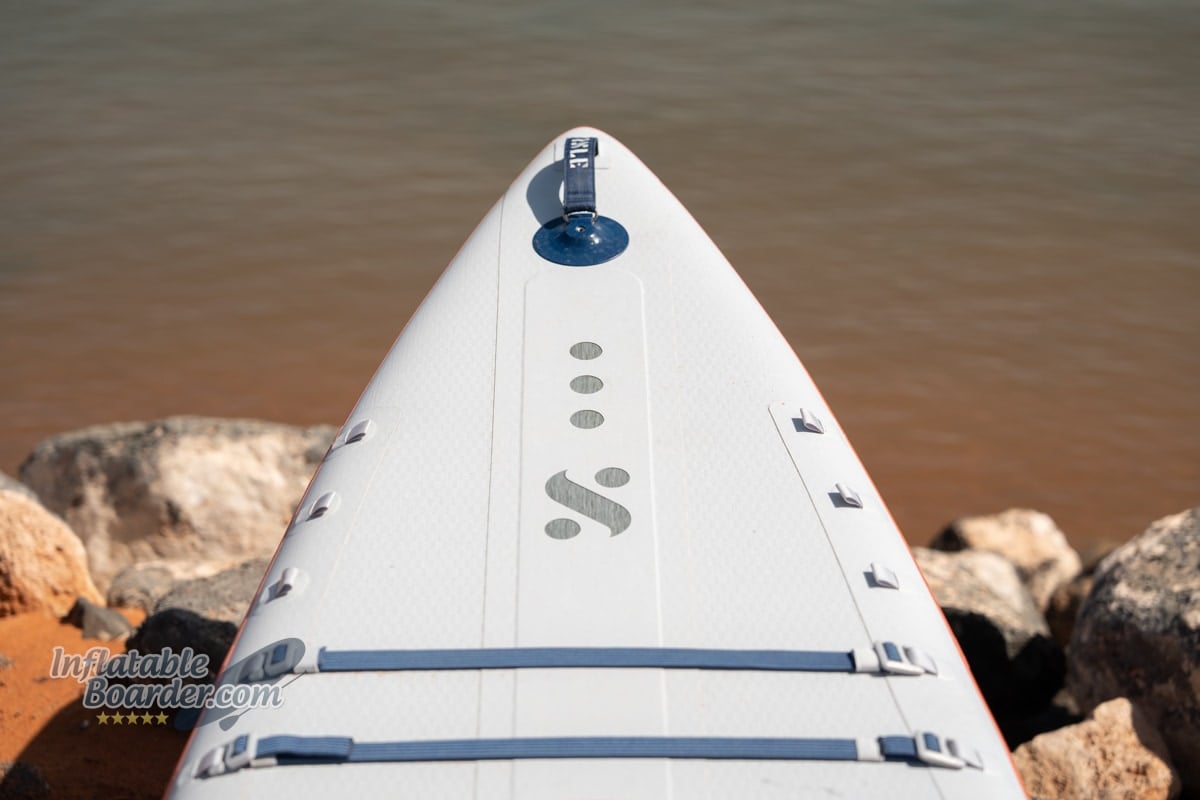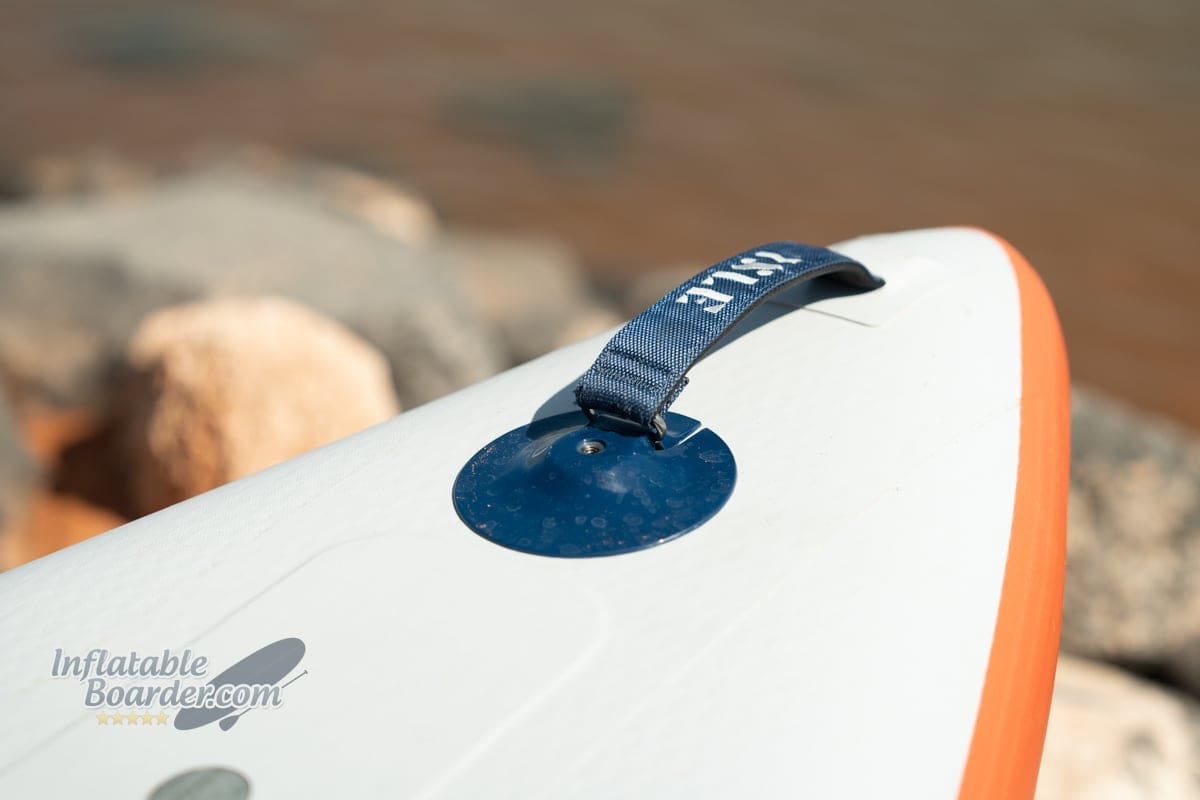 The Isle Link system allows you to completely customize the layout and features on your paddle board. The lay-flat elastic cargo straps can be quickly moved between any of these loops thanks to the heavy-duty plastic G-hooks. At first I was a little concerned about the durability and longevity of the loops and hooks, but once I began using this system I could tell that the straps and hooks are extremely robust. The Isle Link system first debuted on the Isle Switch last summer and I've not seen any signs of wear there.
The cargo straps can be tightened or loosened by removing the G-hook from the Isle Link loop and pulling the band through the G-hook buckle. Once the G-hooks are installed on the board the straps do an excellent job of staying at your desired tension without slipping. While one part of me wants a quick-adjust version that makes it easier to adjust the tension without removing the hooks, the other part of me knows that having a "looser" fit would actually be more problematic when it comes to keeping your gear in place. The extra couple seconds it takes to unhook and adjust the tension is worth the security the straps provide.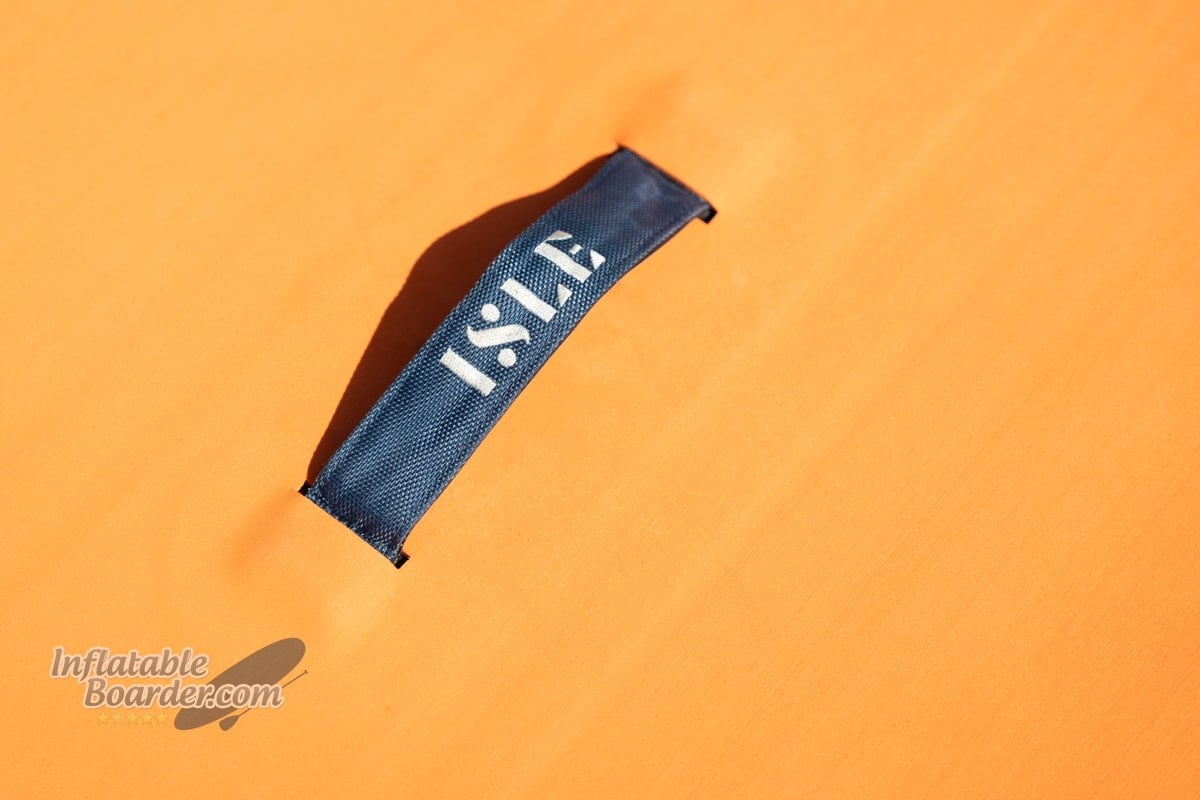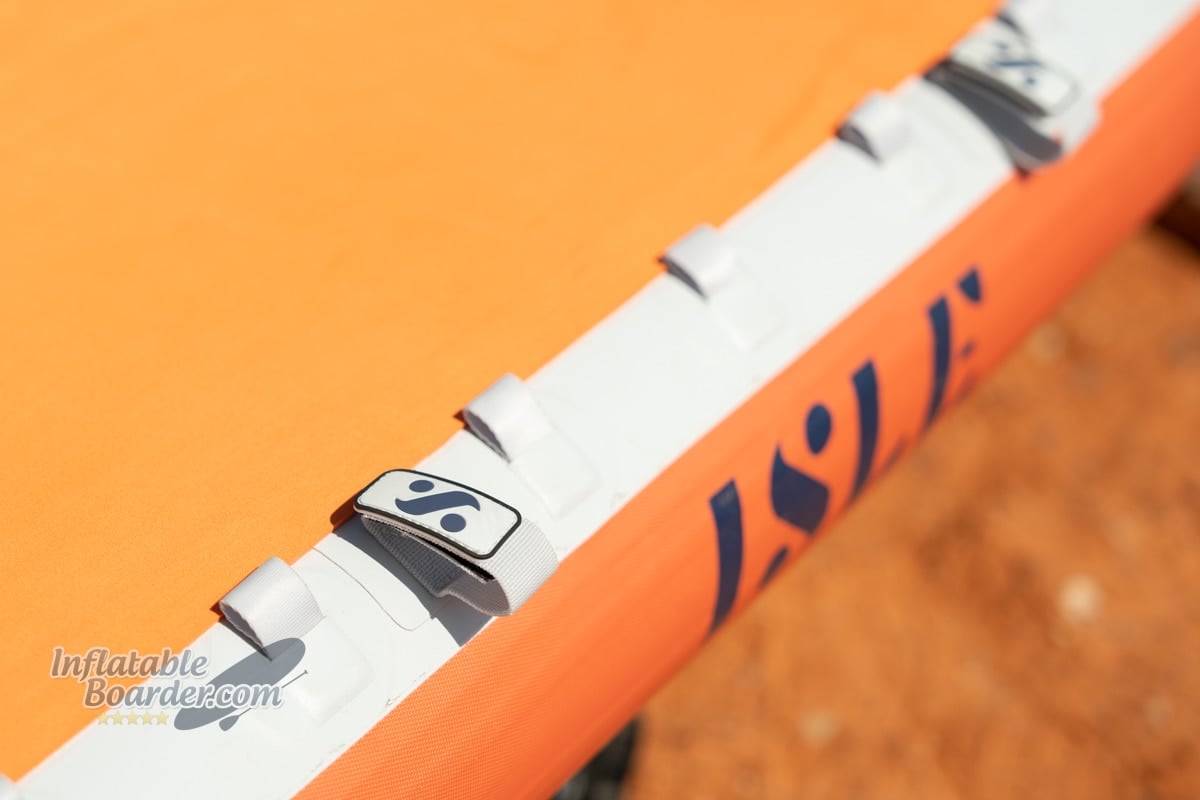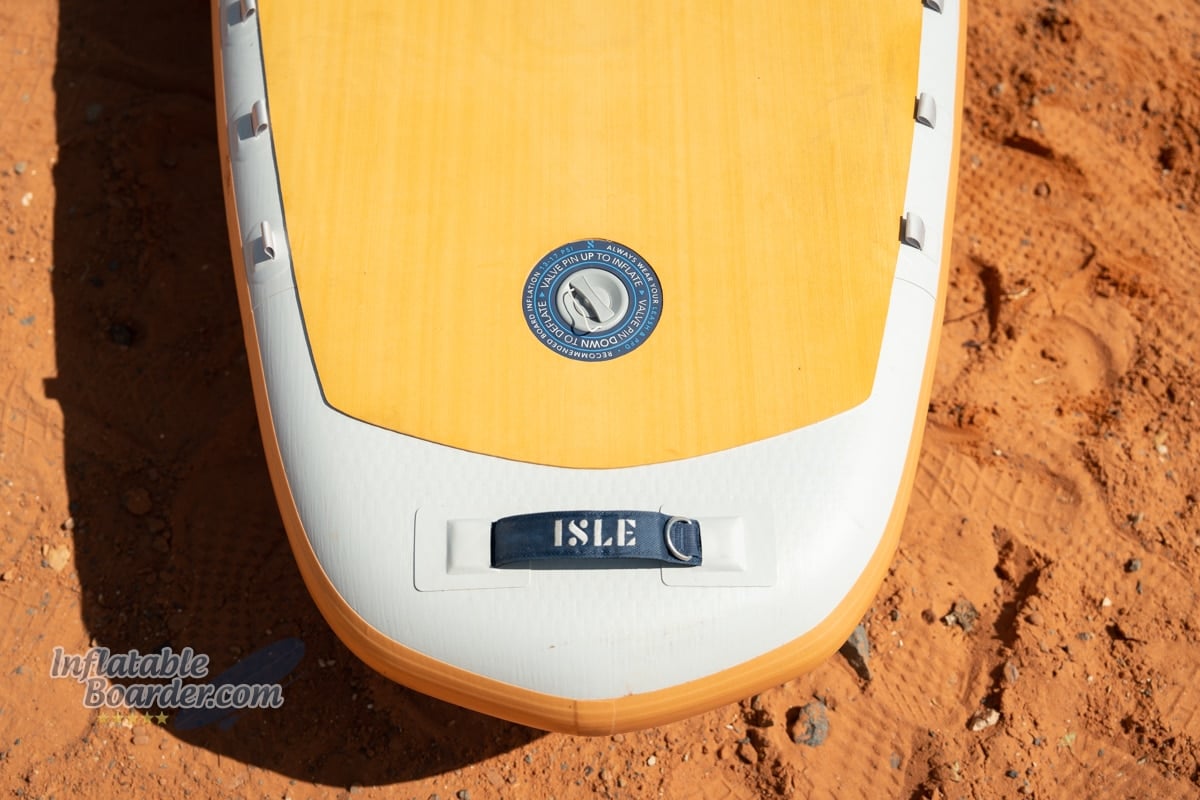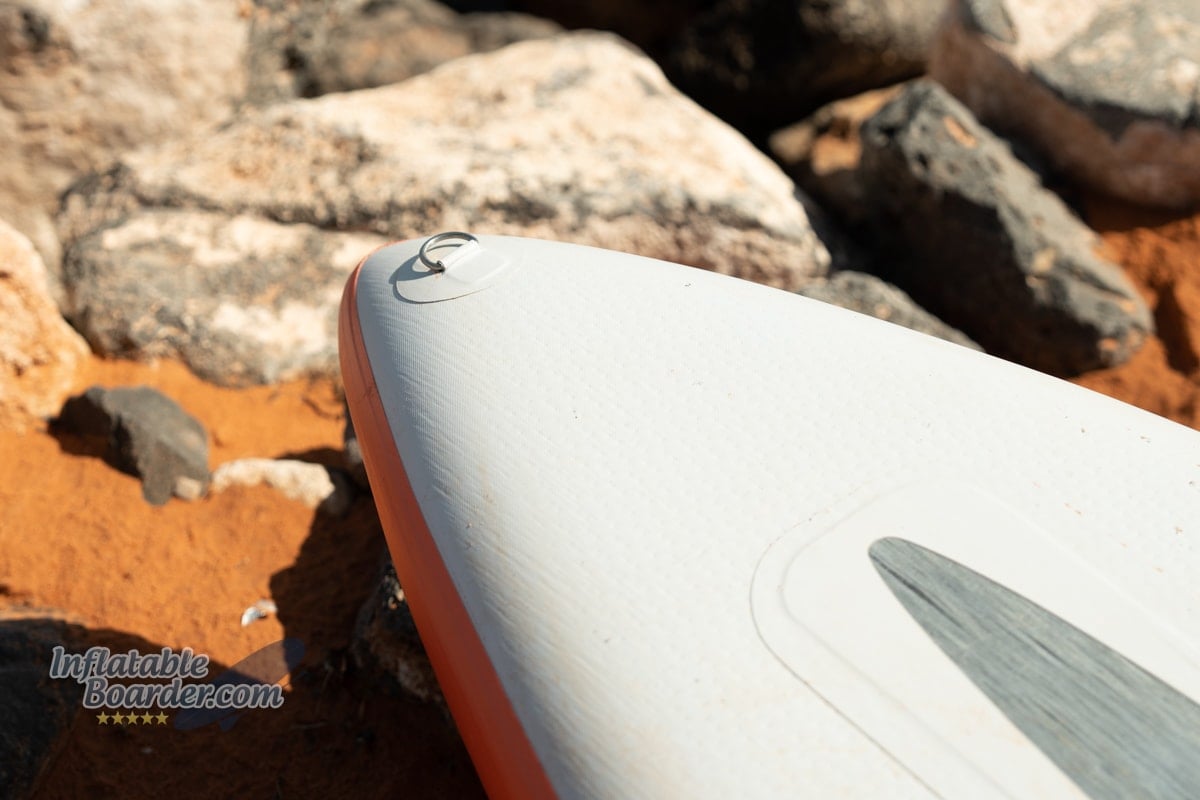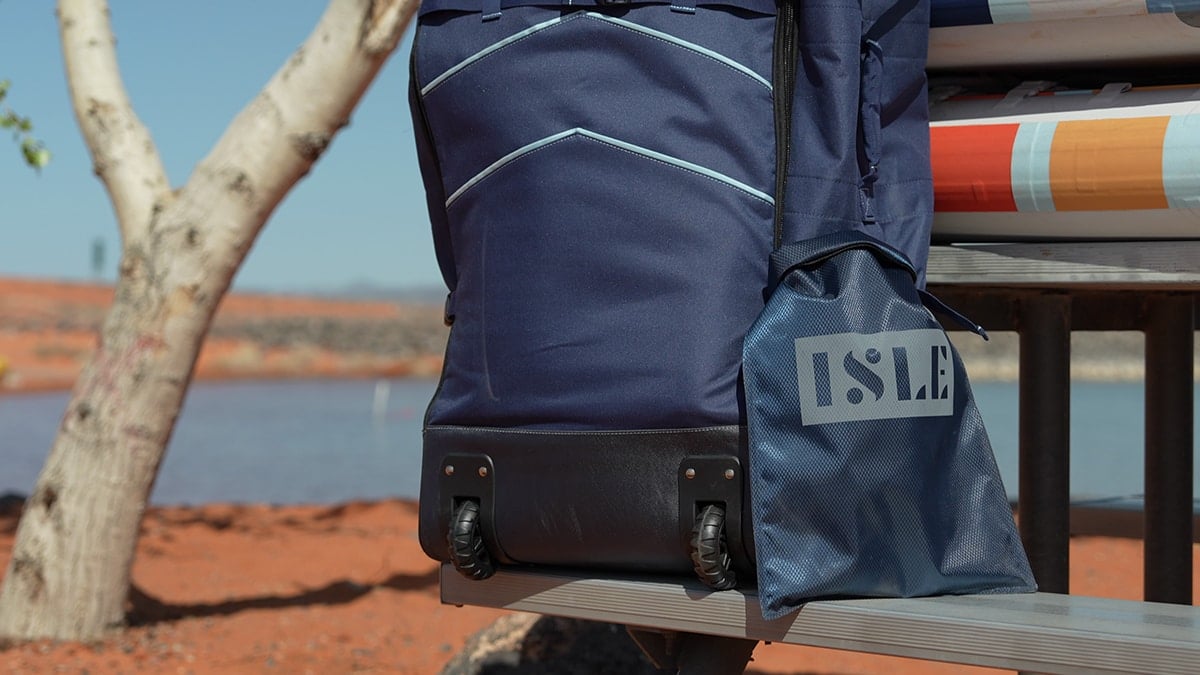 The base kit includes the Explorer Pro 12', 9" touring fin with both a quick-connect insert and Isle's "upside down" fin bolt, lay-flat semi-straight leash, repair kit and travel bag.
The Explorer Pro 12' comes with a heavy-duty wheeled carrying bag that balances being large enough to easily fit your board and other paddling equipment, but not so large that it becomes a floppy mess. The internal and external compression straps and pockets make organizing your board, paddle, and other items easy.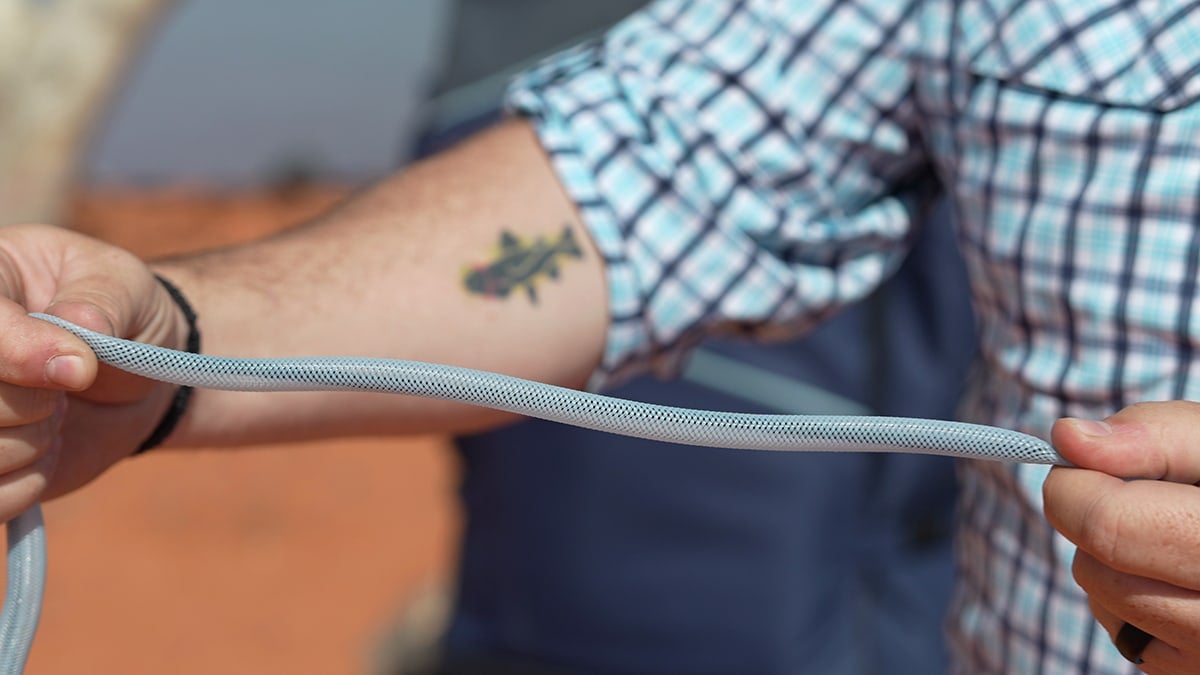 The Explorer Pro 12' (and Isle's other Pro-series iSUPs) do not include a pump or paddle. However you can add these items to your kit as needed. Isle offers a high-quality hand pump or electric pump, and a series of different paddle options.
In addition to the standard paddle boarding accessories, the Isle Link system means the Explorer Pro 12' is completely compatible with Isle's inflatable kayak seat and foot brace for an extremely high-quality sit-on-top kayak experience. The inflatable seat greatly improves on the ergonomics and form for kayak paddling compared to flat foam seats and the foot brace allows you to use your legs and core for full-body activation while paddling the Explorer Pro 12' as a kayak.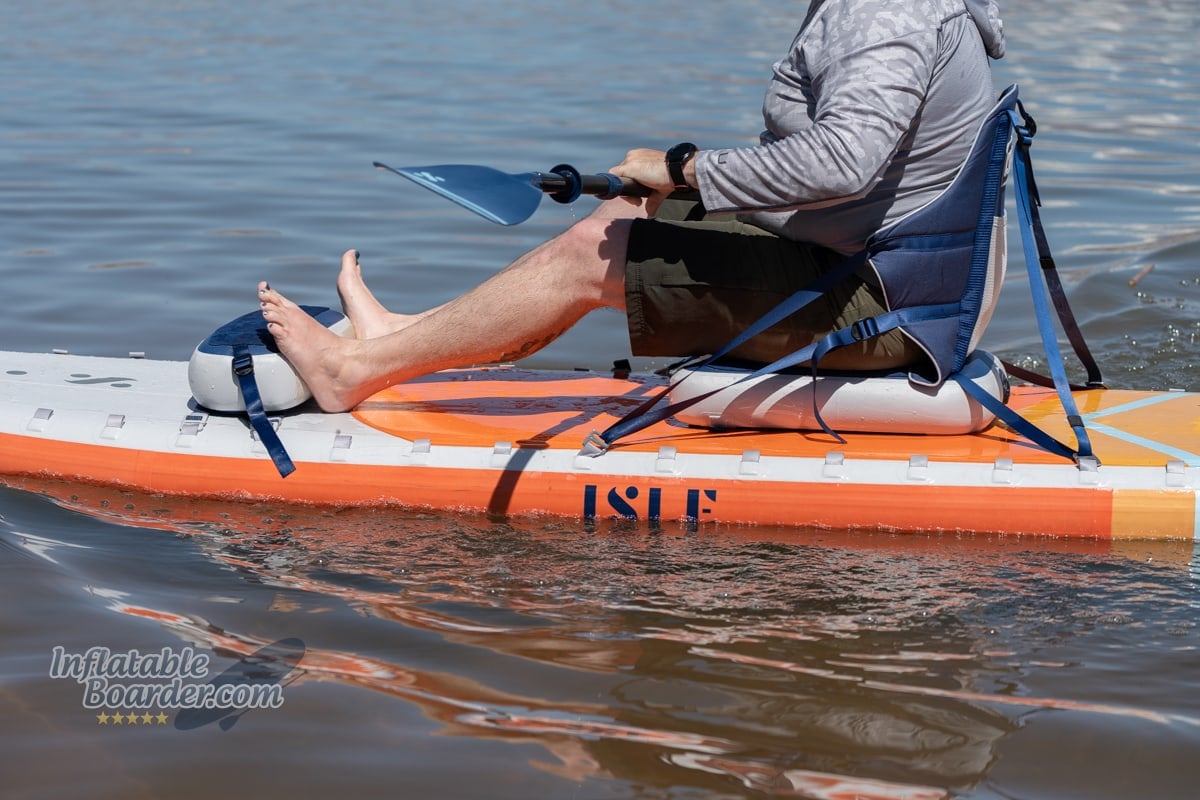 When paddling the Explorer Pro 12' as a kayak I found it to be stable enough to lean into my turns with confidence. Just like when using it as a paddle board, the Explorer Pro 12' tracks well as a kayak, but is still easy to steer and turn. With the Isle Link system I was able to fine tune my position on the board for ideal trim from front to back and comfort for my legs.
Paddle
While the Explorer Pro 12' does not include a paddle with the base kit, Isle has several paddle options available to suit your needs.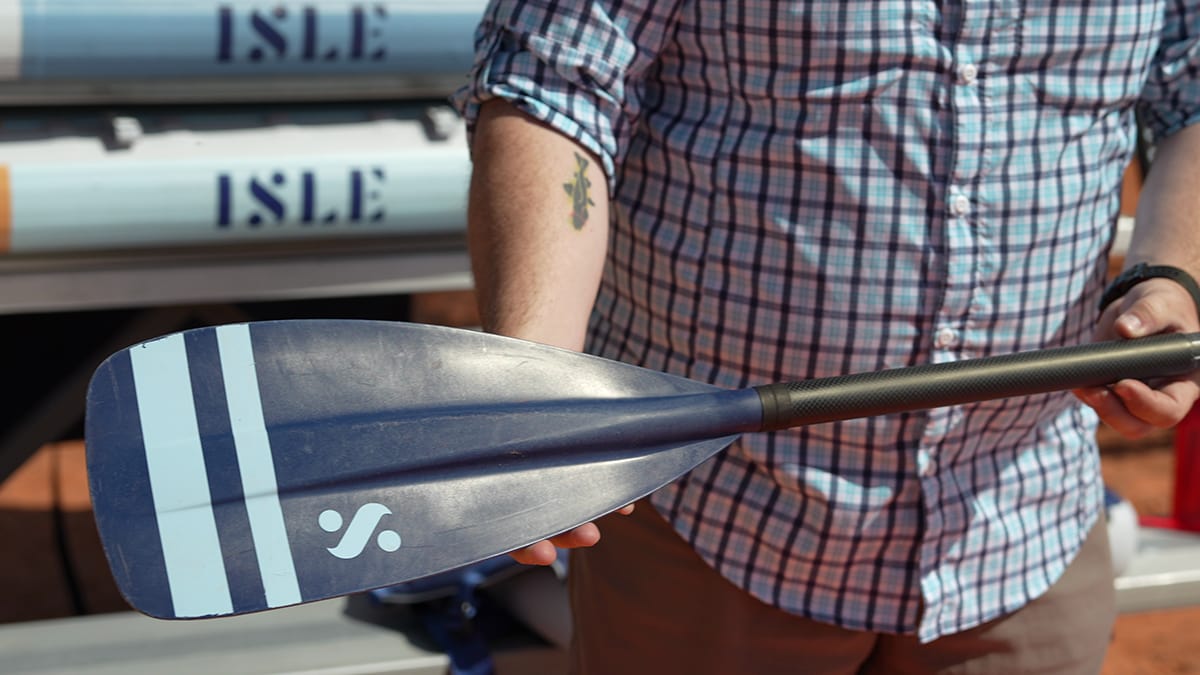 I'm happy to say that Isle must have seen my Switch review because this spring they have launched a carbon fiber version of their Switch paddle. Originally an aluminum paddle, the new carbon fiber shaft reduces weight and has a much more comfortable flex profile than the original version. The paddle blade is still a fiber-reinforced nylon material with a medium-sized rectangular blade.
Paddling with the new carbon fiber convertible paddle is a very comfortable and easy experience. The shaft and blade combo has just enough flex to give an easy feel in your shoulders without being so soft that you lose significant amounts of power. Of course, if speed and efficiency is your priority, upgrading to one of Isle's full carbon fiber paddles with a stiff carbon fiber blade will provide even better power transfer and speed.
In addition to the new shaft and handle material, the blade sections have received a huge upgrade – and one that I have not seen come standard on any SUP hybrid paddle before. There are now two rows of connection holes on the ferrule of the paddle blade that allow you to adjust the feather angle on your blade!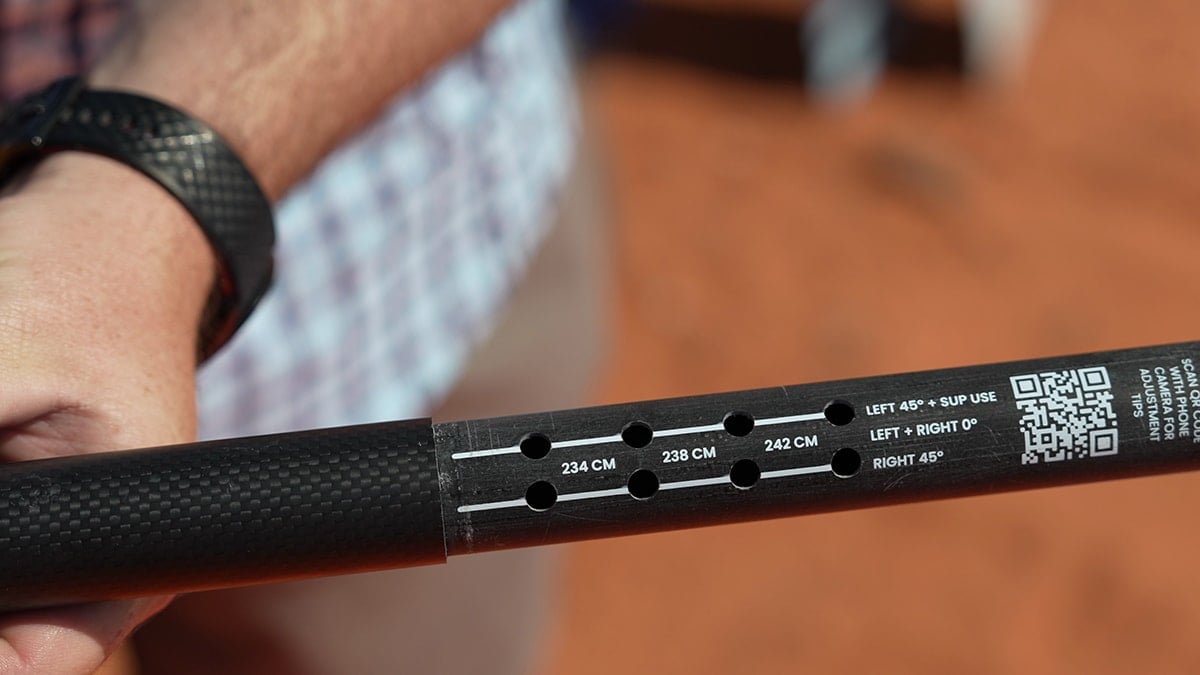 Ok, so I'm excited about this, but what does it really mean? Well, by inserting the paddle blade with one set of holes the blade lines up perfectly with the handle to make a standard SUP paddle. When you swap out the SUP handle for the other paddle blade you now have a choice. You can use one set of holes to align the blades so they are parallel to each other (a 0* feather angle), or you can use the other set of holes to create either a right-hand or left-hand 45* feather angle.
Having this feather angle option allows you to paddle with more ergonomic wrist and shoulder movements and it lets the "upper" paddle blade slice more easily through the air – especially important when paddling into the wind. It does take a little more effort to put your paddle together, though, as you do need to make sure you are using the correct set of holes for your desired configuration.
If I were a betting man, I'd bet good money that this change came about due to Isle's Vice President of Product Jimmy Blakeney's background as a champion whitewater kayaker. Thanks Jimmy!
Stability
The Explorer Pro 12' is a crossover design that splits the difference between an all-around and touring-style iSUP. Its shape and size give it tons of stability whether you are paddling around the bay, or on an overnight mission.
The Explorer Pro 12' iSUP is 12' long, 6" thick, and 31.5" wide (though our testing board actually measured a tad bit wider at 32"). With the large volume, extra length, and a width similar to most all-around iSUPs, it shouldn't be a surprise that the Explorer Pro 12' is very stable. But when you add in the incredible rigidity from the Infinity Fiber stringers, you get a paddle board that's stable enough to dance on. Literally. I don't always pretend to keep up with the times, but I was practicing my Flossing skills out on the water with zero concerns. Oh, wait, is the Floss already like 5 years old? Oof, maybe I am starting to get old…
While standing and paddling normally on the Explorer Pro 12' I felt extremely stable. I didn't notice any rolling, twitchy, or flexing at all. The parallel mid-section of the Explorer Pro 12's outline also gave it a very consistent feel whether I was standing a foot behind or a foot in front of the center of the board.
When I did start bouncing around and rocking the board to check the Explorer Pro 12's secondary stability (how it behaves when it's not flat on the water) I found that it had a really consistent feel as it dipped into and out of the water and it was fairly easy to hold it up on one rail. It did take a little bit of effort to hold this tilted position, but was what I'd consider to be easier than average.
Walking around and stepping back to the tail of the Explorer Pro 12' was also quite comfortable and stable. Sinking the tail for a pivot turn was a little hard because of the wide shape (and would be easier to do with a raised kick pad), and pivot turning the board was smooth and stable with no twitching or catching of the board's edges.
Speed
The Explorer Pro 12's size and shape puts it into the realm of a cross-over paddle board, bridging the gap between a dedicated all-around iSUP and a dedicated touring/fitness board. Sometimes crossover shapes miss the mark on either category, while other shapes are able to function well as both.
The Explorer Pro 12' absolutely nails the crossover category with both excellent stability and great speed and efficiency on the water.
While It's not as fast as a true dedicated touring/fitness iSUP, the Explorer Pro 12' puts some respectable times on the clock.
In our top-speed testing, the Explorer Pro 12' easily hits 5.6 mph (9.0 kmh) for a sustained sprint, and I was able to reach a top speed of 5.9 mph (9.5 kmh). Those are some pretty fantastic speeds for a 32" wide paddle board. The rigidity of the new Airtech Prolite construction really made itself felt here with no noticeable flexing while I paddled all out.
However, unless you are racing, the more important question is: How efficiently does the Explorer Pro 12' paddle over longer distances?
With a casual cruising cadence of 25 strokes per minute (or slightly more time with the paddle out of the water than in the water on each stroke), the Explorer Pro 12' easily cruises at an average speed of 3.9 mph (6.3 kmh). And with each paddle stroke, the Explorer Pro 12' glides an average of 21 feet, or 1.8 board-lengths before it begins to noticeably slow down. That puts it into the same category of paddling efficiency as dedicated touring iSUPs – most of which are only 30" wide.
Overall I was thoroughly impressed with the efficiency and speed of the Explorer Pro 12'.
Maneuverability and Tracking
The Explorer Pro 12' is relatively easy to turn, and it responds very well to steering while you are paddling. However once you have it pointing where you want to go you won't need much steering because it tracks incredibly well.
I usually expect longer paddle boards to be a little difficult to turn, especially in our maneuverability stress-test. Using forward-sweep strokes only (about one of the least-efficient ways to turn an iSUP!) I was able to make a full circle in an average of just 6.5 strokes. While that's not as quick as many all-around boards I've tested, it is in line with many of the quicker-turning dedicated touring boards.
With reverse-sweep strokes the turning radius shrinks to just over 4 strokes. There are lots of other ways to turn a paddle board as well, and the Explorer Pro 12' responds well to steering input while paddling.
Stepping back to the tail of the board for a pivot turn is easy thanks to the great stability, and actually making those turns is likewise smooth and easy. I had no question about the board's stability or feel as I walked back to the tail. Once I lifted the nose of the board it spun quickly and needed only a couple of paddle strokes to make a full 360° turn.
The Explorer Pro 12' uses its parallel shape, rigidity and touring-style fin to keep the board tracking extremely well. To test tracking, we paddle toward a distant target. Once the board is moving directly toward the target we take 10 paddle strokes on one side and note where the board is now pointed. Then we measure the difference using a sighting compass.
After 10 forward strokes on a single side, the Explorer Pro 12' had a great test result and was only an average of 10° off-course. For dedicated touring iSUPs we like to see less than 10° deviation, and for all-around iSUPs we typically see between 15-25° course changes.
Overall this is a really good result for the Explorer Pro 12'. We've got maneuverability performance that is on the fast side for a touring board and tracking performance that is on the high side for an all-around SUP. The Explorer Pro 12' is really nailing this crossover category!
The included touring fin does a great job of balancing tracking and maneuverability, and the use of a standard US fin box means you can easily customize your ride further to suit your exact needs by swapping out for any of hundreds of different options. The fin itself comes with both a pressure-fit "click-fin" system for easy installation and removal, and it also comes with Isle's "reverse" fin bolt. The bolt is actually embedded into the square nut and it holds the fin in place with a tool-less nut that screws over the fin. You can use one or the other, or both devices to install the fin, however using both can be tricky to install.
The split fin box design allows the fin box to fold while storing and transporting the Explorer Pro 12'. It also helps prevent the possibility of a cracked fin box if the board is bent, stepped on, or otherwise mishandled during transportation.
Kayak Performance
One of the great things about the Explorer Pro 12' is its versatility as both an iSUP and an inflatable sit-on-top kayak. When using it as a kayak, the Explorer Pro 12' retains its excellent performance and stability.
Core to the conversion of the Explorer Pro 12' into a kayak is the optional Isle inflatable kayak seat kit. This kit includes the seat itself and an inflatable foot brace.
By elevating the seating position your hips remain above your feet. This helps open the hip joint for better blood flow and a more comfortable seating position compared to sitting flat on the board with your legs in front of you. It's also more comfortable on your bum because you can dial in how firm or soft you want the seat!
You can easily adjust the angle of the high backrest for your comfort and to accommodate a PFD with a solid back panel. The seat and backrest are anchored to the Isle Link tabs with stainless steel G-hooks. Because the Explorer Pro 12' uses the Isle Link system instead of just a few D-rings, you can completely customize where your seat is on the board to level it out when paddling with heavy coolers or fishing equipment, overnight camping gear, dogs, or another passenger (and you can even use two kayak seats at the same time).
The foot brace has the same adjustability by utilizing G-hooks and the Isle Link system. Having a foot brace on the board helps keep your legs in a comfortable position while paddling (rather than falling flat out in front of you) and it also allows you to physically brace your legs while paddling. Just like how paddle boarding is a full-body activity, using your feet and legs while kayaking engages your entire body (especially your core) for a more efficient and powerful paddle stroke.
I really liked the feel of the Explorer Pro 12' as a kayak. The wide tail kept it extremely stable while the rigidity and shape at the nose made it easy and quick to paddle.
Warranty and Customer Support
Isle is very excited about this new line of Airtech Prolite construction, and is so impressed with the rigidity and durability that they have extended their standard 2-year warranty for iSUPs to 4 years for all Explorer Pro and Pioneer Pro models. Isle still offers a 60-day return period where you can return your board for any reason, less a 20% restocking fee. If you have any questions for Isle about their warranty or products, you can contact them via phone, webform, or social media.
Overall Impressions/Review Summary
Isle's new Airlite Protech construction is possibly the biggest step forward in iSUP technology since (and possibly larger than) glue-less materials. The Explorer Pro 12' is incredibly rigid, extremely stable, and offers an amazing blend of maneuverability, tracking, speed, and capacity. The Isle Link system and accessories allow you to quickly and easily customize the board for any use. While it doesn't include a paddle or pump in the base kit, I actually find this didn't negatively impact my feelings on this board. I've always been a proponent for matching a paddle to the paddler just like choosing the correct board. As far as pumps go, once I started using electric pumps I've never looked back. Whether the Explorer Pro 12' is your first board or your fifth, being able to choose your accessories is an excellent option.
With such a versatile shape and size, I feel the Isle Explorer Pro 12' is possibly one of – if not the most versatile iSUP I've tested. There's enough capacity and efficiency for overnight touring, there's enough stability for casual river paddling, and the accessories and Isle Link system make it super easy to set up for anything you want – even SUP fishing. And the Explorer Pro 12' isn't just a versatile iSUP, but it's an equally versatile (and capable) sit-on-top kayak with the addition of the Isle inflatable kayak seat and paddle.
While I was only able to spend a week with these exact boards before I had to send them back to Isle, I'm extremely excited to get a permanent set for even more testing and comparisons – not to mention my own adventures! If you're looking for me on the water this summer, there's a good chance I'll be on the Explorer Pro 12'.
Isle Explorer Pro 12' iSUP FAQ
What is the difference between the Isle Explorer 2.0 and Isle Explorer Pro?
The Isle Explorer Pro is the next evolution in inflatable paddle board technology. With the inclusion of high-quality, lightweight drop stitch and PVC materials along with the new Infinity Fiber stringers, the Pro-series iSUPs offer industry-leading stiffness and essentially an "inflatable hard board" paddling experience.
Should I get theIsle Explorer Pro 12' or the Isle Explorer Pro 14'?
The Isle Explorer Pro 12' is a crossover paddle board that bridges the gap between an all-around iSUP and a true touring board. It's very stable, but still efficient on the water. The Explorer Pro 14' is a true adventure/expedition touring iSUP that's made to go farther, faster by focusing on speed and efficiency over stability and maneuverability.
Is the Explorer Pro 12' compatible with a kayak seat?
Not only is the Explorer Pro 12' compatible with a kayak seat, but it was designed to be a high-quality sit-on-top kayak as well as a high-quality iSUP! The Isle inflatable kayak seat and foot brace can be adjusted to any position along the Isle Link system for maximum customization and comfort.
Can I paddle with kids or dogs on the Isle Explorer Pro 12'?
Absolutely! The Explorer Pro 12' is extremely stable, and has a very consistent feel no matter where you are standing. This, along with the clean deck and ¾ length deck pad make it a breeze to bring a kid or dog with you.