Honu Sorrento iSUP Review | 2023
Inflatable Boarder is reader-supported and may earn a commission when you buy through links on our site. Learn more
Honu Sorrento: Overview
Honu is all about paddling performance, and the Sorrento is the pinnacle of their lineup. By using advanced materials, construction techniques, and performance shaping, the Sorrento effortlessly carves across the water with speed and efficiency. Whether you are looking for a day-touring iSUP that can handle more difficult terrain, an easy-to-transport fitness paddleboard, or even an inflatable for entry-level racing, the Sorrento can handle it all with ease.
— Honu Sorrento Summary Ratings and Review —
Honu Sorrento
Construction & Durability

Features and Versatility

Stability

Speed

Maneuverability

Tracking
Overall Score
The Honu Sorrento is a high-performance touring iSUP perfect for short trips, fitness, and light racing.
Pros
Woven drop stitch fabric
Crossed Drop Stitch Space Yarns
Fusion PVC
Carbon fiber stringers on deck and hull
Carbon fiber rail reinforcements
Beautiful design
Excellent deck pad
Great tracking and maneuverability
Biodegradable packaging
US fin box standard
Cons
Not quite enough room in the cargo areas for multi-day trips
No Paddle or Pump included
Construction and Durability
The Sorrento takes a departure from Honu's other iSUPs in lots of ways, but one of most critical is its thickness. As iSUPs get longer they get more flexible (well, technically the flex becomes more noticeable as it extends through the length of the board). Thinner boards (like the 4.7" thick Byron and Fairlight) are more susceptible to flex than thicker boards like the 6" thick Sorrento.
Inside the Sorrento we still have the lightweight, yet rigid, system of a woven fabric base layer for the deck and hull connected with crossed drop stitch yarns that make an "X" pattern inside the board. These two together both reduce weight and increase rigidity when compared to more standard construction methods.
The Sorrento's shell is made of a reinforced PVC shell layer that is heat-fused to the woven fabric base layers. This eliminates the need for, and weight of, adhesives between the layers while still maintaining excellent durability and rigidity. Running along the midline of the Sorrento's deck and hull is a 50mm wide carbon fiber fabric stringer held in place by a 150mm wide layer of PVC that wraps all the way around the board's tail and nose. Carbon fiber fabric has – for the purposes of inflatable SUPs – zero elongation and helps the board resist bending.
Honu didn't stop there when building the Sorrento. Instead of using the triple-bonded PVC rail construction used in their other iSUPs, the Sorrento gets a heat-welded sandwich of PVC with a 50mm carbon fiber fabric filling. This provides a ton of abrasion and puncture resistance along the rails, but also (and you've probably guessed it already) increases the Sorrento's rigidity overall.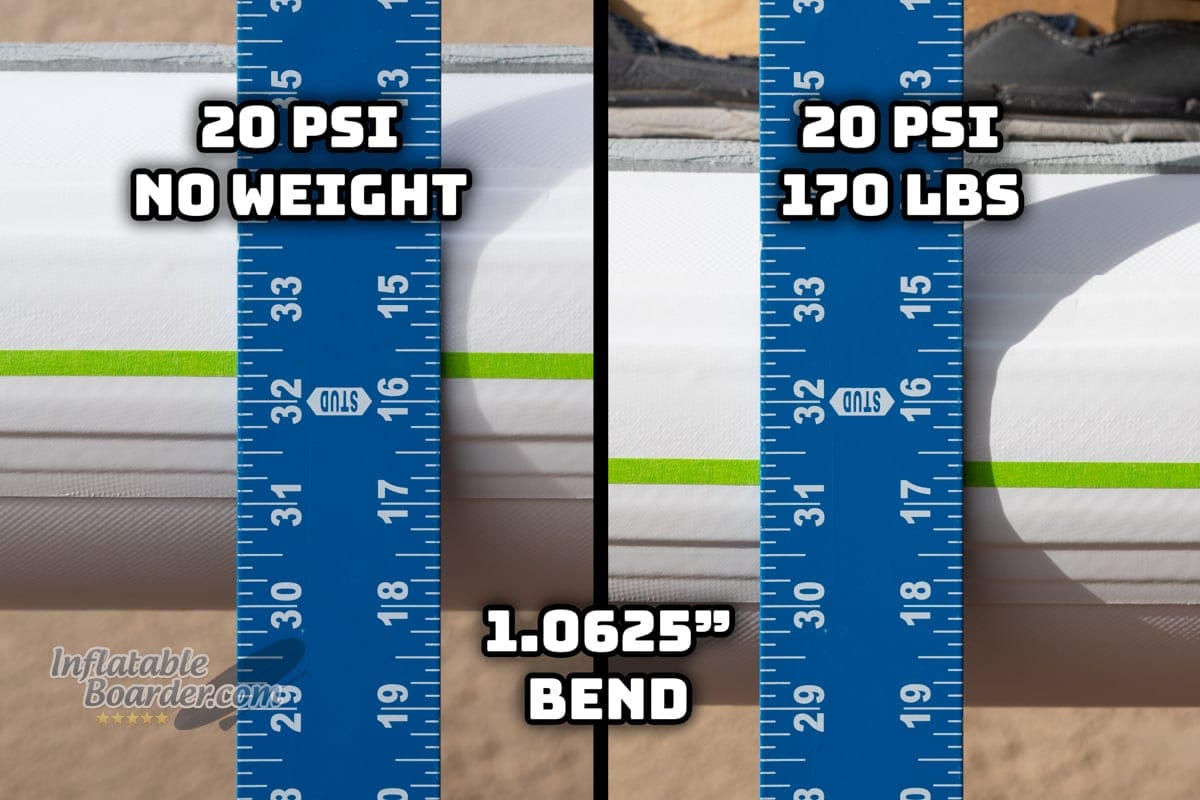 You're probably tired of hearing about rigidity by now (unfortunately, we're not done with it yet), but how stiff an iSUP is on the water makes a big difference in its performance. With all of these awesome construction details, it was no surprise that the Sorrento did incredibly well in our 170 lbs bend test. With a total deflection of just over 1 inch when loaded, the Sorrento is tied for the third-stiffest iSUP we've tested to date.
What this means on the water is two-fold. First, by resisting bending when loaded, the Sorrento glides more efficiently and can be paddled much harder (and faster) than less-rigid iSUPs. Second, a rigid board is a stable board. If the paddleboard under your feet is constantly flexing and deforming, your body (particularly the tiny muscles in your feet and legs) have to work overtime to stay stable. With an extremely rigid iSUP like the Sorrento, your feet can relax and help extend your paddling sessions.
At 20 PSI I had to jump up and down on the Sorrento to notice any real flex in the board – and even then it was minimal. At 230 lbs I'm definitely heavier than your average paddler on a sub 30" board, and I couldn't feel any flex while cruising or sprinting on the Sorrento.
The only "bad" thing about the Sorrento's stiffness is when you are ready to pack it up. I've never had so much trouble trying to get an iSUP to fold flat after I've pumped the air out of it! After the third or fourth time trying to get it in a more "flat" shape, I finally gave up and embraced a rolling technique to fit the board back into the bag.
Specifications
Dimensions
Length
12' 6"
Width
29.25"
Thickness
6"
Weight
Max Capacity
310 pounds
Board Weight
24.4 pounds
Kit Weight

34.0 pounds
Buying Info
List Price
Warranty
4 years
Returns period
30 days
Features, Accessories and Versatility
Keeping in line with Honu's design principles, the Sorrento focuses on maximizing paddling performance with a minimalist, but effective, on-board feature set.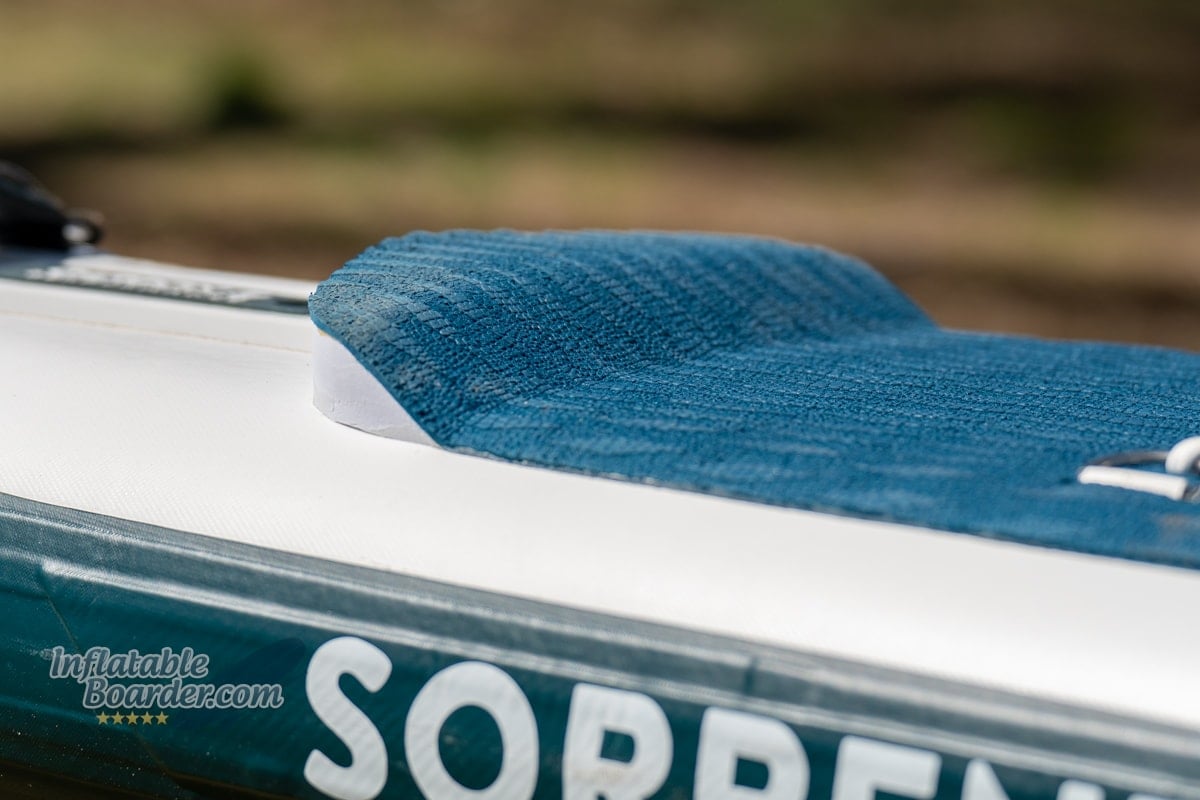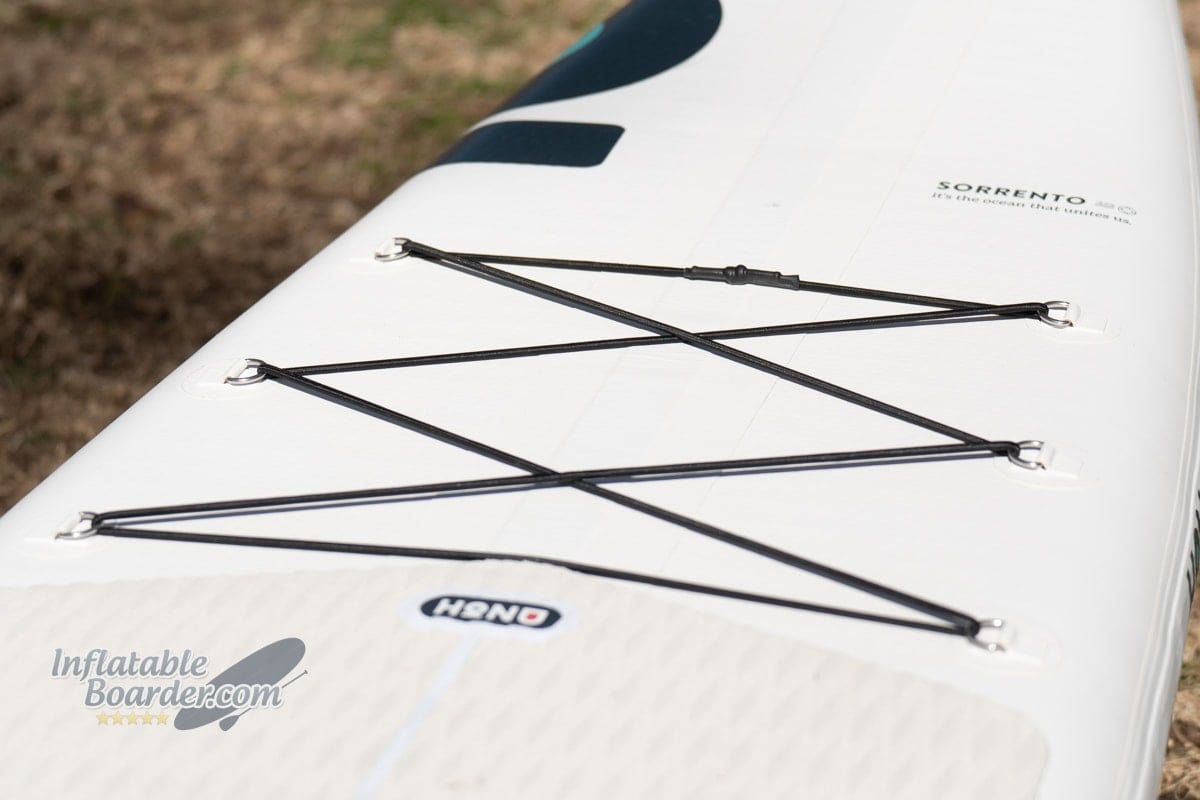 One big difference between the Sorrento and Honu's other iSUPs is the location of the inflation valve. Rather than placing the inflation valve at the rear of the board behind the deck pad, the valve is at the very end of the nose. This change appears to be made to allow the carbon fiber stringer to run farther to the rear of the board to maintain better stiffness while stepping on the tail for downwind paddling or pivot turning.
The front cargo area is made up of six D-rings and a fixed bungee cord just in front of the deck pad. This is a large cargo area compared to those on the Byron and Fairlight, but is limited in size compared to more spread-out cargo systems on other touring iSUPs. The Sorrento also has a small, four-point, cargo area on the tail of the board just in front of the kick pad.
These two cargo areas together have plenty of space for daily essentials and the front area can hold a medium-large dry bag around 30L or a small soft-sided cooler. If you have a full kit of ultralight backpacking equipment (aka ultra expensive), you can pack the Sorrento for a multi-day paddling trip, but it will be tight packing on the 29.25" wide frame. There are no other D-rings or tie-down points on the Sorrento to help tie down larger, or more equipment. I would love to see the Sorrento's cargo capacity expanded for future versions. On a recent flatwater overnight trip I wanted to take the Sorrento, but was unable to effectively pack the board for that spring-weather trip. With more space between the D-rings in the front and back it would be much easier to pack the board for longer trips.
The Sorrento's deck pad has a diamond and pebbled texture for maximum traction whether you are barefoot or wearing shoes. The rear of the pad ends with a raised kick pad for better control when standing on the tail of the board for improved stability and control while pivot turning, surfing, or downwinding.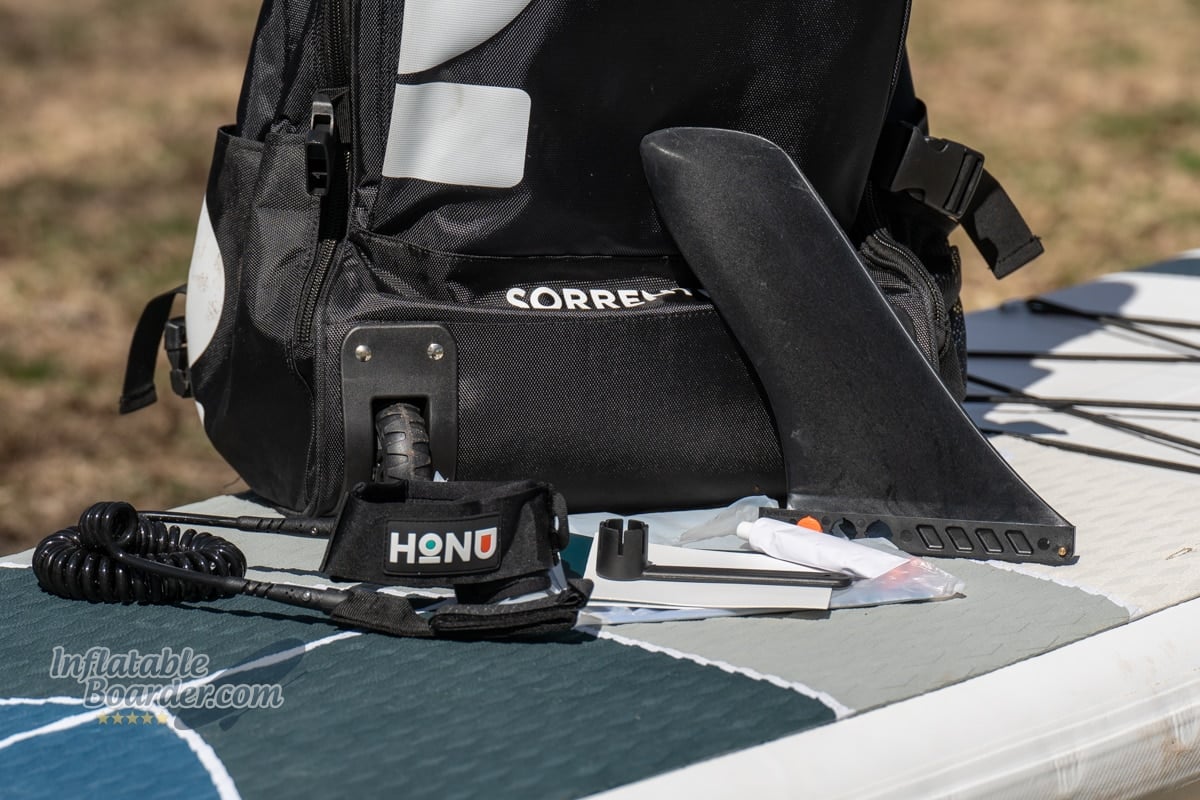 The Sorrento comes with a basic kit including a 9" touring fin, coiled leash and repair kit with patches, glue and valve wrench. You also get a high-quality wheeled carrying bag. All of this is packaged in recyclable/biodegradable packing materials during shipping.
The Honu iSUP bags received an update this year – most notably on the front of the bag. The front zippered pocket has received a large upgrade in size and depth. The bag itself is lightly padded with several carrying handles and a comfortable backpack harness for those times when you can't wheel it along.
The Sorrento does not automatically include a pump or paddle in its base kit. However you can bundle a hand or electric pump and/or a paddle with the Sorrento and save 10% on those accessories. Honu made the choice to keep these items separate for a few simple reasons. First, this lets you choose the exact kit that you want. I'm a big fan of electric pumps. While they may be slower than someone cranking away on a hand pump at full speed, they are much easier to use and allow you to get everything else ready for your day on the water. The new Honu E-Pump is quite fast and very easy to use, and the Honu hand pump is compact and efficient. The second reason why Honu is opting to separate these accessories from the boards is to help customers save money if they already have pumps and paddles they like. Lastly, by not including these items it reduces plastic waste for those who already have these items or plan on immediately upgrading to a higher-quality paddle or electric pump.
Paddle
The Evolution Carbon paddles by Honu are a high-performance paddles at an incredibly approachable price point.
The 12K carbon fiber Evolution paddles are lightweight (22-24 oz), and very stiff. Combined with a medium-size paddle blade this allows for a high paddling cadence with lots of power output. In addition to the high quality materials, the Evolution also has a new hexagonal shaft ferrule to connect the blade to the paddle shaft. This new ferrule completely eliminates any chance of twisting or play between the two sections of the paddle. All of this together makes a fantastic pairing with the Sorrento for fast acceleration and high speeds. The stiff paddles are great for fast paddling, but can be hard on the body for longer distances if you are not used to such a paddle. If you want a high quality paddle with more flex, check out the Honu Element paddle.
The Element paddle uses a 3K carbon fiber shaft and handle in conjunction with a fiber-reinforced nylon blade for a softer feel in the water. It's also available at a lower price point than the Evolution paddle. The Element paddle is great for cruising around in calm waters, but the difference in stiffness also means that it does not transfer as much power in the water as the Evolution.
Stability
The Honu Sorrento has good stability as a narrow touring iSUP for intermediate (+) paddlers, but isn't necessarily beginner friendly.
So many different aspects of a paddleboard can impact stability, but the overall size is one of the first indications of a board's stability. The Sorrento measures 12' 6" long and is 29.25" wide at its widest point – just in front of the center handle. This is a little bit narrower than the specified 30", however unless you are comparing it directly side-by-side with a 30" board the difference is not likely to be truly noticeable.
While standing on the Sorrento the overall stability is good for its width. I did notice a little bit of a rolling twitch sensation at times (I'll touch on this more in just a bit). What I didn't feel was any flex in the board – which is great! Boards with more flex are generally less stable as they move under your feet and make you work harder to stay standing. Like a bicycle, the Sorrento's stability increases as you start moving forward. I found that once I had a consistent paddling rhythm the rolling twitch melted away and the overall stability increased.
After testing the flat, primary, stability of the Sorrento I set to testing its secondary stability by rocking the board side to side and holding it on its edge. The Sorrento submerged and surfaced cleanly and smoothly while rocking it without any "popping" sensations as the rails resurfaced. Holding the board on one rail was a little more difficult as the rolling twitch sensation I felt earlier was more apparent here.
I didn't expect this rolling twitch sensation with the Sorrento, so I was curious what was going on. It's incredibly difficult to tell exactly what is causing it, but what I observed is what appears to be a slightly more rounded shape to the rails. I tried comparing the Sorrento to a few other touring SUPs and it was not totally conclusive. It appears that where the drop stitch is cut away to allow the top and bottom layers to be sealed together may be slightly further in toward the center of the board and/or the width of the rail layers may be slightly narrower. This gives the Sorrento's rails what appears to be a more tapered rail shape. The best way I can describe this in writing is by comparing a parenthesis " ) " vs a bracket " ] " The phenomenon I'm trying (hopefully with some moderate success) to describe appears most visibly to me at the tail and nose. There are longer curves that come to a narrower center profile.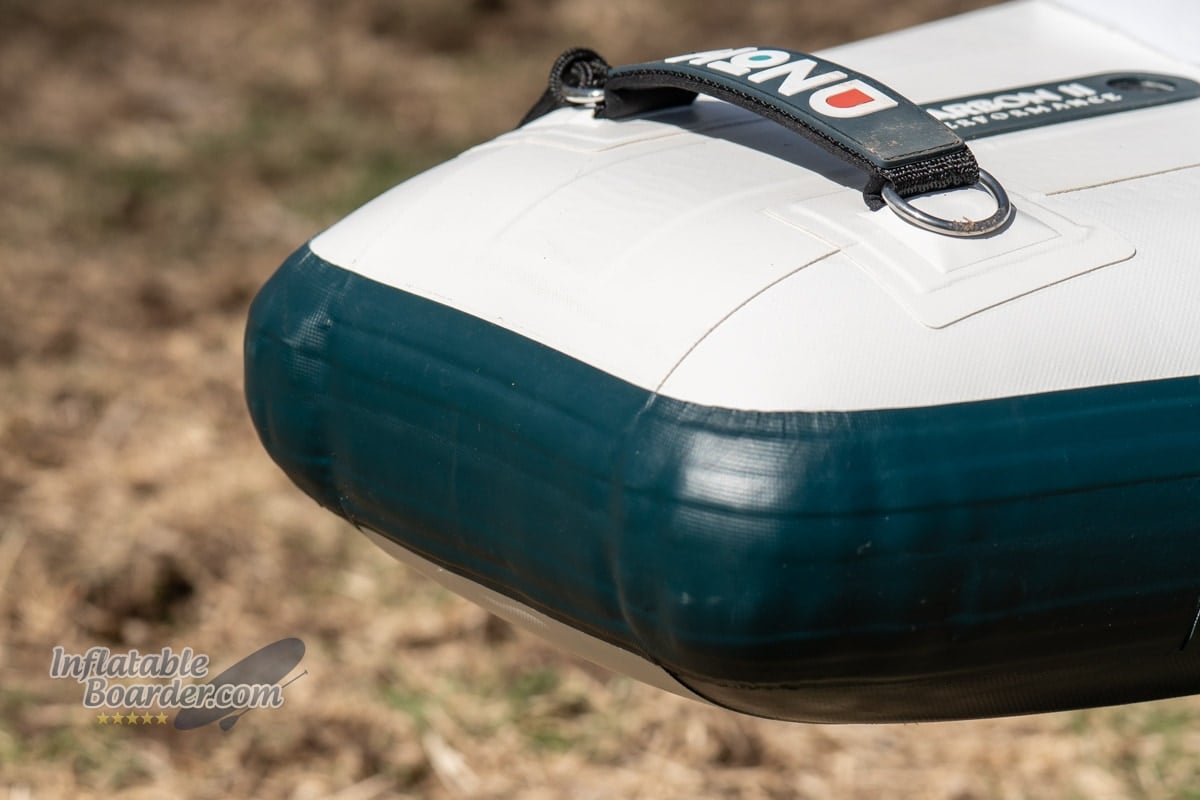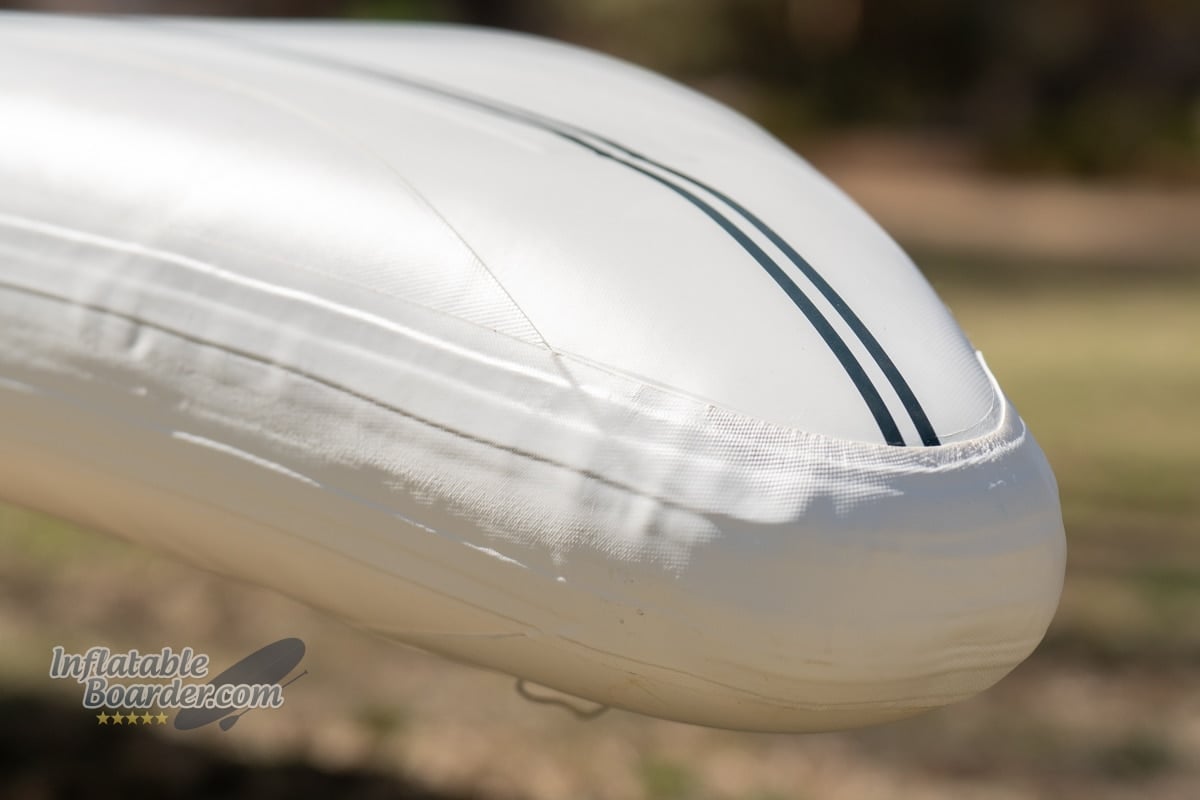 After a few minutes of paddling I did quickly adapt to the slight rolling sensation and it never presented any true stability challenges for me while paddling.
Overall I found the Sorrento to be as stable as I expected for a sub-30" touring iSUP. It's not my first recommendation for a beginner paddleboarder, but for the intermediate or advanced paddler looking for a touring iSUP, the Sorrento has plenty of stability.
Speed
The Honu Sorrento is built for speed and efficiency. During a head-to-head speed test last summer, the 2022 Honu Sorrento surprised me by outpacing a dedicated (and narrower) racing iSUP in a top-speed contest.
The 2023 Sorrento shares the same construction, size and shape as the 2022 model so it was no surprise to me to find the Sorrento is still pleasantly fast.
In testing for top speed, the fastest peak speed I clocked on the Sorrento was 6.0 mph (9.7 kmh). This was difficult to hit and I was only able to maintain it for a couple of paddle strokes. My more typical peak sprinting speeds were around 5.8 mph (9.3 kmh). My average speed in our 100m dash was 5.2 mph (8.4 kmh).
Top speed isn't everything, and touring boards are also used to cover long distances as efficiently as possible. With a casual 25 strokes-per-minute cadence, the Sorrento easily kept an average speed of 3.7 mph (6 kmh) in our distance cruising test.
Lastly, we measure the efficiency of each board by calculating its glide ratio – or how far the board will travel without slowing down between paddle strokes. With each paddle stroke the Sorrento traveled nearly 24' before slowing down for a glide ratio of about 1.9 board lengths per stroke. That's quite good for touring iSUPs and that efficiency is definitely felt on longer paddles.
This data is from early spring testing. I'll definitely be taking the Sorrento out more this summer and will update this review as I collect more data.
Maneuverability and Tracking
The Honu Sorrento not only tracks across the water incredibly well, but it's actually relatively easy to turn as well.
Touring paddleboards like the Sorrento are designed to offer excellent tracking performance over long distances, and so they aren't necessarily known for their ability to turn quickly. When put to the test, though, I was pleasantly surprised with the results.
Using forward sweep strokes (starting at the nose and paddling in a large arc to the tail) I was able to turn the Sorrento in a full circle with an average of 6.25 strokes. While this isn't nearly as fast as boards like the Honu Byron (a much shorter all around paddleboard) it is quite snappy for a touring SUP.
When you're able to step back onto the tail, the Sorrento offers quick and controlled pivot turns allowing you to turn 180° or more with a single stroke.
Paddling long distances can be extremely fun, but can also become quite frustrating if your board doesn't like to keep to a straight course. The Sorrento does an excellent job of tracking in a straight line over longer distances.
In our tracking test the Sorrento veered an extremely small 5° off course after 10 forward strokes on a single side. This is excellent news for those who like to paddle far and fast as more energy can be spent on forward movement rather than course correction.
While cruising around, the Sorrento was very easy to keep on track (yet still turnable when desired), and it even maintained its course very well during heavy sprinting.
The Sorrento comes with a 9" touring-style fin that fits perfectly into the split US fin box. Like almost too perfectly – you really have to make sure the front of the fin is fully seated into the front of the fin box in order to get the tail-end of the fin to fit. The included fin does have a full length base, and it should still be compatible with any fin designed for a US fin box.
The fin itself offers a great balance of tracking, maneuverability and stability and is well suited for touring and fitness paddling.
Warranty and Customer Support
Honu includes a 2+2, 4 year warranty to repair or replace your board for any manufacturing defects. For the first two years, Honu will offer full warranty service for any issues with theo board. For the second two years, Honu will offer free repair service for any issues. If you decide that the Sorrento doesn't suit your paddling style, Honu does have a 30-day return period for unused or like-new condition equipment. If you have questions about your Honu board, paddle, accessory, or need to file a warranty claim, you can reach Honu directly via phone, email, web form, or social media.
Value
We like to take a holistic approach to determining if a product offers a good value or not. We consider the MSRP, regular sale prices, performance, quality of the included items, and the warranty and customer support when making this decision. The Sorrento, along with all of Honu's iSUPs for 2023, does not automatically include a paddle or pump in the kit. If you are purchasing the Sorrento as a second (or more!) paddleboard, this may not be a big deal, and it makes the Sorrento an excellent value. If this is your first iSUP, or you are wanting to purchase an additional pump and paddle, then it does increase the overall cost. But the performance of the board itself and the excellent warranty still make the Sorrento a very worthwhile buy.
Overall Impressions/Review Summary
The Honu Sorrento is an incredibly well-built touring and fitness iSUP that is just a ton of fun to paddle. It's fast and efficient on the water, but has enough rocker in the nose to help ride up and over choppy conditions. It's lightweight, but extremely stiff. If I could wave a magic wand, the only thing I would change about the Sorrento is to expand the cargo areas to allow for carrying a little bit more equipment to make overnight trips more comfortable. As it is, the Sorrento is a great choice for day-touring, fitness paddling, and even some entry-level racing when paired with a high quality paddle, like the Honu Evolution, for those with a competitive side.
Honu Sorrento Touring iSUP FAQ
Is the Honu Sorrento a good beginner iSUP?
The Honu Sorrento is a high-performance touring iSUP. Its narrow width is great for going fast, but doesn't offer the best stability for new paddlers. Most beginners would benefit from learning on a more stable board like the Honu Byron.
Is the Honu Sorrento stable?
The Honu Sorrento is actually quite stable on the water relative to its width and design as a fast touring board. It is neither the most, nor the least stable touring iSUP I've used, but is perfectly suited for the intermediate or advanced paddler.
Is the Honu Sorrento worth the price?
Yes. The Honu Sorrento is a performance iSUP designed to be fast and efficient on the water. It's built with extremely rigid and durable materials and constructions, and it comes with an excellent warranty. Even when bundling a new paddle and pump with the Sorrento, given its performance on the water it is an excellent value for those looking for an excellent day-touring and fitness paddleboard.
Is the Honu Sorrento compatible with a kayak seat?
Unfortunately the Sorrento is not compatible with add-on kayak seats as there are no D-rings to support the seat attachments.
Can I paddle with kids or dogs on the Honu Sorrento?
Maybe. It will depend on the total weight, skill of the paddler, and behavior of the passenger. Older kids, larger dogs, and either of those that like to move around a lot will make paddling the Sorrento with a passenger very difficult.
How long does it take to inflate the Honu Sorrento?
The Honu Sorrento takes about 8 minutes to inflate to the minimum recommended pressure of 15 PSI using the Honu hand pump and a few more minutes to reach 20 PSI for maximum rigidity. The Honu Electric Pump also takes about 10-12 minutes to inflate the Sorrento, but allows you to do so hands-free.