The new and improved 2018 iROCKER CRUISER 10'6″ is an affordable and versatile inflatable SUP that's a lot of fun to paddle. The CRUISER is an all-purpose board that is a bit wider than the iROCKER ALL-AROUND 10′ and ALL-AROUND 11′ models, making this a great choice if stability is your primary concern.
iROCKER is a fairly new name in the SUP world, but the Jacksonville, Florida-based company has quickly built a loyal following due to their high-quality gear and super affordable price points. They've got an excellent customer service track record, and are well-known for standing behind their gear.
In this 2018 iROCKER CRUISER review, we'll cover the specs of this newly updated model, the pros and cons, the best features, what's included, optional accessories, how it compares with last year's model, and how to save some money on the board to get the very best deal.
In a Hurry? Here's a Quick Summary…
Pros
Bombproof quad-layer PVC construction
Very affordable price point
Extremely stable
Versatile
Excellent rigidity
Increased max weight capacity over last year's model
Large bungee storage area
D-ring attachment points for securing gear or optional kayak seat
Nice bundle of high-quality accessories included
New color-coded leash and paddle
May 2018 Update: Now includes dual-chamber triple-action pump
Convenient grab handle at tail
Updated fin box with flip lock fin
Increased nose rocker for improved performance in choppy conditions
Great customer service
2-year warranty
30-day money back guarantee
Cons
The 2018 board is slightly heavier than last year's model
Neoprene cover on carrying handle isn't removable
Only one color option Now available in 6 colors
Price & Where to Buy it
Table of Contents
iROCKER CRUISER 10'6″ Review: SUP Overview
The iROCKER CRUISER is a super versatile stand up paddle board that can pretty much do it all. Measuring 10'6″ x 33″ x 6″ and weighing 25 pounds, this board's extra width gives it great stability, making it an ideal choice for SUP fitness/yoga, fishing, families, paddling with your pup, and beginner paddlers.
Setup and inflation is easy, and it takes less than 10 minutes to fully inflate the CRUISER with the included dual-action hand pump. Even when the board is fully inflated, it's still easy to carry around thanks to the convenient center carry handle.
Features
The top of the 2018 iROCKER CRUISER is covered with an upgraded, iROCKER-branded EVA foam traction pad. This year's deck pad incorporates a new crocodile texture into the diamond pattern for improved grip, and it feels extremely comfortable under the feet.
Mid-board is a convenient carrying handle that is covered by a soft and comfortable neoprene grip. There are also four stainless steel D-rings located along both sides of the traction pad for attaching the optional iROCKER kayak seat. These D-rings can also be used to tie down additional gear.
At the board's nose are six more stainless steel D-rings and a large bungee cord storage area which is perfect for stashing your backpack or dry bag, flip flops, and a change of clothes.
Located at the tail of the board is a high-quality Halkey Roberts-style air valve, an additional D-ring for attaching the included SUP leash, and a newly added grab handle which really comes in handy whenever you're pulling the board in and out of the water.
On the flip side, the CRUISER features a tri-fin setup with two small side fins and a large center fin. The smaller side fins are fixed, while the large center fin is removable. This is a popular fin setup that offers excellent tracking, and the removable center fin offers additional flexibility if you want to experiment with a twin-fin configuration.
iROCKER has updated the CRUISER's fin box for 2018, and instead of using last year's slide in fin with the locking pin system, they've gone to a new flip lock fin system. No tools are required to secure the fin, and attaching it is super quick and easy.
Another area of improvement on this year's model is the nose rocker. The company has increased the CRUISER's nose rocker to improve paddling performance in choppy conditions.
Construction
New for 2018, all iROCKER paddle boards now feature bombproof quad-layer PVC construction. Combined with the CRUISER's tough drop stitch material, this additional layer of military grade PVC has resulted in a 10'6″ CRUISER that is even more durable, with improved rigidity and an increased maximum weight capacity rating (400 pounds vs. 350 pounds). The only downside to iROCKER's new quad-layer build is added weight, making the 2018 model slightly heavier than last year's model (25 pounds vs. 24 pounds).
When fully inflated to the recommended pressure of 14-18 PSI, the new iROCKER CRUISER offers exceptional stiffness and feels very similar to a hard board under the feet.
Paddling Performance
On the water, the iROCKER CRUISER 10'6″ is a ton of fun and is the most stable board in the company's lineup with the exception of the new premium BLACKFIN Model X and Model XL boards. In addition to the board's outstanding stability and ability to handle choppy waters, it also tracks well thanks to the triple fin configuration.
In the speed department, the CRUISER won't set any world records — but that's obviously not what this board was designed for. If you need a durable and extremely stable iSUP that is affordable, fun, and can pretty much do it all, this model is a great choice. For something that offers a bit more as far as speed goes, we recommend checking out the iROCKER SPORT 11′.
iROCKER Cruiser 10'6" Rating
Durability

Features

Versatility

Stability

Speed

Portability

Warranty

Customer Support

Price
Specs
| | |
| --- | --- |
| Length | 10'6″ |
| Width | 33″ |
| Thickness | 6″ |
| Weight | 25 pounds |
| Max Capacity | 400 pounds |
| Price | |
What's Included
iROCKER has once again raised the bar this season and made improvements to both their SUP paddle and backpack (more on that in a minute). In addition to the paddle and carrying bag, the company also includes a dual-action high-pressure hand pump, iSUP repair kit, and 10′ coiled SUP leash.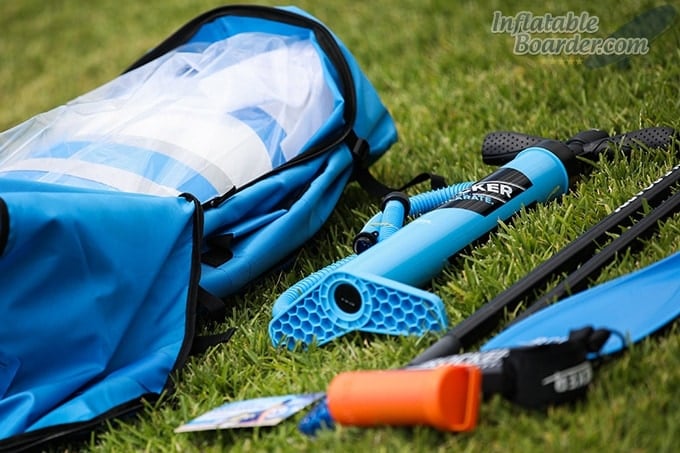 Backpack
The iROCKER backpack underwent a major update last season, and the only real change for 2018 is the addition of a side carrying handle. iROCKER's carry bag is fairly basic, but it gets the job done and is roomy enough to comfortably fit the 10'6″ CRUISER, pump, and other accessories.
The front of the bag features bold iROCKER branding and twin compression straps. On the side of the bag is an open mesh pocket which can be used to secure the included paddle, and the new side carrying handle and additional compression straps are also located there.
Located on top of the backpack carry bag is a transparent luggage ID window, and the bottom of the bag features four rubber feet and a grommet for draining moisture and dirt out of the bag.
On the back of iROCKER's SUP backpack is another nylon webbed grab handle as well as two padded and fully adjustable shoulder straps. The shoulder straps include an adjustable sternum strap and there are convenient plastic D-rings for attaching gadgets and other small accessories.
The back of the bag is well-cushioned by a mesh covered pad that keeps things cool when the bag is on your shoulders. There's also an adjustable waist strap that's designed to provide additional stabilization.
When packed down into the backpack, the iROCKER CRUISER can be conveniently stored in a closet or underneath your bed. The backpack makes it super easy to carry the board around, and you can even check it with your luggage when flying.
Adjustable 3-piece Travel Paddle
iROCKER initially included an aluminum paddle with their boards, but last year the company introduced their upgraded fiberglass paddle. The popular iROCKER fiberglass paddle is back for 2018 with some slight changes and improvements.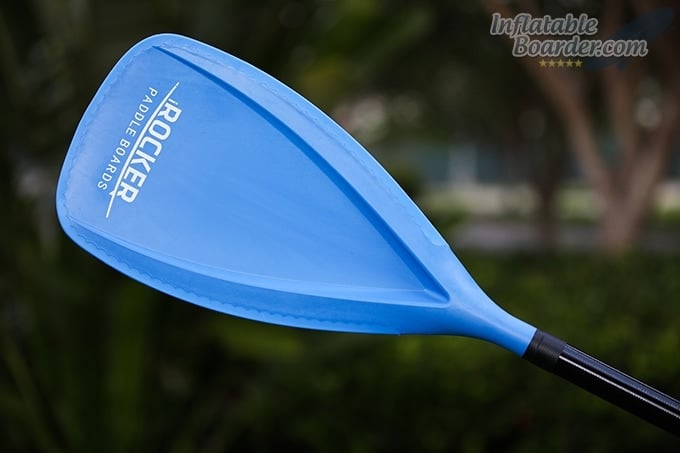 First of all, the company listened to customer feedback and extended the length of their 3-piece paddle from 79 to 86 inches. This is obviously great news for taller paddlers who were frustrated by the shorter length of last year's paddle.
Also new for 2018 is a color-coded blade and grip. iROCKER is introducing lots of new board colors for 2018, and the boards will now ship with color-matched paddles. In addition to blue, the CRUISER is also now available in aqua, white, orange, yellow, and green.
Dual-Action SUP Pump 5/18 UPDATE: Double-Chamber Triple Action Pump
Previously, iROCKER included a high-quality dual-action SUP pump with all of their inflatable paddle boards. This pump was a reliable workhorse that did a good job of inflating their boards, but in May of 2018 iROCKER announced that they're now going to be including a premium dual-chamber triple action pump.
This pump is far more efficient than the previous single-chamber pump, reducing the time and effort it takes to inflate the iROCKER CRUISER by approximately half. The pump comes with a flexible inflation hose that screws on securely to the back of the handle, and there's also a built-in pressure gauge which conveniently tells you exactly how much air is in your board at all times during the inflation process.
On the back of the pump is a dial which can be set to one of three modes: Max Capacity, Medium Pressure, and Max Pressure. To change settings, all you need to do is simply turn the dial to the desired number.
When you initially begin to inflate the iROCKER CRUISER, you'll want to set the adjustable dial to setting #1 — Max Capacity. This will rapidly add air to your deflated board by utilizing both chambers and adding air on both the up and down strokes.
Once you begin to notice that it's increasingly difficult to pump, turn the settings dial to mode #2 — Medium Pressure. Now, the pump will bypass the second chamber and will only add air to the iROCKER CRUISER on the up and down strokes using a single chamber.
Lastly, when resistance becomes too strong, just turn the dial to setting #3 — Max Pressure. This mode will give you the additional power needed to inflate the CRUISER to 15 PSI, and it adds air to the board only on down strokes using a single cylinder.
Ankle Leash
We love the fact that iROCKER promotes SUP safety by including a coiled 10′ leash with all of their boards. In addition to color-matching the SUP paddles for 2018, they're also color-coding their leashes which is a nice touch…
Repair Kit
Last but not least, the CRUISER comes with an inflatable paddle board repair kit. Included in the kit is a valve wrench, two PVC repair patches, and a replacement flip lock for the board's large removable fin.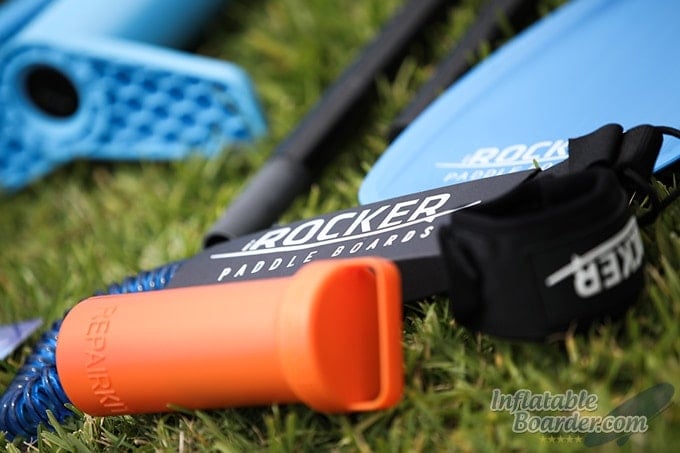 Optional Accessories
In addition to iROCKER's popular lineup of inflatable stand up paddle boards, the company also has a growing range of SUP accessories. While not included in the iROCKER CRUISER accessory bundle, the follow accessories are available as optional add-ons.
Insulated SUP Cooler Deck Bag
An excellent way to keep food and drinks cool with you while you're out on the water, the new iROCKER insulated SUP cooler deck bag is a really useful accessory to have.
Located on the top of the bag's lid is a handy zippered storage pocket which is perfect for stashing small items, and the side of the bag features a convenient carrying handle which allows you to carry the bag around like a lunchbox when it isn't strapped to the deck of the CRUISER.
On the back of the deck bag are four plastic mounting hooks along with an elastic bungee cord. These can be securely clipped to the D-rings on the nose of the iROCKER CRUISER, or you can simply slide the bag under the CRUISER's bungee cord storage area.
The interior of iROCKER's SUP cooler deck bag is fully lined and does a good job of keeping drinks and food cool while you're out paddling. This bag provides plenty of space for bottles, cans, and food, and the versatile design means that you can use it for far more than just paddleboarding.
Shoulder Carry Strap
If you'll be carrying the iROCKER CRUISER around quite a bit and are looking for a more convenient option than the board's carry handle, the new iROCKER shoulder carrying strap is a great accessory to consider.
The top of the strap features the iROCKER logo and four plastic D-rings for attaching small items with a carabiner. On the underside of the strap pad is a nice rubber liner that provides excellent grip and keeps the strap from slipping off of your shoulder when you're carrying the CRUISER.
To attach the shoulder carry strap to the iROCKER CRUISER, simply clip the metal hooks to two of the D-rings located along the rail of the CRUISER and place the strap over your shoulder. The strap is fully adjustable, allowing you to dial in the perfect length.
iROCKER Kayak Seat Bundle
An accessory kit that really brings a lot of added versatility to the iROCKER CRUISER, the kayak seat bundle will transform your board into a kayak configuration and allow you to comfortably paddle it from a seated position.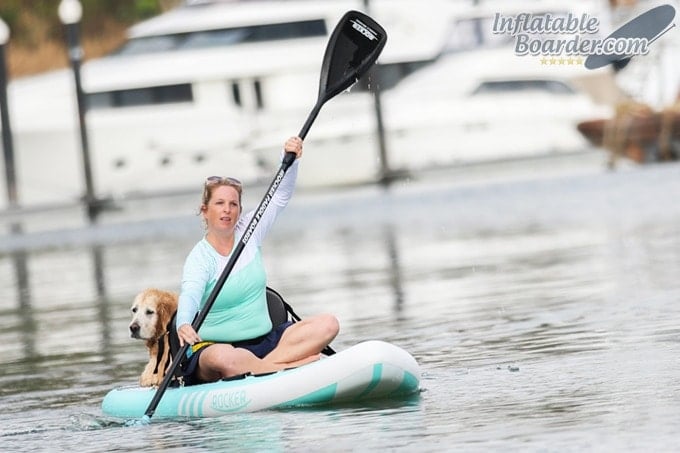 The iROCKER kayak seat bundle comes with an adjustable kayak seat and kayak paddle blade attachment. To attach the kayak seat to the CRUISER, simply clip the metal hooks located at the ends of the straps to the D-rings located along the rails of the board. The straps are fully adjustable, allowing you to easily customize the seat's position based on your height. Lastly, to attach the included kayak paddle blade, just replace the top section on your paddle's shaft (the piece with the grip) with the included kayak blade attachment.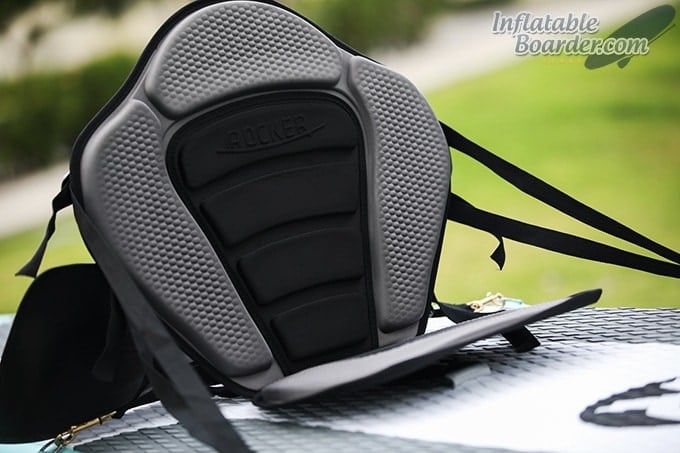 Warranty
As with all iROCKER paddle boards, the CRUISER comes with a 2-year warranty which covers any manufacturer defects. The company also offers a 30-day money back guarantee, which is great in the event that the board doesn't live up to your expectations.
Where to Buy it (Lowest Price + Special Promo Offer)
If you're looking for the best deal on the new 2018 iROCKER CRUISER, we recommend buying the board directly from iROCKER's official website. In addition to fast, free shipping, you'll pay zero sales tax unless you happen to be in Florida. Also, the company is running an awesome combo deal promotion which will save you even more money.
If you happen to live outside of the United States, you can still order direct from iROCKER through the following links: Canada, UK/EU, Australia, and Germany
Alternatively, the iROCKER CRUISER is also in stock at Amazon.
Final Thoughts
At the end of the day, the 2018 iROCKER CRUISER 10'6″ is a fantastic all-around board that's hard to find fault with. The company has once again packed a ton of value into this new package, and the board's design is perfect for a wide range of SUP activities.
The materials and construction of the CRUISER are solid, and this board is built to hold up to serious use.
We love the fact that iROCKER is clearly listening to their customers' feedback. They continue to improve upon their previous designs, and have managed to pack even more value into this year's package.
If you're looking for a super stable, extremely fun inflatable SUP that is well-built and suitable for a wide variety of paddling activities and conditions, the iROCKER CRUISER is pretty tough to beat.