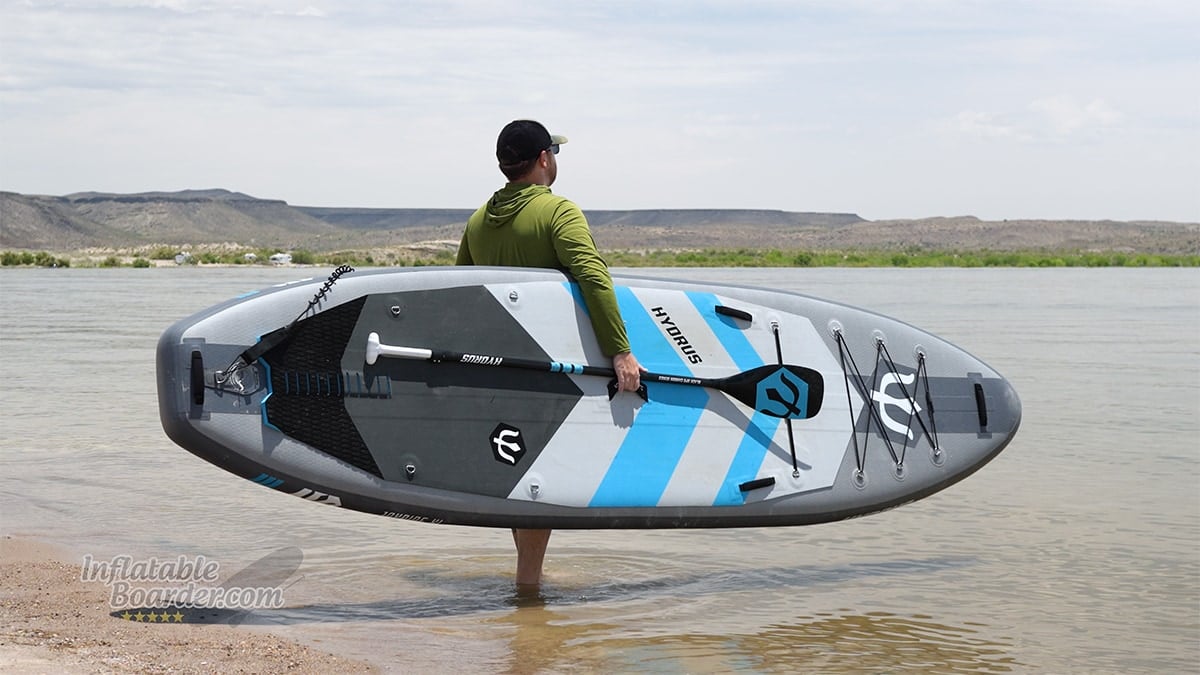 Hydrus Joyride XL iSUP: Overview
The Hydrus Joyride XL is the big brother of the Joyride that's designed for larger paddlers, paddling with passengers, loading up for a multi-day paddle trip, dipping your toes into the world of whitewater, and of course relaxing paddle sessions wherever you may go. The durable materials and construction and the function-first shape keeps the Joyride XL paddling as easily on glassy waters as it does in rowdier conditions.
— Hydrus Joyride XL Summary Ratings and Review —
Hydrus Joyride XL
Construction & Durability

Features and Versatility

Stability

Speed

Maneuverability

Tracking
Overall Score
The Hydrus Paradise is an all-water touring iSUP that handles flatwater and choppy conditions with ease.
Pros
Rigid construction keeps the Joyride XL performing well even when loaded with passengers or equipment
Increased longevity thanks to the welded interior seams and fusion PVC shell
High-density reinforced PVC helps prevent impact and abrasion damage
Excellent stability thanks to the wide shape with a large parallel midsection
Surprisingly fast and efficient paddling for such a large board thanks to its shape and rigidity
Whitewater capable up through Class II rapids
A variety of fin choices are included to match your performance needs
Tons of cargo space for anything you want to bring along
Lifetime Warranty
Cons
The brushed foam deck pad is quite comfortable, however I would prefer to have a little more texture for increased grip in rougher conditions
I'd like to see an additional pair of D-rings at the rear of the board to help secure larger cargo on overnight trips
Construction and Durability
Hydrus was born on the river and has always focused on building paddle boards that can stand up to the challenging and ever-changing environments that it brings. Their iSUPs, like the Joyride XL, are made with highly-durable materials and construction processes that keep Hydrus boards on the water longer whether you paddle whitewater or cruise your local lakes.
The entire Hydrus iSUP lineup received a construction makeover for 2023. This new construction kept Hydrus's mantra of durability and performance at the forefront, but reduced the weight of the Joyride XL by over 7 pounds!
Inside the Joyride XL is a new woven fabric base layer material with a crossed drop stitch pattern. From our testing, these woven drop stitch cores significantly reduce weight without reducing rigidity compared to traditional knitted fabrics and V-stitched drop stitching. The PVC shell of the Joyride also upgraded to a dual-layer fusion-laminated construction eliminating glue from between the layers of PVC material. Fusion constructions tend to be lighter weight and have a lower manufacturing error rate than hand-glued boards while, once again, maintaining rigidity.
The top and bottom layers of the board are joined together by heat-welding them to the interior rail band. This mechanically bonds the PVC together into a single piece without any glue. Welded rails offer greater longevity and better heat and pressure resistance than glued rails. To protect the inner rail layer an additional layer of PVC material is adhered around the board, and finally two more PVC strips line the top and bottom edges of that outer rail band to help further reinforce the structure.
The PVC shell itself still uses the high-density reinforced PVC tarpaulin of previous Hydrus generations that gives it the unique "optical illusion" gray color (a combination of a dark under layer, white fabric scrim, and clear outer layer).
The Joyride XL also gets a carbon fiber fabric stringer mounted to the deck and hull of the board to help further increase rigidity without adding significant weight to the board. The carbon fiber fabric does not stretch while under load, helping prevent the board from bending during use.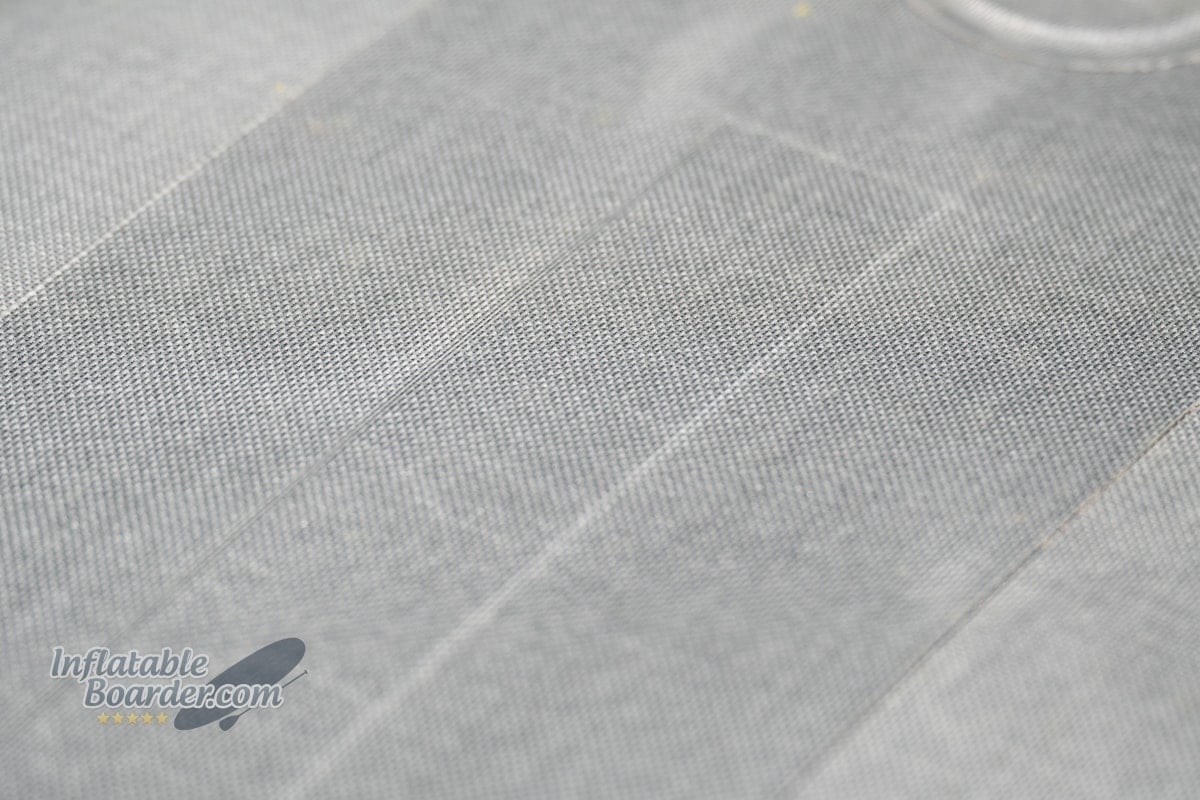 So how does all of this construction impact the Joyride XL's performance on the water? Well, the reinforced shell provides great resistance to impact and abrasion damage and the welded seams and fusion construction allow the Joyride XL to be inflated to 20 PSI for maximum rigidity.
In our static bend test we loaded the Joyride XL with 170 lbs of weight and measured how much deflection there was under the board. At the lowest point of the 7' unsupported span, the Joyride XL bent just 0.984" (2.5 cm). That puts it in our top five most rigid scores and well stiffer than our current running average of 1.55" (across 90 iSUPs).
Overall stiffness isn't the whole story, though. How a board feels on the water is arguably far more important than how it does in our bend test. While on the water I don't notice any flex while standing or walking on the board, nor while paddling at anything less than a sprint.
While paddling at a sprint for our speed testing I could barely notice some flex, but not enough to feel like it was impacting the board's speed or tracking ability. The only time I could really, truly, notice any flex in the Joyride XL was when I would purposely jump up and down on the board to make it flex!
It's hard to notice that the Joyride XL is inflatable. It is incredibly rigid both on and off the water thanks to the high quality materials and construction involved and a maximum recommended pressure of 20 PSI. During testing we always use boards at their maximum pressure rating to elicit the best performance possible. However while not specifically performance testing I regularly use the Joyride XL between 15-18 PSI with a nearly identical on-water feel.
Specifications
Dimensions
Length
11' 6"
Width
34.5"
Thickness
6"
Weight
Max Capacity
400 pounds
Board Weight
25.5 pounds
Kit Weight

33 pounds
Buying Info
List Price
Warranty
10 years
Returns period
30 days
Features, Accessories and Versatility
The Joyride XL is a wide all-around iSUP that's ready for anything from casual cruising to multi-day expeditions. The stable shape is very forgiving for beginners, but maintains plenty of performance for intermediate and advanced paddlers. A progressive nose rocker helps the Joyride XL navigate choppy conditions even up through Class II whitewater.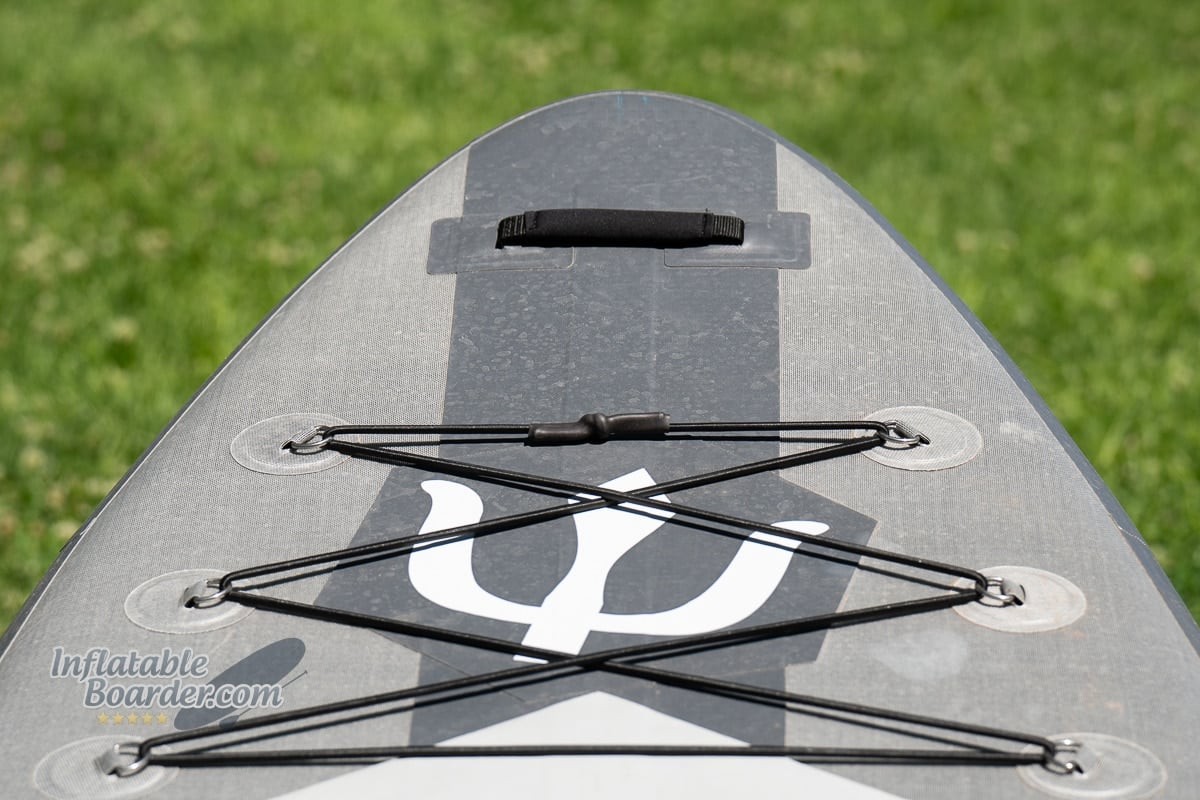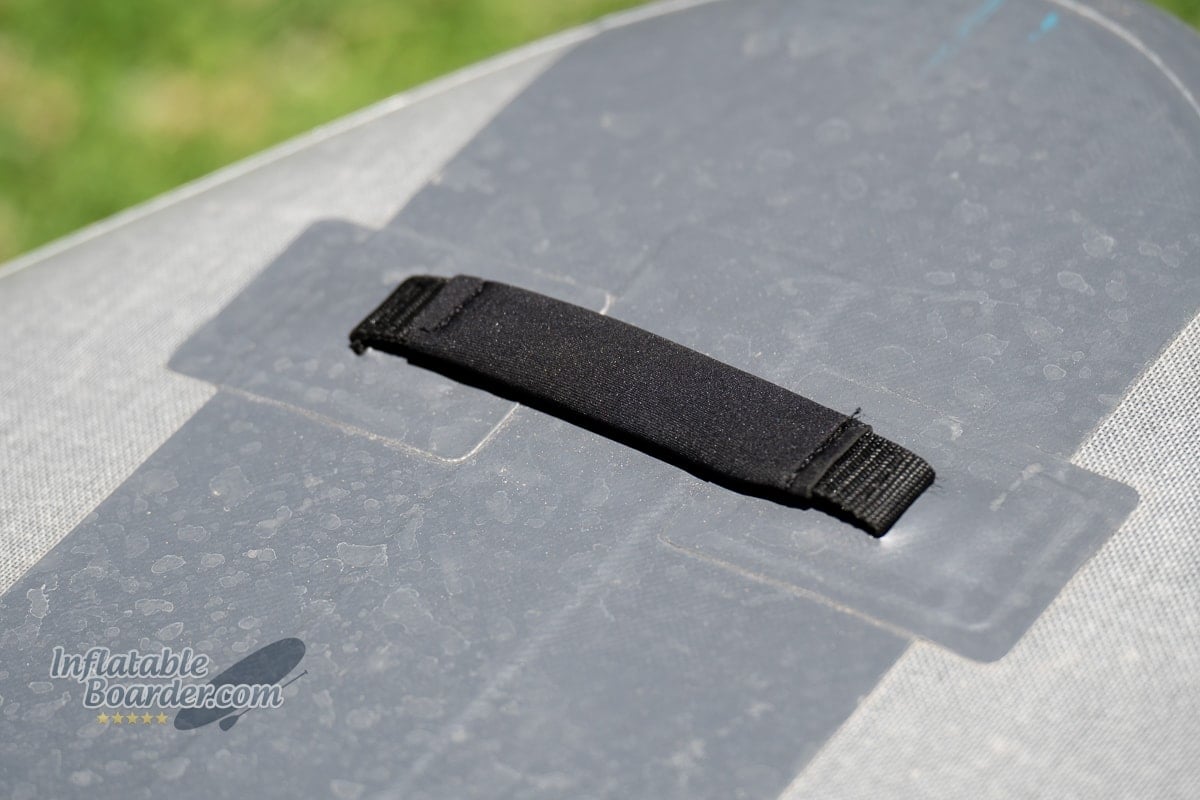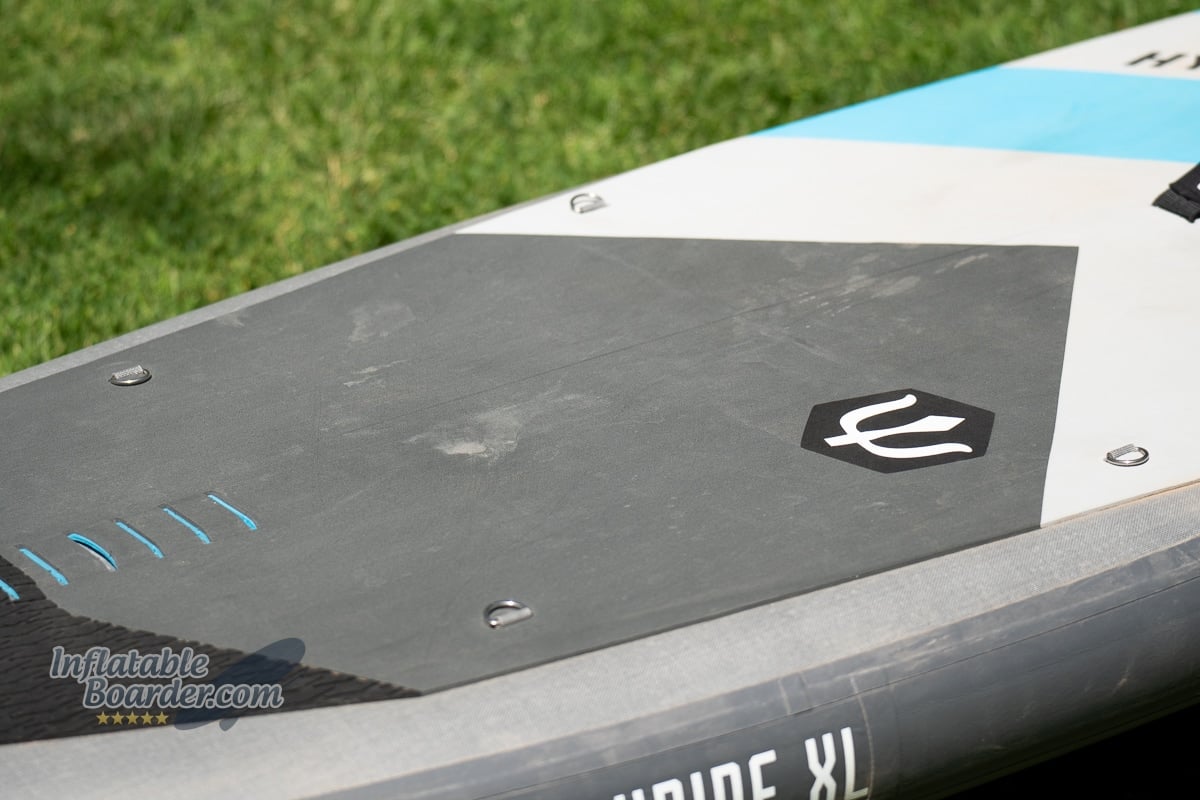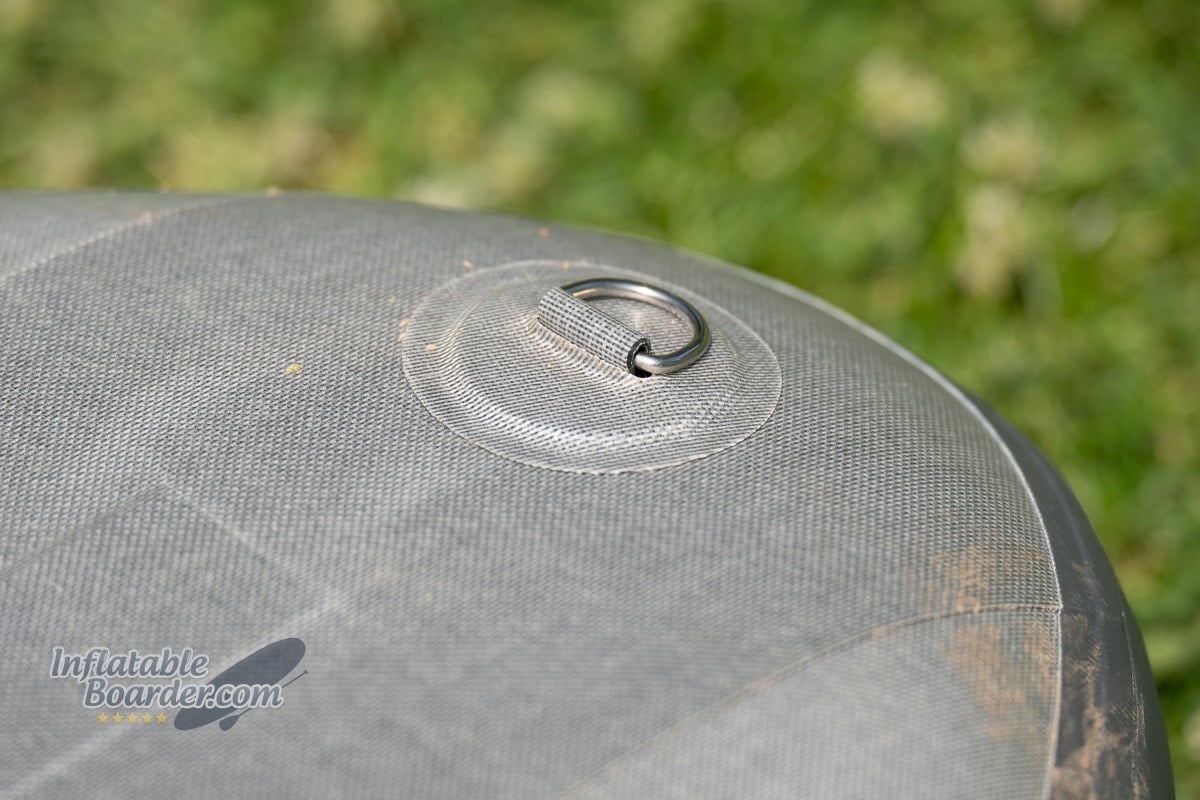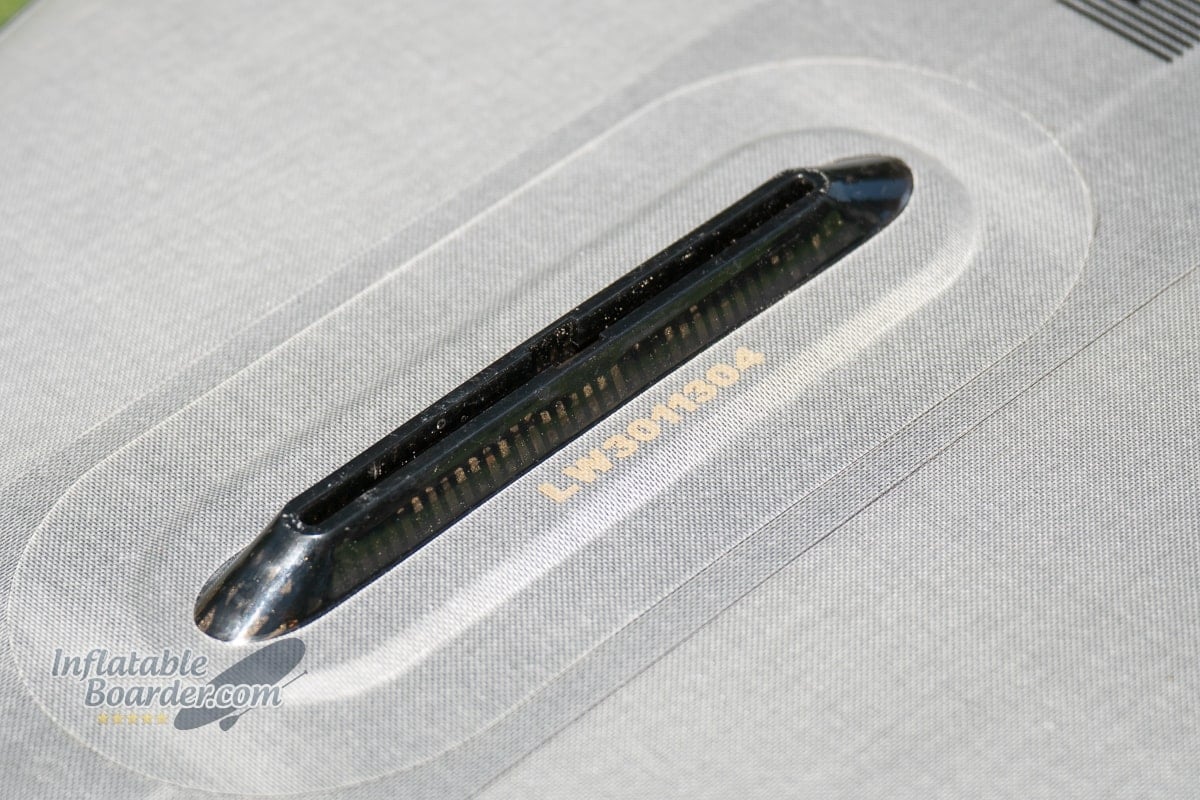 With over a dozen D-rings and a large pre-strung front cargo area you can easily carry everything you need for an afternoon of fun in the sun, or loading up for a week on the water. The Joyride XL has plenty of stability for newer paddlers, paddling with passengers or pets, fishing, and getting your first tastes of whitewater SUP.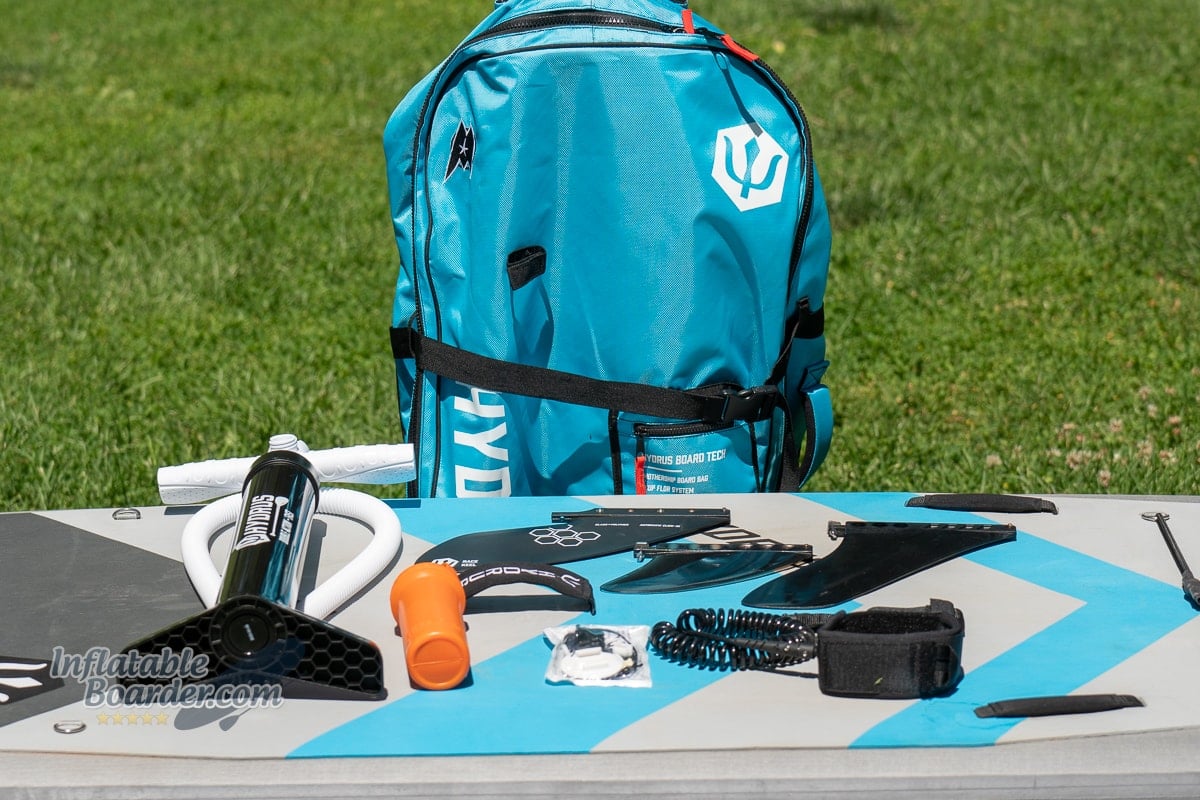 Included with the Joyride XL paddleboard are three different fin choices (more on that in the Maneuverability and Tracking section), a coiled leash, double-action pump, repair kit, sticker pack, and a stick-on GoPro mount that can be applied to any of the flat PVC surfaces of the board. All of this fits in the included Hydrus Mothership SUP bag. The Mothership bag is made of a heavy-duty nylon fabric with an internal fin pocket, external key pocket, two compression straps, padded carry handles, and a very comfortable backpack harness. The Joyride XL, like all of Hydrus's boards, does not automatically include a paddle. Hydrus wants everyone to have the paddle that suits them best, rather than forcing a specific paddle on every board buyer. That being said, the Hydrus 3 piece paddle is a great match for the Joyride XL and offers a fantastic value when bundled with the board at checkout.
Paddle
The Joyride XL does not automatically come with a paddle. Hydrus feels (rightfully so) that choosing the right paddle is just as important as choosing the right board. That being said, the Hydrus three-piece carbon fiber paddle is a fantastic match for the Joyride XL.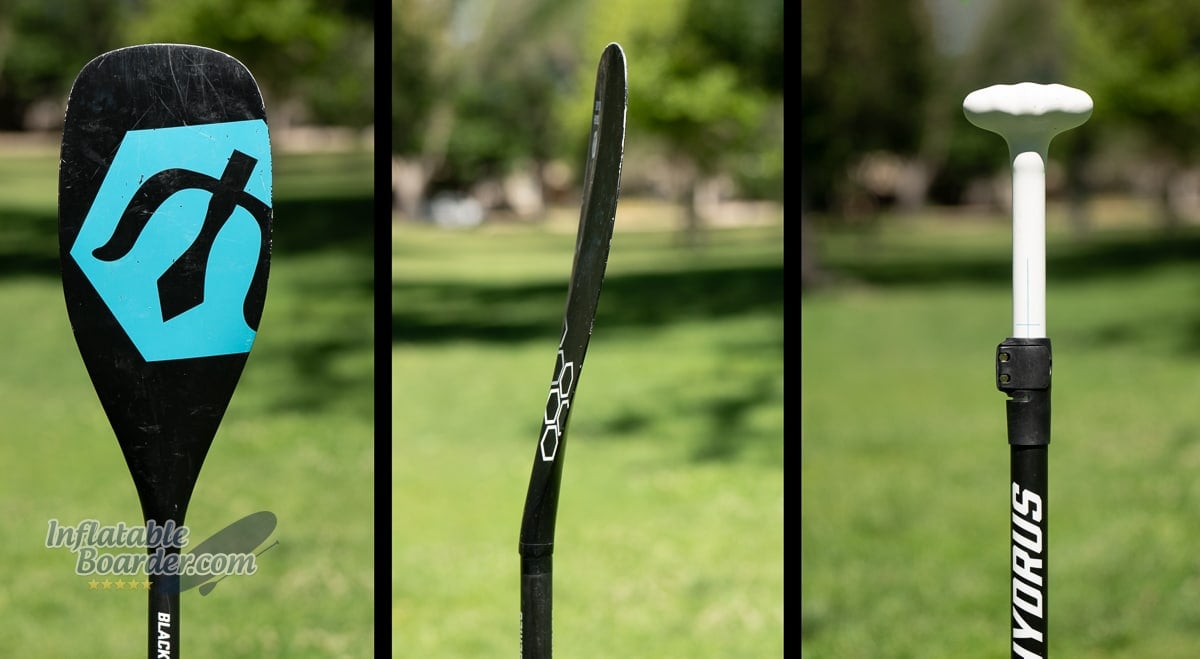 To call the Hydrus paddle a carbon fiber paddle is a bit of a disservice as it is actually a blend of carbon fiber, fiberglass, and a proprietary material, called Armalight, used together to skillfully balance weight, performance, durability, and price.
At the top of the paddle is a molded fiberglass grip and handle section. The grip itself features three large knurls on the front side that create grooves for your fingers. This features helps new paddlers instantly identify which way to hold the paddle (as the handle section also has an indexing groove to properly align it to the blade), and provides additional grip when paddling in rougher waters without using textures that can rub your hands. The handle is adjustable from 68-85" (fitting paddlers between 4'10" to 6'6") with printed hash marks to easily reset the paddle between uses.
The paddle shaft is made of carbon fiber and has a medium-stiff flex profile that lets you effectively transfer power into forward movement while still being comfortable enough for long days on the water. The combination of a lighter carbon fiber shaft and slightly-less-light-per-unit fiberglass handle helps balance the Hydrus paddle while still keeping it at a comfortable 26 ounce total weight.
The blade is made of a combination of carbon fiber and Hydrus's Armalight coating. Hydrus has remained tight-lipped on the makeup of the Armalight material, however it does appear to do exactly what it advertises – provide a durable coating without adding a ton of weight. The blade is 96 square inches in size – which I consider to be "Large" (on a scale of XS to XL), with a rectangular shape that lets you easily catch at the beginning of your stroke and release at the end of your stroke and can be used at a relatively high cadence when you want to go fast.
Overall the Hydrus paddle is a great, mid-range, paddle for medium to larger paddlers or anyone who's paddling on faster-flowing rivers. The Armalight coating has been holding up well for me for over a year of paddling on flat water, rivers, and whitewater.
Stability
If I were forced to pick a single defining performance characteristic of the Joyride XL, it would have to be its stability. It's easy to forget you're standing on water when paddling the Hydrus Joyride XL.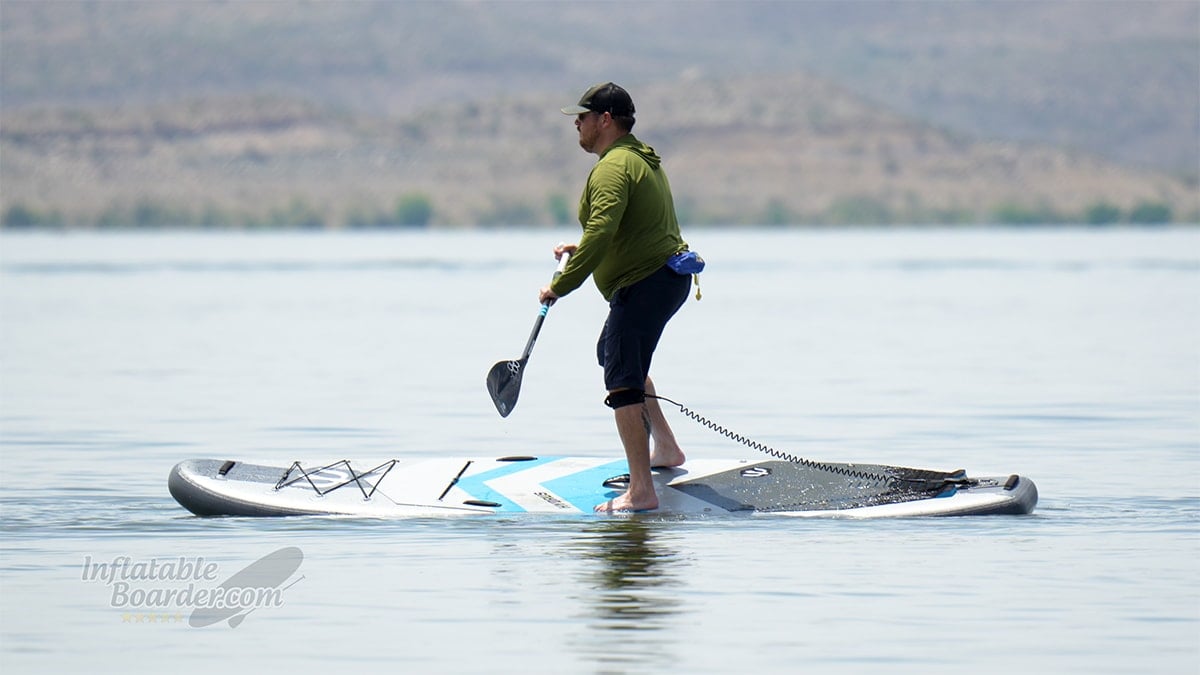 There are lots of factors that impact a paddle board's stability, but the two biggest are width and shape. The Joyride XL measures 34.5" wide (a half-inch wider than specified) at its widest point. Already we're off to a good start in the stability department by this measurement alone. But what really brings home the stability of the Joyride XL is its shape.
The entire middle third of the Joyride XL is nearly perfectly parallel and carries that 34.5" maximum width both in front and behind the standing area. From there the "shoulders" and "Hips" of the board maintain a wide, gentle taper to the widely rounded nose and wide, square, tail of the board. All of this works together to create an incredibly stable platform. The specific placement and degree of tapering along with the rocker profile also don't detract from the Joyride XL's other performance characteristics.
That same wide, parallel, outline also helps maintain great stability when the board is not flat on the water. This secondary stability is important for new paddlers who may tend to wobble their board more, and for paddlers of all skill levels when they find themselves in choppy water, battling boat wakes, or hauling over haystack waves on a whitewater river.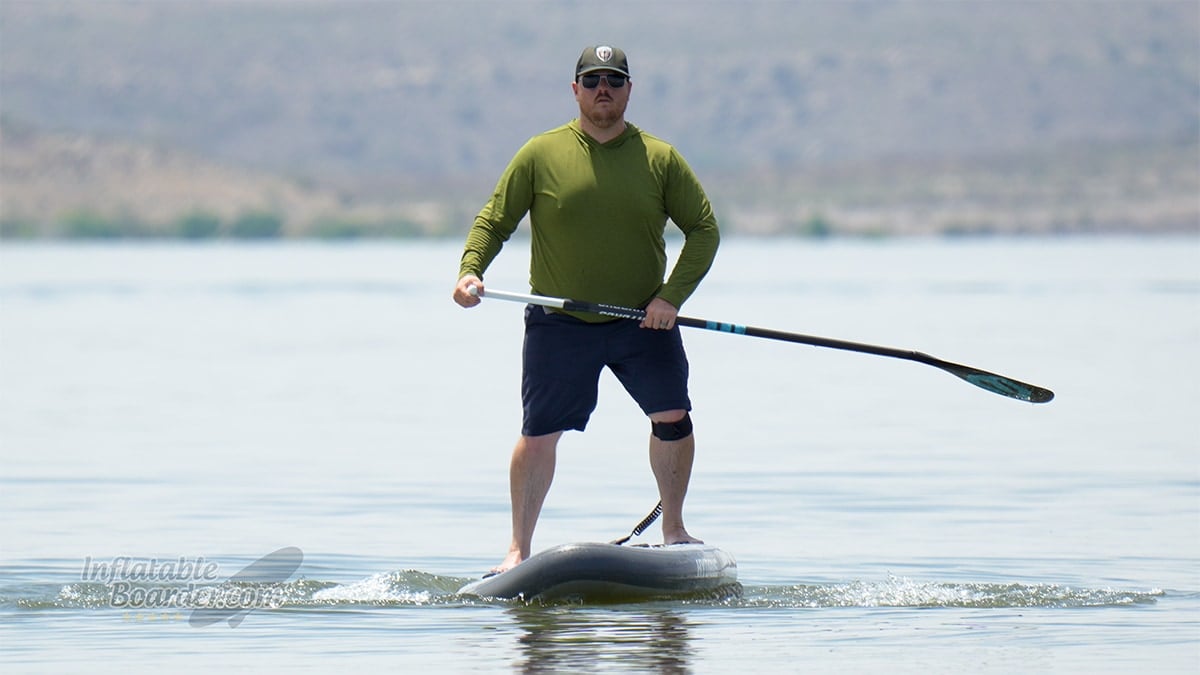 Speed
With wider all-around iSUPs we typically don't expect a whole lot of top-end speed just by the nature of their width. But the Hydrus Joyride XL is actually quite quick on the water and efficient over long distances.
At 34.5" wide with a wide, rounded nose and wide square tail you wouldn't expect the Joyride XL to be a faster iSUP at first glance. But it's a whole different story once you get on the water. The rigid construction and progressive nose rocker let the Hydrus Joyride XL get up to speed quickly, and reach some very respectable top-speeds.
Our sprinting speed test is done in two parts. The first is clocking the speed during a sustained sprint with a distance and cadence you might expect to do in a short sprint race. Here the Joyride XL produced an average sprinting speed of 5.4 MPH with snappy acceleration. That's on the faster side of average for all-around boards, especially wider all-around iSUPs. We also crank things up to 100% with a top speed test – how fast can we get the board to travel with maximum output for just a few paddle strokes. We found the answer to that question to be 5.8 MPH. That's very fast for a wide all-around iSUP, but difficult to maintain for more than those few paddle strokes at a time.
Sprint testing is fun, and it's great to see how fast a board can go, but how fast and efficiently a board travels under more "normal" conditions is definitely more important.
At a casual cruising cadence of 25 strokes per minute (continuous paddling with a slight pause between strokes), the Joyride XL averages around 3.7 MPH. That's still a quick cruising speed, especially given its width. What's equally as impressive is the Joyride XL's glide. With each paddle stroke the Joyride XL will travel an average of 21 feet before slowing down – or 1.8 board lengths. Once again that's a great result on the high-side of things for all-around boards and on the low-end for dedicated touring iSUPs! That glide efficiency is great news for those looking to paddle longer distances, especially on overnight trips or even just getting to the best fishing holes (which always seem to be on the other side of the lake…).
Maneuverability and Tracking
The Joyride XL does an excellent job of balancing both maneuverability and tracking. The inclusion of three different size fins lets you fine-tune this performance and match your environment.
The Joyride XL comes with three very different fins to choose from. We used the 9" touring fin in all of our testing to provide the closest match to what most iSUP kits provide for comparable test results.
Maneuverability is important for any paddle board, especially for those designed to fill multiple roles. The Joyride XL iSUP is a stable all-around, gear hauler, family paddler, and river runner among other things. Longer paddle boards tend to be a little more difficult to maneuver as there is simply more board in the water. However the Joyride XL manages to deliver easy maneuverability even when using the largest fin option.
In our maneuverability stress test, the Joyride XL turned a full 360° from a standstill with an average of just 5.5 forward sweep strokes. This wide, arcing stroke is a staple among paddlers and is often the first turning stroke a new paddler learns. Because it does impart a forward movement force on the board it is less-efficient than other turning strokes, but gives us a great tool to compare board to board. While not the fastest turning all-around iSUP, the Joyride XL does maneuver quickly compared to other large all-around boards of the same length and width.
Reversing the stroke (aptly called a reverse sweep stroke) more quickly turns any board around as it works against the fin. Here the Joyride XL spins the same circle in just 4 paddle strokes. If you want the fastest turn possible, the Joyride XL's wide, stable shape makes it easy to walk to the tail of the board for a pivot turn. Here the extra-grippy deck pad and wide tail give you confidence and stability for quick, smooth turns in as little as two strokes.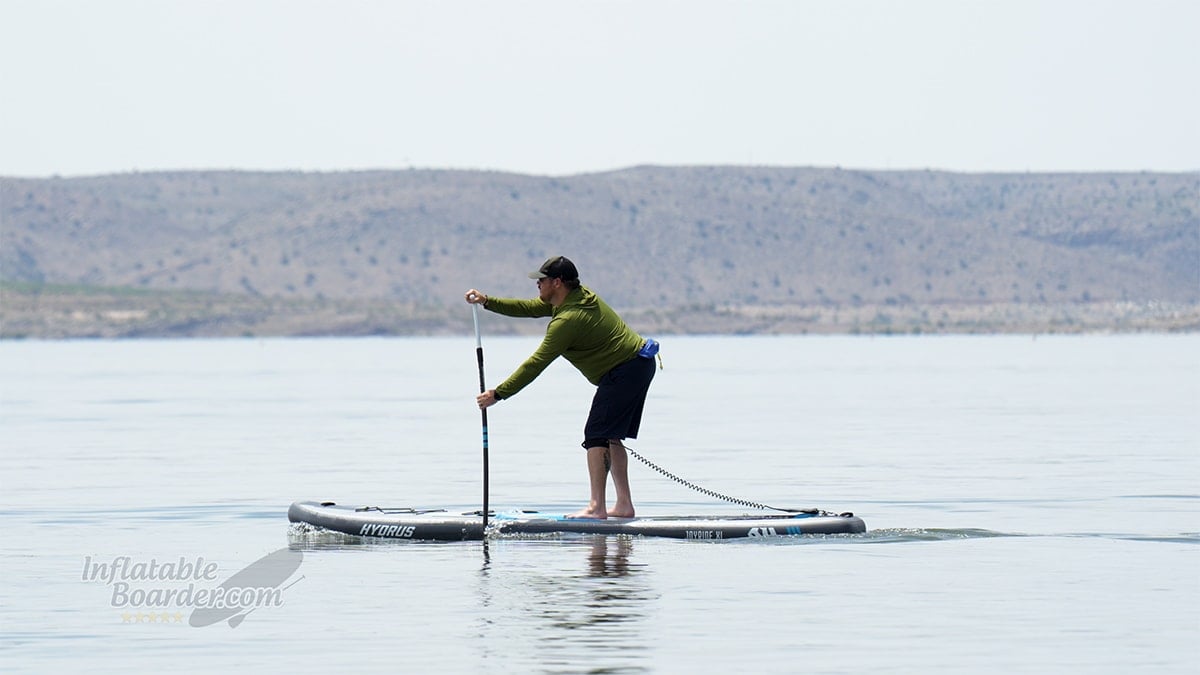 Once you've got your board pointed in the direction you want to paddle, its tracking performance will help you get there quickly and with minimal steering input. In this case, the Joyride XL does an excellent job of tracking in a straight line while using the 9" fin.
In our tracking test the Joyride XL only deviated an average of 11° off course over the period of 10 paddle strokes on a single side. While it's not quite as straight as dedicated touring boards, it is above average tracking performance for all-around iSUPs (around 18°).
It's also very easy to steer the Joyride XL while under way. It responds well to canted, sweep, and draw strokes for small changes in direction, and it can easily turn up to about 90° with just a few sweep strokes while you are under way.
Tracking and Maneuverability are determined by board size and shape, but can be modified by fin selection. The Joyride XL comes with three very different fins to let you customize how your board paddles and to keep you moving even in shallow waters. The 9" touring fin (right in the photo above) provides great tracking for paddling longer distances in deeper water. The 6.5" keel fin (in the fin box in the photo above) has roughly the same surface area, but stretches back rather than down into the water. This allows the fin to easily paddle through shallower areas and areas with aquatic vegetation. It does favor maneuverability a little more than tracking, but still provides a good mix of both. Lastly the 4.5" gummy fin (center in the photo above) is ideal for running shallow rivers or whenever you want maximum maneuverability while still being able to paddle straight when desired.
Warranty and Customer Support
Hydrus is one of the few companies that offers a lifetime warranty on their iSUPs. They believe in the quality of their materials and construction and are willing to back them up over the expected lifespan of the board – which is typically around 10 years before the PVC material itself begins to degrade in any iSUP. Hydrus extends this warranty to the Hydrus paddle and the Mothership iSUP bag as well. Leashes, pumps, and other items are warrantied for 60 days. Hydrus also offers a 30-day return period on all of their products. Hydrus prides themselves on their prompt and robust customer service. You can reach Hydrus with any questions via email, web form, phone, or social media.
Overall Impressions/Review Summary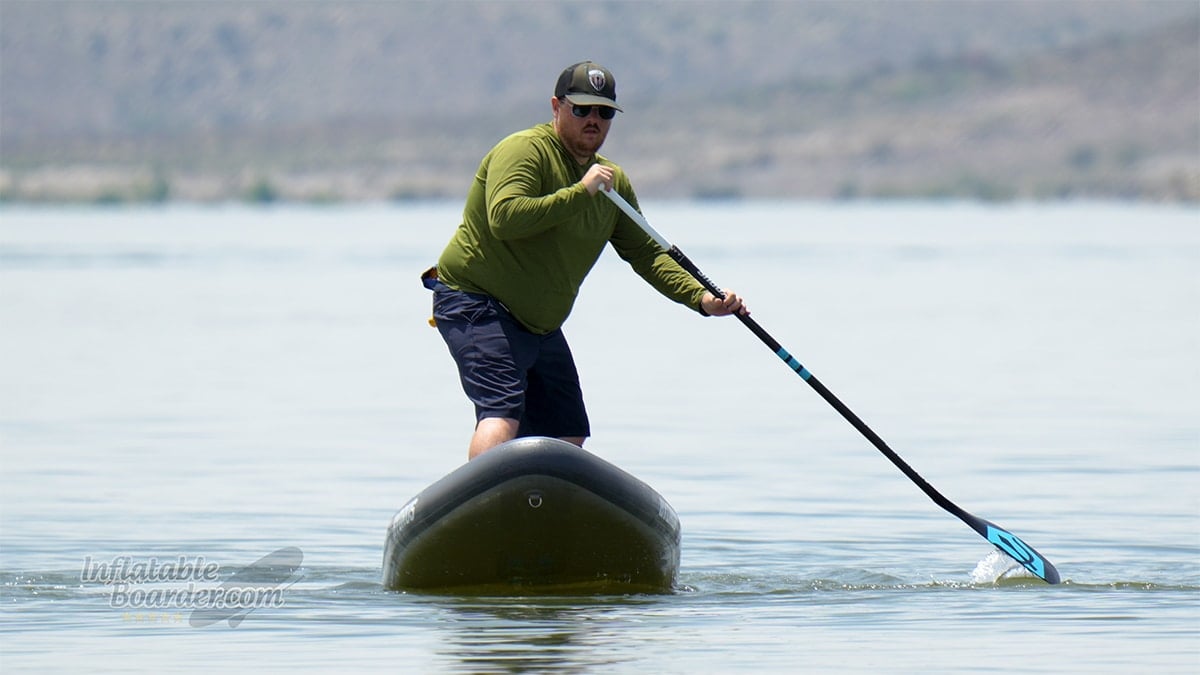 The Joyride XL by Hydrus Board Tech has a lot to offer paddlers of every skill level, size, and type. The beginner-friendly stability makes this board an easy choice for paddlers just getting started – particularly larger paddlers or those with balance or mobility issues. However, its function-first design also keeps it fast, efficient, and nimble, even when loaded up for an overnight trip. It's also my go-to board for paddlers who are interested in trying whitewater for the first (or second, or third…) time. The stability and maneuverability make it easy to begin learning how to handle waves and holes, and dart in and out of eddies up through Class II rapids. The materials and construction are durable and long-lasting, and Hydrus's warranty and customer service are there to back you up in case anything does happen.
Hydrus Joyride XL iSUP FAQ
Can I bring a passenger or pet along with me on the Hydrus Joyride XL?
Yes! The Joyride XL has plenty of weight capacity, deck space, and stability to paddle with a passenger or pet.
Does the Hydrus Joyride XL include a paddle?
The Joyride XL does not automatically include a paddle, but you can bundle the Hydrus three-piece carbon fiber paddle with it at a reduced price during checkout.
Is the Hydrus Joyride XL heavy?
Previous generations of the Hydrus Joyride XL were quite heavy (around 33 lbs), however the new construction and materials have significantly reduced the weight of the Joyride XL to just over 25 lbs without reducing rigidity or durability.
How long does it take to inflate the Hydrus Joyride XL?
Using the included double-action hand pump it takes around 8-10 minutes to inflate the Joyride XL to the recommended 15 PSI and another 2-3 minutes to reach the maximum 20 PSI.
Can I use a kayak seat with the Hydrus Joyride XL?
Potentially yes. The Joyride XL is not specifically designed to be used with a kayak seat, however there are D-rings in front of and behind the standing area that can be used with kayak seat attachments depending on the length of their straps.