Nautical Go Ten Six iSUP Review | 2023
Inflatable Boarder is reader-supported and may earn a commission when you buy through links on our site. Learn more
Nautical Go Ten-Six iSUP: Overview
The Nautical Go Ten-Six is one of the newest offerings from iRocker, offering a great option for a lightweight, beginner-friendly iSUP for paddlers on a budget. The stripped-down feature set reduces duplication on the board, but keeps all of the features you need for a day on the water. With the new Package Builder feature on iRocker's website you can customize all of the accessories that come with your board, or opt to not pay for accessories you may already have.
— Nautical Go Ten-Six Summary Ratings and Review —
Nautical Go Ten-Six
Construction & Durability

Features and Versatility

Stability

Speed

Maneuverability

Tracking
Overall Score
The Nautical Go Ten-Six is a great option for beginners wanting to get a taste of SUP Life while keeping things simple.
Pros
Lightweight and durable with the same great core construction used in the original Nautical iSUPs
Just enough onboard features to keep you on the water all day
Great maneuverability
Stable shape and size fits a variety of paddlers
Package Builder lets you choose your exact accessories
Fin tethers help reduce fin loss both on and off the water
1 year warranty
Cons
The lightweight construction isn't as rigid as the iRocker Ultra iSUPs and is noticeable on the water
The smaller deck pad doesn't leave as much room for paddling with a pet or child
Construction and Durability
The Nautical Go Ten-Six uses the same "Double-Layer Composite" construction as the original Nautical iSUPs. This construction is lightweight and durable, but doesn't have the same level of rigidity as the iRocker Ultra or Blackfin iSUPs.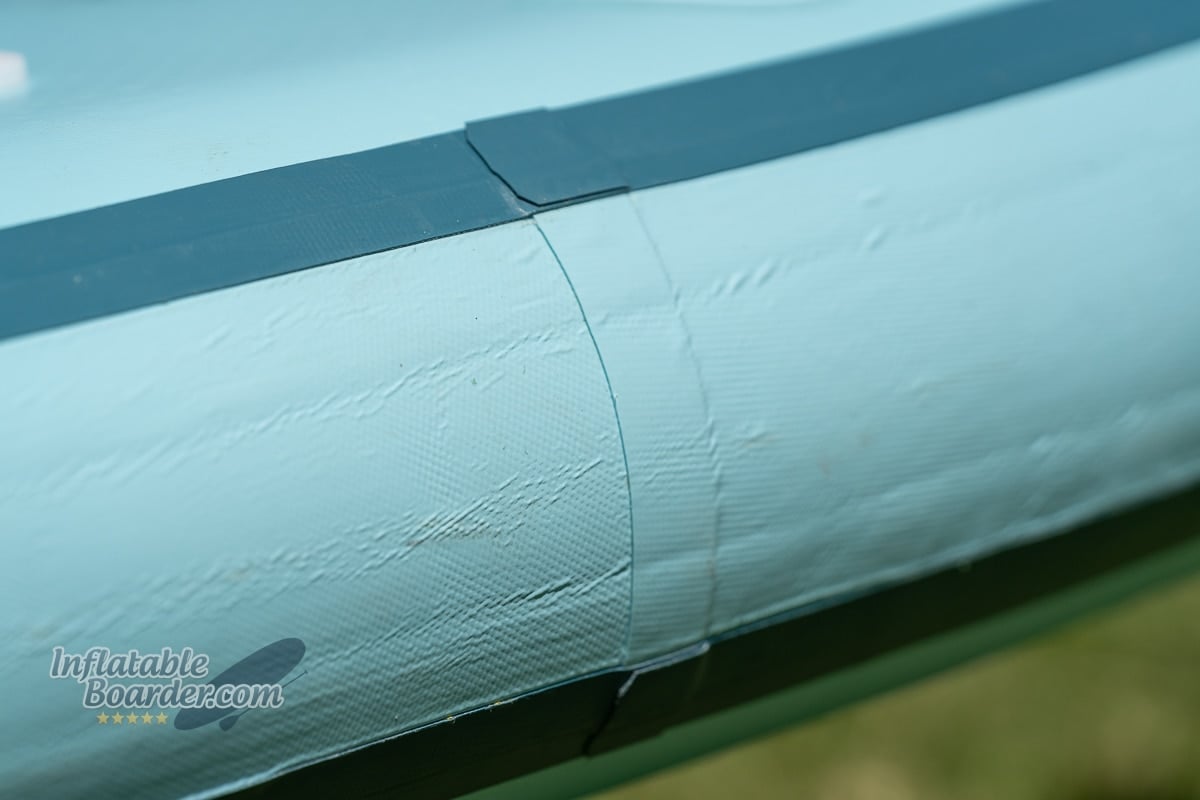 The Nautical Go Ten-Six has a lightweight knitted fabric core with thousands of threads stitched from the top layer to the bottom layer. This drop stitching keeps the Nautical Go Ten-Six flat while inflated rather than becoming round like a balloon. The PVC shell is a single layer material applied directly to the fabric core, providing great flexibility for rolling while still being durable enough against normal use.
The top and bottom layers are sealed with a glued inner rail layer of PVC fabric and a second, wider layer is glued over top of the inner rail for additional protection. Lastly two narrow strips of PVC are glued to the top and bottom edge of the outer rail layer for additional reinforcement.
The Nautical Go Ten-Six performed better than we expected it to in our dry land bend test. With a 170 lbs static load, the Nautical Go Ten-Six bent 2.55". While that is a full inch more than our total running average, it is significantly better than the Nautical 10'6" iSUP (3.25").
On the water, the Nautical Go Ten-Six felt about as rigid as I expected it to be based on its construction and bend test score. There was a noticeable flex for me while standing and paddling normally (230 lbs – just under the 240 lbs recommended maximum for this board). When bouncing on the board or paddling hard during a sprint that flex became far more noticeable. However, Once things settled back down, the Nautical Go Ten-Six had a comfortable-feeling rebound as it returned to "normal." While paddling around at a cruising speed I could feel the board flex when I looked for it, but it was also very easy to forget it was happening. For lighter paddlers this flex will be further diminished and less noticeable. Compared to the Nautical 10' 6", the Nautical Go Ten-Six did feel like it had a more noticeable flex profile on the water, or at least seemed to impact my paddling more than on the original Nautical 10' 6".
Overall the Nautical Go Ten-Six is built to the same standard as our much-recommended Nautical 10'6" iSUP and seems to have increased in rigidity a bit. While the construction is similar between the two, the biggest differences are in the features and performance on the water.
Specifications
Dimensions
Length
10' 6"
Width
32"
Thickness
6"
Weight
Max Capacity
240 pounds
Board Weight
19 pounds
Kit Weight

pounds
Buying Info
List Price
Warranty
1 years
Returns period
45 days
Features, Accessories and Versatility
The Nautical Go Ten-Six has a core set of onboard features to cover the most typical uses of an all-around iSUP, but without any duplication of features like on the original Nautical iSUPs.
While the Nautical Go Ten-Six doesn't have as many bells and whistles as the original Nautical 10'6", there is still ample cargo space for your daily needs, a threaded accessory mount for fishing rod holders, speakers, or other items, and the board is compatible with iRocker's kayak seats.
The Nautical Go Ten-Six can be purchased as the board and essentials only (including fins, leash, and repair kit), or you can choose to create a bundle using iRocker's Package Builder tool. Unlike the Blackfin Package Builder tool there is no "standard" package, but you still get to pick any items you'd like including paddles, bags, pumps, and other accessories.
Paddle
While the Nautical Go Ten-Six doesn't automatically come with a paddle, iRocker does have a new 5-piece fiberglass Nautical paddle that complements the Go Ten-Six well.
The new five-piece fiberglass paddle has the same fiber-reinforced nylon blade found on iRocker's other paddles, a fiberglass shaft that breaks down into four pieces, and a pin-and-clip adjustment mechanism.
I found the pieces to all fit together quite snug and had very little play between them. The handle section is adjustable, but does not get quite as small as the Nautical 3-piece paddle. If you are under 5'4" you should consider the 3-piece paddle for its great range of adjustability for shorter paddlers.
The paddle felt very similar to the three piece Nautical fiberglass paddle in the water, but with a bit more flex in the shaft. This makes it quite comfortable to use all day, but does limit how much power you can transfer into speed.
With the great fit between the sections and relatively similar performance, the new five-piece paddle is a great, super-compact, alternative to a traditional three-piece option.
Stability
The Nautical Go Ten-Six has good stability for paddlers of all skill levels, though paddlers over 200 lbs may want to consider a larger option like the Nautical Go Cruiser or the Nautical 11'6".
10'6" long and 32" wide is what I consider to be the quintessential all-around board size. It's large enough for most paddlers without being too large and it is neither too large nor too small for most SUP activities. The Nautical Go Ten-Six also has a more stable shape with a wider nose and width that is carried farther through the tail.
On the water I felt that the Nautical Go Ten-SIx felt quite stable overall. I did feel a small amount of twitchiness to the board while standing still, however at 230 lbs I'm just 10 lbs shy of the recommended rider weight limit. Heavier paddlers (including myself) will feel more stable and comfortable on the Nautical Go Cruiser (10'6" x 34"). Once I started paddling I did feel more stable. Having an active paddle in the water not only provides propulsion, but also provides more stability by acting like the third leg of a tripod.
I was able to walk around on the board a little bit, however the deck pad is limited in size. I was able to partially lift the nose of the board while keeping one foot halfway on the end of the deck pad, however moving any farther back on the board is a slippery slope (literally) as the bare PVC shell provides little traction.
Speed
The Nautical Go Ten-Six is far more of a relaxing ride than it is a fast one. Aside from its cruiser-inspired shape, the less-rigid construction also allows the board to flex more during hard paddling.
In our speed testing, the Nautical Go Ten-Six clocked a top speed of 5.4 MPH, and an average sprinting speed of 5.2 MPH. This is a little bit slow compared to more rigid all-around iSUPs of the same general size and shape, but is also not terribly slow. It can get up and move a little bit when you want it to. When paddling quickly with your whole body, the Go Ten-Six does have a significant amount of flex. This pushes the board down and up in the water column, presents a wider cross section moving forward, and makes it harder to paddle in a straight line. Along with a more flexible paddle you can see why the Go Ten-Six is not necessarily a fast iSUP.
While cruising at a far more comfortable pace, though, the Go Ten-Six had a rather swift 3.7 MPH average cruising speed (25 strokes per minute). That's actually quite quick for a board of its size and shape.
Lastly, the Nautical Go Ten-Six surprised me with an extremely efficient glide. After reaching a cruising speed each paddle stroke can move the Go Ten-Six 21 feet on average before noticeably slowing down. That's a glide ratio of 2 board-lengths per stroke – something we typically see only in touring-style paddle boards.
Maneuverability and Tracking
The Nautical Go Ten-Six uses the same twin-fin setup as the iRocker and Blackfin Ultra series iSUPs, but not to the same end. I found the Go Ten-Six to have significantly better maneuverability performance, but less outstanding tracking performance.
In our maneuverability stress test we use a simple, slightly less-efficient, paddle stroke (the forward sweep) to turn the board in a full circle from a standstill. This method allows us to really see which boards are truly easier to turn for any paddler, not just those who are comfortable stepping onto the tail for a pivot turn! In our test it took an average of just over 6 strokes for the Nautical Go Ten-Six to turn in a full circle. That's a little bit more than average for all-around iSUPs, but it's far quicker than the iRocker and Blackfin Ultra series iSUPs we've tested with the same fin setup.
Reversing the stroke, paddling from tail to nose, results in a much quicker turn (needing an average of only 3.5 strokes), but is difficult to perform if you already have forward momentum.
I did find it easy to step back to the end of the deck pad to gently lift the nose for a pivot turn. However, because the deck pad is relatively short in the rear of the board It is difficult to get the tail to sink/lift the nose more than a few inches without stepping onto the slippery PVC deck.
The Nautical Go Ten-Six really surprised me in our tracking test, but neither in a good nor bad way. The previous five iRocker/Blackfin Ultra iSUPs I've tested that use the twin 9" fin setup have all had fantastic tracking performance. The Nautical Go Ten-Six, though, had quite average tracking performance. I'm not sure if a "neutral surprise" is a thing, but at least it would make a great band name!
In our 10-stroke tracking test the Go Ten-Six deviated from its course by an average of 18°. That's pretty close to average for all-around iSUPs of this size. I did expect it to track better with the twin 9" fins, however I feel that the less-rigid construction leads the board to flex more in the water (particularly with a heavier paddler) which shortens the effective waterline and reduces its tracking ability. Lighter paddlers will likely achieve better tracking performance from this paddle board.
The Nautical Go Ten-Six has two fliplock fin boxes (a "twin fin" configuration) and comes with two 9" fins. Currently iRocker does not officially offer any other fin options for this board, however we have found that the Nautical "side fins" from the original Nautical iSUPs do fit these fin boxes, just without the tethers. This does give you a 5" fin option for shallow water paddling.
Warranty and Customer Support
iRocker offers a 1 year warranty on the Nautical Go Ten-Six iSUP and a 1 year warranty for all iRocker/Nautical accessories. This covers any manufacturing defects or issues that may arise during this time. Additionally, iRocker has a generous 45 day return policy. Returns are subject to inspection for damage and customers must pay for the shipping cost of the return. iRocker's customer service team can be reached via email, web form, phone, and social media if you have any questions about the Nautical Go Ten-Six.
Overall Impressions/Review Summary
The Nautical Go Ten-Six is a great lightweight, low-cost option for smaller paddlers looking for a simple, but effective, all-around iSUP. I still think the Nautical 10'6" makes a better overall choice for the true beginner with a fuller feature set, but the Nautical Go Ten-Six is a great option for a second all-around board/loaner board for your friends, board for your growing kids, and general leisure paddling. Larger paddlers will appreciate the additional width of the Nautical Go Cruiser or the longer Nautical 11'6".
Nautical Go Ten-Six iSUP FAQ
What is the difference between the Nautical Go Ten-Six and the Nautical 10'6"?
The Nautical Go Ten-Six and Nautical 10'6" share the same basic construction, however the Nautical Go Ten-Six has fewer on-board features, twin fins, a smaller deck pad, and has a customizable kit vs the standard kit that comes with the Nautical 10'6".
Is the Nautical Go Ten-Six compatible with a kayak seat?
Yes, the Nautical Go Ten-Six has four D-rings around the middle of the board that are compatible with the iRocker kayak seat kit.
Can I paddle with pets or kids on the Nautical Go Ten-Six?
Yes, you can paddle with smaller pets and children on the Nautical Go Ten-Six, however there are no passenger handles available on the Nautical Go Ten-Six.
Is the Nautical Go Ten-Six durable?
The Nautical Go Ten-Six is made with a high-quality single layer PVC material that is resistant to puncture and abrasion during normal use.
Is the Nautical Go Ten-Six a compact iSUP?
The Nautical Go Ten-Six is not designed to fold in half like the iRocker Ultra iSUPs are. However it is lightweight and rolls up into a small package.