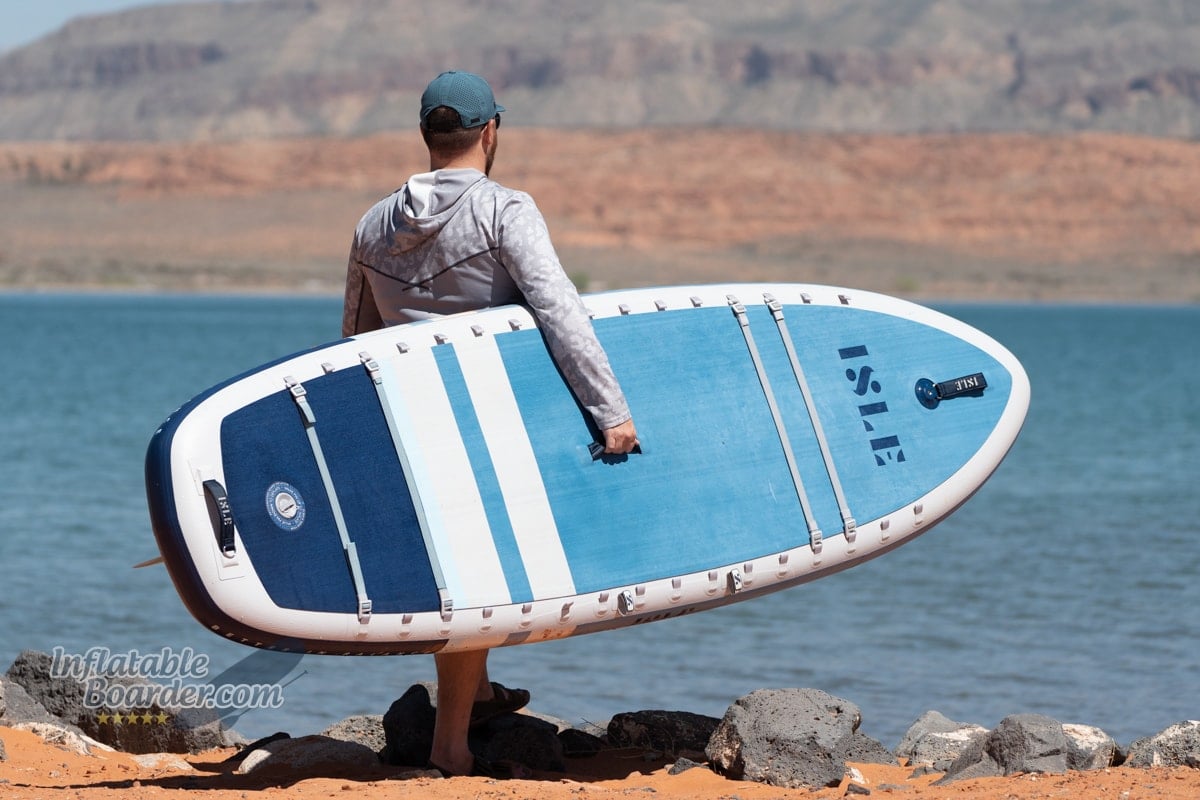 Isle Pioneer Pro 9'6": Overview
The Isle Pioneer Pro 9'6" is the smallest option in Isle's new series of high-performance paddle boards. The wide outline and 32" width keep the Pioneer Pro 9'6" stable for paddlers of all sizes, but is primarily designed for youth and smaller paddlers. The Pioneer Pro 9'6" also makes a very nimble kayak when paired with the optional inflatable kayak seat – a perfect choice for paddlers fishing and exploring the smaller rivers and streams in their area.
— Isle Pioneer Pro 9'6" Summary Ratings and Review —
Isle Pioneer Pro 9'6"
Construction & Durability

Features and Versatility

Stability

Speed

Maneuverability

Tracking
Overall Score
The Isle Pioneer Pro 9'6" is a highly maneuverable iSUP great for smaller paddlers and those looking for a nimble kayak-conversion option.
Pros
Welded internal seams provide better longevity than traditional glued seams
Almost no perceptible flex when inflated thanks to the new Infinity Fiber stringers
Highly maneuverable as both a SUP and kayak making it a great choice for river paddlers
The smaller size makes it more manageable for kids and petite paddlers
Great stability with a 32" wide midsection and wide nose and tail
Good gliding efficiency makes for an easy paddling experience
Customize the board's cargo storage and/or place a kayak seat anywhere along the board for a comfortable seated experience with the Isle Link system
4 year warranty on the board, 2 year warranty on accessories
Cons
The Pioneer Pro 9'6" is extremely maneuverable, but is harder to paddle in a straight line compared to the longer Pioneer Pro 10'6" and 11'6" models
As a heavier paddler I found the Pioneer Pro 9'6" surprisingly stable, but difficult to paddle fast
Construction and Durability
Isle's new "Pro" series of paddle boards are designed with all skill-levels in mind, but are built with a brand new set of materials that give the boards outstanding rigidity, which aids in their longevity and paddling performance on the water.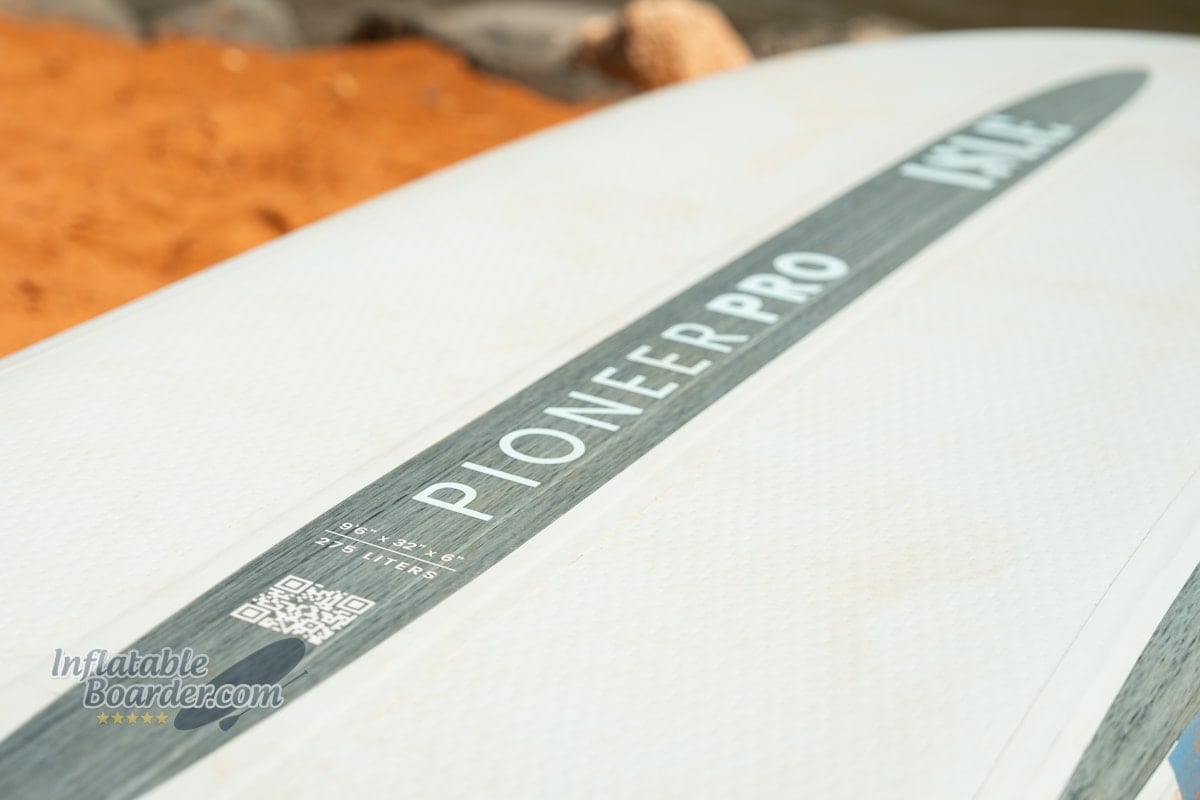 Isle's new Airtech Prolite construction has helped rocket this new series of boards to the top of our recommendations for lots of different reasons.
The Pioneer Pro 9'6" has a completely upgraded internal structure that Isle first introduced with their Switch paddle board. The drop stitch core is made with a woven fabric base layer (vs knitted) and has crossed drop stitch space yarns (vs V-shapes). Both of these changes reduce weight while simultaneously increasing stiffness.
Next, the PVC shell is changed up from a glue-lamination to a reinforced fusion PVC material. This eliminates glue from the shell layers (reducing weight and potential manufacturing issues) and instead uses heat and pressure to fuse the PVC directly to the woven drop stitch fabric layers. This also reduces weight and increases stiffness.
Next up, the deck and hull of the board are brought together and sealed with a welded interior rail band. Heat welding mechanically bonds the two materials into a single, continuous, piece of PVC to create the airtight chamber. Welded seams eliminate glue (and weight) and generally have a longer lifespan than glued seams.
So far this is the same construction as the Isle Switch, but Isle has one more component for their "Pro" series paddle boards – Infinity Fiber stringers. Okay, it's technically six more components, but all utilize the same proprietary material. Infinity Fiber is a fiberglass and plastic matrix that helps eliminate stretch and flex in key parts of the paddleboard.
There are two wide and flat Infinity Fiber stringers on the deck and hull that run almost the full length of the board. These two layers act like the top and bottom sections of an I-beam with the drop stitch space yarns acting as the middle component.
Along the midsection of the Pioneer Pro 9'6" are four more Infinity Fiber stringers that cup around the "corners" of the rails. These stringers not only add more, stiff, material to the middle of the paddle board, but they have a special cupped shape that works like a retractable tape measure. When they are rolled out and inflated the cupped shape resists bending extremely well, but when deflated, they can still be easily rolled up for transportation and storage like a regular iSUP.
So what does that actually mean? Well, the Infinity Fiber stringers and upgraded core construction work together to make the Pioneer Pro 9'6" incredibly rigid both on and off the water.
In our 170 lbs dry-land bend test, the Pioneer Pro 9'6" had just barely more than 1" of deflection (1.023"). Considering the size and weight of the Pioneer Pro 9'6" (20 lbs) this is very, very good. The larger Pioneer Pro 10'6", 11'6" and Explorer Pro 12' and 14' all use the same construction, and all performed excellently – with a few of them becoming test leaders!
On the water the Pioneer Pro 9'6" keeps its rigidity – almost frustratingly so! While standing or paddling I couldn't feel any flex in the board. It just wasn't there – even when paddling over boat wake.
Where I got frustrated was while we were shooting photos for this review and I was trying my hardest to get the board to bend by jumping up and down on it, and the darn thing just wouldn't bend. There's so little flex in this board I have to squint to see any difference between the photo above (standing) and the photo below (jumping with all 230 lbs of my weight).
One thing I did notice while jumping around (but not standing or paddling) was that there was a bit of a tight reverberation feeling as the board tried to flex while I bounced on it (but it just wouldn't).
I'm still trying to process just how rigid this board is on the water. The Pioneer Pro 9'6" is small and light enough that I fully expected it to have some amount of noticeable give while in use, but instead it remained stiff as a board. While the dry land bend test for the Pioneer Pro 9'6" was actually the "worst" of the Pro series iSUPs (but still incredibly good), the shorter length keeps you from actually noticing any of it on the water.
Specifications
Dimensions
Length
9' 6"
Width
32"
Thickness
6"
Weight
Max Capacity
275 pounds
Board Weight
20 pounds
Kit Weight

pounds
Buying Info
List Price
Warranty
4 years
Returns period
60 days
Features, Accessories and Versatility
The Pioneer Pro 9'6" is noticeably smaller than the 10'6" and 11'6" versions, but still retains all of the excellent features that make this series of paddle boards incredibly versatile despite the very clean design. The Isle Link system allows you to move and adjust your cargo storage wherever and however you like it, and also allows you to turn the Pioneer Pro 9'6" from a highly maneuverable SUP into a super fun sit-on-top kayak with Isle's kayak conversion kit.
The Isle Link system is a series of reinforced fabric loop tabs on the outer side of the board. They cover nearly the entire length of the Pioneer Pro 9'6" between the 16 pairs of loops. The included cargo straps are made of a heavy-duty lay-flat elastic material with a heavy plastic G-hook on each end. You can easily slide the G-hooks in and out of the Isle Link loops to change their position and orientation, but once they are in the loops, they stay in place with the tension from the strap and lip of the "G".
You can adjust the tension of the straps at either end by removing the G-hook and pulling the strap through the buckle. At first I was a little bummed that I couldn't just pull the tail of the strap to tighten it while the G-hook was connected to the Isle Link loop, but ultimate this means that the elastic won't slip through the buckle while it's in use (which is a very good thing). You can adjust the tension and position of the straps to hold everything from flip flops and water bottles to extra-large dry bags.
The Isle Link loops are also how you can attach, and adjust, the Isle inflatable kayak seat and foot brace. The Isle Link tabs allow you to change the position of the seat and foot brace to level the board (especially if you are carrying heavy cargo) and fit your leg length. This is a huge step up in comfort, ergonomics, and performance compared to a traditional flat-foam kayak seat (and no foot brace).
The Pioneer Pro 9'6" comes with a 9" touring fin, ultralight leash, repair kit, small dry bag, and a wheeled travel/storage bag. The travel bag has a large fin pocket on the top to hold the fin and other small accessories, a large main pocket with compression straps for your board, and small divider pockets for a breakdown paddle. The wheeled carrying bag rolls easily, but also has exterior compression straps and a padded backpack harness for when you need to carry it.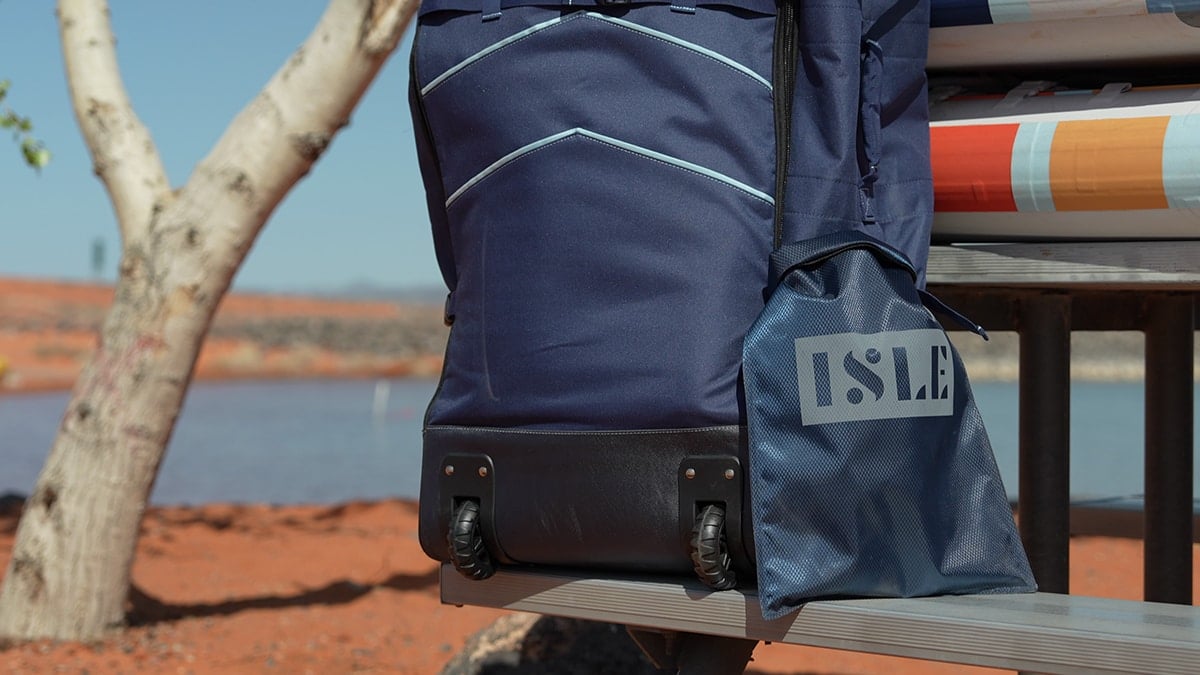 Isle is not automatically including a paddle or pump with the Pioneer Pro 9'6", but does have several options available to meet your needs. You can choose to add an electric or hand pump, and any of Isle's various paddles and other accessories. Or, if you already have a pump and paddle you like, you don't have to add anything.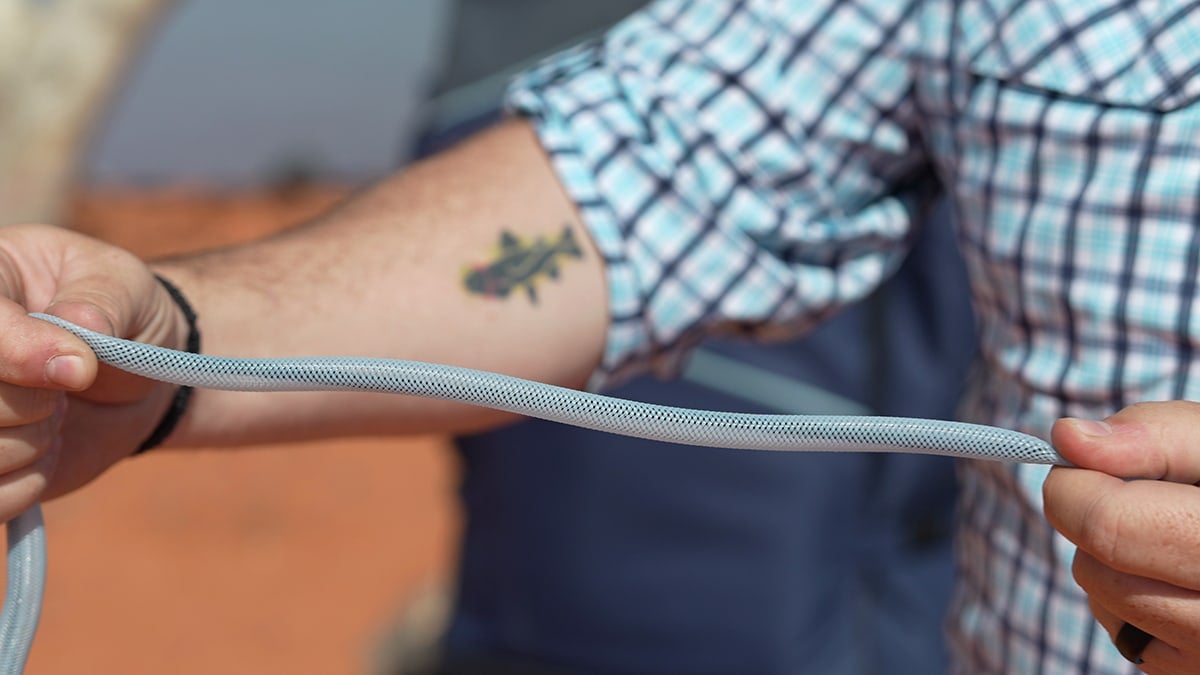 Paddle
The Pioneer Pro 9'6" does not come with a paddle included in the kit. This allows paddlers the ability to pick the best paddle that suits their needs. Also new for 2023 is the Isle carbon fiber hybrid paddle. This paddle has a carbon fiber shaft and adjustable handle, and a fiber-reinforced nylon blade. It shares the same blade shape and size with the aluminum Isle Switch paddle.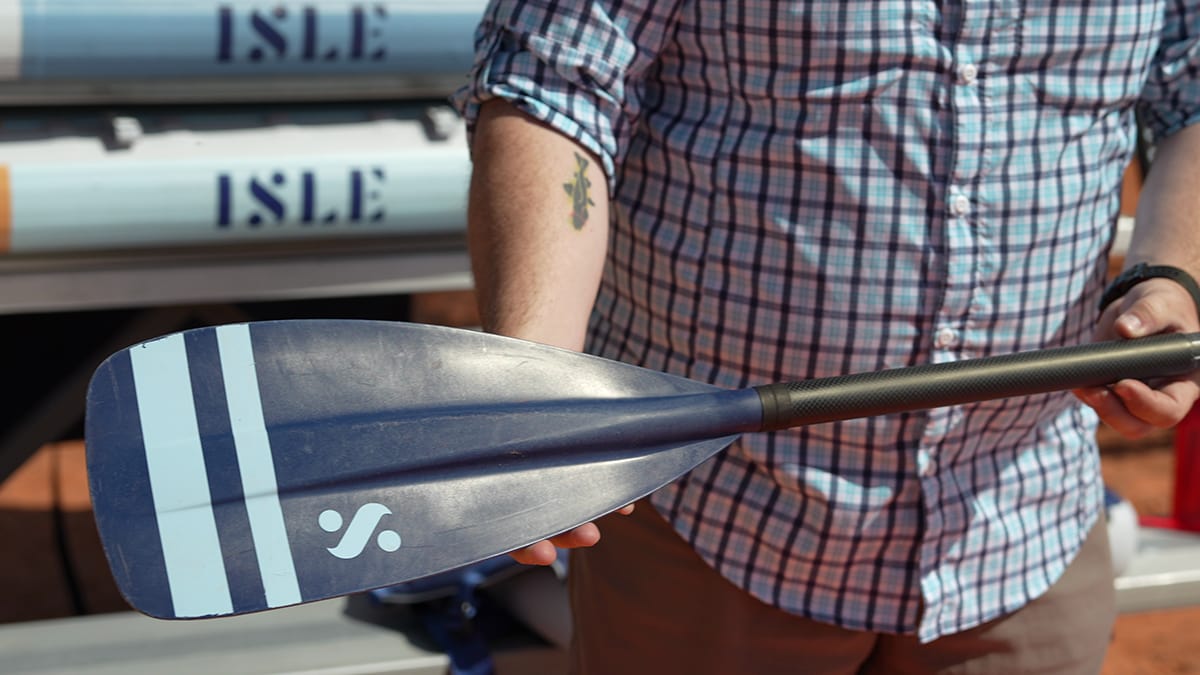 What makes this a hybrid paddle is the seamless integration with a second blade to create a fixed-length kayak paddle. Isle really went above-and-beyond with this hybrid conversion. Rather than simply swapping the handle and blade, the new carbon fiber hybrid paddle has two rows of holes in the ferrule that let you adjust the feather angle of the blade. You can choose to leave it at 0° feather angle – where the two blades are perfectly aligned, or you can rotate one section or the other for a 45° Left or Right feather angle. Feathering the paddle blades provides a more comfortable paddling experience for your wrists and it helps whichever blade is not in the water cut through any headwind you may have.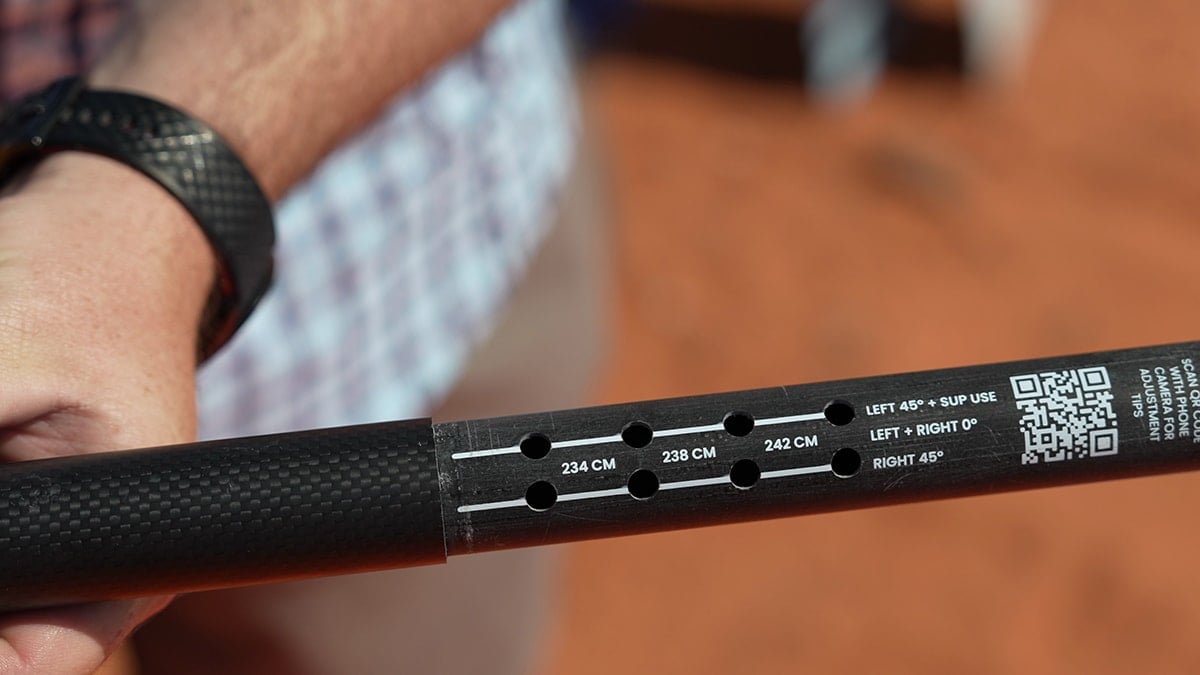 I've not seen this feather angle implementation on a convertible/hybrid paddle before, and I have to give Isle some serious kudos for making it happen. It's an extremely nice touch that pairs perfectly with the versatility of the Pioneer Pro 9'6" as a sit-on-top kayak.
Stability
I had my doubts about how stable the Pioneer Pro 9'6" would feel for a larger paddler like myself. But then I got on it and those doubts disappeared. The Pioneer Pro 9'6" is a very stable board given its size.
Stepping up onto the Pioneer Pro 9'6" for the first time was weird. But good weird. I was just really struggling with the idea of a board this size feeling so casually stable for me, but it was!
At 32" wide and 9'6" long, on paper the Pioneer Pro 9'6" seems pretty small. But the wide nose and tail (21" and 25.5" respectively) bring a lot of volume and stability to the water.
Standing on the board I didn't feel any regular rolling or twitching, but I could feel boat wake and waves more easily than I did on the Pioneer Pro 10'6" and 11'6". I didn't notice any flex at my feet or along the board while standing or paddling, nor did I notice any undue rolling or tilting.
While rocking the Pioneer Pro 9'6" side to side, the rails of the board smoothly dipped and resurfaced with predictable feeling rather than the quick "poppy" feeling that some extra lightweight boards can from time to time. Holding the Pioneer Pro 9'6" on its edge was surprisingly easy to do. The wide nose and tail give a very smooth transition in width from end to end (rather than a very tapered shape). This smooth, near-parallel outline keeps more surface area of the board in contact with the water while on its rail, giving it a more stable feel.
Even stepping all the way back to the tail was surprisingly stable for such a short board. Again, the wide tail makes all the difference here. I was able to easily sink the tail and keep the board steady as I began a few pivot turns. The Pioneer Pro 9'6" stayed very stable throughout until I dipped my leading edge a bit too far and got a pretty good size wobble, but I was still able to stay up and recover quickly.
Speed
Speed on any paddleboard will mostly be up to the paddler, but there are certain design elements that can impact how easy it is to paddle fast. The shorter length of the Pioneer 9'6" does pull down its top speed, but not it's cruising ability.
As a heavier paddler on a board designed more for youth and petite paddlers, I wasn't overly shocked when reviewing my speed test data. With a smaller board there's going to be more pushing down and through the water instead of smooth gliding across the water. With that in mind, I was only able to paddle the Pioneer Pro 9'6" at a sustained sprint speed of 4.3 mph (6.9 kmh) and a peak speed of 4.5 mph (7.2 kmh). A few of our lighter testers were able to squeak out a faster 4.7 mph (7.6 kmh) top speed.
I wouldn't consider this lower top speed to be a true negative, though, as it's mostly a factor of the board's designed purpose as a maneuverable cruiser-style paddle board for smaller paddlers.
While cruising around on the Pioneer Pro 9'6" I found it easy to paddle without any excessive pushing at the nose. At a casual pace of 25 strokes per minute, I was paddling around at a comfortable 3.0 mph (4.8 kmh). Again, our lighter testers had slightly faster cruising speeds at around 3.4 mph (5.5 kmh).
The rigid construction of the Pioneer Pro 9'6" definitely helped during our speed testing. Less rigid iSUPs will bend and flex more as they are paddled faster which reduces their speed and efficiency. Stiffer boards also tend to glide better during casual paddling for the same reason. While paddling the Pioneer Pro 9'6" I was able to travel about 15.5' per paddle stroke before the board began to noticeably slow down. That gives the Pioneer Pro 9'6" a glide ratio of about 1.6 board-lengths per stroke. That's at the upper end of the efficiency range for most all around paddle boards – including longer 10-11' models.
While the Pioneer Pro 9'6" isn't the fastest board we've tested, it still paddles well as a cruiser board. When paired with the Isle inflatable kayak seat and a double-bladed paddle, the 9'6" picks up some steam for the top-end speeds while still cruising easily.
Maneuverability and Tracking
Maneuverability and tracking are two sides of the same performance coin. This is most noticeable with paddle boards that sit at one extreme or the other of the design spectrum. The Pioneer Pro 9'6" trades in some of its tracking performance to be an extremely maneuverable paddle board (and kayak).
Turning the Pioneer Pro 9'6" is quite an easy task. Our maneuverability test is designed to be a stress test for paddle boards. From a standstill, we use forward sweep strokes (paddling in a large arc from nose to tail) to turn the board in a full circle. The Pioneer Pro 9'6" whipped through our test needing an average of just over 4 strokes to make the full circle turn. That is a very fast and tight turning radius. Most all-around iSUPs will need between 5-7 strokes to complete a full circle. Forward sweep strokes are great for gentle steering, but they aren't the fastest method of turning a paddle board.
Reverse sweep strokes (paddling in a large arc from tail to nose) work against the fin rather than with it and give you a faster turning experience. With reverse strokes, I was able to turn the Pioneer Pro 9'6" with an average of just 3.25 strokes. That's over 100° per stroke!
There are lots of different ways to steer and turn a paddleboard. While paddling the Pioneer Pro 9'6" I found that it was very easy to steer while cruising with a variety of different methods. For the quickest turn, I found it really easy to walk to the tail of the board to lift the nose for a pivot turn. I was initially worried that the smaller size of the board would make it difficult to control from the tail, but the wide tail size has plenty of volume to support a paddler for a quick, smooth turn.
The Pioneer Pro 9'6" is super-maneuverable and can essentially turn on a dime. That does make it a little harder to keep the board moving in a straight line over longer distances, though. Good paddle technique will help keep you on course, but let's see how the Pioneer Pro 9'6" did in our tracking stress test.
We check a board's tracking ability with a 10 stroke test. We paddle toward a distant target, and once the board is moving directly toward the target we take 10 forward strokes on a single side. At the end of 10 strokes, we check our new heading and measure the difference between the two using a compass.
The Pioneer Pro 9'6" had an average course deviation of 32° in our testing. This is a pretty big change in course in a relatively short time. However, the 10-stroke test is set up as a stress test. By taking fewer strokes per side, angling your paddle blade, or using steering and turning strokes it is still relatively easy to keep the Pioneer Pro 9'6" moving in a straight line. When using the board as a sit-on-top kayak, the double bladed paddle makes keeping on course an absolute breeze.
Isle includes a 9" touring-style fin with the Pioneer Pro 9'6". I'm really glad Isle chose to stick with this fin for their Pioneer Pro lineup rather than a smaller surf-style fin. This larger fin matches well with the Pioneer Pro 9'6" and gives it better stability and makes straight-line paddling easier than surf-style fins.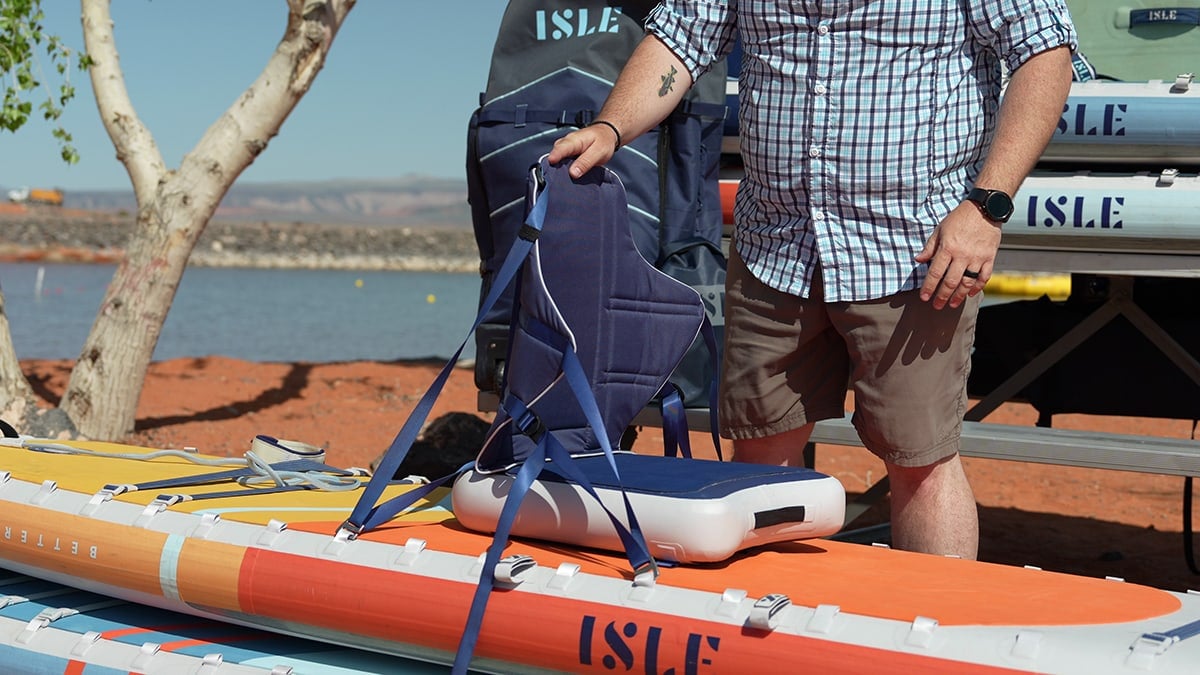 Besides an intended design for smaller paddlers, the Isle Pioneer Pro 9'6" was also brought to market as a highly-maneuverable inflatable sit-on-top kayak. The Isle inflatable kayak seat and hybrid paddle make great additions to the Pioneer Pro 9'6". River paddlers, anglers, and anyone else who is looking for a fun, nimble inflatable kayak will get a kick out of the Pioneer Pro 9'6".
Warranty and Customer Support
Isle is very excited about this new line of Airtech Prolite construction, and is so impressed with the rigidity and durability that they have extended their standard 2-year warranty for iSUPs to 4 years for all Explorer Pro and Pioneer Pro models. Isle still offers a 60-day return period where you can return your board for any reason, less a 20% restocking fee. If you have any questions for Isle about their warranty or products, you can contact them via phone, webform, or social media.
Overall Impressions/Review Summary
The new Pioneer Pro 9'6" offers a lot of different uses for paddlers. Primarily it's a highly stable paddleboard for youth and smaller adult paddlers. However, the generous shape of the board and extreme rigidity from the new Airtech Prolite construction make it stable enough for adults and even more experienced heavier paddlers looking for a super-maneuverable paddleboard. The Isle Link system and excellent optional kayak accessories also make the Pioneer Pro 9'6" a great option for the hybrid paddler. I often paddle on smaller rivers and streams and can easily see the Pioneer Pro 9'6" being a great option for me as either a playful SUP or a stable and nimble sit-on-top kayak.
Isle Pioneer Pro 9'6" iSUP FAQ
What is the difference between the Isle Pioneer 2.0 and Isle Pioneer Pro?
The Isle Pioneer Pro is the next evolution in inflatable paddleboard technology. With the inclusion of high-quality, lightweight drop stitch and PVC materials along with the new Infinity Fiber stringers, the Pro-series iSUPs offer industry-leading stiffness and essentially an "inflatable hard board" paddling experience.
Should I get the Isle Pioneer Pro 9'6", 10'6", or 11'6"?
Picking the right size board is a crucial decision. While the best thing to do would be to read our reviews on the Pioneer Pro 10'6" and 11'6", some relative guidance is to match the board to your size and if you plan to bring any passengers or large amounts of cargo. Large paddlers and those bringing along a passenger or lots of gear might like the Pioneer Pro 11'6", where the 10'6" is a great, versatile option for one adult. The Pioneer 9'6" is best for youth, smaller paddlers, or those more experienced paddlers looking for a stable, but playful paddle board.
Is the Pioneer Pro 9'6" compatible with a kayak seat?
Absolutely! The Pioneer Pro 9'6" has the Isle Link system that is compatible with Isle's excellent inflatable kayak seat. The Pioneer Pro 9'6" makes for a fun, nimble kayak.
Can I paddle with kids or dogs on the Isle Pioneer Pro 9'6"?
You can, but it will depend on the size of the child or dog. If you will be regularly paddling with a passenger on board, we recommend looking at the Pioneer Pro 10'6" or 11'6".