Inflatable Boarder is reader-supported and may earn a commission when you buy through links on our site. Learn more
The 2019 iROCKER SPORT 11′ is a new and improved version of the company's original inflatable paddle board model. This board features a narrower, more performance-oriented design than the rest of the iROCKER SUP range, making it a great choice for intermediate and advanced paddlers seeking a fast, nimble board…
Since coming onto the scene just a few years ago, Jacksonville, FL-based iROCKER has quickly established itself as an industry leader thanks to their affordable and highly durable inflatable SUPs. Currently, there are 8 models in the popular iROCKER paddle boards range, including 3 boards from the company's new BLACKFIN line of premium inflatables.
In this review of the 2019 iROCKER SPORT 11′, we'll first do a brief overview of the board's standout features and construction, then we'll discuss paddling performance, specs, included SUP accessories, and warranty. We'll also share any current iROCKER coupon codes and promotions to help you get the best price on this latest model. Lastly, for those who enjoy video, we've also included several on this page including our full-length review, unboxing, and setup videos.
— In a Hurry? Here's a Quick Summary —
Pros

Ultra-durable (quad-layer construction)


Very affordable


Excellent rigidity


New and improved traction pad


Raised kick tail


Glides well


Good tracking performance


Eye-catching retro design


Three attractive color options


Enlarged bungee storage area


Outstanding bundle of included accessories


Solid 2-year warranty
Cons

Not as stable as iROCKER's other models


Slightly heavier than previous model


Lacking additional D-rings for kayak seat or tying down gear
Price & Where to Buy it
iROCKER SPORT 11′ Review: SUP Overview
Our first impression of the new iROCKER SPORT 11′ inflatable SUP is that this is one beautiful board. New for 2019 is a freshly updated design that looks very sporty and we love the look and feel of the new trackpad.
— Drag slider below to compare the 2018 and 2019 SPORT 11 —
At this time, the new iROCKER SPORT 11′ is only being offered in blue with white stripes. We've always loved the contrasting dual racing stripes and racy, retro-styled appearance of iROCKER's boards, and this year's version looks a bit sportier than last year's in our opinion.
But we all know that looks aren't the most important thing when it comes to buying an inflatable SUP, so let's move on to the more important stuff…
Features
Previously, paddlers had to choose the iROCKER ALL-AROUND 10′, ALL-AROUND 11′, or 10'6″ iROCKER CRUISER models if they wanted additional features like extra D-rings along the rails, but this season iROCKER has included a total of 8 for attaching their optional kayak seat, shoulder carrying strap, or tying down additional gear. The board measures 11′ x 31″ x 6″ this year, with an inch of added width for increased stability — a change which we really like. The SPORT 11′ is also slightly heavier this season at 26 pounds and it's capable of supporting up to 385 pounds.
— Click on hotspots for additional details —
The top deck of the SPORT 11′ has a newly redesigned traction pad that looks great and provides outstanding grip. The multi-colored deck pad features a comfortable crocodile texture which is really easy on the hands and feet, and there's a raised kick tail for increased control during pivot turns and other advanced maneuvers.
Located at the middle of the board is nylon webbed carrying handle that's covered by a soft and comfortable neoprene grip…
The nose of the iROCKER SPORT 11′ features 6 stainless steel D-rings and an enlarged bungee cord storage area for stashing your dry bag, backpack, Crocs, and other gear. There's also a brand new Action Mount which makes it super easy to attach your GoPro camera, waterproof speaker, fishing rod holder, and other accessories.
At the tail of the board is another D-ring for attaching the included SUP leash and there's also a high-quality Halkey-Roberts inflation valve. While the SPORT 11′ can be inflated all the way to 18 PSI, the recommended inflation pressure is 15 PSI.
The underside of the SPORT 11′ features the same triple fin configuration that you see on the company's other models, with two small fixed side fins and a large removable center fin. This year, iROCKER has transitioned from their previously used fixed side fins to three removable fins, a change which we really like. Being able to remove all of the fins now allows you to roll the SPORT 11′ up into a more compact size for easier packing, storage, and transport.
The new removable tri-fin design is also great news for those who happen to rack boards on the roof of their vehicle. Having the ability to remove the fins entirely allows boards to be stacked on top of one another in a much neater fashion…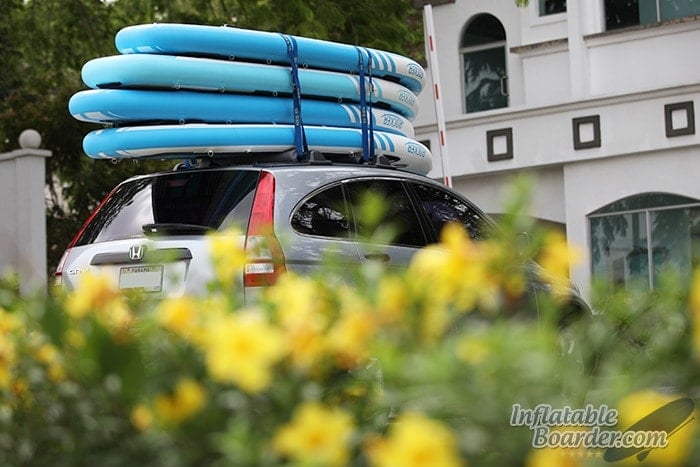 Construction
The regular 2019 iROCKER SUP range once again features the company's bombproof quad-layer PVC construction that's incredibly durable. In addition to the fact that these quad-layer boards are tougher than iROCKER's previous versions, they're also more rigid and can support a higher maximum weight capacity.
All of the hardware used on the iROCKER SPORT 11′ this year is once again top-notch and the fit and finish are outstanding.
Paddling Performance
The iROCKER SPORT 11′ is definitely a board that is designed for speed and performance vs. stability, making this an ideal model for more experienced paddlers. Beginners will most likely find the SPORT 11′ to be a bit unstable in the water, and would definitely be better off with one of iROCKER's other models, including the BLACKFIN Model X or the Model XL — all of which offer greater stability.
Having said that, the 2019 SPORT 11′ is more stable than previous versions as the company has added an extra inch of width. The difference is noticeable and we really think it was a good change.
An incredibly fun board to paddle, the iROCKER SPORT 11′ glides and tracks well. It's also easy to maneuver, and the wedged kick tail really comes in handy when performing pivot turns.
Setup Video
Likes and Dislikes
There's a lot to like about the new iROCKER SPORT 11′, and our complaints are very minor…
First of all, we really like the beefed-up quad-layer construction that the company used once again for 2019 as it's increased both the durability and stiffness of the board. This is a seriously tough inflatable paddle board that handles abuse well and the durable outer skin is incredibly resilient when it comes to cuts, scrapes, and other damage.
We also really like the new design. While the 2019 iROCKER SPORT 11′ shares the same racing stripe styling of the previous version, it looks a lot sportier thanks to the new traction pad and additional stripes. Also, despite the fact that the SPORT 11′ only comes in one color this season, the blue with white stripes is a great looking design.
The updated deck pad is also a nice change from the previous version. Last season's board featured a diamond croc pattern, while the new one incorporates a crocodile texture that is easier on your hands and feet. We also love the raised kick tail at the back of the traction pad.
The integration of an Action Mount into the board's front bungee storage area is also a great new feature. This makes it incredibly easy to attach your GoPro camera and capture amazing footage of your paddling adventures.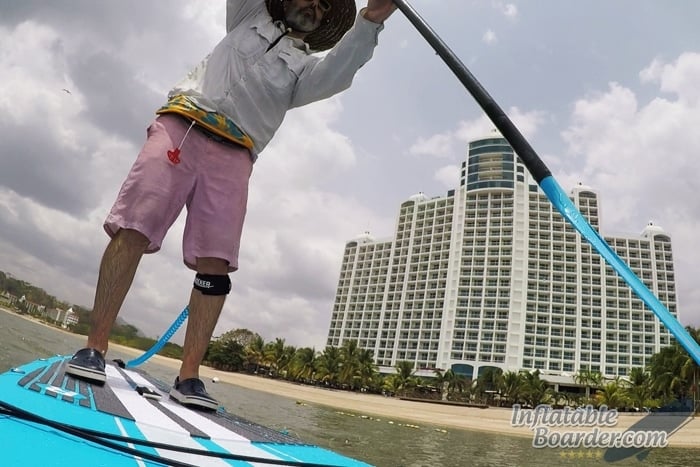 As far as dislikes go, there are really just two very minor things that we'd change. First of all, the board is slightly heavier than last year's model and we'd love to see the company shed a few pounds like they've done with their BLACKFIN lineup for 2019.
Secondly, it would be great if iROCKER added a grab handle at the tail of the board. For now, you can pull the board in and out of the water by grabbing on to the leash but a grab handle would be ideal.

iROCKER SPORT 11'
Durability

Features

Versatility

Stability

Speed

Portability

Warranty

Customer Support

Price
Specs
| | | |
| --- | --- | --- |
| | Length | 11' |
| | Width | 30" |
| | Thickness | 6" |
| | Weight | 25 lbs |
| | Max Capacity | 385 lbs |
| | Price | |
What's Included
One of the things that we've always loved about iROCKER's boards is the fact that they include everything you need to start paddling (aside from a SUP PFD, of course). It's great to know that you don't have to worry about ordering more expensive accessories after your board arrives — it's all right there in the box.
The new iROCKER SPORT 11′ comes with an adjustable 3-piece fiberglass paddle, premium Full Throttle dual-chamber triple-action pump, backpack, leash, repair kit, user manual, quick start guide, and iROCKER SUP sticker pack. This is an incredibly nice SUP accessory bundle, especially when you consider how affordably priced the SPORT 11′ is.
Unboxing Video
Backpack
The overall design of iROCKER's latest SUP backpack remains relatively unchanged since its introduction two seasons ago, but this year the company has transitioned to a heavier fabric, new colors, and added four more D-rings on the rear of the bag for attaching accessories.
The exterior of the bag features several adjustable compression straps for cinching everything up after it's packed, and the bottom of the bag has four rubber feet and a metal grommet for draining.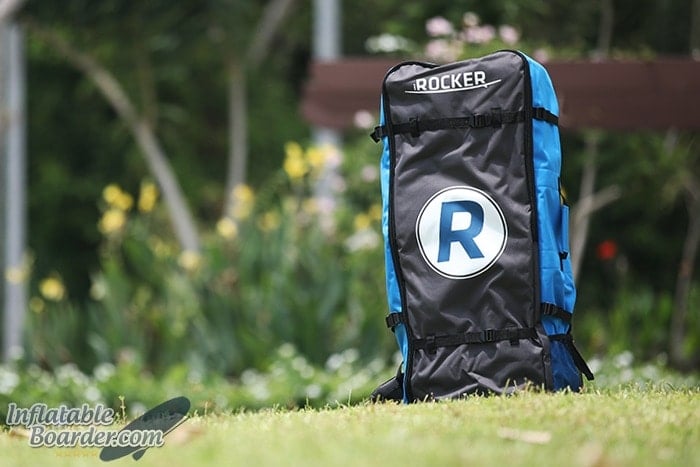 There are handles located on the side and top of the bag, and there's also a see-through luggage ID pocket.
On the back of the bag are two comfortably padded backpack straps that are fully adjustable. The straps feature nylon webbed loops and plastic D-rings for attaching small accessories with a carabiner and there's also an adjustable sternum strap which helps to stabilize the bag when it's on your shoulders.
Lastly, there's a nicely cushioned back pad that is covered by a breathable mesh material as well as a padded waist belt.
Paddle
The paddle that's included with the iROCKER SPORT 11′ is the same durable model that was included with the SPORT 11′ last year. iROCKER has once again color-coded the paddle blade and grip to match the board, and the fiberglass paddle shaft is adjustable all the way to 86″ which is good news for taller paddlers.
iROCKER's paddle has a tested, well-proven design and it's extremely reliable. The paddle floats and the tough nylon blade features a thin rubber coating around the edges to protect it from being damaged by rocks and other hard objects.
Full Throttle Pump
A brand new addition to the iROCKER SPORT 11′ accessory bundle for this year is the company's premium Full Throttle dual-chamber triple-action pump. An improvement on last year's dual-chamber pump, this latest version is lighter (3.81 lbs vs. 5.34 lbs) and inflates the SPORT 11′ in less time and with less effort.
The pump has three modes. When you initially begin to inflate the SPORT 11′, you'll begin on setting #1. As the pumping becomes more difficult, simply turn the Action Control dial to setting #2 and then lastly to mode #3 to finish inflating the board to 15 PSI.
iROCKER's Full Throttle SUP pump also has a built-in pressure gauge with an easy-to-read display, allowing you to monitor exactly how much air is in your board at all times during the inflation process.
Leash
iROCKER also includes a 10′ coiled SUP leash with all of their 2019 boards. Like the paddle, the leash is once again color-coded with the board this season.
The leash features a comfortable neoprene ankle cuff with a hidden key storage pouch and there are dual stainless steel swivels at both ends of the leash to prevent tangling.
Repair Kit
The included iSUP repair kit is housed in a convenient plastic storage container and includes three PVC patches, a valve wrench, and three replacement lever lock tabs for the removable fins.
Stickers, Quick Start Guide, & User Manual
Last but not least, the SPORT 11′ comes with an iROCKER SUP sticker pack, quick start guide, and user manual which contains helpful setup and maintenance information.
Optional Add-ons
In addition to iROCKER's popular line of inflatable paddle boards, the company also has a growing range of stand up paddle board accessories. While the following gear is not included in the SPORT 11′ accessory bundle, we wanted to quickly go over a few of our recommended add-ons.
Kayak Seat Kit
First up is iROCKER's kayak seat kit. This accessory really gives the SPORT 11′ a lot of added versatility as you'll be able to paddle the board sitting down in addition to standing up.
The kayak seat bundle includes the seat and a kayak blade attachment that quickly and easily attaches to the handle end of iROCKER's SUP paddle.
To attach the kayak seat to the SPORT 11′, simply secure the seat's locking metal clips to the D-rings along the board's rails. Then, adjust the nylon webbed straps to your desired length.
When the kayak seat is not in use, it folds up into a small footprint for easy packing and storage in the included iROCKER SUP backpack.
SUP Cooler Deck Bag
Another great accessory to consider adding on to the SPORT 11′ is iROCKER's SUP cooler deck bag. This soft-sided cooler has a versatile lunchbox design that you can use for a lot more than paddling, and it's a great way to keep your food and drinks cool.
Located along the top of the bag is a zippered storage pocket for stashing small items and there's a handy carrying handle on the side.
On the bottom of the bag is an elastic bungee cord with plastic mounting hooks for easy attachment to the board's D-rings.
Lastly, the bag has a water-resistant zipper and the interior is fully insulated to keep things nice and cool.
Fishing Rod Holder
A brand new addition to iROCKER's accessory lineup for 2019, the new fishing rod holder secures quickly and easily to the Action Mount at the SPORT 11's nose, giving anglers a convenient place to stash a rod while out on the water.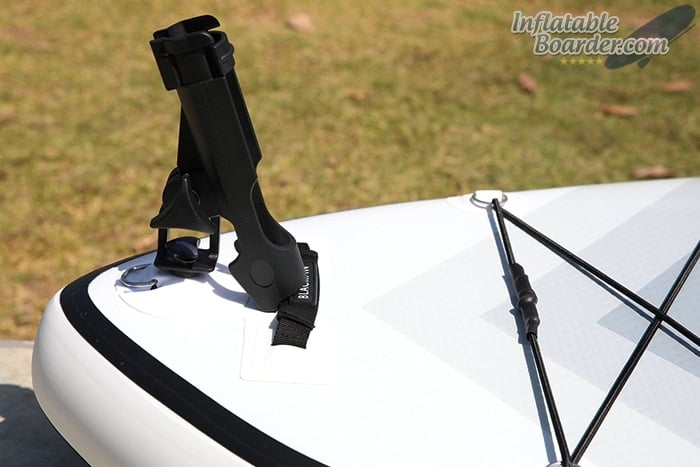 Shoulder Carrying Strap
iROCKER's shoulder carrying strap is another extremely convenient accessory to consider if you spend a lot of time carrying your board back and forth to the water. This strap quickly attaches to the D-rings along the SPORT 11's rail, allowing you to carry your board hands-free.
In addition to the fact that this shoulder strap makes it a lot easier to carry the board around, it also frees up your hands to carry other gear.
iROCKER Electric Paddle Board Pump
A new accessory for 2019 that will definitely make your life a whole lot easier is iROCKER's updated electric SUP pump. Featuring a lightweight, compact design, this pump has a convenient integrated carrying handle, easy-to-read digital display, and auto-shutoff safety feature to prevent over inflation.
While iROCKER's new Full Throttle Pump does a fantastic job of inflating the SPORT 11′, there's simply nothing that beats the hands-free convenience offered by an electric paddle board pump.
This pump conveniently plugs into your vehicle's cigarette lighter adapter and automatically inflates the SPORT 11′ without any effort on your part. Also included is a set of alligator clips that connect directly to your car battery — an alternate way to power the pump and a great backup to have in the event that your cigarette lighter stops working.
BLACKFIN Waterproof Speaker (by Speaqua)
Another new addition to iROCKER's 2019 accessory lineup is the awesome new BLACKFIN Waterproof Speaker. Available in two colors (Black and Tidal Blue), this tough little speaker is sand/dust proof, 100% waterproof, submersible, and it even floats.
Located on the bottom of the speaker is a useful suction cup mount that you can use to stick this speaker securely to smooth surfaces. The suction cup is completely removable, and there's also a threaded insert that you can use to screw the speaker directly onto the Action Mount at the nose of the SPORT 11′.
Despite the small form factor, this little speaker produces a surprisingly rich sound and it's really nice to bring along on the water. In addition to playing music directly from your phone, the speaker also features 4GB of built-in memory, allowing you to store up to 1,000 songs. If you always worry about losing your phone and find it easier to simply leave it behind, this speaker is a great option.
Lastly, the speaker's rechargeable battery gives you up to 5 hours of playback, features built-in speakerphone/microphone/caller-ID functionality, and supports dual-pairing for wirelessly connecting and syncing two speakers together.
Action Mount
If your paddle board didn't come with an accessory mount or you simply want to add another Action Mount to the 2019 SPORT 11′, iROCKER now offers you the ability to order additional mounts. The mount is super easy to install and even includes the 3M adhesive needed for the job.
iROCKER 5″ River Fin
For those who spend a lot of time paddling in shallow water, we highly recommend picking up iROCKER's new 5″ River Fin. This fin features a shorter design that will provide you with additional clearance and it's fully compatible with the SPORT 11's center fin box.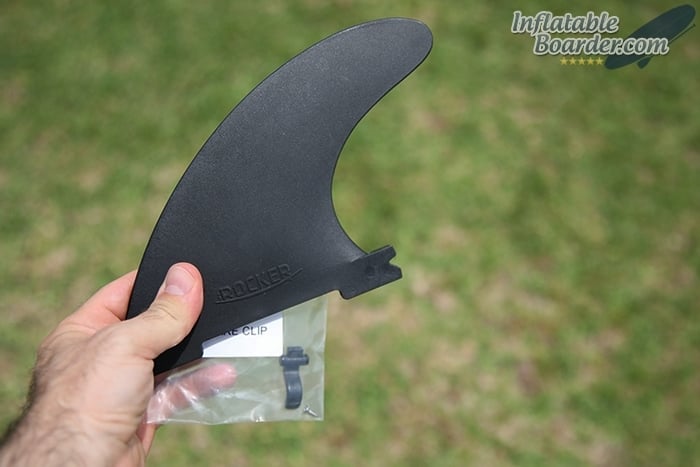 Waterproof Phone Case
Also new from iROCKER SUP this year is a waterproof cell phone case. Able to protect phones all the way up to 6.5″ x 3.5″ in size, this useful waterproof dry bag comes with a convenient lanyard. If you happen to have a smaller phone, it'll even float if you blow a little air into the case before sealing it up.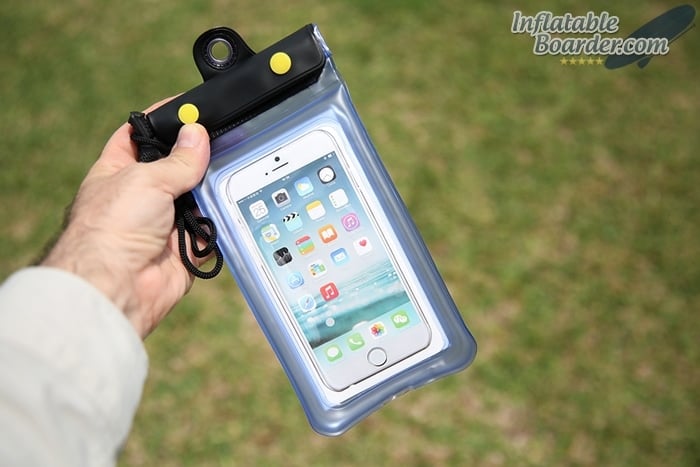 Cell Phone Holder
Last but not least, iROCKER's new cell phone holder quickly screws into the SPORT 11's Action Mount and keeps your cell phone handy and accessible at all times while you're out paddling. If you're planning to pick up iROCKER's waterproof phone case, this is definitely another add-on that you'll want to consider.
Warranty
iROCKER backs all of their boards with a solid 2-year warranty against manufacturer defects and they also throw in a 60-day money back guarantee which is great for added peace of mind.
Where to Buy iROCKER Sport 11
iROCKER's official online store has the lowest price on the new iROCKER SPORT 11′. In addition to the best price, you'll also get fast, free shipping and you won't be charged sales tax unless your state requires it. If you live outside of the United States, you can also place orders directly from iROCKER through the following links: Canada, UK/EU, Australia, and Germany
iROCKER Sales & Discounts
iROCKER regularly offers limited-time promotions featuring discounts on select paddle boards and accessories. These vary by region and change frequently; check out the latest iROCKER promos below. For all the best deals from iROCKER and other top SUP brands visit and bookmark our SUP sales and discounts page.
US: iROCKER Early Black Friday Sale
Canada: iROCKER Early Black Friday Sale
Australia: iROCKER Spring Sale
UK: iROCKER Early Black Friday Sale
Europe: iROCKER Early Black Friday Sale
FAQ
What is the best way to clean the board?
Just rinse off the SPORT 11′ with fresh water when you're done paddling and you're good to go. Once in a while, you may want to hit the board with some mild soap and water for extra cleaning power.
How long does it take to pump up the iROCKER SPORT 11′?
The inflation time varies depending on how quickly you pump, but it typically takes between 5 and 10 minutes to pump up to the recommended pressure of 15 PSI.
Can I leave the iROCKER SPORT 11′ inflated, or does it always need to be deflated?
Absolutely, you can leave the board inflated. Just don't let the board sit out in direct sunlight for extended periods of time, as this can cause damage.
Final Thoughts
iROCKER puts out some of the best inflatable SUPs at incredibly affordable price points, and the 2019 SPORT 11′ packs a serious amount of value. This board comes with everything you need to start paddling, and we love all of the newly added upgrades for this season.
Bottom line — if you're an intermediate to advanced paddler and are looking for a super affordable board that's durable, looks great, and performs well on the water, you'll be hard-pressed to find a better option than the new SPORT 11′.
More Paddle Boards from iROCKER