iRocker Sport: Overview
The iRocker Sport is an iSUP designed for the intermediate paddler who values smooth glide and extra speed in a small package. By reducing the width of the board and adjusting the shape, iRocker has created a faster, nimbler version of their popular All Around 11' with the Sport. It's also a great size for smaller paddlers and tweens to use as an all-around style SUP.
The narrower outline and tail keep the speed high and the added kick-pad increases your stability and confidence when making snappy pivot turns on the iRocker Sport.
While it is designed to be quick and maneuverable, iRocker still includes a variety of on-board features to make the Sport a viable all-around style board as well.
iRocker Discontinues the Sport iSUP
The iRocker Sport has been, sadly, discontinued. If you were considering the Sport, then we highly recommend iRocker's new 11′ All Around Ultra 2.0 iSUP instead. It offers many of the great performance characteristics of the Sport (especially when comparing speed and tracking) in a compact package.
— iRocker Sport 11′ Summary Ratings and Review —
iROCKER SPORT 11'
Construction & Durability

Features and Versatility

Stability

Speed

Maneuverability

Tracking
Overall Score
The iRocker Sport is a fun board for the intermediate paddler and still offers enough stability and features as an all-around board for smaller paddlers.
Pros
Construction and durability
Stiffness
Narrow outline and tail for speed
20 D-rings and 4 Action mounts
Large cargo area
Kayak seat compatible
Raised kick pad
Triple-action hand pump
Comfortable rolling bag
Great warranty and customer service
Cons
Gap between front and rear deck pad could be reduced/eliminated
Could be longer for more speed.
Construction and Durability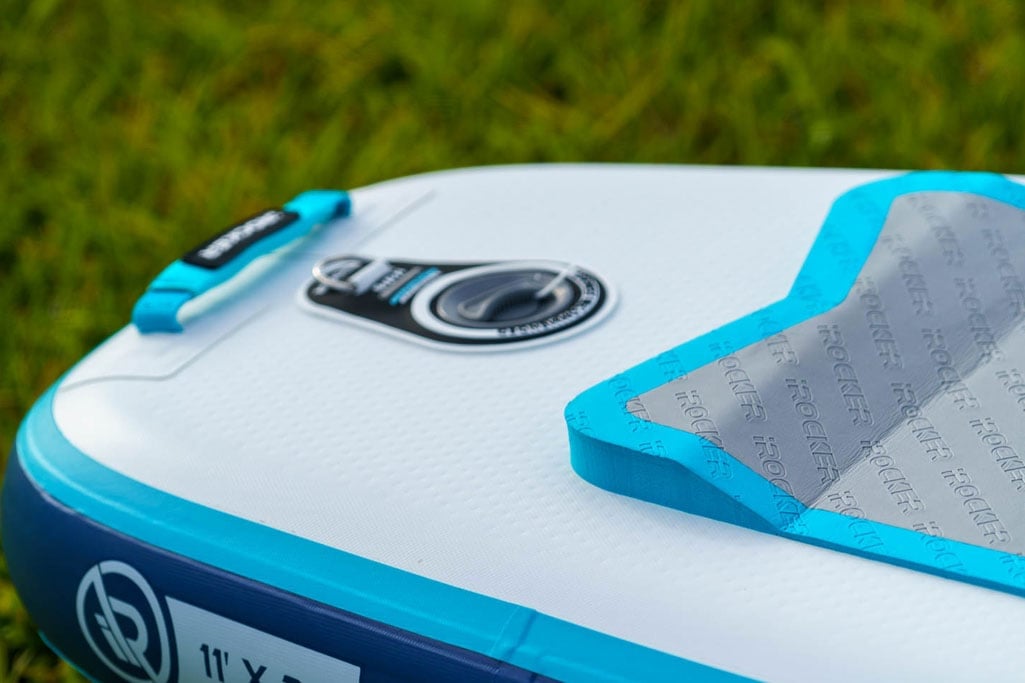 iRocker does a great job balancing durability, weight and stiffness with the construction of the Sport. One of the key elements is the triple layer composite construction used on the deck and hull of the board. By adding a third layer of PVC you can really feel the difference in stiffness and stability in the iRocker boards compared to double-layer or single-layer-only iSUPs.
When walking around on an iSUP it's easy to feel how much give and bounce a board has. While stepping back or forward to change stances, I did feel a slight bounce in the board and a quick "reverberation" as that energy moved from front to back. With the Sport, that overall bounce, or bend, is minimized and the reverberation dissipates nearly instantly. This leads to a feeling of stability and confidence when I step back to the tail for a pivot turn rather than feeling like I'm riding a mechanical bull!
This extra stiffness also lets you transfer more power from your body into moving the board with each paddle stroke. On less-stiff boards you can feel an iSUP bounce up and down as your body moves through the different phases of the stroke. While sprinting with the iRocker Sport I noticed the stiffness reducing this bouncing sensation letting me focus more on my forward stroke rather than maintaining balance.
Each of these three layers is manually glued together. This method has been used and refined for years, and iRocker's quality control is apparent. I have yet to see any excess glue squeeze out or other gluing errors on any of iRocker's iSUPs. This method does add a small amount of weight compared to the newer heat-molding methods, but it does also add to the stiffness of the board as well. Like with most things in paddleboard construction and design, there are always trade offs.
I believe iRocker has used their extensive experience to best balance the techniques, weights, costs, and longevity with their iSUPs. iRocker guarantees their iSUPs for 3 years from manufacturing defects. With just some basic care and cleaning, your iSUP should well outlast this warranty. If you do happen to bump into something, the included repair kit has everything you need to fix minor holes and tears.
Specifications
Dimensions
Length
11' 0"
Width
31"
Thickness
6"
Weight
Max Capacity
385 pounds
Board Weight
25 pounds
Kit Weight
(SUP & accessories)
pounds
Buying Info
List Price
$799.99
Warranty
3 years
Returns period
90 days
Features, Accessories and Versatility
The iRocker Sport differs from the other iRocker, Nautical and Blackfin series boards in several ways. The first, and most obvious one, is the exclusion of a rear cargo area. Because this iSUP is designed to go fast and perform better in surf conditions, the Sport features a raised kick pad on the rear of the board. By removing the cargo bungee from the rear, paddlers can more easily walk to the back of the board and step on the kick pad for a higher degree of control in the surf or to raise the nose of the board for a quick pivot turn. It also has the added benefit of letting you know that you have reached the end of the board without needing to look down at your feet (something that can quickly throw you off balance!).
The remainder of the deck pad features logo-embossed eva foam, and long grooves in the front section to help drain any water that splashes onto your board. There is a large gap of about 8" between the standing area and the rear deck pad. While no doubt this will also aid in water drainage, it also creates a slippery section on the board when stepping back into a surf stance or pivot turn.
While there's not a rear cargo area, there are rear D-rings. You can easily rig these with a bungee cord, or use them to tie down specific items as you need. There are four D-rings in the back for cargo (plus a D-ring for your leash), and four more D-rings in the middle of the board to use with a kayak seat. In between the two you'll find two threaded multi-use action mounts. While these rear mounts are very useful and well-placed in the All Around and Blackfin iSUPs, I found them to be too close to the standing area and a little less useful overall for the intended use of the Sport. Moving these mounts farther to the outside of the board, or integrating them with the rear kayak seat mounts would alleviate this issue.
Up front we have a large cargo area with two integrated action mounts and two passenger grab handles. At 31" wide, the Sport isn't as stable as the All Around 11', so keep that in mind when deciding if you should take a passenger out with you. Smaller paddlers with smaller kids will be fine, but larger passengers may find it harder to balance with a little one up front.
On the bottom of the board you'll find three flip-lock fin boxes – standard on all of iRocker's boards – that are easy to use and require no tools or bolts to attach your fins. You can use all three fins for maximum stability and tracking, just the center fin for increased speed, or stick to the two side fins for low water conditions or a looser feel while surfing.
The wheeled carry bag has plenty of room for your rolled-up Sport along with the paddle, leash, pump, and there's a dedicated pocket on the top of the bag for your fins. The front zippered pocket and two side zippered pockets are great to help organize all of your accessories and personal items, and the four compression straps let you cinch it all down to reduce swaying while rolling or carrying.
Hand pumping your board usually falls into one of two categories – a really easy time, or a really great pre-paddle workout. The Full Throttle triple-action pump makes inflating the Sport very quick and easy. The two different chambers can be used in three combinations (conveniently labeled in order) to quickly inflate your board, then easily increase the pressure to the recommended 15psi.
Paddle
The iRocker Sport includes a paddle with a carbon fiber shaft that keeps the paddle weight down, but keeps it strong enough for heavier and faster paddlers. In the case of the iRocker Sport, we do think it is a little too flexible overall for sprinting and bracing while on a wave face, but have not ever felt that it would break during use. For cruising and touring, the softer feel is welcome to reduce muscle fatigue.
The plastic palm-grip handle at the top of the paddle is comfortable to hold and feels secure in your hand. The handle section is easily adjustable using a pin-and-clip closure that is mechanically simple (ie: less likely to have issues) yet holds well and keeps your handle oriented correctly to your paddle blade, so you'll never have to worry about it twisting.
Most iSUP paddles bundled with boards will have a distinct teardrop shape in the blade. This is a traditional paddle shape that moves a lot of water at once with a large surface area. The iRocker paddle is more rectangular and has a smaller overall size. While this might seem like it would make you paddle slower, the slight cup shape in the blade holds well in the water (letting you put more power into your stroke) and the smaller size lets you use a higher paddling cadence. So while you may not move quite as much water with each stroke, you can use more power and take more strokes per minute.
Or – you can still take nice, long, relaxing strokes as you cruise around the beach. The choice is yours and you can control how you use the paddle – changing it up as you need.
Stability
Stability is affected by a number of different design, material, and construction choices for an iSUP, but width is crucial. The Sport is less stable than the All Around 11', however it is still quite a stable board.
While standing still on the Sport an experienced paddler can tell that the board is a little less stable than a traditional all-around style iSUP, but still requires very little effort to maintain standing – even in light wind and chop. Where you see the biggest difference is when shifting your weight onto one side of the board enough to lift the opposite side slightly out of the water. Here it does take noticeably more effort to maintain stability compared to the All Around 11' due to the lower volume and slightly different shape.
While paddling, these differences essentially melt away. Much like a bicycle, paddling your SUP forward does improve its stability and your paddle acts like the third leg of a triangle to support you.
Speed
The iRocker Sport was designed to be a fast and maneuverable iSUP as an alternative to standard all-around style boards. The narrower outline and slight change in the shape at the nose and tail of the Sport do increase its speed over the All Around 11' and the Nautical 11'6". When paddling side-by-side with these other boards you do notice the extra speed and glide provided by these changes. One thing I did notice – and have noticed this with other iRocker boards – is that when only going by "feel" the iRocker Sport does not seem that much faster than other options, but when actually clocking times the difference is definitely noticeable.
The Sport bridges the gap between all-around iSUPs and dedicated touring iSUPs. For those paddlers that want that little sportier feel in their all-around, the iRocker Sport is just the ticket. If you are wanting to really put on the miles or load up with equipment, then a dedicated touring board like the Blackfin Model V (12'6"x32") or the Honu Sorrento (12'6"x30") are a better option.
Maneuverability
The increase in speed brought about by the narrower outline of the iRocker Sport also increases its maneuverability. While keeping the Sport flat on the water's surface, turning was noticeably easier compared to the iRocker All Around 11' and Nautical 11'6". Where the Sport's maneuverability really shines is when stepping back onto the tail of the board.
The addition of a raised kick pad lets you really sink the tail of the Sport quickly and confidently, raising the nose of the board, and letting you whip around 180° in a single stroke. Pivot turns like these are definitely a more advanced skill, but even putting a little bit of weight over the fins will let you turn much faster than keeping yourself centered on the board. The gap in the deck pad does sit where I would typically place my front foot during a pivot turn. Because there is no gripping surface here, paddlers should take the time to determine if there is a better foot placement available for your pivot turn, or adjust your stance to span across the two sections.
Tracking
Maneuverability and tracking are normally opposed to one another. As you increase a board's maneuverability, it normally reduces its ability to track straight. By reducing the Sport's width and keeping the same 2+1 fin setup as the other iRocker boards, the Sport is able to maintain excellent tracking. When using all three fins, we found that the Sport has very little deviation while gliding (moving without paddling), cruising (consistent paddling, switching sides as little as possible), and while sprinting (taking the fastest, most powerful strokes possible). Due to the slightly shorter length the Sport did have some variability while sprinting, but overall stayed very straight.
Warranty and Customer Support
One of the feathers in iRocker's hat is its amazing warranty and returns policy. iRocker offers an industry-leading 90-day no-questions-asked return policy for all of their iSUPs – including the Sport. If you decide that it's just not the right board for your needs, you can send it back for a full refund (however you will need to pay for return shipping). The Sport also includes iRocker's 3-year manufacturer's warranty against any defects with your iSUP. The return and warranty policies are also backed up by iRocker's excellent customer service. You can reach the Customer Service team by phone, email, chat or social media with any questions or concerns you may have.
Value
We look at several factors when rating the value of an iSUP. While we could just put everything on a scale based solely on price, we feel that would miss out on the actual value provided. The iRocker Sport falls squarely into our midrange price category of boards. When compared with other midrange iSUPs, the quality and quantity of included accessories, and company customer service, we find that the iRocker Sport is an excellent value for any paddler in this price range.
Overall Impressions/Review Summary
The iRocker Sport is a fun, quick, nimble inflatable SUP that is well suited to intermediate paddlers as a "sporty" all-around iSUP, tweens and smaller paddlers looking for an all-around board that matches their size without sacrificing quality, or the racer looking for a compact inflatable to train with on-the-go. Paddlers looking for an iSUP that can tackle some waves will also enjoy the versatility of the iRocker sport as an inflatable longboard.