Newly updated for 2018, the NIXY Venice is a lightweight and super stable SUP fitness board that really ticks all of the boxes when it comes to performance, build quality, and affordability. There's a lot to like about the new Venice iSUP, and this paddle board is our top pick in the SUP fitness category for 2018.
NIXY founders Nicolas and Ale Szczedrin essentially relaunched their entire inflatable SUP line for 2018, incorporating the latest in advanced fusion construction technology, brand new features, and an upgraded SUP accessory bundle.
In this 2018 NIXY Venice review, we'll cover all of this board's features, lightweight construction, overall build quality, performance in the water, pros and cons, included accessories, warranty, and more.
In a Hurry? Here's a Quick Summary…
Pros
Extremely lightweight
Super stable
Excellent build quality
Very rigid
Versatile
Cutting-edge Fusion construction
Affordably priced
Really fun to paddle
Convenient toolless fin system
Bungee paddle holder on rail
Easy to roll up thanks to removable fins and air valve at nose
D-rings for attaching optional kayak seat
Comfortable brushed traction pad that's easy on hands and feet
Nice bundle of included accessories
Premium wheeled SUP backpack
Three color options (aqua, pink, and purple)
2-year warranty
30-day money back guarantee
Cons
No grab handle at nose or tail
A neutral color option such as red would be nice
Price & Where to Buy it
Table of Contents
NIXY Venice Review: SUP Overview
A well-thought-out inflatable paddle board that is designed to provide a comfortable and extremely stable platform for SUP fitness, the new NIXY Venice is loads of fun. Featuring a colorful new design that's available in three eye-catching colors (pink, purple, and aqua), the Venice measures 10'6″ x 34″ x 6″ and weighs in at an incredibly lightweight 19 pounds.
In addition to being the ultimate board for on-the-water workouts, the NIXY Venice is also a great choice for beginners and recreational, all-around paddling. While not the fastest board, the Venice tracks well and is a very confidence-inspiring iSUP under the feet. 
Features
Covering the top deck of the Venice is an extremely comfortable traction pad that is made from soft EVA foam. The deck pad has a brushed surface that is easy on the hands and feet, and the swirled graphic pattern is definitely eye-catching.
Located at the middle of the top deck are two stainless steel D-rings for attaching an optional kayak seat, as well as a lay-flat carrying handle.
At the board's nose is a high-quality Halkey Roberts-style inflation valve, and we really love the fact that NIXY positioned the air valve here as it makes it super easy to roll the board up from the tail to push out remaining air. Also at the nose are four D-rings and a small bungee storage area for stashing a dry bag, flip flops, water bottle, and other gear.
Positioned on one of the rails are two more D-rings to attach the included shoulder carrying strap (more on that below). Located on the opposite rail is another bungee cord for securing your SUP paddle while you're on the water doing a workout, swimming, or taking photos.
At the tail of the Venice is a single D-ring for securing the included leash…
On the underside of the board is a D-ring at the nose for towing or tethering the board, and there are three removable fins at the tail. The fact that all three fins are removable is another feature that we love, as it allows you to roll the board up into a more compact footprint for easier transport, storage, and packing. Boards with removable fins are also easier to stack on a car roof rack.
All three fins attach securely to the board with a toolless fin system that makes use of non-removable screws. Since the screws don't back out of the fins, there's nothing to lose and you'll never have to worry about keeping track of separate nuts, bolts, and tools.
Construction
As far as construction and overall build quality goes, we've been extremely impressed with all of NIXY's paddle boards this season. The company transitioned their entire lineup in 2018 over to the latest breakthrough in iSUP manufacturing — fusion construction. This efficient manufacturing process reduces materials, waste, glue, and also results in a lighter board that remains incredibly stiff and durable.
Right out of the box, the fit and finish of our board was flawless and all of the hardware used by NIXY is top notch.
Paddling Performance
On the water, the Venice is extremely stable and very comfortable to paddle. While speed is obviously not what this board was designed for, it doesn't feel overly sluggish and tracking is pretty good thanks to the triple fin setup.
As far as exercising on the board goes, it's a wonderful experience overall. At 34″ wide, the Venice is incredibly stable on the water and the brushed EVA traction pad doesn't irritate the hands and feet during workouts as you see with many other boards. Also, the lay-flat handle stays out of your way and isn't uncomfortable to lay or sit on.
Likes and Dislikes
NIXY really did a fantastic job with the design of the Venice and there's honestly not much to complain about. We love the solid yet lightweight construction of the board, and at 19 pounds, the Venice is incredibly easy to carry around.
As mentioned, the brushed traction pad is ideal for SUP fitness workouts and it's super comfortable on the hands and feet. We also love the brilliant bungee cord paddle holder on the board's rail as it helps to get the paddle out of the way during workouts — really a convenient feature.
While having no impact on the board's performance, the removable fins and inflation valve at the nose are so nice when it comes time to deflate and roll up the board. This configuration helps you roll the board into the most compact form possible, and you don't have to worry about fixed fins getting bent out of shape or the extra time it takes to roll the board up twice (first from the nose to push air out, then from the tail to roll around the fins and fin boxes). The bottom line is, if you need a compact board that rolls up neatly for super easy storage on a boat, in a camper or RV, etc. — the Venice is ideal. The versatile NIXY Newport is another excellent option.
Lastly, the included SUP accessory bundle is really nice and adds a lot of value — we'll go through everything that's included below…
As far as dislikes go, we only have two very minor gripes. First of all, it'd be really nice to have another grab handle on the board. Secondly, the three available color options are perfect for female paddlers but not-so-great for men — adding a fourth color option that is more neutral (such as red) would be perfect for those guys who might be looking for a great SUP fitness board with a more masculine (or at least neutral) colorway.
NIXY Venice Rating
Durability

Features

Versatility

Stability

Speed

Portability

Warranty

Customer Support

Price
Specs
| | |
| --- | --- |
| Length | 10'6″ |
| Width | 34″ |
| Thickness | 6″ |
| Weight | 19 pounds |
| Max Capacity | 400 pounds |
| Price | |
What's Included
The NIXY Venice comes with a really great bundle of SUP accessories, and included in the box is everything you need to get on the water (aside from your PFD). The board comes with NIXY's brand new wheeled SUP backpack, 3-piece aluminum travel paddle, adjustable shoulder carry strap, dual-action pump, coiled leash, and iSUP repair kit.
Backpack
NIXY's brand new wheeled SUP backpack is one of the nicest we've reviewed. It's a well-designed, top-shelf bag that  makes it even easier to transport and store the Venice when it's deflated and rolled up.
On the front exterior of the bag is a large zippered pocket that can be used to store the included pump, leash, carrying strap, repair kit, and other small accessories. There's also a clear luggage ID window on the front of the pocket which will come in handy if you're planning to fly with your board.
There's also an open storage pocket on one side of the bag which can be used for the included paddle. Just slip the paddle blade and handle down into the pocket and secure the paddle by tightening the bag's external compression straps around the shaft pieces.
On the bottom of the bag are not two, but three large roller wheels — something that definitely sets NIXY's roller backpack apart from others on the market. Having a wheel positioned between the two main wheels helps to prevent damage to the bag when pulling it over rocks, curbs, and other uneven objects. The oversized wheels roll smoothly and feature a nicely grooved traction pattern which helps whenever you're pulling the bag off-road.
Also located on the bottom of the bag is a heavy duty plastic grab handle which helps a lot when you're pulling the bag in and out of the car. There are also grab handles on the top, side, and back of the pack.
On the rear of the bag are two padded shoulder straps that are fully adjustable. There's also a padded back cushion and a padded waist belt which helps to stabilize the backpack when it's fully loaded and on your shoulders.
This bag has dual zippers and opens up nice and wide — giving you easy access to the bag's interior. Inside, you'll find 3 tiered storage pockets for the included fins as well as two additional compression straps.
Paddle
The included paddle features a durable nylon blade and a black aluminum shaft. This is a basic paddle, but it's well-built and gets the job done.
Also, the top and bottom portions of the shaft conveniently assemble through the use of secure locking pins. We like this design as the pins prevent the shaft of the paddle from twisting — a problem which is commonly seen with other 3-piece paddle designs.
Shoulder Strap
NIXY throws in a nice adjustable shoulder strap with the Venice, and it attaches easily to the two D-rings along the rail of the board. This shoulder strap is really convenient when it comes to carrying your board back and forth to the water, as you can throw it over your shoulder and free up your hands to carry additional gear.
Pump
The included BRAVO pump is high-quality and does a great job of inflating the Venice. The pump is an efficient dual-action model that can add air to the board on both the up and downstrokes.
Integrated into the handle of the pump is a convenient pressure gauge which tells you exactly how much air is in the board during the inflation process. The Venice can be inflated all the way to 20 PSI, but 15 PSI is sufficient in our experience.
By the way, NIXY also sells a high-quality electric pump that comes with a nice carrying case. If you can afford it, this automatic electric pump is super convenient and plugs right into your vehicle's cigarette lighter.
Leash
Also included with the board is a coiled SUP leash. We're happy to see more companies including a leash with their iSUPs these days as it's such an important piece of safety gear.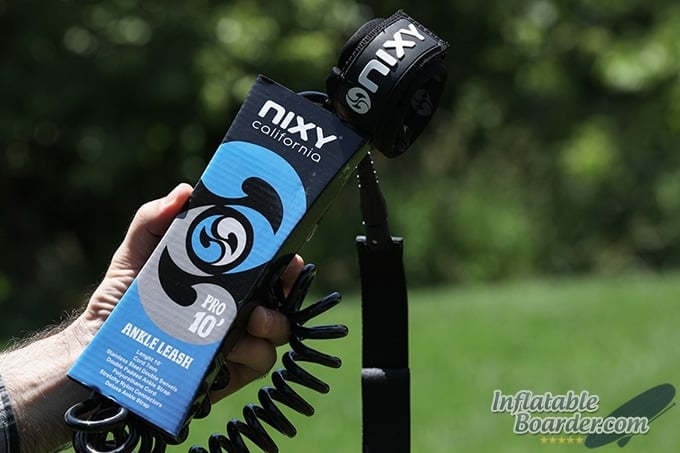 NIXY's leash has a comfortable neoprene ankle cuff as well as a built-in hidden storage pocket for stashing your keys. There are also metal swivels at both ends of the leash which do a good job of preventing tangles.
Repair Kit
Last but not least, the Venice comes with an iSUP repair kit. Inside of the orange plastic canister you'll find a valve wrench, tube of adhesive, and a few white PVC patches.
Warranty
NIXY stands behind all of their inflatable SUPs with a rock-solid 2-year warranty. The company also offers a 30-day money back guarantee for added peace of mind.
Where to Buy it
The brand new NIXY Venice is in stock and ready to ship at NIXY's official website. In addition to offering the lowest prices and amazing customer service, NIXY also provides fast free shipping, no sales tax (unless you're in California), and a 30-day money back guarantee.
Additionally, Amazon also has the Venice in stock…
Final Thoughts
The NIXY Venice is our top-rated SUP fitness board this season, offering the perfect blend of affordability, build quality, and performance. Loaded with excellent features and a great SUP accessory bundle, the lightweight new Venice is the ultimate inflatable paddle board for SUP workouts.