Nixy Venice G4 Inflatable SUP Review | 2023
Inflatable Boarder is reader-supported and may earn a commission when you buy through links on our site. Learn more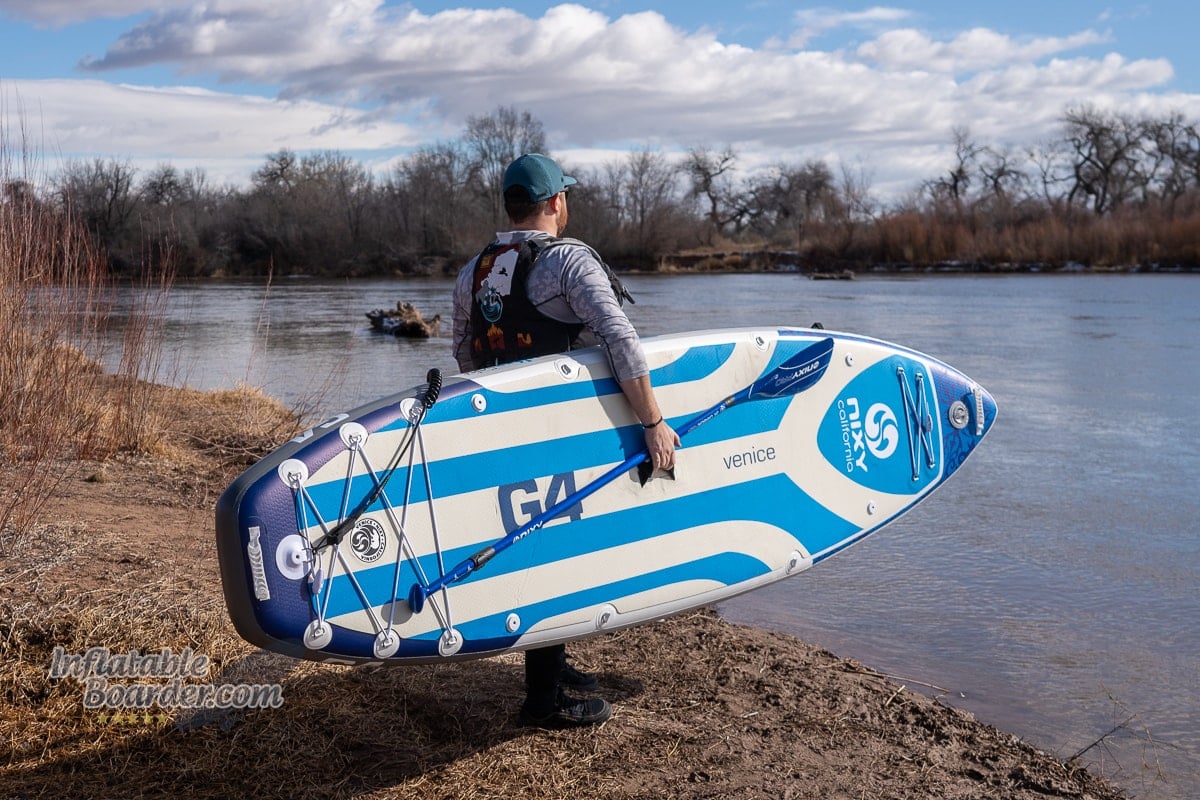 Nixy Venice G4 iSUP: Overview
The Nixy Venice G4 is a cruiser-style iSUP that offers excellent stability, advanced construction, a full-length deck pad, and a whole host of other features to round out a very versatile package. In addition to a great paddleboard, the Venice G4 comes as a complete kit with a carbon fiber hybrid paddle, dual-chamber hand pump, and a high-quality wheeled carrying bag.
— Nixy Venice G4 Summary Ratings and Review —
NIXY Venice G4 Rating
Construction & Durability

Features and Versatility

Stability

Speed

Maneuverability

Tracking
Summary
The NIXY Venice G4 is a 2023 Top Pick that should be a consideration for anyone in the North American market looking for an impressively light, feature-packed cruiser SUP or fitness/yoga paddle board.
Pros
New action mounts
New adjustable/removable bungee storage
New carbon fiber hybrid paddle
New slimmer rolling bag
New 3-stage pump with removable handles and folding feet
Extremely light weight
Excellent build quality
High rigidity and stiffness
Excellent stability
Extensive deck pad for fitness/yoga
Cons
Front cargo area could be bigger
Bungee paddle holder is a bit awkward
Not currently available in UK & Europe
Construction and Durability
Nixy Sports uses a combination of advanced materials and construction to create high-quality, durable, and rigid iSUPs like the Venice G4.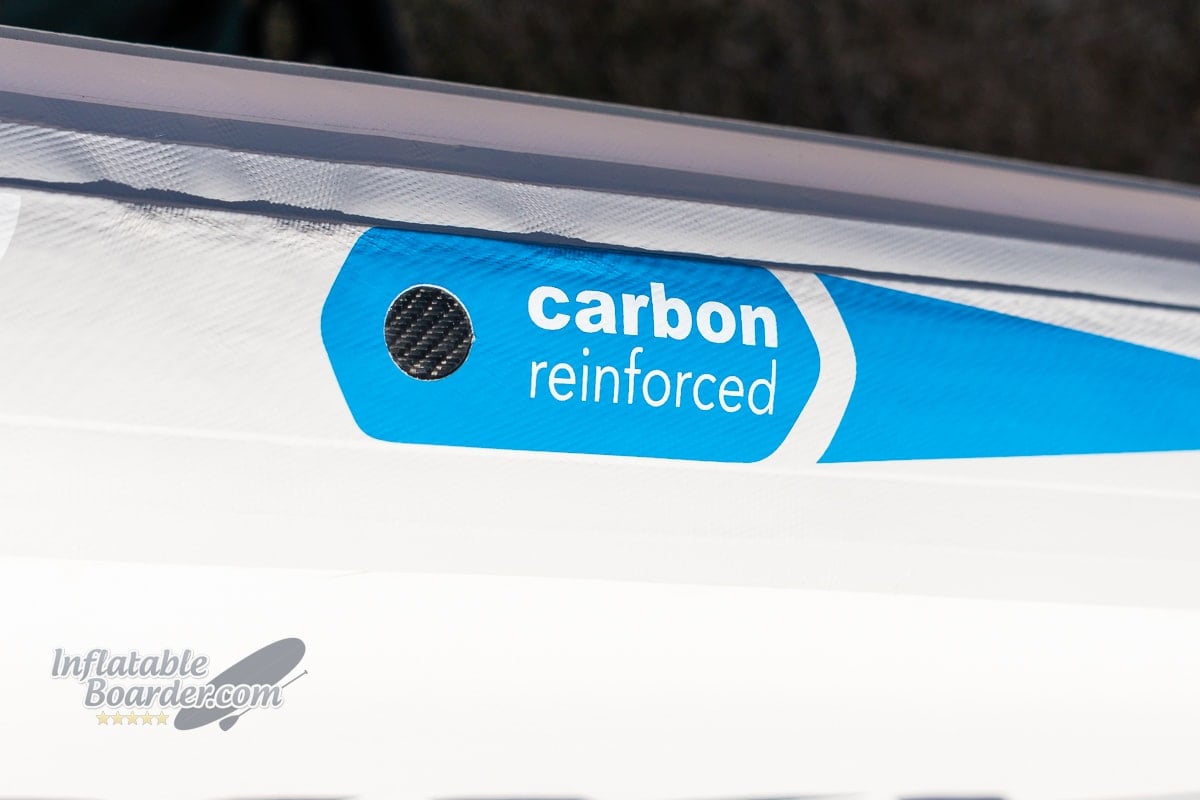 The Nixy Venice G4 is a lightweight, but durable and rigid iSUP thanks to the excellent selection of materials and construction used by Nixy Sports. The interior of the Venice uses a woven fabric (which is lighter and stiffer than traditional knitted fabric) and drop stitch fibers to create the 6" thick core. A dual-layer fusion PVC material is laminated to the drop stitch core. Fusion PVC is highly durable and stiff while also reducing overall weight compared to traditional multi-layer designs that are hand-glued together. Around the sides of the board, there are two layers of PVC to seal the air-tight chamber. A layer of treated carbon fiber fabric is sandwiched between the two PVC layers at the middle section of the board. This carbon fiber reinforcement adds even more abrasion resistances to the highest-wear area of the paddleboard and it increases the overall rigidity of the paddleboard – particularly around the main standing area. Lastly, narrow strips of PVC are added to the top and bottom edges of the outer rail layers to help reinforce and protect the edges of the rails.
While the Venice G4 has a relatively modest maximum recommended pressure of just 15 PSI, when fully inflated the excellent construction really shows. At just 15 PSI, the Nixy Venice G4 is incredibly stiff. In our dry-land bend test we loaded the Venice G4 with 170 lbs of weight while suspended across a 7' gap. When fully loaded, the Venice bent just 1 inch.
Out on the water, the Venice G4 is just as rigid. While paddling normally there's no perceptible bend or flex. While walking around on the venice there's just a little bit of reverberation, however it's very short-lived. It takes jumping up and down on the Venice to get any noticeable amount of flex. Low flexibility increases stability, comfort, and overall performance on the water – and that is all felt while paddling the Venice G4.
Specifications
Dimensions
Length
10'6"
Width
33"
Thickness
6"
Weight
Max Capacity
350 pounds
Board Weight
23 pounds
Kit Weight
(SUP & accessories)
39 pounds
Buying Info
List Price
$895
Warranty
2 years
Returns period
30 days
Features, Accessories and Versatility
The Nixy Venice G4 is a cruiser-style iSUP with a huge amount of versatility thanks to its full-length deck pad and multiple accessory mounting options.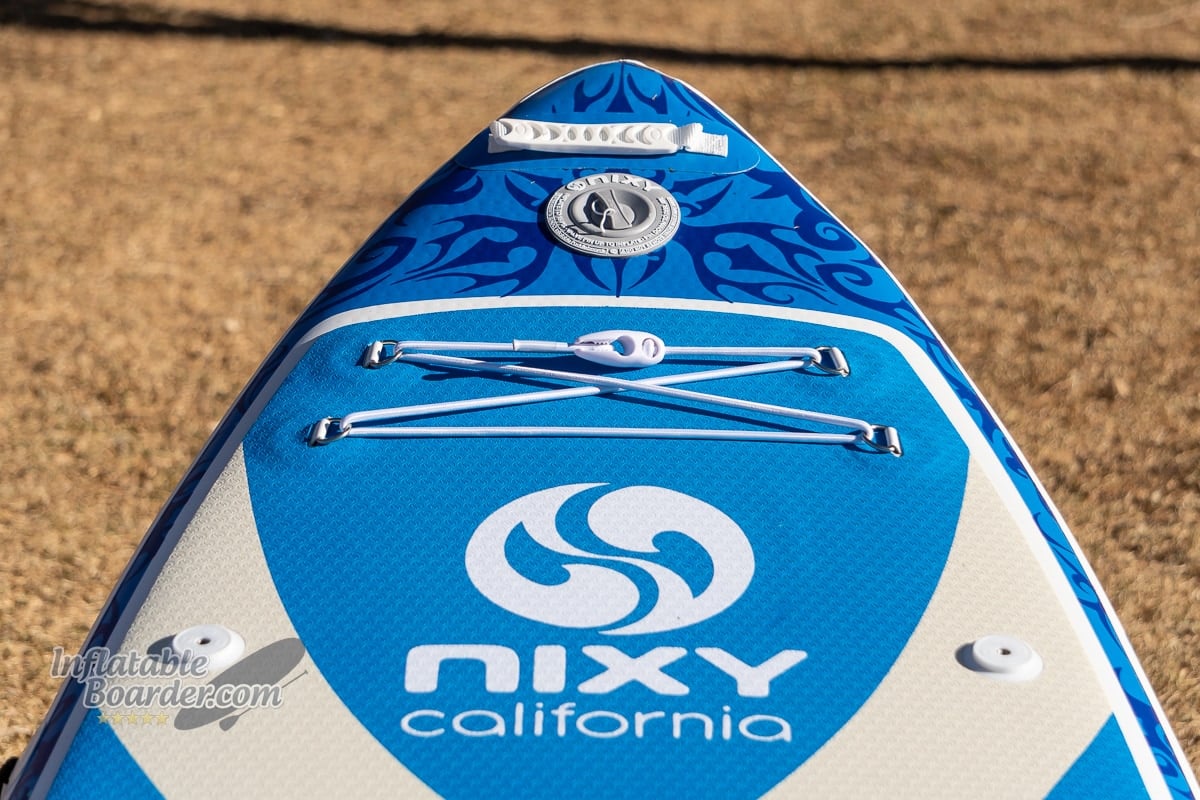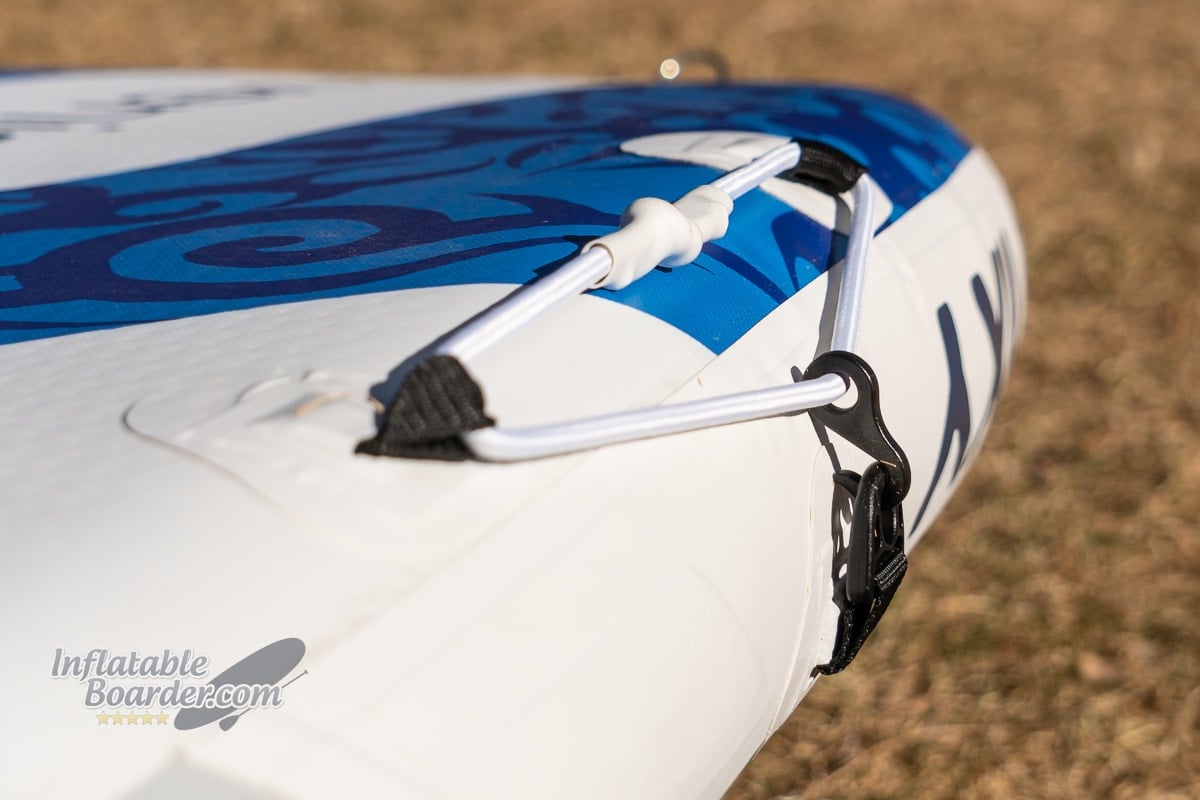 The Venice G4 has a wide, stable shape that is perfect for beginners, yogis, or those who like to paddle with their kids or dogs. In addition, the full-length deck pad covers the entire length of the board from the tail all the way to the inflation valve on the nose of the board. This gives you plenty of room to stretch out and relax, practice yoga, and lots of space for kids or dogs on the front of the board without needing to stand, sit, or walk on the more slippery PVC skin of the board.
There are two cargo areas on the Venice G4. At the nose is a small area that's sized just right to hold a pair of flip-flops and a water bottle (or other small items). The rear cargo area is much larger, stretched across 6 D-rings. The adjustable bungee cord lets you tighten the cord around smaller dry bags, or loosen it for larger items like soft-sided coolers.
On the left side of the nose is a small bungee cord paddle holder. A plastic hook connects into a plastic ring to wrap the bungee cord around your paddle while not in use. The holder itself works well, however it is in a difficult to reach spot. The hook and loop closure can also be a little fiddly to connect fully, so make sure it is fully seated before leaving your paddle unattended.
There are five threaded accessory mounts and five more D-rings placed around the Venice. The accessory mounts use a standard M8 bolt and work with a range of items like speakers, cup holders, fishing rod holders, and more. The four D-rings around the side of the board can be used for additional cargo storage, but are also compatible with the Nixy kayak seat. The last D-ring is on the underside of the nose and can be used to tow the board or with an anchor.
Nixy also includes an excellent set of accessories with the Venice G4. There is a US fin box for the center fin and shorter-length US fin boxes for the side fins. All three of the included fins (one 9" and two 4.5" fins) have a tool-less bolt and connect to built-in nuts in the fin boxes. The Typhoon double-chamber hand pump is easy and fast to use, and the Nixy Hybrid 90 paddle offers great performance. All of this fits easily into the high-quality wheeled carry bag.
Paddle
The Nixy Carbon Hybrid 90 kit paddle is lightweight, durable and paddles excellently in the water.
With a 90 square inch, rectangular paddle blade, the Nixy Carbon Hybrid paddle fits most paddlers well. While the blade is a medium-to-large size, the rectangular shape allows you to more easily adjust the power output by adjusting how deep the blade goes into the water. The nylon blade has just a little bit of flex, and a nicely curved shape for good power transfer without being too hard on your shoulders.
The carbon fiber paddle shaft has a medium amount of flex – so it doesn't feel too soft or too hard. You can paddle hard for a quick sprint or relax with slower, easy-going strokes and the Carbon Hybrid paddle keeps up well. The handle section is also made of carbon fiber and has a height scale to easily set your preferred paddle length each time you hit the water. It does not have an indexing groove, though, so you'll want to make sure that the grip is properly aligned with the blade each time you adjust the length.
Overall the Nixy Carbon Hybrid paddle is my favorite "kit" paddle. It's lightweight (28.5 oz), the blade catches and exits the water cleanly, produces power when you want it and has just enough flex to be comfortably used all day.
Stability
The Venice G4 is an extremely stable thanks to its wide tail and rigid construction.
At 33" wide, the Venice G4 is a little bit wider than your average all-around iSUP. The tail is also on the larger-side at 23.5" wide. Along with the very rigid construction, the Venice G4 has more volume and more stability than most all-around iSUPs. The lightweight construction does have one, very-specific and rather minor, drawback in stability, though. When the board is rocked back and forth (either on purpose or by waves/wake/wind) if the rail dips low enough to be submerged (as shown in the photo above) the Venice can have a bit of an overly-buoyant "popping" or "twitchy" sensation as it quickly resurfaces. This tends to happen on lighter-weight iSUPs as the board has less mass to resist tilting quickly. I did not, however, feel this during normal paddling, or even when walking on the board or performing pivot turns while balancing on the tail of the board.
The large deck pad gives plenty of traction no matter where you are on the Venice G4. The main area of the board is also free of obstructions, making it a great option for SUP yoga.
Speed
The Nixy Venice G4 is built for cruising, not for racing, so it's no surprise that the Venice isn't one of our top-ranking fastest iSUPs.
The Nixy Venice G4 did give us a very respectable average top speed of 5.25 MPH (8.4 KmH), however this was a peak speed measurement. Holding this top speed for more than a couple of paddle strokes at a time is extremely difficult. As a cruiser-style iSUP, though, its top speed isn't nearly as important as its cruising speed.
While paddling at a normal rate of 25 strokes per minute, the Venice G4 easily maintained an average speed of 3.0 MPH (4.8 KmH). This is a very normal speed for a shorter iSUP like the Venice.
The last component of speed that we test is glide efficiency. This is a measure of how far a paddleboard will move with a single paddle stroke before it noticeably slows down. The Venice glides an average of just over 16 feet, or 1.55 board-lengths, with each paddle stroke. This is an essentially average result for all-around and cruiser-style paddleboards (with a range of about 1.3-1.7 board-lengths per stroke).
A cruiser-style iSUP like the Venice doesn't need to be a speed demon, but one thing that could be holding the Venice back from better efficiency on the water is its tracking performance.
Maneuverability and Tracking
The Nixy Venice G4 is a very maneuverable iSUP, but, on the flip-side, it could see improvement in how well it tracks over longer distances.
The Venice G4 is quick to turn around when you want it to. "Dolphin"-shape fins made to favor maneuverability and the shorter length and relatively high amount of nose rocker (6.25") all work together to make turning a breeze. From a standstill, it takes just over 5 paddle strokes on average to turn a full 360° using forward sweep strokes. Of course, turning less than a full circle is even easier and I was able to turn more than 90° with a single stroke.
Thanks to the long deck pad and wide tail, walking to the rear of the board to lift the nose for a pivot turn is also very easy. With the tail just under the surface of the water the Venice G4 spins quickly (180° easily with a single stroke) and stays pleasantly stable the whole time.
While the Venice is easily maneuverable, this does make it harder to track in a straight line over longer distances. It's certainly not the worst-performing paddleboard we've tested when it comes to tracking, but its performance could be improved. The Venice veered off course an average of about 20° during our 10-stroke tracking test. This isn't an overall bad result, but this amount of course deviation can make paddling long distances less efficient.
While paddling quickly to accelerate and maintain a high speed, the Venice's tracking performance suffered greatly. Again, though, the Venice G4 is a cruiser SUP that's not meant for regular use at high speed. Swapping the center fin to a touring-style fin would improve the Venice's tracking ability if you plan to paddle longer distances.
Nixy has put a US fin box on the Venice for the center fin and short-base US fin-style fin boxes for the side fins. All three feature a built in nut for use with the included tool-less fins. The bolts are held in place on the fin with a washer and they are easily installed and removed with just your fingers.
While the center fin box can use other US fin box-compatible fins, the side fin boxes are very short. I am not personally aware of fins other than Nixy's that fit these fin boxes.
The three fin setup is one of the most versatile options for an all-around and cruiser-style iSUP like the Venice. You can use just the center fin, all three fins, just the side fins, or swap the large center fin for a shorter (or longer, or different shape) to adjust the board's performance to suit your needs.
Warranty and Customer Support
Nixy has a 2 year warranty on their inflatable paddleboards and a 1 year warranty on accessories (bag, paddle, pump, etc.). Additionally they do offer a 30-day return window and will cover the cost of return shipping if you are not satisfied with your purchase. You can contact Nixy's excellent customer service team via phone, email, social media, or through their website.
Value
The Nixy Venice is a high-quality cruiser iSUP with lots of versatility, a lightweight, durable, and rigid construction, and it comes with an excellent set of accessories. For new paddlers, SUP Yoga enthusiasts, or anyone that wants a high-quality cruiser iSUP, the Nixy Venice G4 offers an immense amount of value.
Overall Impressions/Review Summary
The Nixy Venice G4 is a great iSUP for a wide range of paddlers. The extra stability makes it great for newer paddlers, SUP yoga, and paddling with a kid or dog (especially thanks to the full-length deck pad). The board itself is lightweight and easy to carry, it inflates easily with the double-chamber hand pump, and the kit paddle is absolutely top-notch. The only thing I would change about the Nixy Venice G4 is the location of the paddle holder – it's just a little hard to reach. Otherwise there's not much that can't be done on the Venice. It's an easy recommendation for me to make – if you're looking for a cruiser or wider all-around iSUP, the Venice G4 should be on the top of your list.
Nixy Venice G4 iSUP FAQ
Is the Nixy Venice G4 good for beginners?
Absolutely! The 33" width and extra-wide tail make the Venice G4 very stable while still being easy to paddle.
How long does it take to inflate the Nixy Venice G4?
It only takes about 8 minutes to inflate the Nixy Venice G4 to its maximum recommended 15 PSI using the included triple-action hand pump. We do prefer electric pumps for their hands-off convenience, and Nixy's Ventus electric pump is one of our favorites.
Can I use a kayak seat with the Nixy Venice G4?
Yes! The Venice G4 has four d-rings around the middle of the board that can be used to attach a kayak seat. Nixy also sells extra paddle blades for each of their available paddles for an easy conversion from single- to double-blade paddling.
Is the Nixy Venice G4 a good value?
Yes! The Venice G4 not only performs well on the water, but has excellent construction quality, great accessories, and Nixy has fantastic customer service and a 2 year warranty on their iSUPs and 1 year warranty on accessories.
Can I bring my dog along on the Nixy Venice G4?
You bet! The stable shape and full-length deck pad are perfect for paddling with your pooch!