Tower Xtreme: Overview
The Tower Xtreme is part of Tower's "Elite Series" line of inflatable paddle boards that are built around an 8" thick core. This gives the Xtreme significantly more volume, rigidity, and carrying capacity than their 6" thick "Premium Series" iSUPs like the Yachtsman.
— Tower Xtreme iSUP Summary Ratings and Review —
Tower Xtreme
Construction & Durability

Features and Versatility

Stability

Speed

Maneuverability

Tracking
Overall Score
The Xtreme is a high-volume all-around iSUP that has a high weight capacity and high rigidity
Pros
8" thick construction increases the Xtreme's rigidity at lower pressures
High weight capacity
Very maneuverable
Durable double-layer PVC construction
Easy to use hook-and-pin fin box
3 year warranty
Cons
The 8" thick board raises your center of gravity reducing overall stability compared to thinner boards of the same width
The Elite Series iSUPs come with the same basic-level accessories as the Starter Class iSUPs
Construction and Durability
Tower's 8" thick Elite Series iSUP construction is the pride and joy of their product lineup. They are among the very few brands that produce an 8" thick iSUP outside of multi-person party boards. The Xtreme uses the same double-layer construction as their Premium Series boards, but with a thicker core.
An inflatable paddle board's thickness is determined by the length of the drop stitch yarns that connect the top and bottom layers (deck and hull) together. Without those yarns the board would inflate with a round shape (like a hot dog) instead of the flat shape needed for paddle boarding.
Two layers of knitted fabric are stitched together with 8" long yarns to create the drop stitch core for the Tower Elite Series iSUPs. The fabric is then coated with a layer of PVC, then a second layer of reinforced PVC tarpaulin is hand-glued to the first layer.
Once the shape of the board is cut from the fabric, the deck and hull layers are brought together and joined by gluing a layer of reinforced PVC material all the way around the sides of the board. That makes the air tight chamber of the board. Another layer of PVC is then glued around the edges again. This outer rail layer helps protect the inner rail layer and add rigidity to the board.
The only difference in construction between the Tower Elite Series and Premium Series iSUPs is the thickness of the board (8" vs 6").
Tower boasts that its Elite Series 8" thick construction is "240% more rigid than all 6" iSUPs on the market." Now any time I see such a blanket statement my skeptic alarm starts to go off. Thankfully we do a standardized bend test with all of the boards we've reviewed in order to help determine overall rigidity and validate or debunk these types of claims.
In our standard 170 lbs bend test the Tower Xtreme bent just 0.98". Now that is a very impressive result and does in fact beat most of the 6" iSUPs we've tested. However it doesn't beat them all (we have five 6" iSUPs that tested stiffer and six more that tested equally as-stiff). The Tower Xtreme is only 240% more rigid than 10 lowest scoring iSUPs we've tested (of over 80 models). In fact, the Xtreme is only 1.8x more rigid than Tower's own 6" thick Starter Series iSUP.
Now all of this is with the Tower Extreme inflated to its recommended maximum 12 PSI. It could actually be even stiffer at higher pressures, however Tower recommends just 12 PSI for "optimal performance." Will it suddenly become multiple times more rigid at 15 or even 20 PSI? It's not likely. In our experience and testing, higher pressures do result in more rigidity, but typically with diminishing returns, especially after 15 PSI.
Even with that blanket claim debunked, the Tower Xtreme is actually very rigid. It wasn't just rigid in our bend test, but also on the water.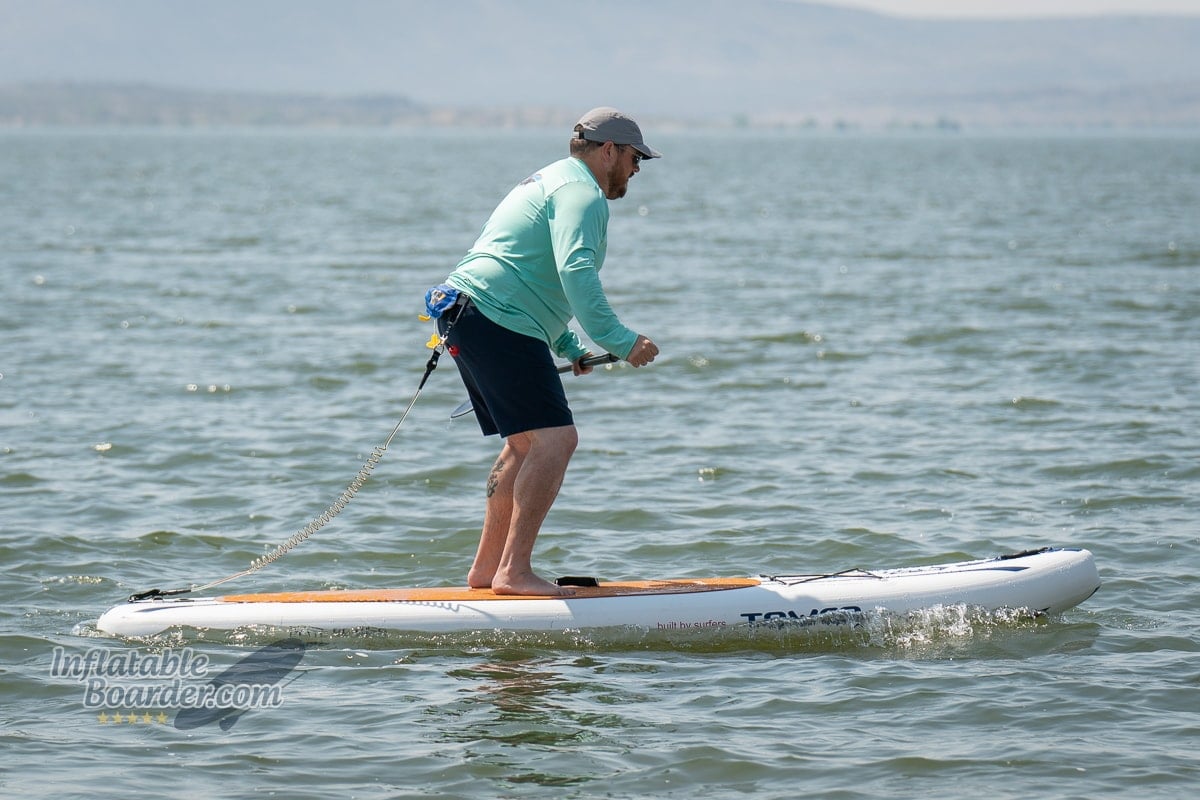 While standing and paddling normally on the Tower Xtreme there is no noticeable flex in the board. It feels very rigid, even at just 12 PSI. While paddling harder, moving around on the board, and bouncing around on it, there isn't much more flex, but rather I noticed a strong vibration with a strong rebound. This type of rebound can sometimes happen with stiffer inflatable boards. There is another aspect to this feeling that I'll get more into in the Stability section below. But as far as stiffness goes, the Xtreme does stay extremely rigid while on the water.
Specifications
Dimensions
Length
10' 4"
Width
35"
Thickness
8"
Weight
Max Capacity
550 pounds
Board Weight
29 pounds
Kit Weight

36 pounds
Buying Info
List Price
Warranty
3 years
Returns period
30 days
Features, Accessories and Versatility
The Xtreme is an all-around style iSUP that's extra wide and has a higher weight capacity thanks to its 8" thick build. Beyond the extra size, the Xtreme shares essentially the same basic feature set and accessories as Tower's other all-around iSUPs.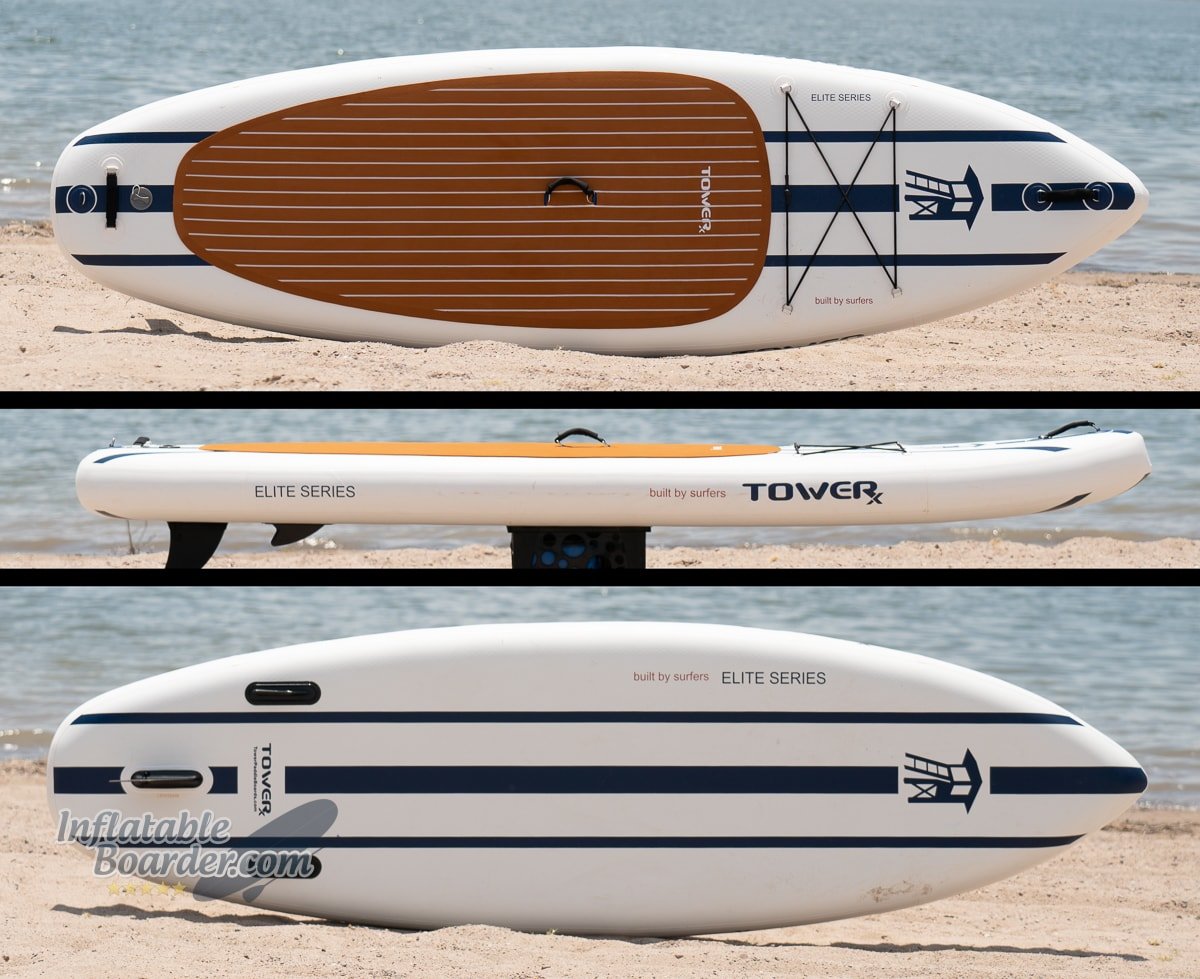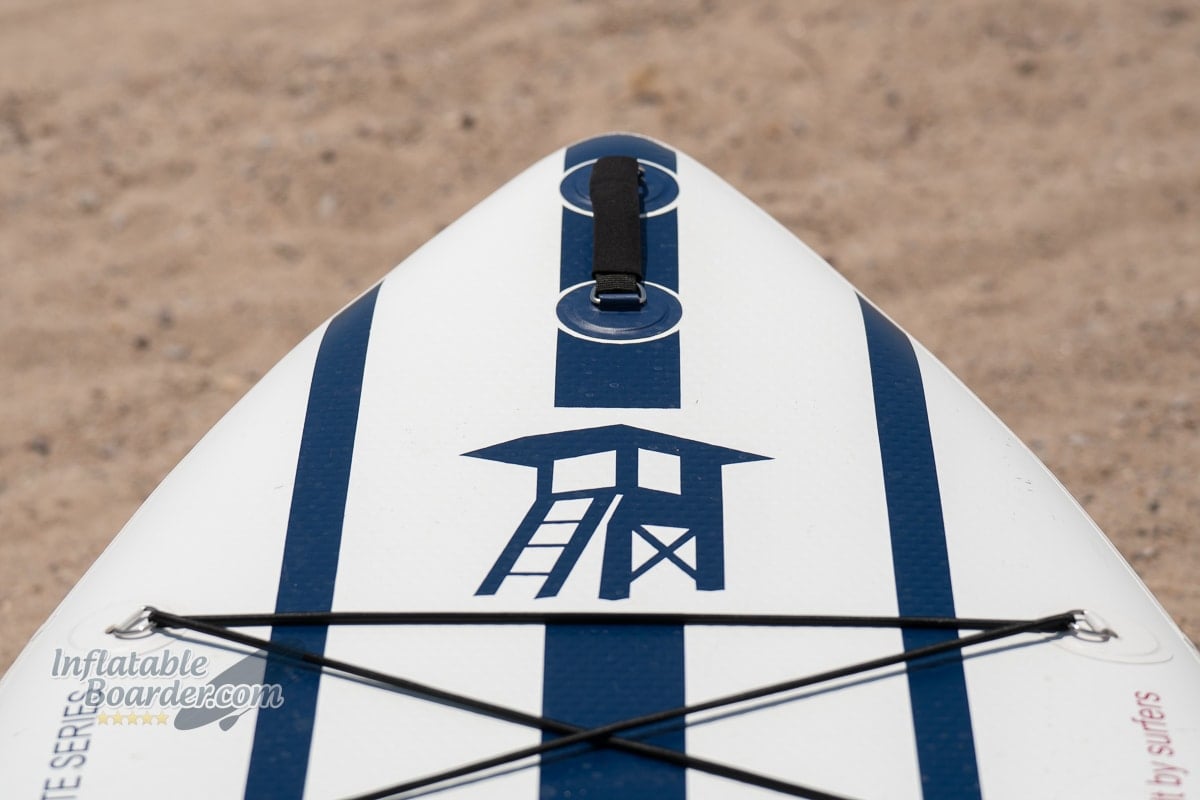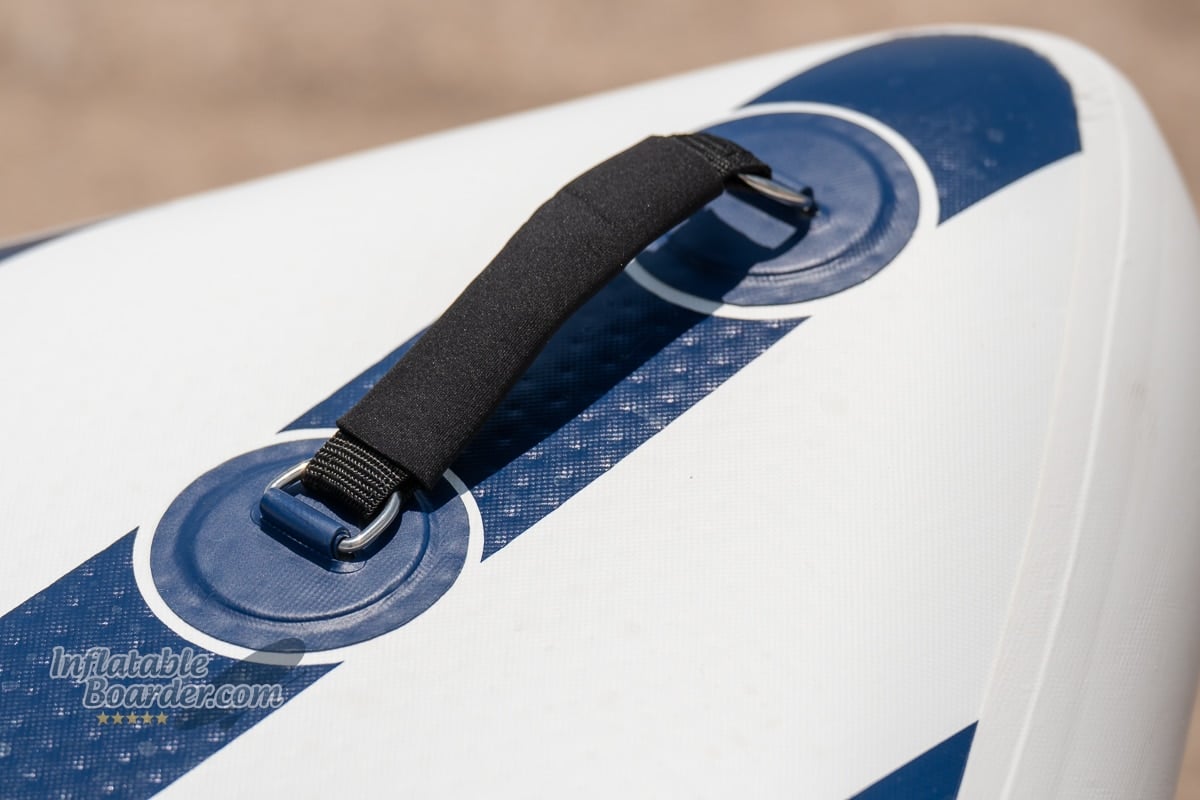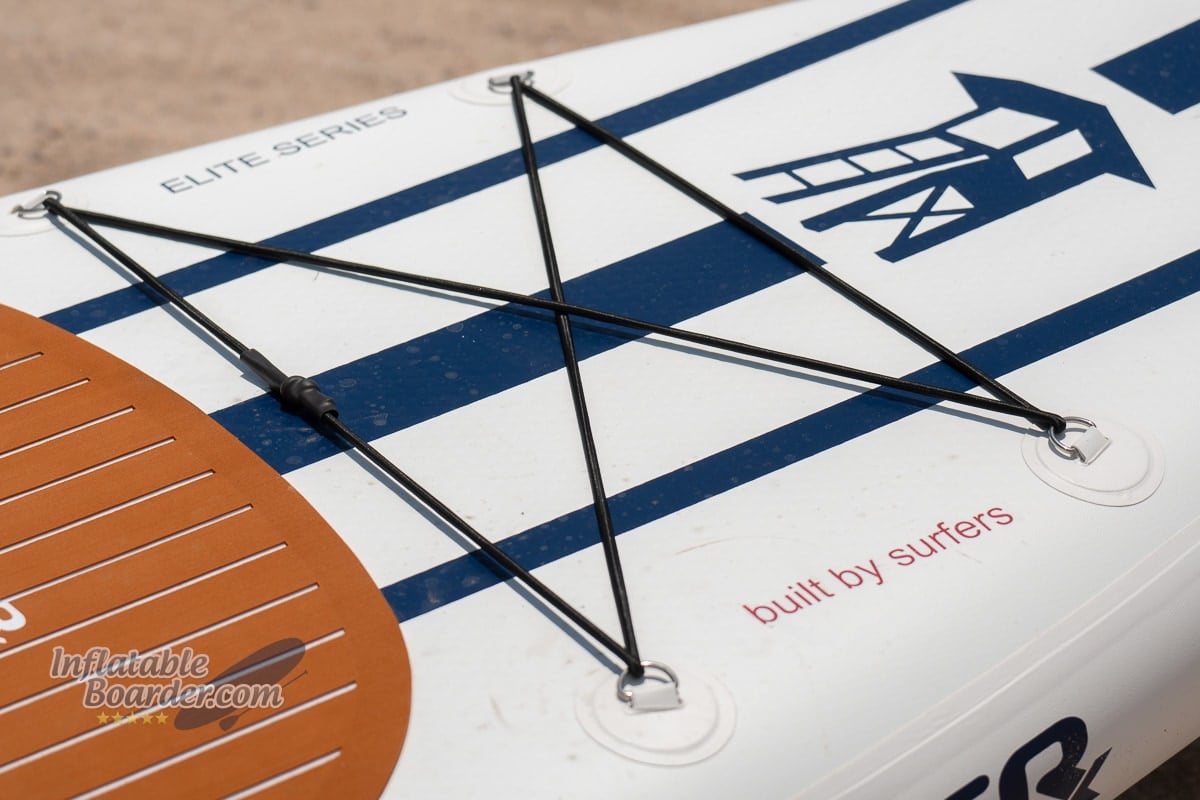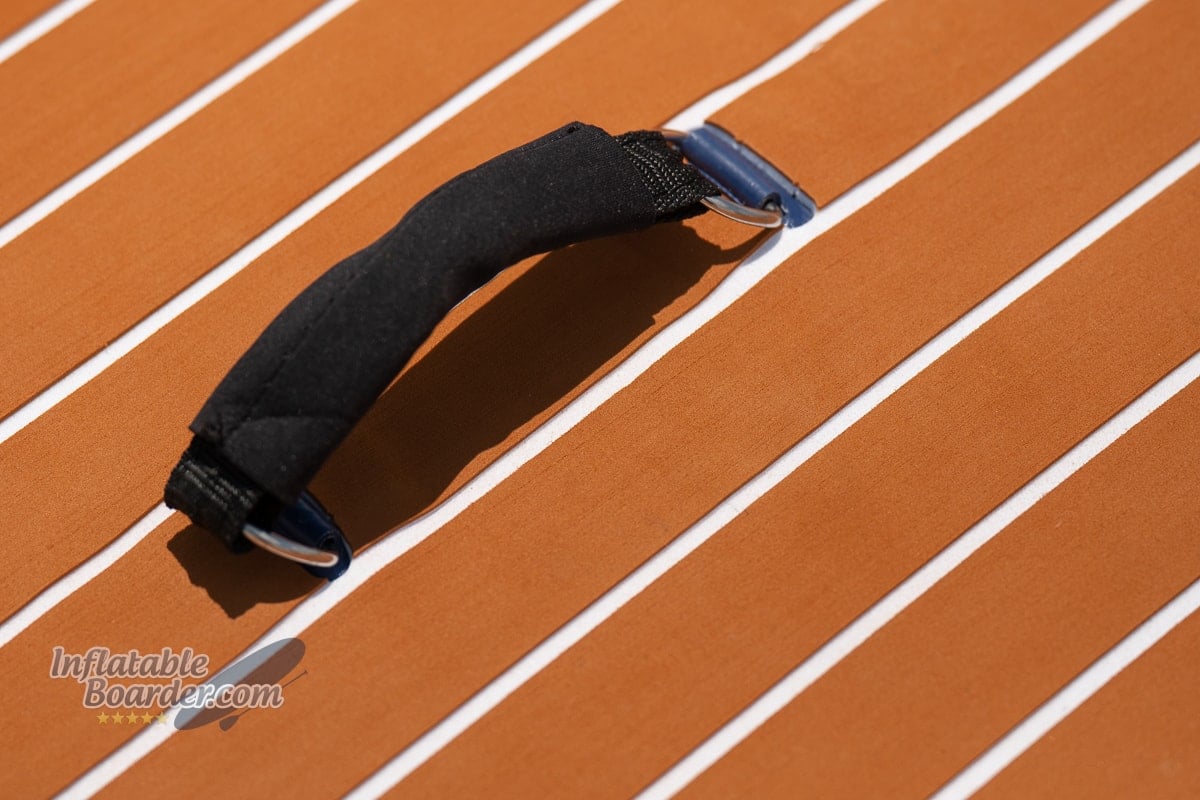 The Tower Xtreme includes a basic accessory kit with the board. You'll get a 9" center fin, repair kit, fiberglass paddle, and single-chamber/single action hand pump. The Xtreme does not come with a storage bag nor does it include a leash.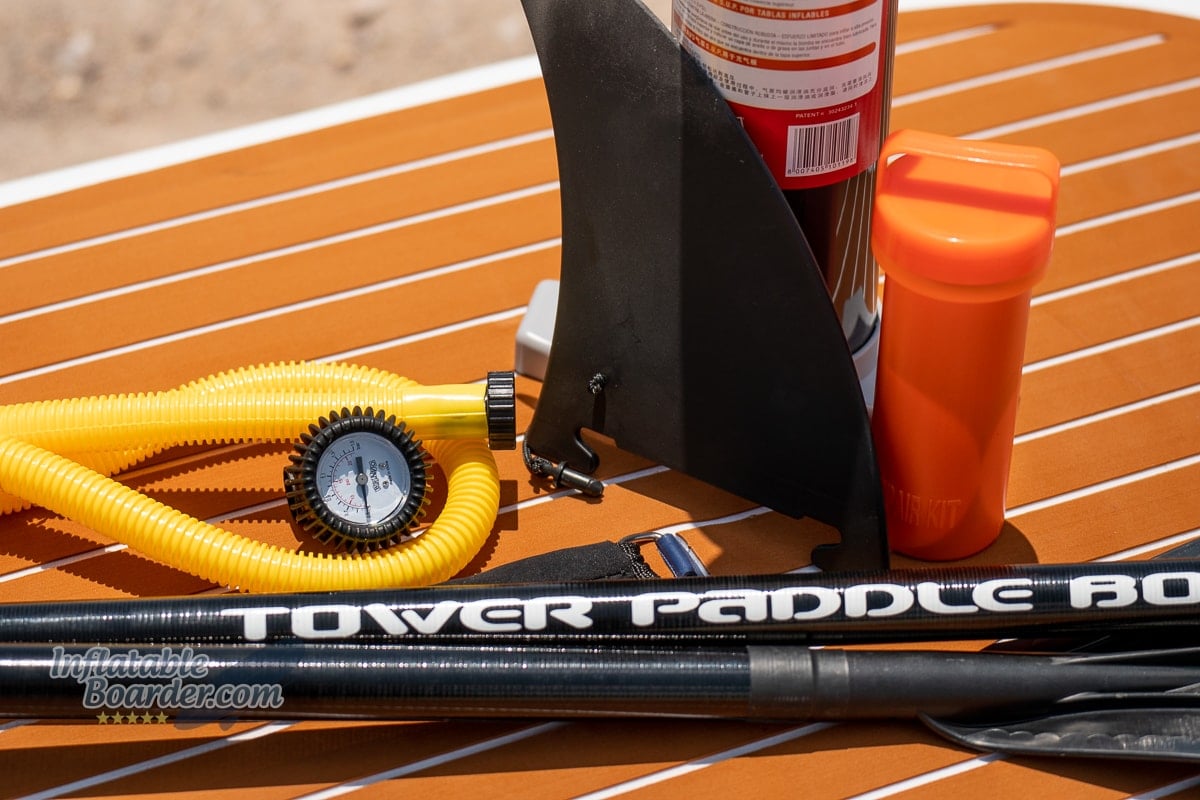 Paddle
Tower includes a fiberglass and plastic paddle with the Xtreme iSUP. This paddle does ok with Tower's other all-around iSUPs, but doesn't have enough stiffness to help propel such a large paddle board, especially if it is loaded with additional passengers or cargo.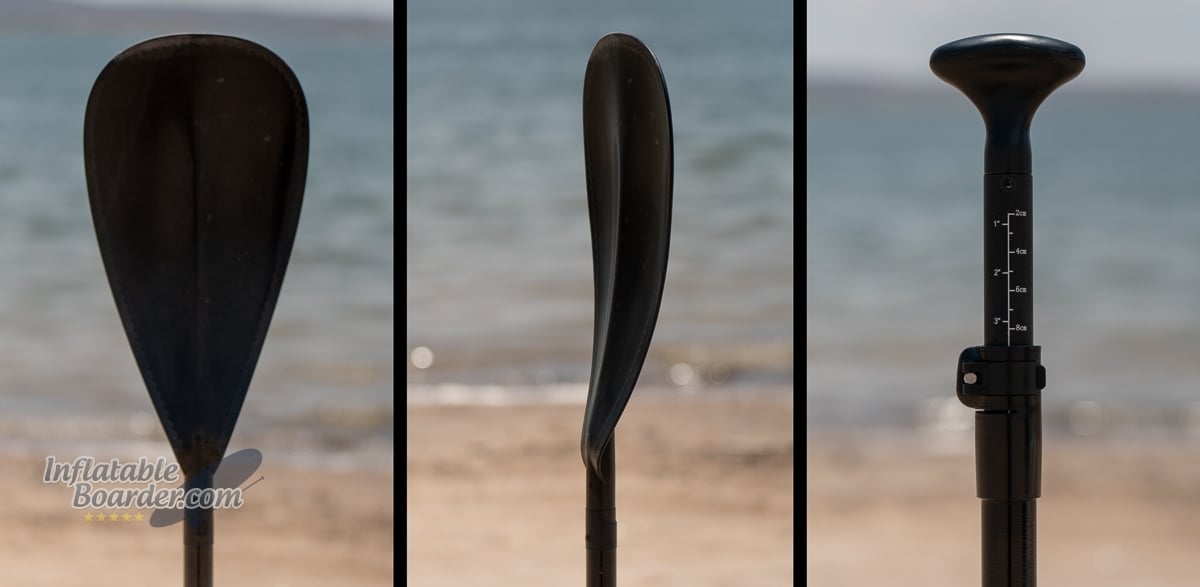 Fiberglass paddle shafts are lightweight than aluminum and can offer a range of flex profiles to be more flexible for comfort or stiffer for better power transfer. The Tower fiberglass paddle shaft leans toward the side of "more flexible for comfort." While this works pretty well for cruising around on a standard size all-around iSUP, it doesn't work quite as well with a significantly larger board like the Xtreme. With more board to pull through the water, a flexible paddle loses a lot of energy transfer with each stroke.
The same goes for the ABS plastic blade. While durable, the blade is flexible in the water. The larger size of the blade helps offset that flex to a degree, but ideally the Tower Xtreme would be paired with a stiffer paddle to more effectively move across the water.
The paddle is adjustable, and you will need to add about 2" onto your typical length in order to compensate for the 8" thick board. The adjustment mechanism is easy to use and adjust, and the handle itself has a length scale for easily setting the paddle each time. There is no indexing mark or groove, though, so you will need to manually verify that the blade and paddle are aligned after each adjustment.
Stability
At nearly 36" wide, the Tower Xtreme is poised to be a very stable all-around iSUP, however there is a complicating factor – its thickness.
Thicker inflatable boards are typically more rigid than thinner boards and do carry more volume. Both of those characteristics will normally help increase a board's stability on the water. However a thicker iSUP with more volume also means that you will be significantly higher off the water than you would be on a 6" (or thinner) board. That increase in height increases your center of gravity, which reduces your stability. Taller paddlers will feel this change even more than shorter paddlers.
While standing and paddling on the Xtreme in calm conditions it has great initial stability. The board doesn't flex as you paddle, and the 35.75" width (as measured, 35" specified) makes it easy to stand on the board. However, once conditions become less than ideal, or if you begin to paddle vigorously, then something else begins to happen.
With the higher high volume, the Xtreme has a tendency to bounce over waves and wake. If you are paddling quickly with a lot of body movement, the Xtreme doesn't flex, but it does begin to bob up and down in the water. Between this bobbing/bouncing and the higher center of gravity, the Xtreme quickly becomes less stable feeling in choppier conditions. Even in this very mild chop shown in these photos, the Xtreme no longer felt like it was 36" wide, but instead had the same feeling of stability as Tower's 6" thick, 32" wide all-around boards like the Yachtsman. It felt like I was riding a cork more than paddling an iSUP.
With the same general outline as Tower's other all-around iSUPs, the Xtreme has the same issues as well. The wide point of the board is not maintained, but rather immediately begins tapering toward the nose and tail. Any tilting or standing off-center of the board reduces its stability by a noticeable margin.
In less than ideal conditions any stability gains from the size of the Xtreme are essentially lost. Tower markets the Xtreme as a good option for heavier paddlers due to its higher volume and rigidity. At 230 lbs, I am a heavier paddler and unless I'm paddling in perfectly calm conditions I do not feel any more stable on the Xtreme than I do on Tower's other, 6", all-around iSUPs.
Speed
The Tower Xtreme is nearly 36" wide – it's not a racing paddle board by any means and isn't designed to be paddled at high speeds. However it does keep up fairly well with Tower's narrower all-around iSUPs.
In our sprinting speed test the Tower Xtreme actually did relatively well and not only kept up with the narrower all-around boards like the Yachtsman, but actually slightly out-paced them! I was able to hold a sustained sprint average speed of around 5.0 MPH (8.0 KMH) and hit a peak speed of 5.2 MPH (8.4 KMH). Both of those results were actually 0.1 MPH faster than the Tower Yachtsman and Mermaid. Granted, it does take quite a bit of effort to keep the Xtreme moving along at those speeds, and the results of the cruising speed test were a little bit different.
While paddling along at a casual 25 strokes per minute, the Tower Xtreme iSUP averaged 3.3 MPH (5.3 KMH). That is within the normal range for all-around iSUPs of any size, and is a little bit faster than several other wide all-around boards (34-36" wide).
With each paddle stroke the Xtreme traveled about 16.5 feet before slowing down, giving it a relative glide ratio of about 1.6 board-lengths per stroke. Once again this result is right in line with other all-around iSUPs between 10-11' long.
Overall the Tower Xtreme isn't overly fast, but it does paddle easily at cruising speeds.
Maneuverability and Tracking
Maneuverability is a strong performer for all of Tower's iSUPs, and that includes the Xtreme. The shorter length and fin design keep this iSUP nimble on the water, but also harder to paddle straight.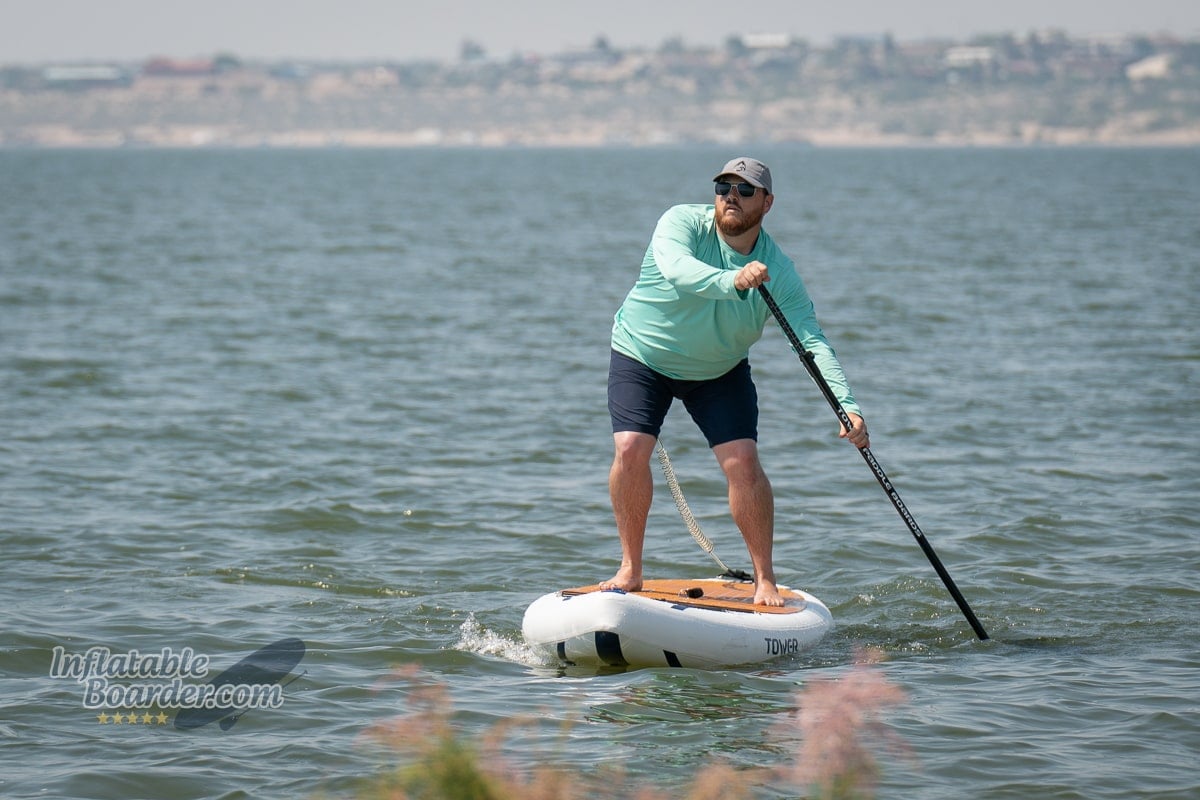 I initially wasn't sure what to expect as I began paddling the Tower Xtreme. However I quickly realized that despite its large overall size, the Xtreme is actually very easy to move around on the water. The 10'4" overall length is shortened slightly by the nose rocker profile and allows the board to more easily turn with basic strokes.
In our maneuverability stress test, the Tower Xtreme did very well by turning a complete circle from a standstill with an average of just 4.5 forward sweep strokes. When reversing the procedure, the Xtreme also performed well needing just 3.5 reverse sweep strokes to make the same 360° turn. Most people don't often find themselves needing to spin in tight, complete, circles while paddling, and the Xtreme can easily be steered and turned to smaller degrees with just one or two strokes.
Where the Xtreme does well in maneuverability, it doesn't do quite as well in straight line tracking. The same features that make it nimble work against you while trying to paddle from point A to point B.
In our tracking test we paddle toward a distant target and then take 10 technique-focused forward strokes on one side of the board. Then we measure the direction of our new course vs the original target with a compass. The Tower Xtreme averaged 28° of course deviation over the span of 10 paddle strokes. That does put it near the bottom of the list for all-around iSUPs. You can still steer the board as you are paddling to keep it on course, but you'll be doing quite a bit of steering compared to just forward paddling.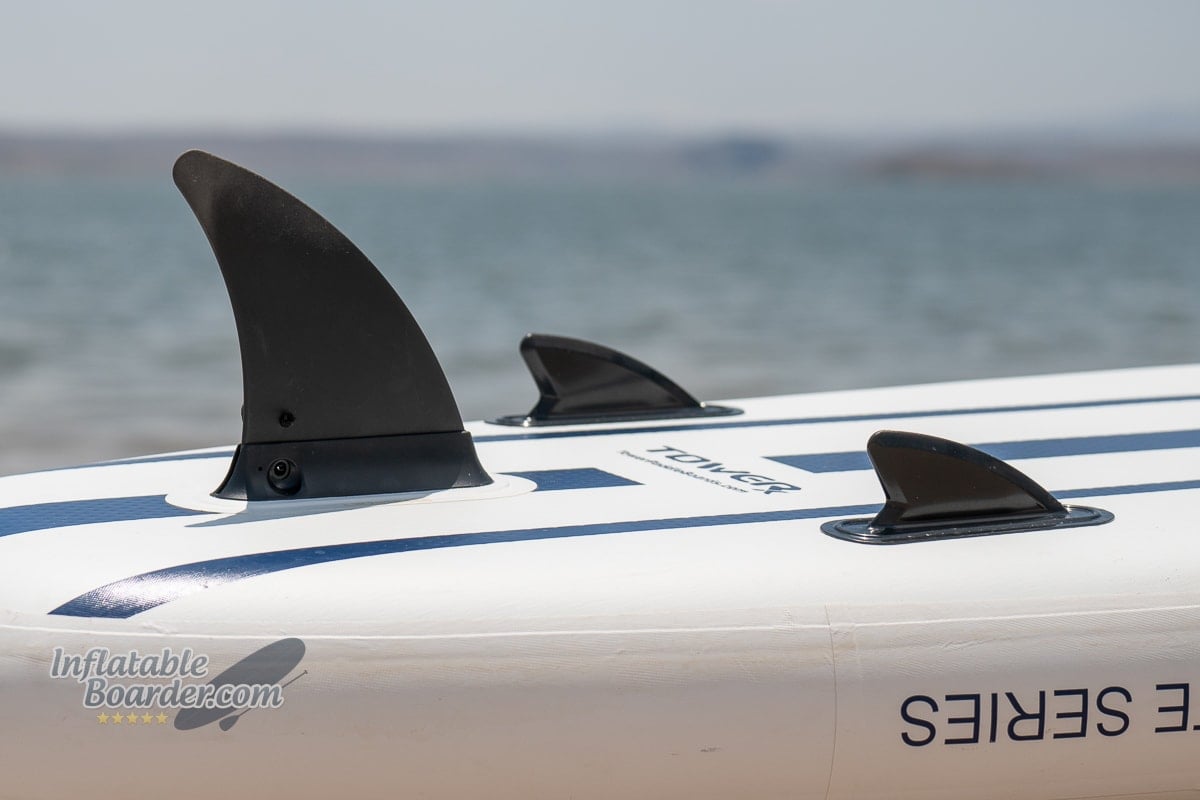 The Tower Xtreme has the same fin setup as Tower's other all-around paddle boards. There are two, small, fixed side fins and a single center fin box. This type of side fin produces almost no impact on the actual performance of the board, but they are primarily placed for aesthetic purposes. The main bulk of the maneuverability and tracking performance is handled by the larger center fin.
This 9" dolphin-shape fin is commonly found on all-around paddle boards and surf SUPs. The wide base helps aid the board in tracking straight while the narrower tip of the fin allows it to more easily turn in the water. Overall this shape fin promotes more maneuverability than tracking.
The Hook and Pin fin system that Tower uses for their removable fins is easy to use and requires no tools for installation or removal. However it is limited compared to more common fin boxes. There are very few options for where to find a replacement fin if you lose or break your fin, and it's not likely to find another paddler at the beach who has this style of fin you can borrow. The most reliable source for these fins is ordering from Tower themselves. They also only offer two styles of fin. This 9" fin and a 4.5" fin that share the same general shape.
Warranty and Customer Support
Tower Paddle Boards warranties the Xtreme and their other "Elite Series" iSUPs for 3 years and offers no explicit warranty on any of their accessories. There is a 30-day return window for new/unused boards (less shipping fees). If you have any questions, you can contact Tower via telephone, email, by appointment at their California retail shop, and through social media.
Overall Impressions/Review Summary
So who is the Tower Xtreme for? Tower describes it as a high-performance iSUP, but doesn't elaborate in which way other than rigidity. Tower also recommends it for heavier paddlers for its higher volume and weight capacity, however their 6" thick boards have 400 lbs weight capacities to begin with. As a heavier paddler who prefers higher-performance boards myself, I actually still prefer the overall feel of Tower's 6" thick all-around boards more than the 8" thick Xtreme. The bouncy feeling and higher center of gravity are more off-putting than they are helpful for me. The additional size and volume may be helpful if you plan on paddling with kids or pets in calm conditions.
Tower Xtreme iSUP FAQ
Should I get the Tower Xtreme or Tower Yachtsman/Adventurer 2/Mermaid iSUP?
The Xtreme shares the same construction and general shape as Tower's other all-around iSUPs, but is significantly wider and 8" thick instead of 6" thick. The additional size gives the Xtreme more weight capacity, however the additional height of the board offsets the additional width. Beginner paddlers may also struggle to get back on the Xtreme when they fall off due to its thicker size. If you don't need the additional 150 lbs weight capacity, I recommend Tower's other all-around iSUPs instead of the Xtreme.
Is the Tower Xtreme iSUP good for beginners?
The Tower Xtreme does offer more stability in very calm conditions, but loses much of that extra stability in choppy waters. The 8" thick iSUP can also be harder for beginner paddlers to remount after they fall off.
How long does it take to inflate the Tower Xtreme iSUP?
It will take between 10-15 minutes to inflate the Tower Xtreme using the included single-action hand pump.
Can I use the Tower Xtreme iSUP with a kayak seat?
No, the Tower Xtreme is not compatible with kayak seat accessories.
Can I paddle with kids or pets on the Tower Xtreme iSUP?
Yes, the additional volume and rigidity make it a good option for paddling with kids or pets in calm conditions.