Sea Gods Diatom Ten6 ULF iSUP Review | 2023
Inflatable Boarder is reader-supported and may earn a commission when you buy through links on our site. Learn more
Sea Gods Diatom Ten6 Review: Overview
The Sea Gods Diatom Ten6 iSUP is a performance all-around board with cruiser vibes. It's extremely stable, well constructed, and fun to paddle in a variety of conditions. The 34" width is ideal for larger paddlers and beginners who want stability and carrying capacity over speed.
The Sea Gods Diatom Ten6 iSUP is a performance all-around board with cruiser vibes. It's extremely stable, well constructed, and fun to paddle in a variety of conditions. The 34" width is ideal for larger paddlers and beginners who want stability and carrying capacity over speed.
— Sea Gods Diatom Ten6 Summary Ratings and Review – —
Sea Gods Diatom Ten6
Construction & Durability

Features and Versatility

Stability

Speed

Maneuverability

Tracking
Overall Score
The Sea Gods Diatom Ten6 is a great option for beginners and larger paddlers looking for a stable, but maneuverable all-around or cruiser style iSUP.
Pros
Construction and durability
Amazing artwork
Highly maneuverable
High pressure rating
Incredibly stiff
High quality paddle
Comfortable to carry, and wheeled, carry bag
US Fin Box compatible
Flexible Kumano click fin
Spacious deck with room for cargo
Cons
Not the fastest all-around board available
Single-chamber hand pump takes a long time to inflate
Construction and Durability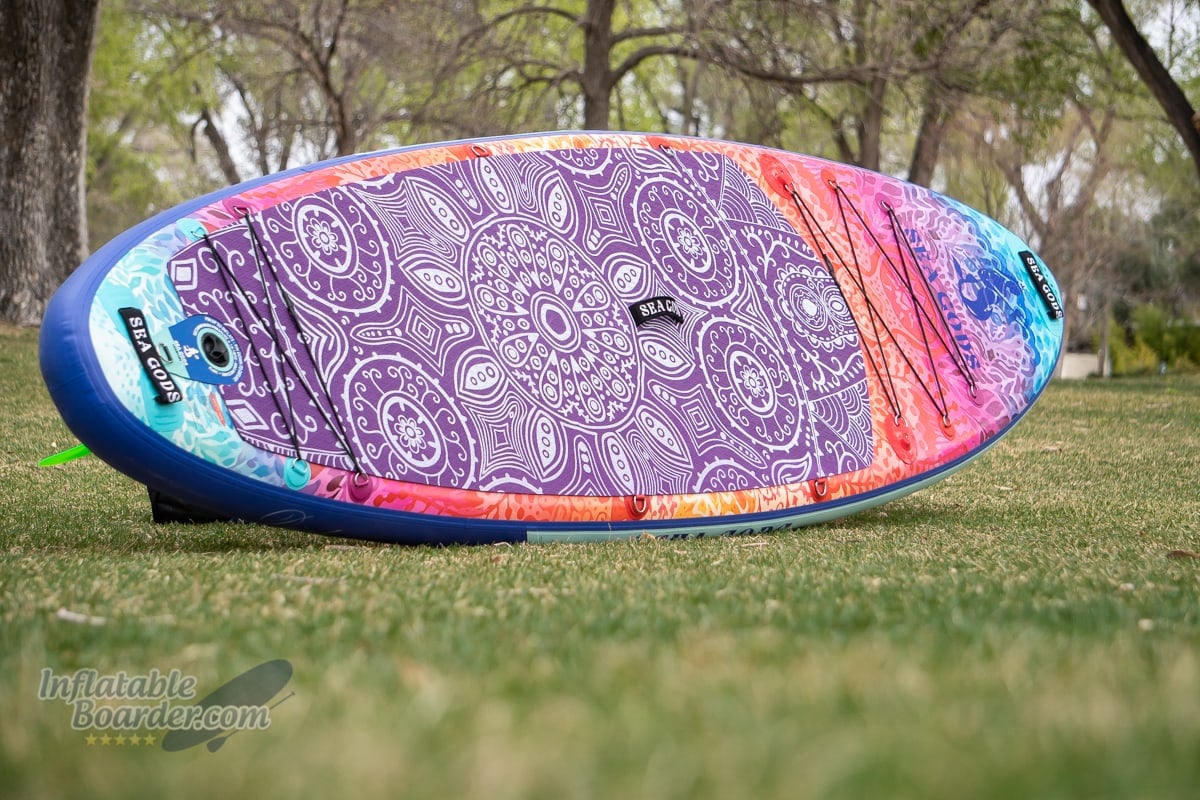 Sea Gods performance iSUPs use a machine-laminated Ultra-Light Fusion (ULF) PVC skin wrapped around a high-density 6" thick drop stitch core. The ULF construction uses heat and pressure to laminate the PVC and drop stitch fabric directly together to create a stiffer build without the use of chemical adhesives.
The seams of the ULF skin are heat-welded, and then wrapped in two additional layers of PVC around the sides, or rails, of the board. Those layers are also heat-welded, and then taped off on both the top and bottom with an additional thin layer of – you guessed it – heat-welded PVC for additional durability and stiffness.
Tech-talk out of the way, there are three key take-aways from how Sea Gods builds the Diatom:
The ULF construction and double seam reinforcements are very durable.
The high-density drop stitch core and ULF construction make the Diatom extremely stiff.
Heat-welded seams and laminations physically bond the layers into one continuous piece without the use of chemical adhesives, making the manufacturing process cleaner and safer.
On the water it is easy to feel the difference in construction. Stiffness in an iSUP is key to both stability and the board's overall performance. With a recommended range of 18psi, but a maximum operating pressure of 20psi, the Diatom keeps resists bending and shaking even in choppy conditions or with hard paddling.
I inflate the Diatom to 18psi when taking it out for the day for two reasons. First, during our bend test we found that increasing the pressure from 18-20psi did not noticeably change the stiffness of the board. Adding that 2psi extra takes a lot of effort when inflating by hand, especially for smaller paddlers. The good news is, it's not always needed. If I were loading the diatom up to its maximum weight capacity (340lb) I would take the time to inflate all the way to 20psi, though, to ensure maximum performance.
Second, here in the high desert of the US Southwest we often have large temperature swings from morning to afternoon (going from 40°F to 85°F in a single day is not uncommon) and lots of direct sunlight. As temperatures rise, the air inside your iSUP also warms up, which increases the pressure – especially when it is not in the water. While the Diatom is rated to 20psi, with an even higher-rated valve, it's not good for the longevity of any iSUP to over-inflate it. By inflating to 18psi instead of 20psi, you build in a small buffer against over-inflation due to temperature changes.
The Diatom Ten6 is coated in what Sea Gods call their Apollo UV protective glazing. This protective layer is essentially a highly durable "sunscreen" designed to repel UV radiation. UV radiation can be damaging both to the board's graphics, but also to the PVC itself (and your skin, always wear sunscreen!). This coating, and the printed graphics themselves, can be worn off of the board through physical damage, so take care not to drag your board or set it directly on abrasive surfaces (like asphalt or concrete). Sea Gods has detailed care instructions included with the Diatom Ten6 and available on their website.
Lastly I want to mention that Sea Gods uses a full-size US fin box on their iSUPs. This fin box allows paddlers to use a near-limitless number of fin options for their board – something that is ideal in a performance-oriented board. If you are taking the diatom out for some longboard-surfing, taking it camping, or taking it down the river, you can get a perfectly matched fin for your adventure. The included flexible "flex fin" also comes with the Kumano-style pressure-fit tabs to eliminate the need for nuts, bolts, and tools to install your fin, but the US fin box is also compatible with standard fin bolts.
Specifications
Dimensions
Length
10'6"
Width
34"
Thickness
6"
Weight
Max Capacity
339 pounds
Board Weight
24 pounds
Kit Weight
(SUP & accessories)
34 pounds
Buying Info
List Price
$1388.99
Warranty
30 years
Returns period
30 days
Features, Accessories and Versatility
All-around SUPs are the Swiss Army knife of paddleboarding. They offer lots of features and are often extremely handy. While there are boards that excel in specific areas (like racing or surfing) an All-around excels in its versatility.
The Diatom Ten6 is an all-around style iSUP that crosses into the realm of cruiser-style paddleboards depending on the user. For larger and taller paddlers, the 10'6" length and 34" width makes for an excellently stable, yet still maneuverable all-around board. You can hang around the beach, take it down the river, catch a mellow wave, or even load it up for fishing or camping.
For smaller paddlers, the Diatom Ten6 acts more like a cruiser. Out on the water the extra width adds tons of stability – great for carting around a kid or two – and the long deck pad and clear deck provide a great opportunity to try out some SUP yoga, or just lay down and relax.
The relatively small, rounded, tail helps the board track but also helps it bite into an occasional wave face. When weighting the back of the board for a quick turn, it slices easily through the water.
As a larger paddler myself I really appreciate the additional stiffness in the Diatom. It makes the board more comfortable to paddle, holds up well when I start paddling hard for a quick sprint, and easily holds everything I need for a day on the water without changing how the board performs.
The Diatom Ten6 may not feature as many bits-and-bobs built into the deck as other all-around or cruiser boards (like the iRocker All Around 11 or Cruiser 10'6"), but doesn't leave you wanting, either. There are two integrated action mounts in the front of the board, and the board design itself just adds to the fun of paddling this board.
The Sea Gods wheeled carry bag is extremely well made and very user friendly. The bag has plenty of volume to hold your entire kit – and your PFD – while the four compression straps let you tighten it down to prevent wobbling and shifting. The four padded carry handles are tough and don't twist when rolling the bag over curbs, rocks, or uneven ground. There's also a small molded handle in the very bottom that lets you grab the bag from either end.
The backpack straps are well padded and the back panel is made of perforated foam to allow for some airflow between your back and the bag. The only minor inconvenience of this bag is the zipper placement. Because it is on the "back" of the bag, when packing everything up you have to be careful not to pack your paddle and pump between the board and your back, otherwise it makes for an uncomfortable carry.
Lastly, the included hand pump works well and is built solidly, but with only a single chamber it does take a few minutes longer and a little more effort to inflate the Diatom Ten6 all the way to 18 (or 20) psi.
Paddle
The 2022 Sea Gods paddle improves on the 2021 model in one small, but very significant, way. This year Sea Gods added a clasp where the paddle blade section meets the paddle shaft section in addition to the push-button lock. This little clasp fully eliminates the slight amount of wobble that was present in the 2021 paddle blade.
Otherwise, the 2022 paddle remains largely unchanged besides a graphical update. The medium-sized nylon blade has a rounded tip with an overall tear-drop shape. There's a slight scoop on the bottom half of the blade in addition to the forward rake angle (the paddle blade bends forward from the shaft). What this really means is that the paddle is well-suited for a variety of different types of paddling, but works best with a slower cadence. When trying to pick up speed it is a little harder to paddle faster compared to a smaller, more rectangular blade.
Weighing in at exactly 30oz (850g) the Sea Gods paddle is a mid-weight kit paddle. The thick nylon blade is very durable and well shaped, however it does feel a little heavy in comparison to the rest of the carbon fiber paddle, giving just a slightly unbalanced feel.
The handle section has an anti-twist groove and height index for easy sizing. The handle itself breaks the mold of most handles found in kit paddles and features a more distinct T-grip shape. It's made of molded carbon fiber and fits comfortably in the hand. T-grips are normally found in higher-end racing paddles and whitewater paddles where keeping hold of your paddle and keeping it oriented correctly in the water are extremely important.
Overall I enjoy using the Sea Gods paddle along with the Diatom Ten6. They match each other well on the water.
Stability
Stability is the key performance feature of the Diatom Ten6. Between the 34" width that is carried both fore and aft of the standing area and the ultra stiff construction most paddlers – even beginners – are going to have a hard time falling off!
While standing still on the water I have no issue at all with the primary stability of the board. I can confidently walk forward and backward and work on my Warrior II pose without needing to think about my balance.
When purposely rocking the Diatom side to side I did feel a slight "popping" sensation as the board righted itself rather than an evenly smooth transition. I've found that this seems to be a pretty common occurrence with iSUPs that have a slightly more rounded outline rather than precisely parallel sides.
I had no problems at all holding the Diatom Ten6 on its edges. This secondary stability is what gives paddlers time to correct any imbalances before going for an accidental swim.
Lastly, as I step back for a pivot turn on the Diatom, the board remains stable both as I weight the tail and as the tail moves smoothly through the water while turning.
Speed
Paddling fast is the result of a number of factors – the paddler, the paddle, the board shape and size, and the conditions. I enjoy the occasional community race event, but you won't see me competing on the Diatom. But that's also not a bad thing.
While the Diatom Ten6 is not the fastest board I've paddled, it has a good-feeling glide. Glide is how far and how efficiently the board moves with each paddle stroke. For a 34" wide iSUP, the Diatom's glide is actually pretty good. The high degree of stiffness helps keep the Diatom from bending as you paddle which helps it glide more smoothly across the water. It also lets you quickly accelerate with a few powerful strokes rather than bobbing up and down in place.
If you are looking for a high-quality, beautifully designed, stable, but quicker iSUP, take a look at our review of the Sea Gods Skylla Cross Touring iSUP. If you're looking for an absolute rocket to help crush your local racing circuit, check out the Sea Gods Ketos – just make sure you have your sea legs first, though!
Maneuverability
Typically, as paddleboard sizes increase in either length or width (or both), they can become more difficult to maneuver. This is what I was expecting to find when I started testing the Diatom Ten6, but instead I found surprisingly excellent results in our maneuverability test.
It was incredibly easy and quick to turn the Diatom in a full 360° circle from a stand still with both forward sweep strokes and reverse sweep strokes – 25-50% faster than other similarly-sized boards. When taking faster pivot turns, the Diatom remained stable and fluidly spun its tail through the water.
Part of this maneuverability comes down to the single Flex Fin which has a thinner profile compared to the touring (or "hatchet") shape fin included with the Sea Gods Skylla or the "Dolphin" fin on the Bote HD.
Tracking
Where the Diatom's maneuverability was unexpectedly high, the tracking did perform about as well as I expected based on its shape and size.
Over smaller distances and at casual paddling speeds, like those expected with a cruiser-style board, the Diatom tracked straight with relative ease. However when paddling hard for speed I did notice the board turning slightly more with each paddle stroke than I would prefer. This meant that to stay on course I would have to take a corrective stroke about every 3-4 paddle strokes.
Over a longer distance paddling, the same kind of steering input was needed (though not quite as often). Where the single "Flex Fin" shape helps make the Diatom Ten6 very maneuverable, it does detract a bit from its tracking ability.
Warranty and Customer Support
Sea Gods has focused their business on building high quality iSUPs, and they mean it. All Sea Gods iSUPs come with a lifetime warranty. If you experience any manufacturing defects over the life of your board, Sea Gods will fix them. They also offer a repair service in case you do damage your board. In addition to their lifetime warranty, Sea Gods does offer a 30-day return period on the Diatom Ten6 (and their other iSUPs) with a 10% restocking fee.
If you have any questions about your Diatom Ten6, or are thinking about getting one, you can reach the Sea Gods customer service team via phone, email, chat, social media, or even schedule a video chat to talk about their products.
Value
iSUPs are available at an extremely wide range of prices. When evaluating the value of any particular board or kit it's important to consider more than just the sticker price. The Sea Gods Diatom Ten6 is a performance iSUP. It's built with extremely high quality materials, processes, and quality assurance. The included accessories meet those same standards as does the Sea Gods customer service. The Diatom is also often on sale from Sea Gods for up to $300 off. When considering all of these factors, plus how it performs on the water, the Sea Gods Diatom is an excellent value for those shopping for a performance iSUP.
Overall Impressions/Review Summary
I love the Sea Gods Diatom Ten6. It's an easy go-to choice for me as an all-around board or cruiser.
The high quality construction is apparent when you are on the water. The stiffness is readily apparent and appreciated. The maneuverability is fantastic, especially if you spend a lot of time on rivers or smaller bodies of water, and the stability makes it a great choice for paddling with passengers, dogs, fishing gear or for some paddleboard yoga.
The amazing artwork on the Diatom is not just the icing on the cake, but also the cherry on top. If you think this board looks good in the photos, wait until you unpack it at home for the first time! Speaking of, Sea Gods also uses more-environmentally friendly packing materials wherever possible – swapping plastic for paper or corn-based biodegradable materials at every opportunity.
Sea Gods Diatom Ten6 FAQ
How long does it take to inflate the Diatom Ten6?
Using the hand pump with the Diatom Ten6 takes about 7-10 minutes to inflate to the maximum recommended 18psi depending on how fast you pump. Sea Gods also has an available battery-powered 12v electric pump that will inflate your Diatom Ten6 to 16psi.
Can I take my child or dog on the Diatom Ten6?
Yes you can! The Diatom Ten6 is extremely stable and has a 340lb weight capacity. The ULF PVC construction and EVA deck pad are tough enough for your dog's claws, but please note that long claws or excessive scratching could damage the printed artwork.
Can I kayak with the Diatom Ten6?
Yes! The Diatom Ten6 is compatible with the Sea Gods kayak seat and kayak paddle conversion kit.
How do I clean the Diatom Ten6?
Like with all inflatable SUPs, clean your board with fresh water and dry it completely between each use. Never drag your board on the ground - this can damage both the printed artwork and the PVC itself. Sea Gods recommends cleaning your board only with special paddleboard cleaners to ensure the longevity of the Apollo UV protective coating.
Is the Diatom Ten6 good for beginners?
The Diatom Ten6 is a great board for beginners! It's extremely stable, easily maneuverable, and is built for a variety of uses. Smaller paddlers looking for an all-around iSUP may also want to consider the Sea Gods Elemental Wave Ten6.
Can I go SUP fishing with the Diatom Ten6?
Yes! The Sea Gods Diatom Ten6 is incredibly stable and has a high weight capacity. The many D-rings on the board make great places to tie down a cooler or other equipment, and the threaded action mounts are compatible with a variety of fishing rod holders.