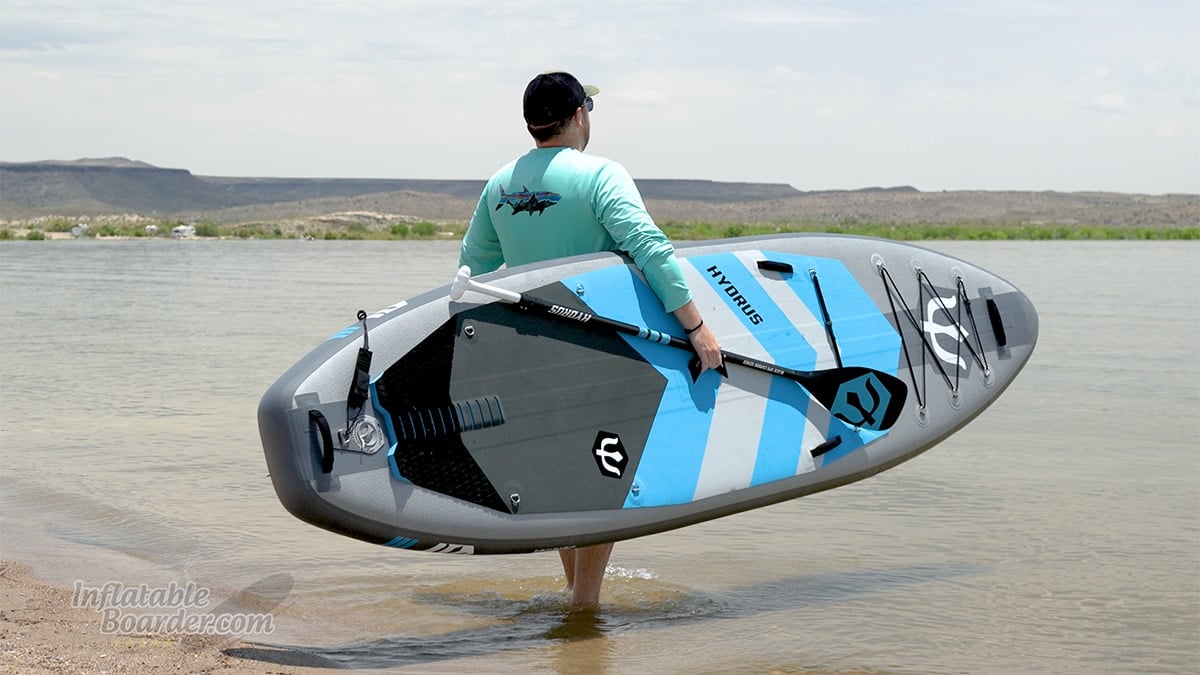 Hydrus Joyride iSUP: Overview
The Hydrus Joyride inflatable paddle board is an all-around's all-around. With great performance on the water, a rigid and durable construction, and plenty of ways to equip the board for different activities there's not much you can't do on the Joyride. The stable platform is great for beginners to learn on, but it won't hold you back as you venture farther, faster, or into more difficult terrain
— Hydrus Joyride Summary Ratings and Review —
Hydrus Joyride
Construction & Durability

Features and Versatility

Stability

Speed

Maneuverability

Tracking
Overall Score
The Hydrus Joyride is a super versatile, high-performance all-around iSUP suitable for paddlers of all skill levels.
Pros
Durable construction includes a dual-layer PVC shell with high-density reinforcement
Fusion construction reduces weight without sacrificing quality or performance
Welded interior seams increase longevity and durability
Carbon fiber fabric stringers add additional rigidity
Tons of cargo space and tie down options across the board
Great performance on the water
Multiple high-quality fin options included
Lifetime warranty and excellent customer service
Cons
The soft-brushed deck pad is very soft and feels great under your feet, but I'd like to see a little more texture in the pad for extra traction when walking on the board.
While not specifically made to be compatible with kayak seat attachments, there are D-rings close to the middle of the board that could work with some seats depending on strap length. YMMV.
Construction and Durability
Hydrus Board Tech has always kept durability at the core of all of their designs. From developing entirely new materials to finding new machinery for their factory to use, keeping boards functioning and on the water is a top priority for Hydrus. The Joyride is no exception. With welded interior seams, high-density reinforced fabrics and more, the Joyride is set for years of use on the water.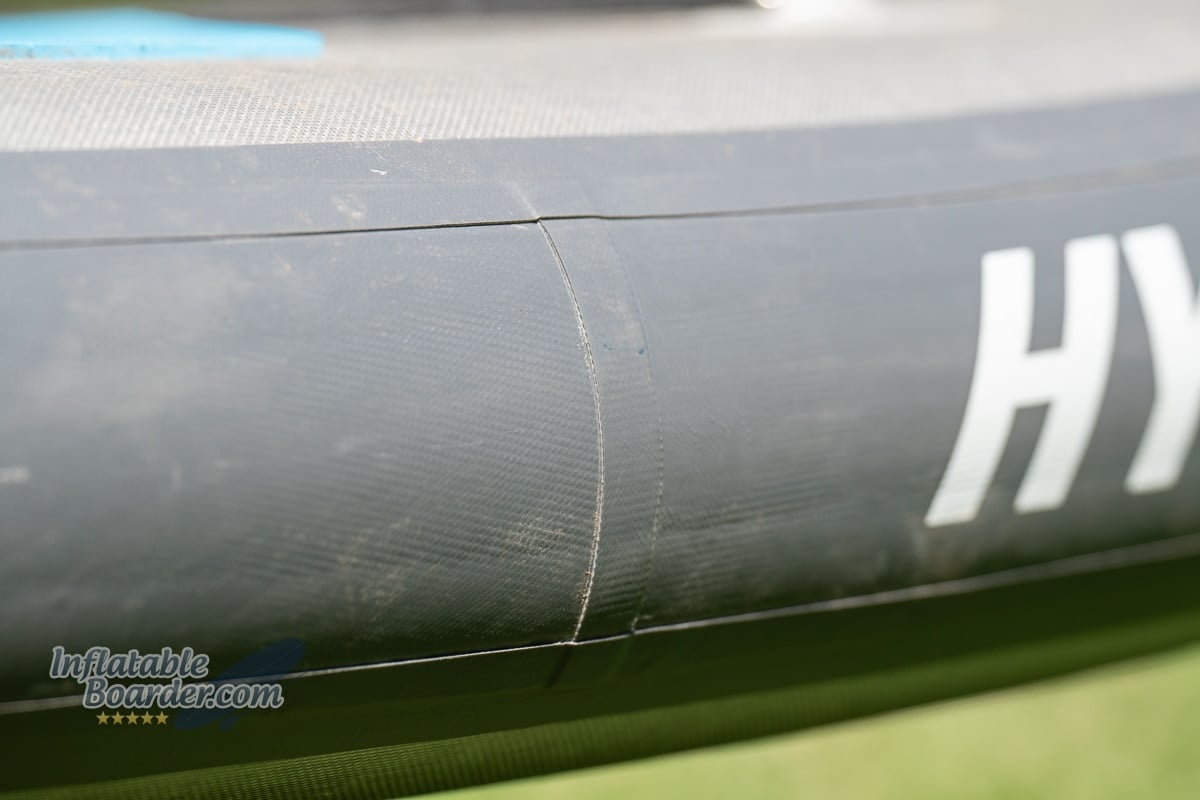 At the core of the Joyride is a new drop stitch build that incorporates both a woven fabric base layer and a crossed drop stitch pattern. Woven fabrics use less material and have less stretch than traditional knitted fabrics, while crossed drop stitch patterns provide excellent rigidity with fewer fibers. Onto the fabric drop stitch core there are two layers of PVC adhered with a Fusion, glue-less, process. This uses heat and pressure to melt the PVC materials together to form essentially a single layer.
The outer layer of PVC is reinforced with a high-density fabric scrim that you can actually see on the board thanks to the dye-less clear PVC outer layer. This combination of color, scrim, and clear materials gives the Joyride an overall gray tone, but only via an optical illusion. Looking at the board closely reveals the darker under-layer and white scrim material.
The edges of the board are joined together with a welded PVC interior seam that once again uses heat and pressure to mechanically bond the deck layer, hull layer, and rail into one continuous piece of PVC without any glue.
A second, wider, layer of PVC is then glued around the edge to protect the inner seam, and two strips, or pin-lines, are glued over the outer rail edges to provide even more protection from bumps, scraps, drags, dog claws, kids, sticks, rocks, or just about anything else your board may encounter.
The deck and hull also get a central stringer made of carbon fiber fabric sandwiched under another layer of PVC to further increase rigidity of the board. Lastly the other features of the board (deck pad, rigging, fin box, etc.) are glued in place. All together the Hydrus Joyride clocks in at just 23 pounds.
I've mentioned rigidity quite a bit so far and not without a reason! How rigid a board is will greatly impact its performance on the water for everything from stability to speed, tracking, and even maneuverability. More rigid boards not only perform better on the water, but also feel better while you are using them. Softer boards force your feet to work overtime to compensate for the squishy sensation they can have.
The Joyride did excellently in our dry land bend test. With 170 lbs of static weight, the Joyride bent just 1.1 inches at its maximum 20 PSI. That's significantly better than our current running average of 1.55" measured across nearly 90 boards and is easily in the top 10 measured scores.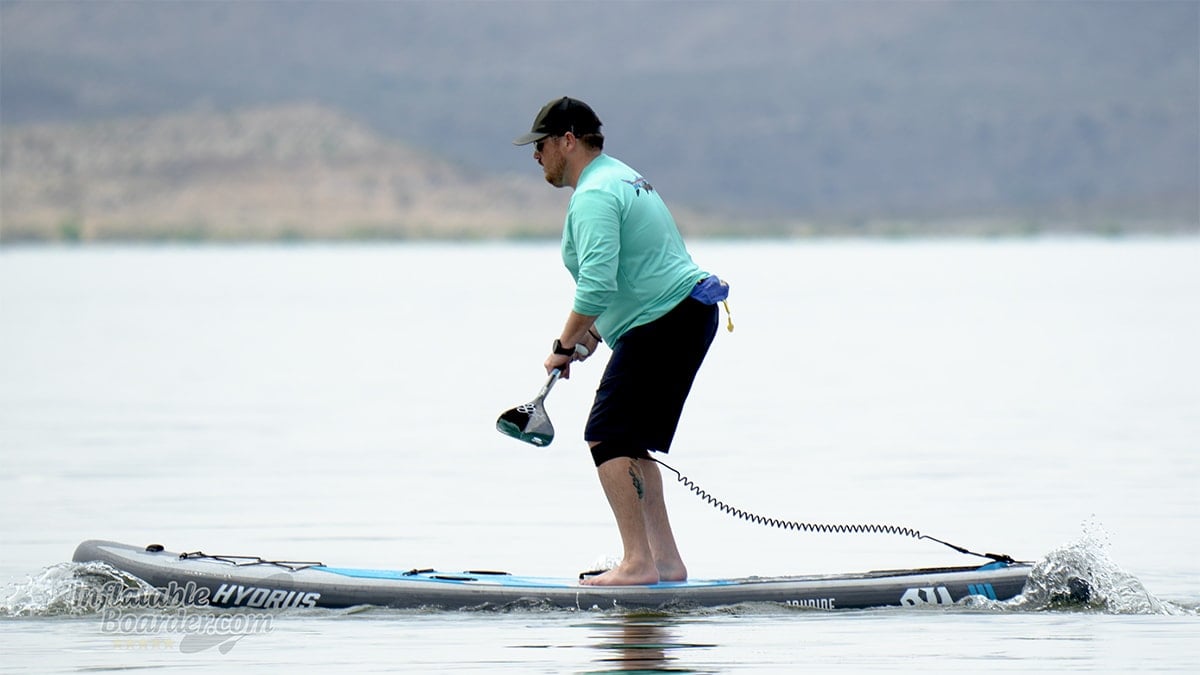 So how does the Joyride stand up on the water? Just as you would expect. The Joyride is super rigid on the water with no noticeable flex while standing, paddling, and walking on the board. While jumping on the board and paddling very hard for a sprint I (230 lb paddler) noticed a mild amount of flex with a short-lived, and comfortable, rebound period. Some very rigid boards can have a trampoline-like feel when bouncing on them, but I did not get that feeling at all with the Joyride.
This board is built to last. If the welded seams, high-density PVC tarpaulin, and rigid construction isn't enough, Hydrus backs their iSUPs with a lifetime warranty (more on that later).
Specifications
Dimensions
Length
11' 0"
Width
32.5"
Thickness
6"
Weight
Max Capacity
350 pounds
Board Weight
23 pounds
Kit Weight

31 pounds
Buying Info
List Price
Warranty
10 years
Returns period
30 days
Features, Accessories and Versatility
The Hydrus Joyride is decked out to handle just about any adventure from a casual paddle in the bay to overnight SUP camping and even getting rowdy on some whitewater. While there aren't as many bells-and-whistles as some other iSUPs, the Joyride's function-first shape and selectively chosen feature set provide a surprising amount of versatility.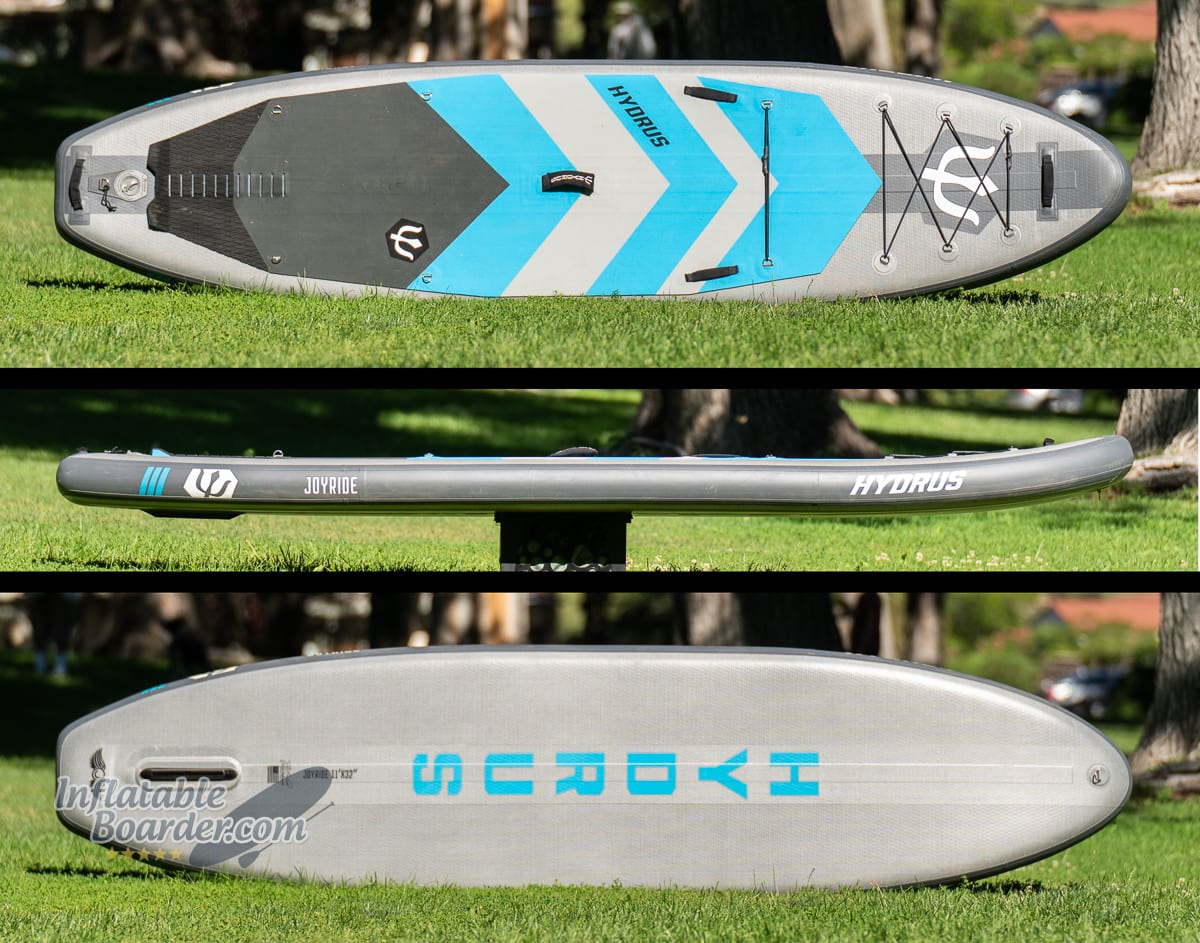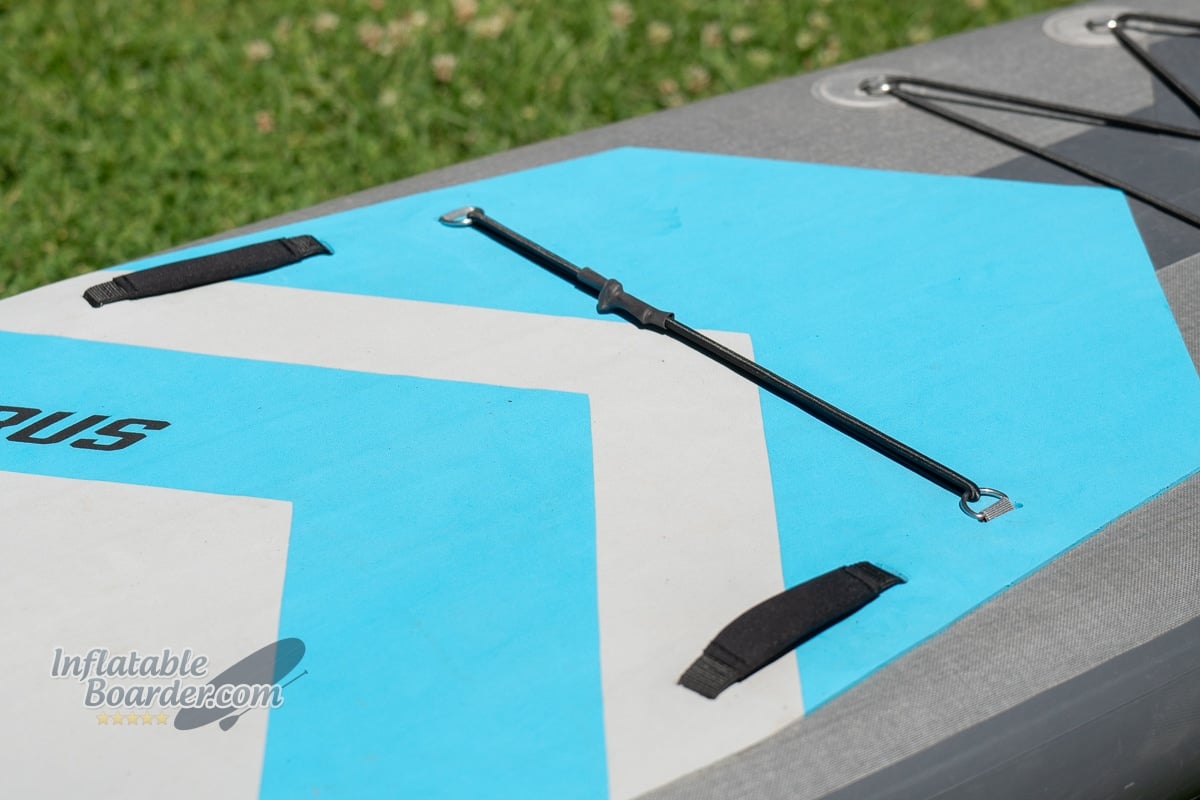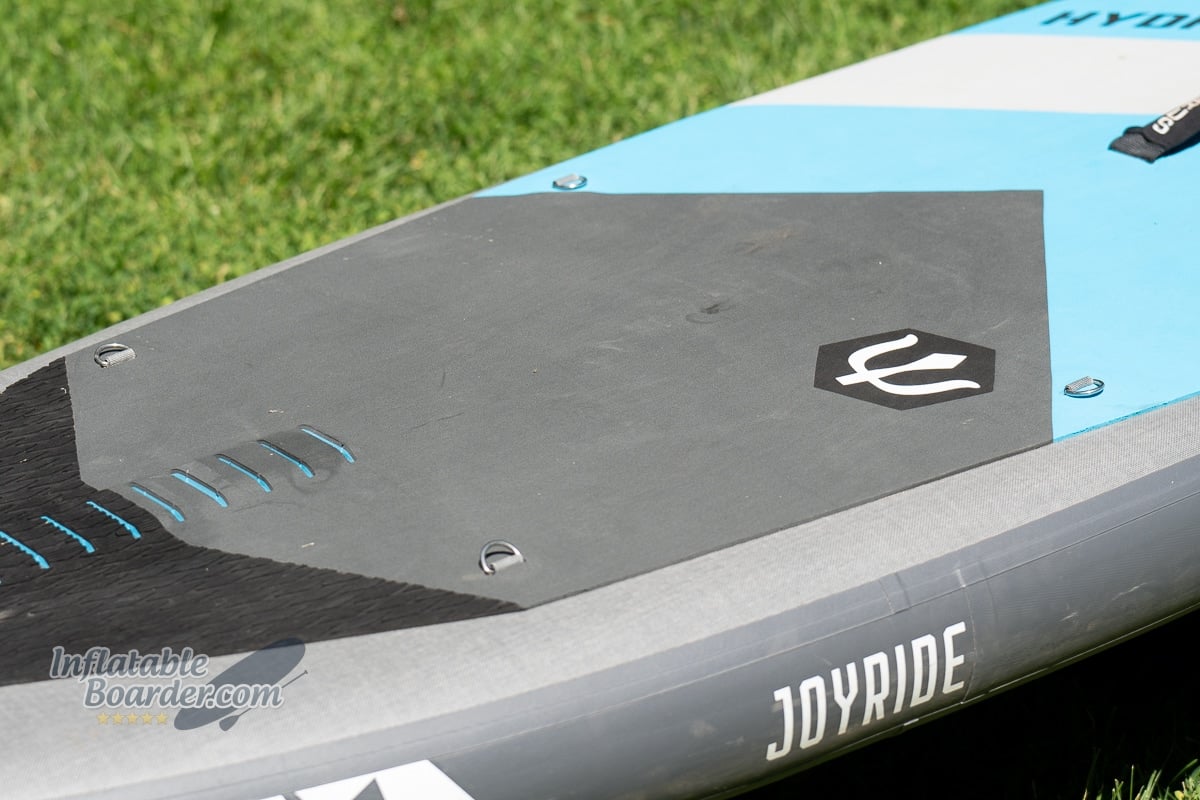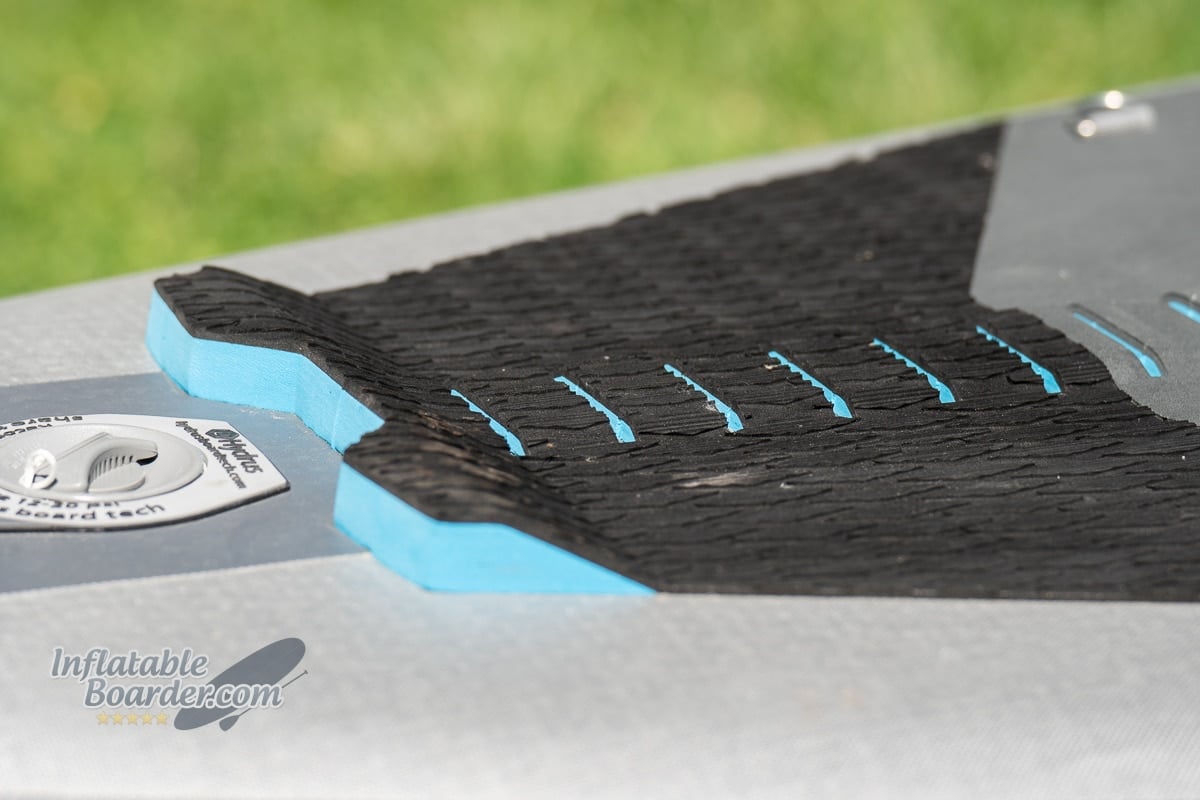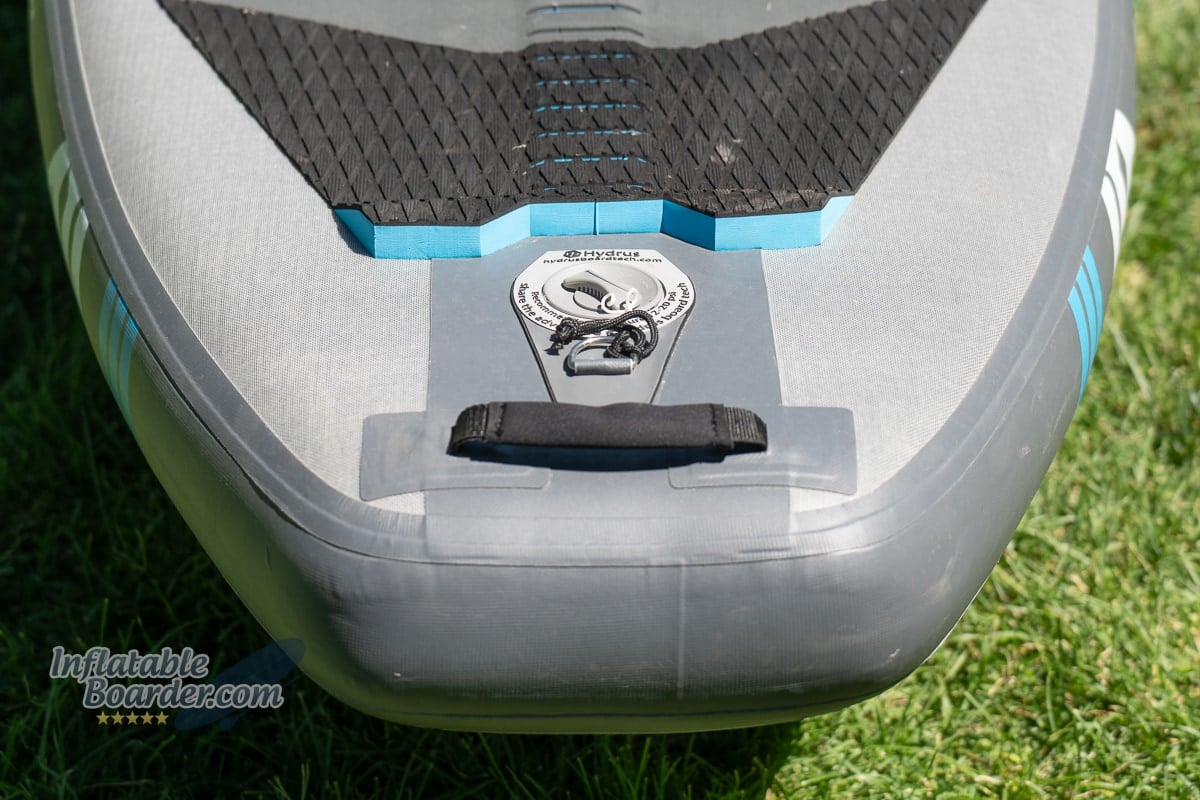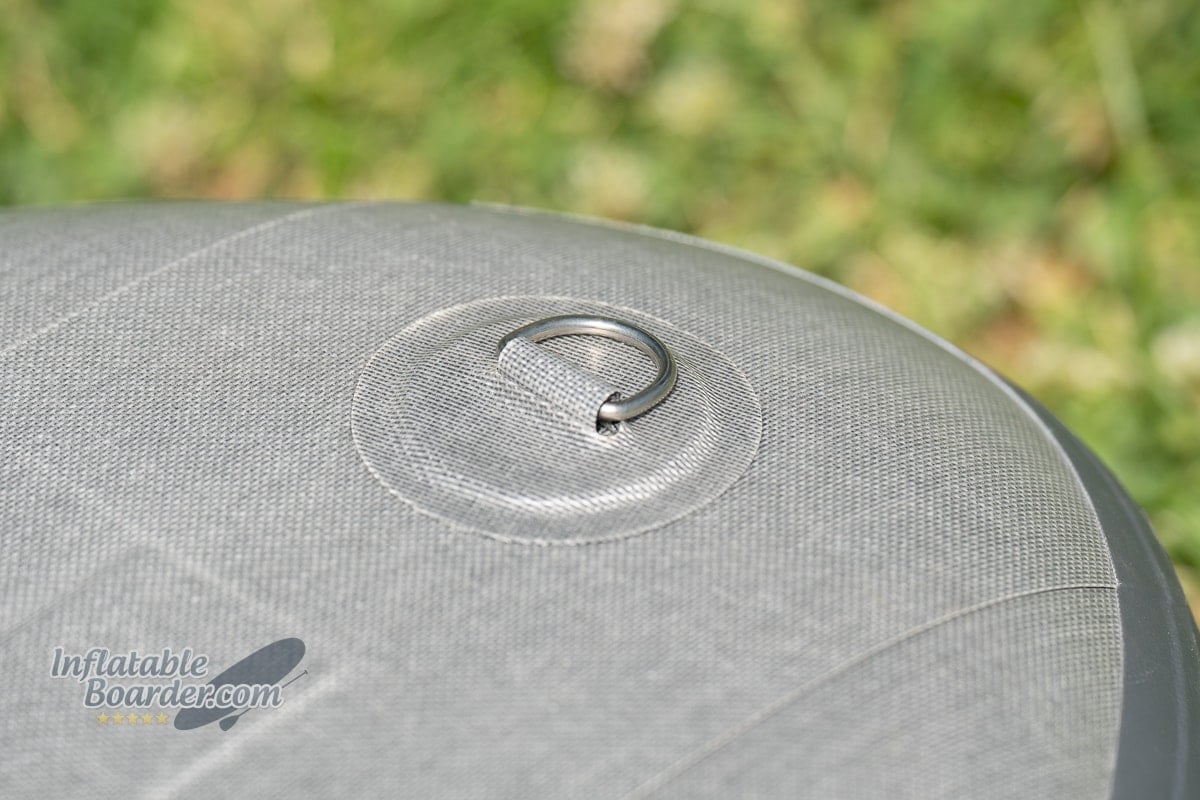 The Joyride is kitted out for customization. A dozen D-rings placed across the board, plus additional tie down points from the handles, make it very easy to carry everything you need for a multi-day river trip, or just an afternoon at the beach. The included stick-on GoPro mounting kit actually works quite well on the inflatable board's surface and allows you to fully customize where you want your action camera, GPS, or other compatible device. I do recommend placing the mounting point while the board is fully inflated and allowing the adhesive pad to cure overnight (preferably with a little bit of weight on it) for best adhesion.
The US fin box allows you to use any of the three included fins, or a completely different fin, to customize your tracking and maneuverability performance, or minimize your draft depth for shallow-water paddling. The nose rocker profile is low enough to keep you paddling straight and stable on flat water, but lifted just enough, and at just the right point, to let you easily paddle over choppy conditions or navigate your local Class I-II rapids.
The Joyride comes with a double-action hand pump, standard repair kit, sticker pack, stick-on GoPro mount, coiled leash and three different fins (I'll cover the different fins in the Maneuverability and Tracking section below). All of this easily fits into the Hydrus Mothership SUP bag that is also included. The Mothership bag has a very comfortable backpack harness, is made of heavy-duty nylon fabric, has two compression straps to keep everything from sliding around, and an internal pocket for your fins. The Joyride, like all of Hydrus's boards, does not automatically include a paddle. The Hydrus philosophy is that your paddle selection should be as important as your board selection, so they aren't going to force you into using their paddle. However, as you'll see in a second, the Hydrus paddle is definitely a great option if you don't have a paddle already.
Paddle
The Hydrus three piece carbon fiber paddle is lightweight, pleasantly stiff, and highly durable. It's a great all-around paddle, especially for those who may encounter more shallow-water environments.
At first glance the Hydrus paddle may seem to be a pretty standard carbon fiber paddle you would see from many brands. However once you pick it up you'll know that this isn't the case at all.
First, the Hydrus paddle is actually pretty light at just over 26 ounces, and it's very well balanced between the blade and shaft. The carbon fiber shaft is about the most "basic" thing about this paddle. The handle section has an indexing groove to automatically align the handle and blade, and a simple length scale for easily resetting your paddle. The grip itself is a molded fiberglass palm grip with large knurling on the front. These ridges and valleys not only help new users instantly know where their fingers should be, but also help advanced paddlers orient their paddle blade without looking and maintain a firm grip in less-than-ideal situations.
The blade is made of carbon fiber and Hydrus's proprietary Armalight composite coating. While I've not been able to pry the exact makeup of Armalight from Hydrus (It's quite a closely-guarded secret) to the best of what I've been able to discern it appears to be a mix of composite materials (various types of carbon fiber/fiberglass) held in a lightweight plastic matrix instead of (or maybe in addition to?) a standard epoxy resin. Whatever it actually is, it's tough stuff. The Hydrus paddle has become my go-to river and whitewater SUP paddle. While it has a few battle scars from whitewater paddling it is still in excellent shape, including the blade edge. That's not easy to do! It is a larger blade size (96 square inches), so petite paddlers may not find it as comfortable to use over long periods of time.
While the Hydrus three-piece paddle does not automatically come with the Joyride, you can bundle it at the time of purchase to save 10% on the price of the paddle. Factoring in the price, the Hydrus paddle is an excellent value.
Stability
The Hydrus Joyride is plenty stable for beginner paddlers, paddling with passengers or pets, tackling tough terrain, or loading up with fishing and camping equipment for a weekend on the water.
Once you are up and standing on the Joyride it can be easy to forget that you are paddleboarding! The 32.5" width (measured, 32" specified) is carried forward and back over a significant portion of the board. This allows you to adjust where you are standing without suddenly feeling a loss of stability like on highly-tapered paddle boards. This wide outline is maintained all the way through the round nose and then nearly all the way to the tail before tapering in slightly to a square shape.
I didn't feel any rolling or twitching sensations while standing, paddling, or walking on the board. Walking all the way back to the tail for a pivot turn was super easy and the diamond groove deck pad with the raised kick pad and indexing arch support make it super easy to know where you stand on the board without looking at your feet. Once the nose is lifted out of the water the tail slides easily through the water without any sudden wobbling or catching.
When you paddle in choppier conditions, across currents, or through waves and wake, how well the board can balance on its edge is very important. This secondary stability relies heavily on the shape of the board. With the large parallel midsection and wider nose and tail the Joyride is a breeze to balance on its rail and easy to stay upright when rocking side-to-side.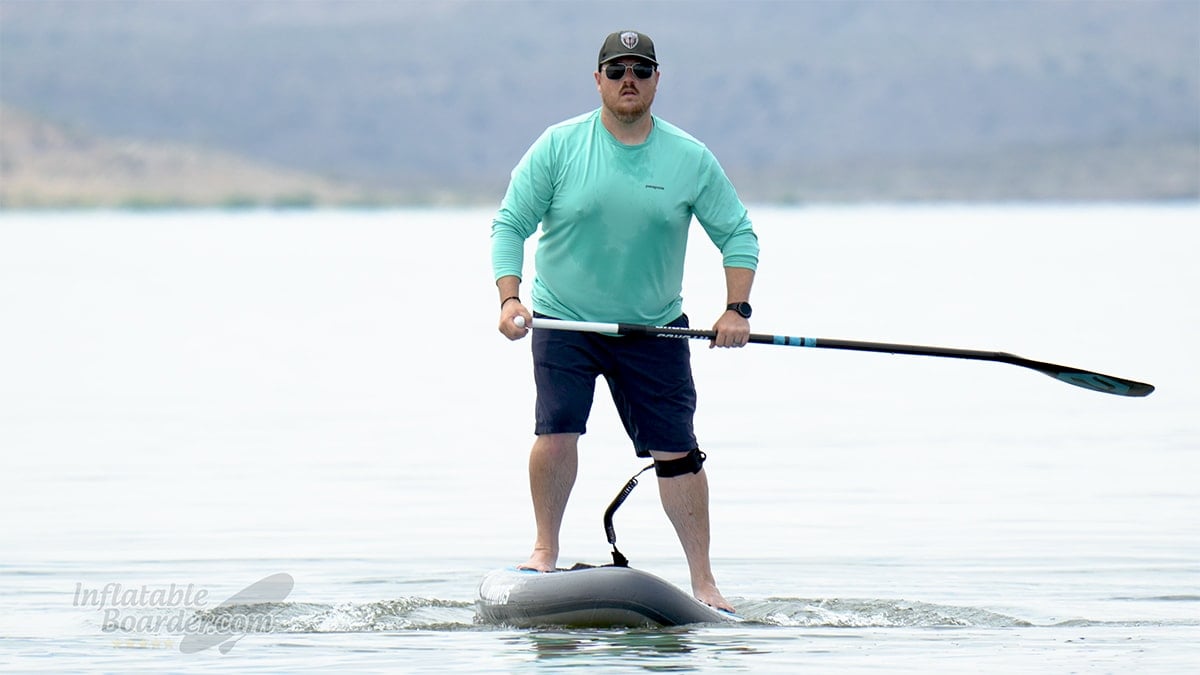 Speed
Boards that are incredibly stable often end up sacrificing speed, however the Hydrus Joyride still keeps things quick on the water.
We use a few different measures to determine how fast a paddleboard is on the water. Of course there's the top-speed and sprint testing, but we also measure how fast the board moves at much easier paddling cadences and how far it will glide on its own between strokes. The Joyride handled all of these tests easily.
While sprinting isn't a super-common use for an all-around board, it is always fun to see how fast you can get going. Using the combination of the Joyride with the 9" fin and Hydrus paddle I clocked an average sprinting speed of 5.6 MPH. That's pretty quick for an all-around, but what really blew me away was watching my GPS unit reach 6.0 MPH peak speed. That's the fastest I've clocked any all-around iSUP and is definitely into the touring board category for top speed. I will throw in the caveat that this was a top speed and there's no way I could sustain it for more than a few paddle strokes in a row.
While sprinting isn't a super-common use for an all-around board, it is always fun to see how fast you can get going. Using the combination of the Joyride with the 9" fin and Hydrus paddle I clocked an average sprinting speed of 5.6 MPH. That's pretty quick for an all-around, but what really blew me away was watching my GPS unit reach 6.0 MPH peak speed. That's the fastest I've clocked any all-around iSUP and is definitely into the touring board category for top speed. I will throw in the caveat that this was a top speed and there's no way I could sustain it for more than a few paddle strokes in a row.
Now, for a more important test for an all-around iSUP – how fast does it paddle at a casual cruising pace? Paddling at 25 strokes per minute (a very casual pace with a slight pause between strokes), the Joyride averaged 3.7 MPH. While it's not the fastest average speed for this category it's close – second place!
Lastly I measured the Joyride's Glide ratio – how far will it travel between paddle strokes before it slows down? After getting to a casual cruising speed the Joyride has an average glide of 22 feet before noticeably slowing down giving it a glide ratio of 2.0 board-lengths per stroke. Once again the Joyride is performing more like a touring board than an all-around!
The Hydrus Joyride can be a fast board. Not just a fast all-around (and it is that) but in the grand scheme of iSUPs, it's definitely up there nipping at the tails of the touring boards.
Maneuverability and Tracking
Balancing maneuverability and tracking can be a tricky task when it comes to board design. There are many different features and shapes of a board that impact both of these characteristics (often in opposition to each other). The Hydrus Joyride seems to have found that happy middle ground with both easy maneuverability and great tracking performance.
Maneuverability is both one of the easiest features of a paddleboard to test and also one of the hardest to make any conclusions about. Our maneuverability test is set up as a stress-test. We make the board turn using the least-efficient (but appropriate) method available. This gives us the greatest range in scoring from board to board. From a stand still we simply turn the board in a full circle using nothing but the forward sweep stroke (an arcing stroke that goes from the nose away from the board then back to the tail). The Hydrus Joyride needed an average of just under 5.5 forward sweep strokes to make the full 360° turn with the 9" fin installed. This score puts the Joyride well above the overall average of 6.5 strokes to complete this test.
While the forward sweep stroke is an effective turning stroke, it's not the fastest turning stroke. Reverse sweeps (paddling in an arc from tail to nose) are faster-turning (3.75 strokes on average for the Joyride), Bow-draw strokes easily allow you to steer up to about 45° without losing forward momentum, and pivot turns can spin you right-round in just a single stroke (after a little bit of practice). So you can see why it can be hard to draw conclusions about maneuverability as a paddler with the right skills can quickly turn any iSUP as far as they want.
Tracking, on the other hand, is difficult to test, but easier to draw conclusions about! After six months of testing and experimentation we've developed our own tracking test that allows us to measure exactly how well any board will track while paddling 10 strokes on a single side. Most beginner and intermediate paddlers take between 4-8 strokes before changing sides and advanced paddlers can paddle indefinitely in a straight line from a single side. In the 10 stroke test we paddle normally towards a distant target and once our course is set take 10 forward strokes in a row on one side (focusing on proper technique to reduce turning). After 10 strokes we measure the distance between the new course and old course using a sighting compass.
While using the 9" touring fin I found that the Joyride drifts an average of just 11° off course over 10 paddle strokes. While that's not quite to the level of a touring SUP, it is at the upper range for all-around paddle boards, including those with multiple fins!
Whether you are tracking a straight line over a long distance or quickly turning in tight situations, it's easy to get the Hydrus Joyride to go exactly where you want it.
All of our testing was done with the included 9" touring fin, however the Joyride comes with three different fin options. The 9" touring fin is a great choice for paddling in deeper waters and for longer distances.
The 6.5" keel fin has roughly the same amount of surface area as the 9" fin. It doesn't track quite as well as the 9" fin, but it does help make the board a little more maneuverable. It's a great option for paddling between shallower and deeper areas and deeper rivers. It also has a tool-less quick release system that allows you to easily install and remove the fin. It can be knocked out if you are paddling in reverse and run into something, however it does stay in place quite well during normal paddling.
Lastly you also get a 4.5" gummy fin. This shallow water fin further reduces your draft depth and is flexible to allow it to soften any impacts and protect both the fin box and you in case you do hit something. The 4.5" fin doesn't track as well as the other two options, but it's a great choice for river paddlers and those who want the most maneuverability.
Warranty and Customer Support
Hydrus is one of the few iSUP companies that offers a lifetime warranty on their iSUPs. They believe in the quality of their materials and construction and are willing to back it up over the expected lifespan of the board – which is typically around 10 years before the PVC material itself begins to degrade in any iSUP. Hydrus extends this warranty to the Hydrus paddle and the Mothership SUP bag as well. Leashes, pumps, and other items are warrantied for 60 days. Hydrus also offers a 30-day return period on all of their products. Hydrus prides themselves on their prompt and robust customer service. You can reach Hydrus with any questions via email, web form, phone, or social media.
Overall Impressions/Review Summary
The Hydrus Joyride is an incredibly versatile all-around iSUP. It has the stability and ease of use for first time paddlers and the on-water performance that advanced paddlers demand from their gear. It's built tough and carries a fantastic warranty to back it up. While it doesn't have as many bells-and-whistles as some other all-around iSUPs, the Joyride's performance and capacity can't be denied. Whether you are casually cruising the bays, fishing your favorite lake, running your local river, or giving overnight touring a try, the Hydrus Joyride is your ticket to a great time on the water.
Paddlers who want extra stability or higher capacity for longer trips should check out the Hydrus Joyride XL. If you're looking for more speed or distance paddling definitely add the Hydrus Paradise and Paradise X to the top of your list. Adrenaline junkies looking to shred some whitewater should check out our review of the Hydrus Axis 98.
Hydrus Joyride iSUP FAQ
Can I bring my child or pet on the Hydrus Joyride?
Absolutely! With great stability and a generous standing area you can easily bring along a passenger or pet.
Does the Hydrus Joyride include a paddle?
Unfortunately the Joyride does not include a paddle automatically. However you can bundle the Hydrus three piece paddle with the Joyride at a reduced price when checking out. If the Hydrus paddle seems a little too large for you, check out our selection of high-quality three piece paddles.
How long does it take to inflate the Joyride?
With the included double-action hand pump it takes about 8-10 minutes to inflate the Joyride to the recommended 15 PSI internal pressure, and a few more minutes to get all the way to the maximum 20 PSI. Electric Pumps are getting faster and faster, and give you the convenience of inflating the board hands free. Check out our favorite electric pumps.
Is the Hydrus Joyride compatible with a kayak seat?
The Joyride is not designed specifically to be compatible with aftermarket kayak seats, however the placement of the D-rings on the board will allow you to use a kayak seat with long enough straps (or by manually extending the straps).
Is the Hydrus Joyride worth the price?
Absolutely. The Joyride is made with the latest materials and technology, performs extremely well on the water, and is backed by a lifetime manufacturer's warranty.