Picking out the best paddle board for beginners in today's crowded SUP marketplace is a challenge, to say the very least. There are a lot of important considerations that you need to take into account when buying your first SUP board, and the coolest looking board may not necessarily be the best board for you!
In this post, we're going to share our top picks for 2017's best beginners paddle boards. Every one of the boards that we are recommending is affordable, durable, portable, and comes with everything you need to get started.
In this post, we are focusing on inflatable SUP boards in the sub-$700 range. While there are definitely some awesome beginner paddle boards in the $1,000 and up price range, most newcomers to the sport of stand up paddleboarding are more interested in an entry-level board to initially get their feet wet with.
We'll first provide a brief overview of the boards, and then follow with a comparison chart for easy reference. So, without further ado, let's get to the boards…
The Best Paddle Boards for Beginners – 2017
BOARD
DIMENSIONS
WEIGHT
CAPACITY
WARRANTY
PRICE
ISLE Airtech 10'

Includes: Paddle, backpack, pump, repair kit
10'x31"x6"
17.5 lbs
240 lbs
2 years + 30 day money back
Ten Toes Weekender

Includes: Paddle, pump, repair kit
10'x30"x6"
29 lbs
275 lbs
1 year + 50 day money back
Tower Adventurer

Includes: Paddle, pump
9'10"x32"x6"
24 lbs
300 lbs
2 years
iRocker 10'

Includes: Paddle, backpack, pump
10'x30"x6"
20 lbs
350 lbs
2 years + 30 day money back guarantee
---
ISLE Airtech 10′
The first board up in this year's best beginner paddle board list is the ISLE Airtech 10′. This inflatable SUP board is stable and super fun to paddle, and it's extremely durable due to the military-grade drop stitch construction. The ISLE Airtech 10′ does well in both flat water and small surf, and the 2016 introduction of ISLE's Airtech technology has made the board both lighter and stiffer.
The board ships with an ISLE SUP 3-piece aluminum adjustable travel paddle, backpack, inflatable SUP repair kit, fins, and high-pressure pump and gauge. It also comes with an awesome 2 year warranty and a 30 day money back guarantee — if you don't love the board, they'll take it back.
For more details on this board, be sure to check out our in-depth ISLE Airtech 10′ review.
---
Ten Toes Weekender
Next up, is the Ten Toes Weekender SUP. This is an extremely stable inflatable paddle board that's built to last, and it comes in a nice variety of colors.
We love the retro-inspired styling of the Weekender, and it features top-quality materials and construction throughout.
The Ten Toes Weekender includes an aluminum paddle, an air pump, three removable rear fins, and a repair kit. For peace of mind, it's backed by a 1 year warranty and a 50 day money back guarantee.
Read our full-length Ten Toes Weekender write-up for more info.
---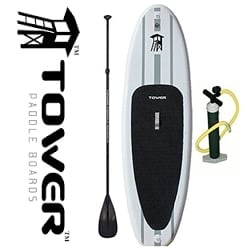 Tower Adventurer
The Tower Adventurer SUP is a super popular inflatable SUP board that packs a lot of value. San Diego-based Tower Paddle Boards has a nice line of affordable SUPs, and this board's features make it a great choice for anyone who is just starting out.
Like the other boards we're listing, the Adventurer is made of a tough, military-grade drop stitch material that is pretty much indestructible. The board has great stiffness and feels very similar to a hard SUP board.
While not the fastest board around, the Tower Adventurer is a fun and stable board that any beginner would do well with. For more in-depth details, read our full Tower Adventurer iSUP review.
---
iRocker 10′
The last beginner paddle board that we'll be covering today is the iRocker 10′ SUP. iRocker is a fairly new name on the paddleboarding scene, but the word is quickly getting out that these guys produce some great inflatable paddle boards.
As mentioned in our in-depth iRocker 10′ review, this board features great styling, toughness, and paddling stability which is extremely important on a beginner board.
The board comes with a nice bundle of iRocker SUP accessories, including a backpack, pump, and adjustable aluminum paddle. It also comes with iRocker's 2 year warranty and a 30 day money back guarantee.
---
Final Thoughts
So, which of these is the very best paddle board for beginners? At the end of the day, you really can't go wrong with any of them…
At less than $700, each of these inflatable SUP boards is priced very affordably
Each of these boards comes with a 2 year warranty against manufacturer defects
Every board comes with everything needed to get started
Each board features top-quality materials and durable construction
All of these inflatable paddle boards are an excellent choice for a beginner
So, we hope that we've helped to narrow down the field of beginner paddle boards. Regardless of what board you choose, you'll no doubt enjoy your new SUP for many years to come.
Happy paddling!