Brand new for 2018, the THURSO SURF Expedition 11'6″ is a fast inflatable touring SUP that is super affordable and packs a ton of value. The latest edition in the company's growing line of iSUPs, this board is the perfect choice for paddling long distances and embarking on multi-day paddling expeditions.
A relative newcomer to the SUP world, THURSO SURF has quickly built a reputation for their beautiful board designs, durable construction, and outstanding overall value. Currently, the THURSO SUP line consists of 5 models which range in size from 7'6″ to 11'6″.
In this review of the 2018 THURSO SURF Expedition 11'6″ SUP, we'll go over the board's specs, features, paddling performance, included accessories, and more.
In a Hurry? Here's a Quick Summary…
Pros
Rigid
Very durable
Attractive design
Glides well
Affordable
Convenient toolless fin system
Grab handle at nose
Extra D-rings for attaching a kayak seat
Big bundle of SUP accessories included
Upgraded carbon shaft paddle
2-year warranty
Top-shelf customer support
Cons
No raised kick tail on traction pad
Traction pad could be extended a bit more at the tail
Carrying handle's neoprene cover isn't removable
Price & Where to Buy it
THURSO SURF Expedition 11'6″ Review: SUP Overview
Measuring 11'6″ x 30″ x 6″ and weighing in at 26 pounds, THURSO's 11'6″ Expedition fills a gap in the company's board lineup. Up until this point, THURSO has primarily focused on producing all-around models. This longer touring board is exactly what many have been waiting for — a faster, sleeker board that is built with speed and paddling long distances in mind.
If you're familiar with THURSO 's other models, much of this board will look familiar as the company uses the same design elements and basic features across their entire range. Without further ado, let's take a look at this board's features…
Features
The top deck of the Expedition 11'6″ features THURSO's signature woodgrain graphic — a design that looks absolutely striking in the water and really causes these boards to stand out from the pack. Covering the deck is a comfortable, two-piece EVA foam traction pad that is ribbed with a dimpled texture. The front two-thirds of the deck pad is white and gray, while the back third is black and gray with white accents.
In the middle of the board is a carrying handle that now features a cushioned neoprene cover. The neoprene cover has a velcro closure that allows it to be opened, giving you a convenient place to secure your SUP paddle while out on the water.
Located on either side of the traction pad along the rails are four stainless steel D-rings for securing an optional kayak seat or tying down gear…
At the board's nose are four additional D-rings with an elastic bungee cord storage area. This is an ideal place to stash your dry bag, Crocs, and other small items. There's also a grab handle at the nose of the Expedition, which really comes in handy whenever you're pulling this big board in and out of the water.
Located at the board's tail is a Halkey Roberts-style inflation valve and a ninth D-ring for attaching the included SUP leash.
On the underside of the THURSO Expedition is a tri-fin setup, which contributes nicely to the board's excellent tracking capabilities. All three fins are removable and attach securely with an easy-to-use toolless fin system. To install the fins, you simply drop the front of the fin into the channel, seat the fin, then push down on the secure locking lever.
Construction
As with all THURSO inflatable paddle boards, the Expedition is built with military-grade materials and designed to be virtually indestructible. The inner drop stitch core is covered by a durable PVC layer, a composite adhesive, and then a second PVC layer. The rails of the board also feature a double layer of PVC which increases both the durability and rigidity of the board.
The tough outer skin of the Expedition is extremely resistant to cuts, scrapes, and other damage, making this a board that you can really depend on — even in harsh conditions. The bombproof outer layer also makes this board a good choice for anyone who wants to paddle with their pup, as the board won't get damaged by your dog's nails.
Performance
In a word, this board is fun. Faster than THURSO's Waterwalker 10'6″ and Waterwalker 11′ models and capable of better straight line tracking, the Expedition is a joy to paddle.
We appreciate the 30″ width of this board as it offers a nice blend of performance and stability. A board that really excels in flat water conditions, the Expedition feels solid under the feet and is also stable enough for choppier ocean paddles.
Whether you're in the market for a rugged inflatable paddle board for overnight SUP excursions or simply want a faster board for cruising and paddling longer distances, the THURSO Expedition 11'6″ is definitely up to the task.
THURSO SURF Expedition 11'6" Rating
Durability
Features
Versatility
Stability
Speed
Portability
Warranty
Customer Support
Price
Specs
| | |
| --- | --- |
| Length | 11'6" |
| Width | 30" |
| Thickness | 6" |
| Weight | 26 pounds |
| Max Capacity | 330 pounds |
| Price | |
What's Included
THURSO SURF is very well-known for their great SUP accessory bundles, and the accessories that they include with the new Expedition touring board give you everything you need to start paddling (except a PFD of course, which we highly recommend).
In the box, you'll find a THURSO SUP backpack, insulated deck bag, 3-piece carbon shaft travel paddle, repair kit, dual-action hand pump, and 10′ coiled SUP leash.
THURSO SURF Travel Backpack
The included SUP backpack is a fairly basic model that gets the job done. The front exterior of the bag features a clear zippered storage pouch that can be used to store your SUP fins and other small accessories. A large THURSO SURF logo also appears on the front of the bag.
There are three convenient grab handles located on the top and both sides of the bag, making it easy to pull this backpack in and out of the car.
On the back of the bag is a fourth grab handle as well as a set of adjustable backpack straps, a sternum strap, and an adjustable waist belt. The back of the bag is well-padded and the straps have metal D-rings which gives you the option of attaching gadgets and other small accessories.
Insulated Deck Bag
A nice deal-sweetener that THURSO includes with the Expedition 11'6″ is their insulated SUP deck bag. This water resistant bag slips neatly into the Expedition's bungee cord storage area, and it's water resistant.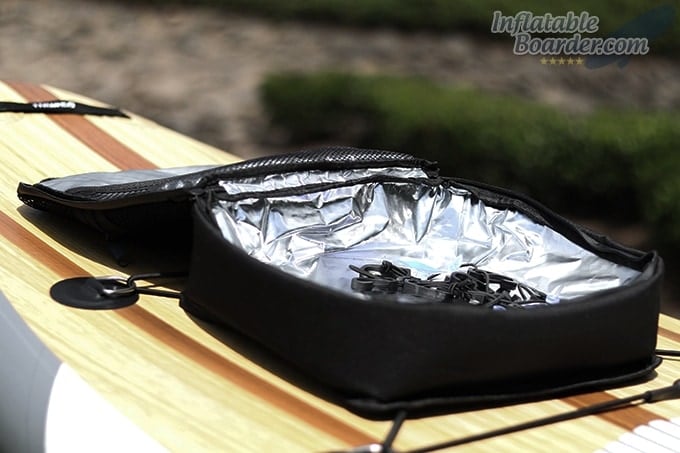 On the bag's exterior is a zippered mesh storage pocket. The interior of the bag is lined with insulation and features a second mesh storage pocket. Perfect for bringing along your lunch, some beverages, or small accessories, the THURSO deck bag has a generous 10-can capacity.
THURSO Carbon Shaft Paddle
THURSO's carbon shaft paddle is a nice upgrade over the aluminum or fiberglass paddles that typically come bundled in SUP accessory packs. The 3-piece travel paddle quickly assembles by sliding the pieces together and flipping the locking clasps closed.
One downside to this type of paddle is that it's prone to twisting. If your paddle arrived a bit loose from the factory, this problem can be quickly addressed by rotating the locking clasps several times. In our experience, however, the factory doesn't always include the proper hex nut and round nuts will slip whenever you attempt to tighten things up. The best thing to do in this case is to assemble the paddle, close the clasp, and then use a small wrench to tighten the screw until the paddle no longer twists.
Repair Kit
Included in THURSO's repair kit is a valve wrench, small brush for applying adhesive, two PVC repair patches, and three replacement levers for the included fins.
Dual-Action SUP Pump
The pump that THURSO includes with the Expedition is good quality and works well. It's a dual-action pump with a built-in pressure gauge, and it allows you to inflate your board on the up and downstrokes in the beginning of the inflation process…
Once the pressure increases, you can flip the switch to the other mode which will only add air on the downstrokes — making it much easier to finish pumping the board up to the recommended pressure of 15 PSI.
THURSO SUP Leash
The included SUP leash is THURSO-branded and 10′ in length. THURSO included a straight cord leash with their first board, but after customer feedback they're now shipping their boards with coiled leashes. The leash is sturdy, comfortable, and features a built-in pocket for stashing your keys.
Warranty
THURSO stands behind all of their inflatable paddle boards by offering a generous 2-year warranty which covers manufacturing defects. Additionally, we love the fact that this young company understands the importance of customer service and is intently focused on providing top-shelf support (even long after the sale is made). In all of our dealings with THURSO, they've proven to be an honest, hardworking company that truly listens to customer feedback, and it's obvious to us that the satisfaction of their customers is something that is highly valued.
Final Thoughts
If you feel the need for speed and are looking to move up to a longer touring board, THURSO's affordable 11'6″ Expedition is a fantastic choice. From the stunning woodgrain appearance of the board's top deck to the impressive overall fun factor, the Expedition is a board that you'll definitely get a lot of enjoyment out of.
We love the fact that THURSO prices their boards so affordably yet somehow manages to pack in such an incredible amount of additional value in the way of their fully-loaded SUP bundle. You really get everything needed to start paddling (and then some), as well as an upgraded carbon fiber shaft paddle and rock-solid 2-year warranty to boot.
Although the Expedition was just released, we predict that it will become a very popular board in the near future. The company's previous all-around boards have been popular sellers, and there are plenty of paddlers who are in the market for a fast and affordable touring model.