Thurso Expedition 138 Inflatable SUP Review | 2023
Inflatable Boarder is reader-supported and may earn a commission when you buy through links on our site. Learn more
Thurso Surf Expedition 138 iSUP: Overview
The Thurso Surf Expedition 138 is a smaller, nimbler touring iSUP that offers the same great performance as the larger Expedition 150. With its smaller size, the Expedition 138 is a great choice for smaller adult paddlers and teens. The excellent construction and narrow outline keep it gliding quickly on the water. At only 28.5" wide, the Expedition 138 is not as beginner-friendly as the larger Expedition 150, but is still easy to balance given how narrow it is.
— Thurso Surf Expedition 138 Summary Ratings and Review —
THURSO SURF Expedition
Construction & Durability

Features & Versatility

Paddle

Stability

Speed

Maneuverability

Tracking

Warranty & Customer Support

Value
Construction and Durability
Thurso Surf goes above and beyond with the construction of their inflatable paddleboards. Modern drop stitch materials and carbon fiber rail reinforcements make the Expedition 138 stiff and durable.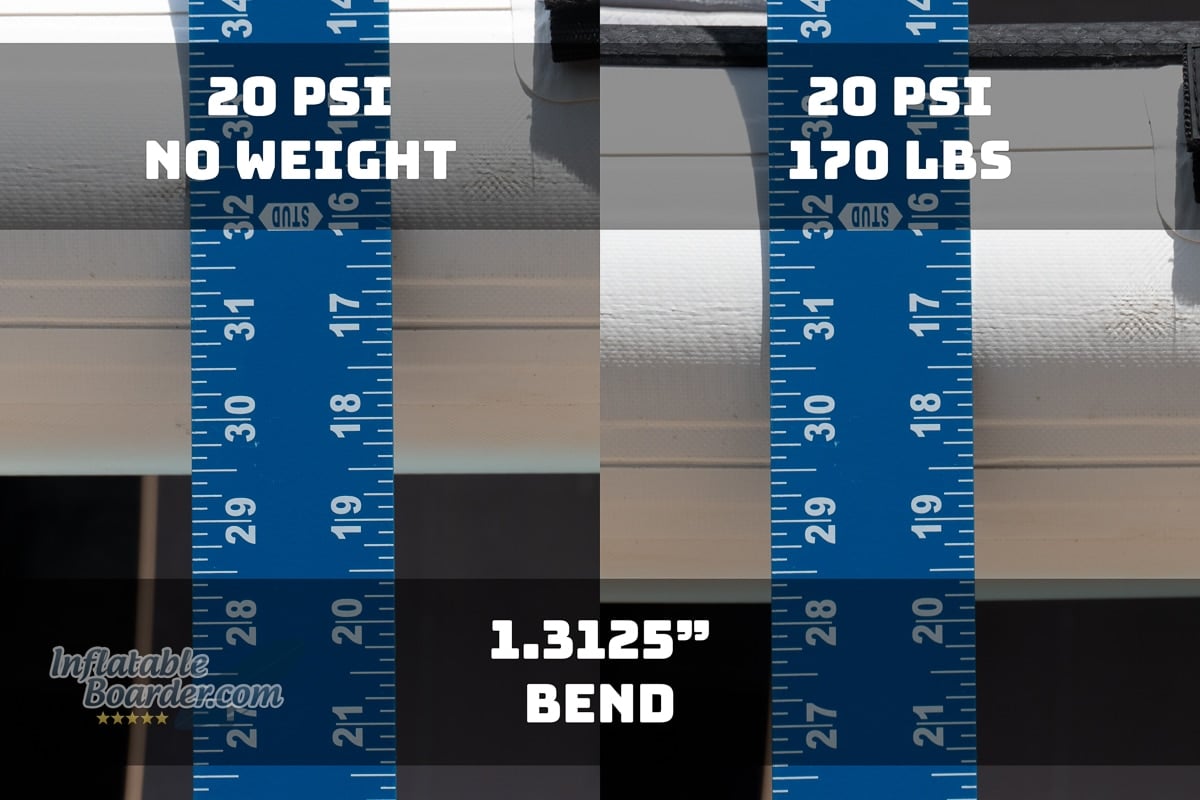 Thurso Surf uses the same construction in almost all of their inflatable paddleboards, and it's a great build (their Prodigy Junior kid's boards being the exception). It starts with an interior woven fabric layer. This woven layer reduces weight and increases stiffness in the deck and hull of the board when compared to the typical knitted fabric layers used in the majority of iSUPs. The fabric layers are connected with thousands of individual threads (aka drop stitching) to keep the board flat once inflated.
The fabric is then covered in two layers of durable PVC material to create the skin of the board. These layers not only create an airtight barrier, but also stiffen the board significantly compared to a single layer construction. These top and bottom layers are then joined by a layer of PVC material around the rail (side) of the board to complete the airtight chamber for the board. This rail layer is then further reinforced with a layer of carbon fiber fabric, another layer of PVC, and then PVC seam reinforcement strips along the top and bottom of the rail. All together this creates a very stiff and very durable paddleboard.
The Expedition 138 is rated to a maximum inflation pressure of 20 PSI (1.38 Bar). We put the Expedition 138 through our static bend test at 20 PSI by suspending it with a 7 foot gap between supports and loading it with 170lb of weight. When loaded up in our test, the Expedition 138 showed just under 1.4" of bend, putting it well above average across all of our tested paddleboards.
This stiff construction creates a more stable board that is also more efficient on the water.
While paddling the Expedition 138 there is no perceptible flex or bend in the board, even when paddling hard to reach your top speed. Of course we like to take things to the extreme, so we also test board stiffness by bouncing up and down on them while on the water. Here I did note some mild-to-moderate flex, but with a very predictable rebound. While walking on the board I once again did not notice any flex or bounce, which helps increase confidence while moving around on the narrow board.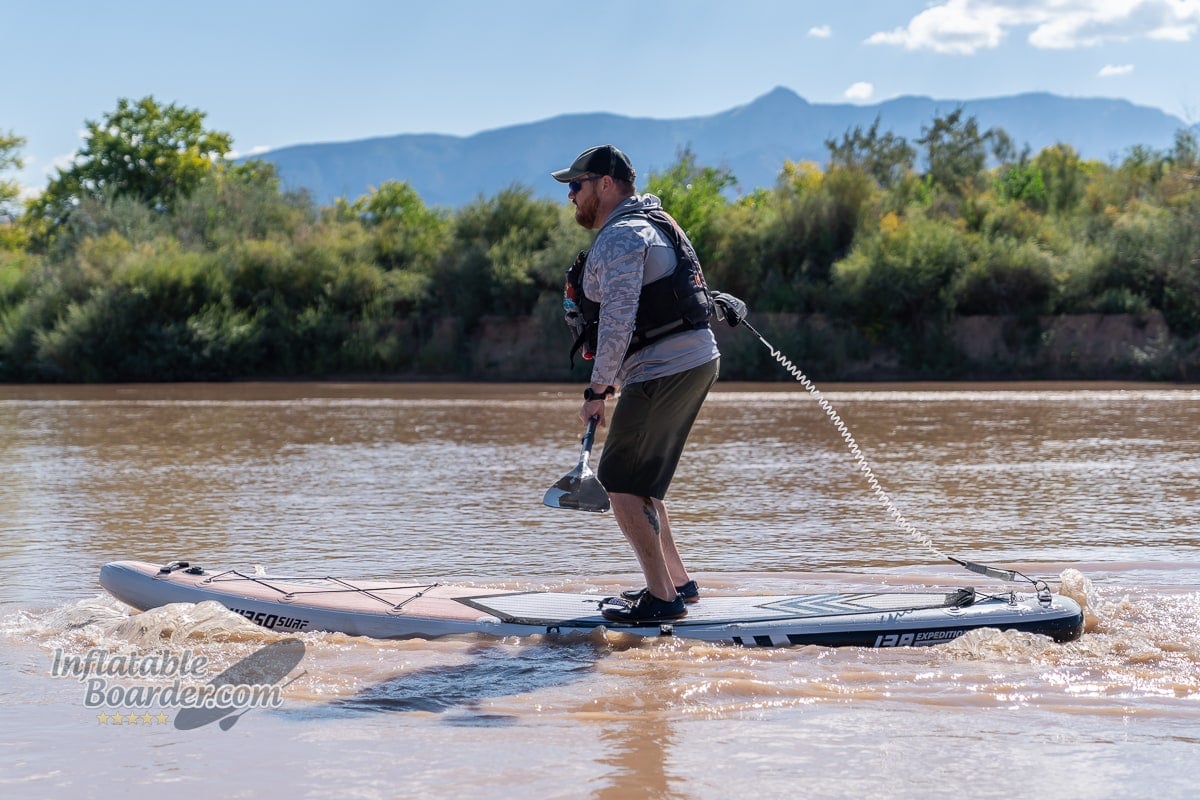 Specifications
Dimensions
Length
11'6"
Width
30"
Thickness
6"
Weight
Max Capacity
180 pounds
Board Weight
28 pounds
Kit Weight
(SUP & accessories)
pounds
Buying Info
List Price
$899
Warranty
2 years
Returns period
30 days
Features, Accessories and Versatility
The Expedition 138 shares all the same features and accessories as its larger version including plenty of cargo space, cooler and kayak seat compatibility, a built-in action mount, and more.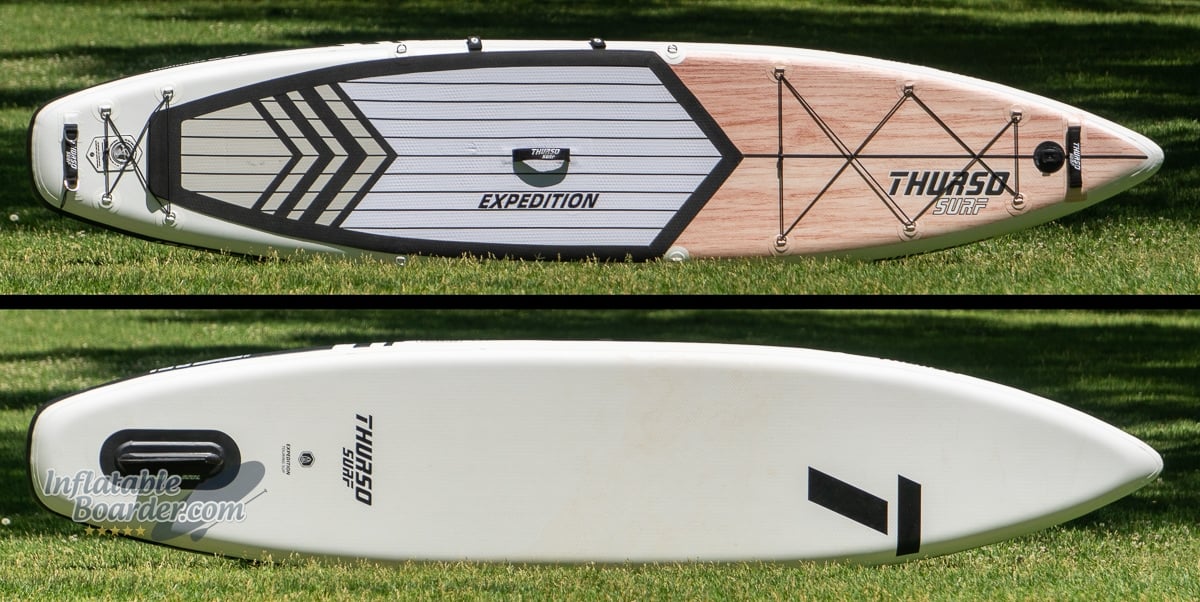 Starting at the nose of the board, the Expedition 138 has a very large front cargo area made up of six d-rings and a fixed-length bungee cord. For most paddlers this gives you more than enough space to store all of your essentials for a full day on the water. If you are setting the Expedition 138 up for longer trips, you may need to either replace the bungee cord with a longer one to accommodate larger dry bags, or simply pack on top of the existing cord and tie down your gear with ropes or cam straps.
You'll also find the integrated action mount at the nose of the board. It's build with a molded mount that will accept GoPro-style "feet" attachments and it also has a threaded insert for other accessories. Because it is all the way at the (fairly narrow) nose of the board, this spot is best used for accessories you may not be accessing frequently. If you are using an action camera, having a remote (or phone control/voice activation) is very handy.
There are four more d-rings spaced around the middle of the board as well. These d-rings are set up to accept a kayak seat, but can also be rigged to hold coolers or additional equipment as needed. The deck pad is grooved and logo-embossed. These small indentations greatly increase traction compared to a flat EVA foam deck pad and the grooves add additional grip from side to side (making it easier to stay connected when the board is tilted on its edge).
At the rear of the board the deck pad ends with a raised kick pad. This raised section gives you more control and stability when stepping back on the tail of the board to lift the nose for downwinding, surfing, or pivot turning. There is another small cargo area here at the tail of the board and the positioning of the d-rings places part of the cargo bungee right on the kick pad. While this bungee cord doesn't greatly interfere with using the kick pad, when you are standing back on the tail of the board having a really solid connection with the board is important in maintaining traction and confidence as there is less stability in such a position. This small cargo area is also pretty small. You can fit a small dry bag or a pair of sandals or water bottle there, but it's not going to effectively hold much else, especially because the kick pad does take up some of that space. In the case of a touring board loaded up for a longer expedition, I would prefer to have the rear cargo area placed farther forward to accommodate more equipment, and to put that weight in a most stable position on the board.
The complete kit that comes with the Expedition 138 includes the board itself, a carbon fiber/nylon paddle (more on that below), a double-chamber/triple-action hand pump, and wheeled carry bag. You also get a great accessory storage roll that includes a semi-flexible 9" touring fin, coiled leash, and repair kit. I really like this accessory roll and wish I had one for every board. It really makes it easy to keep all of the small bits and bobs that come with your board organized and secure. The clear pockets let you see everything at once, and each of the pockets is zippered to keep everything in place.
The wheeled bag itself leaves a little bit to be desired. The lightweight nylon material keeps the bag's weight down, but it is not as durable as a heavier denier material. Thurso Surf uses the same bag for the Expedition 138, Expedition 150, Max Multi-purpose, and a few of their other iSUPs. Because the bag is made to accommodate those larger boards as well, the Expedition 138 tends to swim in the bag and the single compression strap only helps a little. The backpack harness is also greatly reduced in size and padding, but is set up so that it can be tucked away into a flap on the bag if you aren't using it.
Paddle
The Expedition 138 comes with Thurso Surf's standard carbon fiber/nylon adjustable 3-piece paddle. It's an excellent balance of size, weight and comfort. Thurso Surf also offers a full carbon fiber paddle blade that is well worth the upgrade.
The included adjustable 3-piece carbon fiber/nylon paddle balances weight, stiffness, power, and comfort well. The medium-large carbon/nylon blade isn't too heavy to throw off the balance of the lightweight carbon fiber shaft. It has a traditional low-aspect/teardrop shape and both a slight scoop and rake angle. The scoop helps hold better in the water and counteract flex from the nylon blade, while the rake angle helps keep the paddle vertical for a longer period of time during your stroke – both of which help increase the power you can generate from a single paddle stroke.
The handle section of the paddle is a little different than most kit paddles with its T-grip handle. T-grips allow you to grip the handle a little tighter than a standard palm grip, but they also give you tactile feedback on how your blade is oriented in the water. This T-grip also has a rubberized coating for even better grip when wet, but it's not so textured that it rubs your hands while paddling.
Thurso also makes a fully carbon fiber blade that is compatible with their current paddle shafts. The Carbon Elite blade is a touch smaller than the nylon hybrid blade and has a narrower outline. Additionally the blade face loses the scoop shape, but gains two dihedral lines. These lines both help direct water off the blade to reduce fluttering and they create a pocket in the blad face to increase the paddle's hold in the water.
While most brands that offer carbon fiber upgrades like this require you to purchase an entirely new paddle, Thurso Surf offers their Carbon Elite blade as a stand-alone product at a significantly reduced price compared to a new carbon fiber paddle. The Carbon Elite blade upgrade is absolutely worth getting to pair with your Expedition 138. The increase in power and decrease in weight is very noticeable and welcome for longer days on the water or paddling at faster cadences and speeds.
Stability
The Expedition 138 is not designed as an over-stable paddleboard for beginners. In fact, it actually measures an inch and a half narrower than its specified width! But despite that, the Expedition 138 is still surprisingly stable for its size.
One of the biggest factors in a paddleboard's overall stability is its width. The Expedition 138 is listed as having a 30" width, but when measured we found the widest point to be just 28.5". This is a rather large deviation, and should be taken into consideration when shopping for a board. The Expedition 150 also exhibits a bit of shrinkage at just 30" versus the specified 31" width.
However, width is not the only factor in stability. Length, stiffness and shape all play critical roles in staying upright on any paddleboard. Here the Expedition 138 makes up for the loss in width. At 11'6" long, the Expedition 138 ("138" is for 138", or 11'6") is just long enough to be considered a dedicated touring or fitness SUP, but is long enough to add sufficient volume to support up to 330lb of weight. The outline of the board also offers a long parallel section in the middle of the board and long, gentle tapers to the nose and tail. This keeps the board wider over a longer length, which increases its stability. Lastly, the Expedition 138's woven fabric base layer, double layer PVC, and carbon fiber reinforced rails all work together to keep the board very stiff.
These factors all add together to increase the overall stability of the Expedition 138 compared to other narrow iSUPs. Now, while the stability is good for its width, standing on the Expedition 138 does still take some concentration and skill for average- or larger-size paddlers. I'm 230lb, which is well within the Expedition 138's overall weight capacity, but just beyond the recommended rider weight for the average-skilled paddler. I found the Expedition 138 to have just a little bit of a rolling sensation and took a little bit of effort to maintain my balance in 5-10mph winds while standing still. Once I began paddling the Expedition 138 gained some dynamic stabilization (similar to riding a bicycle) and was easier to work with.
Holding the Expedition 138 on its edge was once again better than I expected for its size thanks to the board's shape, but still lightly twitchy – especially when compared to the Expedition 150. I do believe this is mostly due to paddler size since the two boards share the same shape.
For smaller adult paddlers and teens under 5'8" and 150lb, the Expedition 138 is going to offer great stability for a touring/fitness paddleboard.
Speed
Touring iSUPs are designed for efficiency on the water which translates directly to speed. The Expedition 138 is no exception, but it's shorter length does leave it at a slightly lower top speed than longer 12'6"-14' touring boards.
The narrow size and gently-tapered outline of the Expedition 138 keep it gliding smoothly and efficiently on the water. In our testing, each paddle stroke moved the Expedition 138 about 2 board lengths before noticeably slowing down. This is pretty average for our touring boards, but is far more efficient than the 11'6" all-around style iSUPs we've tested (averaging about 1.5 board lengths per stroke).
When winding up the board from a dead stop, the Expedition 138 accelerates readily to its top speed with very little bobbing due to its stiff construction. However that top speed is noticeably lacking compared to the longer Expedition 150. There's far more about boat design and hull speed than I'll probably ever know, however there is a direct correlation between a watercraft's waterline length and its maximum hull speed. The short of it is, the longer the board, the faster it can go. At 11'6" long, the Expedition 138 is at a disadvantage in a race against more traditional 12'6"-14' touring iSUPs. The narrow width does give it back some advantage – but only for the right size paddlers. I definitely noticed more issues with stability while sprinting on the Expedition 138 vs Expedition 150, which will slow you down. I also found my paddle hitting the paddle holders on the Expedition 138 rather frequently, but not with the Expedition 150. When comparing the placement of the velcro paddle holders between the two models, they are placed a little bit lower down on the Expedition 138 (overlapping the seam reinforcement strips) than they are on the Expedition 150 (placed just above the seam reinforcement strips). I'm sure this placement difference is due to the diminished width of the Expedition 138 and desire to keep the deck pad wide enough to accommodate a comfortable stance.
Overall the Expedition 138 offers similar efficiency on the water compared to other touring iSUPs. A smaller paddler will have fewer stability issues and will be able to use that extra energy to move faster in a sprint, but over a long distance, the shorter Expedition 138 does fall just a bit behind on overall speed.
Maneuverability and Tracking
Where most touring boards are known for their efficiency and tracking, but not maneuverability, the Expedition 138 provides great mobility while only taking a small hit to its straight-line tracking ability.
The shorter length of the Expedition 138 does a great job of improving maneuverability compared to other touring iSUPs. Using a forward sweep stroke (starting at the nose then sweeping out and back to the tail) from a standstill, the Expedition 138 can execute a full 360° turn in flat water in just 5 strokes. This is an incredibly small turning radius for a touring board, and is even on the smaller side for many all-around boards. In addition to the shorter length, the Expedition 138 also has a single fin box. While this test was done using the included 9" touring fin, the lack of other fins does help it turn faster.
When using reverse sweep strokes, the Expedition 138 turns even quicker, completing the same 360° turn in just four strokes. While using reverse strokes to turn your board does give you a tighter turning radius, it also stops any forward momentum you have, so it's best to use these strokes only when stopped or at very low speeds, so their use while paddling is a little limited.
Lastly, turning using more advanced techniques like bow-draws and pivot turns is much quicker, however the reduced width of the Expedition 138 does make pivot turning (stepping back on the tail of the board to lift the nose) significantly more challenging as the stability is greatly reduced. The raised kick pad on the tail does offer better traction and control, however once you are on the tail of the board it does get a little twitchy and is very sensitive to shifting your weight from heel to toe.
Touring paddleboards are known for their efficiency in a straight line, partly due to their excellent ability to paddle straight with very little corrective input (also known as tracking). The Expedition 138 likewise offers great tracking ability, however not quite to the level that we've seen with more traditional size touring boards like the Expedition 150.
While speed testing I did notice a good amount of rotation while paddling hard, particularly at the beginning of a sprint, however this lessened as the board got up to speed.
While cruising around the Expedition was easy to keep on course and needed very little steering input. In our 10-stroke tracking test, the Expedition 138 did very well, averaging only a 10° course deviation while paddling 10 strokes on one side. This is excellent tracking performance compared to other 11'6" boards (especially all-around style boards), but this falls a little short of the tracking ability for other touring boards like the Expedition 150 ( with only 4° of course deviation).
The Expedition 138 comes with a single 9" semi-flexible touring fin to match its single US Fin box. The US Fin box is a standard system that's been around for decades and has hundreds of different compatible fins from dozens of brands – so if you need to change this fin out for another one to better suit your style of paddling, it's very easy to do.
The included fin also comes with several Kumano plastic inserts (the orange disc in the photo above) that allow you to install the fin securely without any tools. This is a great time (and headache) saver compared to using fin bolts and nuts. I'm a huge fan of this system.
The 9" touring fin is well matched to the Expedition 138. It not only maintains the excellent tracking ability, but the wider shape also adds a great amount of stability compared to narrower "dolphin" or "flex" shape fins. On touring boards I do typically prefer to have just a single fin (reduces drag, still offers great tracking, etc) but on this shorter board I feel that having a three fin system would allow for greater versatility to match the Expedition 138's maneuverability (by using three smaller fins in shallower conditions or for surfing) and to potentially increase stability even further.
Warranty and Customer Support
The Expedition 138 is covered by Thurso Surf's 2 year warranty against any manufacturing or material issues. They also offer a 30 day return policy. These are fairly standard length warranty and return periods and Thruso Surf has been very responsive to customers with questions or concerns. You can reach Thurso Surf via their online form, email or social media.
Value
The Expedition 138 is a high-performance iSUP built with great materials and construction techniques, includes an excellent set of accessories and good warranty. The overall value of the Expedition 138 is high – so long as it is the right fit for you. Smaller adults and teens will find it to be a fun, fast, and efficient touring board, but larger adults and those wanting to carry more equipment for longer trips will find more value in a larger-size board.
Overall Impressions/Review Summary
The Thurso Surf Expedition 138 is a nimble touring and fitness iSUP that is an excellent choice for smaller adults and teens. It is rather narrow at only 28.5" wide, but the Expedition 138's excellent construction quality, length, and shape make it a great choice for efficient light touring. As a larger paddler myself, I do prefer the Expedition 150 for its extra stability and length, but had no real issues paddling the Expedition 138. Between the great build quality, excellent performance, great accessories and Thurso Surf's warranty, the Expedition 138 is a fantastic choice for smaller paddlers who want to go faster and farther without the bulk of a full-size touring board.
Thurso Surf Expedition 138 iSUP FAQ
No schema found.