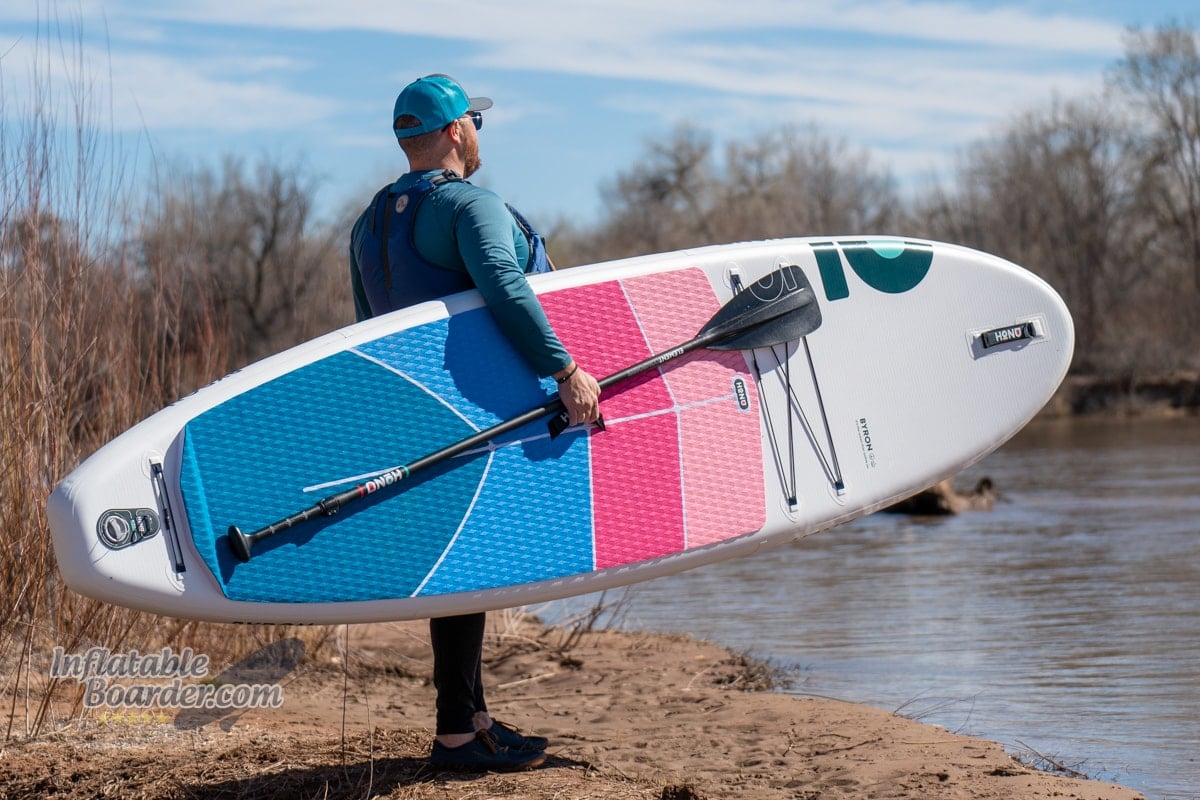 Honu Byron: Overview
When minimalist design and maximalist construction m `eet, you get a Honu paddleboard. The Byron is their flagship all-around iSUP that has quickly become one of my favorites. Its advanced construction, well-balanced shape, and on-water performance come in a high-quality, light-weight package that lets you customize your accessories so you aren't paying for items you don't need or want.
— Honu Byron Summary Ratings and Review —
Honu Byron
Construction & Durability

Features and Versatility

Stability

Speed

Maneuverability

Tracking
Overall Score
The Honu Byron is a high-performance all-around iSUP focused on the paddling experience.
Pros
Woven drop stitch fabric
Cross-stitched drop stitching
Fusion PVC
Truly ultralight
4.7" thickness
Beautiful design
Excellent deck pad
Great tracking and maneuverability
Biodegradable packaging
US fin box standard
Cons
Minimalist feature set may not be enough for some users
No paddle or pump included
Construction and Durability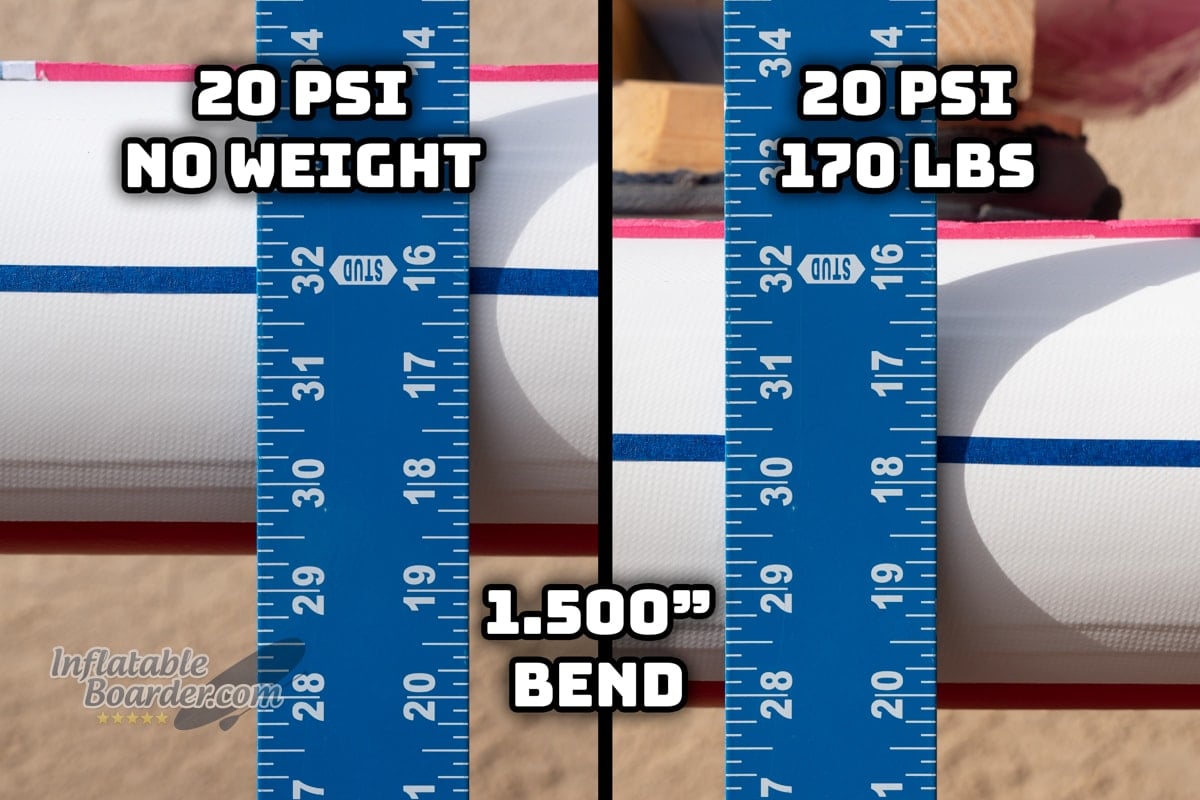 One of the biggest differences with the Honu Byron compared to is its 4.7" thickness. While most inflatable paddleboards are 6" thick. The thickness of the board can drastically impact its performance and thinner, and thicker, boards have their benefits and drawbacks.
If all other things (shape, size, materials, etc.) are the same, a thicker board will have a greater carrying capacity and will be stiffer overall. Thinner boards lower the user's center of gravity (increasing stability) and allow for easier engagement of the rails for steering and surfing.
However, it is very rare to find two boards that are made entirely the same except for their thickness. While the example of the two hypothetical boards shows how changing just one variable can impact a paddleboard's performance, it's not the whole story. The Byron uses a few extra tricks to get the best of both worlds.
First, Honu uses a woven fabric base layer – which is stiffer and lighter than traditional knitted fabric – along with crossed drop stitching. The crossed drop stitching once again reduces weight, but actually increases the overall stiffness, much like the crossed bracing members on a bridge.
The PVC shell is then fused to the polyester fabric base layer rather than glued. This fusion construction once again reduces weight (since it eliminates a layer of glue) and increases stiffness. Lastly the Byron gets three independent layers of PVC wrapped around the rails (sides) of the board for – you guessed it – increased stiffness and durability.
Now that my paddleboard-tech-nerd section is done – what does this actually mean? The Honu Byron is an amazingly built iSUP that performs excellently on the water and weighs just 16.9 lbs according to Honu, but my scale reads 17.6 lbs. Which is still incredibly light for an all-around iSUP.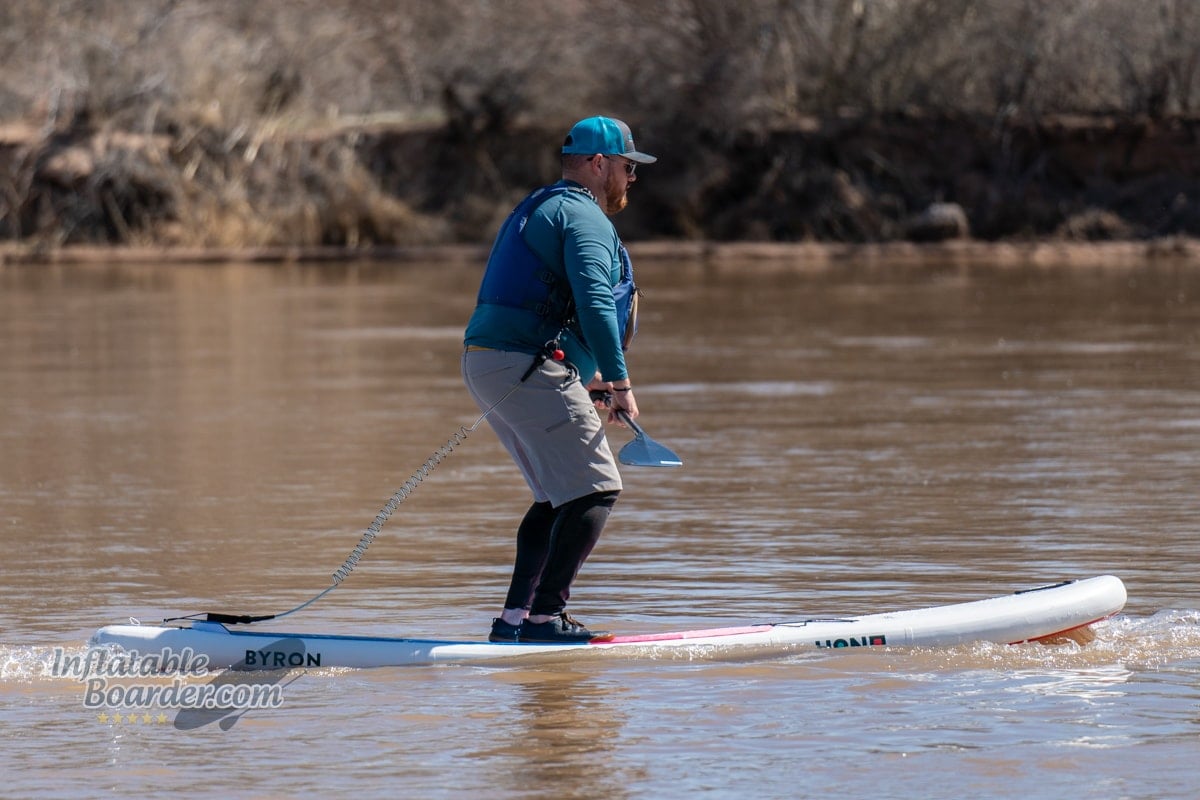 The Byron is rated to 20 psi maximum recommended inflation pressure. At 20 PSI it performs very well on the water. I did find a noticeable bend when bouncing on the board (seen above) and when sprinting hard, but not when paddling under normal conditions. While the Byron did rank right in the middle with our bend test, it's also one of the very few 4.7" thick boards we've tested.
Specifications
Dimensions
Length
10' 6"
Width
31.5"
Thickness
4.7"
Weight
Max Capacity
240 pounds
Board Weight
17.6 pounds
Kit Weight

26.0 pounds
Buying Info
List Price
Warranty
4 years
Returns period
30 days
Features, Accessories and Versatility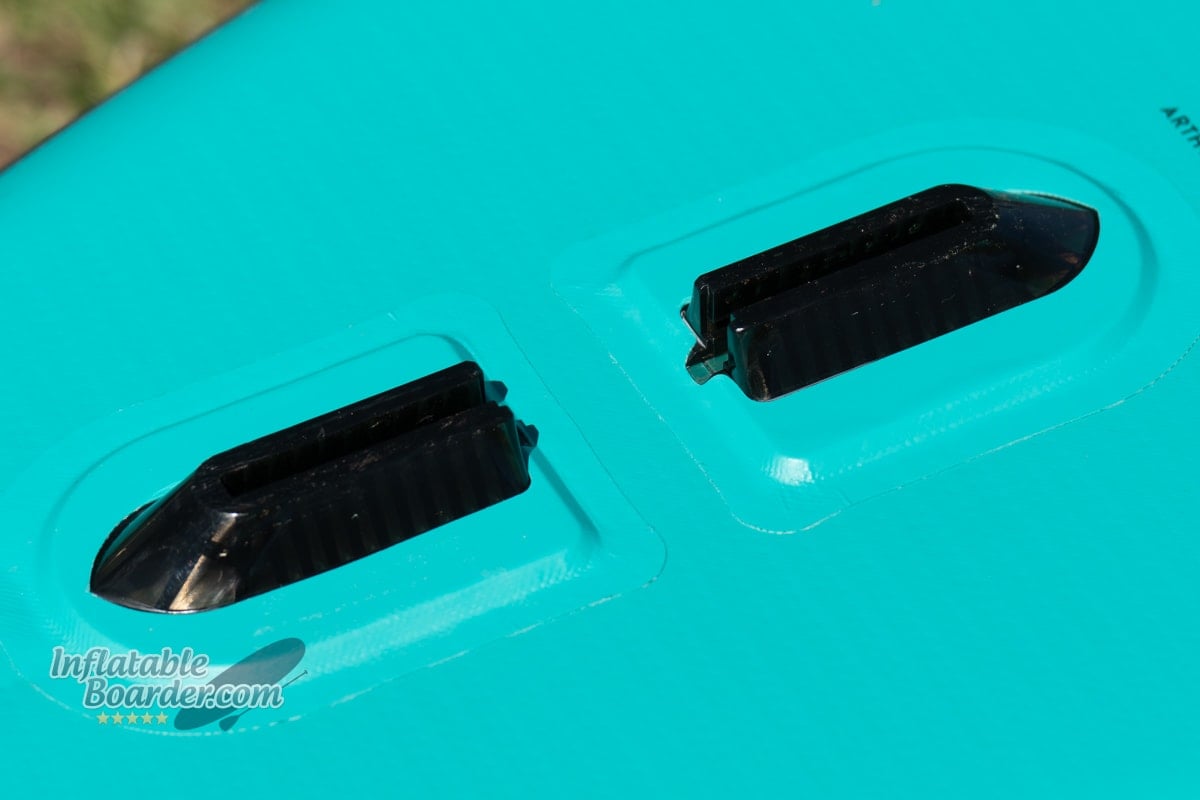 The Byron, like Honu's other iSUPs, is a beautiful iSUP with minimalist design. The deck itself is "lacking" in features compared to many other brands' boards, but still has plenty of functionality for those who value the paddling experience itself over how many things you can attach to the board.
There are only two carrying handles (center and front), but at just over 17 lbs It's hard to find a reason to buddy-carry the Byron, so the removal of the rear handle is not a loss in function. The front handle has an integrated D-ring for towing or anchoring, and the rear of the board has a D-ring for your leash and a small bungee cord to use as a paddle holder.
There is a four-point cargo tie down on the front of the board. It's not a very large area, so there's just enough room for a water bottle, flip flops, and a small, 5L-10L dry bag. I'm not a huge fan of the soft nylon webbing loops used to anchor the bungee cord. Fabric loops like these are more susceptible to wear-and-tear, and UV degradation compared to metal D-rings. However the fabric loops are less likely to cause bruising if you were to fall on them.
The deck pad is die-cut for each color and has a pebbled and diamond-groove texture for absolutely incredible grip. At the rear of the deck pad, Honu has included a raised kick pad for better control and stability when surfing and pivot turning.
Under the board there is a vibrant, bold color PVC sheet (red for the "Bright Coral" colorway and teal for the "Perfect Day" option) with the model name and a few symbols inspired by the namesake city in Australia (Byron Bay). Just in front of the split US fin box, you'll find a quote by renowned science fiction writer Arthur C. Clarke "How inappropriate to call this planet Earth when it is quite clearly Ocean."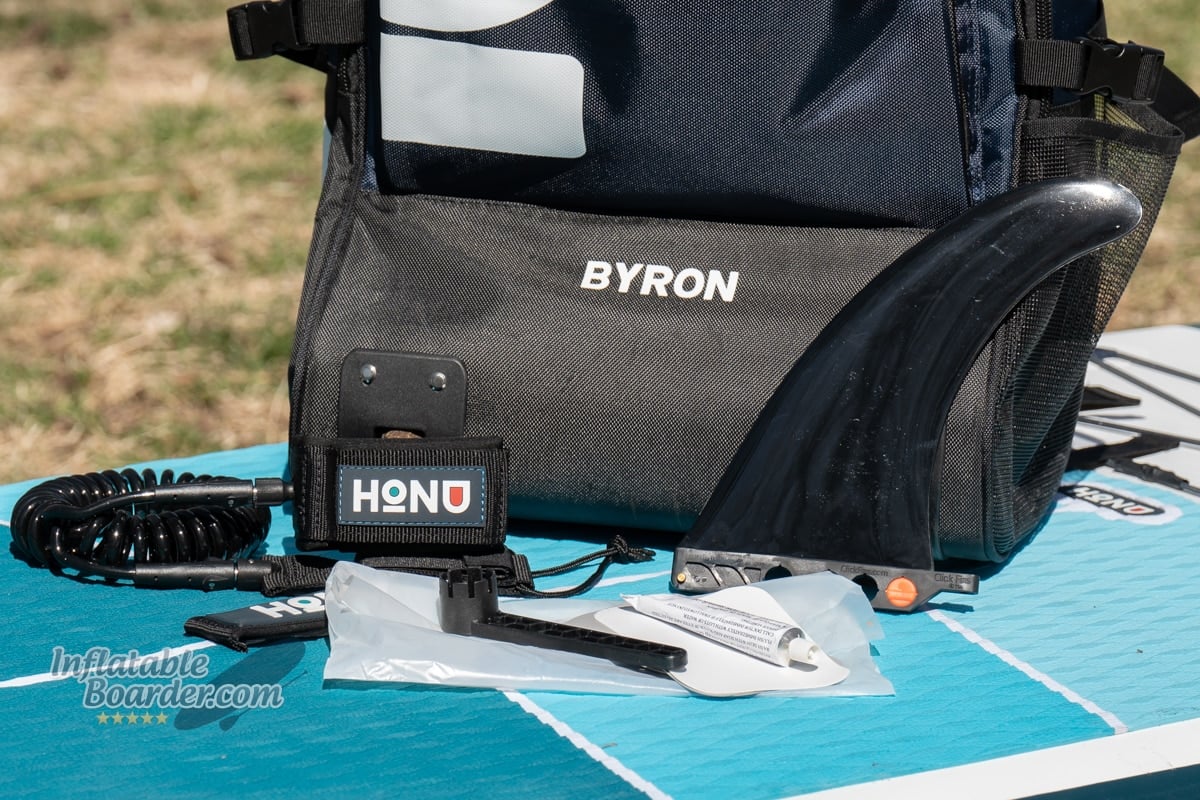 The wheeled carrying bag is made of a lightly padded, heavy-duty nylon material and is, like the Byron, minimalist in approach without losing functionality. There is a large zippered pocket in front, two mesh pockets on the side, and compression straps inside and outside of the bag. There's plenty of room inside the bag for the board and you can still fit a hand pump and paddle in the bag as well. The included repair kit, like the rest of the board and accessories, comes packed in a biodegradable baggie rather than a non-recyclable plastic container.
Conspicuously absent from the Byron's base kit are a pump and paddle. Paddles, in a perfect world, would all be matched to the individual paddler, but beginners (and even intermediate paddlers) don't always have the technical knowledge or experience to easily choose between different paddles. Honu does offer a line of reasonably priced, high quality, paddles that perform very, very well. Honu also leaves out the default hand pump found in so many other iSUP kits. This is so you can choose whether you want a hand pump, Honu's new e-pump, or none if you already have a pump you like. You can choose to bundle a pump and/or paddle with your Byron and receive a 10% discount on those items in doing so.
Paddle
Honu does not include a paddle with their iSUP kits as a default option. However the Evolution carbon paddles by Honu are a serious piece of gear at an approachable price point. Not all carbon fiber paddles are the same, and they can certainly come in at any point, and on a wide spectrum of quality.
Honu's carbon fiber paddles are lightweight, stiff, and well balanced. They have medium-sized (86 sq in) blades with a medium rake angle to work well in a large variety of conditions for a large variety of paddlers. The Evolution paddle is made with 12k carbon fiber tow and is available with a bamboo and paint veneer (in 3 different colors) or with a "raw" carbon weave blade.
Honu also offers a lower-price point Element carbon paddle made with 3K carbon fiber twill for the shaft and a fiber-reinforced nylon blade. The Element paddle is lightweight and has a pleasant amount of flex thanks to the softer nylon blade.
Both paddles are excellent quality, and the 12k carbon Evolution paddles can even be used as a travel paddle for competitive racing. The Evolution carbon fiber paddles are extremely stiff, though. I felt this in my shoulders and elbows rather quickly during an early season 3 mile paddle. They can take a little getting used to, but can also put down some serious power when you need to move quickly or while catching a wave.
Stability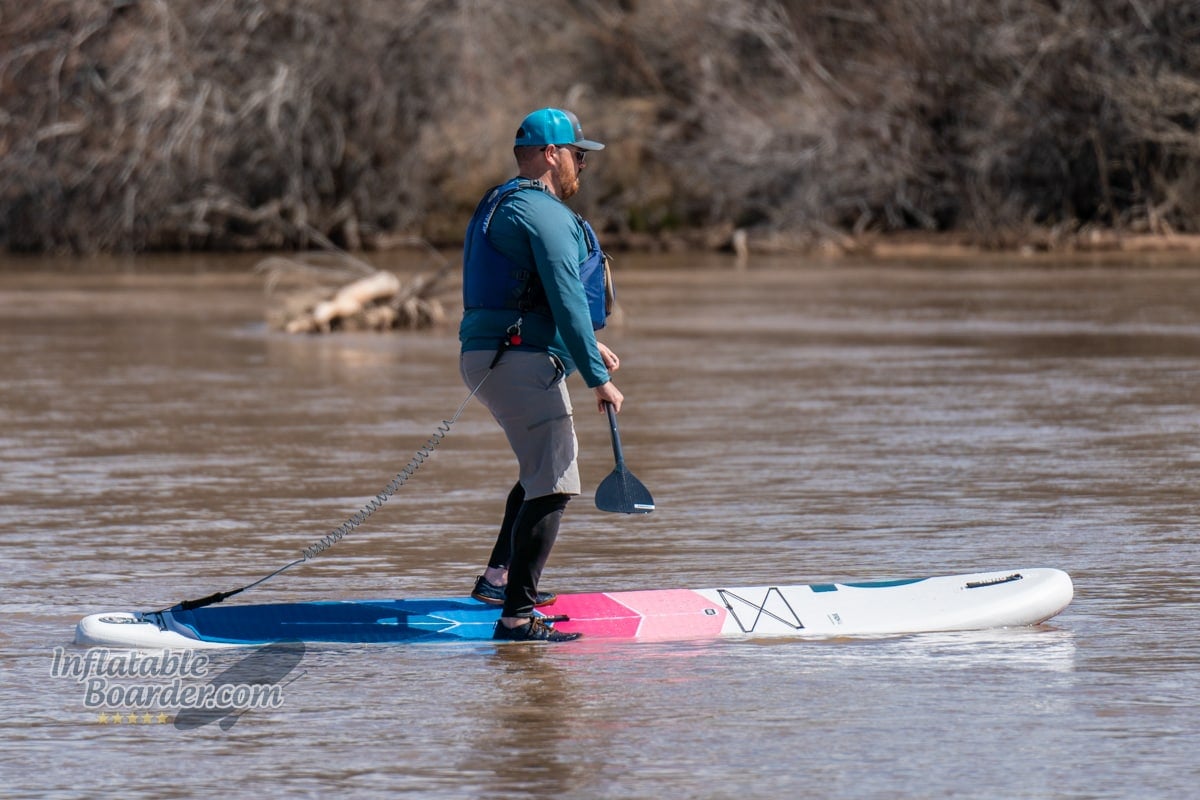 Stability is one of the most important factors in an all-around board. Whether you are a beginner or an advanced paddler, a board that isn't stable isn't going to be easy to work with or fun to paddle.
The Byron, though, is very stable. At 10'6" x 31.5" x 4.7", the Byron is relatively low in volume, but makes up for it with excellent construction and a lower center of gravity. The thinner profile reduces your height off the water and helps the Byron stay more stable than a similarly-sized 6" iSUP. While there is some noticeable bend in the Byron while paddling hard, the small amount of flex in the board isn't noticed during normal paddling. If you do like to hop around on the board, the Byron's flex has a very gentle rebound, so you won't feel like you are getting thrown around.
The deck pad has an incredible amount of grip across its entire surface, so whether you are standing right up on the handle or back toward the tail, you won't be slipping off.
How a board reacts when it is not flat on its hull is also important to understand. With the Byron, it was very smooth when rocking back and forth, and was very easy to simply hold on its rail. The thinner board is easier to rock under the surface, but smoothly returns to the top. Because the thinner shape reduces volume throughout the board it's important to remember that the edges and tail will dip under with less effort. If you are used to 6" inflatable SUPs, you may want to take smaller steps toward the tail to feel out how the thinner profile feels under water.
As a performance all-around iSUP, the Byron has the stability needed for beginners, but also will grow with beginners and intermediate paddlers as they progress in skill, rather than becoming "too easy" after a season of paddling.
Speed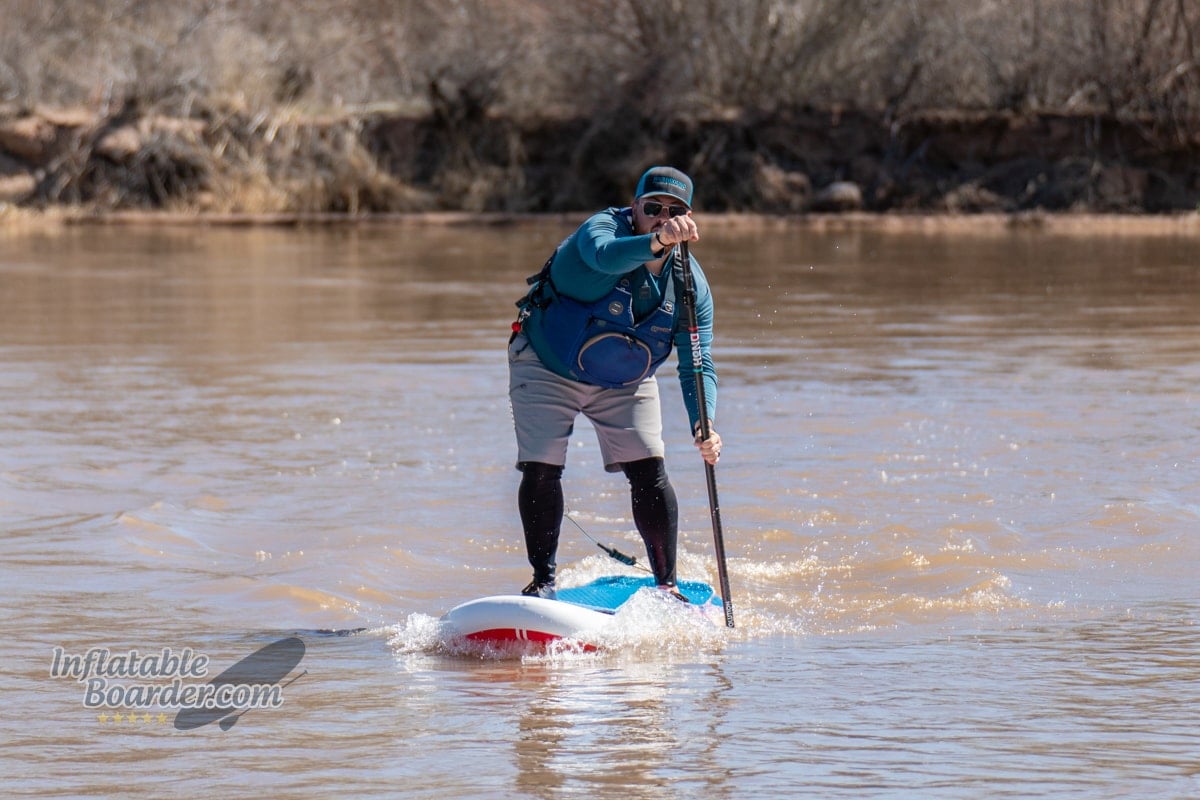 Speed can mean different things to different paddlers. Top speed is not the Byron's forte, nor was it meant to be. For those craving the fastest boards they can get their hands on, check out the Honu Sorrento – it is incredibly quick!
In our sprint test, the Byron hit a peak speed of 5.4 mph (8.7 kmh), though only for a very brief period of time. The average speed in our 100m sprint was 4.75 mph (7.6 kmh).
While it's not the fastest sprinting iSUP I've used, it does have excellent glide and a smooth feel when cruising around. In our quarter mile cruising circuit, the Byron clocked a very respectable 3:59 average with an average speed of around 3.7 mph. This was all done with a comfortable, but consistent stroke rate of around 25 strokes per minute. A big part of this is due to how efficiently it glides with each paddle stroke. The Byron's glide efficiency means that with each paddle stroke you can move about 1.7 board lengths (almost 18 feet) before you begin to noticeably slow down. For a shorter all-around board this is extremely good. Most 10'-10'6" long all-around boards have a glide ratio between 1.2-1.5 board lengths per stroke.
Maneuverability and Tracking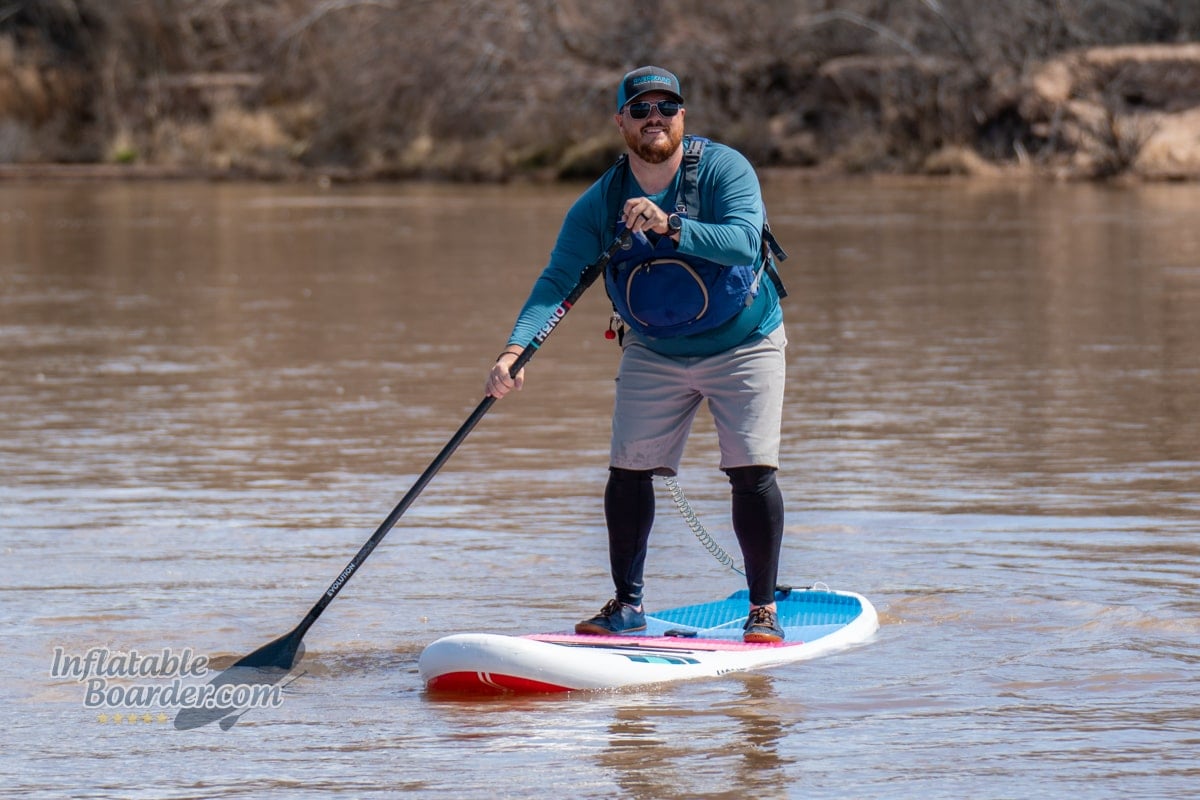 All-around iSUPs are designed to perform reasonably well for a large variety of uses. Normally they balance maneuverability and tracking by giving more preference to being easy to turn. It can be frustrating for beginner paddlers to paddle a board that is difficult to get pointed where they want to go! Because of that, all-arounds are not normally known for their tracking performance beyond being acceptable for casual use.
I normally test boards in that same order as well – maneuverability first and then tracking. So when I completed my turning tests and found that the Byron swings a full 360° with just over 4 forward sweep turning strokes (which is really fast, by the way), I was not expecting it to do well with our tracking test…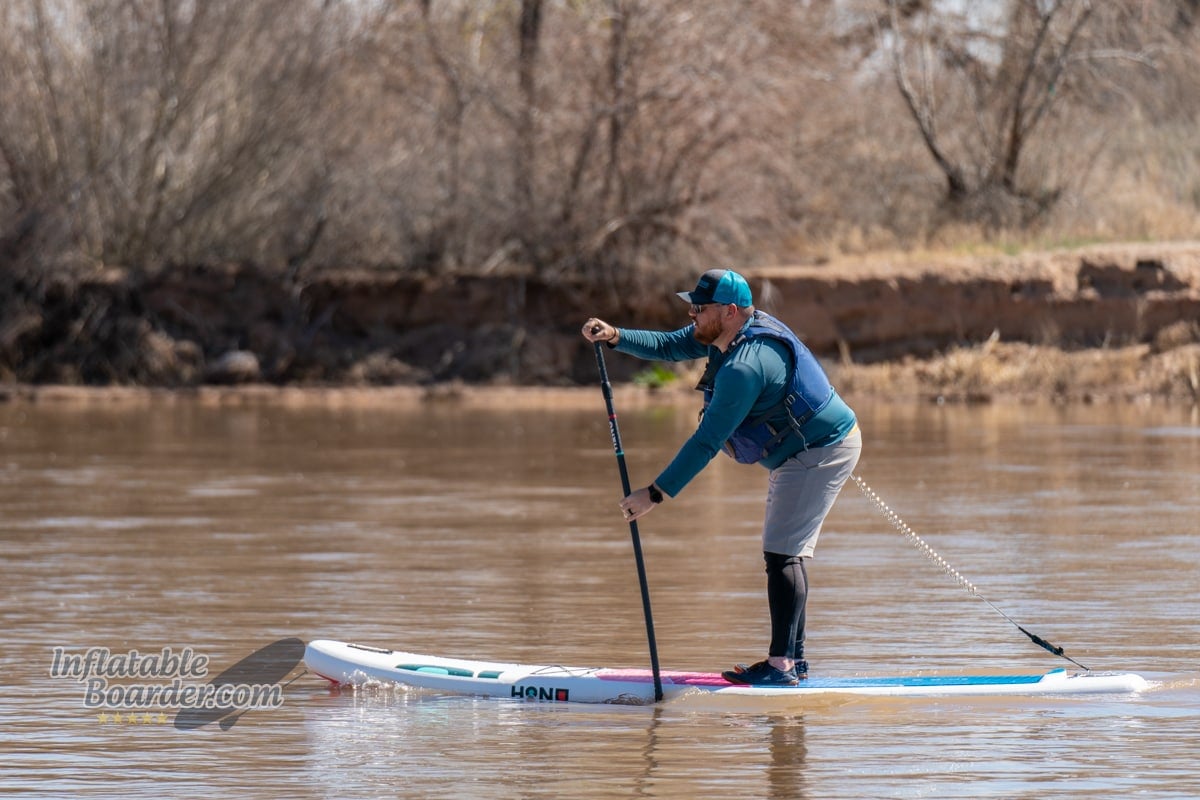 … Oh, but I was wrong! The Byron's tracking ability was incredibly impressive given its size and maneuverability!
I definitely noticed how easy it was to stay on course while cruising around, and when putting it through its paces, I found that the Byron averaged only about 15° of deviation for 10 consecutive paddle strokes on one side. Most all-around iSUPs around the same size tend to be in the 20-25° range.
Where the Byron did not track as well, though, was while sprinting. The lightweight board was pretty quick to turn when pushing the power up with each stroke. This is because the Byron does have some noticeable flex during extremely hard paddling. That flex causes the board to shorten in the water and push through the water rather than glide, all of which cause the board to spin. The only time I noticed this, though, was during my sprints for the speed test.
The included 9" all-around fin is well suited to the Byron. It has enough hold to help it track straight, but with a shape and outline that lets the board turn easily on demand. The US fin box means it is compatible with hundreds of other fins currently available, so you can swap it for a larger surface area touring fin for better tracking and stability, or a shorter draft fin for shallow conditions. For 2023, Honu moved to a split-style fin box. This doesn't change the board's functionality, but rather helps improve longevity. It is possible to crack fin boxes while folding, transporting, or storing your board if there is too much pressure against it. The split-style fin box nearly eliminates the possibility of cracking the fin box by dividing it into two, much smaller sections. The fin we received from Honu did have a pressure-fit system, however Honu has informed us that the fins will come with a stock fin nut and bolt to provide a more secure fit in the fin box.
Warranty and Customer Support
Honu includes a 2+2, 4 year warranty to repair or replace your board for any manufacturing defects. For the first two years, Honu will offer full warranty service for any issues with theo board. For the second two years, Honu will offer free repair service for any issues. If you decide that the Byron doesn't suit your paddling style, Honu does have a 30-day return period for unused or like-new condition equipment. If you have questions about your Honu board, paddle, accessory, or need to file a warranty claim, you can reach Honu directly via phone, email, web form, or social media.
Value
We like to take a holistic approach to determining if a product offers a good value or not. We consider the MSRP, regular sale prices, performance, quality of the included items, and the warranty and customer support when making this decision. The Byron, along with all of Honu's iSUPs for 2023, does not automatically include a paddle or pump in the kit. If you are purchasing the Byron as a second (or more!) paddleboard, this may not be a big deal, and it makes the Byron an excellent value. If this is your first iSUP, or you are wanting to purchase an additional pump and paddle, then it does reduce the overall value a small amount. But the performance of the board itself and the excellent warranty still make the Byron a very worthwhile buy.
Overall Impressions/Review Summary
The Honu Byron is one of my favorite all-around iSUPs – easily in my top 3 – and is an easy recommendation for me to make for beginner paddlers who want a board that can grow with them, or for intermediate paddlers who want an all-around iSUP they won't get bored with. The overall weight capacity is relatively low, and there is not much in the way of accessories built into the board. If you regularly paddle with kids or larger dogs, or like to deck your board out for a whole day of fishing, the Byron probably isn't right for you. If you enjoy a high quality paddling experience, are interested in a board that's easy to use, but can also offer you chances to grow and learn, then the Byron is a great choice.
I feel the only things really holding the Byron back from being 5/5 stars (instead of "just" 4.8/5!) are a lack of on-board versatility and its general stiffness. Slightly increasing the size of the cargo area and adding a threaded accessory mount on the front of the board would drastically increase the Byron's versatility. The Honu Sorrento uses carbon fiber fabric in the rails and as stringers on the deck and hull to create an incredibly stiff paddleboard, and I wish Honu would add the same (or even just one of those elements) to the Byron.
Hopefully we'll see these changes in future versions of the Byron, but until then, I'll still be reaching for the Byron every time I want a sporty all-around iSUP.
Honu Byron iSUP FAQ
What is the difference between the Honu Byron and the Honu Fairlight?
The Honu Fairlight is 3" longer and is 1" wider than the Byron. This extra size increases the overall capacity, and is recommended for riders up to 290lb vs 240lb.
How does a 4.7" thick iSUP compare to a 6" thick iSUP?
With everything else being equal, a 6" iSUP will be stiffer, but a 4.7" iSUP will lower your center of gravity. In real-world cases it's nearly impossible to find two boards built the same that only differ in thickness. With the Honu Byron we've found that both the stability and stiffness are excellent thanks to the other construction features used in its manufacturing.
Is the Honu Byron worth the price?
Yes. The Honu Byron is a performance all-around iSUP geared toward intermediate paddlers and beginners who want a board that will grow with them in skill. Because it does not include a pump or paddle, the overall price for a complete kit does go up, however the Honu Evolution and Element paddles are excellently made and also well worth their price.
Is the Honu Byron compatible with a kayak seat?
Unfortunately the Byron is not compatible with add-on kayak seats as there are no D-rings to support the seat attachments.
Can I paddle with kids or dogs on the Honu Byron?
Yes, however it is important to remember that because of the 4.7" thickness the overall weight capacity of the Byron is lower than some other iSUPs of similar size.
How long does it take to inflate the Honu Byron?
The Honu Byron is quick to inflate to the minimum recommended pressure with the included hand pump thanks to its overall lower volume (about 5-8 minutes of average effort). However inflating it to the maximum recommended 20psi does take a few more minutes.