Hydrus Paradise X iSUP: Overview
What do you get when you cross a high-performance touring paddle board with a designer experienced in shaping racing SUPs? It's the Hydrus Paradise X. This new model iSUP started with the well-loved Paradise touring board, stretched it to 13'3" and brought the width down to 28.5". A few tweaks later and the Paradise X was born. This board is made for those paddlers who want to go far and go fast.
— Hydrus Paradise X Summary Ratings and Review —
Hydrus Paradise X
Construction & Durability

Features and Versatility

Stability

Speed

Maneuverability

Tracking
Overall Score
The Hydrus Paradise X is a high-performance fitness, day-touring, and racing iSUP for intermediate to advanced paddlers.
Pros
Ultra fast design with a longer waterline and narrower shape than most touring boards
Rigid construction with woven fabric and crossed drop stitching
Fusion PVC reduces weight without sacrificing stiffness
Carbon fiber fabric stringers reduce flex without adding a lot of weight
Cargo spaces on the front and rear still provide plenty of room for lightweight overnight trips
US fin box allows for easy fin customization
Great for downwind/choppy conditions with the moderate nose rocker and tail rocker
Lifetime warranty
Cons
The narrow width can be more challenging for less-experienced and larger paddlers.
I'd love to see the shape refined a little more for a full 14' length and just a touch narrower for more race performance without losing it's touring capacity
Construction and Durability
The Paradise X uses Hydrus's latest construction methods and materials to create a durable, rigid, and high-performance board that keeps weight to a minimum.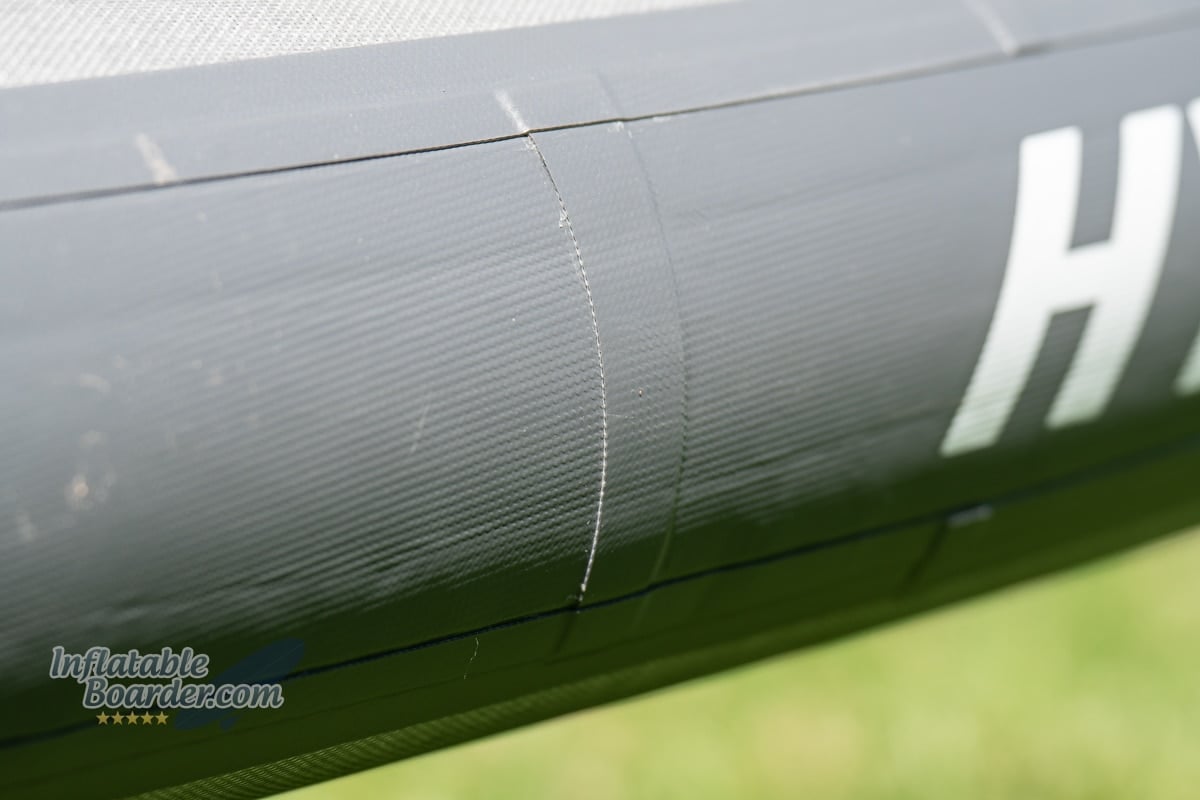 Inside the Paradise X the drop stitch core, which gives every iSUP rigidity and keeps it flat when inflated, is made with a woven fabric base layer and crossed drop stitch space yarns. Woven fabric uses less material and has lower stretch than traditional knitted fabrics, while crossed drop stitching is able to provide the same level of rigidity and support (or more) than traditional V-stitched patterns.
The fabric drop stitch core is then covered with a double-layer Fusion PVC material. This process uses heat and pressure to bind the two layers together to create a single, thicker, material without the use of glue. This reduces weight and eliminates the potential for errors during the hand-glue process. The outer layer of PVC material is reinforced with a heavy-duty composite fabric scrim within the PVC. You can see this scrim on Hydrus's iSUPs as the very outer layer of PVC on the deck and hull is actually clear. The combination of the white scrim material and darker under-layer of PVC gives the board its glistening gray color in a sort of optical illusion rather than by dye.
The deck and hull layers of the board are joined together by an interior rail band of PVC that is heat-welded in place. This seam welding process mechanically bonds the board together into, essentially, a single piece of PVC material. This creates the airtight chamber of the board and is highly resistant to damage from heat and pressure. The inner rail band is then covered by a larger outer rail band of PVC material. That, in turn, gets two narrow strips of PVC to cover the top and bottom edges of the outer rail. These reinforcement strips add another layer of protection against impact and abrasion to the board.
The deck and hull also get carbon fiber fabric stringers that run the length of the board. These stringers are sandwiched between the board and another piece of PVC and reduce flex along the board's length.
All of this advanced construction is done so that the Paradise X can maintain good rigidity without weighing a metric ton. As iSUPs get longer or narrower (or both), it's harder and harder to minimize the amount of flex present in the boards. Flex can reduce a board's waterline, reduce stability, and make the board more difficult to track straight. So how well does the Paradise X control flex?
In our dry-land bend test we weight the board down with 170 lbs of static weight and measure the amount of deflection created. The lower the deflection, the stiffer the board. In our test the Paradise X deflected just 1.26" (3.2 cm) with 170 lbs at 20 PSI. Our current running average across all iSUPs is 1.55". With such a unique size we don't have any direct comparisons, but this is on-par with many other touring-style iSUPs that are significantly wider (up to 32", even).
But what really counts in paddle board stiffness is how it feels on the water. In the case of the Paradise X, it's more good news. While standing on the board, paddling normally, even at a relatively high rate, and while walking on the board I did not notice any flex. While speed testing the Paradise X at full effort I did feel a small amount of flex, though only when I was looking for it. I did notice a mild-to-moderate amount of flex when bouncing up and down on the Paradise X, however it had a soft rebound that was very short-lived.
Specifications
Dimensions
Length
13' 3"
Width
28.5"
Thickness
6"
Weight
Max Capacity
275 pounds
Board Weight
23.6 pounds
Kit Weight

32 pounds
Buying Info
List Price
Warranty
10 years
Returns period
30 days
Features, Accessories and Versatility
The Paradise X is a specialty touring iSUP. It's made for intermediate to advanced paddlers to cover large distances quickly. It still has the same touring feature set as the more stable/higher capacity Paradise, however it won't be quite as capable for large, heavy loads, or paddling with passengers. While primarily a fitness, day-touring, and racing iSUP, you can still load it up for overnight or longer trips if you have a lighter and smaller backpacking setup.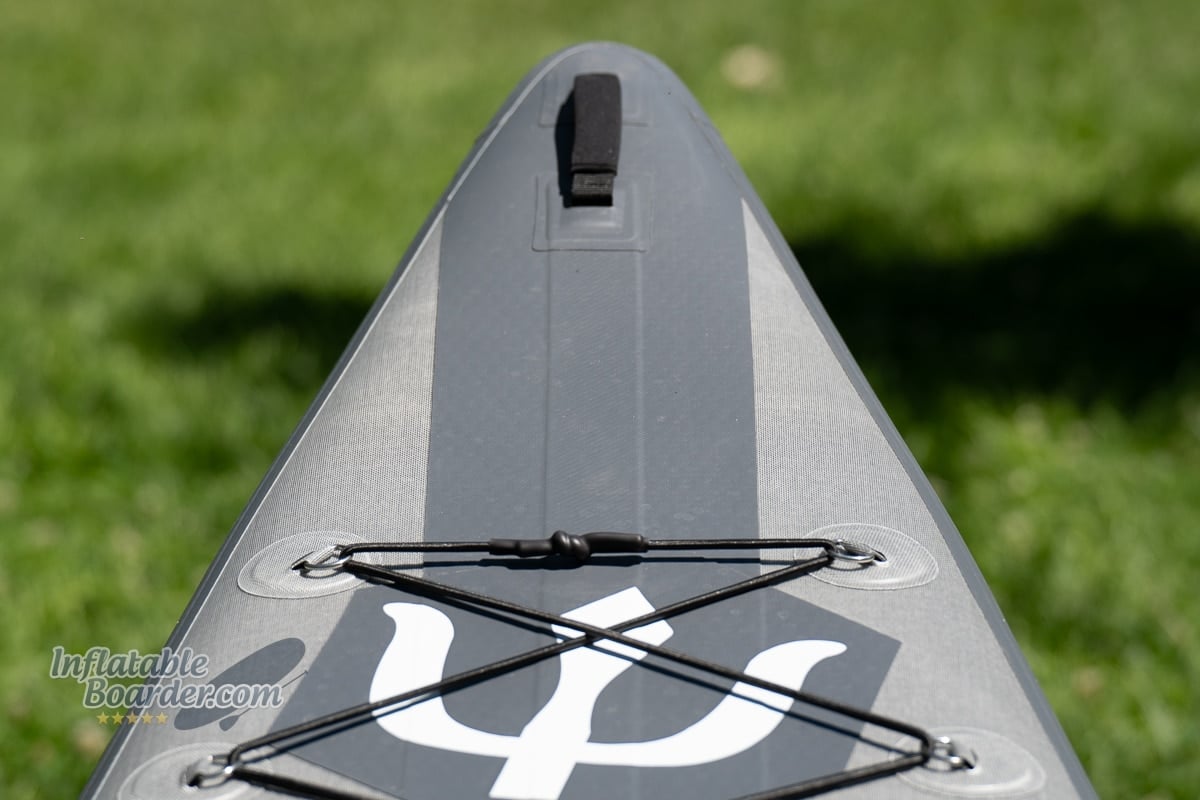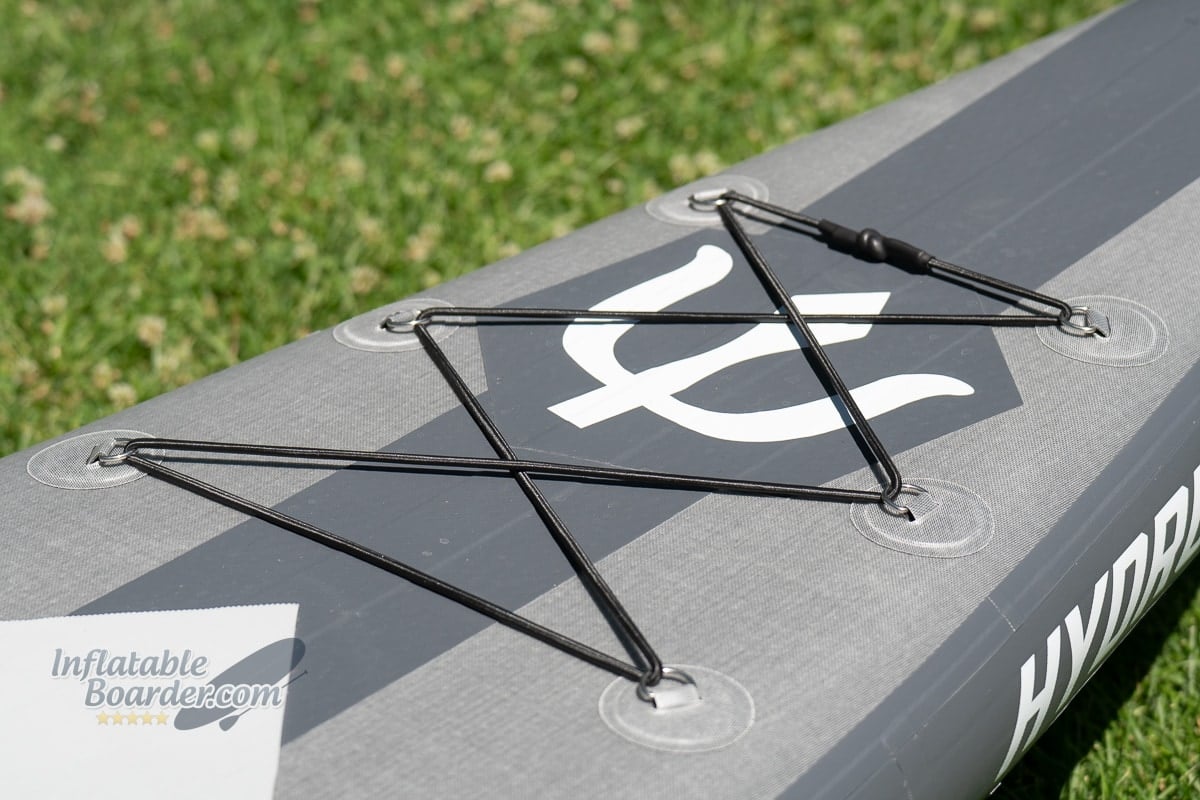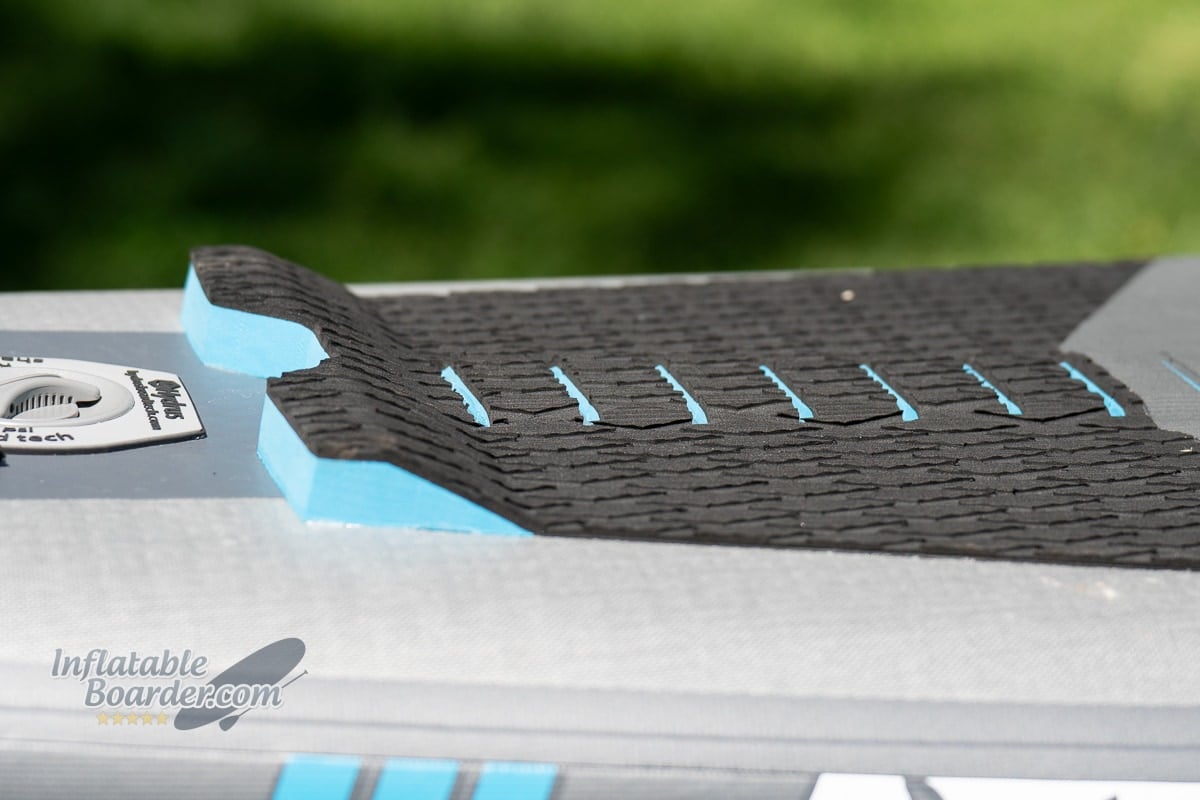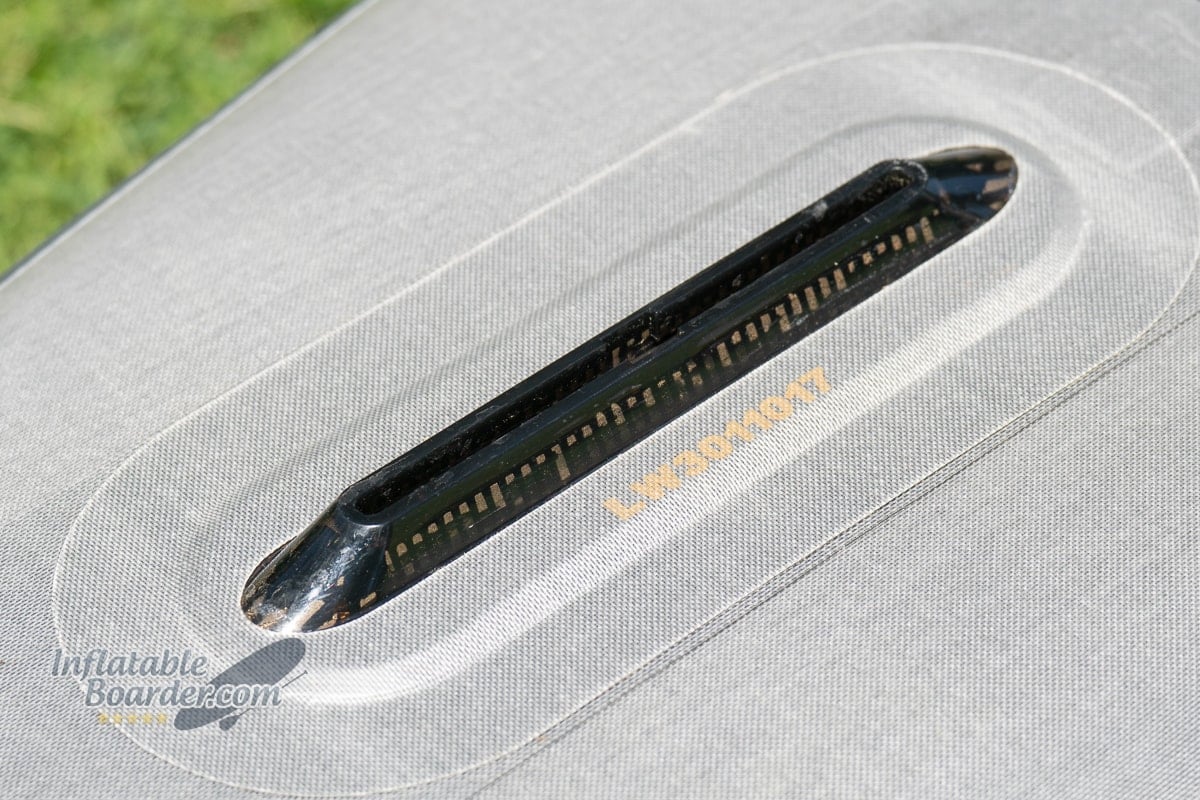 Being a narrower, faster touring board, the Paradise X is better suited for day-touring than expedition paddling. However with the right setup you could certainly spend multiple nights out in a row without reducing the board's stability. For the average paddler who is interested in the Paradise X, it might actually be over-featured. For shorter day-touring trips, racing, and downwind paddling you don't really need as much storage space as is available on the board, but having those options certainly isn't hurting anything either.
The Paradise X includes Hydrus's standard array of accessories: a double-action hand pump, coiled leash, repair kit, stick-on GoPro mount, and three different fins. All of which fits easily into the Hydrus Mothership iSUP bag. The Mothership bag has plenty of space for the Paradise X and all of the accessories with room for your other paddling essentials (PFD, paddle, water, etc.). The only other items you'll need to get out on the water with the Paradise X are a well fitting PFD and a paddle.
Paddle
The Paradise X does not automatically include a paddle, and for a good reason. Hydrus understands that selecting a paddle is just as important as selecting a board, and they don't want to waste your time and money by including a cheaper paddle for "free" with every board. Instead Hydrus does offer their three-piece carbon fiber paddle at a reduced cost if you bundle it with the Paradise X.
The Hydrus three-piece carbon fiber paddle is a fantastic option for many paddlers. The carbon fiber shaft and molded fiberglass handle help keep the weight low and the Armalight-coated blade is incredibly durable without unbalancing the paddle. The overall weight is just over 26 ounces – which is great considering both the durability and size of the blade.
The blade is made with carbon fiber and Hydrus's proprietary Armalight coating. They won't tell me exactly what it is, but I can say that it's been holding up great over the last year as my primary paddle for shallow water and whitewater paddling. The blade is quite large (96 square inches). This works well for larger paddlers, whitewater, and for high-output, short distance paddling (sprint racing). However the large paddle blade can become a little tiring for long-distance paddling. Unless you are a larger, stronger paddler with good form I'd recommend a smaller paddle blade for most folks paddling more than a few miles at a time.
The handle section has both a length scale and an indexing groove for easy setup and alignment. The grip itself is quite unique with a molded fiberglass shape that uses large knurls on the front as guides for your fingers. At first I was worried that these bumps would be too large for me (I have quite small hands) but after just a few minutes of using this paddle I didn't notice them at all. They do provide a great way for new paddlers to know exactly how to hold the paddle, and they give a little extra grip without using potentially abrasive textures.
Stability
I'm not going to sugar coat it here, the Paradise X is not an iSUP for beginners. At 28.5" wide and with a fast, torpedo-like shape, it doesn't have the same level of stability that a 30-32" paddleboard has. However, It's not an inherently unstable board, either.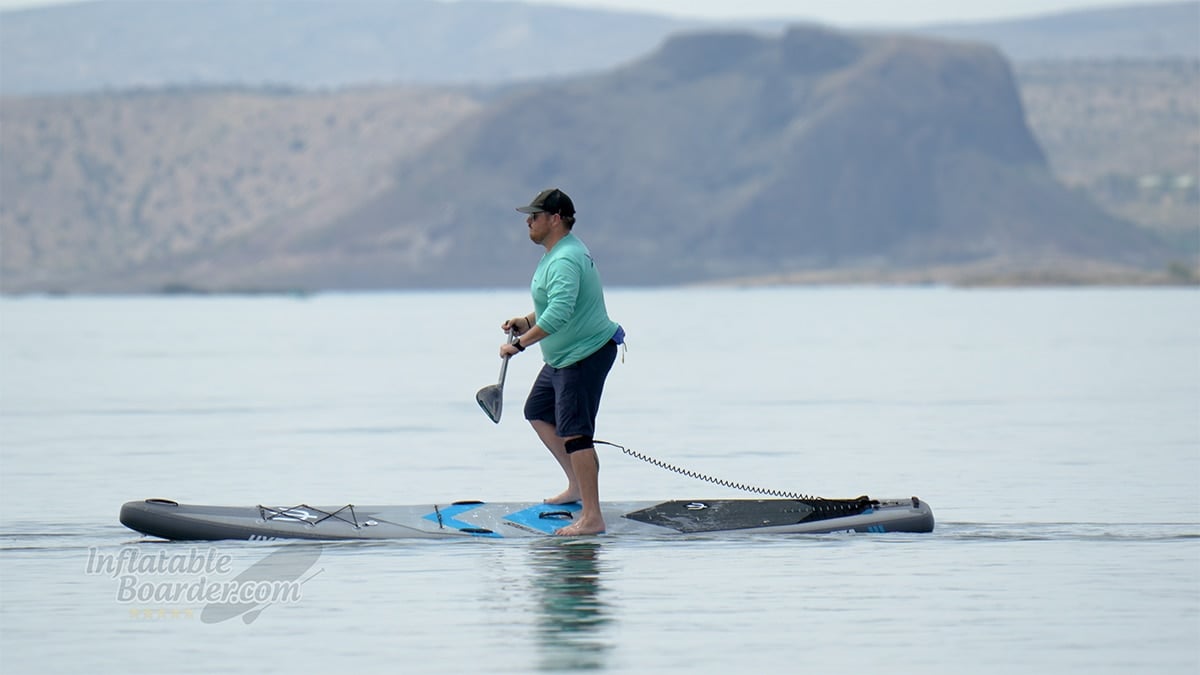 The Paradise X is only 28.5" wide. That number may scare off some newer paddlers as seemingly impossibly narrow, but for intermediate and advanced paddlers this is one of the few iSUPs that is designed specifically for speed and those numbers don't pose much of an issue.
While standing still on the Paradise X you can feel the impact of the narrower width and "torpedo" shape. The board isn't twitchy, but it does tend to roll a little bit side to side when not moving. Once you get your first paddle stroke in the water your paddle's added stability and the board's movement help stabilize it noticeably.
As you walk toward the back of the board for a pivot turn or surf-stance for downwind paddling, the stability does drop as expected with the narrowing of the tail. However with a nearly 18" tail width, the back of the board still has plenty of volume and support for these maneuvers.
When the going gets tough, the Paradise X remains predictable on the water. It rocks and rolls on and off its edges exactly as you'd expect it to with no twitching or "popping" sensations. Holding the board on its edge is also a little easier than you might expect, but still takes some practice and effort.
I recently used the Paradise X during a race where we had 25-30 MPH winds spring up across the lake right after we started. Those conditions were extreme, but for the most part the Paradise X did very well. While broad-side to the wind on the far-side of the lake where waves were largest and strongest I did have a few opportunities to count fish, but for the most part was able to stay upright while being pounded by waves and high winds.
While overall the Hydrus Paradise X doesn't have "beginner friendly" stability, it's actually pretty decent for its size and shape. Experienced paddlers will be able to easily compensate for the narrow width and fast shape for a speedy and efficient experience on the water.
Speed
Speaking of speed – this board is fast. The Hydrus Paradise X has tied for first place for the fastest board we've tested for top speed and has taken second place for all speed measures combined, just behind a dedicated racing iSUP* that's 3 inches narrower!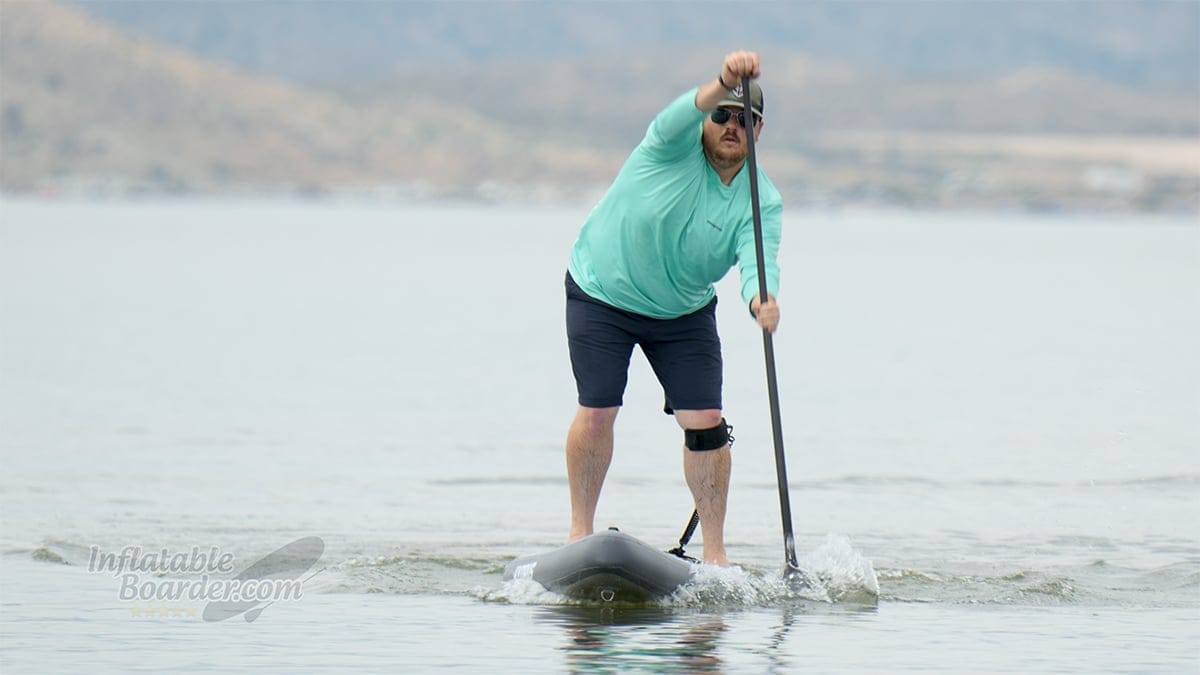 We complete all of our testing using the equipment that comes with the paddle boards. While the Paradise X doesn't include a paddle, we did use the Hydrus paddle for our speed testing whereas the race board mentioned above was tested with the use of a high-end racing paddle.
The Paradise X is a fast board. When you step on and start paddling it accelerates quickly and just begs to be paddled at a high cadence. So it was no surprise to see the numbers popping up on my speedometer during testing. First up is our sprinting and top-speed test. While sprinting on the Paradise X at a rate fit for a short race, I was averaging speeds of 5.8 MPH. The only boards we've tested that meet or exceed this average sprinting pace have been either longer (longer boards typically allow for higher hull speeds) or dedicated racing iSUPs that were 1-3" narrower.
At full power I was able to reach a peak top speed of 6.5 MPH. That's tied for fastest I've tested with a dedicated racing iSUP that is only 25.5" wide. While this speed is difficult to maintain for any length of time it's quite incredible to see.
Cruising speeds on the Paradise X are also quite good. At a casual cadence of 25 strokes per minute (pausing between each stroke), the Paradise X clocked an average speed of 4.4 MPH. I'll also take this moment to reiterate that this board likes to be paddled fast, it was actually quite difficult to maintain a cadence that slow, I kept wanting to speed up.
In addition to pure speed, the Paradise X is also quite efficient on the water. Once up to cruising speed, the Paradise X glides an average of 26.5 feet per stroke before noticeably slowing down. That's a glide ratio of 2.0 board-lengths per stroke – also an incredibly good score.
Overall this board is fast. And that's a great thing since that's what it was designed for! Fitness paddlers, day-touring paddlers, and competitive enthusiasts will all be very pleased with the speed performance of the Hydrus Paradise X.
Maneuverability and Tracking
Maneuverability and tracking performance are often directly opposed to one another. As paddle boards get longer this is more and more true, including for the Paradise X – fantastic a paddling from point to point, but needs some serious coaxing for large turns. For our testing we used the 9" touring fin that comes with the Paradise X for best comparability and as the most common choice for the style of paddling the Paradise X is designed for.
Maneuverability is in the eye of the beholder. I'm pretty sure that's how that saying goes. There are many ways to turn a paddleboard and all of them with varying degrees of efficiency. Our maneuverability test is designed to stress the performance of the paddle boards we test, so we use a less-efficient method of turning to help highlight those differences.
With a forward sweep stroke (paddling in an arc from nose to tail) it takes the Paradise X an average of 13.5 strokes to turn a full circle from a standstill.
That's not a very tight turning radius. However, the good news is there are better ways to turn this (and any) paddle board. By using reverse sweeps (paddling in an arc from tail to nose) we work against the fin and can turn the Paradise X in that same circle in just under 5 paddle strokes.
For even faster turning, skilled paddlers can walk to the back of the board and lift the nose out of the water. This dramatically shortens the waterline of the board and allows you to spin in a full circle with just two paddle strokes.
Turning the Paradise X in smaller increments is significantly easier than going for a full circle. The board responds well to steering strokes like bow draws, and even forward sweep strokes for those smaller turns up to 90° at a time.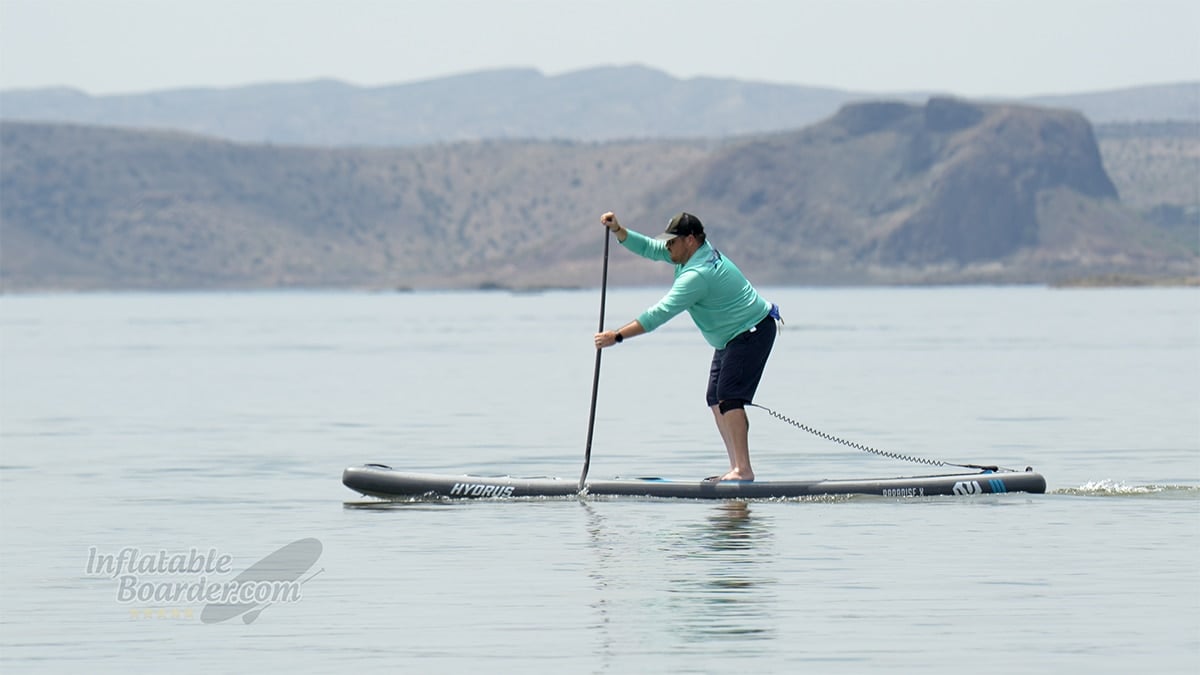 The flipside to the difficult maneuverability of the Paradise X is its excellent tracking performance. Like our maneuverability test our tracking test is designed to stress the performance capabilities of boards to highlight their strengths and weaknesses.
To test tracking performance we paddle at a cruising pace toward a distant target. Once on course we take 10 paddle strokes on a single side of the board and then measure the difference between the new course and old course with a compass.
The Hydrus Paradise X once again finds itself at the top of the charts for its tracking performance. With 10 paddles strokes on one side of the board, the Paradise X deviated an average of just 4° off of its original course.
The Hydrus Paradise comes with three different fin options. For our testing we used the 9" touring-style fin (shown on the right side in the image above). This is the fin that most paddlers will use in deep water and it provides the best tracking performance of the three. The 6.5" keel fin (shown partially inserted into the fin box) is a shallower draft fin with a high surface area. This helps maintain good tracking ability while allowing you to paddle in shallower water and easily shed any aquatic vegetation off the fin, rather than dragging it along with you. Lastly the Paradise X includes a 4.5" gummy fin designed for very shallow conditions or when maneuverability is a primary concern.
Warranty and Customer Support
Hydrus is one of the few iSUP companies that offers a lifetime warranty on their iSUPs. They believe in the quality of their materials and construction and are willing to back it up over the expected lifespan of the board – which is typically around 10 years before the PVC material itself begins to degrade in any iSUP. Hydrus extends this warranty to the Hydrus paddle and the Mothership SUP bag as well. Leashes, pumps, and other items are warrantied for 60 days. Hydrus also offers a 30-day return period on all of their products. Hydrus prides themselves on their prompt and robust customer service. You can reach Hydrus with any questions via email, web form, phone, or social media.
Overall Impressions/Review Summary
The Hydrus Paradise X is a phenomenal "go fast" board. Its sleek design allows it to cover large distances in short amounts of time, accelerate quickly, and it can still carry everything you need for an overnight trip. I recently used the Paradise X for a race I had to travel for. Even with the "disadvantages" of paddling a "wider" inflatable race board I was incredibly quick off the starting line keeping up with the front of the pack to our first turn, then keeping up with the middle of the pack through the rest of the race. When conditions got severe I was able to stay on my board longer and easier than those on incredibly narrow hard race boards which helped me maintain my position. You can see a short video clip of the start of this race on Rocky Mountain Paddleboard's instagram and a slow-motion capture on our own Inflatable Boarder instagram.
If you want something a little more stable with more capacity for a passenger or cargo, but still feel the need for speed, check out the Hydrus Paradise (12'6" x 30"). It's not far behind on speed, but offers more beginner-friendly stability.
Hydrus Paradise X iSUP FAQ
Can I paddle with a passenger or dog on the Hydrus Paradise X?
Technically yes, however the narrow width of the board greatly reduces stability and capacity compared to the Hydrus Paradise (12'6"x30"). If you regularly paddle with a passenger on board I would recommend checking out the original Hydrus Paradise.
Does the Hydrus Paradise X include a paddle?
No, the Paradise X does not automatically include a paddle. Hydrus wants to make sure that you have both the right board and right paddle for your uses, rather than guess at what paddle may work for you. Their three-piece carbon fiber paddle is available at a discount when bundled with the board if you choose it to go with your Paradise X.
Can I race with the Hydrus Paradise X?
Absolutely! At 13'3" long and 28.5" wide the Paradise X makes a great travel race board in the 14' SUP category. It accelerates quickly, is fast and efficient, and as an inflatable SUP is a breeze to travel with.
Is the Hydrus Paradise X worth the price?
Yes it is. The Hydrus Paradise X offers one of the best values available for ultra-fast iSUPs. Dollar per MPH it can't be beat.