Thurso Surf Expedition 150 iSUP Review | 2023
Inflatable Boarder is reader-supported and may earn a commission when you buy through links on our site. Learn more
Thurso Surf Expedition 150 iSUP: Overview
The Thurso Surf Expedition 150 is a dedicated touring iSUP that is built for efficiency and speed on the water. With large cargo areas and a 400lb maximum weight capacity, the Expedition 150 is ready for adventures great and small. It's a fun, sporty, fast paddleboard that retains confidence-inspiring stability. If you've ever wanted to go exploring, camping, or even dip your toes into racing on your iSUP, the Thurso Surf Expedition 150 is for you.
— Thurso Surf Expedition 150 Summary Ratings and Review —
Thurso Surf Expedition 150
Construction & Durability

Features and Versatility

Stability

Speed

Maneuverability

Tracking
Overall Score
The Expedition 150 is a great touring iSUP for paddlers of all skill levels.
Pros
Excellent construction creates a stiff, durable inflatable paddleboard
Fast and efficient on the water
US fin box adds versatility and customization
Large cargo areas for overnight trips
Includes an excellent pump and paddle
Kayak seat compatible
Action mount and two paddle holders included
Cons
We'd like to see the rear cargo area expanded
The transportation bag could fit the board better for more comfortable carrying
Construction and Durability
The Thurso Surf Expedition 150 uses double-layer PVC and carbon fiber reinforced rails to create a high-quality iSUP that is stiff on the water for increased performance.
One of the things I really like about Thurso Surf's iSUPs is their excellent construction across their entire lineup. All of their paddleboards (including their kids iSUPs) use a woven drop stitch fabric and dual-layer PVC skin. The woven drop stitch fabric layer is both stiffer and lighter than a traditional knitted fabric. Two layers of PVC fabric also work to increase the stiffness of the Expedition 150 without adding too much weight.
The Expedition also gets a carbon fiber fabric reinforced rail. Where most iSUPs will have either one or two layers of PVC material to form the rails (edges) of the board, the Expedition also gets a layer of carbon fiber fabric that is sandwiched under another layer of PVC. These extra layers stiffen the sidewalls of the paddleboard and prevent the rails from bulging as weight is added to the board. This keeps the Expedition very stiff – in our top 10 stiffest boards in our bend test – which translates to better performance and stability on the water. To cap things off, the rails are further reinforced with an additional strip of PVC to seal the top and bottom edges. The maximum pressure rating of the Expedition 150 is 20 PSI, though the recommended pressure is 12-15 PSI. We did see an increase in stiffness when bend testing at 15 vs 18 vs 20 PSI, however even at 15 PSI the Expedition still scored well above average. We do recommend users inflate their boards to the maximum pressure for best performance, but anywhere from 15-20PSI works well for the Expedition 150.
The dual layer PVC shell and carbon fiber reinforced rails also increase the overall durability against abrasion, impact, and over-pressurization. As with all iSUPs, it is still important to be aware of your surroundings and avoid dragging your board or leaving it inflated while out of the water (which can cause over-pressurization).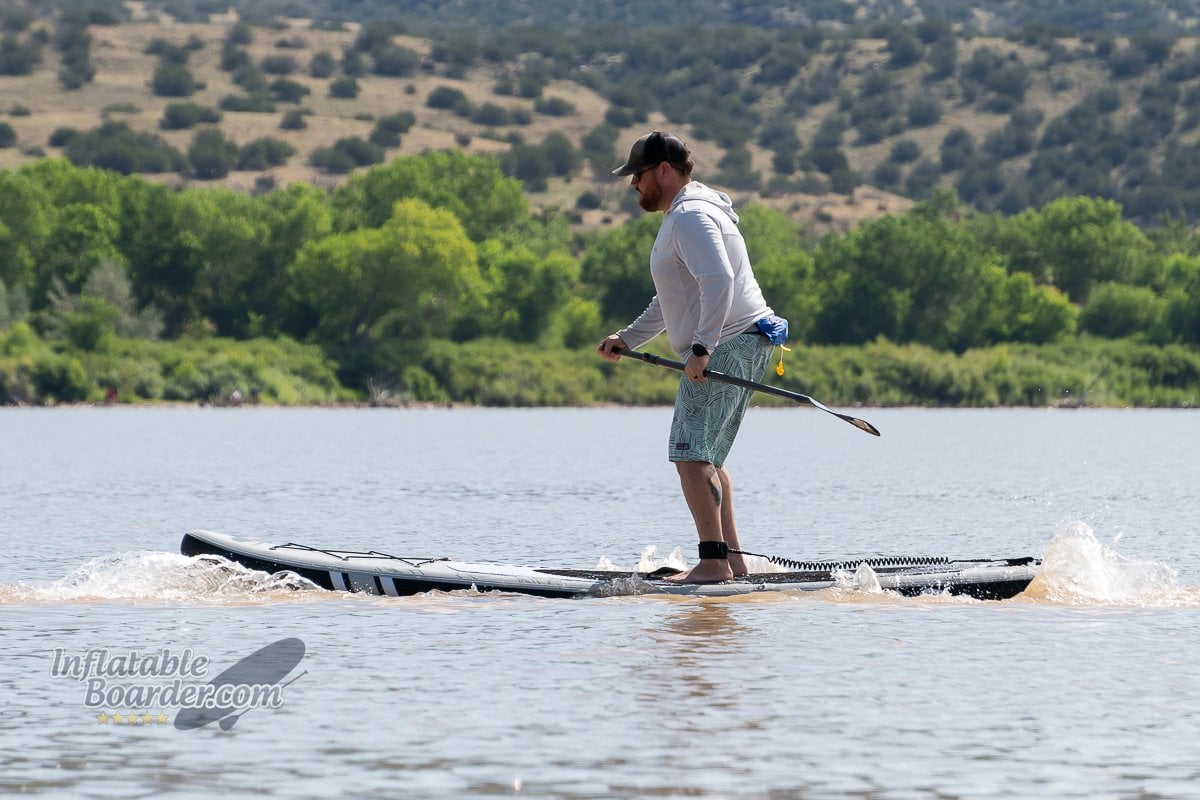 Specifications
Dimensions
Length
12' 6"
Width
30"
Thickness
6"
Weight
Max Capacity
400 pounds
Board Weight
26 pounds
Kit Weight
(SUP & accessories)
39 pounds
Buying Info
List Price
$949.00
Warranty
2 years
Returns period
30 days
Features, Accessories and Versatility
The Expedition 150 is designed and built for adventure paddleboarding. However those same features also work great for casual day trips and fitness paddling.
Many people consider touring paddleboards to be specialized or made for more advanced paddlers, but the Thurso Expedition 150 does a great job of balancing the touring performance and features with enough options for more versatile use. You can tell the Expedition 150 is ready for multi-day trips with its large front cargo area and twin paddle holders, but it's just as comfortable cruising around local lakes as it is setting off on a coastal adventure.
Those same paddle holders can be used for spare paddles, but also for fishing rods. The nose of the board sports an action mount that is ready for a GoPro, but can also accept threaded accessories like speakers, rod holders, and more. The rear cargo area is a great place to store a smaller dry bag or a pair of flip flops. While it's usually best to place larger and heavier cargo on the front of the board where it is wider, I found the rear cargo area to be a little too cramped and/or oddly placed. The front edge of the cargo bungee falls directly onto the kick pad. When you are stepping back onto the kick pad, you really want good contact with your foot to prevent slipping (the whole reason the kick pad is there to start with) and the bungee cord is in the way. You can move the bungee cord behind the kick pad, but it will eventually work its way back up. I'd like to see the rear d-rings spaced a little farther apart – especially the ones in front – so that the bungee cord stays off of the kick pad. This also has the added benefit of being compatible with larger dry bags in the rear.
In the middle of the board, Thurso Surf also added four extra d-rings to make the Expedition 150 compatible with a kayak seat conversion kit (and those paddle holders are great for holding a spare blade or paddle handle if you are switching back and forth between the two).
The EVA foam deck pad features a logo-embossed texture and grooves that run the length of the standing area for increased traction and water drainage. At the end of the deck pad is a raised kick pad. This gives you more stability and traction when stepping back to the tail of the board for pivot turning or better control while surfing a wave face.
Under the board is a single US fin box. By including a standard fin box, you can swap the included 9" touring fin with one of hundreds of other designs and constructions to suit your needs. However I do think that most users will find the included fin not only matches the board well for a good balance of tracking, maneuverability, speed and stability, but it also comes with Kumano tool-less inserts (and spares) to make installation and removal extremely easy – no more bolts, nuts, or keys to fiddle with or lose.
The included double-chamber hand pump does an excellent job at inflating the Expedition 150 to its recommended 15 PSI, though it is rated to 20 PSI (which takes a bit more time and effort to reach with the hand pump). We do recommend users inflate to at least 15 PSI for best performance.
The carry bag is significantly lighter than many others, including the Thurso Water Walker series. I do like the look of this bag, however I feel that it is too large for the Expedition 150 and/or does not have enough compression capability. When the bag is too large, the board and other items can more easily shift around while carrying or rolling the bag making it more difficult to transport. With the soft top of the bag, it tends to twist as you roll it, especially if you go over any bumps or curbs, causing it to twist sideways. The lighter material is also less durable than the heavier Water Walker bag, so it's more prone to tearing.
The included accessory pouch, on the other hand, is fantastic and I think every paddleboard – inflatable, hard, whatever – should come with one of these. It's so convenient to not only have a small pouch with a zippered pocket for each accessory, but then to be able to unroll it and see at a glance that you have everything is just fantastic. This is an extremely nice touch and I'm glad Thurso Surf is including it with some of their boards (let's see it for all of them!).
Paddle
The Expedition 150 includes Thurso Surf's carbon hybrid three piece paddle. This is a very nice kit paddle that is efficient and comfortable to use, but the Expedition 150 is a paddleboard that just begs for the carbon fiber blade upgrade option.
The Thurso Surf carbon/hybrid paddle uses a carbon fiber shaft with a reinforced nylon paddle blade. The composite shaft keeps the paddle lightweight and stiff and the nylon blade has just a little bit of flex for a more relaxed feel. The blade is medium-sized with a classic teardrop shape and slight spoon shape for beginner-friendliness.
The rubberized handle is a departure from the norm for kit paddles. It's got excellent texture and grip – though if you over-grip the paddle it could cause rubbing – and the T-grip shape is extremely secure. The handle has a length scale, but does rotate freely when unlatched, so users do need to make sure they are aligning the handle and blade properly.
Thurso Surf also makes a carbon fiber "elite" blade that fits their carbon fiber paddle shaft for an easy, and cost-effective upgrade. Rather than buying an entirely new paddle to upgrade, Thurso Surf offers their Carbon Elite blade for about half the cost of a new paddle. The Carbon Elite blade, in addition to being stiffer than the nylon blade, shaves 4 ounces off the weight of the paddle, tapers the blade tip and increases the rake angle for a cleaner catch and longer stroke, and shapes the power face of the blade with a double-dihedral to better direct water and create a "power pocket" in the center of the blade for better hold. All of this adds up to a lighter, more efficient, and more powerful paddle blade than the stock nylon option – and it pairs extremely well with the Expedition 150 for longer trips or paddling faster.
Stability
The Expedition 150 is advertised at 31" wide, however our board measures just under 30" at its widest point. Even at just 30" wide, the Expedition 150 is a very stable paddleboard. Width is a good indicator of how easy it may be to stand on a board, but length, shape, and stiffness all play critical roles in stability.
Many paddlers think that touring boards are not beginner friendly. I don't find this to be true at all. While an extra-wide paddleboard may be easier to stand on initially, beginners who want a touring board will still be at home on the Expedition 150 – it may just have a slightly steeper learning curve.
Standing on the Expedition 150 is a relatively easy task. It has very little flex or bounce, and no rolling or tipping feeling under your feet. While moving around on the Expedition, I did feel a little bit of bounce, but nothing out of the ordinary and overall it was very well controlled.
The gently-tapering shape keeps the stability consistent whether you prefer to stand a little behind the handle, directly over the handle, or just in front (though standing in front will push the nose down which can reduce stability in choppy conditions). Walking back to the tail to pivot turn felt easy and the grippy deck pad and raised kick pad give the back of the board a very secure feeling.
Holding the Expedition 150 on its edge was likewise a relatively easy task. Being able to balance on your board when it is not totally flat not only improves your balance for calm conditions, but also trains you for handling choppier conditions as the board rises and falls with waves or boat wake.
Paddleboards, especially narrower paddle boards, are like bicycles in that they have a dynamic stability. As you begin to paddle, the board moving through the water makes the board feel more stable than when standing still. Plus keeping your paddle actively engaged in the water also adds to your stability.
Long story short – the Expedition 150 has excellent stability for a board of its width – enough that I was comfortable practicing my one-footed paddling while taking it for a spin.
Speed
The Expedition 150 benefits from its narrower, tapered outline and 12'6" length when testing its speed. Both sprinting and cruising, the Expedition 150 is a very quick touring iSUP that also makes it a great choice for fitness paddling and even as an option for those paddlers wanting to test the waters of SUP racing.
The biggest factor in how fast you can go on any paddleboard is the paddler. We do our testing with the stock equipment (including the paddle) to give you the best look into the entire kit as possible. As you work on honing in technique and stamina, the paddle and board you chose also make a big impact. Longer, narrower boards will be inherently faster than shorter, wider ones.
The Expedition 150 is 12'6" long and just shy of 30" wide. Its long, tapered outline and slight nose rocker give it a shape to easily slide across the water. In our sprint test, the Expedition 150 completed our 100m sprint in just over 40 seconds and clocked 5.5 mph/ 8.9kmh average speed. This is a very good time for a 12'6" iSUP that isn't designed specifically for racing.
During our cruise test we use a paddling tempo that can be sustained for multiple miles around a quarter mile course. The Expedition likewise did very well with an average speed of 4.0mph (6.4kmh).
Lastly we tested the glide of the Expedition 150. Glide is how far a paddleboard will travel per stroke before slowing down. The farther a board will travel per stroke, the fewer strokes you'll need to cover a distance. The Expedition 150 scored 2.1 board-lengths per stroke, which definitely puts it in the category of high-efficiency. Most all-around iSUPs glide around 1.4-1.7 board-lengths per stroke, and most touring iSUPs glide between 1.8-2.3 board-lengths per stroke.
With a higher-end paddle – even upgrading with the Thurso Surf Carbon Elite blade – these speeds will only increase. Lighter, stiffer paddles with more speed-oriented shapes make it easier to paddle faster, for longer, and with better power transfer.
Maneuverability and Tracking
The Expedition 150 is focused on being a touring paddleboard first and foremost. It's designed to paddle efficiently with better straight-line tracking. That also means that the Expedition 150 is not as maneuverable as an all-around board like the Water Walker 132.
The Expedition 150 can be a bit challenging to turn quickly if you are only using a forward sweep stroke (shown above). The longer outline and 9" touring fin are very good at turning any forward paddling energy into paddling straight forward. It takes an average of about 8 forward sweep strokes to turn the Expedition 150 in a full circle from a standstill. If you are already moving forward, though, you will need to consider other ways of turning unless you don't mind using a few dozen strokes to accomplish the same task.
One of the ways you can turn quicker is by using reverse sweep strokes (starting with the paddle at the tail and moving out and forward to the nose). Because you are essentially putting the fin at the "front" of the turn and working backwards, it's much easier to turn the board, and it takes about half the number of strokes to do so.
While there are many different ways to turn your board, the fastest way to about-face is with a pivot turn. When you step back onto the tail of the board and lift the nose, the Expedition 150 stays relatively stable (though not as much as when standing in the middle of the board) and the kick pad and embossed deck pad give you a very secure feeling. Once the nose is up and out of the water, a single sweep stroke is enough to turn you 180° (or more).
While maneuverability may not be the highlight of the Expedition 150's performance profile, tracking is certainly at the top of the list. The longer, narrow outline and high-quality fin keep the Expedition on course very well. Over the course of 10 paddle strokes on a single side, the Expedition 150 only drifted an average of 4° from its original heading. Once you get this board going, it's a breeze to keep it heading that way.
If you do need to correct or change your course, the Expedition 150 does steer well from the nose of the board. I found that a static bow draw (placing the paddle at the nose of the board so it slices through the water) was very effective at gently steering. With a narrower board like the Expedition 150, advanced paddlers can also steer very subtly using the edge of the board (putting more weight on one side or the other), however the paddle will always be a more effective tool unless you are surfing.
The included 9" touring fin matches the Expedition very well. It has a large amount of surface area to both help with tracking and to reduce any rolling sensation (giving better stability). The fin also comes with small plastic inserts to allow for tool-less use. Simply press the insert into one of the cutouts in the fin's base so the little tab is horizontal, and then press the fin into the fin box. To uninstall the fin, simply press against the back of the fin to release it. The fin itself has a little bit of flexibility to absorb any minor impacts without damaging the fin or fin box. Because Thurso Surf uses a standard US fin box on the Expedition 150, you can swap the fin for any other US fin box compatible one to change its maneuverability, tracking, stability, and drag.
Warranty and Customer Support
Thurso Surf offers a 2 year warranty on the Expedition 150 (and their other iSUPs), and includes a 30-day return period. The bag and pump are warrantied for 1 year, and the paddle and leash have a 60 day warranty period. We'd like to see this warranty simplified with at least the paddle and leash getting the same warranty as the bag and pump, however many brands do not warranty their accessories at all, so this is still a move in the right direction. If you have any questions for Thurso Surf, you can reach them through their website's contact form, email, or via social media.
Value
The Thurso Surf Expedition 150 is a well-performing touring iSUP that is built well, includes a set of great accessories, and is backed by a solid warranty. When we compare the Expedition 150 to other touring iSUPs in all of these categories, plus their list and sale prices, we find the Expedition 150 offers a fantastic value for beginner and intermediate paddlers looking for a high-quality touring iSUP.
Overall Impressions/Review Summary
Overall I've found the Atoll 11' to be a great all-around iSUP. It is a great size and shape for a variety of activities from yoga to overnight trips and everything in between. It is lacking a few key on-board features and some of the accessories (the bag and the pump) are definitely not the best around. The construction is sound, but not out of the ordinary, and after factoring in the price of the kit it is hard to recommend this board over similar options that are priced lower, or options that are just a little more expensive but offer far more in return.
Thurso Surf Expedition 150 iSUP FAQ
Is the Thurso Surf Expedition 150 stable or beginner friendly?
Yes. The Expedition 150 is a stable board thanks to its overall volume and length. It is not as stable as a wider board, though. The Expedition 150 is beginner friendly for paddlers who are comfortable with their balance or who are wanting a touring board and don't mind a little bit of a learning curve. It's not ideal for complete novices who have never tried paddleboarding before.
Can I take my dog or kid on the Expedition 150?
This will really come down to your comfort level on the board and how active your passenger will be. The Expedition 150 has a maximum capacity of 400lb, however a young child or medium sized dog that can't sit still will make it very challenging to use. If you routinely paddle with dogs or kids, I do recommend the Thurso Surf Max-Multipurpose SUP.
How long does it take to inflate the Expedition 150?
Using the included triple-action hand pump, an average paddler can inflate the Expedition 150 to 15 PSI in about 10 minutes depending on how quickly you pump. Inflating to the maximum 20 PSI, especially for smaller paddlers, will take longer.
Is the Expedition 150 a good value?
Absolutely. The Expedition 150 is built with excellent materials and great build quality. It includes a high-quality set of accessories, and it performs very well on the water.
Can I use a kayak seat with the Expedition 150?
Yes! The Expedition 150 has four d-rings in the middle of the board that are compatible with kayak conversion kits. The double paddle holders also make it easy to bring along a kayak paddle or hold a paddle blade to convert your SUP paddle into a kayak paddle.