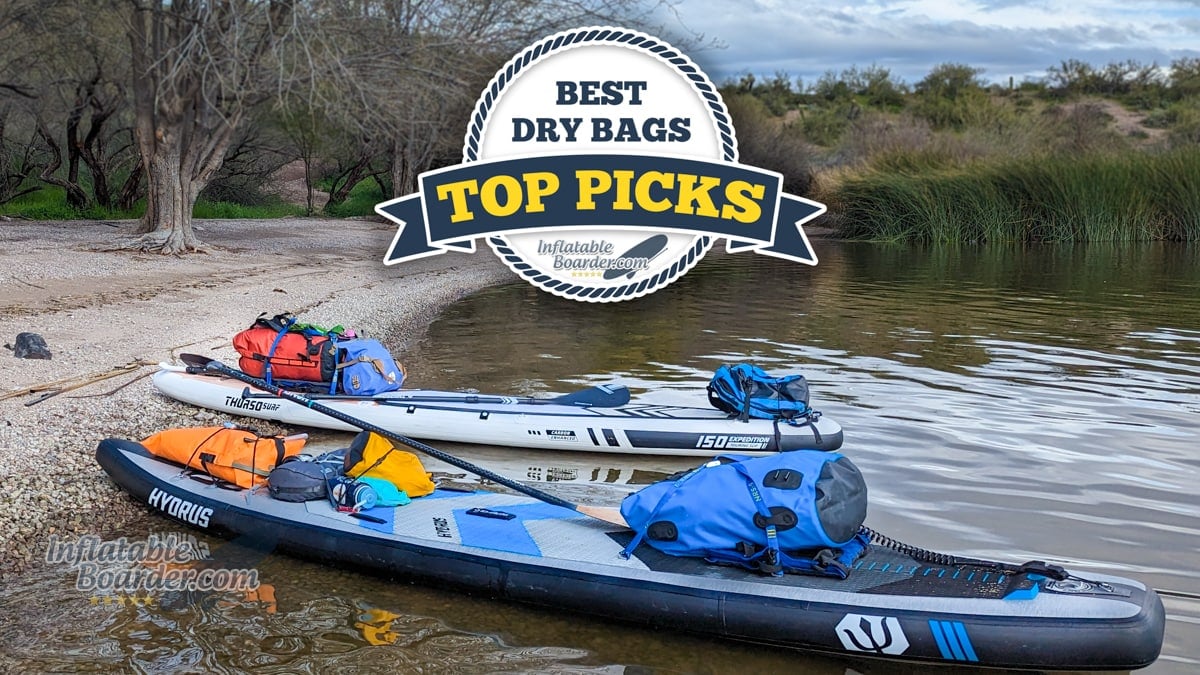 There are certain things we like to bring with us wherever we go. Phones, wallets, and keys are the usual suspects, and sometimes we need to bring those (and others) along with us on the water, but we don't want everything getting wet. Dry bags allow us to bring whatever we'd like with us on our paddleboards without worrying about it getting wet from splashing or capsizing!
Like with just about everything else, there are dry bags of differing quality available to consumers. When picking a dry bag it's important to ask yourself "how much do I value what I'm trying to keep safe?" Cheaply made dry bags can be had online for, well, cheap! However they aren't going to last very long, or work at all. I've used some seriously suspect dry bags in the past and found myself working to dry out all of my things after a paddle trip.
So we've rounded up a list of our favorite dry bags for a variety of different uses. These bags have been tested and abused, dunked, dripped, and dropped, and still kept everything inside bone dry.
What size dry bag do you need?
That's a very good question. It's going to depend on what you plan to bring with you. It's also a good idea to go a little bit larger than you think, especially if your dry bag has a roll top closure. These bags require you to roll the top at least three times before buckling the bag to ensure waterproofness, and that can eat up some valuable space. Most dry bags are measured by their internal volume in Liters.
1-4 L bags – great for the just bare essentials (phone, keys, wallet, sunscreen, small snack)
5-10 L bags – can also carry a jacket, water bottle(s), or a pack towel, and a small first aid kit
10-20 L bags – these medium sized bags can hold entire changes of clothes, a jacket, and are a great size for carrying cameras in small padded inserts.
20-50 L bags – large dry bags are mostly used by paddlers on overnight trips for additional clothing, sleeping bags, or other camping equipment
50-80 L bags – Extra large bags are needed for multi-day trips, colder weather overnights, or for large bulky items (like a double-wide sleeping bag)
Most people will find that a 10-20 L dry bag has plenty of space for a day on the water without worrying about whether everything will fit. If you are buying your first dry bag, consider getting one in this size range to start.
Best Dry Bags Comparison Chart
Top-Rated Dry Bags

BAG
Size (s)
Closure
WARRANTY
PRICE

Sea to Summit Big River




5, 8, 13, 20, 35,
65 Liters
Roll Top
Lifetime
Check Price

Watershed Ocoee




10.5 Liters
ZipDry
1 Year
Check Price

Sea to Summit Big River Backpack




50, 75 Liters
Roll Top
Lifetime
Check Price

Atoll Overkill




4 Liters
Zipper
2 Years
Check Price

Fidlock Medi




0.5 Liters
Magnetic
1 Year
Check Price

Sea to Summit Evac HD




8, 13, 20, 35 Liters
Roll Top/Compression
Lifetime
Check Price
---
Sea to Summit Big River Dry Bags
Best Overall Dry Bag
5, 8, 13, 20, 35, 65 Liters
The Sea to Summit Big River Dry Bags take the number one spot on our Best Dry Bags list for a number of reasons. First, they are available in a wide range of sizes – from 8 Liters all the way to 65 Liters there's an option for whatever you need to keep dry. The Big River series bags offer an excellent balance of durability and weight. The ripstop nylon outer fabric is flexible and durable and the interior is coated with a white TPU membrane to keep your valuables dry and easy to find.
The bottoms are additionally reinforced and have an oval shape to prevent the bag from rolling around when filled. There are two D-rings on the field-replaceable buckles and a series of daisy chain webbing loops on the side to easily secure your bag with straps or carabiners. The Big River bags are also compatible with an adjustable shoulder strap sling for easy transportation and use off your board.
---
Watershed Ocoee
Best Heavy Duty & Best Large Opening Dry Bag
10.5 Liters
The Watershed Ocoee has been my waterproof camera bag of choice for the last five years. This heavy duty dry bag is made from a polyurethane coated fabric that can be tossed around, shoved into kayaks, under bungee cords, and take lots of other abuse (all of which I've put it through over those five years) without showing any signs of wear. The fabric edges are triple-layered at the opening and all of the fabric joints are RF welded together to eliminate the need for stitching and essentially turn the entire bag into a single piece of waterproof material.
The Ocoee features Watershed's ZipDry closure system that is incredibly fast to open and closes securely without rolling, even under immense pressure. All of this durability does come at a price, even for the relatively small 10.5 liter Ocoee. The wide zipper-style opening also makes it very easy to access your equipment without having to dig your entire arm into the bag.
There are four compression straps, a padded carrying handle, and four heavy duty plastic tabs for securing with carabiners, straps, or connecting to an optional shoulder strap.
---
Sea to Summit Big River Dry Backpack
Best Large Dry Bag & Best Backpack Dry Bag
50, 75 Liters
The Sea to Summit Big River Dry Backpack takes the same great design and construction of the Big River Dry Bags and adds a padded backpack harness. The harness itself is padded and has adjustable torso length settings, load-adjustment straps, and a multi-position adjustable sternum strap. It also has a waist/belt strap, however it is not padded.
The 50L and 75L sizes are great for your bulky items on longer trips (sleeping bags, tents, etc.) but still easily fit in the preferred cargo areas of most touring-style paddle boards.
Whether you are portaging during a paddling expedition or just want to have an easy-to-carry solution for when you bring more things on the water, the Big River Dry Backpack is a comfortable solution.
---
Atoll Overkill Dry Bag Fanny Pack
Best Fanny Pack Dry Bag
4 Liters
The Atoll Overkill is a TPU-coated waterproof fanny pack that's perfect for bringing just the essentials out on the water. The Overkill has a fully-waterproof zipper closure for the main, four liter compartment and a water-resistant zipper for the small outer pocket.
The four liter size is plenty big enough for your phone, keys, and wallet, plus a few snacks and other small items. The outside of the bag has compression straps to snug the Overkill down when it's not full, and daisy chain loops for easy attachment to your board's cargo bungees or D-rings.
Currently available in Black and Heather Gray, the Atoll has informed us that the Overkill will be available in more color options for summer 2023.
---
Fidlock Medi
Best Phone Case Dry Bag
0.5 Liters
The Fidlock Medi is a great solution for when you just want to bring along your phone, or when you want to keep your phone readily available and secure. The clear plastic pouch allows you to use your phone through the bag and doesn't interrupt your ability to take photos and videos.
A magnetic closure system is not only secure, but it automatically closes itself if you aren't actively holding it open. You'll never forget to close the bag! I've been using an older version of this phone bag for a few years now and it's held up great. The nylon neck strap allows you to keep your phone handy without worrying about dropping it over the side of your board.
---
Sea to Summit Evac Compression Dry Bag HD
Best Compression Dry Bag
8, 13, 20, 35 Liters
Large, bulky items can be a pain to pack whether you are going on a SUP expedition or even just on a camping or backpacking trip. Compression bags let you squeeze these items into smaller shapes for easier packing. The Sea to Summit Evac Compression Dry Bag HD uses the same TPU-coated waterproof fabric and roll-top closure system as the Big River dry bags, but has two extra elements.
First, and most obvious, is the compression cap. This cap slides over the top of the bag and connects the bag top and bottom with four compression straps. Simply tighten the compression straps to shrink your stuff sack down to half of its original length on average.
If you've used dry bags before you may remember that they often trap air as well as keep water out, so how does the Evac actually compress? That's where the Cordura and eVent fabric bottom comes into play. This waterproof, but air-permeable material allows the air to be squeezed out of the bag while still keeping it waterproof without the need for purge valves or re-opening and closing the bag.
---
Final Thoughts
The more that you paddle, and the more adventurous you get with your paddling, you'll start to accumulate dry bags. It just sort of happens. Right now I have over 2 dozen dry bags of various sizes, shapes, and types between myself and my wife. But, we really only use about four of them for 90% of our paddle trips. The medium-size dry bags (10-20L) tend to be the most useful for many paddlers.
You probably noticed that there are several Sea to Summit dry bags on this list, and that is for a good reason – they make great dry bags! Sea to Summit has really hit the balance of durability, weight, and price point with their Big River series bags. They also make a heavier-duty Hydraulic series in a zippered duffel bag style, and a lightweight dry bag (but with a much less durable material and fewer features). Sea to Summit is a near one-stop-shop for most anything you need for SUP camping from dry bags to tents, and all of the Sea to Summit products that I've used have been highly functional and excellent quality.
If you have any questions about dry bags, please leave us a comment below!