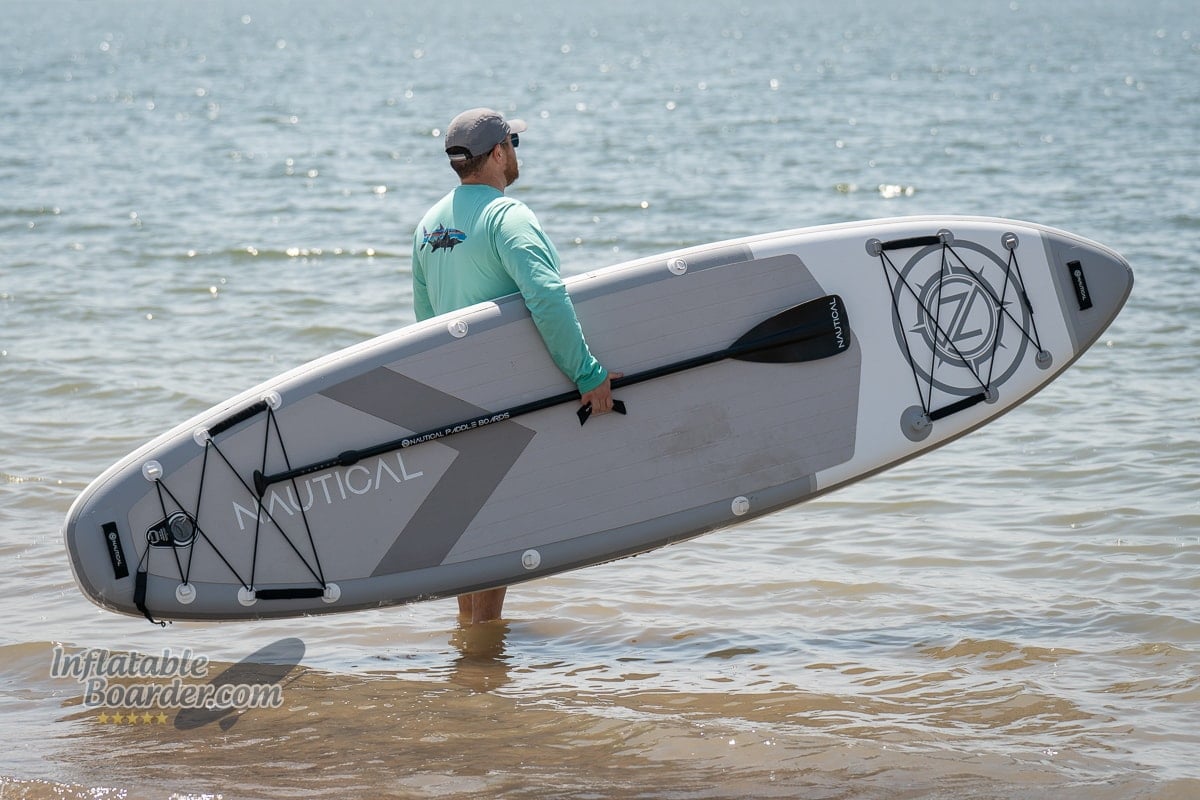 Nautical 11'6" iSUP Review 2023: Overview
The Nautical 11'6" is an entry level inflatable paddle board that is great for taller paddlers, paddling with kids or pets, and experiencing the wide variety of activities you can do with a SUP. With a high value price point and time-tested design, the Nautical 11'6" is an excellent choice for beginner paddle boarders.
— Nautical 11'6" Summary Ratings and Review —
Nautical 11'6"
Construction & Durability

Features and Versatility

Stability

Speed

Maneuverability

Tracking
Overall Score
The Nautical 11'6" is a budget- and beginner-friendly iSUP great for larger paddlers
Pros
Budget friendly iSUP that is beginner friendly
Lightweight construction that's easy to transport
Feature-packed paddle board at a great price
Paddles faster and tracks straighter than the shorter Nautical 10'6"
Fiberglass paddle for comfortable all-day paddling
Customize the paddling performance with the triple fin box
Fliplock fins for toolless installation
1 year warranty on the board and accessories
Cons
The lightweight construction will flex more for heavier paddlers (over 200 lbs)
Smaller paddlers may have a harder time turning the Nautical 11'6"
Construction and Durability
The Nautical 11'6" features iRocker's "double-layer composite" construction, but is what most brands consider to be a single-layer construction. This allows the Nautical 11'6" to be lightweight and highly packable, but does reduce its rigidity and performance compared to a true double-layer construction.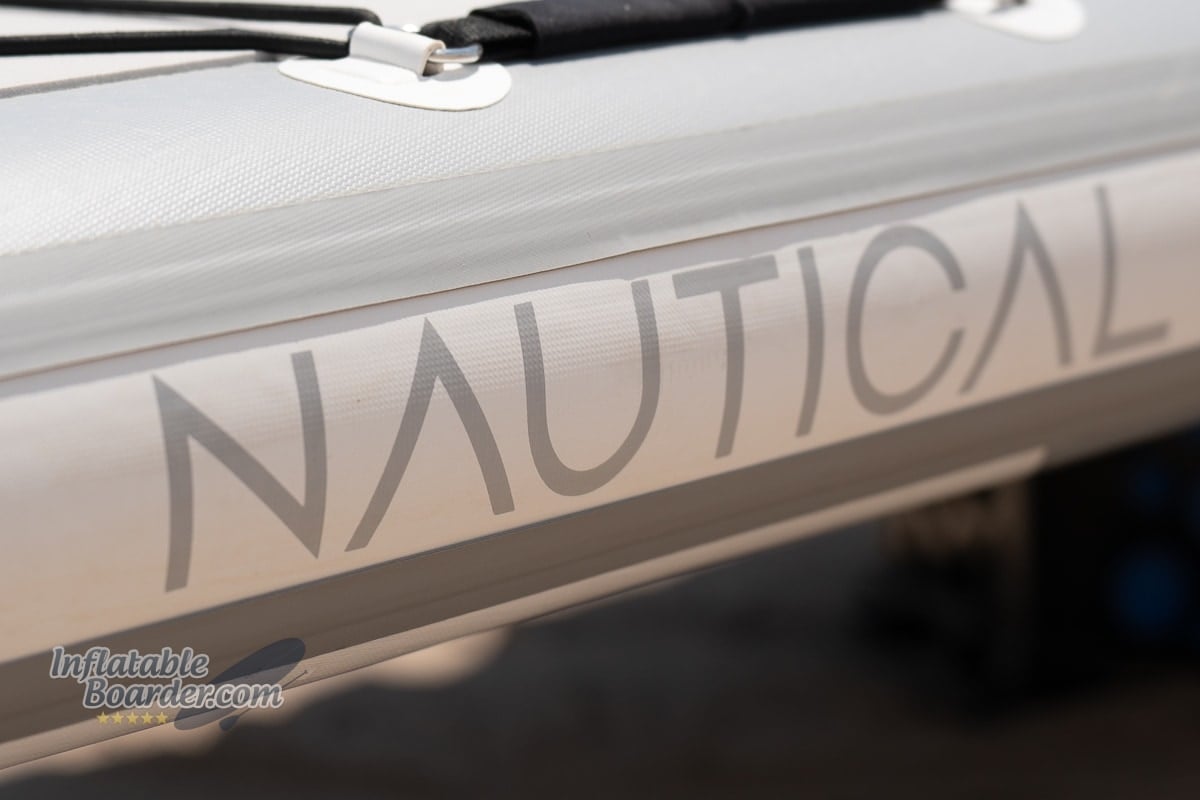 Starting from the inside-out, the Nautical 11'6" has a 6" knitted drop stitch core. This uses two sheets of knitted fabric that are connected with thousands of 6" space yarns to keep the board flat and provide rigidity. A layer of PVC material is then adhered to each side of the drop stitch core to create the deck and hull of the board.
Once the shape of the board is cut from this material, the top and bottom layers are joined around the edges by gluing a piece of PVC material all the way around the side of the board. This internal seam completes the air tight chamber of the board.
iRocker adds another, wider, PVC layer to create the outer rail layer of the board to protect the interior seam and provide more rigidity. Lastly, two narrow bands of PVC are glued to the edges of the outer rail for further reinforcement.
All together this creates a lightweight inflatable paddleboard that packs down easily for transportation and storage. The single layer construction is well implemented and while it's not the most rigid iSUP we've tested, it has held up well over time with no issues. The high quality construction also allows the Nautical 11'6" to be inflated to 18 PSI for additional rigidity – significantly more than the 12-15 PSI maximum normally recommended for boards in this price range.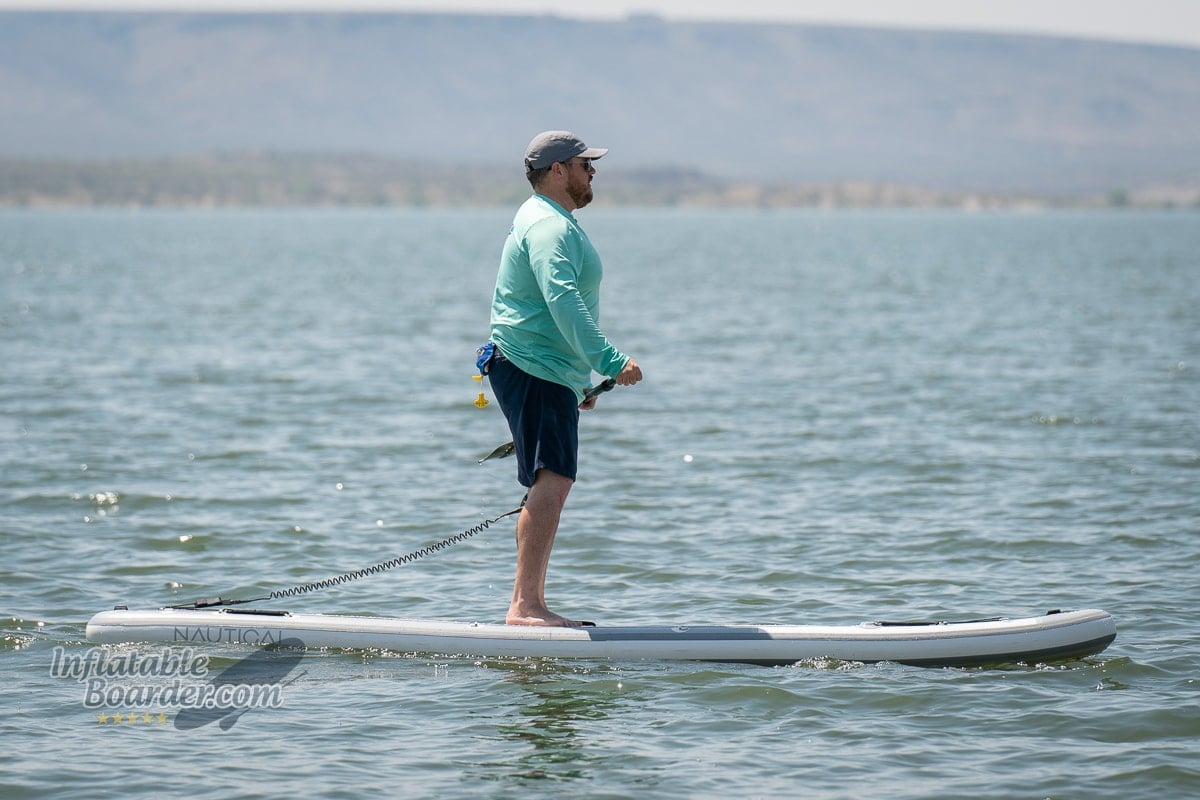 In our dry land bend test we suspended the Nautical 11'6" between two supports 7' apart and measured how much it bent when we added 170 lbs of weight. With lightweight single layer constructions, we typically see more bend than in heavier-duty multi-layer or fusion builds. The Nautical 11'6" bent 3.125" in our testing, which places it near the bottom of our rigidity testing.
On the water, the Nautical 11'6" does feel better than this score would imply. With full support of the water under the board, the Nautical 11'6" does not bend as severely, but does still flex during paddling, especially for heavier paddlers.
While standing and during casual paddling I did feel a small amount of flex, but not to any large detriment. This is mostly felt by heavier paddlers or when paddling with a passenger on board. While walking on the board, bouncing, or harder paddling, the Nautical 11'6" does have a significant amount of flex on the water and it does noticeably impact performance. However, when the board settles back down it does so smoothly and comfortably.
Specifications
Dimensions
Length
11'6"
Width
32"
Thickness
6"
Weight
Max Capacity
265 pounds
Board Weight
22 pounds
Kit Weight

29 pounds
Buying Info
List Price
Warranty
1 years
Returns period
45 days
Features, Accessories and Versatility
The Nautical 11'6" is a well-featured all-around iSUP. For beginners just dipping their toes into the world of paddle boarding, the Nautical 11'6" can be used to try a variety of different aspects of the sport from casual cruising to fishing, and even some light yoga work.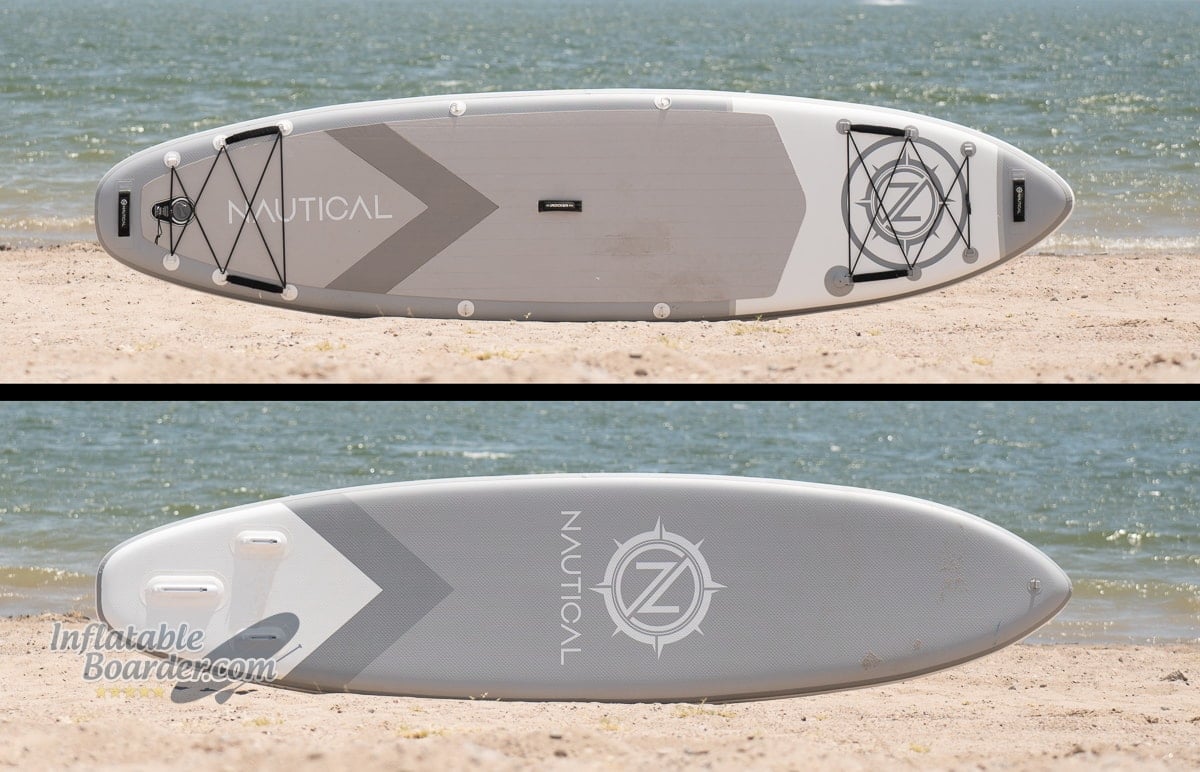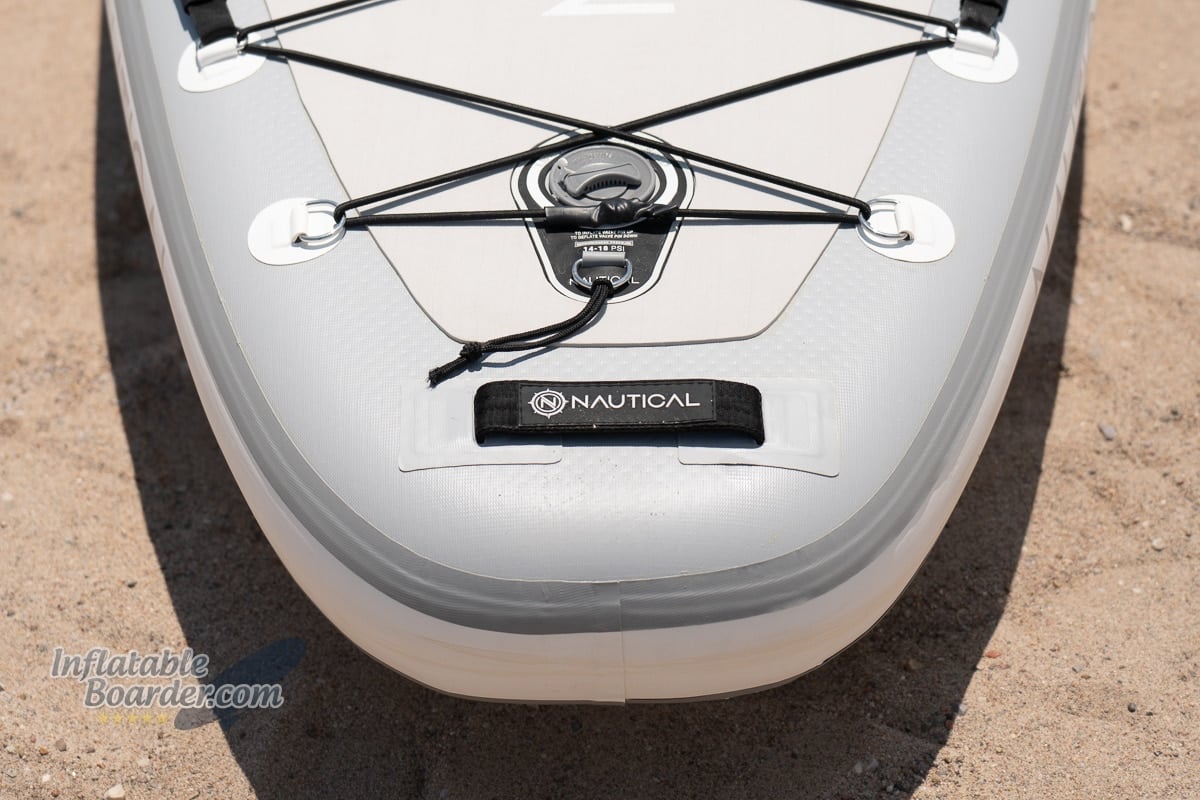 The Nautical 11'6" is sold as a complete iSUP kit with everything you need to be on the water except for a well-fitting PFD. Included with your Nautical iSUP you'll get a backpack style bag with enough room to hold your board and all of your accessories. You'll also get a single chamber/double-action hand pump, coiled ankle/calf leash, repair kit, complete fin set, and a fiberglass/nylon paddle. All together the Nautical 11'6" presents an excellent value for beginner paddlers on a budget.
Paddle
The Nautical 11'6" includes a fiberglass and nylon hybrid paddle that's well sized for most paddlers and is easy to set up.
It's very common for lower-cost paddleboard kits to come with equally low-cost aluminum paddles. Rather than sticking their customers with a heavy, easily broken, cheap paddle, iRocker has included a much nicer fiberglass and nylon paddle with the Nautical 11'6".
Fiberglass paddle shafts are lighter weight than aluminum and have a very comfortable flex while in use. This reduces strain on your body while you paddle enabling you to stay out for longer sessions. The handle section is also primarily made with fiberglass and has a plastic palm grip on top. I would like to see a more robust grip as the plastic does feel soft, especially after it's been sitting in the warm sun for a few minutes.
The blade is medium-to-large size (about 89 square inches) and has an overall rectangular shape. This makes it easier to take quicker paddle strokes, or lighter paddle strokes compared to a more teardrop-shaped blade. Instead of a steep angle where the blade meets the shaft, the Nautical paddle has a moderately deep curve shape. This shape is great for casual paddling and is very intuitive for new users. Combined with the automatically-aligning pin clip system that holds the handle in place, you'll never have your paddle blade misaligned and always know which way to hold it.
Stability
The Nautical 11'6" is an entry-level iSUP that's designed for beginner friendly use and stability.
One of the most common, and important, questions beginner paddle boarders ask is "what size board should I get?" The size and shape of a paddle board will directly impact its stability as well as a number of other performance aspects. The Nautical 11'6" is 32" wide and has a very parallel shape that carries that width far toward the nose and tail of the board. This is a very stable shape that gives you a consistent feeling of stability across a large section of the board.
While standing and paddling on the Nautical 11'6" it felt extremely stable for me no matter where I was standing on the board. There was no wobble or twitch at any point while keeping the board flat. Even rocking the board from side to side felt good and holding the Nautical 11'6" on its edge was quite easy. That same parallel shape keeps the Nautical 11'6" stable whether it is flat or tilted – which is great for beginners working on their balance.
There is some flex in the board when walking around and when lifting the nose of the board out of the water, however it is smooth and slow instead of tight and bouncy, so it's easy to adapt to. When I was standing on the tail of the board to lift the nose, the wide semi-square tail kept everything very stable for some easy pivot turns.
Speed
As an all-around iSUP the Nautical 11'6" is meant to do a lot of different things well, but not necessarily specialize anywhere, and that includes top speed. However, its longer size does help move the board at a quicker pace than the shorter 10'6" version.
When sprint paddling the Nautical 11'6" I was able to average a sustained sprinting speed of around 5.5 MPH (8.9 KMH) and reach a peak top speed of 5.7 MPH (9.2 KMH). This is pretty fast for an entry level all-around board, however it was not easy to maintain these speeds for very long. Part of the reason is the less rigid construction of the Nautical series. The Nautical 11'6" did flex quite a bit while paddling with effort, which causes the board to push down into the water and spin rather than gliding across the water in a straight line. While I wouldn't recommend consistently racing on the Nautical 11'6", It does still feel quick on the water when you want it to.
More importantly, the Nautical 11'6" easily cruises along when paddling at a much more relaxed pace. At a casual 25 strokes per minute (basically taking a quick rest between each stroke), the Nautical 11'6" maintained an average cruising speed of around 3.3 MPH (5.3 KMH). This is fairly average for an all-around iSUP. I did notice a small amount of flex while cruising with the Nautical 11'6", but not so much that I felt it truly impacted its speed.
While cruising around, the Nautical 11'6" will travel an average of around 18 feet per stroke before it noticeably slows down. We call this the board's glide, and we compare the glide based on the length of the board. The Nautical 11'6" glides about 1.6 board-lengths per stroke which is right on par for an all-around iSUP.
Overall, the Nautical 11'6" iSUP is an easy-paddling board with average cruising speeds and decent top speed, though difficult to maintain.
Maneuverability and Tracking
The Nautical 11'6" retains good relative maneuverability on the water, however it is less maneuverable than the shorter Nautical 10'6".
Being able to turn your board when you want is such an important skill, that it's always the first one I teach new paddlers. If you can't control where your paddle board is pointed you're going to have a hard time getting anywhere! Some paddle boards are easier or more difficult to turn than others due to a number of shape, size, and other factors.
The Nautical 11'6" is relatively easy to turn, but can take a little more effort depending on paddler size and skill. Our maneuverability test is designed as a stress test for the board. We count the number of strokes it takes to turn the board in a full circle using forward sweep strokes – a basic, but less-efficient, paddle stroke for turning. The Nautical 11'6" required an average of 6.5 forward sweep strokes (paddling in an arc from nose to tail) in order to complete the 360° test. This is just a bit more than normal for most all-around iSUPs. Part of this is due to the overall length of the board, and part of it is due to the triple fin setup that gives preference to paddling straight.
Other methods of turning the Nautical 11'6" are much quicker, though. Reverse sweeps (paddling in an arc from tail to nose) work against the fins and turn the board full-circle in just 4 strokes on average. Stepping back to the tail for a pivot turn is a very quick way to spin around, and the Nautical 11'6" has plenty of stability to learn this technique to turn all the way around in 2 or fewer strokes.
Once you are pointed in the direction you want to go, how well a paddle board will stay on that course is referred to as its tracking ability. The Nautical 11'6" does a great job of paddling straight for the same reasons it's a little bit more difficult to turn quickly – the length and the fin setup. In our tracking test we begin paddling toward a target on the horizon and once moving in a straight line, take 10 paddle strokes on one side. We then measure the difference between our original target and where the board is now pointing using a compass. The Nautical 11'6" performed very well in this test with an average deviation of only 11°. That's incredibly good for an all-around iSUP (normally around a 20° deviation).
Steering the Nautical 11'6" to keep it on course over a longer distance is quite easy as well. Aside from taking measured strokes on each side, the Nautical 11'6" responds very well to gentle steering input with basic turning strokes or, my preferred method, slightly adjusting the angle of your forward strokes.
With three fin boxes you can easily customize the maneuverability and tracking performance of the Nautical 11'6". The Fliplock style fin boxes are easy to use and require no tools to install or remove the fins. For this review we used all three included fins – 2x 4.5" side fins and 1x 9" center fin. You can choose to use all three fins for better tracking, but less maneuverability; just the center fin for a balanced setup between tracking and maneuverability; or just the side fins for less tracking, but better maneuverability and a shallower draft.
iRocker also has a shorter "river" fin available for the center fin box. The Fliplock fin box system is easy to use, but it's rather limited in fin availability. I do wish that iRocker would expand out their fin offerings for more customization, but the fins that come with the Nautical 11'6" do provide a good balance of performance for an all-around iSUP.
Warranty and Customer Support
iRocker offers a 1 year warranty on the Nautical 11'6" iSUP and all of its included accessories. A 1 year warranty is a bare minimum within the industry these days. I do not have any doubts that the Nautical 11'6" will long outlive this warranty, but it would be nice to see iRocker back the Nautical brand with the same 2-3 year warranty they offer for their iRocker and Blackfin products. Additionally, the Nautical 11'6" does have a 45 day return policy. Customers are responsible for return shipping and refunds may be subject to a reduction based on the condition of the board. If you have any questions, you can contact iRocker via telephone, email, webform, and social media.
Overall Impressions/Review Summary
The Nautical 11'6" iSUP is an excellent beginner inflatable paddle board for those on a budget. The longer length provides a bit more stability, speed, and tracking performance, but less maneuverability than the shorter Nautical 10'6". I'd recommend the Nautical 11'6" for taller or heavier paddlers, or those who plan to paddle with a child or dog as well. However it is very important to keep the weight limits in mind with these boards as the single layer construction does have a significant amount of flex as you approach the recommended weight limit. For heavier paddlers or for those paddling with larger kids or dogs I do recommend upgrading to the iRocker All Around 11' or the Blackfin Model XL.
Nautical 11'6" iSUP FAQ
Nautical vs. iRocker vs. Blackfin— which SUP should I buy?
If you're on a tight budget and money is an issue, we'd recommend the Nautical. If you can afford to pay a bit more for an inflatable SUP, then we'd highly recommend bumping up to the iRocker or Blackfin range. In short, buy what you can afford and know that all of iRocker's inflatable SUPs offer outstanding value at the price point they're sold at.
Can I paddle my dog around on the Nautical 11'6"?
Yes! The tough outer-layer of PVC won't be damaged by your pup's paws, however do be mindful of the weight capacity. For larger dogs, check out a board with a higher weight capacity like the Blackfin Model XL.
How long does it take to inflate iROCKER's Nautical SUP?
Depending on how quickly you pump, the Nautical 11'6" can be inflated in as little as 5 minutes, but average inflation time is closer to 8 minutes.