Nixy Monterey G4 iSUP Review | 2023
Inflatable Boarder is reader-supported and may earn a commission when you buy through links on our site. Learn more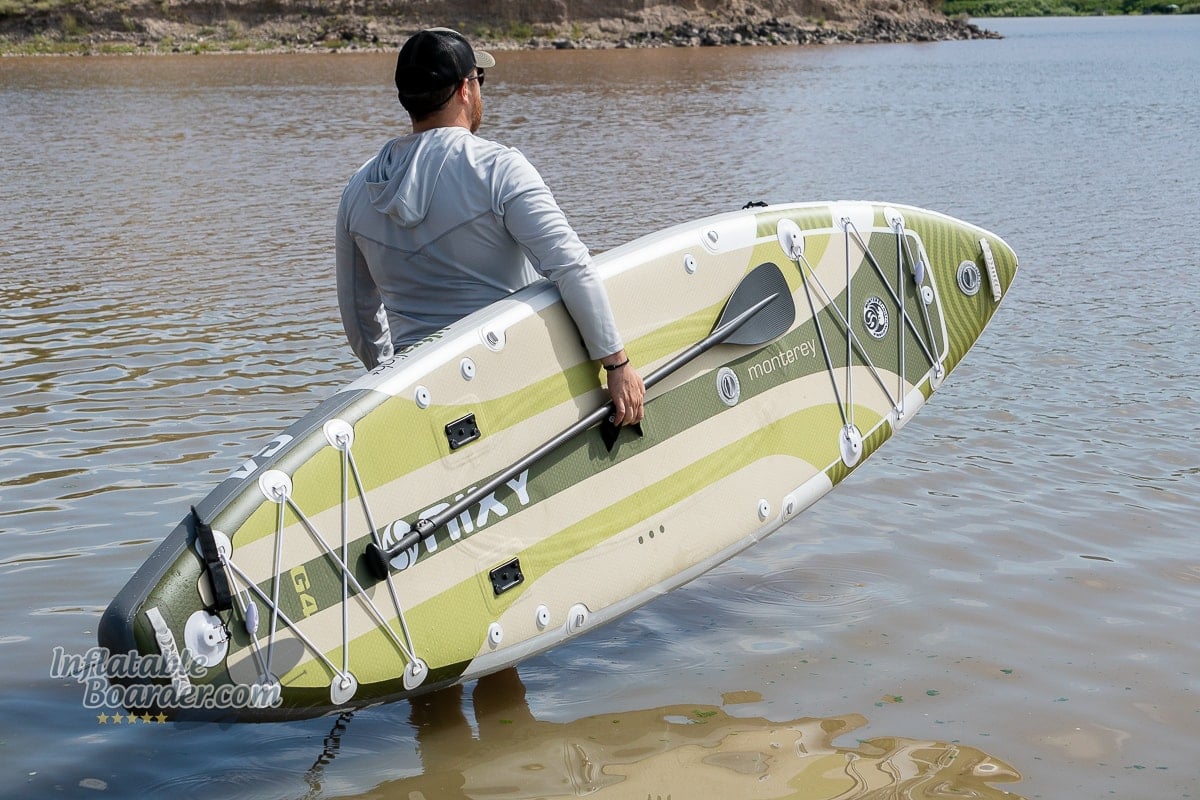 Nixy Monterey G4: Overview
The Nixy Monterey G4 expedition paddleboard is an all-around iSUP with adventure at its core. Unique to the Monterey G4 in Nixy's lineup (and quite rare in any iSUP) is a double air chamber construction to provide extra stiffness and an extra cushion of safety while on the water.
— Nixy Monterey G4 Summary Ratings and Review – —
Nixy Monterey G4
Construction & Durability

Features and Versatility

Paddle

Stability

Speed

Maneuverability

Tracking

Warranty & Customer Support

Value
Overall Score
The Monterey G4 is a wide all-around iSUP with a sporty feel. It's a great option for larger paddlers and for paddlers needing the security of a second air chamber.
Pros
Dual air chamber
Fusion PVC
Carbon fiber rails
Excellent paddle
Full length deck pad
10 action mounts, 18 D-rings
Scotty Mounts
Excellent pump and bag
Kayak seat and Cooler compatible
Three removable fins and center US fin box
Cons
Paddle holder is in a hard to reach spot
Narrow tail
Construction and Durability
The Monterey G4 uses the same excellent materials and construction found in all of Nixy's iSUPs, but with a twist.
In the middle of the board you'll see not just an extra inflation valve, but an entire second air chamber separate from the rest of the board (but still attached).
Both air chambers use the same Fusiontech dual-layer PVC over a woven drop stitch fabric. Both air chambers have a maximum recommended inflation pressure of 15psi. The center chamber is firmly attached to the rest of the board and there is no perceivable movement or slack between the two. The addition of a second chamber, valve, and connective material does add a little bit of weight, but overall the Monterey is still relatively lightweight at only 25lb.
One thing I did notice while paddling is the seam between the two sections. Because these sections are the same thickness, the additional PVC seam between them does create a slightly raised bump around the center air chamber. This bump is directly under where my feet naturally stand on the board. I don't feel it impacted my stability on the board at all, but did lightly fatigue my feet as they adjusted to this different feeling. After the first quarter mile or so on the board my feet adjusted to the feeling of the bump, but it was still there. We'll get more into the second chamber in the features section below.
The rails of the Monterey G4 are wrapped in an additional layer of PVC and given a carbon fiber reinforcement. This extra layer adds more stiffness by reducing flex in the rails, and increases the abrasion and puncture resistance along the sides of the board – where you are most likely to bump into other objects.
All of this adds up to a highly durable, lightweight, and incredibly stiff paddleboard. There is no perceptible flex in the board while paddling, and bouncing up and down on it produces only a small amount.
Specifications
Dimensions
Length
11' 6"
Width
32"
Thickness
6"
Weight
Max Capacity
400 pounds
Board Weight
25 pounds
Kit Weight
(SUP & accessories)
40 pounds
Buying Info
List Price
$995.00
Warranty
2 years
Returns period
30 days
Features, Accessories and Versatility
The most unique feature found on the Monterey G4 is its dual chamber construction. Having two air chambers in the board does add a little bit of weight, but also adds a level of safety for paddlers when they may not be close to shore for immediate self-rescue. However, the second chamber does NOT replace the need for wearing a PFD and leash.
In the event that one chamber is punctured, the second chamber has enough flotation to keep your paddleboard afloat and provide additional flotation for yourself (in combination with your PFD). Sitting across the second chamber you can still use your paddle to move toward shore, however if your board is loaded with equipment your mileage may vary. While punctures on the open water are very rare, this can be a great piece-of-mind feature for those who engage in a variety of fishing activities outside of the standard hook-and-line like spear fishing, bow fishing, crab fishing, and other activities where you may be working with heavier exposed sharp points.
On top of the board you'll find a plethora of features ready to match whatever adventures you can think of. There are 16 D-rings (plus a leash ring and tow ring) and two adjustable bungees for storing dry bags and other cargo. The D-rings in the middle of the board are kayak seat compatible and there is room for up to a 25qt hard-sided cooler in the rear.
10 threaded action mounts are spaced across the board to hold a variety of accessories like action cameras, cup holders, fishing rod holders, speakers, and more. Toward the rear of the board are two Scotty mounts that accept all Scotty-compatible accessories including fishing racks. The front cargo area offers more storage space and integrated action mounts.
On the front-left side of the board there is a small bungee cord paddle holder. The holder works well, but I'm not a fan of its placement. It's fairly far forward and wraps around under the board, interfering with the waterline. While it's not enough interference to realistically impact performance, I feel that its utility would be greatly increased by moving to a different location.
Under all of these D-rings and mounting points there is a full-length, logo-embossed deckpad. I really appreciate the inclusion of a full-length pad here. It provides more usable space for moving around on the board, passengers, dogs, and otherwise helping secure items under the deck bungees.
With all of these attachment points, Nixy has laid them out in such a way that they do still provide a clean standing area and are not in the way when moving around on the board to change paddling stances or to drop back to the tail for a pivot turn.
The Monterey G4's size and features make it a great option for paddlers looking for a board that can do it all, or for larger beginner paddlers looking for a sporty all-around iSUP that will grow with them as their skills increase. Where the Monterey G4 does fall a little short in versatility compared to other iSUPs designed for overnight and/or fishing adventures – more on that below.
The Monterey is packaged in a wheeled carry bag with more than enough room for the board, paddle and pump in the main section, and the leash, fins, and repair kit in the front pocket. There are organization pockets inside the bag as well. The handles are sturdy and easily pull the bag on its wheels without twisting or flopping.
Nixy's Typhoon G4 pump is a triple-action hand pump that makes quick work of inflating your board. The Monterey G4 is a large board, so it does take closer to 10 minutes to inflate by hand. The dual chamber design does create smaller individual chambers, which are slightly easier to inflate to the full 15psi.
Paddle
The Nixy G4 carbon-hybrid paddle is my favorite kit paddle. It's lightweight with a medium blade and sleek design.
The carbon-hybrid paddle included with the Monterey G4 (and all of Nixy's boards) is my current favorite kit paddle. The carbon fiber/fiberglass shaft is lightweight and strikes a great balance between stiffness (power) and flexibility (comfort).
The blade itself is nylon, but not overly heavy. It is a medium-sized blade that will work well for most paddlers. The rectangular shape is easy to use in a variety of different paddling situations. You can propel the board with casual paddle strokes and you can very easily increase your paddling rate for quick acceleration and higher speeds. Teardrop-shaped paddle blades tend to feel heavy and cumbersome when increasing your cadence and heavily curved blades do not enter or exit the water as cleanly as a flatter-faced paddle like the Nixy G4 carbon-hybrid paddle. There is still a slight curve to hold more water during your paddle stroke and the 7° blade angle is just enough to allow you to weight the paddle for a more powerful stroke while still being great for low-bracing in the surf zone.
The handle section has a printed scale for easily setting the right height for you and is held firmly in place with the collar clamp. The palm grip itself is plastic which isn't necessarily a problem on its own, however I did find the molded cross-hatch texture to rub my palm just a little too much. Nixy also has a line of higher-end full carbon fiber paddles that use a molded carbon fiber handle. Hopefully we can see a similar molded-composite handle make its way into the kit paddle for any future G5 versions.
Stability
The Monterey G4 is 11' 6" x 32" – that puts it right between our standard and larger category of all-around boards. Longer and wider boards tend to have better stability than their shorter and/or narrower cousins and make great options for larger paddlers, beginners who want ultimate stability, fishing, overnight trips, etc. The Monterey does fall into this group of boards, but in its own way.
Nixy is known for creating high-performance iSUPs with more priority given to speed, efficiency, and an overall sporty feel rather than ultimate stability. The Monterey G4 is no exception. The torpedo-like outline of the board and stiff construction give it a wonderful gliding feel on the water, but does detract from its stability.
When stepping onto the Monterey G4 there's a slight rolling sensation almost like the board has a rounded hull (but not that pronounced). It smoothly rocks from side-to-side and returns flat predictably, rather than catching water and popping back into place. I believe the center chamber contributes to this feeling, along with the rounded outline. Swapping the included "flex fin" shaped center fin for a wider, more rectangular, touring-style fin shape (with more surface area) would also help the Monterey G4 resist those side-to-side rocking forces and stabilize it more for fishing or paddling in choppy conditions.
While it is fair to say the Nixy Monterey G4 is not as stable as other boards in the "adventure board" category, it would not be fair to call it unstable. The performance-oriented shape favors glide and efficiency and the 11'6" length adds enough volume to keep you feeling secure. It is still easy to stand and move around on the Monterey G4 and it has very little flex or vibration when doing so.
Speed
Paddling the Monterey G4 does have a different feeling than paddling other boards of similar size. The slight loss of stability is made in order to facilitate a smoother glide and more efficient movement on the water.
While paddling the Monterey G4 I was impressed with the smooth sensation while cruising around the lake. The torpedo-like shape of the board helps ease the board through the water and reduces drag at the tail of the board.
During our speed testing, the Monterey G4 did not show any great advantages over other "adventure" boards while sprinting. I noticed the Monterey G4 was just a touch squirrely feeling when focusing all of my effort on forward speed and powerful strokes, likely due to the slightly lower stability compared to other "adventure" boards. The Monterey G4 does accelerate quickly, though, thanks to its stiff construction and high-cadence-capable paddle.
However it did show an improvement when comparing the boards' glide. On average the Monterey G4 took about 9.75 forward strokes to maintain a cruising speed over 50 yards whereas other boards averaged between 10-11 strokes for the same distance. While paddling over a half-mile course, the Monterey G4 did not end up being measurably faster than the other boards, but it did feel easier to paddle.
Maneuverability and Tracking
Similar to the smaller Newport G4, the Monterey G4 is not the most nimble board when testing at the extremes. From a standstill it takes just over 10 forward sweep strokes to turn a full circle. Our testing is designed for repeatability and comparison. While this does let us put some numbers to these performance characteristics, they are not necessarily real-world examples of use.
While paddling, the Monterey G4 does respond well to steering and can make a (more common) quarter-turn in just a few strokes. Stepping back on the board gives you a tighter turning radius (as does leaning the board into the turn). Sinking the tail is easily done and pivot turns are very quick, but do require concentration as the narrow tail responds quickly to any shift in balance from rail-to-rail.
The included fins strike a good balance between maneuverability and tracking. The center fin uses a US fin box and can be replaced with any US fin box-compatible fin to modify the maneuverability and tracking performance.
While speed testing the Monterey G4, I found the tracking to be lacking. I feel this is mostly due to the rounded shape of the board not holding its line as well when the board rocks from side-to-side during these fast, powerful strokes. This sort of loss of tracking ability sometimes happens with boards of lower construction quality as they flex down into the water with powerful strokes, but the overall mechanic is the same – the waterline along the board is effectively shortened, making it more maneuverable.
When I transitioned to cruising with the Monterey G4, the tracking greatly improved. It still needed occasional course correction, but, much like a bicycle, once the board was at a consistent speed with a comfortable paddling cadence, it became more stable and tracked straighter. The stiffness of the board prevented any flexing or bobbing in the water and created a wonderful gliding feeling. Overall, the Monterey G4 tips the scale to the side of maneuverability rather than tracking. Proper paddling technique brings those scales back toward the center, but for longer trips over larger distances, I would opt for a beefier touring fin to increase tracking performance.
Warranty and Customer Support
The Monterey G4 is covered by Nixy's 2-year warranty for their paddleboards, and all of your accessories (including the paddle, pump, bag, fins, and leash) are given a 1-year warranty as well. I'm very impressed with the overall build quality of Nixy's boards and accessories and expect them all to well-outlast their warranty. If you do have an issue, or if you just have a question about their products, you can contact Nixy through social media, phone, email, or a chat function on their website.
Value
When looking at the overall package included with the Monterey G4 expedition paddleboard, including the accessories, warranty, and customer service, we find it to be an excellent value overall. The materials and build quality are top-tier, the board paddles very well, the paddle itself is a great value, and the price point is squarely in the mid-range budget for inflatable SUPs.
Overall Impressions/Review Summary
The Nixy Monterey G4 expedition paddleboard is a great all-around board for larger paddlers who want advanced construction, great accessories, and a SUP that will grow with them as their skills advance. It's also a fantastic option as a fishing vessel or overnight trip SUP with its high weight capacity, a large bevy of on-board features, and its second air chamber as an added level of safety. While the Monterey G4 is not the most stable iSUP in this category and price range, it has excellent performance characteristics for intermediate paddlers looking for a larger board and is truly fun to paddle.
Nixy Monterey G4 iSUP FAQ
Is the Nixy Monterey G4 good for fishing?
Absolutely. The high-quality construction and multitude of equipment attachment points make the Monterey G4 a great choice for fishing.
Can I bring a passenger or my dog on the Monterey G4?
You sure can! The full-length deck pad on the Monterey G4 gives a comfortable surface for passengers and dogs alike. The 400lb weight capacity makes it easy to bring a friend along with you.
Who is the Nixy Newport G4 for?
The Nixy Monterey G4 is a sporty, performance oriented all-around iSUP that is best suited for larger beginner paddlers (over 180lb) who want a high-quality board that will grow with them, and intermediate and advanced paddlers looking for a fun all-around iSUP that can do just about anything. It's also a great option for expedition paddling and fishing where the second air chamber brings an added layer of safety to the trip.
How long does it take to pump up the Nixy Monterey G4?
It takes about 10 minutes to inflate the Nixy Monterey G4 to the recommended maximum 15psi using the included Typhoon G4 hand pump. We've found it best to begin with the inner air chamber, and then inflate the outer chamber. You can shorten this time by pumping faster, or you can use the Nixy Ventus 12v pump to do all the hard work for you!
Is the Nixy Monterey G4 compatible with a kayak seat?
Yes it is! There are D-rings along the side of the Monterey G4 that are compatible with the Nixy Premium SUP Kayak Seat. The carbon-hybrid SUP paddle is also compatible with the Nixy G4 SUP kayak blade.