Isle Switch: Overview
The Isle Switch 2-in-1 iSUP was designed from the water-up to be the most versatile paddleboard on the market. When the Switch was first announced, I had my reservations. Often boards that try to be everything end up missing the mark on all of it.
Instead, Isle has knocked it out of the park with the Switch!
The combination of the advanced materials and construction, stable size and shape, and unique approach to customization makes the Isle Switch not just an outstanding all-around iSUP, but a quality inflatable kayak, and even a tandem paddleboard.
— Isle Switch iSUP Summary Ratings and Review —
Isle Switch
Construction & Durability

Features and Versatility

Stability

Speed

Maneuverability

Tracking
Overall Score
The Isle Switch performs incredibly well on the water and includes a great set of accessories.
Pros
Incredibly stable thanks to its 35.5" width and wide, boxy tail.
Super lightweight construction keeps the Switch at a svelte 19lb
High quality inflatable kayak seat and foot brace included in the kit
Convertible 4-piece paddle with an ovalized paddle shaft
Isle Link system offers dozens of customization options and accessory placement
Accessories come packaged in a functional dry bag for your keys, phone, etc.
Full-length EVA deck pad covers the entire board surface
Fantastic performance on the water with outstanding speed and glide for its size.
Cons
A fiberglass or carbon fiber paddle would better match the performance and value of the rest of the kit
There are no other types of accessory mounting options built into the board for action cameras, fishing rod holders, etc.
Construction and Durability
The Isle Switch uses the latest in iSUP materials to create a board that is both lightweight and high-performing. This single-layer fusion board weighs only 19lb, but remains rigid on the water. These single-layer materials and builds have come a long way over the last decade and offer great durability.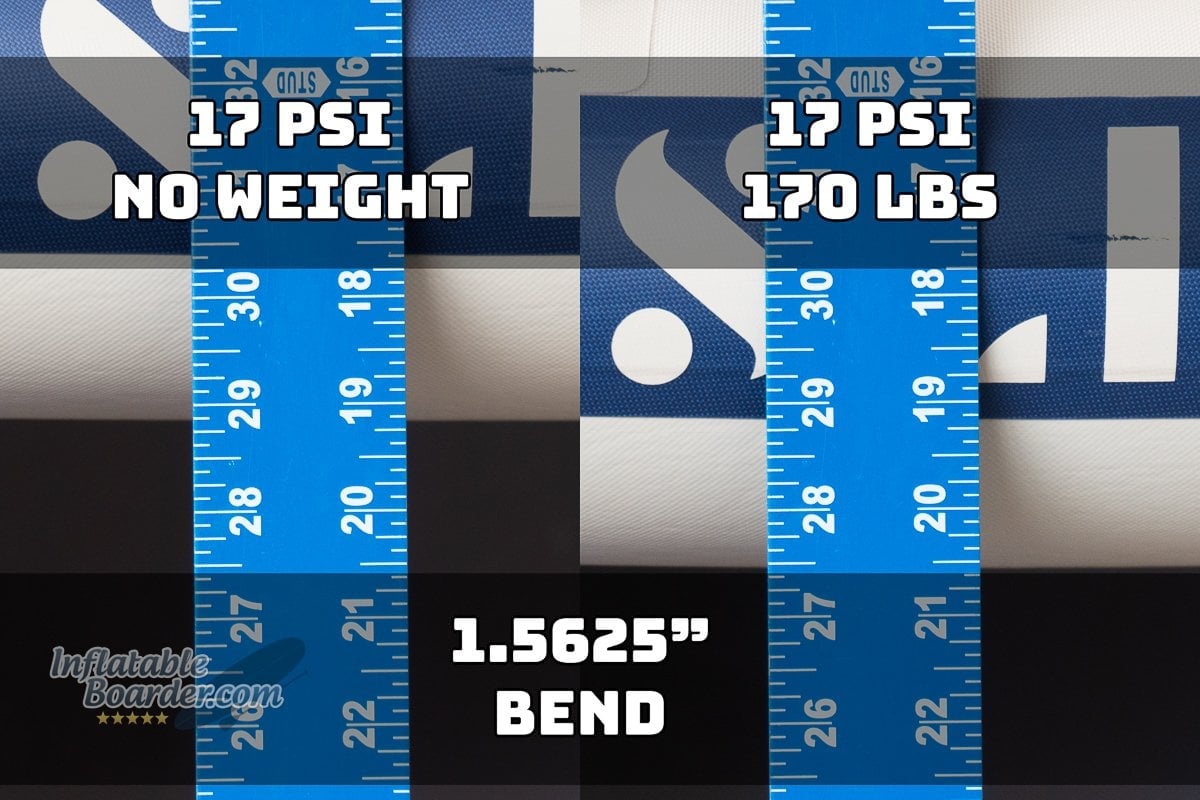 With their new iSUP model, the Switch, Isle took the opportunity to implement a new material into their lineup. AirTech Fusion Lite Technology uses a single layer of reinforced PVC material bonded to a lightweight woven drop stitch fabric. Isle went one step further and also implemented cross-threaded drop stitching, where the thousands of fibers that run between the top and bottom layers inside the board cross each other in an 'X' pattern rather than straight up and down. This reduces the number of threads needed (and reduces weight) without reducing stiffness. This advanced construction and high volume add up to a usable carrying capacity of 425lb.
The rails, or sides, of the Switch are wrapped in two layers of PVC material to create the airtight seal and increase the durability of the board where it is most likely to impact objects while on the water. With all iSUPs, care should be taken not to drag the boards while moving them around. While we don't anticipate any durability issues with normal use, lightweight builds like this don't have quite as much wiggle room against abrasion and puncture as a dual or triple layer board.
When we put the Switch up on the saw horses for our bend test, these lightweight materials handled the stress well, and bent just over 1.5" with 170lb – or slightly better than our running average from over 45 boards.
On the water, the Switch felt very firm under foot. While bouncing on the board I did notice a moderate amount of flex with a very tight, almost-bouncy, rebound. I did feel the rebound a little bit while walking to the tail for a pivot turn, however during regular paddling there was no discernable flex or bounce.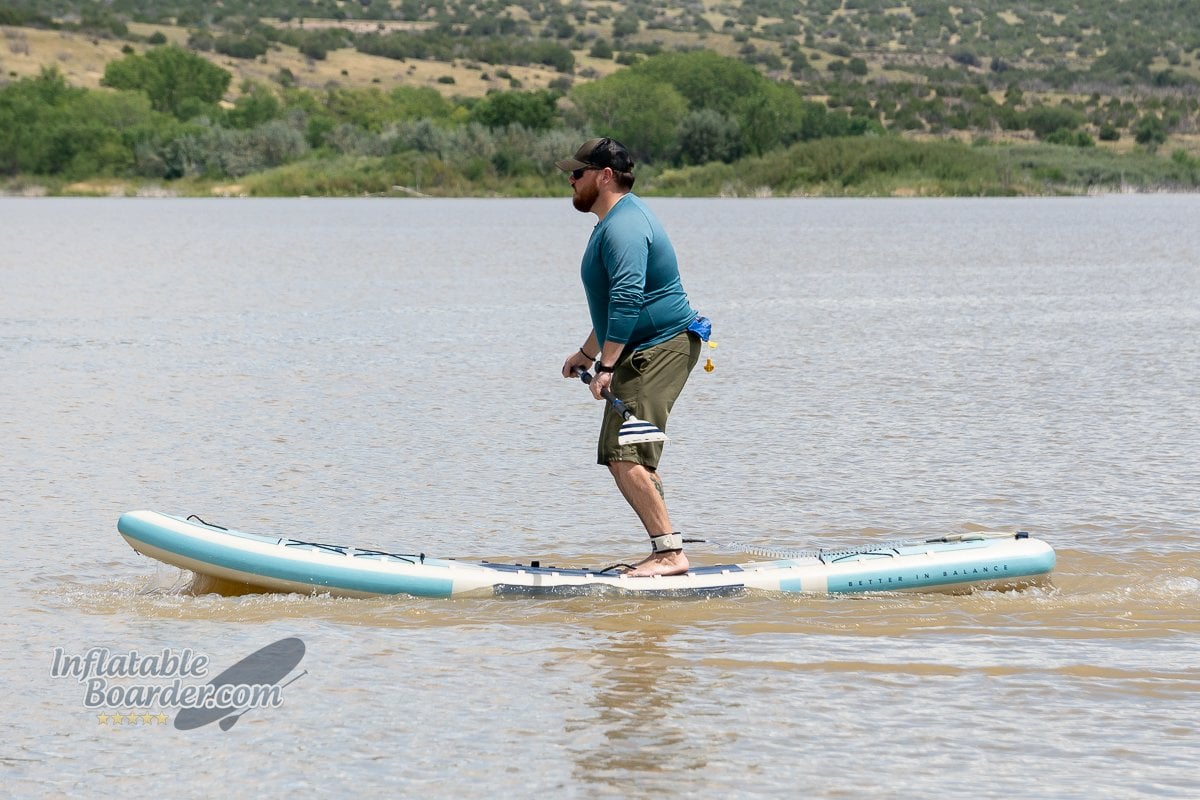 Specifications
Dimensions
Length
11' 6"
Width
35.5"
Thickness
6"
Weight
Max Capacity
425 pounds
Board Weight
19 pounds
Kit Weight
(SUP & accessories)
35 pounds
Buying Info
List Price
$995.00
Warranty
2 years
Returns period
60 days
Features, Accessories and Versatility
The Isle Switch offers great versatility out-of-the-box as one of the few iSUPs on the market that comes stock with a kayak conversion kit. The Isle Link tabs around the outside of the board allow you to customize the board's layout and attach a ton of different accessories or cargo. The full-length deck pad lets you make the most use of the board when carrying a passenger or pet. One thing that is missing, however, is a way to attach an action camera, fishing rod holder, or other similar accessory.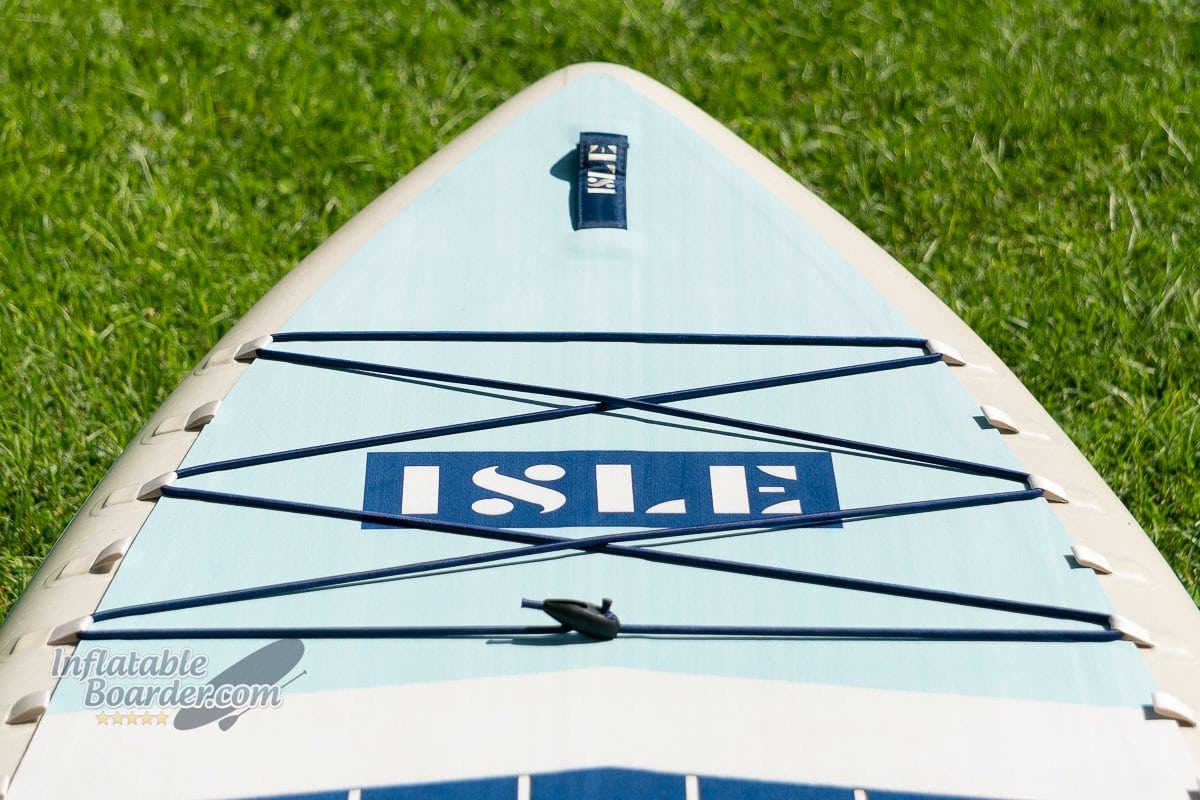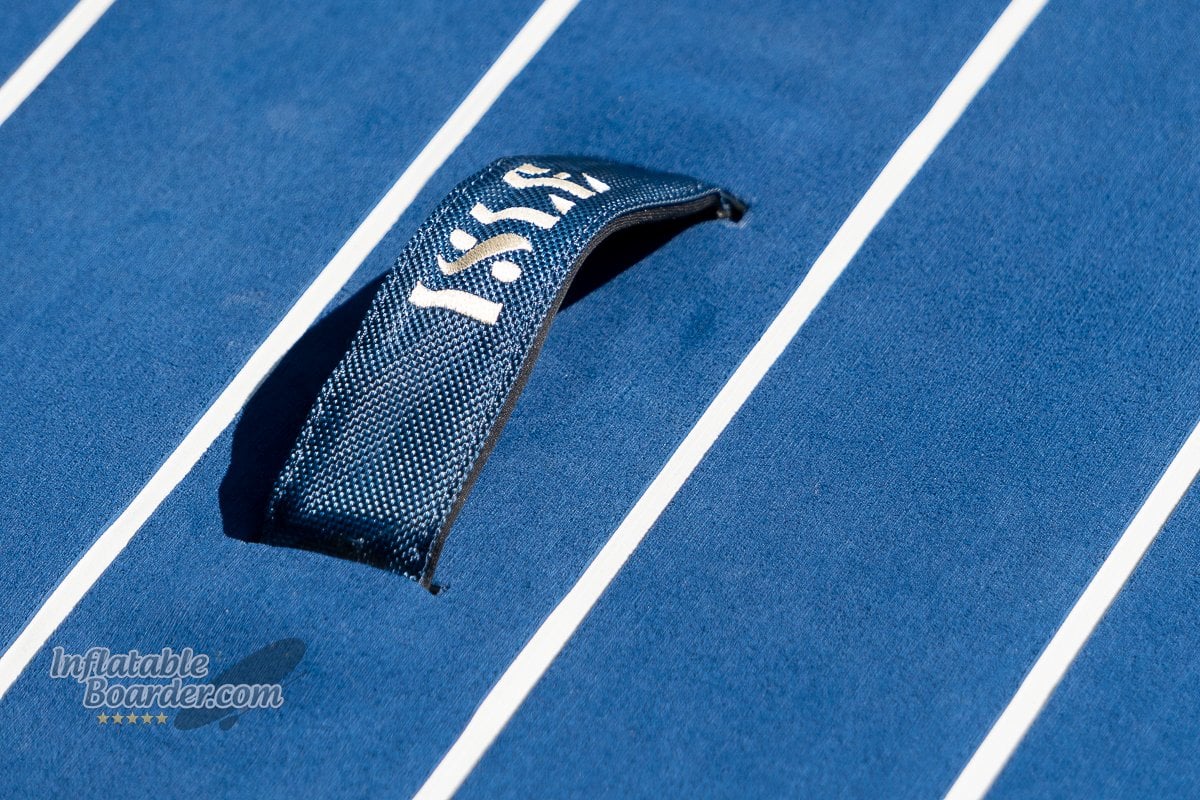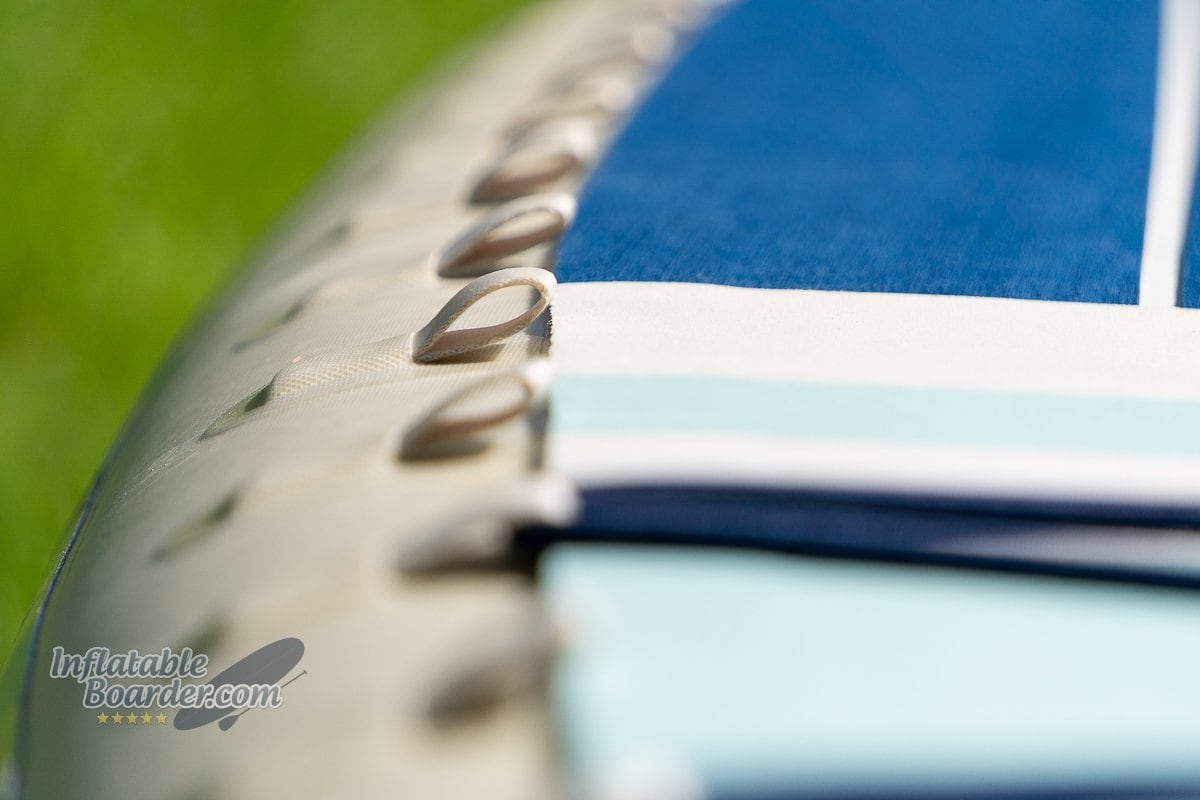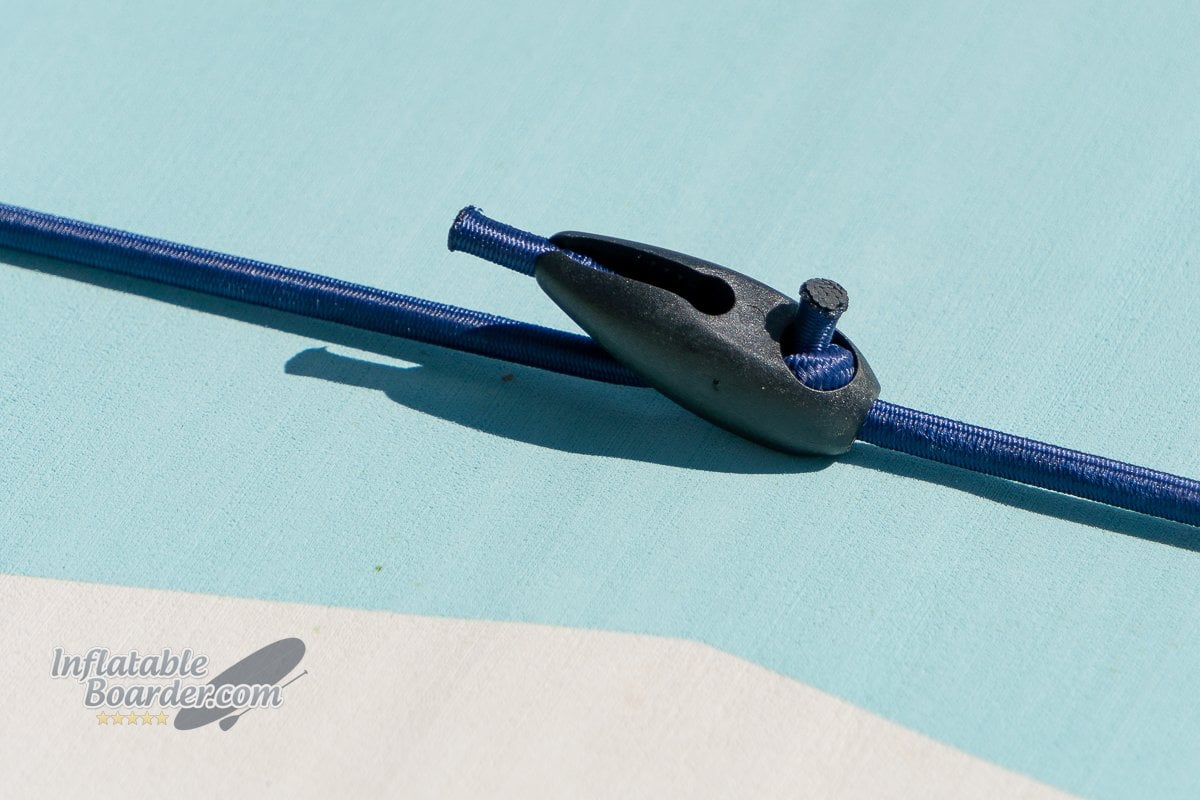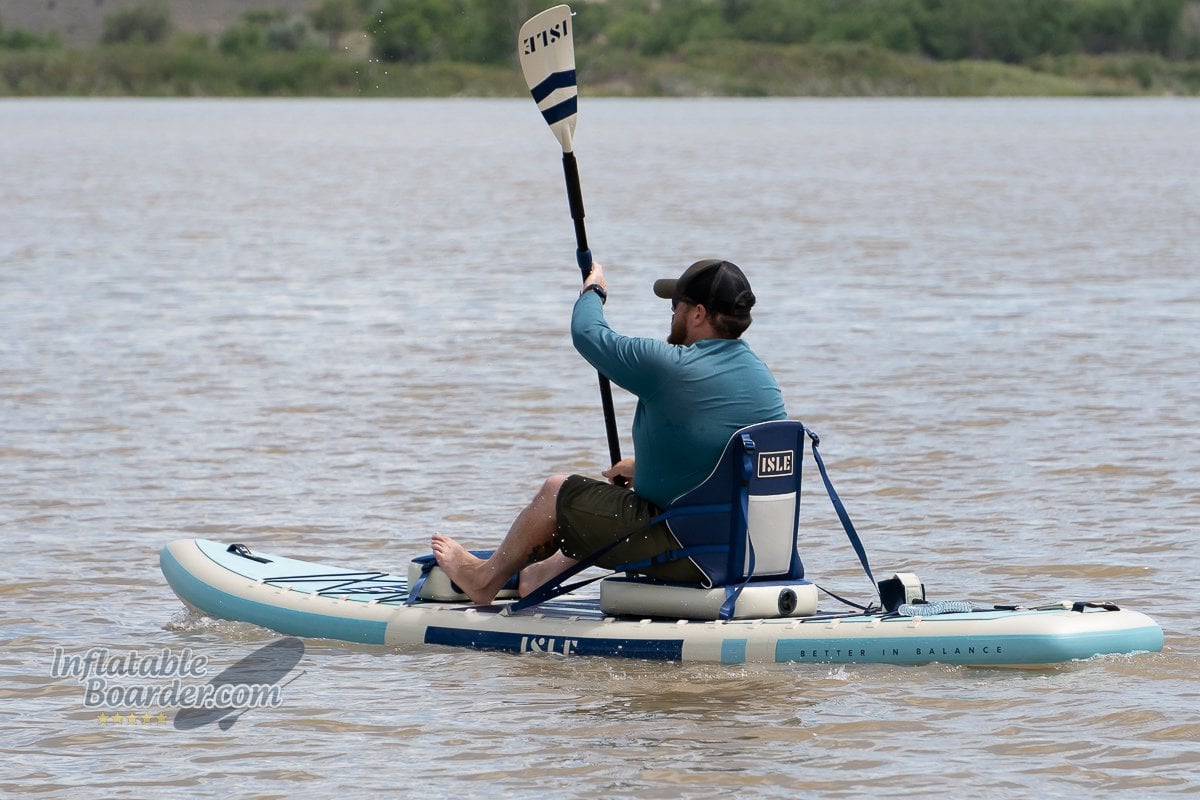 One of the key focuses of the Switch is to provide more versatility for the paddleboarder who frequently changes how they use their iSUP. Of course you can use the Switch as a traditional paddleboard, but it's also ready to go with an adult passenger as a tandem paddleboard, quickly convert to a solo or tandem kayak (though you'll need an additional seat and paddle for two kayakers), and the Switch is even designed to link up with another Switch to create a large continuous "raft" for several people.
When looking at the board itself it seems to be fairly empty. Instead of crowding the deck with a number of different types of attachments, the team at Isle decided to focus on flexibility within core functionality. There are 40 (yes, forty) polyethylene tabs around the outside of the deck. You can use these tabs to adjust and move the included cargo bungees wherever you'd like, or you can use them with the Isle Link G-Hooks for the kayak seat and foot brace. They are also large enough to fit a slim carabiner to attach additional cargo straps, coolers, fishing rigs, and more.
The Switch also features a velcro paddle holder and adjustable cargo bungees. The bungee cords use a simple cleat-style lock for quick and secure adjustment.
The included kayak seat and foot brace are both easy to use and are quite comfortable. They do inflate to a maximum of 6 PSI – which is convenient as this is the lowest visible number on the hand pump pressure gauge. Often inflatable accessories need much lower pressures and leave you guessing if they are inflated correctly or not. The foot brace is a wonderful addition to this kit. Kayaking and paddleboarding share a lot in common including using your core for proper paddling technique. The foot brace allows you to engage your core and your legs as you paddle rather than rely on your arm muscles for your whole trip.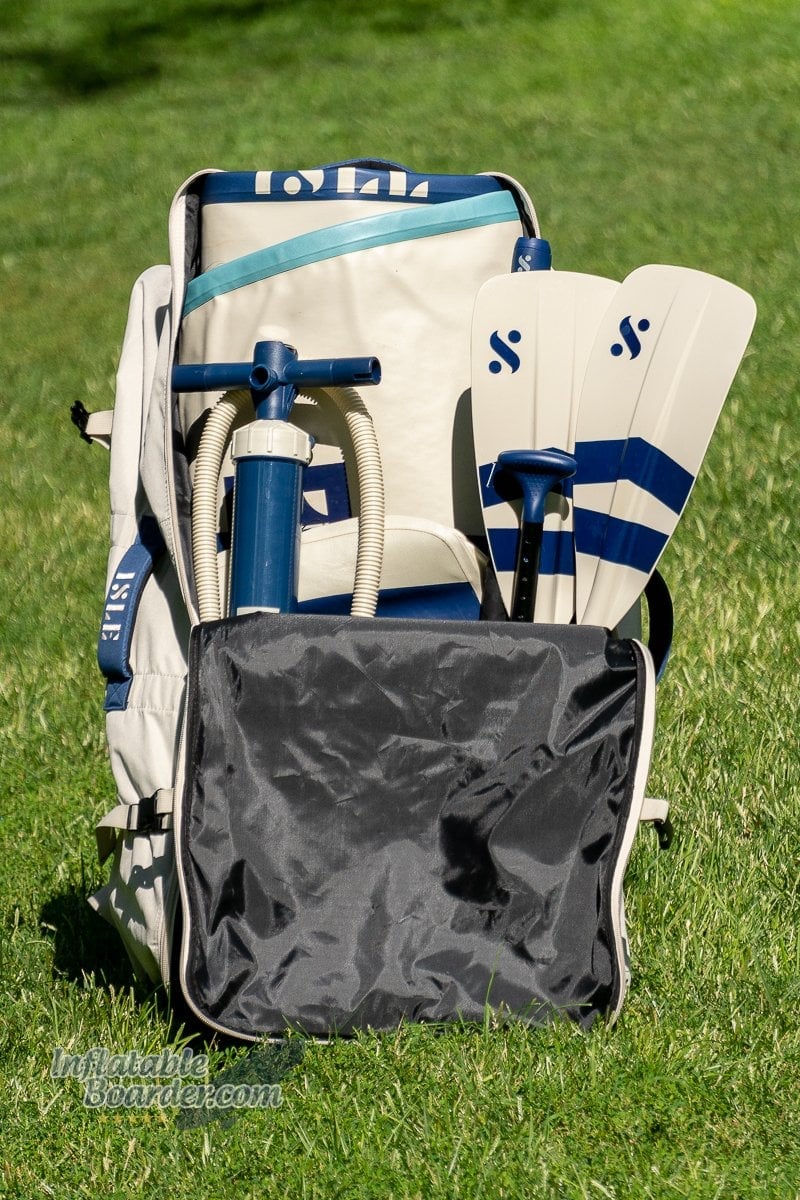 The Switch comes packaged in Isle's "premium" bag, however I do wish it were a bit more on the "premium" side of things. The bag itself is built well with durable materials, comfortable handles, and useful compression straps, but for a kit this large a wheeled bag would make transportation much easier. The board itself only weighs 19 lbs, however the whole kit together comes in at 35 lbs.
The included hand pump is a fairly standard single-chamber, dual-action option. The feet fold up and handles unscrew to make it narrower in the bag, but there is plenty of room for it as-is. I do recommend getting a 12v electric pump. The Switch is a very large board (360L in volume) so pumping by hand takes a long time.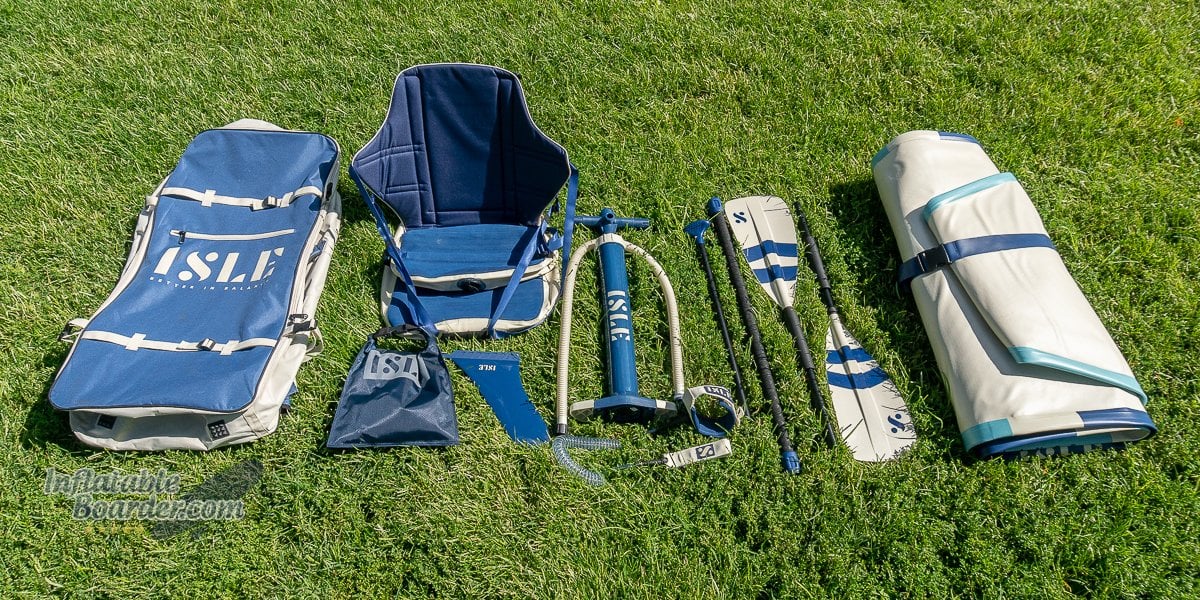 Paddle
The Switch includes a 4-piece paddle that is designed to easily and quickly convert between a SUP paddle and a kayak paddle. While it does this task well, the paddle also has many downsides.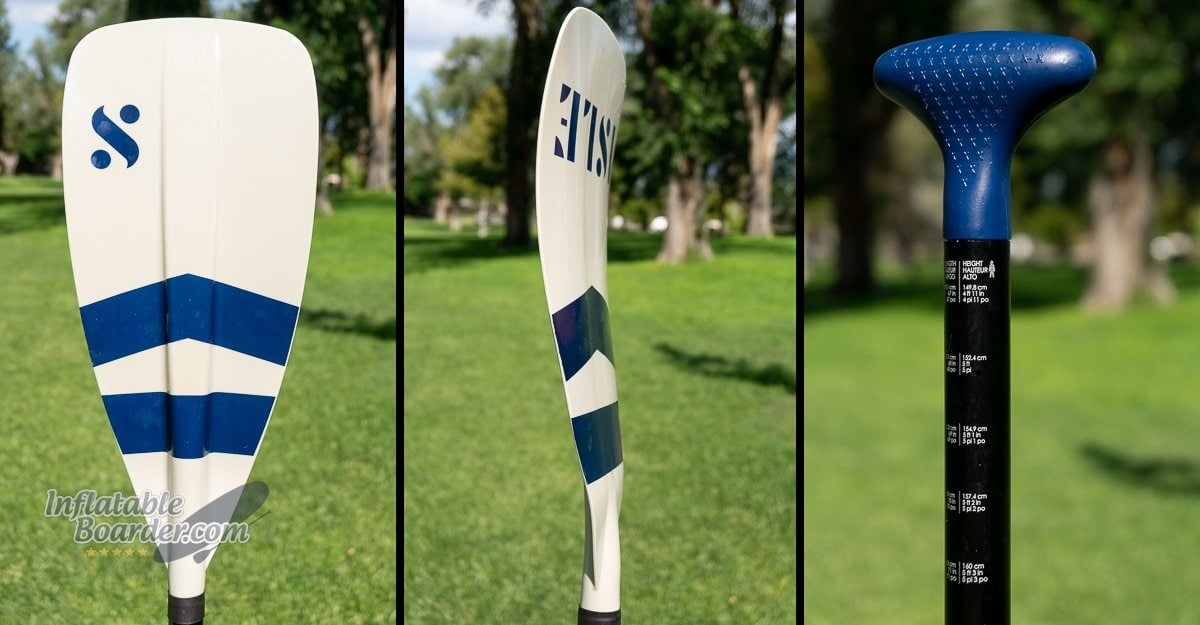 The included paddle is well-designed to be a convertible paddle. The main section of the shaft uses the same connection types on both ends so you can insert the SUP paddle handle or the paddle blade on either side (or both blades to use as a kayak paddle).
The Switch's paddle uses a smaller, more rectangular blade than Isle's other iSUPs. Normally I'm a fan of these smaller blades, however with the size of the Switch itself I feel that it is a little underpowered. This is a little noticeable when using it as a SUP paddle, but very noticeable when using it as a kayak paddle (more on that in a bit).
The handle section has a very useful height scale and because the paddle uses a pin-and-clip system to attach everything, it automatically indexes the handle to the correct orientation with the blade. There is some noticeable play in the handle section because it is simply held in with a pin rather than clamping tight, but overall feels good in the hand.
The paddle shaft is also ovalized. Instead of a cylinder, the shaft is flattened out on two sides. This type of shape is not often seen in SUP paddles, but is more common in kayak paddles. The oval paddle shaft is comfortable to hold and the main section is wrapped in a textured fabric for better grip on the aluminum shaft.
The paddle shaft and inserts are all made of aluminum. This has been the biggest let-down of the Switch for me. Aluminum paddles are heavy, don't float as well (in fact, the Switch includes padded "float" sleeves for the blades to help prevent them from sinking quickly should they come off during use), and aluminum is also more likely to bend under heavy use (or if it is stepped/sat on) and not bend back. Did I mention they are heavy? In addition to the weight from the aluminum, the main section of the shaft is wrapped in a fabric layer for grip and the foam floats for the paddle blades all add up to a whopping 39 ounces as a SUP paddle and 51 ounces as a kayak paddle. I would gladly trade the oval shape of the paddle shaft for a rounded fiberglass or carbon fiber one (though fiberglass and carbon fiber can similarly be made in the same oval shape).
Converting the paddle to use with the second blade is quite easy – just release the handle section and insert the other blade. The pin-and-clip system automatically aligns everything for hassle-free assembly.
In "kayak mode" the paddle does an OK job, but it is definitely hampered by the blade size and shape. The small blades just don't get enough grip in the water when used with casual, low-angle, paddle strokes that most recreational kayakers will use, and they do flutter when used like this. The blades are designed to be used vertically (like you would with a SUP) and they are more effective with aggressive, high-angle, paddle strokes, but this doesn't really match the style or intent of the Switch (it's more appropriate for whitewater paddling or high-angle sea kayaking). You also have more leverage with each stroke when standing on the board rather than sitting lower to the water, so the smaller blade works better overall while in "SUP mode."
I do appreciate the inclusion of the extra blade for a simple conversion, however if you do plan to primarily or regularly use the Switch as a kayak, I would recommend getting a dedicated kayak paddle for better efficiency and comfort on the water.
Stability
The Isle Switch is incredibly stable and great for paddlers of all sizes and skill levels. The stability and full-length deck pad also make it great for yoga, paddling tandem, or bringing pets along with you.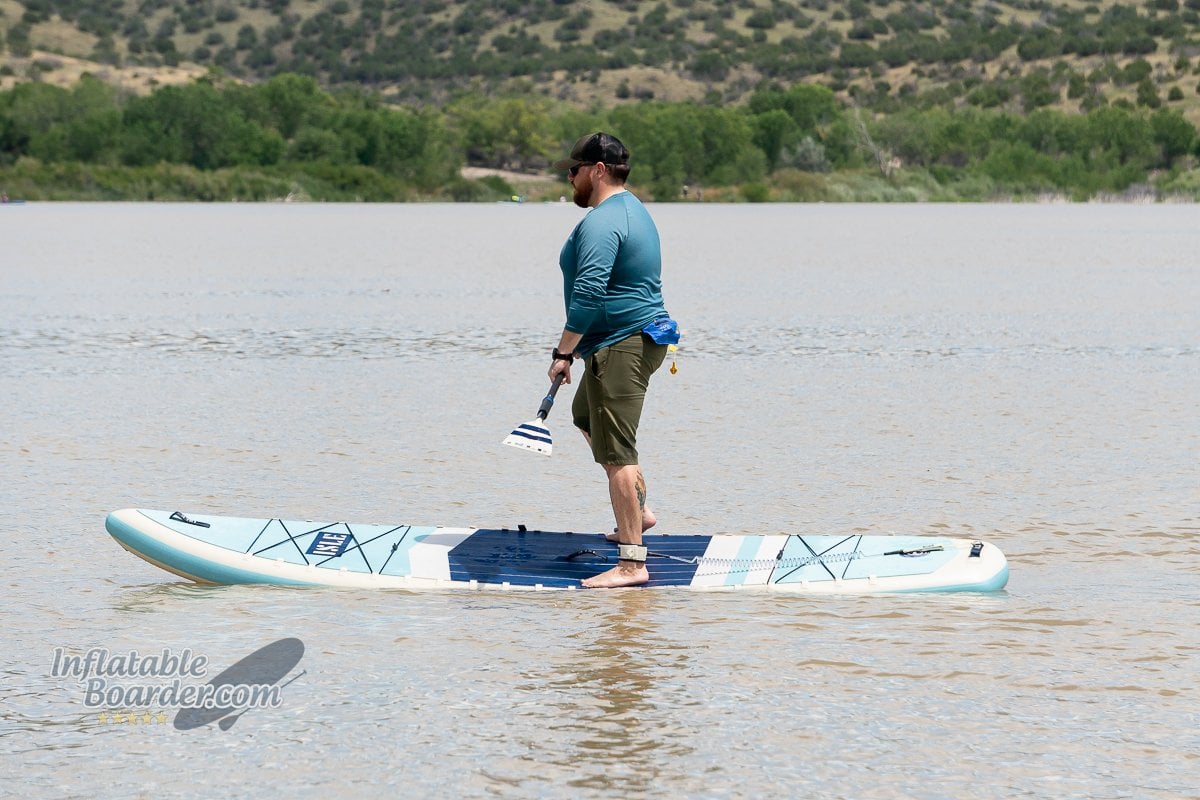 At 35.5 inches wide, I expected the Switch to be a very stable board and I was not disappointed. Standing on the Switch takes no effort, and even tilting it onto its rails (edges) was easy to do and easy to hold in that position.
While rocking the board back and forth I did notice a little bit of a "popping" sensation as the board's edge submerged and then resurfaced. The high volume of the Switch really wants to keep it flat on the surface!
While walking on the board I did notice a slight bounce as the board flexed and reverberated, but nothing I would consider to be bad. Getting back to the tail is very easy, however sinking the tail for a pivot turn was not.This is because of the Switch's wide (and high-volume) tail. The Switch has a tail width of 24.5" when measured 1' from the very end of the board (right about where the inflation valve is). That's extremely wide for any paddleboard and is the widest that I've seen outside of whitewater-specific boards. The benefit of the wide tail is that it greatly increases stability, especially when using the board in tandem with another paddler (one paddler farther forward, one farther back).
Speed
Speed was the most impressive performance category for me. I knew the Switch would be stable, but I did not expect it to be anywhere near as fast as this, or to glide as well as it does.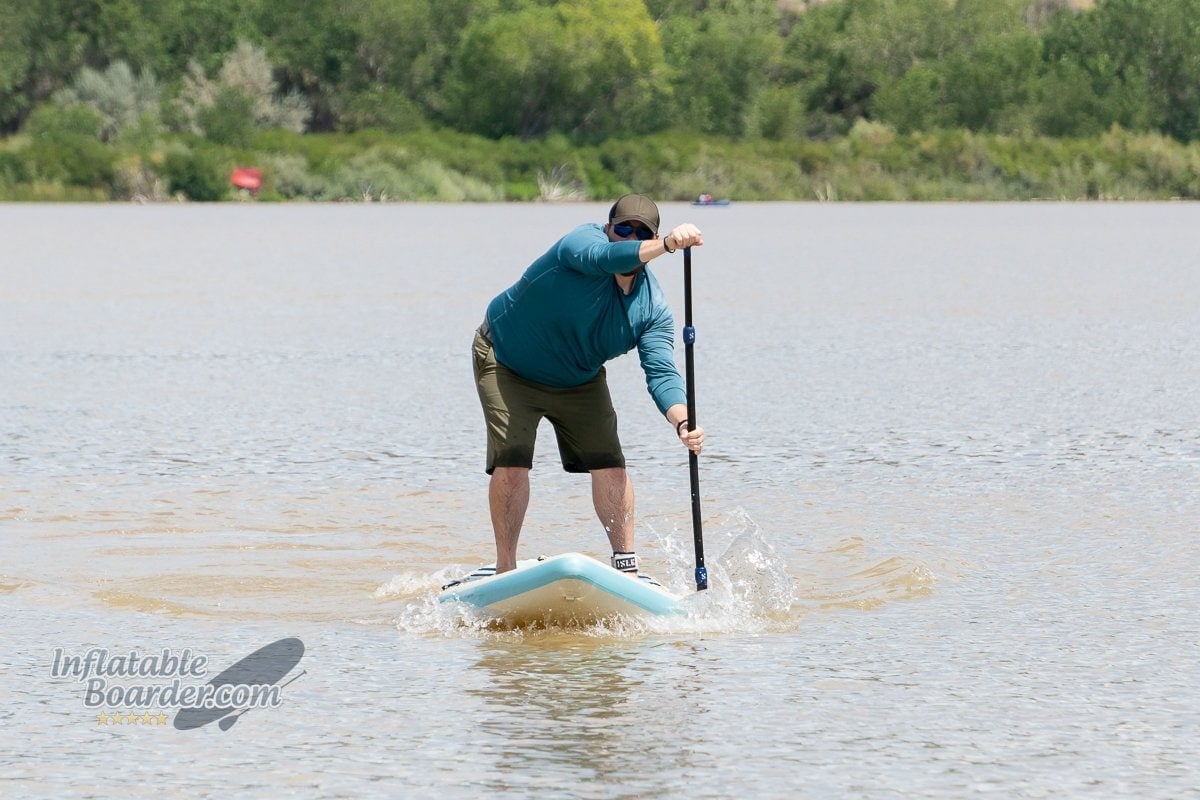 I had to double take both my stopwatch and my notes while speed testing the Switch. It was performing much faster than I expected it to. In our 100m sprint test, the Switch averaged just over 42 seconds. While this certainly isn't the fastest board overall, the Switch clocked times that are more commonly seen in 32" wide all-around boards and 31-32" wide touring boards! Other 11'6" x 34" boards were in the upper 40's and low 50's. It also accelerated well from a complete stop with just a few paddle strokes.
The jaw-dropping didn't stop there. While measuring the gliding distance per stroke, the Switch was once again performing way better than it should just by looking at the size of it. In fact, the Switch broke the 2 board-lengths-per-stroke barrier – something that had only been done (until now) by a few touring boards that were 4-6" narrower!
I did not expect the switch to be this fast or this efficient on the water given its 35.5" width and 7" of nose rocker, but I'm very glad it did. With paddling performance like this It's feasible to use the Switch as an adventure-style touring board for long trips or where you need excellent stability.
Maneuverability and Tracking
With versatility as one of its core values, it's no surprise that the Switch is extremely maneuverable for its size. Its tracking performance is also slightly above average, and once again topping the charts for its size.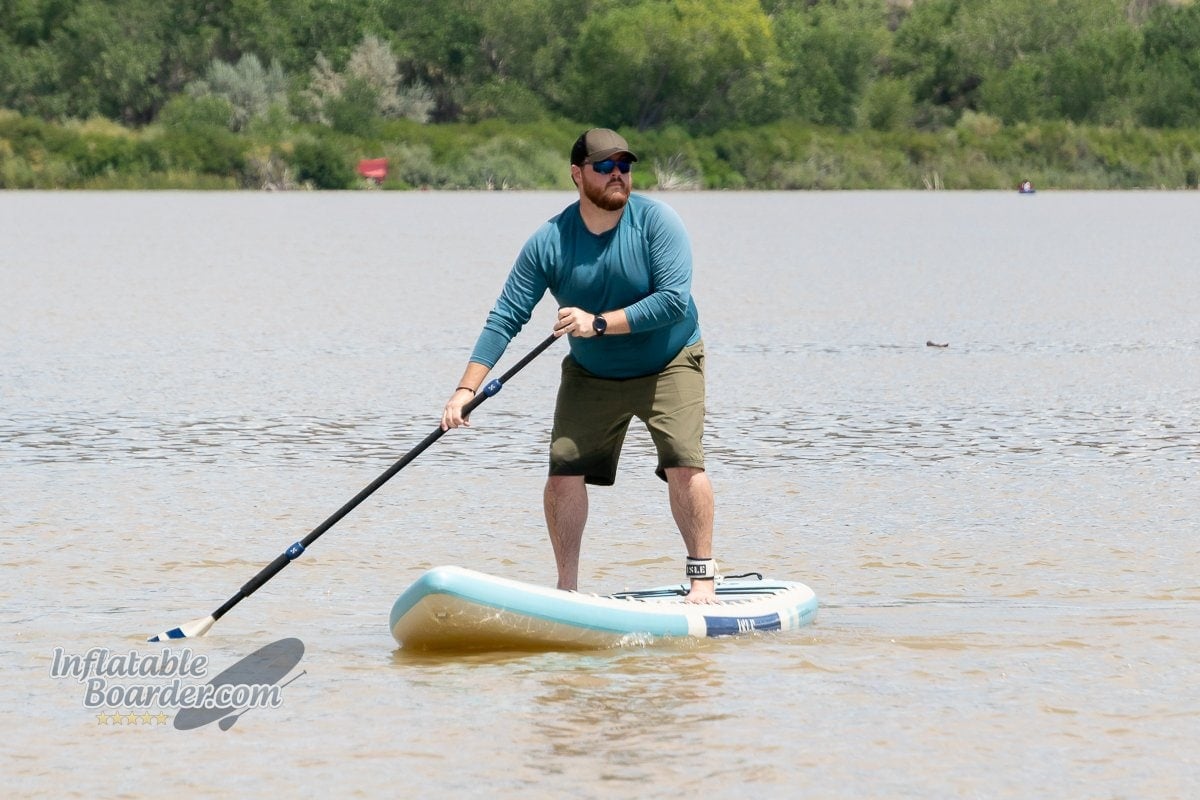 Much like the Switch's speed, I was thoroughly impressed with its maneuverability. Our maneuverability test involves turning a complete circle from a total standstill. This is not something that's done very often in real life, but it really does test how quickly a board will turn. The Switch once again outshone its spec-sheet by turning a full circle in 5.5 strokes on average. Most boards this size (11'6" x 35.5") would need at least seven strokes to make the same maneuver.
Of course turning in a full circle isn't really that practical for most people. The Switch also responded very well to a variety of steering strokes while cruising around the lake .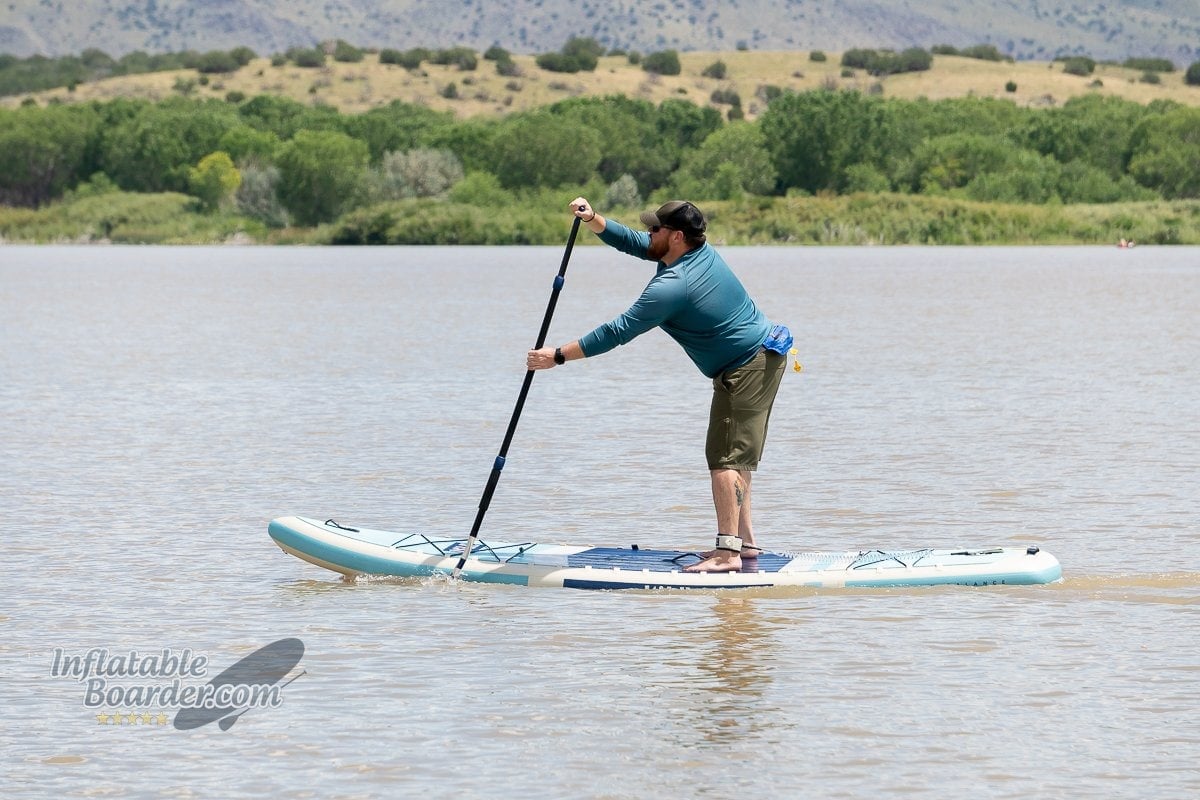 Tracking, or how well a board will stay on course as you paddle straight, just above average overall, but great for its size. Over the course of 10 paddle strokes on a single side, the Switch only veered off-course an average of 12°. That puts the Switch on par with higher-performing all-around boards, and tops the charts for the wider boards (over 34" wide).
The Switch has a single US fin box on the tail of the board. This fin box is essentially the standard for SUP and surfing, making it compatible with hundreds of different fin options on the market. The included flexible fin is 9" long and has a "hatchet", or "touring", shape. I tend to favor these kinds of fins over more curved fins as they offer better tracking and a higher surface area to aid in stability. On the Switch, the included fin does a great job of balancing tracking and maneuverability.
Warranty and Customer Support
Isle offers a 2 year warranty on all of their inflatable stand up paddleboards and a 1 year warranty on the paddle, leash, and bag. Additionally, customers have a 60-day return window when purchasing their board from Isle. Any returns must include all original accessories and items and the customer is responsible for shipping and a 20% restocking fee. If you have any questions about the Switch, Isle's customer service team can be reached through their website, phone, or social media.
Value
At first glance the Switch is a relatively expensive board. However once we factor in the quality of the board, its performance on the water, Isle's customer service and the included accessories – including a fantastic kayak conversion kit – the Switch offers a fantastic value. The versatility of the board itself is amazing, and it performs incredibly on the water.
Overall Impressions/Review Summary
At the top of this review I mentioned that I had my reservations about the Switch when it was first announced. I thought that an 11'6" x 35.5" board that only weighed 19 lbs was going to flop around like a wet piece of lasagna. Boy was I wrong. Not only did the Switch hold its own in the bend test and how stiff it felt on the water, it also outperformed a number of other iSUPs that, on paper, it shouldn't even be close to. It's speed and efficiency on the water lend it to taking longer trips, and its stability make it incredibly beginner friendly. If you are looking for an inflatable paddleboard that can really do-it-all, the Switch is right for you.
Isle Switch iSUP FAQ
Is the Isle Switch worth the price?
Yes. The Switch blends high-quality materials and construction with unique design elements and accessories to create an extremely versatile and high-performance kit.
What is the maximum pressure on the Isle Switch and how long does it take to inflate?
The Isle Switch is rated to 17 PSI maximum pressure (12-17 PSI recommended range). Because of the overall size of the Switch, it does take a long time to inflate using the hand pump (10-14 minutes depending on how fast you pump). We do recommend getting a 12v Electric pump to make inflating the board much, much easier.
Can I use the Isle Switch for fishing?
Absolutely! The Switch's 35.5" width makes it incredibly stable for fishing. The Isle Link tabs around the side of the board let you easily attach cargo or fishing rigs wherever you need them. The paddle holder on the side of the board can also double as a fishing pole holder.
Can I take my dog on the Isle Switch?
Dogs encouraged! The full-length EVA deck pad covers the entire top of the board from nose to tail. This gives you and your four-legged friend plenty of room to move around and get comfortable without worrying about slipping.
Can I use the Isle Switch with another adult?
Yes. The Isle Switch is designed to be used either solo or tandem with another adult. It has enough stability and room for both paddlers to stand, sit, or one of each.