Sea Gods Reviews | 2022 Paddleboards Compared
Inflatable Boarder is reader-supported and may earn a commission when you buy through links on our site. Learn more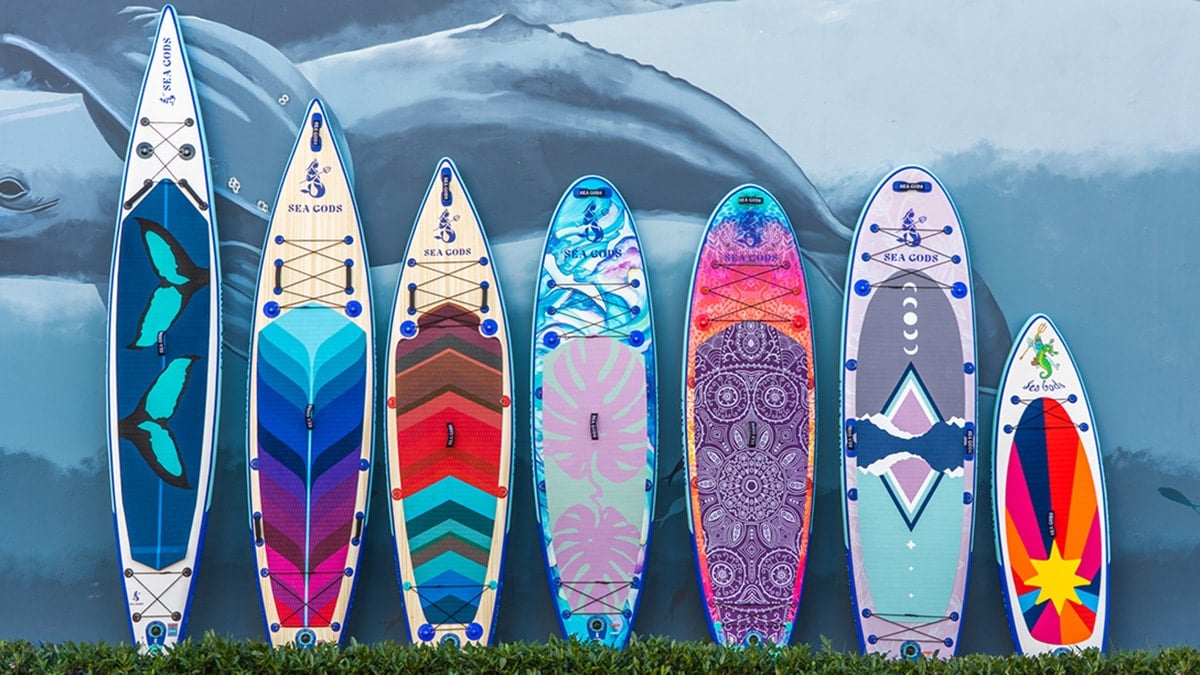 Sea Gods, founded in 2018, has taken the iSUP market by storm. Their focus on creating the highest quality boards they can at reasonable prices, a lifetime warranty, amazing artwork, and excellent paddling characteristics has earned them top ratings across their lineup.
Mandy and Ryan Johnston started making their own stand up paddleboards in British Columbia after finding other options, while fun, to be uninspiring and not exactly meeting their needs. As active members in their local paddling community others started to take notice and make requests for their own boards as well. As Sea Gods grew into an international iSUP brand, their focus has remained the same: Make the best boards with the best quality and amazing style, all while adding to the SUP community to help build the next generation of Ocean Stewards.
"We are always pushing the line for design and the best new materials. We want people who ride Sea Gods boards to be stoked on them, and we do everything we can to make the best set-up, get people kitted out with the best fit, and then support them by inviting them to join the SUP community groups." – Mandy Johnston, Sea Gods Founder
Sea Gods paddleboards are not just built with top-quality materials and techniques, but are backed with a lifetime warranty. The team are so committed to getting you the best product possible that they even offer video call consultations to answer any of your questions and get you ready for adventure.
Each model paddleboard's design is created by a different artist chosen by the Sea Gods team. You can read bios about each of the artists and their inspirations on the Sea Gods Artist page.
Sea Gods iSUP Lineup Comparison Chart
Sea Gods Inflatable SUP Reviews
Sea Gods ASR
The ASR (Adult Supervision Required) is a specially-designed iSUP for kids. At 8' long, 28" wide and only 4.5" thick this small-sized board means big fun for your littles as it actually matches their size, rather than making them use a small-sized adult board. Sea Gods didn't skimp out on the build either. The ASR still inflates to a super-rigid 20psi and includes a complete iSUP package at a family-friendly price.
Check out the Sea Gods ASR iSUP for kids by Sea Gods.
Sea Gods Elemental Wave
The Elemental Wave is a true all-around iSUP designed for flatwater fun or riding an ocean wave (10'6" x 32" x 6"). The Elemental Wave's advanced construction lets riders choose their pressure and rigidity from 14-20psi, and the multitude of on-board features are ready to match your next adventure.
Check out the Elemental Wave all-around iSUP by Sea Gods.
Sea Gods Diatom Ten6
Cruise in style with the jaw-dropping artwork on the Sea Gods Diatom Ten6. This 34" wide, 10'6" long iSUP makes a super-stable platform for beginners, paddling with a passenger, catching a wave, fishing, or anything else you can think of. Just be careful you don't get too distracted by the incredible design!
Read our Sea Gods Diatom Ten6 Review to learn more.
Sea Gods Skylla Cross Touring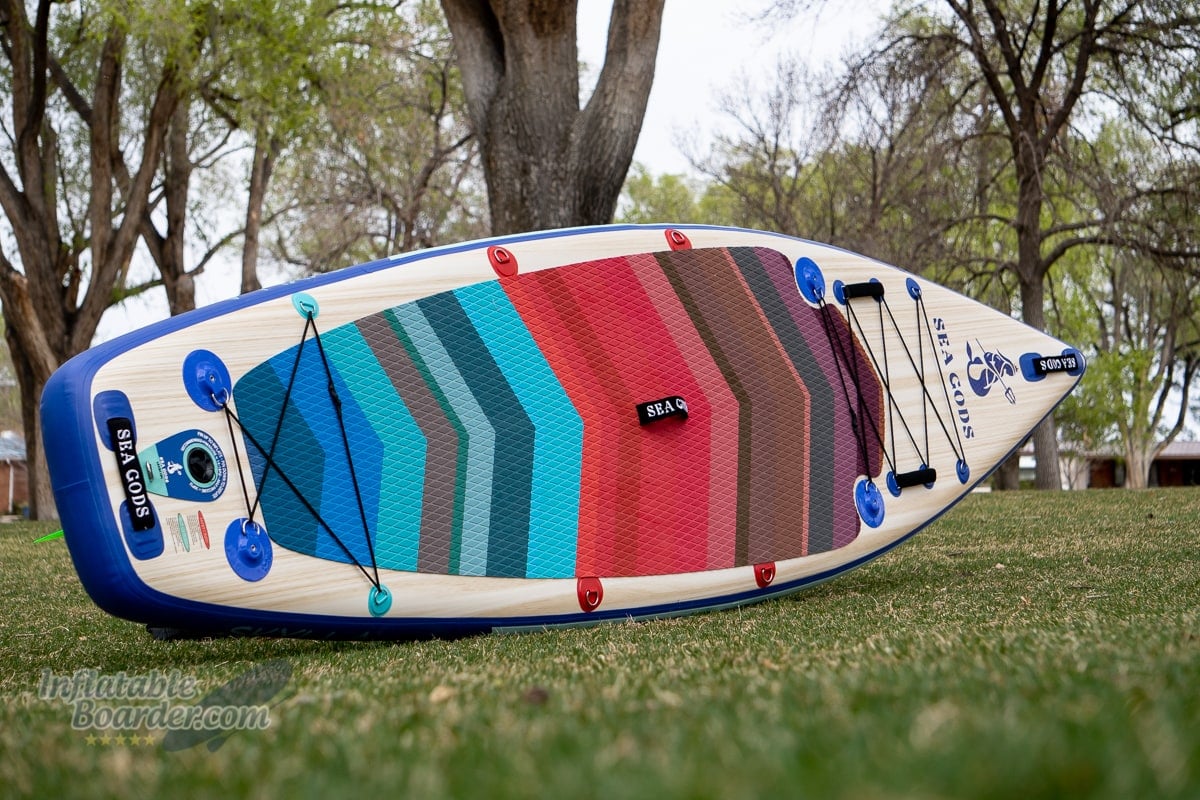 The Sea Gods Skylla might be one of the best implementations of a touring/all-around crossover we've tested. New for 2022 the 11'x33" Skylla uses a brand new cross-woven drop stitch core along with the Sea Gods Ultralight Fusion construction to make an unbelievably lightweight, yet rigid, iSUP that can truly do it all.
Read our Full Review of the Sea Gods Skylla to learn more.
Sea Gods Carta Marina
If your paddling is as much about the journey as the destination, the Sea Gods Carta Marina might be the board you are looking for. At 12' x 32" the Carta Marina has the volume to carry you and your gear and the efficiency to get you there with energy to spare.
Check out the Carta Marina Touring iSUP by Sea Gods.
Sea Gods Ketos Racing SUP
The Ketos Racing iSUP by Sea Gods uses truly unique advanced construction techniques to be one of the fastest iSUPs I've ever paddled. In addition to the ULF construction, the bow of the board has a true displacement hull to cut through the water rather than float on top producing an inflatable race board that feels and paddles like a $3000 carbon fiber racing SUP at half the cost.
Check out the Ketos Racing iSUP by Sea Gods.
Sea Gods Infinite Mantra Yoga/Fitness SUP
The 11' x 34" Infinite Mantra is a purpose-built yoga and fitness SUP. The extra wide tail and parallel sides make the Infinite Mantra incredibly stable without being so wide to impede your paddling. Whether you are doing burpees or bent forward cross leg twist, the Infinite Mantra has you covered.
Check out the Infinite Mantra Yoga/Fitness iSUP by Sea Gods.
Sea Gods Calypso and Argo (Kayaks)
For those that prefer sitting to standing, but still desire a high-performance boat, the Sea Gods Calypso and Argo (tandem) kayaks are just the ticket. Built using the same drop stitch construction as the Sea Gods iSUPs, the Calypso and Argo offer portability and lightweight options to hardshell sea kayaks without the soft feeling and loss of control with traditional tube-construction inflatable kayaks.
Check out the Calypso and Argo Inflatable Kayaks by Sea Gods
Recommended Sea Gods SUP Accessories
Sea Gods Warranty Information
Sea Gods'
philosophy is to push the limits of iSUP construction with high quality materials and processes. They back their boards and kayaks with a lifetime warranty – not something done by many manufacturers! If your Sea Gods board fails due to an issue with materials or manufacturing, whether it's on day 3 or 3000, Sea Gods has you covered. They also offer a repair service if you do accidentally damage your board. For more information about the Sea Gods lifetime warranty or other questions, you can reach the Sea Gods team by email, online chat, social media, or by phone.