Sea Gods Reviews | 2023 Paddleboards Compared
Inflatable Boarder is reader-supported and may earn a commission when you buy through links on our site. Learn more
Sea Gods, founded in 2018, has taken the iSUP market by storm. Their focus on creating the highest quality boards they can at reasonable prices, a lifetime warranty, amazing artwork, and excellent paddling characteristics has earned them top ratings across their lineup.
Mandy and Ryan Johnston started making their own stand up paddleboards in British Columbia after finding other options, while fun, to be uninspiring and not exactly meeting their needs. As active members in their local paddling community others started to take notice and make requests for their own boards as well. As Sea Gods grew into an international iSUP brand, their focus has remained the same: Make the best boards with the best quality and amazing style, all while adding to the SUP community to help build the next generation of Ocean Stewards.
"We are always pushing the line for design and the best new materials. We want people who ride Sea Gods boards to be stoked on them, and we do everything we can to make the best set-up, get people kitted out with the best fit, and then support them by inviting them to join the SUP community groups."
Mandy Johnston, Sea Gods Founder
Sea Gods paddle boards are not just built with top-quality materials and techniques, but are backed with a lifetime warranty. The team is so committed to getting you the best product possible that they even offer video call consultations to answer any of your questions and get you ready for adventure.
In 2023 Sea Gods announced an entirely new product line of cross-woven drop stitch iSUPs with the CX moniker. Each Sea Gods board, except for the ASR kid's iSUP and Skylla CX, are now available in the original ULF (Ultra Light Fusion) construction and the new CX construction. Sea Gods has also expanded their availability to include Canada, United States, Australia,
Each model paddleboard's design is created by a different artist chosen by the Sea Gods team. You can read bios about each of the artists and their inspirations on the Sea Gods Artist page.
Why We Recommend Sea Gods SUPs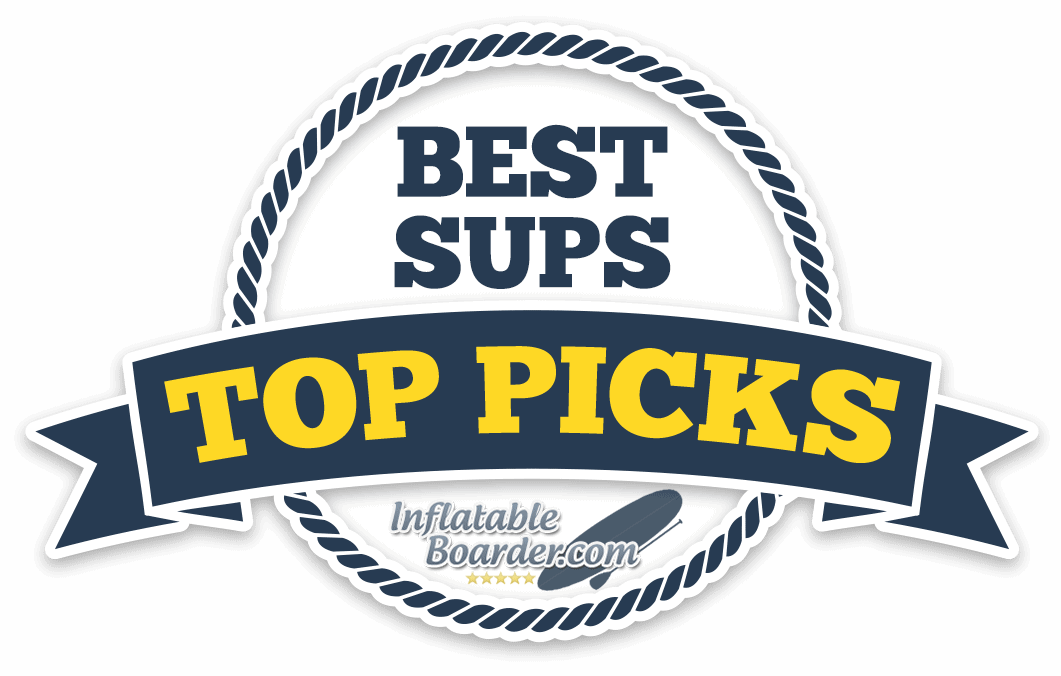 Sea Gods is a newer brand, having only been in the market for the last half-decade, but they have hit the ground running with excellent products. Founders Mandy and Ryan Johnson not only put their paddling experience into their shapes, but sought out some truly fantastic materials and constructions to make Sea Gods iSUPs lightweight, high performance, and built to last.
Not satisfied with just being excellent with their lineup of ULF boards, the new cross-woven CX construction iSUPs keep the same great shapes as their ULF forebearers while decreasing weight and increasing rigidity. The quality doesn't end with the boards either. Sea Gods iSUPs all come with high quality accessory kits, roller bags, US fins, and a carbon fiber three piece paddle. With high performance and high confidence, Sea Gods backs their iSUPs with a lifetime warranty against manufacturing defects and offers a repair service for non-warranty damage.
Lastly, you can't talk about Sea Gods without bringing up the artwork! Sea Gods works with actual artists (muralists, painters, and more) to develop unique artwork for each iSUP.
Sea Gods iSUPs are available in Canada, the US, and Australia, plus international shipping is available worldwide.
2023 Sea Gods Paddle Boards Compared
---
Sea Gods CX Construction iSUP Reviews
Elemental Wave CX
All-Around iSUP | 10'6" x 32" x 6"
Read Full Review Here
The Elemental Wave CX is a high-performance all-around iSUP. With a classic shape and size, compatibility with all sorts of accessories, and great performance on the water, there isn't much you can't do with the Elemental Wave CX.
Check out the Elemental Wave CX iSUP by Sea Gods.
---
Diatom Ten6 CX
All-Around iSUP | 10'6" x 34" x 6"
The Diatom Ten6 CX iSUP is a larger all-around cruiser iSUP that is truly eye-catching. The wider shape is more stable than the Elemental Wave CX, but offers excellent agility. The deck pad is comfortable and large enough for a passenger or pet, or some casual yoga. With kayak seat and accessory mounting compatibility it's equally at home for some light SUP fishing.
Check out the Diatom Ten6 CX iSUP by Sea Gods.
---
Skylla Cross Touring CX
Crossover All-Around/Touring iSUP | 11'0" x 33" x 6"
The Sea Gods Skylla Cross Touring is a new model introduced in 2022 that kicked off Sea Gods' CX construction. The new cross woven construction proved to be so great that the entire Sea Gods lineup got a CX version added in 2023. The Skylla is also an excellent implementation of an all-around and touring iSUP crossover. The 33" width provides more stability, but the tapered shape increases efficiency as you paddle across the water.
Check out the Skylla Cross Touring CX from Sea Gods
---
Carta Marina CX
Adventure Touring iSUP | 12'0" x 32" x 6"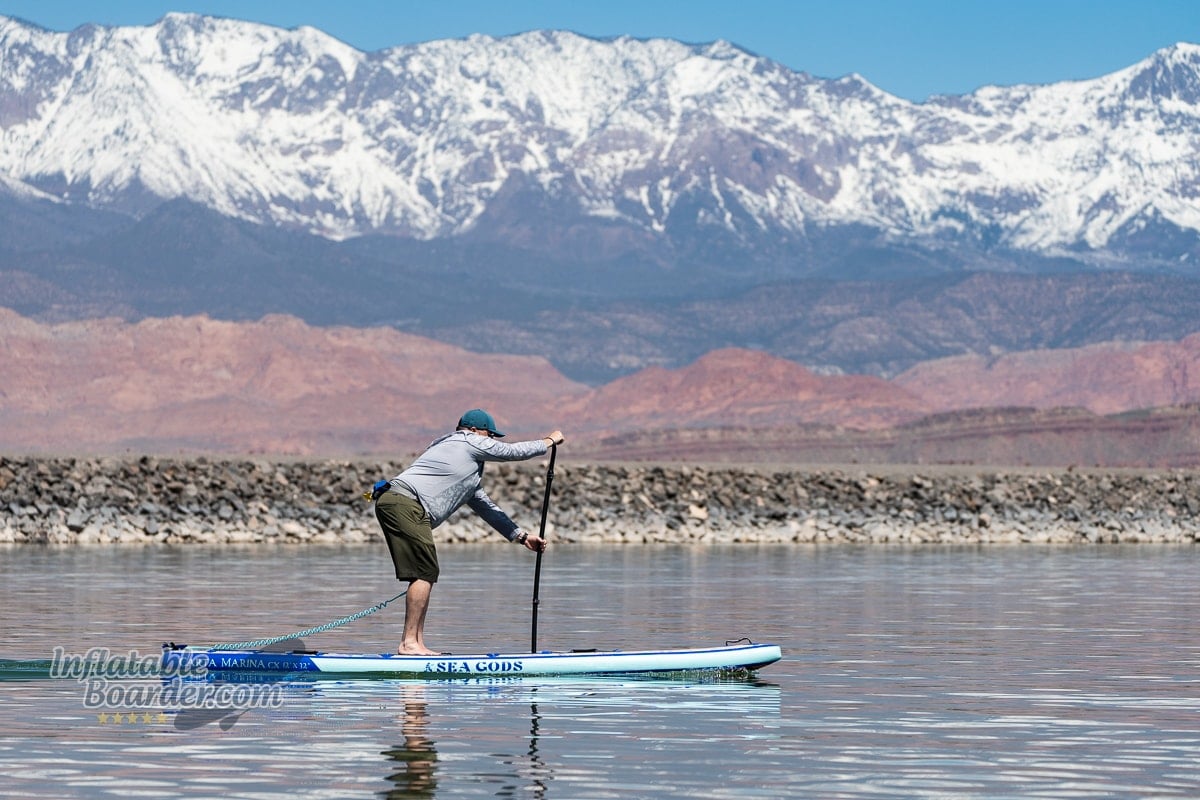 The Carta Marina CX is an adventure touring iSUP that's ready to tackle long distances with everything you need for an afternoon or a week on the water. By keeping things a little wider than a traditional touring iSUP, the Carta Marina CX is more stable and has a higher payload capacity. It's also more stable in choppy conditions.
Check out the Carta Marina CX Touring iSUP by Sea Gods.
---
Ketos CX
Fitness/Racing iSUP | 14'0" x 28" x 6"
The Ketos CX racing iSUP is for those who want to go fast, even in tough conditions. The combination of the light and rigid CX construction and long, slender outline is poised to slice through the water effortlessly. But the Ketos CX has another trick up its sleeve. Through some careful manipulation of the drop stitching, the Ketos CX has an actual rounded displacement hull on the front of the board. This not only helps slice through the water more efficiently, but helps direct waves and swell under the board rather than impacting the squared rail found on other iSUPs.
Check out the Ketos Racing iSUP by Sea Gods.
---
Medusa CX
Yoga iSUP | 11'0" x 34" x 6"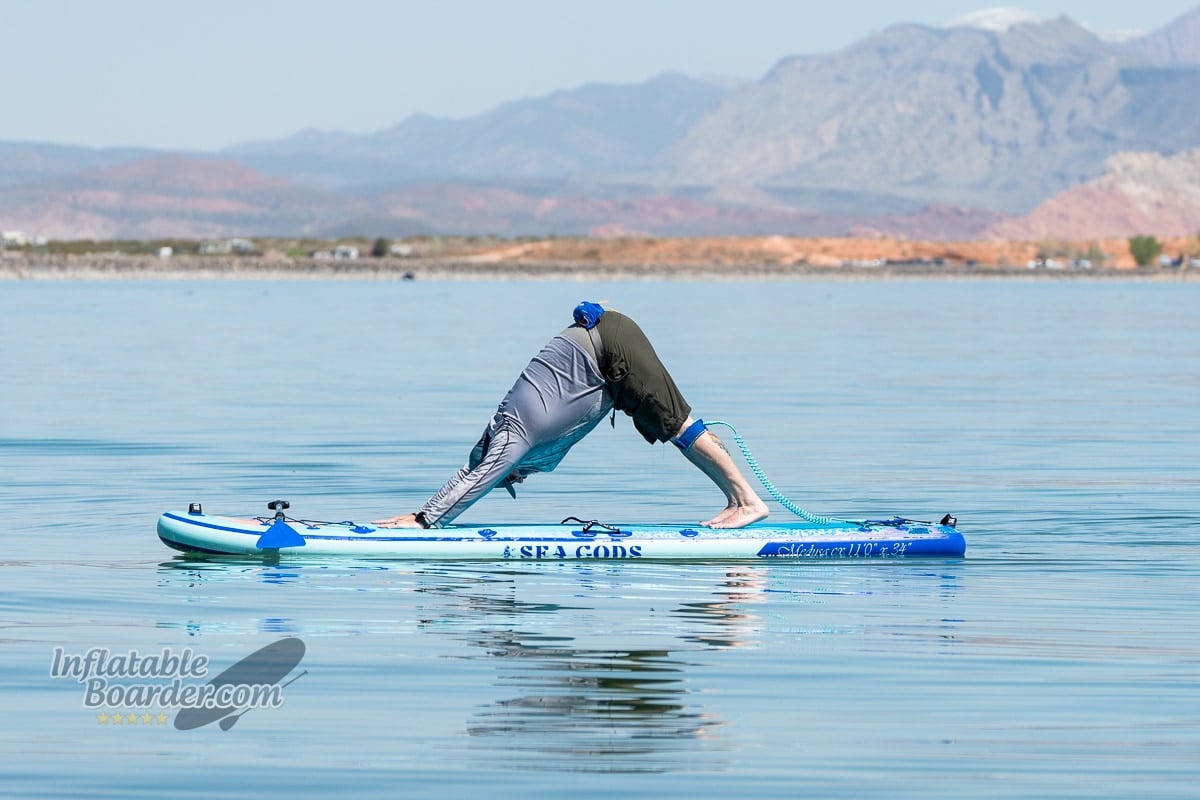 The Medusa CX is Sea Gods' purpose-built yoga and fitness iSUP. While only slightly larger than the Diatom Ten6 CX on paper, the wide square tail and broad nose give the Medusa CX an incredible amount of stability. The deck pad is elongated and kept clear to allow you more room for you flow and board-based workouts.
Check out the Medusa CX yoga/fitness iSUP by Sea Gods.
---
Sea Gods ULF Construction iSUP Reviews
Elemental Wave ULF
All-Around iSUP | 10'6" x 33" x 6"
The Elemental Wave ULF is a classic all-around iSUP with enough versatility and features to let you try pretty much any aspect of SUP activities without making you feel crowded on the board. The ocean-inspired design is both subtle with broad flowing strokes and bold with bright coloration.
Check out the Elemental Wave all-around iSUP by Sea Gods.
---
Diatom Ten6 ULF
All-Around iSUP | 10'6" x 34" x 6"
The Diatom Ten6 ULF had me at first sight. This artwork is absolutely my jam, and it looks incredible both on and off the water. It's definitely my favorite look of the Sea Gods lineup. The wide cruiser shape has great stability and the clean deck gives you plenty of room for paddling with a passenger or cargo. The relatively small rounded tail and high agility of the Diatom Ten6 ULF also makes it a great option for catching a few waves on your way back into shore.
Check out the Diatom Ten6 ULF from Sea Gods.
---
Carta Marina ULF
Adventure Touring iSUP | 12'0" x 32" x 6"
If your paddling is as much about the journey as the destination, the Sea Gods Carta Marina ULF might be the board you are looking for. At 12' x 32" the Carta Marina has the volume to carry you and your gear and the efficiency to get you there with energy to spare.
Check out the Carta Marina ULF Touring iSUP by Sea Gods.
---
Ketos ULF
Fitness/Racing iSUP | 14'0" x 28" x 6"
The Ketos ULF Racing iSUP is an incredible paddle board for those who want to paddle for fitness, explore more, and step into racing. The 14' Ketos is incredibly fast and has the same unique displacement hull nose as the Ketos CX for handling big water in rough conditions.
Check out the Ketos Racing iSUP by Sea Gods.
---
Infinite Mantra ULF
Yoga iSUP | 11'0" x 34" x 6"
The 11' x 34" Infinite Mantra ULF is a specialty made yoga and fitness SUP. The extra wide tail and parallel sides make the Infinite Mantra incredibly stable without being so wide to impede your paddling. Whether you are doing burpees or bent forward cross leg twist, the Infinite Mantra has you covered.
Check out the Infinite Mantra Yoga/Fitness iSUP by Sea Gods.
---
ASR (Adult Supervision Required)
Kids iSUP | 8'0" x 28" x 4.5"
The ASR (Adult Supervision Required) is a specially-designed iSUP for kids.
At 8' long, 28" wide and only 4.5" thick this small-sized board means big fun for your littles as it actually matches their size, rather than making them use a small-sized adult board. Sea Gods didn't skimp out on the build either. The ASR inflates to a super-rigid 20 PSI and includes a complete iSUP package at a family-friendly price.
Check out the Sea Gods ASR iSUP for kids by Sea Gods.
---
Sea Gods Calypso and Argo (Kayaks)
Solo/Tandem Inflatable Kayaks | 12'8" x 33" | 14'0" x 35"
For those that prefer sitting to standing, but still desire a high-performance boat, the Sea Gods Calypso and Argo (tandem) kayaks are just the ticket. Built using the same drop stitch construction as the Sea Gods ULF iSUPs, the Calypso and Argo offer portability and lightweight options to hardshell sea kayaks without the soft feeling and loss of control with traditional tube-construction inflatable kayaks. The Calypso and Argo are currently not available in the United States.
Check out the Calypso and Argo Inflatable Kayaks by Sea Gods
---
Recommended Sea Gods SUP Accessories
Sea Gods Warranty Information
Sea Gods' philosophy is to push the limits of iSUP construction with high quality materials and processes. They back their boards and kayaks with a lifetime warranty – not something done by many manufacturers! If your Sea Gods board fails due to an issue with materials or manufacturing, whether it's on day 3 or 3000, Sea Gods has you covered. They also offer a fee-based repair service if you accidentally damage your board. For more information about the Sea Gods lifetime warranty or other questions, you can reach the Sea Gods team by email, online chat, social media, or by phone.
Sea Gods FAQs
Where can I purchase Sea Gods iSUPs?
Sea Gods iSUPs and kayaks can be purchased from Sea Gods directly. They have dedicated websites for customers in Calypso and Canada, the United States, and Australia. Sea Gods also offers international shipping worldwide.
How long do Sea Gods iSUPs last?
Sea Gods iSUPs are made with high quality reinforced PVC, fusion lamination, and heat-molded seams to create a durable and long-lasting iSUP. The typical life of any iSUP is 7-10 years (or more) depending on how well it is cared for. By following basic steps for iSUP care your Sea Gods board should last a decade or more.
What is the difference between Sea Gods's ULF and CX construction?
ULF, or Ultra Light Fusion, construction uses a reinforced PVC material that is heat-fused directly to the interior drop stitch core. The CX, or cross-weave, construction uses the same type of fusion construction but with an upgraded internal core that uses less material (making it lighter weight) but creates a more rigid structure. The Sea Gods CX iSUPs will be more rigid on the water than their ULF counterparts. The CX and ULF versions of each board also have different artwork (except for the Ketos).
Where are Sea Gods iSUPs made?
Sea Gods iSUPs are designed in Vancouver, British Columbia, Canada, and are made by sourcing the highest quality materials and factories in China. After production, Sea Gods boards undergo rigorous quality assurance checks.
How do I inflate and deflate my Sea Gods iSUP?
To inflate your iSUP, unroll the board and remove the cap from the valve at the tail of the board. Press the valve core and turn it 90° to verify that it is in the "up" or "closed" position. Connect the pump hose to both the pump and valve. Inflate the board until it reaches a minimum of 15 PSI (20 PSI maximum). Remove the hose from the board first, then the pump. Place the cover back on the valve to keep it free of dirt and water.
To deflate your iSUP, open the valve cover and press down on the valve core with your thumb to open it. Twist the valve core 90° to lock the valve core open. Once the board has deflated on its own you can either roll the board from nose to tail or use the pump on the "deflate" setting to remove the last bit of air from the board. Close the valve and place the cap back on the board. Roll/fold the board from tail to nose using the fin box as a size guide for a perfect fit back into the bag.
How do I clean and store my Sea Gods iSUP?
When it's time to head home rinse your board with fresh water and allow it to dry completely before rolling/folding it back up. If you can't rinse and dry the board on site, roll the board back up to transport it home, but immediately take the board back out (no need to inflate it) and rinse/clean off any dirt or sand and allow it to fully dry. You can clean stubborn spots with mild biodegradable soap and warm water if needed. Always store your board in a cool, dry location out of the sun. If stored somewhere that is not climate controlled, always allow the board to cool down or warm up to room temperature prior to use. It's best to treat your iSUP with a UV protectant cleaner at least once per year to help reduce the damage that can occur from exposure to UV radiation from the sun during use.