Hydrus Board Tech was born from whitewater – both surf and river. Brothers Jason and Nick Zawadzki founded Hydrus in 2012 shaping their own rigid paddle boards and surfboards. According to Hydrus owner Jason Zawadzki they "began crafting boards, especially iSUPs, out of a genuine passion for paddle sports and a clear vision to provide enthusiasts with gear that's both durable performance-driven and highly portable and user friendly, helping them to deeply connect with nature, water, and the sport."
All Hydrus boards start with a Function First Design that prioritizes performance and usability. In keeping with their desire to be "the most innovative board company in the world," Hydrus not only sought out the highest quality materials for their boards, but developed their own Armalight composite material for the shells of their hard boards and paddles, and followed in that same vein with the development of the unique materials for their inflatable SUPs.
With Function First shapes and unique materials and constructions, Hydrus iSUPs quickly became known for their performance and durability. Always looking for ways to make improvements, Hydrus re-engineered their iSUP lineup for 2023 by once again seeking out the most advanced materials and construction techniques available. The new construction drastically reduced board weights without sacrificing rigidity or stability.
This year Hydrus introduced a new iSUP to their lineup – the Paradise X. The Paradise X takes the high-performance shape of the Paradise touring sup, lengthened it, and reduced the width to create a super-fast fitness, touring, and racing iSUP for intermediate to advanced paddlers.
Why We Recommend Hydrus SUPs
Hydrus iSUPs are found on many of our "Best" lists for good reason. The boards themselves paddle wonderfully on the water and are built to last. The new 2023 construction uses reinforced dual-layer fusion PVC, woven drop stitching and fabric, carbon fiber fabric stringers, and welded seams.
Not every paddler is the same, so Hydrus helps paddlers customize their SUP experience in a few different ways. Each Hydrus iSUP includes multiple fin options. Flatwater boards each come with a 9" touring fin, 6.5" keel fin, and a 4.5" gummy fin. The whitewater and surf inflatables come with a variety of specialty-shaped fins as well. Hydrus does not automatically include a paddle with every board. Not only does this reduce cost for customers who already have a paddle, but it allows paddlers to choose their own paddle based on their size and use. Hydrus does provide a discount for customers who do wish to bundle the Hydrus Carbon Fiber Tough Blade paddle (made with an Armalight composite material for the blade) with their iSUP.
Another reason we recommend Hydrus iSUPs is because they are backed by hands-on customer service and a lifetime warranty. When you contact Hydrus Board Tech you will generally end up emailing or talking with the owner, Jason, himself. "Our genuine, no-gimmicks business ethos means we prioritize value and user experience above all else." When you look through Hydrus's social media you see real people really using their products. Hydrus celebrates their users and is constantly improving and developing products "with the intent of making this sport more accessible, more enjoyable, and more meaningful for our community."
2023 Hydrus Inflatable Paddle Boards Compared
---
Hydrus iSUP Reviews
Hydrus Joyride
All-Around iSUP | 11'0" x 32" x 6"
Read Our Full Review
The Hydrus Joyride is a high performance all-around iSUP that's a real joy to paddle. The parallel shape through the midsection of the board and rigid construction make the Joyride extremely stable. With a well-thought nose shape and rocker profile the Joyride is also very efficient and quick on the water. There's a spacious cargo area on the front of the board, passenger handles, extra D-rings on the tail, and the Joyride comes with a GoPro mount adapter you can place anywhere on the PVC of the board.
Check out the Joyride All Around iSUP by Hydrus.
---
Hydrus Joyride XL
Larger All-Around iSUP | 11'6" x 34" x 6"
Read Our Full Review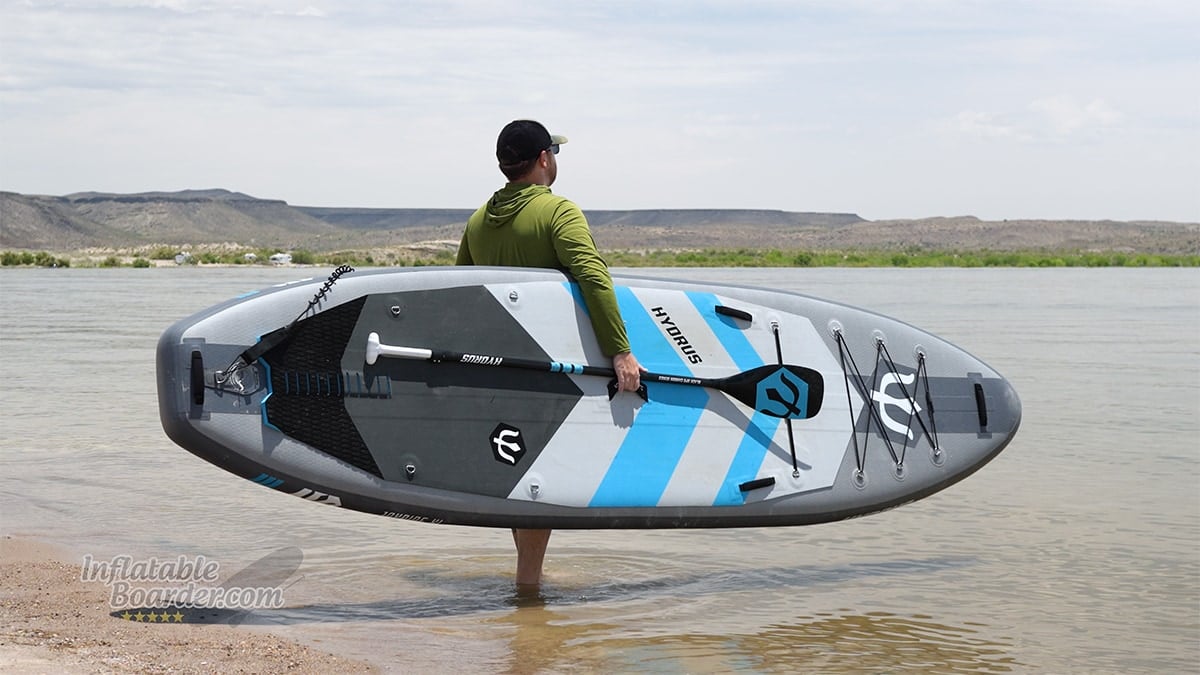 Expanding (literally!) on the great performance of the Joyride, the Joyride XL is 34" wide and a touch longer for additional stability and carrying capacity. This makes the Joyride XL excellent for larger paddlers, fishing, or even tackling your local Class II whitewater runs. With all of Hydrus's iSUPs, you also get a selection of different fins to dial in your maneuverability and tracking performance or paddle through shallow water.
Check out the Joyride XL iSUP by Hydrus.
---
Hydrus Paradise
Touring iSUP | 12'6" x 30" x 6"
The Hydrus Paradise is a touring iSUP for all conditions. It's rigid, stable, fast, and easily rigged for multi-day SUP trips. The moderate rocker profile in the nose and slight rocker in the tail allows the Paradise to easily ride up and over choppy conditions. This keeps you moving more efficiently and more stably than low- or no-rocker shapes that plow through rough waters.
Check out the Paradise Touring iSUP by Hydrus.
---
Hydrus Paradise X
Fitness / Race iSUP | 13'3" x 28.5" x 6"
With the popularity of the Paradise touring iSUP and feedback from customers, Hydrus developed the Paradise X iSUP. This evolution of the Paradise is a dream for intermediate and advanced paddlers who like to paddle far and fast. Perfect for day-touring, fitness paddling and even racing, the Paradise X is the fastest inflatable board we've tested to date. With a 28.5" wide point and gradual taper to the rear of the board, the Paradise X is still surprisingly stable.
Check out the Paradise X iSUP by Hydrus.
---
Hydrus Axis 98/88
Whitewater iSUP | 9'8" x 35.5" x 6" | 8'8" x 34.5" x 6"
With their roots in the river it's no surprise the Hydrus makes not just ultra-tough Armalight whitewater SUPs, but whitewater iSUPs as well. The Axis is Hydrus's latest design and is available in two different sizes. The progressive rocker profile and shorter length make the Axis extremely maneuverable and while still being extremely stable. With four fin boxes, a huge array of included fins, and ultra durable construction, both the Axis 98 and Axis 88 are ready for your next whitewater adventure.
Check out the Axis 98/88 Whitewater iSUP by Hydrus.
---
Hydrus Party Board
Multi-Person iSUP | 14'0" x 54" x 6"
The only thing better than spending time on the water is spending time on the water with your friends. And the only thing better than that is to share it on the same SUP! The Hydrus Party Board is ready for whatever shenanigans you and your crew can get up to. Light-hearted cruise on the lake? Not a problem. Roaring down whitewater waves as a team? You got it. The Hydrus Party Board is ready to adventure with you and your friends.
Check out the Party Board multi-person iSUP by Hydrus.
---
Hydrus Hyper iSurf
Inflatable Prone Surfboard | 5'8" x 24" x 2.75"
Leave it to whitewater paddlers to come up with a surfboard that can take a pounding! The Hydrus Hyper iSurf matches the durability of an iSUP with the high-performance shape of the Hydrus Montrose Hyper Armalight surfboard. The quad fin setup with standard dual-tab fin boxes is easy to adjust and customize to your local waves – river or ocean.
Check out the Hyper iSurf Inflatable Surfboard by Hydrus.
---
Recommended Hydrus iSUP Accessories
Hydrus Warranty Information
Hydrus is one of the few iSUP companies that offers a lifetime warranty on their iSUPs. They believe in the quality of their materials and construction and are willing to back it up over the expected lifespan of the board – which is typically around 10 years before the PVC material itself begins to degrade in any iSUP. Hydrus extends this warranty to the Hydrus paddle and the Mothership SUP bag as well. Leashes, pumps, and other items are warrantied for 60 days. Hydrus also offers a 30-day return period on all of their products. Hydrus prides themselves on their prompt and robust customer service. You can reach Hydrus with any questions via email, web form, phone, or social media.
Hydrus FAQs
Where can I purchase Hydrus iSUPs?
Hydrus iSUPs can only be purchased from Hydrus Board Tech directly. Their boards are available in the United States, and international shipping is available by contacting Hydrus directly before purchase.
How long do Hydrus iSUPs last?
Hydrus iSUPs are built for performance and durability. Reinforced dual-layer PVC hulls and heat-welded seams with multiple layers of protection are designed for a decade (or more) of use.
What are Hydrus iSUPs made of?
Hydrus iSUPs are made with what Hydrus calls their Armalight Air construction. This includes a woven and X-drop stitched core, dual-layer fusion PVC with high density reinforced PVC material, heat-welded interior seams, and carbon fiber fabric stringers to make the boards incredibly stiff and durable while keeping weights low.
Where are Hydrus iSUPs made?
Hydrus iSUPs are designed in Eagle, Idaho, and are made by sourcing the highest quality materials and factories in China. After production, Hydrus iSUPs undergo rigorous quality assurance checks both overseas and after arriving at the Hydrus warehouse.
How do I inflate and deflate my Hydrus iSUP?
To inflate your iSUP, unroll the board and remove the cap from the valve at the tail of the board. Press the valve core and turn it 90° to verify that it is in the "up" or "closed" position. Connect the pump hose to both the pump and valve. Inflate the board until it reaches a minimum of 15 PSI (20 PSI maximum). Remove the hose from the board first, then the pump. Place the cover back on the valve to keep it free of dirt and water.
To deflate your iSUP, open the valve cover and press down on the valve core with your thumb to open it. Twist the valve core 90° to lock the valve core open. Once the board has deflated on its own you can either roll the board from nose to tail or use the pump on the "deflate" setting to remove the last bit of air from the board. Close the valve and place the cap back on the board. Roll/fold the board from tail to nose using the fin box as a size guide for a perfect fit back into the bag.
How do I clean and store my Hydrus iSUP?
When it's time to head home rinse your board with fresh water and allow it to dry completely before rolling/folding it back up. If you can't rinse and dry the board on site, roll the board back up to transport it home, but immediately take the board back out (no need to inflate it) and rinse/clean off any dirt or sand and allow it to fully dry. You can clean stubborn spots with mild biodegradable soap and warm water if needed. Always store your board in a cool, dry location out of the sun. If stored somewhere that is not climate controlled, always allow the board to cool down or warm up to room temperature prior to use. It's best to treat your iSUP with a UV protectant cleaner at least once per year to help reduce the damage that can occur from exposure to UV radiation from the sun during use.