Isle Pioneer 2.0: Overview
The Isle Pioneer 2.0 is the 2022 refresh of Isle's popular Pioneer iSUP. The Pioneer 2.0 maintains its great construction and stable shape and adds a little more functionality and versatility to the board itself. The Pioneer 2.0 is a great option for beginners and paddlers looking for a stable board.
— Isle Pioneer 2.0 Summary Ratings and Review —
Isle Pioneer 2.0
Construction & Durability

Features and Versatility

Stability

Speed

Maneuverability

Tracking
Overall Score
Single Sentence Summary
Pros
Very stable thanks to its width and shape
High quality materials and construction keep the board very rigid on the water
Highly maneuverable
Excellent carbon fiber/nylon paddle
Soft deck pad covers a large portion of the board – great for pets and kids
Large cargo areas have plenty of room for shoes, drybags, water, and more
The 2.0 version adds kayak seat tie-down points on the front of the deck pad
Great warranty and customer service
Cons
The deckpad could be improved with texturing or grooves for increased traction
Isle does not currently offer a stand-alone kayak conversion kit
Construction and Durability
The Isle Pioneer 2.0 has a dual-layer construction that has been slightly tweaked from the original version for excellent stiffness and durability without making it overly heavy.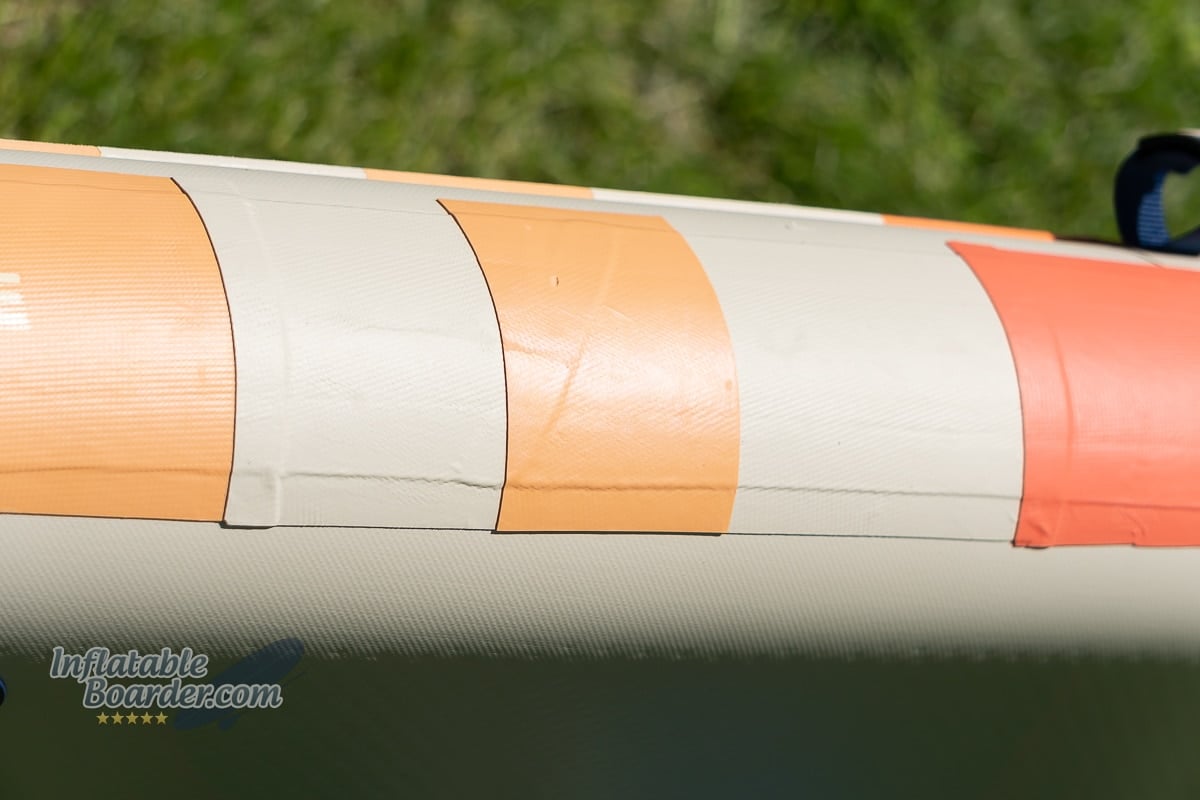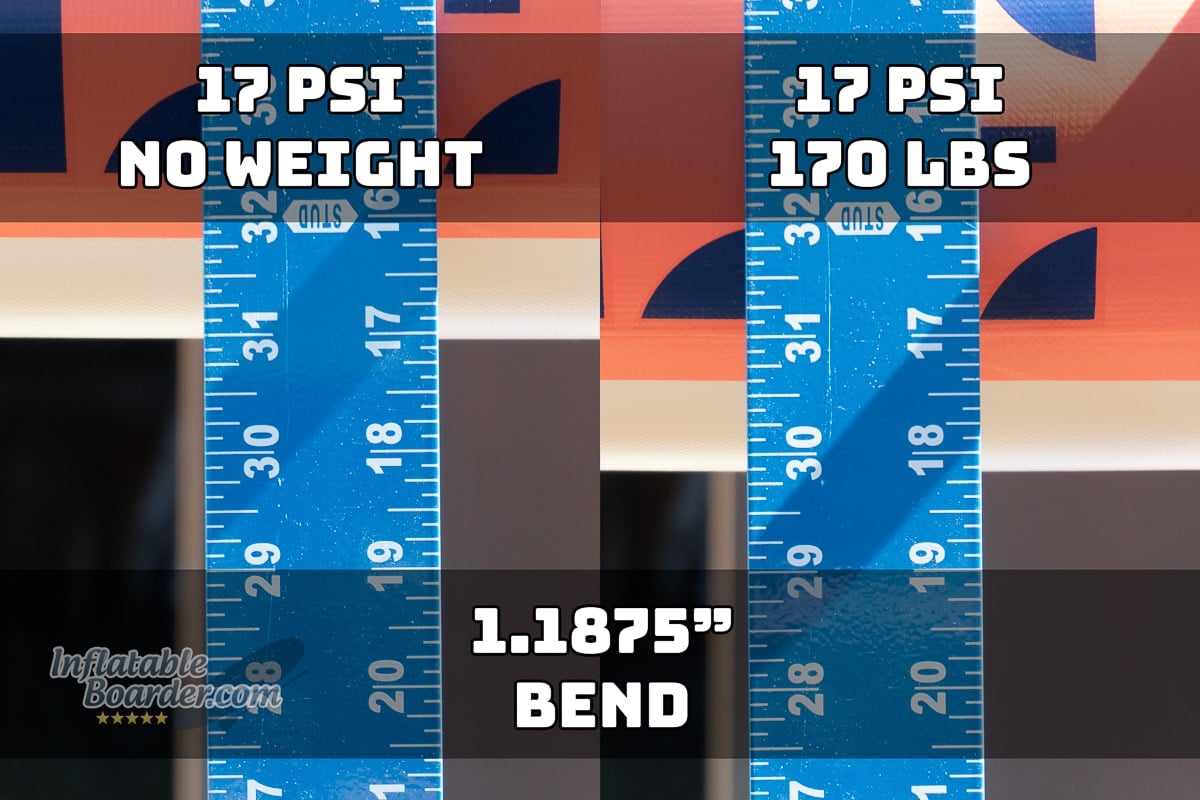 The Isle Pioneer 2.0 is very similar to its original version. According to Isle's lead product developer the new Pioneer 2.0 has had some slight tweaks to its construction in order to optimize the weight, stiffness and durability of the board. Otherwise the Pioneer 2.0 still uses a dual-layer fusion material for the body of the board and has two additional PVC layers wrapped around the rails for increased durability.
The new construction has created a board that is very stiff without tipping the scales into the overly-heavy range. At 24lbs the Pioneer 2.0 is still quite manageable, and it performed very well in our bend test. With 170lb of weight, the Pioneer 2.0 deflected just over an inch when inflated to its maximum recommended 17 PSI.
While on the water the Pioneer 2.0 felt stiff under foot and had only a little bit of flex and bounce while walking and jumping on the board. The small amount of flex was well-controlled and the rebound (like an aftershock) was light, but not springy at all. While paddling hard during our speed test I did notice more flex in the board, but it was still manageable.
Overall the dual-layer construction provides great durability and impact resistance. It's not as light as the new Isle Switch, but does feel like it could handle impact and abrasion better for those who paddle in shallow conditions.
Specifications
Dimensions
Length
10' 6"
Width
34"
Thickness
6"
Weight
Max Capacity
285 pounds
Board Weight
24 pounds
Kit Weight
(SUP & accessories)
32 pounds
Buying Info
List Price
$795.00
Warranty
2 years
Returns period
60 days
Features, Accessories and Versatility
The Pioneer 2.0 has a standard set of features built into the board and this new version adds fabric loops near the front of the deck pad for compatibility with kayak seat attachments. There is a good amount of space for storing cargo, but no other accessory mounts.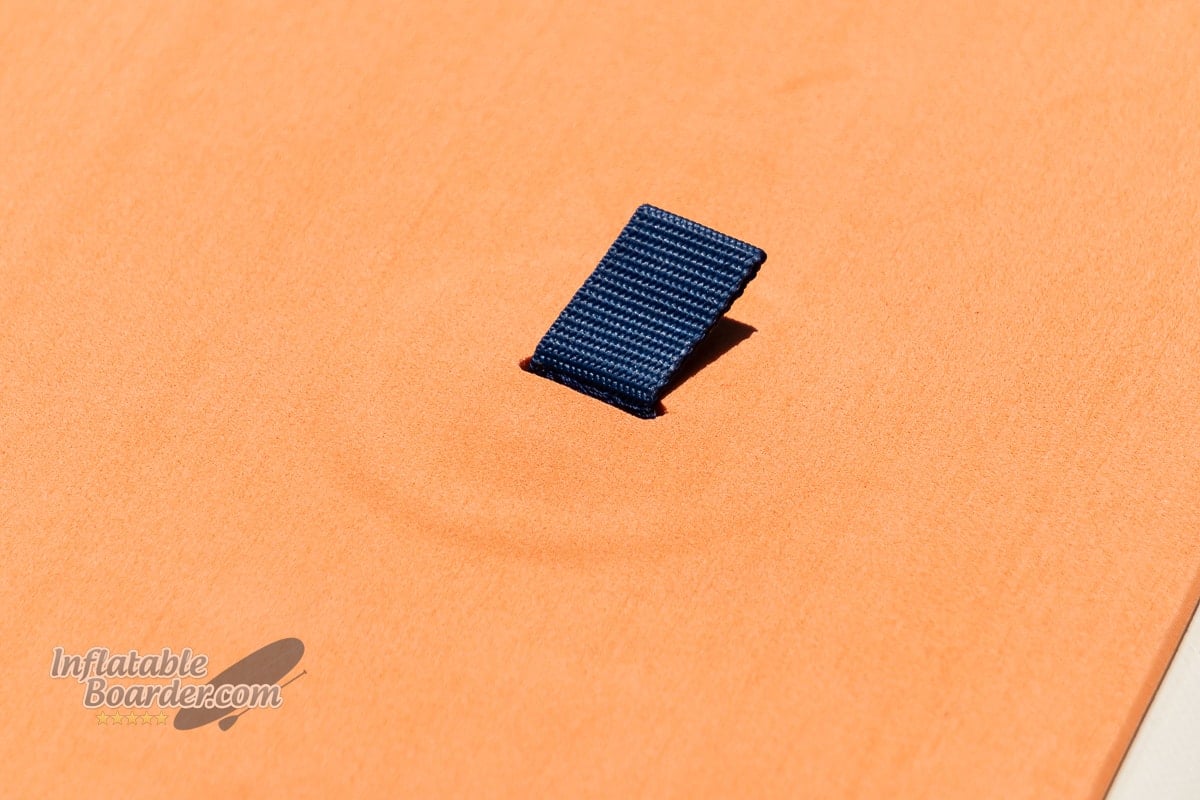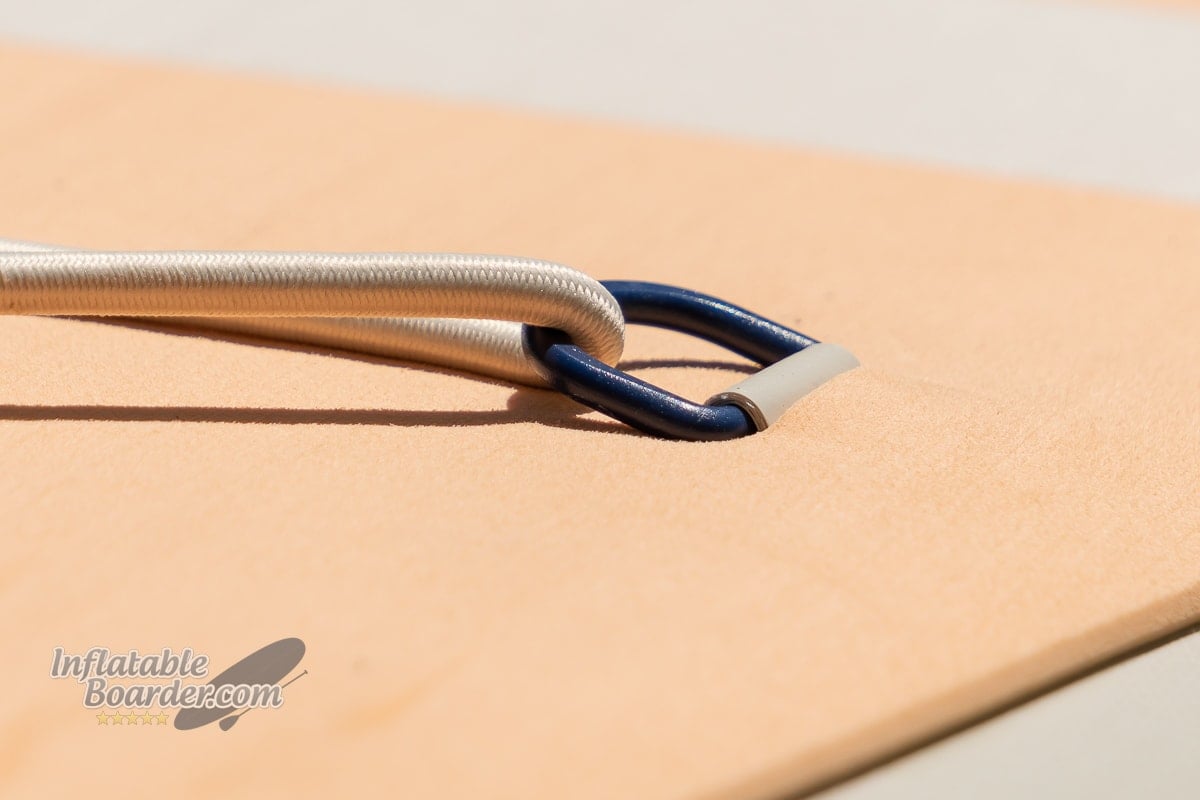 The Isle Pioneer 2.0 maintains much of the original Pioneer's layout and design. The biggest change for this model is the addition of two tabs near the front of the deck pad to use with a kayak seat. However, Isle does not currently offer a stand-alone kayak conversion kit. If you are interested in an iSUP that is specifically designed to be used as both a paddleboard and a kayak, I recommend you take a look at our Isle Switch 2-in-1 review.
The nose of the board has 8 d-rings – 6 of which are set up in a standard pattern across the nose and are strung with a bungee cord to hold shoes, dry bags, water, or whatever else you'd like to bring with you on the water. There are two more d-rings on either side of the front carry handle. You can certainly use these as tie-down points for larger items, however I feel they are a little extraneous and could be replaced with a single d-ring centered on either side of the handle.
The deck pad is made up of a solid sheet of brushed EVA foam. This deck pad is soft and thick, which feels great when sitting, kneeling, or laying down. It takes up about ¾ of the board, so there is plenty of room for a paddler and passenger or for stretching out for some yoga (or napping). Standing on the deck pad I noticed that my feet began to quickly fatigue as the softer deck pad material offered less support and compressed under my feet. The other issue I had with this deck pad is that it simply did not provide very good traction. I wear sunscreen when I'm on the water and normally do a good job of getting it on while inflating boards so that it has time to soak in before I hit the water. The small amount of sunscreen that does run off as your legs get wet from getting on the board was enough to make the deck pad slippery. Now, plenty of other iSUPs and hard boards use brushed EVA deck pads, however they almost always have either a texture/pattern cut into them or they have grooves cut into them. These grooves and textures give significantly more traction than a solid sheet of brushed foam. The Isle Switch is a great example of this. It's the same EVA foam material, but the standing area has long grooves cut in it and the traction is far better.
At the rear of the board you'll find another cargo bungee strung across four more plastic d-rings, the inflation valve, a carry handle with two more plastic d-rings, and a stainless steel d-ring for your leash.
I've mentioned plastic d-rings specifically a few times now. Plastic d-rings are not as strong as stainless steel d-rings and are more susceptible to environmental degradation – especially UV damage. I'm not sure why Isle has chosen to use plastic d-rings on the Pioneer 2.0 as I cannot think of a single benefit they offer over stainless steel. The amount of weight they save is negligible, and they are still hard if you were to fall on them.
There are no other accessory attachment points on the Pioneer 2.0 for action cameras, fishing rod holders, or other items. The Pioneer 2.0 does sport a US fin box on the bottom of the board along with two fixed plastic fins.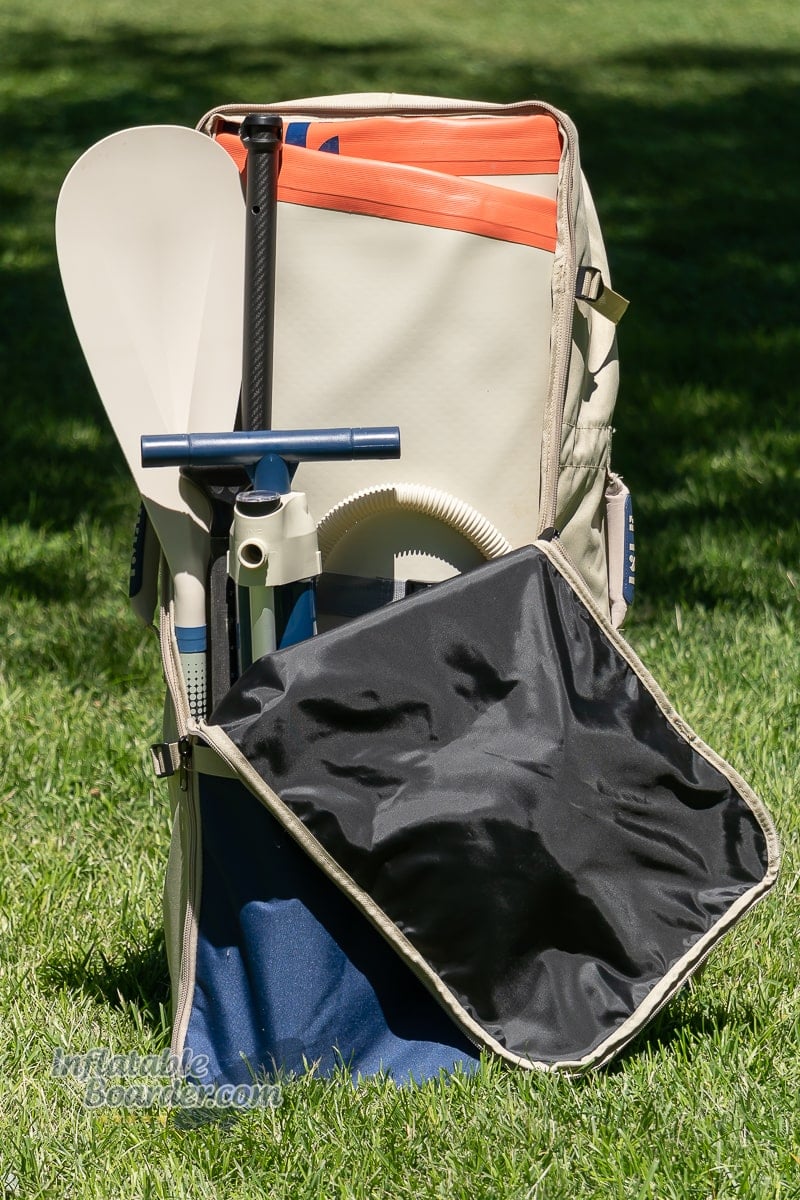 The Pioneer 2.0 comes packaged in a well-made nylon transportation bag with comfortable padded handles and a comfortable backpack harness. It does not have any wheels. While the bag itself has plenty of room to hold the entire kit, it does not offer much in the way of organization. The front zippered pocket is also a little odd because the zipper is at the bottom of the pocket, and the pocket itself is quite small – there's not even enough room for the fin.
The included hand pump is a well-made double-action pump with a single chamber. It's sufficient to inflate the Pioneer, but it does take a bit of effort. The kit is rounded out with a coiled leash, hard plastic 9" fin, repair kit and carbon fiber/nylon paddle.
Paddle
The carbon fiber and nylon paddle that comes with the Pioneer 2.0 is well balanced and has a medium-large paddle blade that matches the size of the board itself well.
Isle's carbon fiber and nylon paddle is well-matched for the Pioneer 2.0. The paddle itself is well balanced and the medium-large paddle blade has enough catching power to propel the 34" wide board. The handle section has an easy to use scale and an indexing groove to make sure the handle is properly aligned with the blade. The handle grip itself is plastic with inset rubber grips for a soft and secure feel in the hand.
Overall I feel that this is a really good kit paddle. I did notice a little bit of springing flex when paddling hard while speed testing, but it wasn't noticeable at all during regular use.
Stability
The Pioneer 2.0 has excellent stability and is a great choice for beginner paddlers or paddling with a passenger or pet.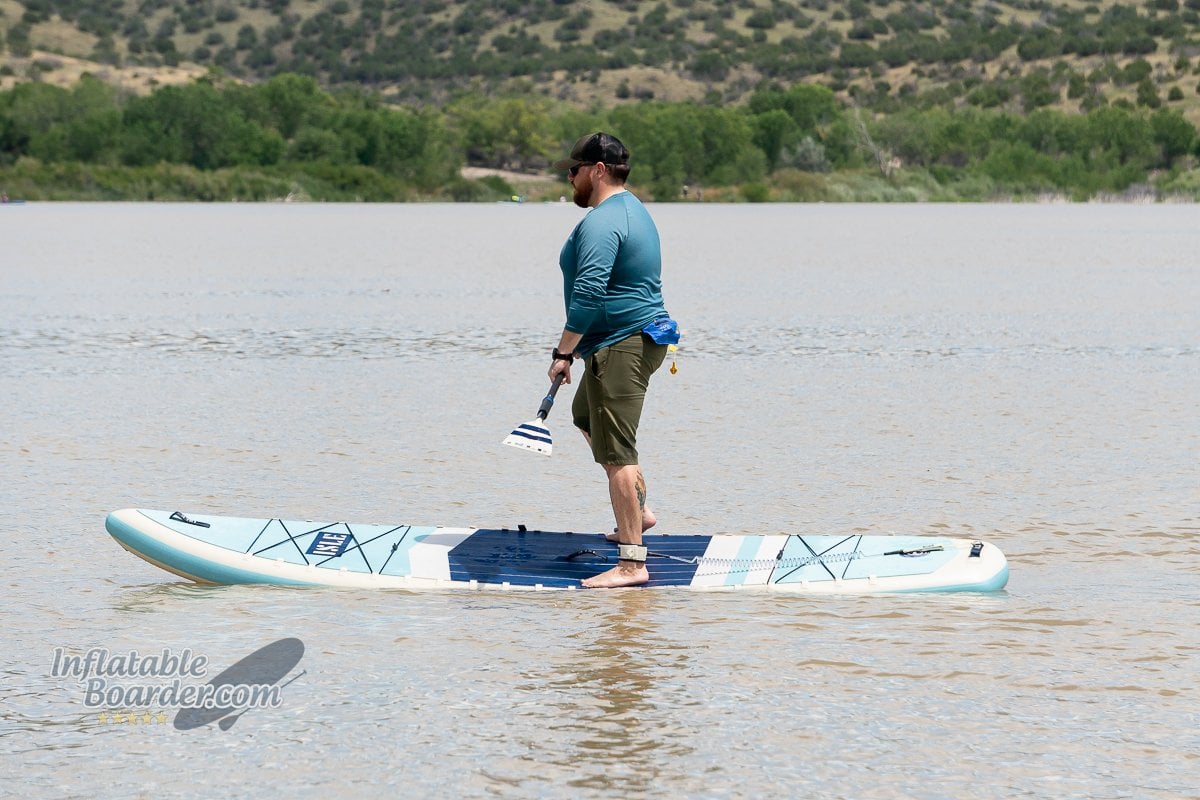 At 34 inches wide, it's no surprise that the Pioneer 2.0 has excellent stability on the water. When you add in an extremely stiff construction to that mix, it only gets better.
Standing on the Pioneer 2.0 is very easy. I did feel just a tiny bit of side-to-side rolling when I first got on the board, but it did settle out after a minute or two. Holding the board on its edge (like in the photo above) was relatively easy as well and took only a little bit of concentration to hold. This secondary stability is what helps you re-balance the board when a boat wake comes by, your dog jumps off the board, or when you get distracted watching birds fly overhead.
While I was walking back to the tail of the board to try a few pivot turns, I did feel that the Pioneer 2.0 stayed stable, however the flat deck pad was not very confidence-inspiring to help sink the tail low in the water.
Speed
The Pioneer 2.0 is not a fast board. Whether sprinting as fast as you can or cruising casually around the bay, the Pioneer 2.0 is best enjoyed at a leisurely pace.
Wider all around iSUPs are not typically known for their speed and the Pioneer 2.0 is no exception. At 34" wide and only 10'6" long there's also not a great expectation for speed. While testing its top speed, the Pioneer 2.0 lumbered through our 100m sprint with an average time of 50 seconds, making it one of the slower boards we've tested. Its glide per-stroke was on-par with other wide all-around iSUPs. It did handle our ¼ mile cruising test much better.
But, like I mentioned above, this board isn't made to sprint. It's made to relax, have fun, and casually explore your local waters. If you are looking for a fast and efficient iSUP that is extra wide for better stability and carrying capacity, then check out the Isle Switch 2-in-1 which absolutely crushed our speed testing gauntlet.
Maneuverability and Tracking
Maneuverability and tracking are two sides of the same coin. Typically paddleboards (and other watercraft) that are highly maneuverable are trickier to keep paddling straight. The Pioneer 2.0 is a highly maneuverable iSUP, and it still maintains average tracking ability.
Turning the Isle Pioneer 2.0 is a super simple task. From a standstill it takes fewer than six paddle strokes to make a complete 360° turn. While that particular task isn't that useful in real life, it is a great way to demonstrate just how maneuverable this board is. Many other iSUPs the same size take 7-8 strokes to accomplish the same thing. Making those same turning strokes in reverse gets you around even faster.
Steering the Pioneer 2.0 is also easy as it responds well to steering strokes without over-correcting.
The tracking performance on the Pioneer 2.0 is about what I expected it to be. With good paddle strokes you can keep the board on track well enough to get 5-8 strokes on a side before needing to swap sides or make some other steering adjustment. During our 10-stroke test (10 forward strokes on one side) the Pioneer 2.0 veered about 20° off course on average. This puts it in line with other iSUPs of similar size.
While I was completing the speed test the Pioneer struggled to maintain a straight course while sprinting. Here I noticed the board flexing more which makes the board easier to spin with each stroke.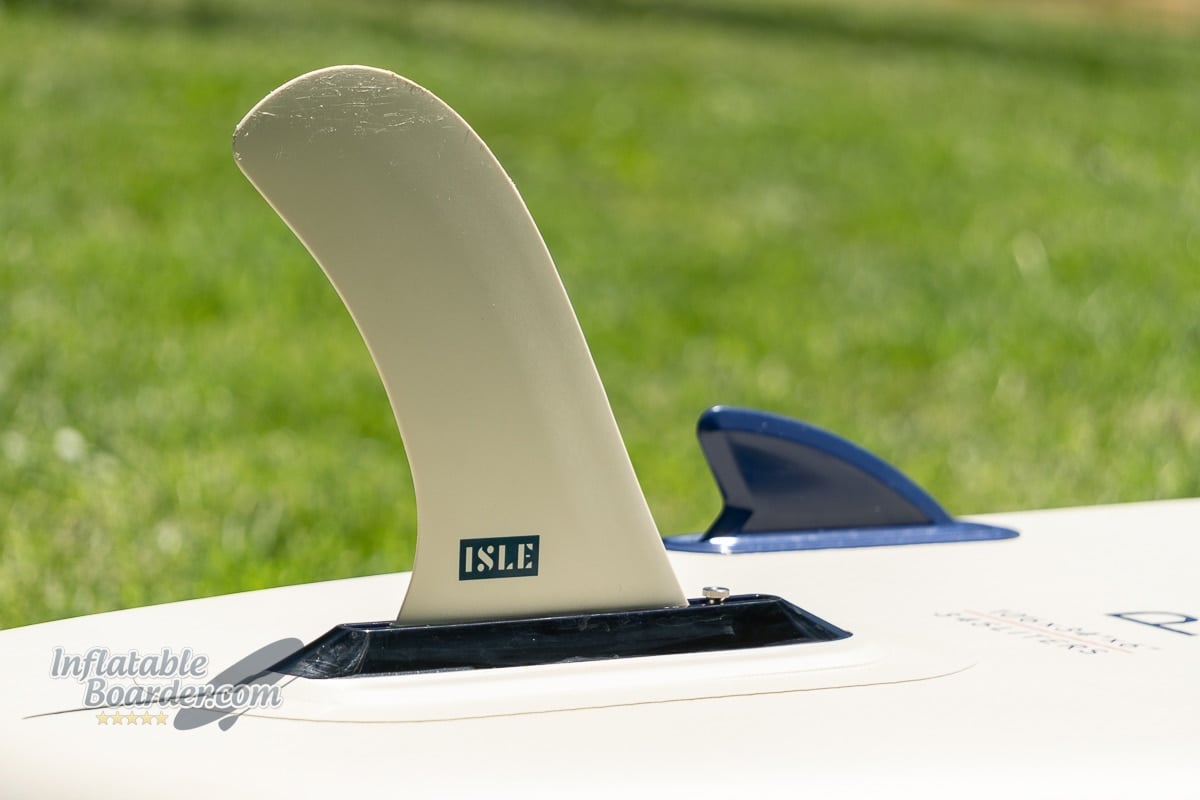 The Pioneer 2.0 has a 2+1 fin setup (also referred to as a thruster) however only the center fin is removable. The two side fins are short, 1.5" soft plastic fins. These fins don't really serve any purpose on the board and I'm not sure why brands continue to use them. They don't offer enough surface area to track the board significantly better than without a fin at all, and they often end up getting bent out of shape while the board is rolled up for transportation anyway.
The central fin has a standard US fin box which is compatible with hundreds of different fin choices. The included pivot-shape fin is about 9" long and has a decent amount of surface area which both helps the board track straight and increases stability. The fin and fin box are both standard US fin box designs, however the included bolt is a little different. Normally you would insert the fin nut into the fin box, then the fin, then thread the bolt through the fin and into the nut. Instead Isle has flipped the process. The bolt has has a thin, square head that goes into the finbox (with the bolt sticking up) and the fin slides over it before being secured with a nut on the outside. I personally love this system as it makes getting everything installed much faster.
Warranty and Customer Support
Isle warranties their inflatable SUPs, including the Pioneer, for 2 years against manufacturing defects and warranties their accessories for 1 year. They also offer a 60-day return period. If you don't like your board for any reason you can send it back for a refund or replacement, however customers are responsible for shipping costs and a 20% restocking fee. If you have any questions for Isle, you can reach them via a form on their website, on the phone, or through social media.
Value
The Isle Pioneer is a great, super stable, all-around iSUP that comes with a quality set of accessories. We consider the board and accessories themselves, performance on the water, warranty and support, and we compare these features to other similar paddle boards. At MSRP, the Isle Pioneer 2.0 does not quite live up to its cost. At the current sale price, though, the Pioneer 2.0 package does offer a good value for those looking for a wide, stable all-around iSUP.
Overall Impressions/Review Summary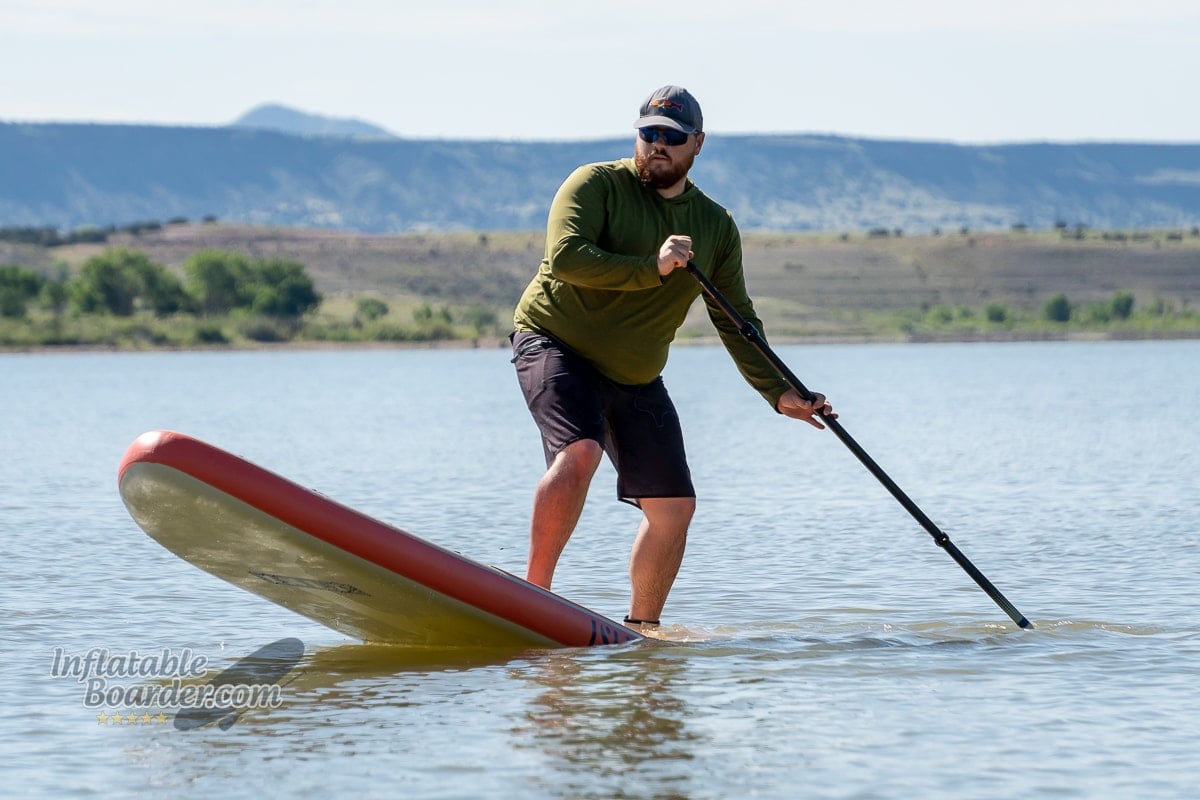 The Isle Pioneer 2.0 is an interesting paddleboard. On one hand it's built well, is very stiff, and performs exactly like you'd expect. On the other hand, it's lacking in overall versatility and the price point is difficult to justify at its full list price. If Isle continues to keep the Pioneer 2.0 on sale (as many brands seem to be doing these days), then it does make far more sense and is a great option for beginner paddlers shopping at a mid-to-low price point. However when comparing it at full price to their new Switch 2-in-1 iSUP, the Pioneer 2.0 misses the mark. Both are incredibly stable, but the Switch offers far more versatility and performance than the Pioneer 2.0.
Isle Pioneer 2.0 iSUP FAQ
Is the Pioneer 2.0 a good paddleboard for beginners?
Yes. The Pioneer 2.0 offers excellent stability and a great kit for beginner paddleboarders.
Can I take my dog on the Isle Pioneer 2.0?
Absolutely. The large, soft deck pad is great for pets and other passengers alike. The 34" width keeps the board stable as your friend (four- or two-legged) moves around on the board.
How long does it take to inflate the Isle Pioneer 2.0?
Using the included hand pump, it takes about 10-12 minutes to inflate the Pioneer 2.0 to its maximum recommended 17 PSI. This will vary depending on how fast you pump.
Can I use the Isle Pioneer 2.0 for fishing?
You certainly can. While it's not primarily intended to be a fishing iSUP, the stability and large cargo areas certainly make this a good choice for fishing.
Does the Isle Pioneer 2.0 work as a kayak?
The Pioneer 2.0 does have attachment points for a kayak seat. Currently Isle does not offer stand-alone kayak seats or kits, however any reasonably-adjustable kayak seat should work. You will also need a kayak paddle to go with it.