Gili Sports 10′ Mako Inflatable Paddleboard Review | 2023
Inflatable Boarder is reader-supported and may earn a commission when you buy through links on our site. Learn more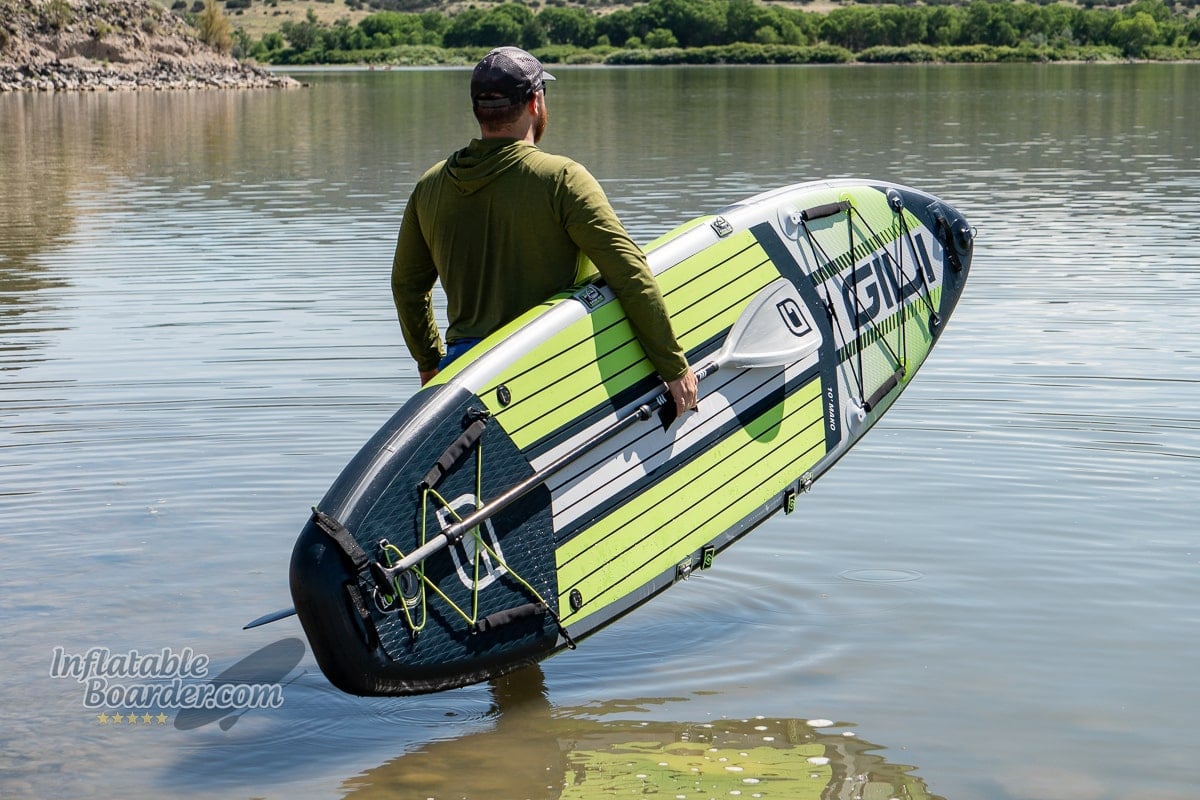 Gili 10' Mako iSUP: Overview
The Gili 10' Mako iSUP is a nimble all-around inflatable paddleboard that is sized just right for smaller adult paddlers and older teens. I like to consider the Mako as part of Gili's popular Adventure series iSUPs (the 11' Adventure and 12' Adventure). It shares the same construction, same general shape, and the vast majority of the features as found on the Adventure series. Its shorter length increases its maneuverability, but does impact its ability to track in a straight line over longer distances. The wide, parallel shape gives it plenty of stability for newer paddlers as well.
— Gili 10' Mako Summary Ratings and Review —
Construction & Durability

Features and Versatility

Stability

Speed

Maneuverability

Tracking
Overall Score
The Gili 10' Mako is a versatile and maneuverable all-around iSUP for smaller paddlers.
Pros
The Mako has a high degree of versatility thanks to its multiple cargo areas and accessory mounting points.
The fiberglass and nylon paddle is comfortable to use for longer periods of time.
The shorter length and fin selection options make the Mako very maneuverable
Removable cargo areas, handles, and lots of D-rings allow you to easily strap down all of your equipment.
Good quality construction and accessories, and 2 year warranty make for a great value for newer paddlers.
Cons
Tracking performance was on the lower-end for all-around iSUPs, but is complimented with its maneuverability
I'd like to see a smaller paddle blade for even more comfort on the water.
Construction and Durability
The Gili mako uses Gili's dual-layer fusion construction to create a lightweight, but stiff inflatable paddleboard.
The Mako uses Gili Sport's dual-layer fusion PVC skin. These two layers of PVC are heat pressed together to create a very strong, stiff shell that weighs less than a traditional hand-laid dual-layer material. Inside the PVC shell is a knitted fabric base layer with thousands of individual threads woven between the top and bottom layers (called drop stitching) that help give the board its shape and stiffness.
Around the sides of the board are two more layers of PVC material that make up the rails. The inner layer creates the airtight seal for the board and the outer layer adds additional stiffness and durability. Lastly the rails have a thin strip of PVC reinforcement on the top and bottom to further increase the durability and longevity of the board's construction.
There are many factors that go into how stiff an inflatable paddleboard will be. The number and thickness of shell layers, how they are put together, the base fabric and drop stitching patterns, rail construction, maximum inflation pressure, and even the overall size and shape of the board all work together to give you a solid platform to paddle from.
When I put the 10' Mako on the bench for our bend test, I wasn't entirely sure how it was going to perform. After inflating to the maximum recommended 15 PSI, I added the 170lb of weight and was pleased to see that it kept right in line with it's bigger Adventure-series cousins by bending just 1.5" (actually, this ever-so-slightly out-performed the 11' and 12' Adventure, but just barely).
Out on the water the Mako's stiffness followed suit. I did notice some flexing while bouncing on the board. The overall amplitude of the flex was fairly minimal, however the rebound feeling was what I'd call "bouncy." Now, this was while I was purposely bouncing up and down on it. While paddling casually, or just walking on the board to change position, that rebound was far better controlled.
Specifications
Dimensions
Length
10' 0"
Width
32"
Thickness
6"
Weight
Max Capacity
260 pounds
Board Weight
20 pounds
Kit Weight
(SUP & accessories)
36 pounds
Buying Info
List Price
$640.00
Warranty
2 years
Returns period
60 days
Features, Accessories and Versatility
To make a long story short, the Mako takes the category of "all-around iSUP" to hear and is decked out with enough accessories to do just about anything you can think of on a paddleboard.
The Mako is set up to be an extremely versatile board. At the nose we have a large cargo area and bungee that can easily accommodate enough dry bags and soft coolers for a full day on the water. Attached to that cargo area are two neoprene passenger handles. These are great for smaller kids to hold on to while paddling, and they are also easily removable.
Built into two of the cargo D-rings are threaded accessory mounts. These mounts use an M-8 threaded bolt to secure a number of different items available from Gili, or anything else you'd like to rig up. The Gili Barnacle speaker includes an adapter for these threaded mounts, and Gili also has fishing rod holders, cup holders, camera holders and more that are all ready to go with just a few twists. There's another D-ring and accessory mount combo at the very nose of the board as well.
The deck pad covers a very large section of the Mako – though not fully through the nose – and has a brushed EVA foam with long grooves in the main standing area for a great balance of comfort and traction on bare skin and a diamond-groove traction pad on the tail for increased grip when stepping back to the tail to make a snappy pivot turn.
The rear of the mako has another cargo area with a removable bungee and two more passenger handles. With a weight capacity of just 260lb, I don't recommend paddling with three people on the board all at once, but the additional handles do provide this option when paddling with smaller kids on board.
Just in front of the rear cargo area are two more threaded accessory mounts that are partially set into the deck pad. They do protrude a little bit, but are also spaced wide enough apart that you don't step on them when walking to the back of the board.
Lastly there are two sets of D-rings and two sets of velcro paddle holders on the sides of the Mako as well. The D-rings are compatible with shoulder straps for carrying your board or with kayak seat attachments for a more comfortable time sitting on the Mako. The paddle holders make carrying everything easy, and can be used to hold a spare paddle or even a fishing rod in a pinch.
Paddle
The Mako includes Gili's fiberglass and nylon hybrid paddle. The large blade gives you plenty of power with a casual pace and the fiberglass shaft provides flex for all-day comfort.
The Gili fiberglass and nylon paddle is a great balance of durability and weight. While certainly not the lightest kit paddle we've seen, this hybrid paddle balances well in your hands to make it feel lighter than it is.
The large nylon blade has a thick cross-section for improved durability and stiffness. The gentle scoop at the tip of the blade helps improve its holding power in the water and the slight rake angle keeps it producing power longer throughout the stroke. The blade size is on the larger size, which can become tiring after a long paddle for smaller paddlers, and is harder to paddle at higher cadences.
I personally think fiberglass is one of the best materials for kit paddles. It's significantly lighter and more durable than aluminum and it offers more flex and less cost than carbon fiber. The flex in the fiberglass shaft reduces fatigue on your body as you paddle, but isn't so bend-y that you lose significant power-transfer. The handle itself is a molded plastic that fits comfortably in your hand and doesn't feel thin or weak.
Stability
The 32" width and parallel sides of the Mako keep it quite stable for smaller paddlers, but the shorter length and less overall volume isn't as great for larger or taller paddlers.
While running the Mako through our stability testing, I did feel that it wasn't as stable for me as the larger Adventure series boards. And that makes total sense. At 230lb I'm fairly close to the Mako's 260lb rider capacity, and at 5'9" I'm a little too tall for a 10' board as well. With all of that said, I still found it to have decent stability overall.
While standing with the board flat, I could feel a little bit of rocking sensation under my feet as small waves, wind, or just a shift in body position tilted the board small amounts. Once I was paddling, the dynamic stability you get on any paddleboard took over (similar to a bicycle) and I couldn't feel those little rocking sensations any more. As I picked up speed into a sprint, though, the stability did drop back down as the Mako was spinning and bobbing up and down with more powerful strokes.
While rocking the Mako side to side (while not moving) It did feel a touch twitchy – the same when just holding it on its edge. However I do feel that this is more due to being close to the maximum size this board is designed for. I do notice these similar sensations when paddling other similarly sized and shaped iSUPs.
Speed
With a name like "Mako" I'd expect it to be a fast board (or at least have some sweet fighter plane-esque shark-tooth graphics on the nose), but unfortunately there's just a lot working against the Mako's top speed. However it does have a little trick up its sleeve.
When testing for top speed in our 100m sprint test, the Mako didn't do so great. The Mako's average time of 49.5 seconds is something we expect to see in significantly larger boards (like the 11'6" x 35" Meno). A big reason why the Mako was so slow in this test came down to its tracking performance. The shortest distance between two points is a straight line, and when traveling straight isn't possible, your time usually increases.
Slowing down to a cruising speed, the Mako did a little better in our ¼ mile cruising test, clocking an average time of 4:15.
But, what really surprised me was the Mako's performance in our efficiency test. We evaluate efficiency by calculating how far a paddleboard travels with each stroke before it noticeably slows down (called glide). An average glide ratio for all-around iSUPs is around 1.5-1.7 board-lengths per stroke. The Mako was pulling in an average glide ratio of 2.0 board-lengths per stroke. This is the sort of efficiency we normally see in longer, skinnier, touring-style boards. However I will still note that while its glide ratio was very good, because the Mako is only 10' long, it's still a slower iSUP overall.
Maneuverability and Tracking
The Mako has a very noticeable performance difference comparing maneuverability and tracking. The balance between these two is very much shifted to the favor of maneuverability.
Shorter paddleboards are generally more maneuverable than longer ones. The Mako is no exception here. Between the short length and large paddle blade, the Mako is able to turn a full circle from a standstill in less than 4.5 strokes. That is extremely fast, even for a shorter all-around iSUP, and is especially impressive when considering the Mako has three fins, including a center touring fin – all of which were installed for this test.
Turning a paddleboard with a forward sweep stroke is not the most efficient way to turn, and the Mako can make that full circle in fewer than 4 reverse sweeps as well. When I step back to the tail for a pivot turn, the diamond groove deck pad on the tail provides extra traction and control and the relatively wide tail and stiff construction kept it stable throughout the turn as well.
There's no doubt that the Mako is an easy board to turn, but the flip side of that is the Mako is not an easy board to paddle in a straight line.
While sprinting, the Mako was extremely difficult to control as it bobbed and twisted with strokes that use the entire body to generate power, rather than just the arms and back. While cruising the Mako did perform better, but it was still difficult to keep straight and required me to switch sides more frequently than I prefer.
In our 10-stroke tracking test, though, the Mako did actually get a better score than I anticipated, veering and average of just 20° off course after paddling 10 strokes on one side. This is on the lower-end of average for all around iSUPs, but certainly not the lowest scoring board I've tested.
The Mako does have three fliplock fin boxes (two smaller boxes for side fins and one larger central fin box). The three included fins (one touring-style center fin and two 5" side fins) are standard for Gili, and similar setups are standard with other brands as well. Normally a setup like this would generate better tracking performance, however I believe the shorter length of the board makes it more sensitive to how far forward or rearward the fins are placed, and how vertical the fins are. Unfortunately these fliplock fin boxes reduce the number of available fin options to just a handful, so it's not currently feasible to test the performance with significantly different shapes. Gili does have a few alternate center fin options – both significantly shorter – that are good for paddling in shallow conditions, but will further reduce the tracking ability of the Mako.
Warranty and Customer Support
Gili offers a two-year warranty and 60 day return period with all of their inflatable stand up paddleboards. The included accessories (pump, leash, fins, paddle) all have a 90 day warranty, and the travel bag has a 1 year warranty. If you have any product or warranty questions, you can contact Gili through their website, email, phone, and social media.
Value
The Gili 10' Mako brings a ton of features and versatility to a smaller package. Often these smaller-sized iSUPs have a reduced feature set, but Gili has done a great job of including everything you could possibly need on the board. The performance is on-par with many of the other 10' all-around boards we've tested, however the construction makes it one of the stiffest 10' boards we've seen. Combined with their two year warranty and great customer service, and the Gili Mako offers a great value for smaller adult paddlers and teens. Gili often runs sales on their boards for even better prices and frequently includes free accessories, so make sure to use the link below to check for the most up-to-date pricing.
Overall Impressions/Review Summary
I've been a fan of Gili's Meno and Adventure series iSUPs for a while now. I think they offer fantastic value and great performance. The Mako is no exception. I do wonder why this board is given the name "Mako" instead of joining its larger cousins as the "10' Adventure?" It has the same construction, accessory package, and nearly the same feature set (minus the tackle rack receivers). Overall the Mako is a great choice for smaller paddlers under 160lb and 5'6" or shorter. Larger or taller paddlers will feel more comfortable with the extra stability from the 11' Adventure, and of course the 12' Adventure is ready to load up for longer trips.
Gili 10' Mako iSUP FAQ
How long does it take to inflate the Gili 10' Mako iSUP?
Using the included single chamber hand pump it takes about 8 minutes to inflate the Mako to its maximum recommended 15 PSI. This will vary based on how quickly you pump. We do really like using electric pumps for any iSUP as it makes the task of inflating your board completely hands free. See our favorite electric pumps here.
Can I use a kayak seat with the Gili 10' Mako iSUP?
Yes! The Mako has four D-rings around the middle of the board placed specifically to work with kayak conversion kits. You can also store the spare blade (or SUP handle) using the velcro paddle holders on the side of the board for easy switching between SUP and kayak.
Is the Gili 10' Mako good for dogs?
Small dogs may be comfortable on the Mako, however the smaller overall size makes it less stable with larger dogs. See our list of favorite paddleboards for dogsfor more about SUP with your pup!
How long will the Gili 10' Mako last?
Inflatable SUPs like the Mako are made from highly-durable PVC material. PVC does degrade over time and with excess UV radiation exposure, however with basic care, cleaning, and proper storage, the Gili Mako will last for many years.