The brand new 2018 iROCKER ALL-AROUND 10′ is a fantastic all-purpose inflatable SUP that features some really nice improvements over last year's model. This stable, well-built iSUP is suitable for a wide variety of paddling activities and conditions, and we love the super affordable price point.
While iROCKER is a relative newcomer to the SUP world, the company has wasted no time in establishing itself as a maker of high-quality boards at prices that everyone can afford. Based out of Jacksonville, FL, they currently have 6 inflatable SUP models in their lineup as well as a growing range of paddling accessories.
In this hands-on iROCKER ALL-AROUND 10′ review, we'll take an in-depth look at this board's pros and cons, features, construction, included accessories, how it compares with last year's model, and how to save some money on it to get the best deal.
In a Hurry? Here's a Quick Summary…
Pros
Bombproof quad-layer PVC construction
Super affordable price point
Stable
Tracks well in the water
Versatile
Attractive new design
Now available in blue and seafoam green
Very rigid
No tool required for attaching/removing fin
Large bungee storage area
4 D-ring attachment points for optional kayak seat or gear
Updated fin box with convenient flip lock fin
Neoprene safety handles at nose for kids
Great bundle of high-quality SUP accessories included
New color-coded paddle and leash
May 2018 Update: Now includes dual-chamber triple-action pump
Excellent customer service
2-year warranty
30-day money back guarantee
Cons
The new 2018 board is slightly heavier than last year's model
Neoprene carry handle cover not removable
No grab handle at nose or tail
Price & Where to Buy it
Table of Contents
iROCKER ALL-AROUND 10′: SUP Overview
The ALL-AROUND 10′ stand up paddle board delivers exactly what many of the company's customers were looking for. While the original iROCKER SPORT 11′ model has been extremely popular, a lot of people wanted a wider paddle board with better stability.
The ALL-AROUND 10′ iSUP features an additional 2″ of width over the company's SPORT model, making it a more stable board than the company's initial releases. This board really performs well in a variety of water conditions, and it's stable enough to be used for SUP fishing and fitness. While not the fastest board on the water, it glides nicely, tracks well, and is definitely a lot of fun to paddle. For those seeking even greater stability, we'd recommend checking out their 33″ wide iROCKER CRUISER, 34″ wide BLACKFIN Model XL, or 35″ wide Model X.
This iSUP features an eye-catching retro design that iROCKER paddle boards are known for. The ALL-AROUND 10′ model is now available in blue as well as a new seafoam green color (which we think looks stunning). Our board is the blue version with twin white racing stripes.
Here are a few photos of the new 2018 ALL-AROUND 10′ with last year's model for easy comparison. The 2018 iSUP retains the same twin racing stripes that iROCKER paddle boards are well-known for, but the new design looks much more polished in our opinion. From the updated lines and design of the traction pad to the "gills" on the rails, we think the look of this year's board is a huge improvement over the previous model (2018 pictured on top, 2017 on bottom)…
Features
The top of the ALL-AROUND 10′ features a newly improved deck pad. Incorporated into the diamond pattern of this pad is a new crocodile texture for increased grip. There's also a handle mid-board that is covered by a comfortable neoprene cover (we really wish it was removable for activities like SUP fitness).
Located along the sides of the pad are four stainless steel D-rings for attaching a kayak seat. You can also use these as gear tie down points for securing additional gear, or to attach the company's new carrying strap (not included).
At the nose of the ALL-AROUND 10′ are six more D-rings and a generously sized bungee cord storage area that is perfect for stashing a backpack or dry bag, Crocs, and other gear. This year's model also incorporates two safety handles — a feature that is great for small children that like to ride along on the nose of the board.
At the board's tail is another D-ring for the included SUP leash as well as a high-quality Halkey Roberts-style inflation valve…
On the underside of the ALL-AROUND 10′ is a triple fin setup with two fixed side fins and a large removable center fin. Previously, iROCKER used a toolless system that required you to slide the fin into place before securing it with a locking pin. This year, the company has updated the fin box and transitioned to a flip lock fin system.
Construction
All 2018 iROCKER SUPs feature new quad-layer, military-grade PVC construction that provides greater durability than earlier models. In addition to making the new ALL-AROUND 10′ even tougher than before, this added layer of PVC increases overall rigidity and boosts the maximum weight capacity of the board from 350 pounds to 370 pounds. Of course, the downside to the beefed-up build is added weight, and the 2018 model is slightly heavier than last year's board (24 pounds vs. 22 pounds).
When fully inflated to the recommended pressure of 14-18 PSI, the ALL-AROUND 10′ is extremely stiff and feels very similar to a hard board when it's under your feet…
Performance
Performance-wise, the new ALL-AROUND 10′ performs exactly like last year's model. This versatile inflatable stand up paddle board is super fun in the water and it offers excellent stability.
The ALL-AROUND 10′ also tracks very well, and while it's not the fastest board around, it doesn't feel at all sluggish.
Suitable for beginners and experienced paddlers alike, the ALL-AROUND 10′ is a jack-of-all-trades that can pretty much do it all. From paddling the pup to SUP fitness (and everything in between), this highly capable board is a good choice if you place a high value on versatility.
Inflation and Setup
Inflating and setting up the iROCKER ALL-AROUND 10′ is extremely easy and takes less than 10 minutes to do.
After removing the strap which keeps the board neatly folded up, just roll the board out, twist off the cover, insert the hose, and lock it into place with a twist. It's important to make sure that the stem is in the "Up" position when inflating, as this allows air to enter the board while preventing it from escaping.
The pump that comes with the ALL-AROUND 10′ has a built-in pressure gauge, and you won't really see the needle move until you get to about 7 PSI. After pumping the board up to the recommended pressure of 14-18 PSI, just twist the hose and disconnect it from the board's valve.
Last but not least, flip the board over and attach the large center fin.
Deflation
Deflating and packing up the ALL-AROUND 10′ is also a quick and easy process. First of all, make sure that you rinse the board off well with fresh water if you've been paddling in salt water. It's also good idea to give the board a quick wipe down at this point to dry it off.
Next, unscrew the valve cover and push in the valve stem for 2 or 3 seconds (warning, things get a little loud here as air escapes from the high-pressure valve). Wait a few more minutes for air to escape, then just roll the board up starting at the nose.
After the board is completely rolled up, position the included strap around the middle of the board and tighten it up to keep the board compressed. The board will now fit neatly into the included carry bag along with the rest of your gear.
Portability
Another area where this SUP board really shines is portability. As we already mentioned, it weighs in at 24 pounds and neatly packs up into the included carrying pack, making it incredibly easy to store and transport.
You can literally bring this paddle board with you anywhere. You can throw it on the roof rack of your car or into the backseat or trunk of any vehicle or ATV. You can even check it with your luggage when flying.
When not in use, the iROCKER ALL-AROUND 10′ slides neatly under your bed or into a closet…
iROCKER ALL-AROUND 10' Rating
Durability

Features

Versatility

Stability

Speed

Portability

Warranty

Customer Support

Price
Specs
| | |
| --- | --- |
| Length | 10′ |
| Width | 32″ |
| Thickness | 6″ |
| Weight | 24 pounds |
| Max Capacity | 370 pounds |
| Price | |
What's Included
Last year, iROCKER introduced a lot of major improvements to their SUP accessories. This year, they've once again made some changes but they're far less dramatic (more about that in a second). Included with the 2018 ALL-AROUND 10′ is a generously sized SUP backpack, 3-piece travel paddle, high-pressure hand pump new dual-chamber triple action pump, inflatable paddle board patch kit, and 10′ coiled SUP leash.
Backpack
After being completely revamped last season, the only real change with the included carrying bag for 2018 is the addition of a side carry handle. This is a pretty basic SUP pack, but it offers plenty of room for storing the board and other accessories.
On the front of the backpack are two large iROCKER paddle board logos as well as two nylon compression straps. There are additional ones on the sides of the pack, as well as an open mesh pocket and side carrying handle.
There's a see-through luggage ID window on the uppermost part of the bag, and the bottom features a stainless steel grommet for draining as well as four rubber feet.
The rear of the backpack features another nylon webbed grab handle as well as two comfortable shoulder straps. They are fully adjustable and have a stabilizing sternum strap and plastic D-rings for securing accessories.
Also located on the back of the bag is a heavily padded back cushion. The pad is covered by breathable mesh material to keep things cool when the bag is on your back. There's also an adjustable waist belt for additional stabilization.
The included backpack makes it super easy to carry your deflated board around, and you can even throw it in with your checked luggage when flying.
Adjustable 3-piece Paddle
iROCKER has made some subtle changes to their 3-piece fiberglass paddle for 2018. For one, they increased the extendable length of the paddle from 79 to 86 inches — a change that's sure to please taller paddlers.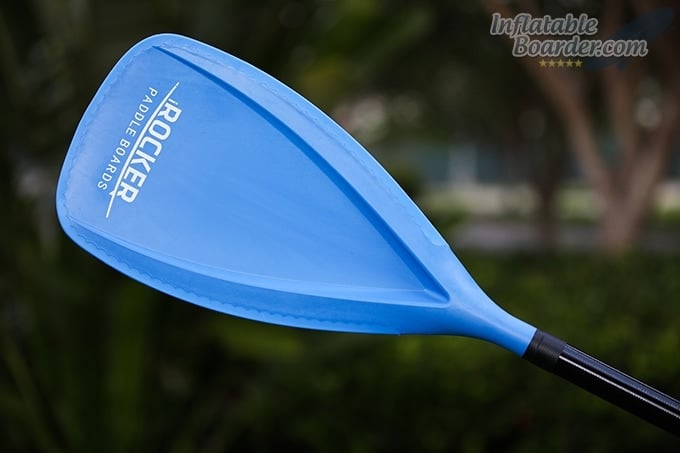 Secondly, iROCKER is now color-matching their paddles and boards. Instead of a black paddle and grip, they've color-coded these areas on their paddles for 2018.
Dual-Action SUP Pump 5/18 UPDATE: Dual-Chamber Triple Action Pump
The company's standard single chamber pump was always a reliable workhorse that got the job done, but in May of 2018 the company announced that all iROCKER paddle boards will now include a newly introduced dual-chamber pump. This new model is far more efficient than the previous single-chamber version, allowing you to inflate the ALL-AROUND 10′ in less time and with less effort than before.
The company's dual-chamber version is slightly larger than the previous one, and it comes with a flexible inflation hose that screws on to the rear of the pump. On the top of the handle is a built-in gauge which tells you exactly how much air is in your board at all times during the inflation process.
Something that is completely different on this model is the settings dial located on the rear of the pump. There are three settings that you can select by turning the dial:
Max Capacity
Medium Pressure
Max Pressure
When you first begin to inflate the board, simply set the adjustable dial to mode #1: Max Capacity. In this mode, the pump will rapidly add air to your deflated board on both the up and down strokes using both cylinders.
Once you begin to feel significant resistance, just flip the dial to mode #2: Medium Pressure. You'll now bypass one of the cylinders but will continue to inflate the board on both the up and down strokes.
Lastly, when pumping becomes too difficult in mode #2, turn the dial to setting #3: Max Pressure. This mode will give you the additional power needed to inflate your board to 15 PSI, as it operates in single-chamber mode and only adds air on the downstrokes.
Leash
In addition to color-matching their SUP paddles for 2018, iROCKER also includes a color-coded leash with all of their stand up paddle boards. iROCKER's 10′ leash features a durable coiled design and a comfortable ankle cuff. There's also a hidden key storage pocket with a handy velcro closure.
iSUP Repair Kit
Lastly, the ALL-AROUND 10′ comes with an iSUP repair kit. Included is a valve wrench, two PVC repair patches, and a replacement clip for the board's removable fin.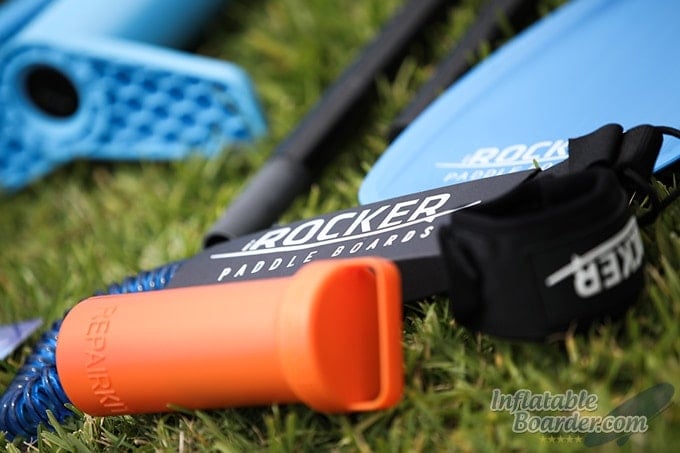 Optional Add-On Accessories
In addition to the popular range of iROCKER paddle boards, the company also has a growing collection of SUP accessories. While the following accessories are not included with the ALL-AROUND 10′, they are available as add-ons.
Shoulder Carrying Strap
An extremely convenient accessory that makes it even easier to carry the iROCKER ALL-AROUND 10′, iROCKER's new carry strap attaches quickly and easily to two of the D-rings along the board's rail. After clipping the secure hooks to the D-rings, just throw the strap over your shoulder and adjust to your desired length.
Sewn into the top of the strap are four plastic D-rings which are great for attaching small accessories with a carabiner, and the underside of the strap is lined with a grippy rubber material which helps to prevent slippage when the strap is over your shoulder.
Kayaking Kit
The iROCKER kayak seat bundle is a fun add-on that gives this inflatable SUP a lot of added versatility. It quickly attaches to the top of the board, transforming the iROCKER ALL-AROUND 10′ into a kayak.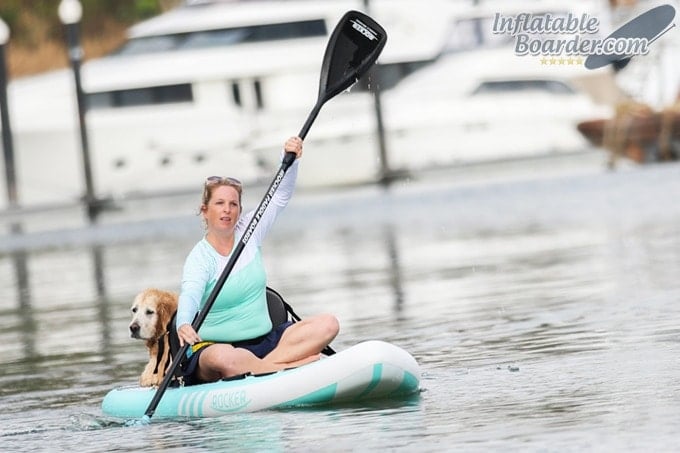 Included with the kit is a seat and blade attachment that connects securely to the end of the ALL-AROUND 10's paddle shaft.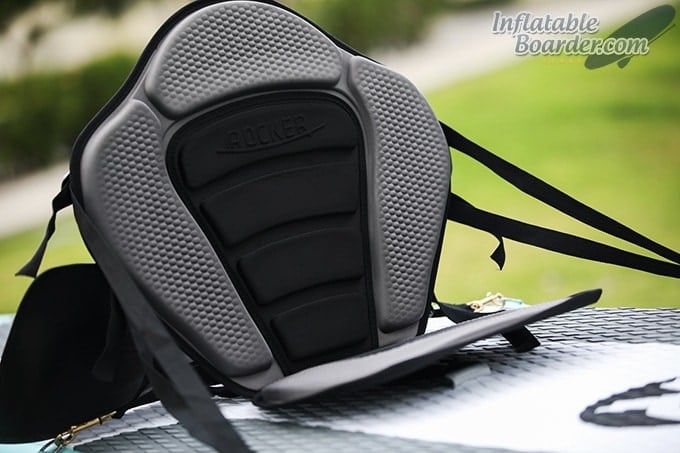 To attach the seat to the board, simply clip the metal hooks at the end of the nylon webbed straps to the D-rings along the edges of the EVA foam pad. The straps are fully adjustable, allowing you to dial in the perfect length.
SUP Deck Bag Cooler
New for 2018, is iROCKER's SUP deck bag cooler. A well-built bag that is perfect for bringing food and beverages along when you paddle, this SUP cooler is fully insulated to keep the bag's contents cool.
On the outside of the bag's lid is a zippered pocket which is great for stashing small items. There's also a carrying handle on the side which allows you to carry the cooler like a lunch box when it's not strapped to the top of your paddle board.
On the back of the bag is an elastic bungee cord with four plastic mounting hooks. These attach easily and securely to the ALL-AROUND 10's D-rings, but you can also slip the bag under the board's bungee deck rigging.
Lastly, the entire interior of the bag is lined with an insulated liner which helps to keep your food and drinks cool while the bag is strapped to the deck of your board. There's plenty of room for food as well as cans and bottles of your favorite drinks.
Warranty
The ALL-AROUND 10′ comes with a rock-solid 2-year warranty which covers you in the event of a manufacturer defect. iROCKER also offers a risk-free 30-day refund policy for added peace of mind.
Where to Buy it (Best Deal + Special Promo)
If you want to get the lowest price on the new 2018 iROCKER ALL-AROUND 10′, we recommend buying the board directly from the official iROCKER website. In addition to their fast, free shipping and low prices, iROCKER doesn't charge sales tax on non-Florida orders. Additionally, there's a great combo deal promotion going on right now that can save you some money — just add any two iROCKER or BLACKFIN boards to your cart and you should see a discount automatically applied when checking out (no coupon code or promo code is needed).
If you live outside of the United States, you can still order directly from iROCKER through the following links: Canada, UK/EU, Australia, and Germany
Final Thoughts
The iROCKER ALL-AROUND 10′ inflatable SUP is a fantastic board for paddlers 5'10" and under who want top-notch quality at a very reasonable price. If you're a larger paddler, we'd definitely recommend the iROCKER ALL-AROUND 11′.
The ALL-AROUND 10′ is a versatile, extremely well-built board that comes with a great bundle of accessories. One thing that we really wanted to see with this board was a second color option, and iROCKER quickly responded with this year's stunning new seafoam green version.
iROCKER has done a great job once again of listening to customer feedback and over-delivering on value — we really like all of the improvements that the company has made to the 2018 ALL-AROUND 10′ board and accessories.
At the end of the day, you'll be hard-pressed to find a better board at this price point. The iROCKER ALL-AROUND 10′ is well-designed, built like a tank, and comes with everything you need to start paddling. The 2-year warranty and money back guarantee show that the company is serious about standing behind their gear, and we love the fact that customer service remains a top priority.