iRocker 10' Ultra All Around Review | 2023
Inflatable Boarder is reader-supported and may earn a commission when you buy through links on our site. Learn more
iRocker 10' Ultra All Around Review: Overview
iRocker released a new line of compact inflatable paddleboards based on their incredibly popular All-Around series this spring. The iRocker 10' Ultra All Around is a truly-compact board that doesn't sacrifice performance on the water. The 10' Ultra All Around is best suited for average to smaller paddlers under 5'6" and 180lb, though the 11' Ultra All Around and Cruiser Ultra are equally great options for average to larger paddlers.
— iRocker 10' Ultra All Around Summary Ratings and Review —
iRocker 10' Ultra All Around
Construction & Durability

Features and Versatility

Paddle

Stability

Speed

Maneuverability

Tracking

Warranty & Customer Support

Value
Overall Score
The 11' Ultra All Around is a great travel board for smaller paddlers.
Pros
Lightweight
Compact
Stiff construction
Cross-thread and woven drop stitch
Triple layer PVC
15 D-rings
2 threaded action mounts
Lots of cargo space
Electric pump included
Excellent warranty and customer service
Cons
Deck pad needs to be extended farther back
Measured width is only 30.75"
Construction and Durability
With new board lineups focused on cutting weight, it's important to see how those weight reductions impact the overall build quality of the paddleboard. It's very easy for manufacturers to make lightweight boards, but it's much harder to make lightweight boards that perform well and hold up over time.
With the iRocker 10' Ultra All Around (I'm going to call it the Ultra 10' in this review for brevity's sake) iRocker has reduced nearly 20% of the weight from the Original 10' All Around with some new materials – most notably a cross-threaded drop stitch core – while still keeping the triple-layer composite construction they have been known for. The new drop stitch material is not only lighter, but is also stiffer. This means less flexing while paddling for more efficient glide and speedier acceleration. This new drop stitch pattern crosses the threads from the top and bottom of the board in an X shape (similar to a steel bridge support) for additional strength using fewer individual threads.
The triple-layer composite construction is quite durable and abrasion resistant. These ultra-compact iSUPs fold in half (hot-dog style) prior to being rolled up. By folding tightly in the same spot repeatedly, there is some cosmetic wear in the coloration, but no tearing, cracking, or other structural issues.
As with all iSUPs, care should always be taken when moving the boards, launching, and landing that you don't drag or bump into sharp objects. With basic care and maintenance, the Ultra 10' iSUP should well outlast its 3-year warranty. The maximum inflation pressure listed on the board has been reduced from 18psi to 16psi. While I'm not sure exactly why this is the case, I can tell you that 16psi is plenty to keep the Ultra 10' stiff and performing well even for a larger paddler like myself (230lb).
Otherwise, the Ultra 10' does have similar construction to the Original 10' All Around with a reinforcement layer along the rails and then another layer of seam tape over the rail for additional durability (and cosmetic finish). The overlapping layers can be seen along the sides of the board. The deck pad is noticeably different with both a shorter length and split design to accommodate folding the board in half. Also adjusted to allow the Ultra 10' to fold, the center handle is offset to the left side of the board and the inflation valve and leash D-ring/action mount have been moved to the side of the board.
Specifications
Dimensions
Length
10' 0"
Width
32"
Thickness
6"
Weight
Max Capacity
260 pounds
Board Weight
19.8 pounds
Kit Weight
(SUP & accessories)
30.8 pounds
Buying Info
List Price
$849.99
Warranty
3 years
Returns period
90 days
Features, Accessories and Versatility

iRocker is known, among other things, for incredibly versatile boards with numerous D-rings, threaded mounts, and other on-board features that let you customize your iSUP to meet your specific needs. The same still holds true with the Ultra 10'. While there are not quite as many of these features, there are still 15 D-rings, three M8-threaded action mounts, two cargo areas with removable bungee cords, and two sets of neoprene passenger handles. That's pretty impressive for a sub-20lb board.
In order to allow the Ultra 10' to fold in half for compact storage, the deck pad was split in half and shortened in the rear. During normal paddling this split isn't noticeable. If you like to play in the surf or use the back of the board for pivot turns, though, you will notice a big downfall. The rear area of the board has no traction. Trying to step back onto the tail is risky as the PVC can be very slippery on bare feet. It's slightly better with high-quality water shoes like the Astral Loyak (with a thin sole designed to grip wet, slippery surfaces) but it is still noticeably less secure. For the beginner user this may not be an issue at all, but is a concern for intermediate and advanced paddlers moving around on their boards.
Another design change made for the Ultra 10's compact storage and transportation is the switch from a 2+1 fin setup to a twin fin setup. The twin fin boxes use the same short-base length as the side fins on the Original 10' All Around (and iRocker's other boards), but come with double 9" fins instead of the 4.5" side fins. These two fins are great in some ways, but less ideal in others, as I'll explain in the Maneuvering and Tracking section below.
The new bags designed for the Ultra 10' have a roll-top velcro closure and a fully-zippered front panel to make loading and unloading your board super easy. The interior pockets have sewn-in daisy chains to hold each part of the 5-piece paddle in place and are large enough to easily hold the paddle and fins. Also included is a matching accessory bag that holds the electric pump, repair kit, leash, and fins.
This is where the Ultra 10's design changes for folding in half really shine. This package becomes incredibly small when packed away, and can easily fit between the front and back seats of a sedan without the front passenger losing any leg room.
Paddle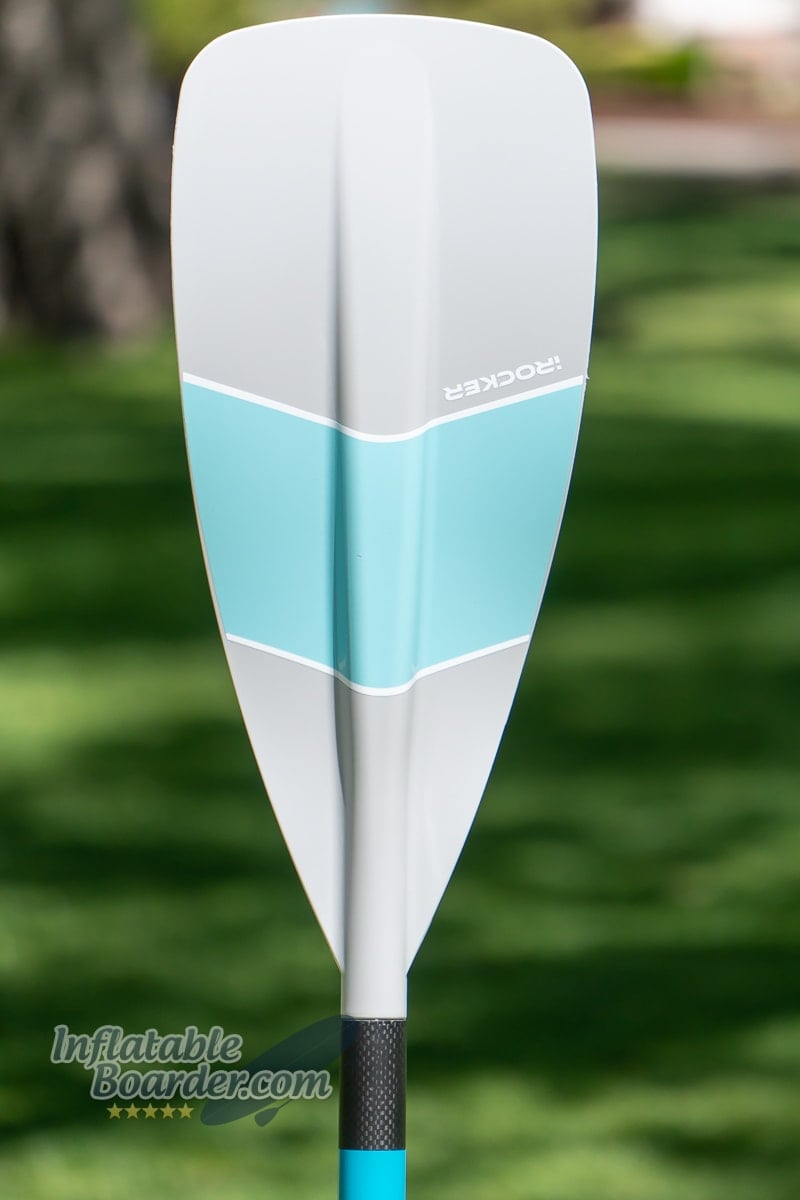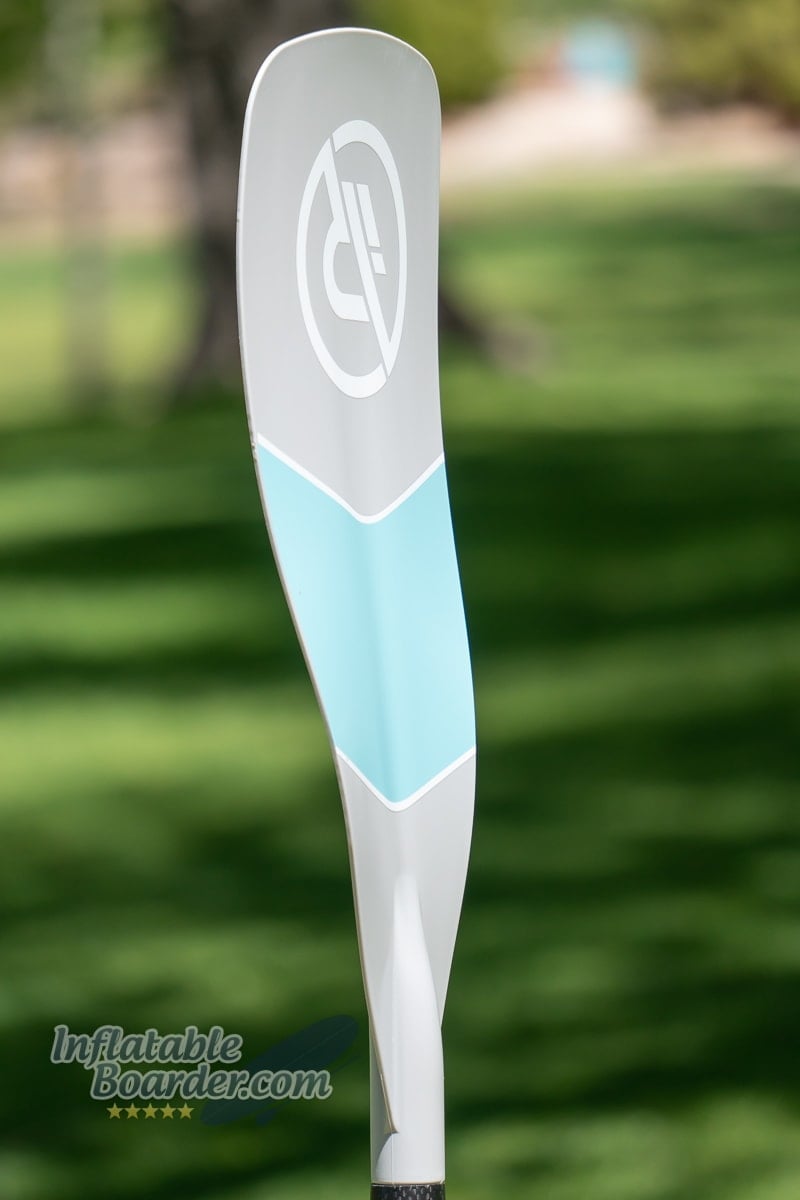 The Ultra 11' includes a new 5-piece paddle, however the core design and materials remains the same.
iRocker developed a new five-piece paddle for the Ultra series iSUPs. Utilizing their tried-and-true nylon blade and carbon fiber shaft, the new paddle breaks down and assembles easily. The handle section uses the same pin-and-clip adjustment system for easily-repeated adjustability.
New products do sometimes experience growing pains, and the 5-piece paddle is no exception. While there is a tiny bit of play between the blade and shaft of the Original 3-piece paddle it's mostly not noticed when paddling. With the 5-piece paddle, that amount of play is multiplied with each segment and it is more noticeable. Not to any point of the paddle not working well, but just enough that you can feel it move side to side in certain situations. Additionally, I found that the push-button connection between two of the shaft segments happens to be exactly where my hand sits on the paddle. While this will be totally dependent on the paddler's armspan and placement, it is something that will hopefully be considered for future iterations. The largest issue, though, seems to be that some paddles have been misaligned at the factory and the handle and blade are oriented incorrectly. We have found this issue in a few iRocker boards (across all product lines) this year.
We reached out to iRocker to notify them of this issue and were told that if any customer experiences this issue at all to reach out to the iRocker customer service team and they will receive a replacement paddle with no questions asked. This is the exact response we would hope to receive from a brand for an issue like this. While it is disappointing that someone may receive a defective paddle, iRocker will replace it immediately.
While I've brought up many issues with the paddle I do want to clarify that the new 5-piece paddle is not all bad. The blade is a great size and shape for the vast majority of paddlers. The entire package is relatively lightweight – even including the extra material and connectors between the segments, and the handle is comfortable to grip.
Stability
Stability of an inflatable paddleboard is impacted by lots and lots of factors. The size, shape, fins, and materials all dance together to determine how a board feels on the water.
The Ultra 10' starts off well with high quality materials and construction for an extra-stiff build. This prevents the board from flexing or wobbling under your feet and gives a very solid feel that's easier on your stabilizer muscles.
Normally a 10' x 32" x 6" board would be fine for me to paddle, especially as a more experienced paddler, but not ideal (5'9", 230lb). When I stepped onto the Ultra 10' for the first time I was a little shook by how I felt, and not in a great way. After a few minutes I was able to adjust, but testing the secondary stability (when the Ultra 10' is on its edge) took significant effort to stay upright, and I did find myself very off-balance several times while speed testing. What I ultimately discovered is that the Ultra 10' is not 32" wide. At its widest point I measured just a hair under 30.75". Now with that in mind, the Ultra 10' is actually impressively stable for such a small board! We also found that the 11' Ultra All Around, Cruiser Ultra, and Blackfin Ultra CX all experienced some level of width reduction from their listed specifications, but the Ultra 10' had one of the largest discrepancies of over 1.25" narrower than specified.
In the grand scheme of things however, I did not find the Ultra 10' to be stable enough to deem it to be "beginner friendly" for average size paddlers. I feel that smaller paddlers under 5'6" and under 150lb would be at home on this board, though.
For the appropriately sized paddler, another stability issue arises when using the back of the board. The lack of a deck pad on the tail of the board makes stepping onto the tail for surfing or pivot turns quite difficult. The PVC surface becomes very slippery when wet.
After a few minutes of adjusting to the narrower board, I was able to paddle it effectively (and rather quickly, too), however I never really became comfortable on it. The 11' Ultra All Around and Cruiser Ultra (10'6"), though, feel great for me. Sizing a paddleboard appropriately is definitely important whether you are getting a compact all-around, a surf SUP, race board, or anything else.
Speed
When paddling hard your body moves up and down in rhythm with your paddle stroke. On some inflatable SUPs this causes them to flex and bend wildly out of shape. As constructions and materials have improved, so has the stiffness and performance under power. The Ultra 10' uses some of the most advanced materials and constructions available today and it shows. It's stiff enough that even an over-sized paddler (like myself) doesn't notice any bouncing while sprinting. It paddled our 100m course in the same average time as the Ultra 11'. While a longer board is usually faster, so are narrower boards. These two are close in length and the Ultra 10' is narrower, so I'm not shocked by the similarities in top speed.
What I did find to be interesting is that I think the Ultra 10' could easily go faster. First, I was hampered by the lack of stability. If the Ultra 10' had been the full 32" wide (or even 31.5") I don't think it would have thrown me off balance as often as it did while sprinting. The second thing would be to use a stiffer paddle with a larger rake angle. That would transfer more power into speed and give the paddler a longer and more powerful catch (the first part of the paddle stroke).
The Ultra 10' also kept pace quite well with the Ultra 11', though just a tad slower on the ¼ mile course at a cruising pace. Cruising on the Ultra 10' was definitely more enjoyable than sprinting, but still required more of my attention to stay upright as I paddled the slightly-too-small board.
Both the Ultra 10' and the Ultra 11' had excellent gliding efficiency as well, averaging a little over 1.8 board lengths with each paddle stroke before noticeably losing speed. The stiffer construction really helps during the glide test as it prevents the board from bending and bobbing, robbing it of forward momentum.
Maneuverability and Tracking
Swapping to a twin fin design makes choosing the right size fins a little more challenging. Too small and you'll lose stability and tracking, but too large and turning becomes incredibly difficult.
iRocker stocks the Ultra 10' with two narrow-base, 9" fins. These fins also have a good amount of rake as they curve backward toward the ends. The 9" fins definitely add stability (and I was very thankful for that while on the Ultra 10') over the smaller 4.5" side fins found on the Original 10' All Around. They also help the board track very well.
What they do not do is make it easy to turn the board while paddling. Our maneuverability test involves turning a full circle from a standstill. The first few strokes turn the board relatively well, but after that the fins grab a little bit of momentum and force the board into a wider turning radius. On average it took 6 high-quality forward sweep strokes to turn a full circle. Zooming out a little bit, this is actually pretty average when looking at all of the boards we have tested, but 50% slower compared to the Original iRocker 10' All Around.
Steering while paddling is also a little more difficult than the original, but it is still very responsive while underway for minor course adjustments. Stepping back to pivot turn the Ultra 10" makes things a little spicy without a rear deck pad, so you are a little more limited in your maneuverability options. Changing the fins to the 4.5" iRocker side fins absolutely makes it easier to turn, but you do sacrifice stability and tracking to do so.
Paddling in a straight line is a whole different story with the Ultra 10'. Where the original 10' All Around was difficult to keep on track, the Ultra 10' performed much better while gliding, cruising, and sprinting. Again we have the twin 9" fins to thank for this performance improvement.
We are experimenting with a new method of testing tracking and while we don't have enough data to start publishing just yet, the Ultra 10' did perform remarkably similar to the Ultra 11'. Where in the past I would have scoffed at the idea of a 10' iSUP tracking well, the iRocker 10' All Around Ultra has proved me quite wrong. This is great news for smaller paddlers who have been wanting a board more appropriately sized for them while still being able to efficiently paddle longer distances.
Warranty and Customer Support
iRocker offers a three year warranty on the Ultra series iSUPs, just like with the rest of their iRocker and Blackfin iSUP line. You also still get the 90 day no-questions-asked return period with the Ultra 10'. If you decide the Ultra 10' isn't for you, iRocker will accept the board for a full refund and help you get the right board for your needs. You can call, email, or chat with the iRocker customer support team on their website and social media as well.
If you do receive a mis-aligned paddle (as shown in the paddle section above) contact iRocker for an immediate replacement, no questions asked.
Value
The iRocker 10' All Around Ultra is a high-performance compact travel iSUP. This is a relatively small section of the market mostly dominated by a few boards at a very high price. When factoring together the on-water performance of the Ultra 10', the quality of the included accessories and features, the warranty, and its price, the iRocker 10' All Around Ultra is an incredible deal for this board category. If you are a smaller paddler looking for a compact travel board, look no more.
Overall Impressions/Review Summary
At the end of the day, the iRocker 10' All Around Ultra performs very well. It should be noted that the board is noticeably narrower than the 32" advertised width, so make sure that this smaller size is what you are after. The Ultra 10' is ideal for smaller paddlers under 5'6" and under 150lb looking for a lightweight travel board. It maintains all the functionality of the Original 10' All Around and significantly increases performance in both speed and tracking. When choosing boards for myself, I am not going to select the Ultra 10', but not because it's a "bad" board (quite the opposite), it's just not the right size for me. I prefer the Ultra 11' and the Cruiser Ultra as they offer more volume and better stability for a larger paddler like myself. Smaller paddlers give the Ultra 10' a try and I think you'll love it. Average to larger paddlers may want to hop up to the 11' version for a better fit.
iRocker 10' All Around Ultra iSUP FAQ
What are the new Ultra series of iSUPs from iRocker?
The new Ultra series, short for ultralight, are compact and lightweight inflatable stand-up paddleboards (iSUPs). They use a new woven drop stitch construction to increase rigidity and performance while also decreasing overall weight.
What is the difference between the iRocker Ultra All-Around 10' and Blackfin Ultra CX?
The Blackfin Ultra CX is sized between the Ultra All-Around 10' and Ultra All-Around 11' and features the same carbon fiber rail found on other Blackfin series iSUPs. The Blackfin ULtra CX is a little more stiff and a little more stable than the Ultra 10'.
How compact is the Ultra 10'?
The Ultra 10' packs down into a new backpack-style bag approximately 24"x19"x12". The board itself weighs 19.8lb and the entire kit (including electric pump) weighs 31 lbs. It's small enough to fit in any car and comfortable to carry as a backpack.
How long does it take to pump up the Ultra 10'?
The included electric pump inflates the Ultra 10' in approximately 8-10 minutes.
Is the Ultra 10' compatible with a kayak seat conversion kit?
Yes it is! The Ultra 10' works well with the iRocker kayak conversion kit. Simply snap the seat straps into the side D-rings on the board, swap the SUP handle for the kayak paddle blade, and launch!