Inflatable Boarder is reader-supported and may earn a commission when you buy through links on our site. Learn more
Brand new for 2018, the Aqua Marina BEAST inflatable SUP is a stable, all-around board that measures 10'6″ x 32″ x 6″. Weighing in at 20.5 pounds and capable of supporting up to 315 pounds, this colorful board is a good choice for a wide variety of activities and conditions, and it comes with some really nice features.
The Aqua Marina SUP lineup continues to grow, and the company is launching some exciting new models and accessories for this year. Known for their colorful designs and super affordable price points, Aqua Marina also has a nice range of inflatable kayaks, canoes, and boats.
In this Aqua Marina BEAST review, we'll take a look at this new 2018 model's features, design, specs, performance, pros and cons, and more.
In a Hurry? Here's a Quick Summary…
Pros

Affordable price point


Lightweight


Versatile design


Stable


Glides well


Good rigidity


Very fun to paddle


Convenient toolless fin system


GoPro camera mount at nose


Comfortable traction pad


Raised kick tail
Cons

SUP paddle and leash not included


No grab handles at nose/tail


Would like more D-rings for additional gear tie-down points


SUP backpack lacks grab handles


Warranty coverage is only 12 months
Price & Where to Buy it
Aqua Marina BEAST Review: Inflatable SUP Overview
ARVE Error: src mismatch
url: https://www.youtube.com/watch?v=RF6Z-JhRAno
src in: https://www.youtube-nocookie.com/embed/RF6Z-JhRAno?feature=oembed&enablejsapi=1&origin=https://www.inflatableboarder.com
src gen: https://www.youtube-nocookie.com/embed/RF6Z-JhRAnoActual comparison
url: https://www.youtube.com/watch?v=RF6Z-JhRAno
src in: https://www.youtube-nocookie.com/embed/RF6Z-JhRAno?enablejsapi=1&origin=https%3A%2F%2Fwww.inflatableboarder.com
src gen: https://www.youtube-nocookie.com/embed/RF6Z-JhRAno

The Aqua Marina BEAST is a really versatile, all-around inflatable SUP that fills a nice gap in the company's lineup. While Aqua Marina's Fusion and Vapor models have both been great sellers, there's a big demand for a slightly wider, more stable board in the 10′ range.
The BEAST's 6″ thickness and 32″ width provide an extremely stable paddling platform, and the board feels very stiff when fully inflated to the recommended pressure of 15 PSI. This makes it a great choice for paddling around small children or your dog…
Features
The top deck of the BEAST is covered by an extended-length, diamond pattern EVA foam traction pad. The multi-colored deck pad is super comfortable on the feet, and there is a generously-sized kick tail wedge at the tail which is great for performing pivot turns and other advanced moves.
Mid-board is a convenient rubber carrying handle that makes it super easy to carry the board around when it's pumped up.
At the board's nose are four stainless steel D-rings and a bungee cord storage area which is perfect for stashing your snorkeling gear, dry bag, Crocs, etc. Also at the nose of the board is a GoPro camera mount which we absolutely love. The mount quickly and securely attaches to the board without tools, and it makes it extremely easy to capture amazing footage while you're out on the water.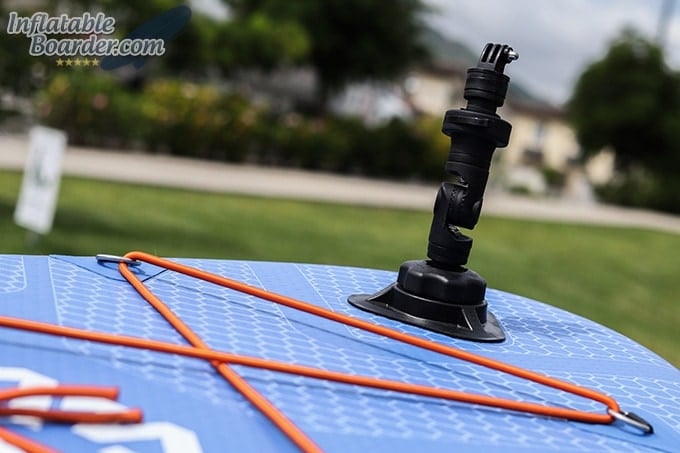 At the board's tail is a Halkey Roberts-style air valve as well as a 5th D-ring for attaching a SUP leash…
The underside of the board features an Aqua Marina BEAST graphic as well as a large, removable fin. The fin attaches securely to the board via a locking plastic clip, so there are no tools or screws to worry about.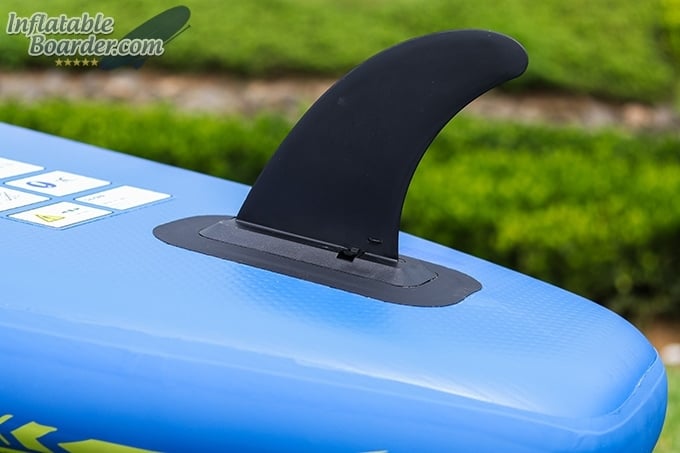 Performance
As we previously mentioned, this board offers great rigidity when it's fully inflated to 15 PSI. The BEAST is definitely more stable than the company's Fusion and Vapor models, and while it isn't designed to set any speed records, it glides well and is extremely fun to paddle.
We were anticipating that tracking might be an issue due to the fact that the board is configured with a single fin, but the BEAST tracks surprisingly well.
As far as maneuverability goes, this board performs extremely well and the raised kick tail is great for pivot turns.
Aqua Marina BEAST
Durability

Features

Versatility

Stability

Speed

Portability

Warranty

Customer Support

Price
Specs
| | | |
| --- | --- | --- |
| | Length | 10'6″ |
| | Width | 32″ |
| | Thickness | 6″ |
| | Weight | 20.5 pounds |
| | Max Capacity | 315 pounds |
| | Price | |
What's in the Box
Included with the Aqua Marina BEAST is a lightweight MAGIC iSUP backpack, high pressure hand pump, pressure gauge, GoPro mount kit, valve adapter, instruction manual, and an inflatable paddle board repair kit.
Aqua Marina's MAGIC backpack is a basic SUP bag that essentially wraps around your board when it's deflated and rolled up. The bag folds over the board and is secured by tightening the adjustable compression straps.
If you're looking for a bombproof SUP backpack that provides serious protection and can handle a ton of abuse (such as what the airlines dish out to checked luggage), you'll definitely want to look around for a heavier duty bag. However, if you're just looking for a super lightweight, minimalist iSUP backpack, this bag will work just fine.
On the back of the bag are two basic shoulder straps along with a sternum strap for stabilizing the pack when it's on your back. Also, the side of the bag features an open storage pocket for storing your SUP paddle.
Noticeably absent on this SUP bag are grab handles — we'd really like to see at least one added to the rear of the bag above the shoulder straps.
The included Jombo hand pump is a basic model and it comes with a screw on pressure gauge. This pump is not quite as efficient as some other SUP pumps due to the fact that it doesn't feature dual-action, but it gets the job done.
We really like the included GoPro action camera mounting kit that's included with the Aqua Marina BEAST. The super convenient mount can be easily inserted and secured to the nose of the board without the use of tools, and it's great if you want to capture some amazing footage of your paddling adventures. There's also a convenienty flip-lock lever that allows you to quickly remove the top portion of the mount — a great feature for those times when you want to grab some nice handheld shots while you're out on the water.
The included valve adapter allows you to inflate the board with an air compressor or tire pump, and the iSUP repair kit comes with two oversized PVC patches and a valve wrench.
Warranty
Aqua Marina covers all of their inflatable SUPs with a 12-month warranty which covers all manufacturing defects. We'd really love to see a longer warranty coverage period (such as 2 or 3 years), but the shorter warranty duration is understandable given the super affordable price points that Aqua Marina sells their boards at.
Final Thoughts
Overall, the new Aqua Marina BEAST is a super fun inflatable SUP that is affordable and includes some really cool features. This is an ideal all-around board for beginners and intermediate paddlers, and the versatile design allows it to perform very well in a wide variety of paddling conditions.
The BEAST offers good rigidity thanks to the 6″ thickness, and despite having only one fin, the board tracks surprisingly well.
We really like the eye-catching design of this new model, and the included GoPro camera mount is a great feature. We also really like the raised kick tail that Aqua Marina included — this comes in handy when performing pivot turns and other advanced maneuvers.
The included accessories are fairly basic but they do exactly what they're supposed to do. In the future, we'd love to see a SUP leash and entry-level paddle added to the SUP accessory bundle, as well as a grab handle on the MAGIC backpack. If you don't already own a paddle, we'd recommend checking the new Aqua Marina Carbon Pro and Carbon Guide models.
All in all, we were very impressed with Aqua Marina's BEAST iSUP and highly recommend it for budget-minded paddlers in search of a super fun, all-around iSUP.