Isle Pioneer Pro 10'6″ iSUP Review | 2023
Inflatable Boarder is reader-supported and may earn a commission when you buy through links on our site. Learn more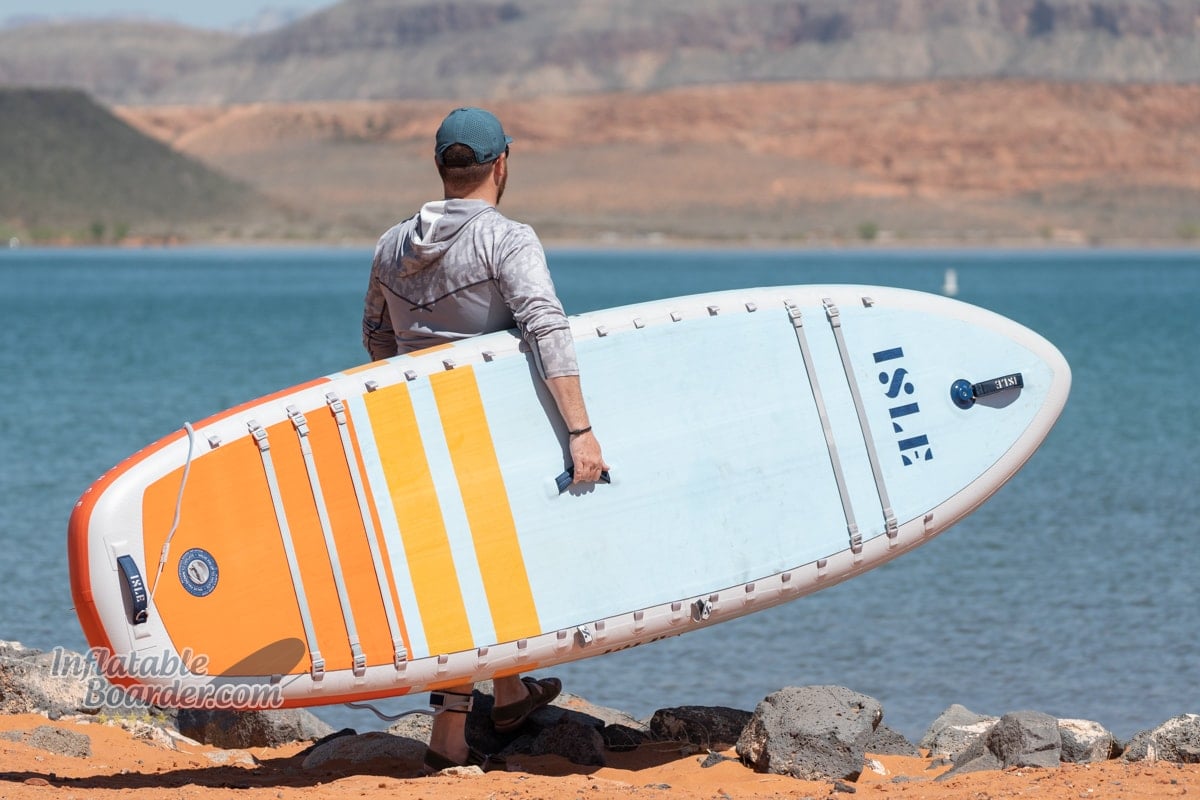 Isle Pioneer Pro 10'6": Overview
The Isle Pioneer Pro 10'6" is the next evolution of the already highly capable Pioneer 2.0. The Pioneer Pro 10'6" uses Isle's new Airtech Prolite construction to become a performance all-around paddle board, but still maintains its beginner friendly stability and handling. The Isle Link system and Isle kayak conversion accessories are able to turn the Pioneer Pro 10'6" from a performance all-around iSUP into a performance all-around sit-on-top kayak in less than five minutes. The Pioneer Pro 10'6" is an incredibly fun and capable all-around board for paddlers of all sizes and skill levels.
Specifications
Dimensions
Length
10' 6"
Width
34"
Thickness
6"
Weight
Max Capacity
325 pounds
Board Weight
23 pounds
Kit Weight

pounds
Buying Info
List Price
Warranty
4 years
Returns period
60 days
— Isle Pioneer Pro 10'6" Summary Ratings and Review —
Isle Pioneer Pro 10'6"
Construction & Durability

Features and Versatility

Stability

Speed

Maneuverability

Tracking

Warranty & Customer Support
Overall Score
The Isle Pioneer Pro 10'6" expands on the already great performance of the Pioneer 2.0 with enhanced construction and more versatility and features.
Pros
Incredible near-hard-board rigidity thanks to the new Infinity Fiber stringers and internal construction upgrades
Increased durability and longevity with welded internal seams
Full customization for storage, kayak seat attachment points, and other accessories with the Isle Link system
Fantastic stability with a 34" width and wide nose and tail shape
Stretch out for some yoga (or relaxation) on the full-length deck pad
Excellent balance of maneuverability and tracking
The Pioneer Pro 10'6" makes an excellent sit-on-top kayak when paired with the Isle inflatable kayak seat
4 year warranty for the board and 2 year warranty on accessories
Cons
The Isle Link system is excellent for basic items like shoes, water bottles, and dry bags, but there is only one mounting point option (on the nose) for action cameras or similar accessories.
A paddle and pump are not included with the Pioneer Pro kit, but this does allow you to skip the "kit" items and get the exact pumps/paddles to suit your needs.
Construction and Durability
The Pioneer Pro 10'6" uses Isle's new Airtech Prolite construction for an extremely rigid, high performance ride that will last a very long time.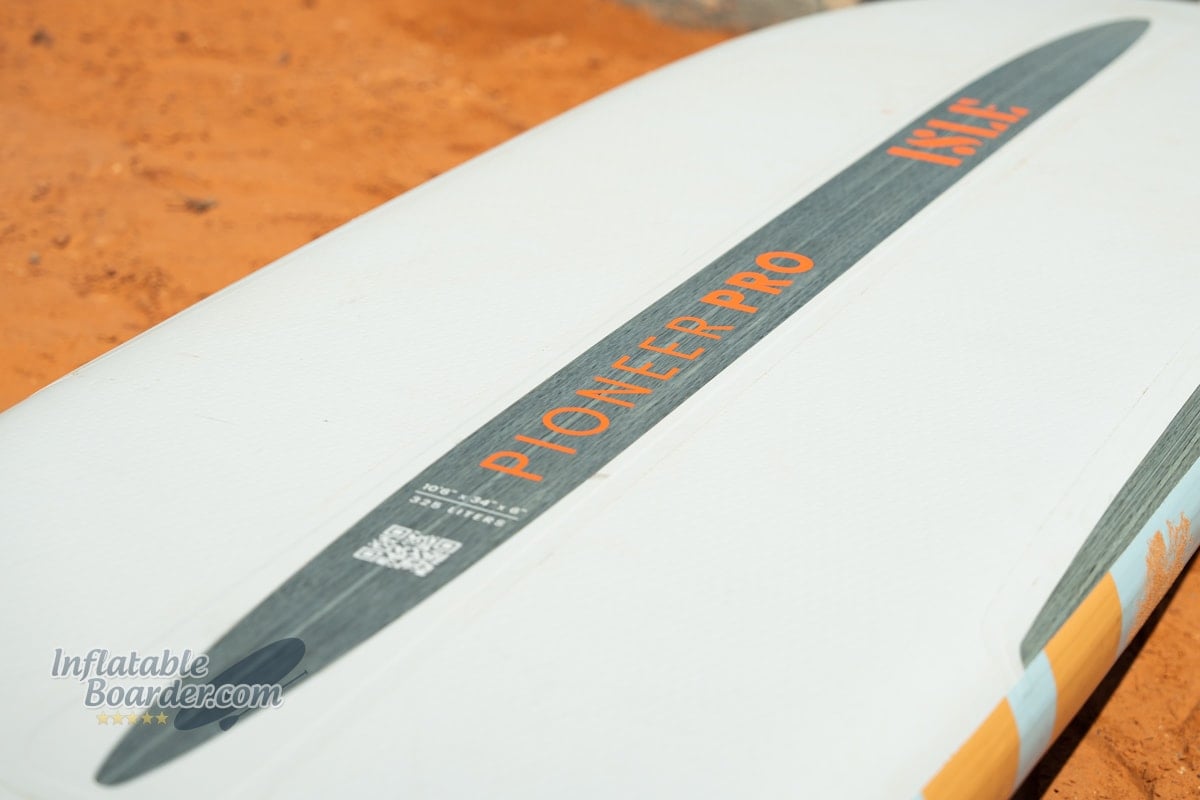 The Airtech Prolite construction has three key elements. The first is the woven fabric base layers and crossed drop stitch yarns inside the board that reduce weight and increase stiffness compared to more common materials.
In addition to the upgraded internal structure, the Pioneer Pro 10'6" also gets an upgrade to a fusion PVC skin on the deck and hull. Fusion material uses heat and pressure, rather than gluing by hand, to bond the reinforced PVC material directly to the drop stitch core. This creates a more lasting bond and an overall more rigid material.
The second key component of the Airtech Prolite construction are welded internal seams. The top and bottom layers of the board are joined together by a band of PVC material all the way around the side of the board. In a standard construction these layers are glued together. By using heat and pressure to weld the inner rail band to the top and bottom, the three sections become mechanically fused into a single piece of material. This is not only more durable than gluing the layers together, but also adds to the rigidity of the board.
Lastly, but certainly not least, the Pioneer Pro 10'6", like all of Isle's "Pro" series iSUPs gets six additional stiffening stringers made with a proprietary material Isle is calling "Infinity Fiber." Infinity Fiber is a combination of fiberglass strands held together in a plastic matrix. When the board is inflated the Infinity Fiber stringers become extremely rigid and resist flexing and bending. However when the Pioneer Pro 10'6" is deflated, these stringers roll up with the board for easy storage and transportation.
The deck and hull each get a wide band of Infinity Fiber bonded to the midline of the board, stretching across most of the length of the board and acting a bit like the top and bottom sections of an I-beam.
The other four Infinity Fiber stringers are located at the mid section of the board (the standing area) and are on the top and bottom "corners" of the rails (seen in the photo at the beginning of this section). These stringers have a concave shape that aligns with the transition from the deck/hull to the rails. They look (and act) a little like a retractable tape measure. The curved shape keeps them extremely rigid when the board is inflated, but they can still be rolled up.
I keep bringing up how the Airtech Prolite construction makes the Pioneer Pro 10'6" rigid. But what does that actually mean?
The first answer to that question is boring and technical. With all of this new technology, the Pioneer Pro 10'6" has become the stiffest board we've tested so far out of 76 different models. Technically it's tied for first place with a couple of Isle's other "Pro"-series iSUPs with the same construction. In our 170 lbs static bend test the Pioneer Pro 10'6" bent just 0.866 inches (2.2 cm). All of this testing was done at the maximum recommended pressure of 17 PSI.
I actually had to adjust my testing units from inches to millimeters because of these new paddleboards!
Now for the far more important answer – What does this mean on the water? The first thing I noticed is that there is no flex at all in the Pioneer Pro 10'6" when I'm just standing on it or paddling normally. Like absolutely none. It's kind of weird, actually! When bouncing up and down to test the flex it is incredibly minimal. There is a fairly tight rebound feeling (vs a very relaxed, soft feeling) once I stop bouncing and the board settles down, but even that rebound is minimal. While walking on the board I can feel a small amount of that vibration, but only when I'm looking for it. The same goes for when paddling over larger chop or boat wakes. When the board comes down off the wave there's a small amount of vibration, but that's it.
That rigidity on the water helps with both stability and with efficiency as I'll discuss later in the review.
When Isle first introduced these new iSUPs to us, they used the term "inflatable hardboard." While I'm not going to say that the rigidity is the same between the Pioneer Pro 10'6" and a similar size hardboard, it's extremely close – the closest I've ever experienced.
Features, Accessories and Versatility
The Pioneer Pro 10'6" is an extremely versatile paddleboard, though it looks quite minimalist. The Isle Link system, full length deck pad, shape, stability, and available accessories make the Pioneer Pro 10'6" a Swiss Army knife of paddle craft as it works extremely well as a SUP or kayak.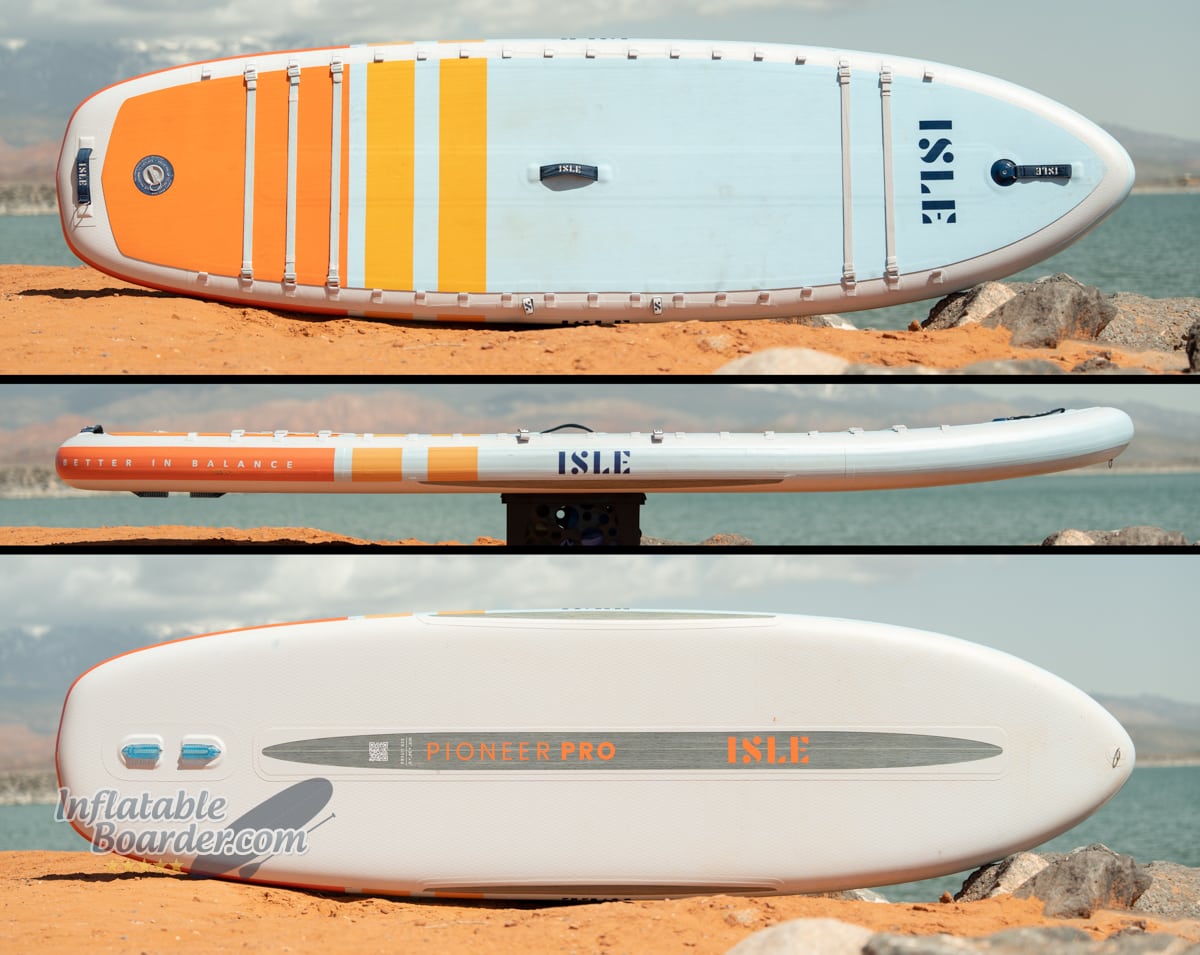 The Isle Link system allows you near-limitless options when it comes to setting up the Pioneer Pro 10'6". You can swap the position, orientation, and tension of the Isle Cargo Management System straps in just seconds. The lay-flat elastic straps are heavy duty and matched with durable plastic G-hooks to connect to the Isle Link tabs lining the sides of the board. There are 36 total Isle Link tabs you can use however you'd like. You can adjust the tension on the straps by removing the G-hook from the loop, then freely sliding the strap through the buckle. Once the G-hook is attached to the loop and the strap is under tension, it locks against itself to prevent it from loosening.
You can also quickly convert the Pioneer Pro 10'6" into an excellent sit-on-top kayak with the Isle inflatable kayak seat, foot brace and the Isle Link tabs. You can easily adjust the position of the kayak seat and foot brace to level the board (adjusting forward or backward to account for cargo or passengers), and set the foot brace to the perfect length for your legs.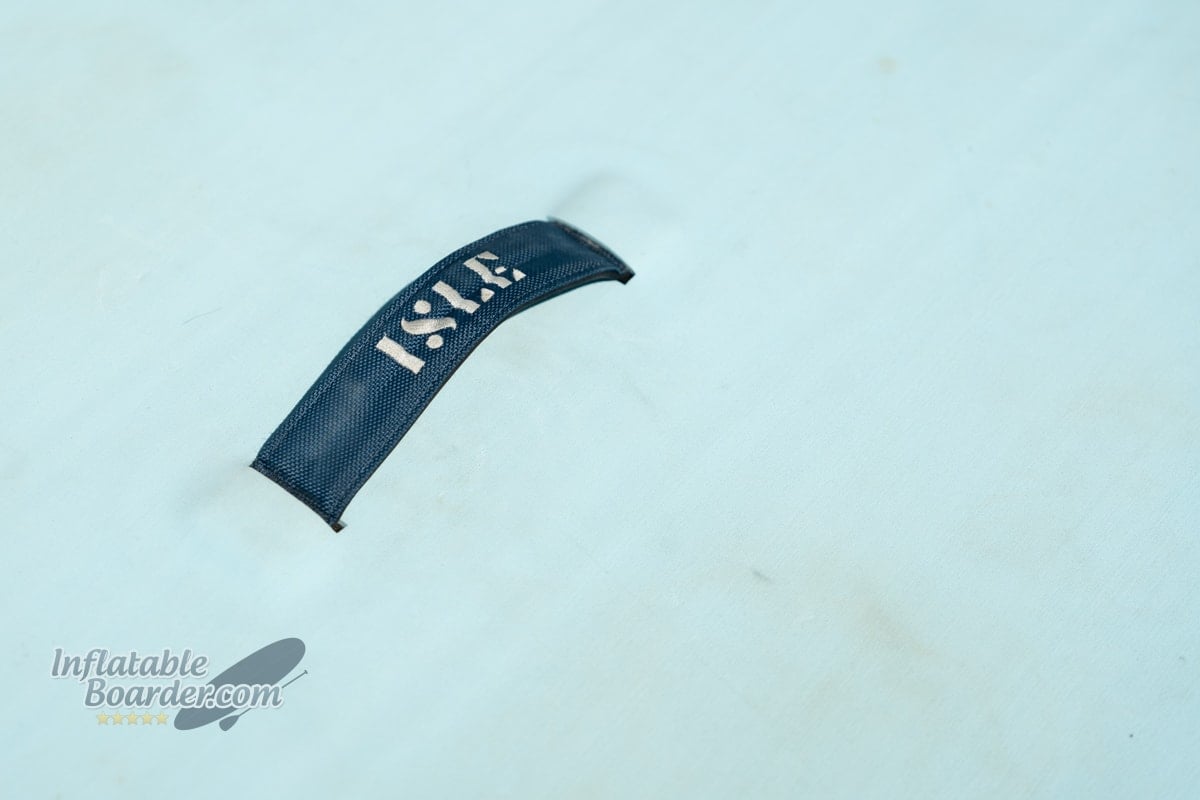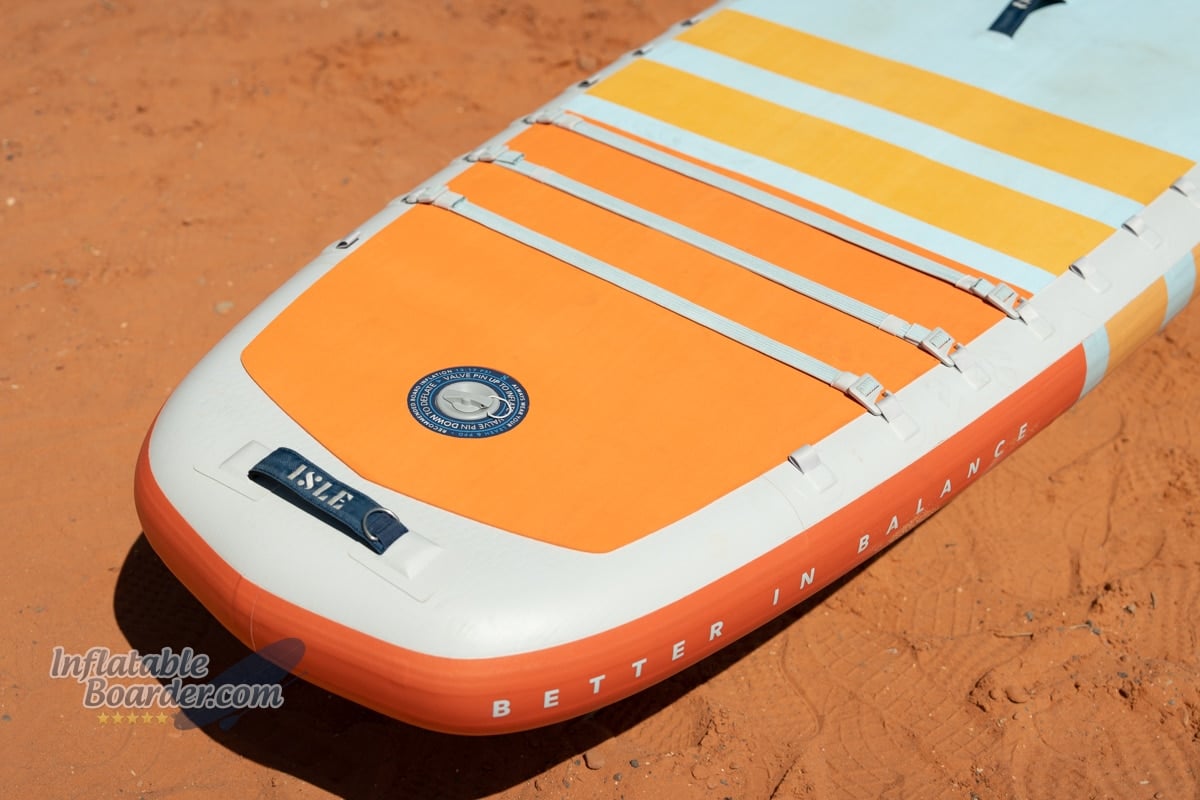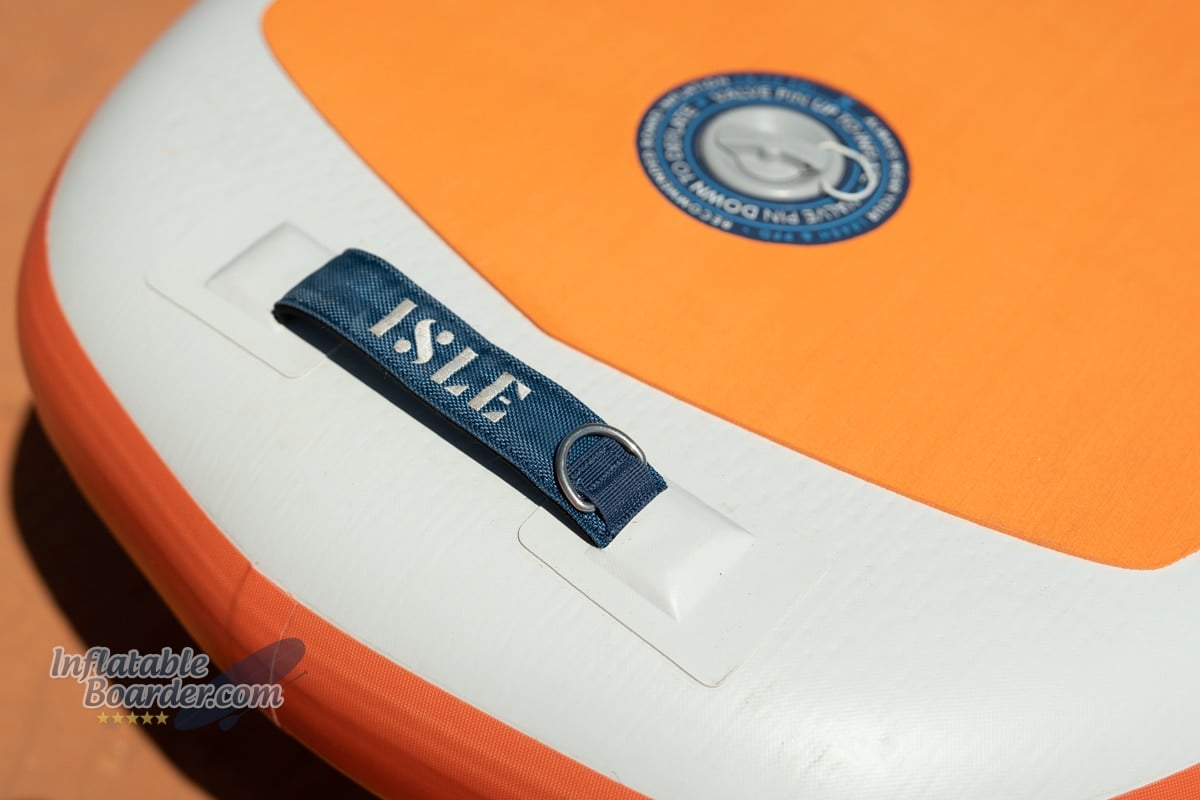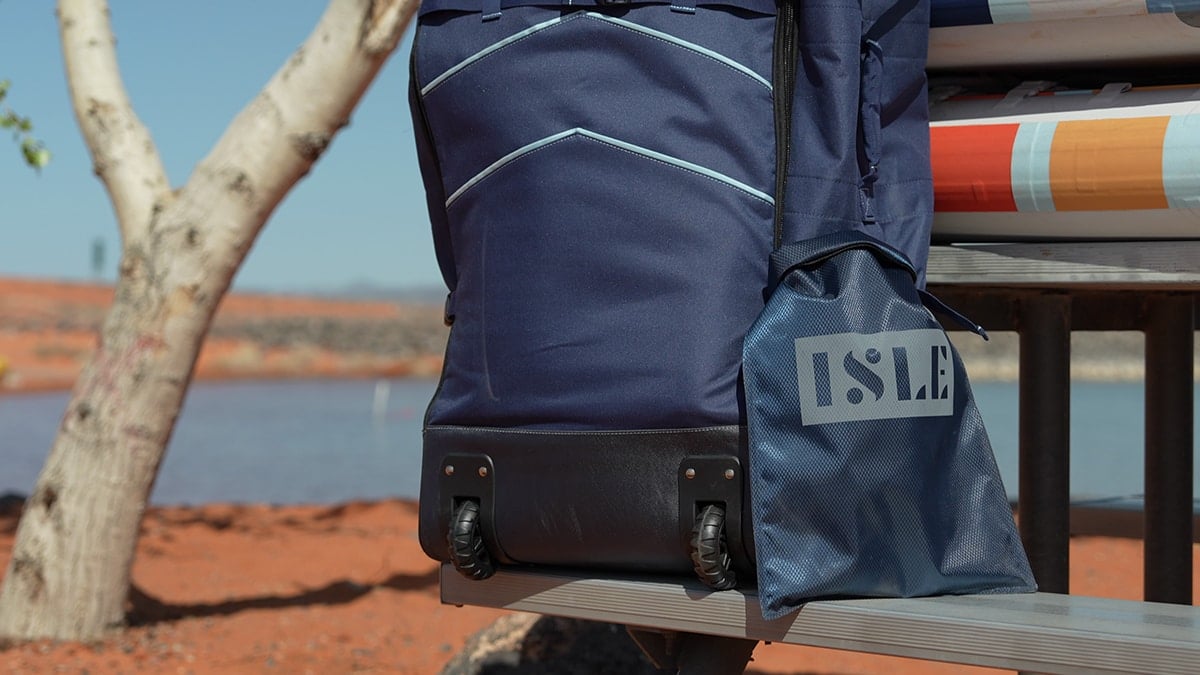 The Pioneer Pro 10'6" is being sold as a basic kit with just the board, bag, fin, leash, and repair kit. You have the option of completing your kit with a pump, paddle, and other optional accessories of your choice. While the Pioneer Pro 10'6" doesn't come as a turn-key kit automatically, the build-a-kit options allow you to pick the exact items you want rather than being forced to get items you may not want. This method allows you to swap in an electric pump instead of a hand pump, opt for a higher quality carbon fiber paddle, and/or add on accessories like Isle's inflatable kayak seat or Isle Link-compatible fishing crate as desired.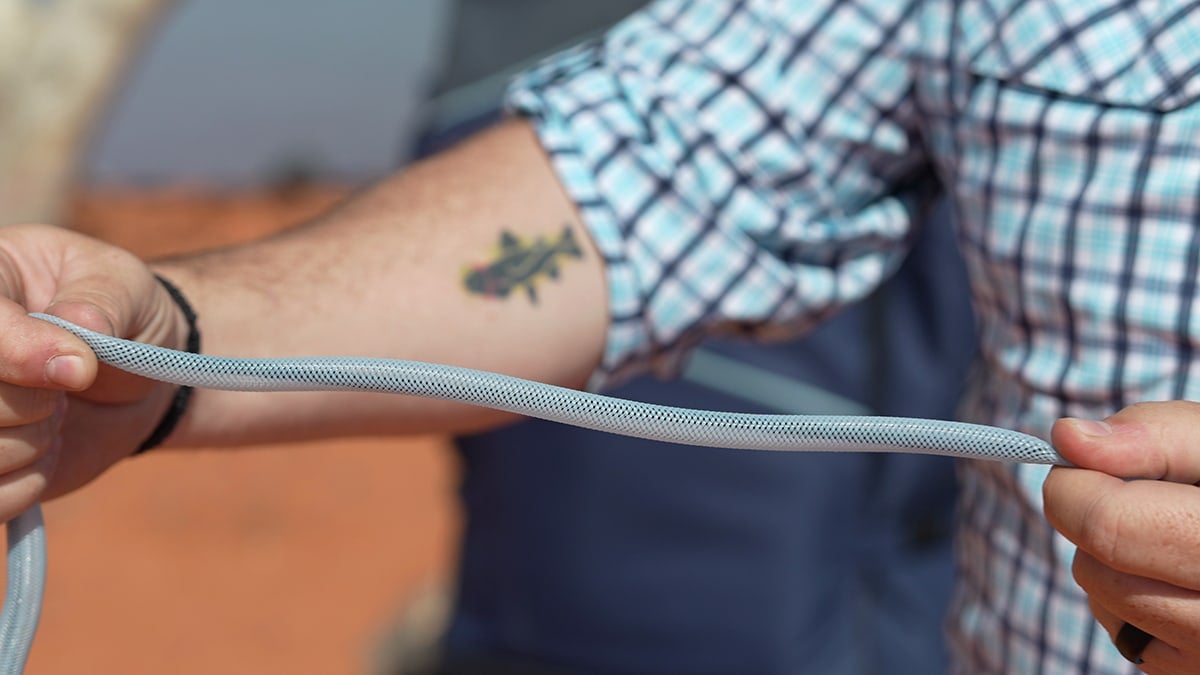 In addition to being an excellent paddleboard, the Pioneer Pro 10'6" also makes a great sit-on-top kayak. The Isle Link system allows you to easily add the Isle inflatable kayak seat and foot brace in whichever position suits your needs and comfort. The wide, stable shape of the Pioneer Pro translates well into a comfortable and stable kayak that retains the same excellent maneuverability and tracking you get when using the Pioneer Pro 10'6" as a SUP.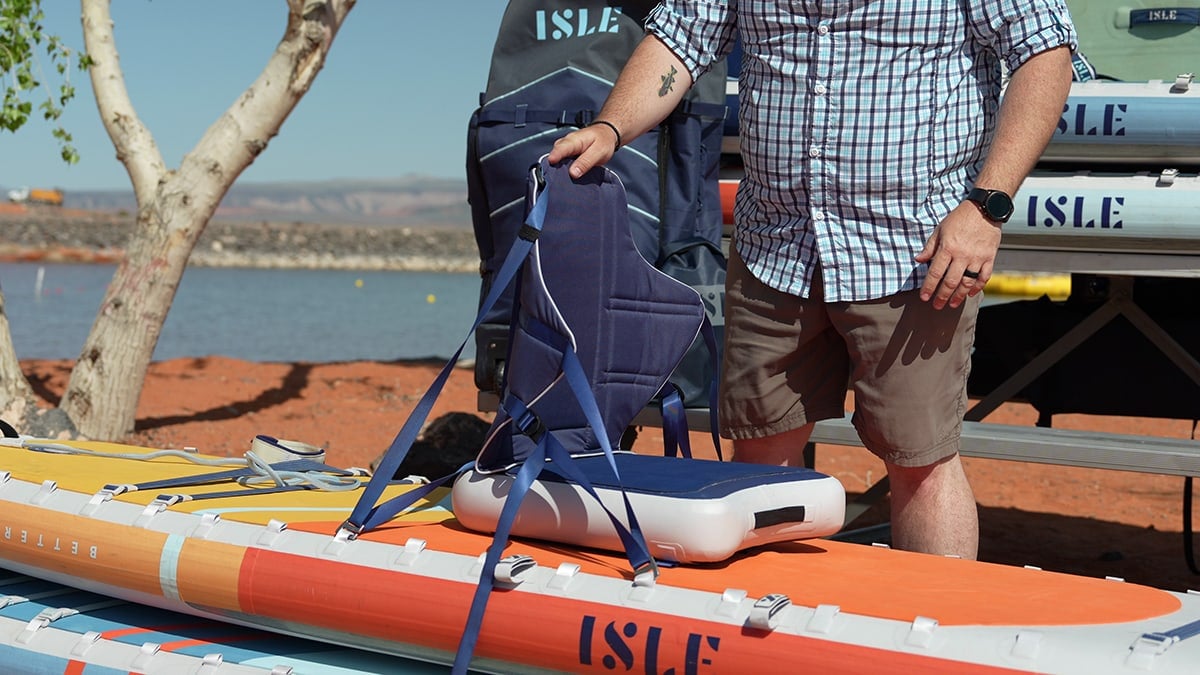 The foot brace that comes with the kayak seat is a great addition for both comfort and efficiency. By having something to place your feet against while paddling it helps keep your legs in an ergonomic position (along with the elevated seating position), and it allows you to engage your whole body while paddling by pressing against the brace with your feet – just like you would in a high-performance kayak.
Paddle
While the Pioneer Pro 10'6" doesn't come with a paddle, Isle's new Carbon Fiber Hybrid paddle is well matched for this board.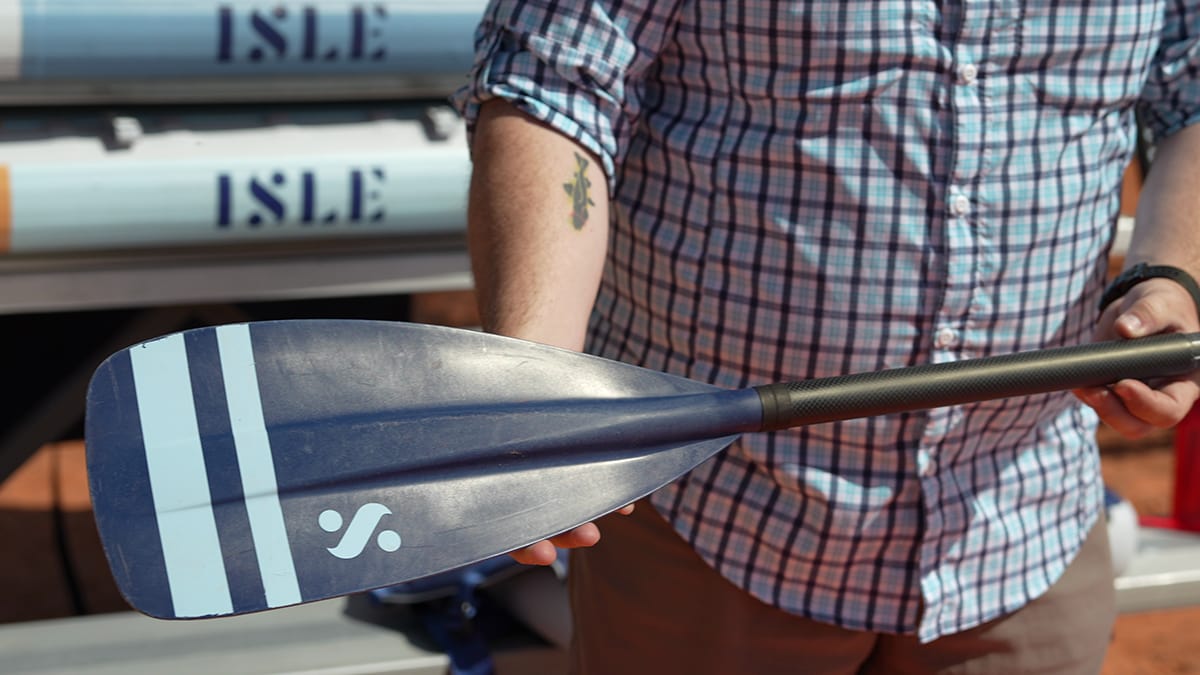 The medium-size fiber reinforced blade has enough surface area and stiffness to cruise along comfortably while the carbon fiber shaft reduces weight and has just enough flex to keep you out on the water for hours.
Additionally, the optional carbon fiber hybrid paddle can be fitted with a second blade for use with the Pioneer Pro 10'6" as a kayak. But Isle has gone above and beyond with this paddle conversion. While most simply swap a handle for a blade, the Isle carbon fiber hybrid paddle also gives you the option to adjust the feather angle of the blades from 0° to 45° Left or Right.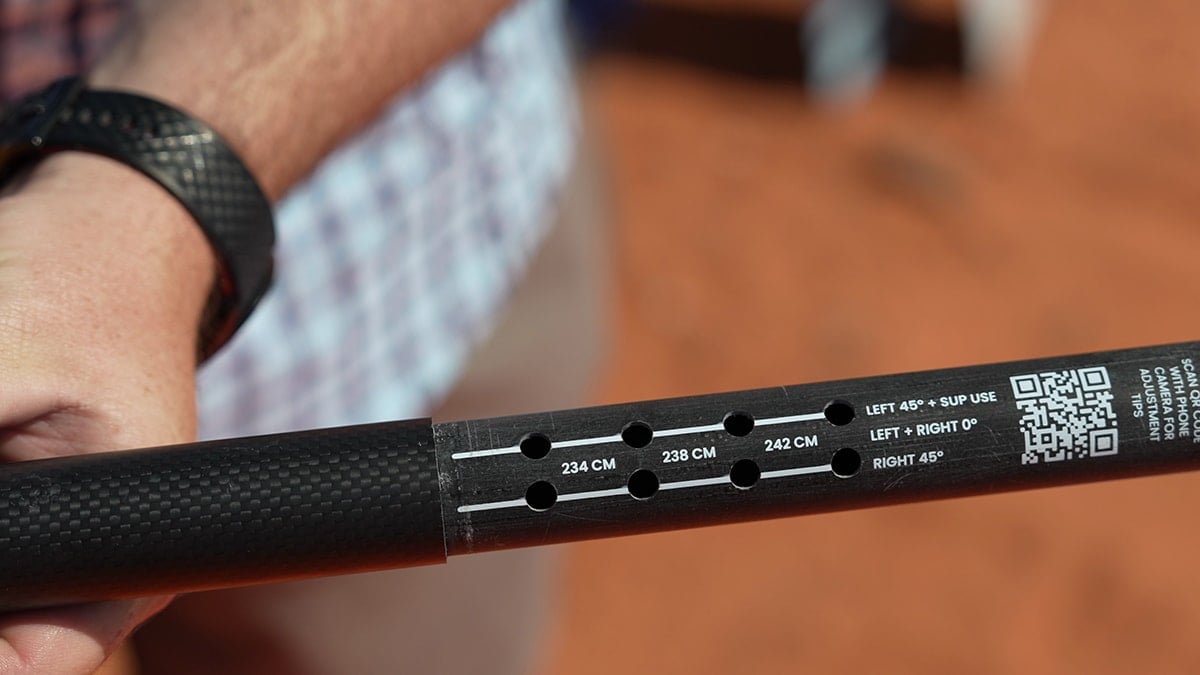 Feathering the blades (so they are angled against each other) gives you better ergonomics in your wrists while paddling, and it helps reduce wind drag when paddling into a breeze.
Stability
With its incredibly rigid construction and ample size, it's no surprise that the Isle Pioneer Pro 10'6" is an extremely stable paddle board.
At 10'6" long and 34" wide, the Pioneer Pro shares the same size and essentially the same shape as the Pioneer 2.0. The Pioneer Pro 10'6" has a wide rounded nose, parallel mid section (thanks to the Infinity Fiber stringers), and a wider tail with less taper than the Pioneer 2.0.
The wide outlines and stiff construction make the Pioneer Pro 10'6" extremely stable even when standing far off from the middle of the board. I didn't feel any rocking or twitching sensations while standing or paddling. Combined with the lack of flex in the board and it's easy to forget that you are standing on the water!
Even when the Pioneer Pro 10'6" isn't flat on its hull it remains extremely stable. While rocking the board from side to side it dips and resurfaces cleanly and smoothly. The parallel mid section and very mild taper to the front and back of the board also give you an extremely consistent feeling as you tip and hold the board farther and farther onto its side. This secondary stability is critical in how stable the board will feel while paddling in less-than-ideal conditions.
The wide tail and stable shape also benefits the paddler who likes to sit down from time to time. When placing the optional kayak seat on the Pioneer Pro 10'6" you can adjust exactly where you want to sit to get the perfect level trim, or you can slide back a few inches to raise the bow when paddling in heavier chop. On boards and boats with narrow tails, sliding back like this normally reduces stability, but the 26" wide tail keeps things feeling solid. The same goes for if you load the board up with a cooler, fishing gear, or camping equipment (or with another person or if you are spread out for some SUP yoga).
Speed
The Isle Pioneer 10'6" performed a little bit higher than average in our speed test, but it really shines while cruising at more casual speeds.
The Pioneer Pro 10'6" is a cruiser-style all-around iSUP. It's designed with a wide, stable, shape for good times with good friends, though not necessarily fast times. That being said, the rigid construction helps keep the Pioneer Pro 10'6" nimble on the water and cruising easily.
No matter the board, we always put it through our full range of tests including speed testing. The Pioneer Pro 10'6" gave us a very respectable average sprinting speed (one that could be held for 100-200m) of around 5.0 mph (8 kmh) and a top speed of 5.2 mph (8.4 kmh). So we're not winning any races on the Pioneer Pro 10'6", but it's still got some umph available if you want to go faster. One thing I did notice while sprint-testing the Pioneer Pro 10'6" was how it resisted flexing and bouncing. The rigid construction really helps keep the board gliding across the water rather than bending and bobbing like some more flexible iSUPs are want to do.
When we get into the cruising speed and efficiency testing, the Pioneer Pro 10'6" really starts to shine. Paddling at a casual cruising pace (25 strokes per minute, or slightly more time relaxing than paddling), the Pioneer Pro 10'6" clocked in at 3.2 mph (5.1 kmh). That's a pretty mid-range cruising speed for most all-around iSUPs, but when you factor in the extra wide size (34" wide) and shape, plus the great stability, that's actually pretty impressive.
When paddling for longer distances, how efficiently your paddle board moves across the water is pretty important. Typically a board that is shorter, wider, and less rigid will not glide as well as a longer, narrower, more rigid one. The Pioneer Pro 10'6" is relatively short and wide, but it's quite rigid. So how did it do in our glide test? Well with each paddle stroke the Pioneer Pro 10'6" traveled about 17.5 feet on average before it began to noticeably slow down. That gives it a glide ratio of 1.66 board-lengths per stroke. Most all-around and cruising iSUPs fall somewhere in the 1.3-1.6 board lengths range, and longer more touring oriented iSUPs start out in the 1.7 board lengths range. So the Isle Pioneer Pro 10'6" crushed it!
Maneuverability and Tracking
The Pioneer Pro 10'6" beautifully balances its tracking and maneuverability performance, adding to its incredibly versatile nature.
Cruising the lake with your friends is a great way to spend the day, that is, unless you are constantly running into things or spinning in circles! So it's important to be able to both paddle straight when you want to and turn when you want to. I found that the Pioneer Pro 10'6" does a great job of splitting the difference between these two, essentially opposite, performance characteristics.
In our maneuverability test, we stress-test a board's ability to turn by forcing it to go in a full circle with one of the least-efficient ways to turn an iSUP – the forward sweep stroke. In the case of the Pioneer Pro 10'6" it only took an average of 5.25 forward sweeps (paddling in an arc from nose to tail) to turn a full 360°. For such a wide board equipped with a touring-style fin this is a really good result. Of course, most of the time you don't need to turn in a full circle, and if you do there are far better ways to do it.
Using reverse sweeps (paddling in an arc from tail to nose) works against the fin rather than with it, and you can turn that same circle in just 3.5 strokes. Lastly there's always the option to step back onto the tail for a pivot turn. The Pioneer Pro 10'6" has a wide tail that provides tons of stability for pivot turning, though that stability could be improved further with the addition of a raised kick pad. Once you have the nose lifted and the tail under the surface the Pioneer Pro 10'6" turns easily and can turn in a full circle in under 2 paddle strokes. Careful though – it's so easy and fast to turn the board that I found myself getting dizzy!
Steering the Pioneer Pro 10'6" is likewise easy to do. It responds well to the occasional sweep stroke or draw stroke to redirect the nose wherever you want it to go. The same is true when using the optional kayak conversion kit. The same sweep and draw strokes easily adjust your course and turn your boat wherever you'd like to go.
With good maneuverability performance under wraps I turned my attention to checking the Pioneer Pro 10'6" tracking ability – how easily will it keep paddling in a straight line?
To test tracking, I perform a 10-stroke tracking test. I paddle normally toward a distant "target" and once moving directly toward it I begin paddling on one side of the board only for 10 paddle strokes. At the end of the 10 strokes I see where the board is now pointed, and I measure that difference using a compass and repeat the test on the other side.
I found that the Isle Pioneer Pro 10'6" has excellent tracking performance, especially for a relatively short and wide paddle board. After 10 strokes on a side I was only off course by an average of 10°. That's really good for a cruiser-style iSUP, and even starts to compete with some touring-style iSUPs.
Staying on course while paddling normally was also extremely easy. Since the Pioneer Pro 10'6" responds well to steering input with the paddle, I had no issues paddling in a straight line with minimal correction strokes and only needing to switch sides when I wanted to (which is usually 6-8 strokes when I'm cruising around).
The great blend of maneuverability and tracking performance is aided in no small part by the single 9" touring-style fin that comes with the Pioneer Pro 10'6". This style of fin typically provides better tracking performance and stability than a more surf-style "dolphin" shaped fin. The single, split-style US fin box is well placed to keep the board easy to turn when you want to, while the touring-style fin helps keep you moving straight when you don't.
The split-style fin boxes are becoming more popular for inflatable paddle boards for a few reasons. First, they can make rolling your board a little easier since you can bend through the fin box. Second, by splitting the fin box the chance that the fin box could crack during transportation and storage if rolled improperly is greatly reduced.
Isle includes both click-fin inserts for tool-free installation and removal of the fin, and an "upside down" fin nut and bolt. Rather than having a loose square nut and a bolt with a screw head, the bolt and nut are joined together for easy placement and alignment with the fin. Then you simply screw the included round nut onto the bolt to hold the fin in place. I really like this style of nut and bolt as it makes alignment and installation much easier. I will also say that if you do use the bolt and nut, take the click fin inserts out. It's a bit tricky to both line up the fin bolt and press the click fin insert into the fin box at the same time.
Warranty and Customer Support
Isle is very excited about this new line of Airtech Prolite construction, and is so impressed with the rigidity and durability that they have extended their standard 2-year warranty for iSUPs to 4 years for all Explorer Pro and Pioneer Pro models. Isle still offers a 60-day return period where you can return your board for any reason, less a 20% restocking fee. If you have any questions for Isle about their warranty or products, you can contact them via phone, webform, or social media.
Overall Impressions/Review Summary
After a week of paddling the new "Pro" series of iSUPs from Isle, I found myself favoring the Pioneer Pro 10'6" as my choice of all-around/cruiser iSUP. I found the size to be very comfortable to paddle and the balance of maneuverability and tracking were great for just casually paddling around the lake. There's enough capacity and stability that I could easily throw on a small cooler for the day's lunch and beverages without feeling like I'm even close to overloading the board. The Isle Link system makes it easy to micro-adjust where I put everything so I can keep a water bottle and sunscreen within easy reach.
When I put the Isle inflatable kayak seat on the Pioneer Pro 10'6", and swapped out my SUP handle for another paddle blade it really did feel like I was paddling a quality sit-on-top kayak. The stability was still great, maneuvering was a breeze, and the Pioneer Pro 10'6" seemed to glide across the water without much effort.
The Pioneer Pro 10'6" and the rest of Isle's "Pro" series of paddle boards have been awesome to paddle. They perform very well on the water and offer a ton of versatility for the paddler who wants to do a little bit of everything. The multiple size options allow you to really find a board that fits you and your style without sacrificing performance. The Pioneer Pro 10'6" quickly became one of my favorites, and I have no hesitation in recommending it to anyone looking for a quality, versatile, cruiser iSUP and inflatable kayak.
Isle Pioneer Pro 10'6" iSUP FAQ
What is the difference between the Isle Pioneer 2.0 and Pioneer Pro 10'6"?
The Isle Pioneer Pro is the next evolution in inflatable paddle board technology. With the inclusion of high-quality, lightweight drop stitch and PVC materials along with the new Infinity Fiber stringers, the Pro-series iSUPs offer industry-leading stiffness and essentially an "inflatable hard board" paddling experience.
What is the difference between the Isle Pioneer Pro 10'6" or the Isle Pioneer Pro 9'6" and Pioneer Pro 11'6"?
The Isle Pioneer Pro 10'6" offers the most versatile size and performance of the Pioneer Pro lineup. It's a great size to fit most paddlers for a variety of uses from cruising to yoga to fishing. The Pioneer Pro 9'6" trades in some tracking and stability for excellent maneuverability, and the Pioneer Pro 11'6" trades in some maneuverability for extreme stability.
Is the Pioneer Pro 10'6" compatible with a kayak seat?
The Pioneer Pro 10'6" is compatible with the Isle inflatable kayak seat and foot brace. This kayak seat is highly adjustable and can be placed anywhere on the Pioneer 10'6". The Pioneer Pro 10'6" paddles extremely well as a kayak and is comfortable to use thanks to the ergonomic considerations Isle made with their kayak seat and convertible paddle.
Can I paddle with kids or dogs on the Isle Pioneer Pro 10'6"?
Absolutely. The Pioneer Pro 10'6" is extremely stable and easy to paddle. The full length deck pad provides plenty of room for a child or dog to get comfortable, and the 34" width makes it easy to keep everyone on the board.