An exciting new SUP company that's wasted no time in launching an impressive lineup of inflatable paddle boards, UK-based Bluefin SUP is making a name for itself in the paddle boarding industry by offering high-quality iSUPs at extremely affordable price points. Bluefin SUP's inflatables are some of the stiffest on the market, include a value-packed accessory bundle, and are backed by the best warranty available today.
Bluefin SUP is a friendly, family-owned business with a passionate staff that is dedicated to producing premium inflatable paddle boards at a price point that anyone can afford. While Bluefin's boards have already enjoyed a great deal of popularity in the UK, the company is now starting to focus on expanding its presence in both the United States and Canada.
All Bluefin inflatable paddle boards come with a nice bundle of SUP accessories and an industry leading 5-year warranty. Needless to say, this young company is making a bold statement about the quality of their iSUPs by offering a warranty that extends far beyond the typical 1 to 3 years that you usually hear about in our inflatable SUP reviews.
Bluefin SUP Paddle Boards Compared
Bluefin SUP Reviews
Bluefin Cruise Junior
Kids SUP | 8′ x 29″ x 5″
An ideal board for the kiddos, the 8′ Bluefin Cruise Junior is loaded with the same great features and accessories as the company's popular full-sized boards. This versatile youth SUP provides outstanding durability and provides a stable, confidence-inspiring platform for younger paddlers.
Included with Bluefin's Cruise Jr. is a dual-action SUP pump, travel backpack, 3-piece fiberglass paddle, ankle leash, iSUP repair kit, kayak blade attachment, and adjustable kayak seat.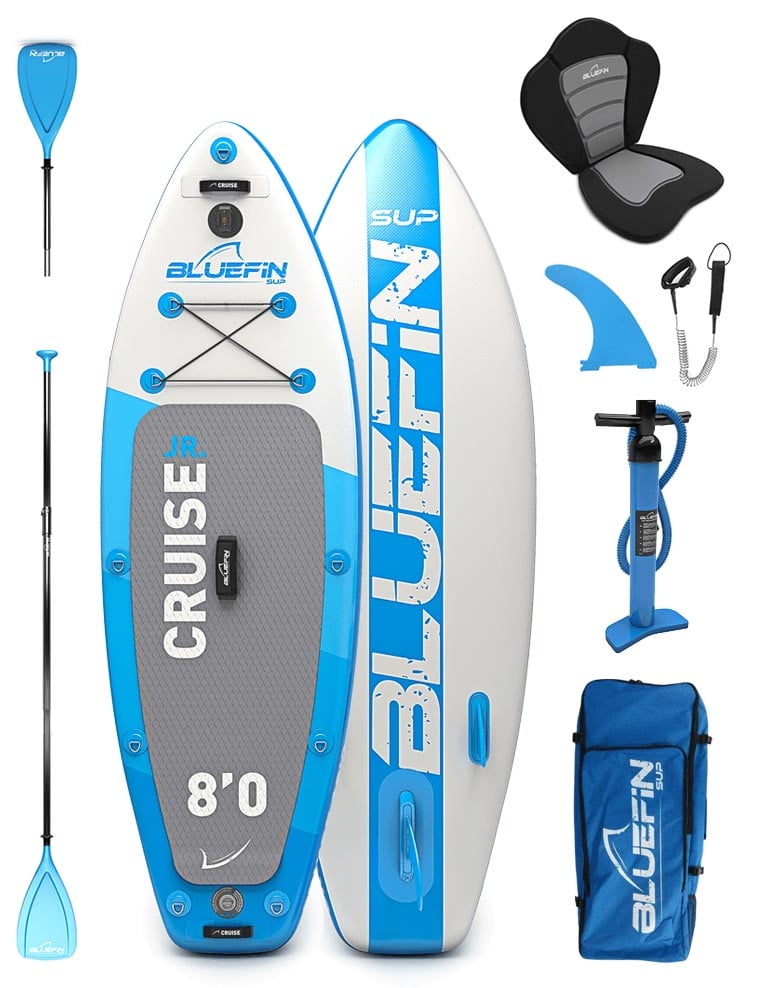 Bluefin Cruise 10'8 & 12′
All-Around SUP | 10'8″ or 12′ x 33″ x 6″
The Bluefin Cruise family consists of the company's entry-level all around paddle board models. Available in 10'8″ and 12′ the affordable Bluefin SUP Cruise boards are extremely versatile and loaded with solid features.
Constructed from 1000 Denier PVC and featuring a high-quality drop-stitch core, the Bluefin Cruise SUPs are incredibly durable, stable, and capable of being inflated all the way to 28 PSI.
Both of these models include a high-pressure hand pump, fiberglass travel paddle, backpack, leash, kayak seat, kayak blade attachment, and repair kit.
Learn more about these boards in our Bluefin Cruise 10'8″ SUP board review and our Bluefin Cruise 12′ SUP board review.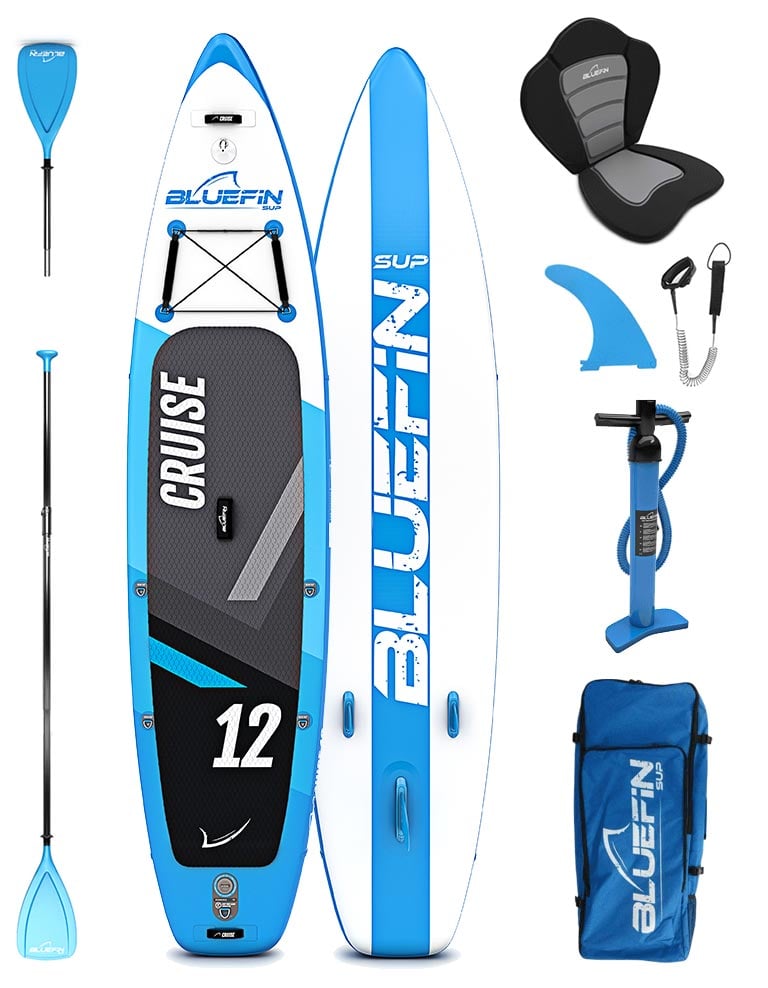 Bluefin Cruise 15′
Tandem SUP | 15′ x 36″ x 6″
The Bluefin Cruise 15′ is a somewhat unique board, made primarily for tandem paddling whether standing or sitting with dual kayak seats. Since this board can hold up to 529 pounds and is 36 wide, it would also be an appropriate solo touring board for very big and tall paddlers.
Constructed from 1000 Denier PVC and featuring a high-quality drop-stitch core, the Bluefin Cruise SUPs are incredibly durable, stable, and capable of being inflated all the way to 28 PSI.
This model includes a high-pressure hand pump, two fiberglass travel paddles, backpack, leash, two kayak seats, two kayak blade attachments, and repair kit.
Not only does this board provide versatility, but also performance and good value for your money. Our Bluefin Cruise 15′ SUP board review can fill you in on more details.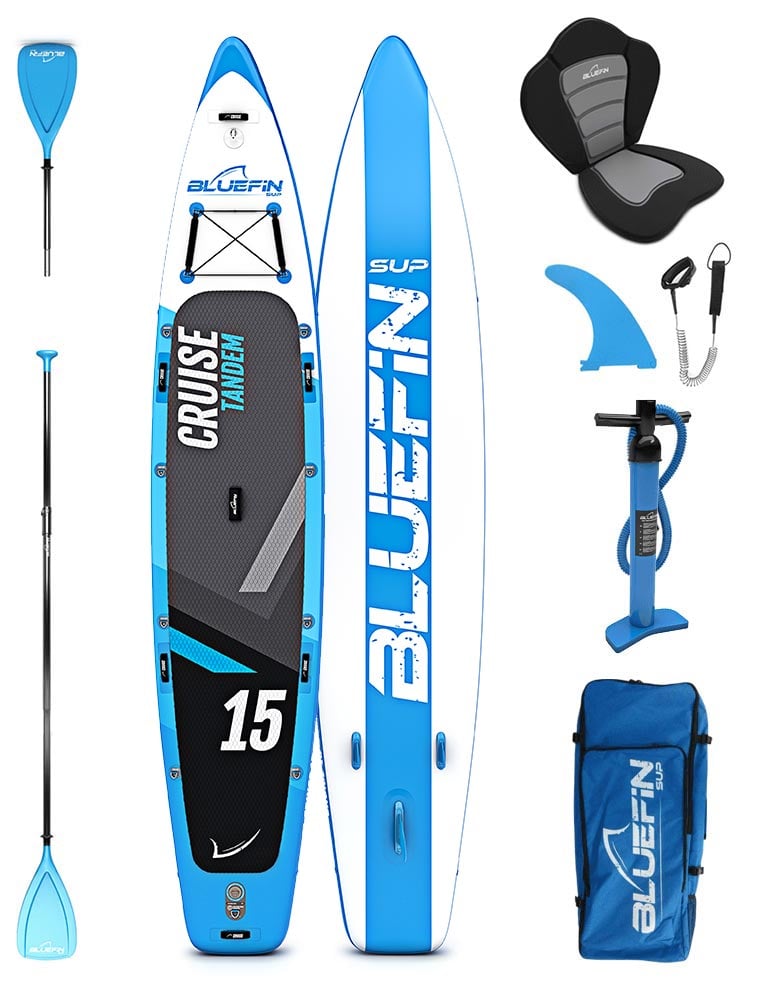 Bluefin Cruise Carbon 10'8 & 12′
Advanced All-Around SUP | 10'8″ or 12′ x 32″ x 6″
The company's premium line of all-around iSUPs, the Bluefin SUP Cruise Carbon boards feature dual-air chambers and FRS carbon composite rail reinforcements for the ultimate in inflatable SUP stiffness. In addition to the boost in rigidity and performance, Bluefin's Cruise Carbon iSUPs also offer an additional layer of safety, thanks to the twin inflation chambers. In the unlikely event that your board develops a leak while on the water, the second chamber will keep you afloat and allow you to make it safely back to shore.
All Bluefin Cruise Carbon paddle boards include a lightweight carbon fiber travel paddle, dual-action pump, leash, repair kit, kayak seat, and kayak blade attachment. 
For more information on Bluefin SUP's premium line, read our in-depth Bluefin Cruise Carbon 10'8″ SUP board review as well as the Bluefin Cruise Carbon 12′ SUP board review.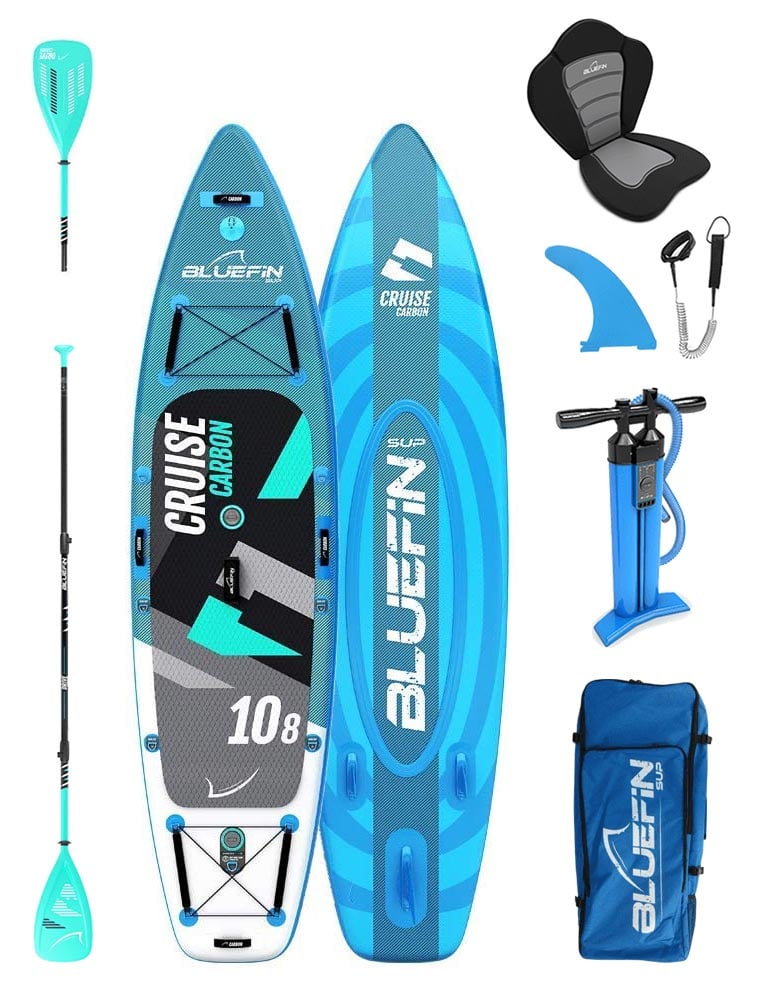 Bluefin Cruise Carbon (15′)
Advanced Tandem SUP | 15′ x 36″ x 6″
The Bluefin Cruise Carbon 15′, like the Cruise 15′, is a tandem board designed to be paddled by a pair of paddlers either standing or sitting in kayak seats. It can also be used as a solo touring board for a big and tall paddler.
It has all of the same great features as the shorter Carbon Cruise boards including the dual air chambers, carbon fiber side rails, and premium accessories. The board has the ability to hold up to 529 lbs. (due to the carbon fiber rail reinforcements, dual air chambers, Pro-Weave Drop Stitch and their ESL technology). This board is tough enough to be inflated to 28 psi for incredible stiffness.
Paddlers will enjoy the performance of this high-end SUP. Read our Bluefin Cruise Carbon 15′ SUP board review to learn more.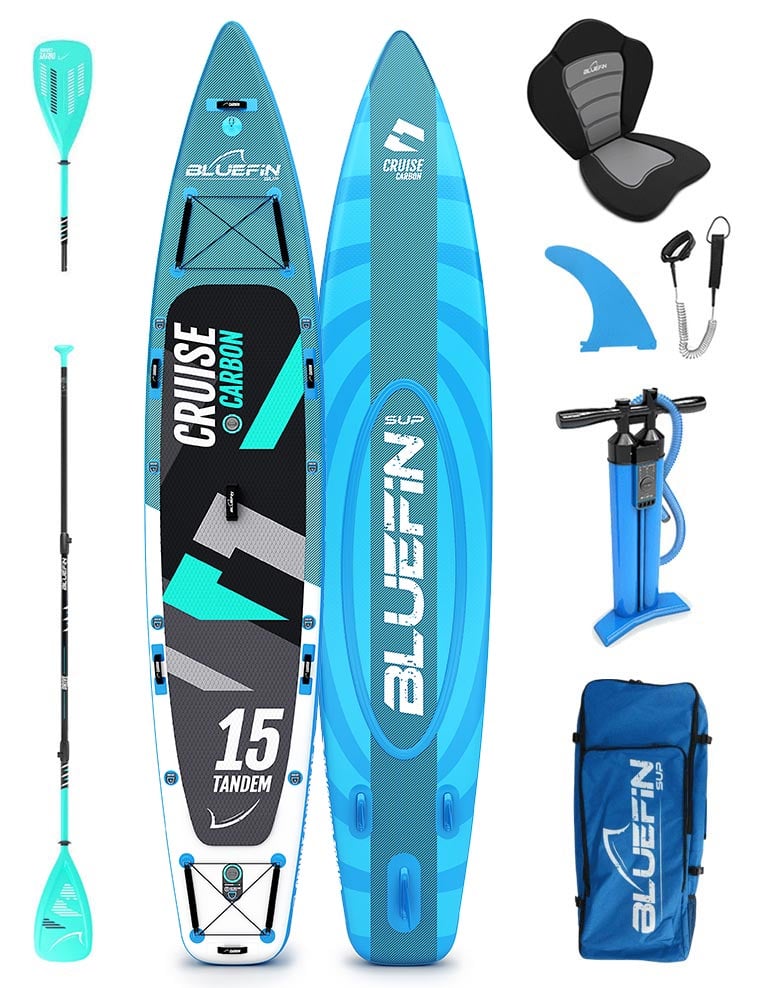 Bluefin Sprint 14′
Touring SUP | 14′ x 30″ x 6″
The Bluefin Sprint is a performance-oriented inflatable SUP that can be used for everything from touring to racing. Measuring 14′ x 30″ x 6″ and weighing in at 29 pounds, the Sprint is loaded with plenty of D-rings and dual-bungee storage areas for bringing along extra gear.
Our write-up, the Bluefin SUP Sprint board review, confirms why this SUP is ideal for the paddler who appreciates the quality construction and affordable pricing of the company's Cruise series, but who is willing to sacrifice all-around versatility for added speed.
Bluefin Sprint Carbon 14′
Advanced Touring SUP | 14′ x 30″ x 6″
The premium Bluefin Sprint Carbon, like its non-carbon sibling is a performance-oriented iSUP designed for touring and racing. It sports identical dimensions at 14′ x 30″ x 6″ with a similar compliment of of D-rings and dual-bungee storage areas for bringing along extra gear.
What sets it apart is the integration of carbon composite side rails for additional stiffness as well as a second inflation chamber under your standing position. This provides some additional stiffness as well if inflated to to the maximum PSI as well as an extra safety facture in the event of a puncture to the outside chamber.
The included accessories also get a boost with a premium wheeled bag, a dual chamber, three-stage pump, and carbon composite paddle.
Bluefin Aura FIT
Yoga / Fitness SUP | 10'8″ x 36″ x 6″
New for 2020! If you are looking for an stable board that provides balance for Yoga or aqua-based fitness, the extra-wide Bluefin Aura Fit is made-to-order while still being good for all-around paddling.
Bluefin uses 1000 Denier Exo Surface Laminate PVC and a Pro Weave Drop stitch in their construction, making them strong enough to hold up to 28 PSI and 350 lbs. of weight.  The Aura Fit package includes fins that click in quickly, a double-action pump, backpack with wide straps and extra padding and lighter-than-normal 2-piece paddle.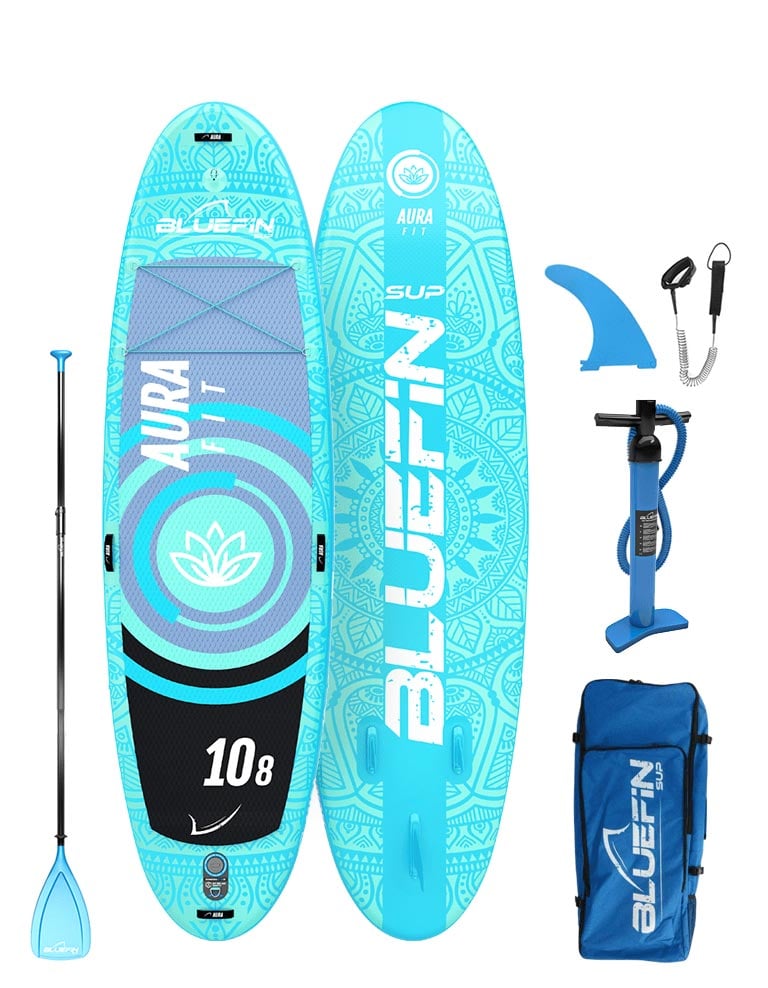 Bluefin Voyage
Activity SUP | 10'10" x 38″ x 8″
For paddlers in search of the ultimate in stability, the Bluefin SUP Voyage is definitely a board worth checking out. Featuring a triple-chamber design and wide 38″ profile, the Voyage is a good choice for activities such as SUP fishing and on-the-water fitness workouts (although serious SUP fitness enthusiasts will probably find the deck-mounted rod holders to be uncomfortable).
This SUP includes a dual-action iSUP pump, 3-piece adjustable fiberglass paddle, two fishing rod holders, leash, travel bag, and inflatable SUP repair kit.
The Bluefin Voyage SUP board review can fill you in on the details of this SUP.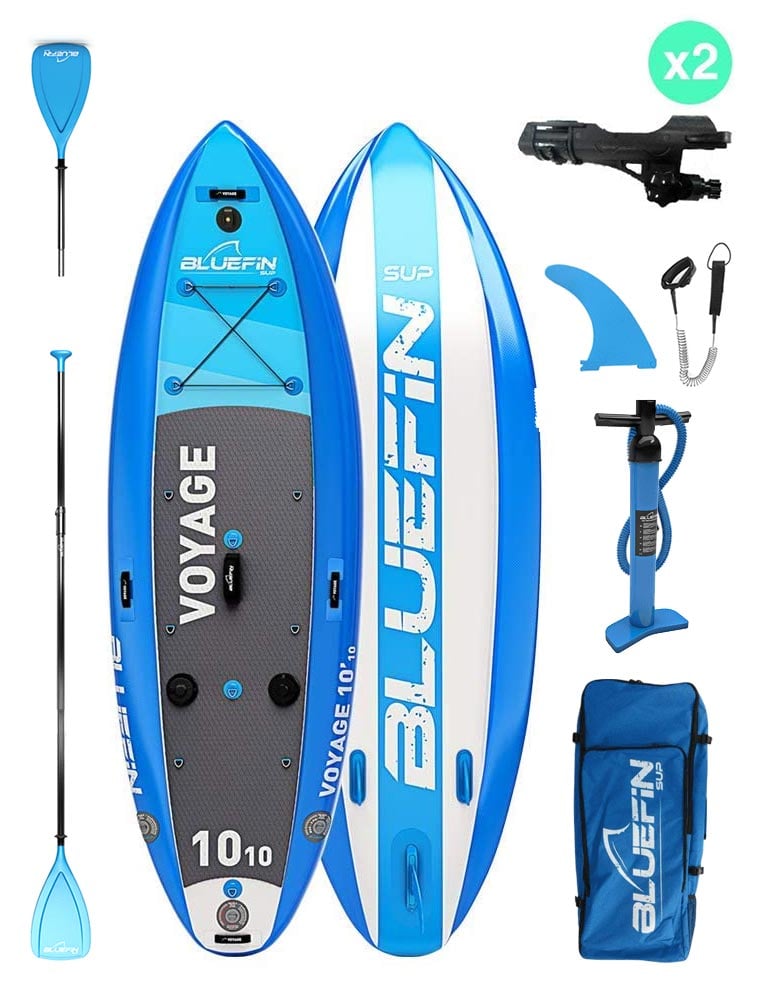 Bluefin Mammoth
Group SUP | 18′ x 60″ x 8″
The Bluefin Mammoth is a massively large SUP that's perfect for days on the water with family and friends. This 18′ big SUP can handle up to 10 paddlers and the 60″ wide design provides plenty of stability.
While Bluefin ships the Mammoth with a dual-action pump, leash, repair kit, and carrying bag, we'd love to see a second pump added to the bundle along with some paddles. Perhaps this is something that the company will consider adding in the future and it would definitely make this large iSUP a more compelling buy for those in search of group fun.
Check out our Bluefin Mammoth SUP board review for more details.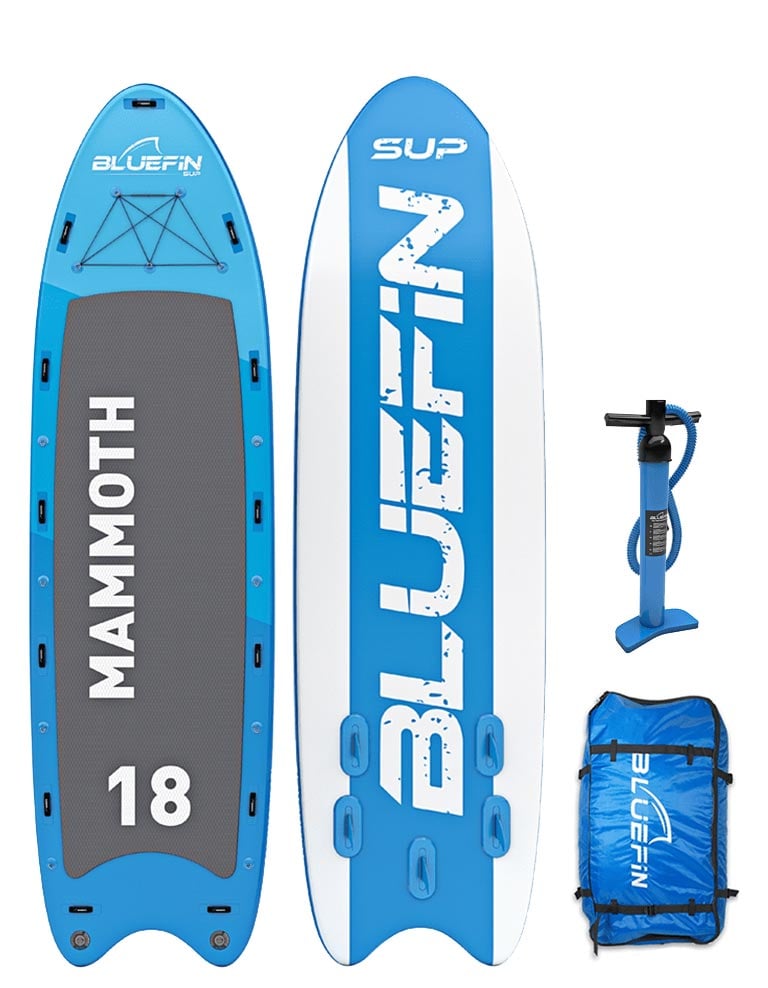 Optional Bluefin Paddle Board Accessories
Bluefin Kayak Convertible Paddle
Bluefin SUP Fiberglass Paddle
Bluefin Spare SUP Fin
Bluefin SUP Kayak Seat
Bluefin Warranty & Return Policy: Our Thoughts
BLUEFIN gives you 60 days to change your mind and return an unused board for a full refund, although you will have to pay for return shipping. No mention of restocking fees but you may want to check. BLUEFIN scores above average on returns (common terms are 30-60 days for returns, with you paying both the shipping and a restocking fee).
BLUEFIN also offers an industry-leading 5-year warranty against defects (compared to a more typical 2 years) on their stand-up paddle boards. We think this is incredible and it's apparent they stand behind the quality of their product. They also cover their accessories like bags, paddles, pumps, and leashes for an above-average 1-year guarantee. In addition, if you need to return a board for a warranty repair within the first 6 months, they will provide a prepaid label to cover the shipping.
We also appreciate that their warranty terms are easy to read and understand. Altogether, BLUEFIN is an industry leader for returns and warranty terms in almost all respects, which should give you that much more confidence in your BLUEFIN purchase.
Read more about their warranty on their company site.
Where to Buy Bluefin Paddle Boards
United States
You'll find Bluefin SUP inflatables in stock and ready to ship at the company's official online store.
International
Bluefin also offers nearly global availability for sales, support, and warranty repaid of their inflatable SUPs. The have the online stores for the following countries (the links will automatically redirect to your country site):
United Kingdom
Germany
Italy
France
Spain
Netherlands
Australia
Bluefin SUP Sales & Discount Codes
BLUEFIN frequently has special sales or discount codes available on their board and accessories.