Bluefin Cruise Carbon 10'8" iSUP: Overview
Whether you are going for a sunset joyride, loading up for a fishing trip, heading out for a few miles to get your heartrate up, or just getting on the water to cool down, the Bluefin Cruise Carbon 10'8" is ready to go. This fully-featured board can be outfitted in just about any way you can imagine. Its wide outline and tail make it extremely stable for beginner paddlers, but it's still capable of paddling efficiently for short distances. Whether you have never tried paddle boarding before or you are an advanced paddler, the Bluefin Cruise Carbon 10'8" is an all-around iSUP that can take you all around.
— Bluefin Cruise Carbon 10'8" Summary Ratings and Review —
Bluefin SUP Cruise Carbon 10'8"
Construction & Durability

Features and Versatility

Stability

Speed

Maneuverability

Tracking
Construction and Durability
The Cruise Carbon 10'8" utilizes Bluefin's ESL shell material and carbon fiber fabric rail reinforcements to increase overall durability, while a second air chamber provides a marginal safety measure in case of puncture or failure while on the water.
Bluefin has refreshed their iSUP lineup with a new, slightly lighter weight construction, but still utilizes a double-layer fusion shell, rail reinforcements, and two air chambers for the Cruise Carbon 10'8".
Inside the board there is a high-density drop stitch core that gives the board a flat shape, high pressure rating, and rigid feel. The top and bottom knitted fabric layers are covered with Bluefin's Exo Surface Laminate (ESL) PVC material. This is a double-layer fusion material that uses a liquid PVC layer to seal the drop stitch fabric and adhere the outer layer of reinforced PVC tarpaulin to the board.
The top and bottom of the board are joined together with a machine-glued internal rail layer and a second, wider layer of PVC is glued around the board again for
The Cruise Carbon 10'8" has two air chambers, both made the same way. The outer chamber and inner chamber are made separately and are then connected together with a wide PVC tape on both the top and bottom of the board. The PVC and the pressure once the board is inflated keeps the two sections tightly connected and acting as a single unit.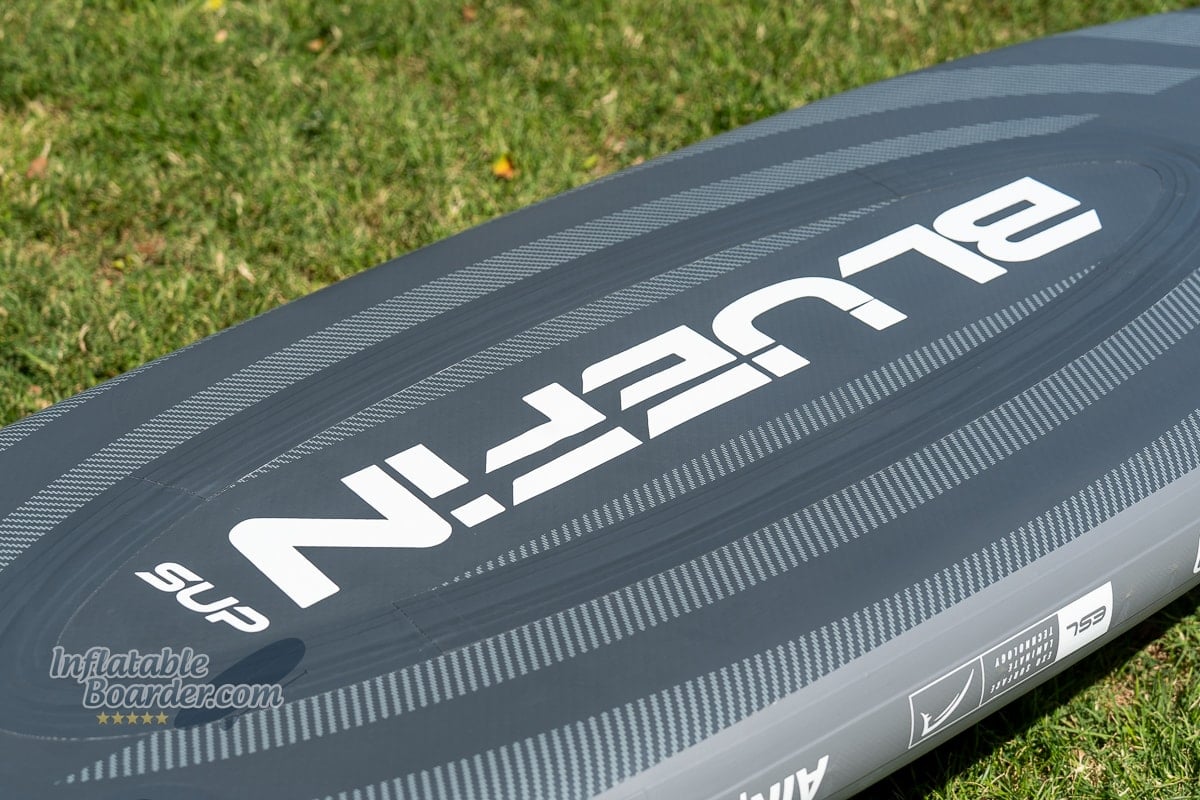 The outer rail of the board also has Bluefin's Flex Reduction System – a carbon fiber fabric material that is sandwiched against the board with an extra layer of PVC on the outside. These rail reinforcements do add some rigidity to the board, however the biggest improvement they make to any board is drastically increasing the abrasion and puncture resistance to the rails – one of the hardest hit areas of the board.
Once the deck pad and other features are added to the board, the final weight comes out to just under 30 lbs. Each air chamber is rated for a maximum inflation pressure of 15 PSI. With the heavy weight, double air chamber and carbon fiber fabric rails I was really interested in seeing how the Cruise Carbon 10'8" would do in our bend test.
Our dry land bend test uses a 170 lbs static weight placed on the board in the middle of a seven-foot span. Once it was loaded up, the Bluefin Cruise Carbon 10'8" bent 1.575" (4.0 cm). This was more of a bend than I was expecting and is just a hair more than our running average across all boards (1.56"). I feel that this result is primarily driven by the relatively lower maximum inflation pressure of just 15 PSI. I have a feeling that a higher maximum pressure of even just 18 PSI would likely improve this testing performance. But, as with all iSUPs, the more important rigidity test is on the water.
Once you're standing on the board on the water, it's a very different picture. I couldn't feel any noticeable flex while standing and paddling at a normal cruising pace. Walking on the board was easy, but I could feel some slight flex through the board. It wasn't enough to impact stability, but I could feel it. Bouncing on the board generated a fairly high amount of flex with a predictable but slightly tight feeling rebound. While sprinting with the Bluefin Cruise Carbon 10'8" I did notice a mild amount of flex in the board, but not enough that I felt it significantly impacted the board's speed.
Overall, the Bluefin Cruise Carbon 10'8" is built with durability in mind. The heavy duty materials, carbon fiber reinforced rails, and dual air chamber are all designed to give you a solid feel on the water that won't let you down.
Specifications
Dimensions
Length
10'8"
Width
33"
Thickness
6"
Weight
Max Capacity
330 pounds
Board Weight
30 pounds
Kit Weight

48 pounds
Buying Info
List Price
Warranty
5 years
Returns period
60 days
Features, Accessories and Versatility
The Bluefin Cruise Carbon 10'8" is a fully-featured all-around iSUP that can just as easily handle an overnight fishing trip as a casual cruise.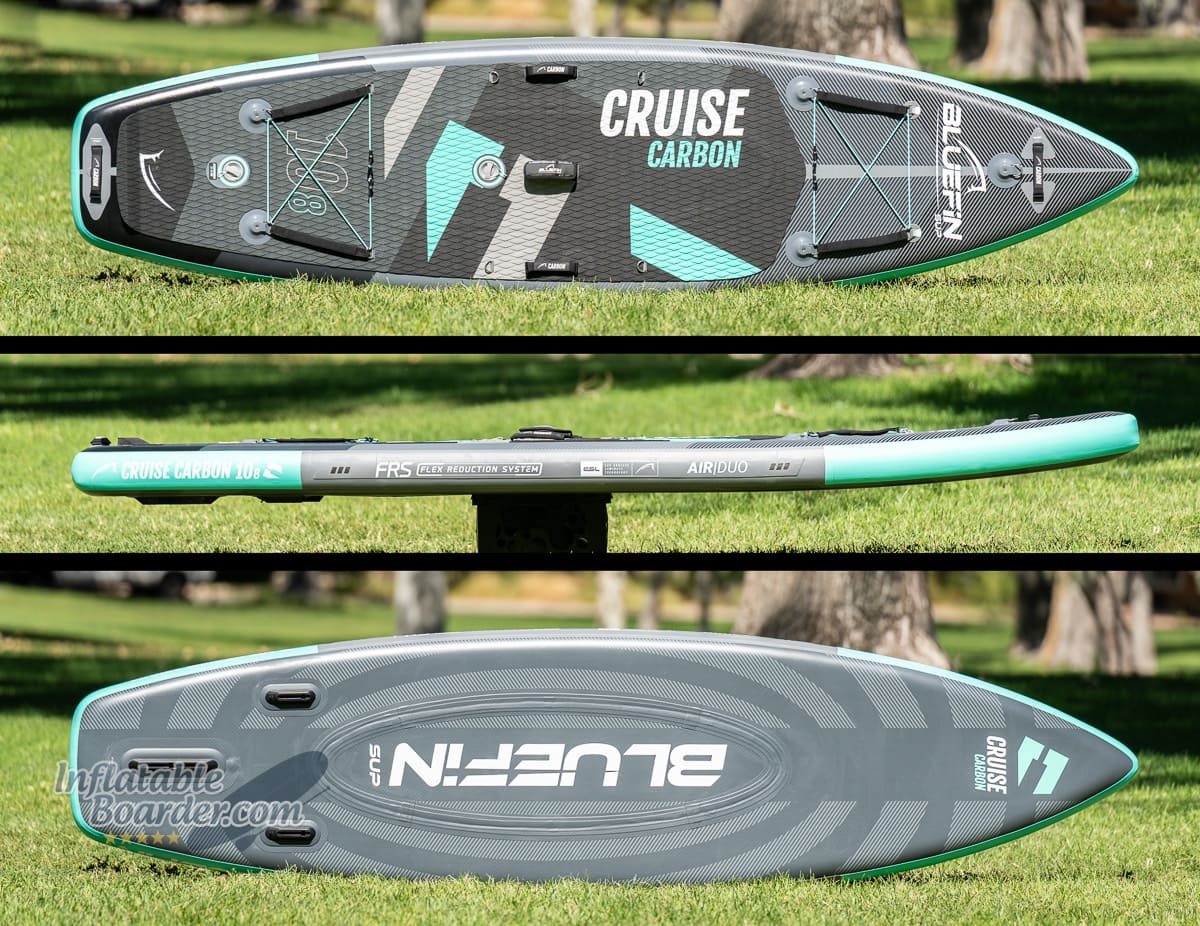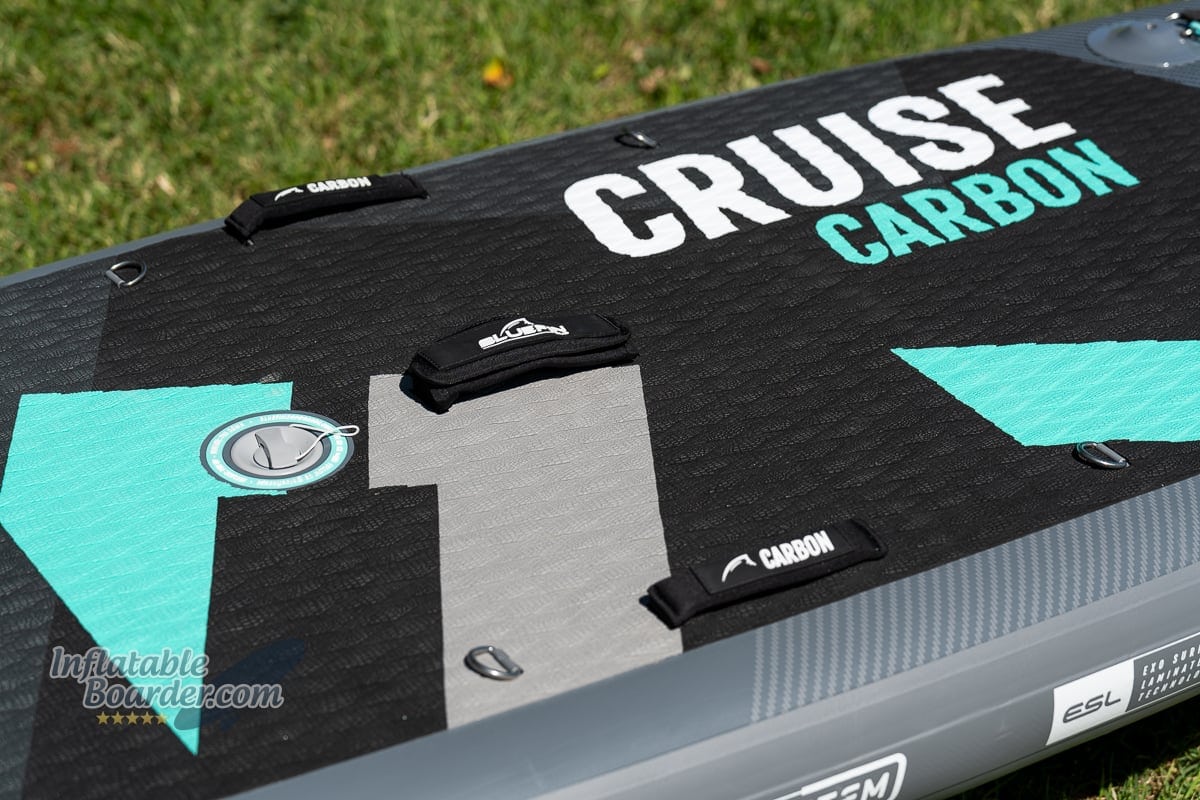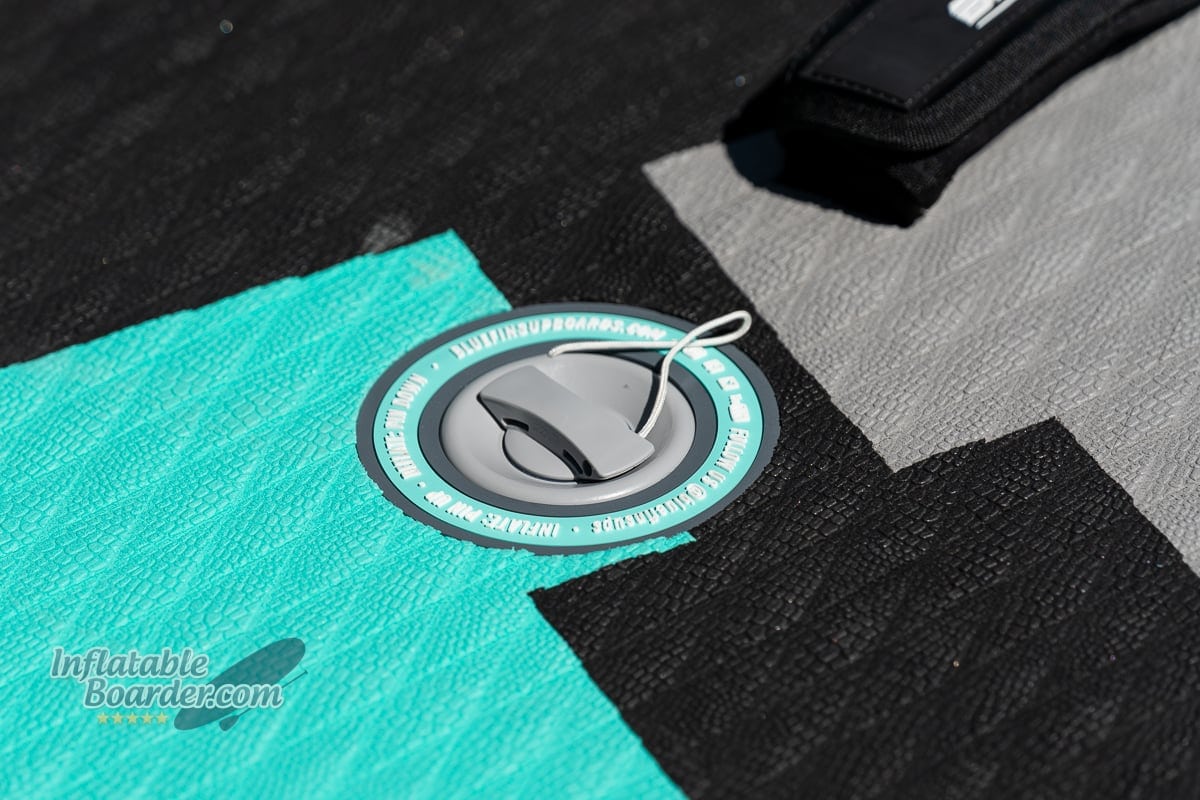 Bluefin has always been known for their very inclusive accessory kits. The Cruise Carbon 10'8" comes with your standard accessories like a coiled leash, repair kit, carbon fiber/nylon paddle, fins, and double chamber pump. It also includes a carrying strap and waterproof phone case. All of these items fit easily into the heavy-duty roller bag that has a stow-away backpack harness. While the Cruise Carbon 10'8" does not include a full kayak conversion kit, the paddle is compatible with an additional blade.
With all of these features and accessories, there isn't much you can't do with the Bluefin Cruise Carbon 10'8".
Paddle
The Bluefin Drive Carbon paddle is a user-friendly paddle well suited to match the intended paddling style of the Cruise Carbon 10'8".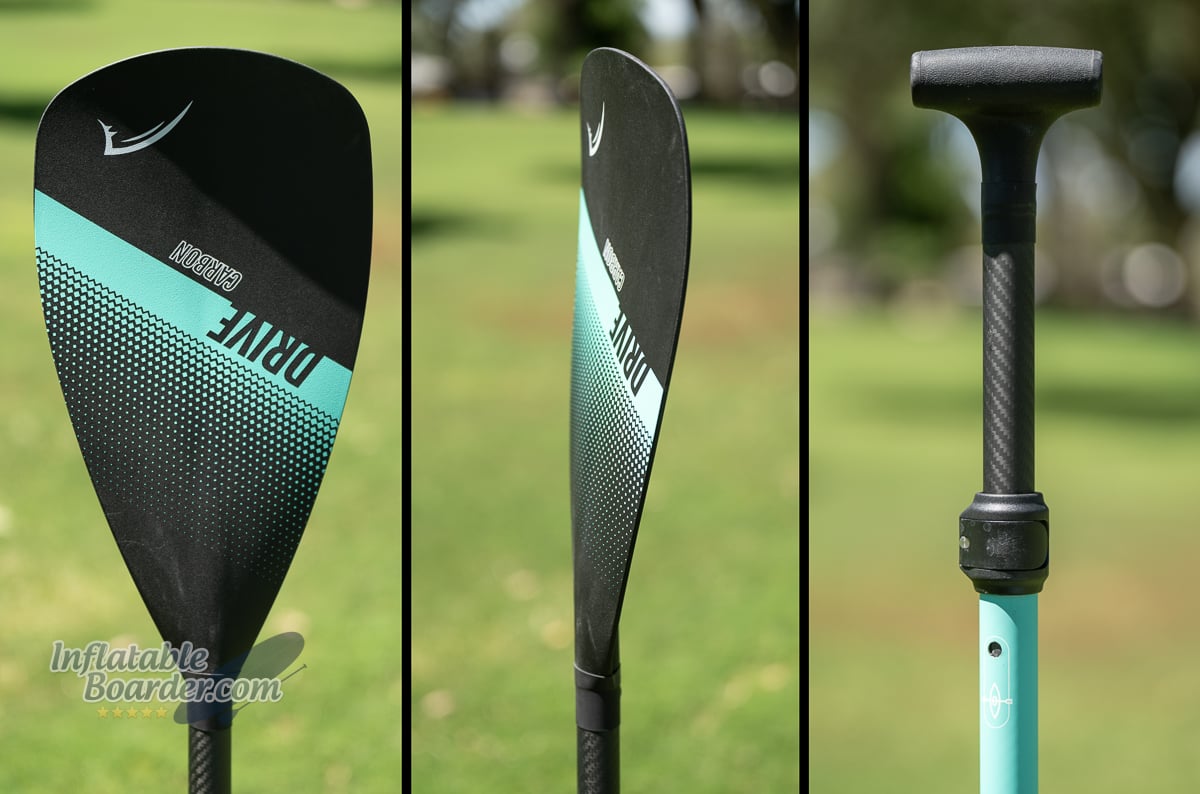 The Drive Carbon paddle is a three piece paddle that uses carbon fiber for the shaft and handle sections along with a nylon paddle blade. The paddle shaft is designed to work as both a SUP paddle and a kayak paddle with an optional second paddle blade. At nearly 34 ounces, this paddle is neither particularly light nor heavy for a kit paddle, and the overall feel is well balanced in the hand.
The blade and shaft both have a moderate amount of flex while paddling. This gives the paddle a softer feel that is more comfortable over long periods of time. However, it does limit the amount of power you can transfer through the paddle with a given stroke.
For casual cruising, the Drive Carbon paddle does a great job of propelling the board at reasonable speeds. It is a little difficult to sprint with as the larger blade can become difficult to move quickly.
Adjusting the length of the paddle is simple, however there is no indexing groove so you will need to make sure to properly align the handle and the blade each time you change the length.
The handle is a tubular T-grip with a rubberized coating. It's quite comfortable in the hand and gives you a secure grip without using a potentially irritating texture.
Stability
The Cruise Carbon 10'8" is very stable thanks to its wide tail and oversize shape.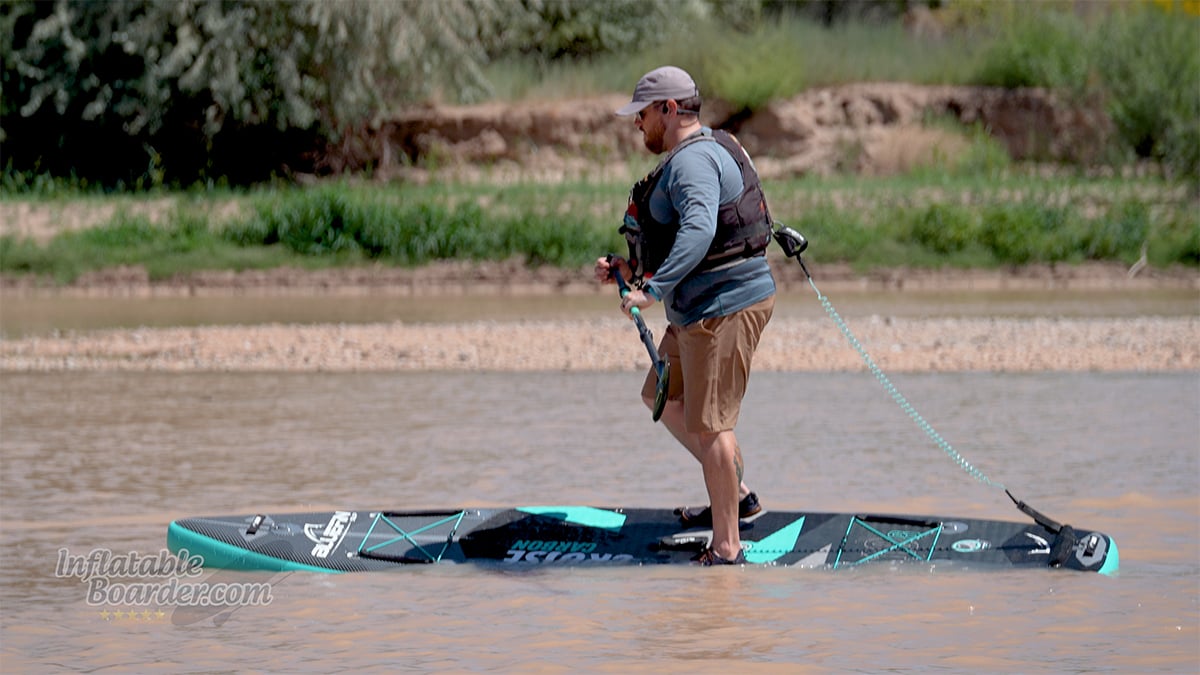 First, the Cruise Carbon 10'8" is specified to be 32.25" wide (82cm). Our board measured a full 33" through the standing area. That's a significantly wider size than specified, but it does lend the board to having even better stability.
While standing on the board I didn't feel any undue rolling or twitching, and with a near 30 lbs board weight I wouldn't expect it to. Heavier paddle boards will resist tilting better than lighter boards. The extra width in the standing area and the very wide tail give the Cruise Carbon 10'8" a very confidence-inspiring feel on the water.
It did remain pleasantly stable when tilting on its rail, however the more pronounced taper in the front does slightly detract from this secondary stability and I did not find it quite as easy to hold on its edge as I expected.
The deck pad provides excellent grip for both bare feet and shoes while moving on the board, and the extended length in the back makes it easier to get your weight over the tail for pivot turning compared to the previous model. Once your weight is back over the fins, the wide tail provides loads of support as you lift the nose to turn. I did find that the large tail had more resistance through the water and made pivot turning a little less smooth than boards with a smaller tail, however the extra stability is worth it for those just starting out with these more advanced maneuvers.
Speed
The Cruise Carbon 10'8", as the name might imply, is a cruiser-style all-around iSUP. It's designed primarily for casual paddling rather than top speed, but still paddles efficiently.
In our speed testing, the Bluefin Cruise Carbon 10'8" did reasonably well on the sprints with an average sustained sprint speed of 5.1 MPH and a peak speed of 5.6 MPH. Considering it's 33" width and modest length, this is pretty good, but not at the top of the class. I did notice some flex in the board and more difficulty maintaining course while sprinting.
The Cruise Carbon 10'8" offers more to paddlers who are moving at a more casual cruising speed rather than a high-octane sprint. At a leisurely 25 strokes per minute, the Cruise Carbon 10'8" nets an average speed of 3.3 MPH. That's very reasonable for a cruiser-style iSUP. Once the board is up to cruising speed each paddle stroke is able to propel the board just over 19 feet before slowing down giving it a gliding ratio of 1.8 board-lengths per stroke. That's quite good for a board of this size. We would normally expect a board like the Cruise Carbon 10'8" to have a glide closer to 1.6 board lengths per stroke.
What this really means is that the Cruise Carbon 10'8" paddles very efficiently at a cruising pace, making it easy to let the miles drift by.
Maneuverability and Tracking
The Cruise Carbon 10'8" does a great job of balancing maneuverability and tracking performance with just a slight lean towards agility.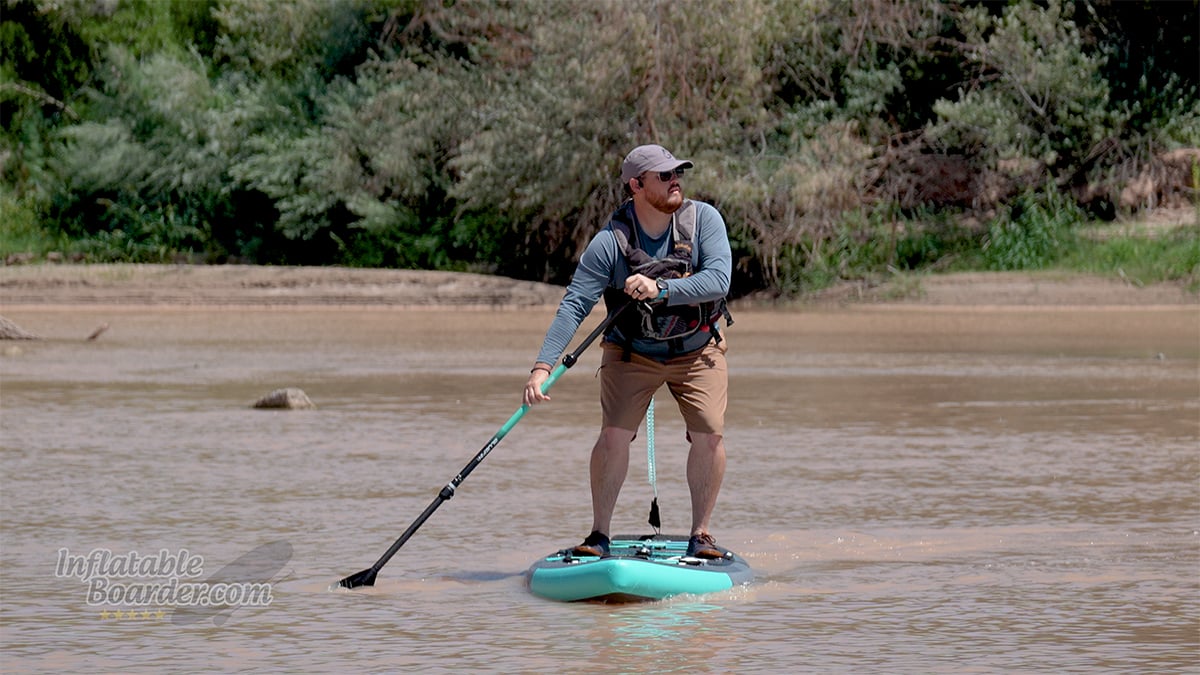 Cruiser iSUPs tend to highly favor maneuverability over straight line tracking. The Cruise Carbon 10'8" has a good balance of both, but still makes it very easy to turn.
With forward sweep strokes only (paddling in an arc from nose to tail) the Cruise Carbon 10'8" turns a full circle in just over 6.5 strokes on average. This isn't the fastest result we've seen for a board this size, but it's still very manageable. Turns of up to 90° can usually be made in just 1-2 strokes. Throwing things in reverse turns the board much more quickly, needing only 4 strokes on average to spin in a full circle.
There are more efficient techniques for turning that work well with the Cruise Carbon 10'8" as well. Smaller course changes are easily handled with bow-draw strokes that let you continue paddling forward. The wide tail and stable shape make it very easy to move to the back of the board for snappy pivot turns that will let you do an about face in just a single-stroke (with a bit of practice).
Straight line tracking with the Cruise Carbon 10'8" is just a little below average for iSUPs of its size and shape. In our 10-stroke tracking test, the Cruise Carbon 10'8" deviated an average of 20° off course over 10 paddle strokes on one side with all three fins installed. Even though it's not a super high performer in this category, it still does well for casual paddling. Most folks won't be taking 10 strokes at a time before switching sides. With just a handful of strokes at a time, the Cruise Carbon 10'8" stays on course much better without the need for as much steering. When it does come time to steer the board, it responds very well to minor adjustments.
The Cruise Carbon 10'8" has three fin boxes in a 2+1 configuration and comes with a complete set of fins. The center fin box is a standard US fin box and is equipped with a 9" surf-style fin. The two side fin boxes use a tool-less fliplock fin box and come with matching 4.5" fins. The center finbox's standard design makes it compatible with thousands of different fins so you can customize your maneuverability and tracking performance. If you want more tracking, a larger touring-style fin will help with that. If you want to paddle in shallower areas or want more maneuverability you can easily install a 4.5" gummy fin in the center box. You can also chose to run the Cruise Carbon 10'8" with all three fins as we did for our testing, with just the center fin, or with just the side fins.
Warranty and Customer Support
Bluefin offers a 5 year manufacturer's warranty for their inflatable paddle boards, including the Cruise Carbon 10'8". Additionally, all of Bluefin's accessories are covered by a 12 month warranty. Bluefin also offers a 60-day return window for unused items if you decide you'd like a different model iSUP. If you have any questions, Bluefin customer service is available via email, online chat, and social media.
Overall Impressions/Review Summary
The Bluefin Cruise Carbon 10'8" is an excellent cruiser-style all-around iSUP. The extra width in the middle of the board and the extra wide tail give it excellent stability for paddlers of all skill levels, and is a great option for new paddlers just starting to get their feet wet. The fully-featured board makes it easy to carry anything you'd need with you for a day (or even two) on the water, and the fin setup is quite versatile to match your paddling style and environment. The cherry on top is certainly Bluefin's warranty. A 5 year warranty gives you great piece of mind, and the high quality construction means that you'll be paddling the Cruise Carbon 10'8" for much longer than that.
Bluefin Cruise Carbon 10'8" iSUP FAQ
What is the difference between the Bluefin Cruise Carbon 10'8" and Bluefin Cruise 10'8"?
The Cruise Carbon 10'8" is Bluefin's premium all-around iSUP. It has a second air chamber for increased rigidity and an extra safety margin; it also has the Flex Reduction System carbon fiber fabric rail reinforcements for another increase in stiffness and durability against abrasion and punctures.
Should I get the Cruise Carbon 10'8" or the Cruise Carbon 12'?
The Cruise Carbon 10'8" is a cruiser-style all-around that's great for shorter trips, extra stability, paddling with a kid or pet, and general SUP use. The Cruise Carbon 12' is closer to a touring-style board that is a little narrower and noticeably faster and less maneuverable. Both have a full feature set that can be used for a variety of activities.
Is the Bluefin Cruise Carbon 10'8" heavy?
The Cruise Carbon 10'8" weighs just under 30 lbs for the board only and just under 50 lbs with the entire kit (including the bag). While this is definitely heavy for this size iSUP, the weight is not highly noticeable once you are on the water.
How long does it take to inflate the Cruise Carbon 10'8"?
It takes about 8-10 minutes to fully inflate the Cruise Carbon 10'8" using the included hand pump.
Does the Cruise Carbon 10'8" come with a kayak conversion kit?
No, the Cruise Carbon 10'8" does not include the kayak conversion kit. However, Bluefin does have one available designed to work with the Cruise Carbon 10'8", and the Cruise Carbon 12' does include this kit.