Bluefin SUP Cruise Carbon 10'8″ Review
Inflatable Boarder is reader-supported and may earn a commission when you buy through links on our site. Learn more
An incredibly rigid inflatable SUP that's loaded with premium features and an industry-leading 5-year warranty, the Bluefin SUP Cruise Carbon 10'8″ is an all-around model that's quickly gaining popularity in the paddling community…
Bluefin SUP is a relatively new company on the SUP scene, but they're quickly becoming known as a go-to brand in the industry thanks to their impressive board range, rock-solid durability, tremendous value, and generous 5-year warranty. Bluefin SUP is going out of their way to overdeliver and their inflatable paddle board packages offer some of the best value around.
In this review of the Bluefin SUP Cruise Carbon 10'8″, we'll take a look at this board's features, build quality and construction, how it performs on the water, what we like and dislike about the board, what's included, and more.
In a Hurry? Here's a Quick Summary…
Pros

Industry-best 5-year warranty


Incredibly rigid


Stable


Well-built


Durable


Excellent value


Dual chamber design for added safety and stiffness


Carbon fiber reinforcements for increased rigidity


Tons of D-rings for kayak seat or additional gear


Grab handles at nose, tail, and rails for easier handling


Center carrying handle doubles as paddle holder


Raised kick tail for added control


GoPro camera mount


Dual bungee storage areas provide lots of storage


Universal center fin for added versatility


Premium wheeled travel backpack


Upgraded double chamber pump for faster, easier inflation


Upgraded carbon fiber shaft paddle


Kayak seat kit included


Shoulder carrying strap


Top-shelf customer support
Cons

Heavy
Price & Where to Buy it
Bluefin SUP Cruise Carbon 10'8" Overview
Measuring 10'8″ x 32″ x 6″ and weighing in at 35 pounds, the Bluefin SUP Cruise Carbon 10'8″ is a versatile all-around model that can handle whatever you throw at it. Part of the company's premium iSUP line that also includes the Cruise Carbon 12′ and Cruise Carbon 15′ tandem paddle board, the 10'8″ comes loaded with features, a high-end accessory bundle, and the best warranty in the industry. We'd also recommend checking out the lower-priced Bluefin Cruise 10'8″ which offers a lot of the same features as its carbon-reinforced, double-chambered sibling.
The Cruise Carbon 10'8″ is a board that can handle a wide diversity of water conditions and it can be used for everything from recreational paddling to SUP fishing.
Features
The Cruise Carbon 10'8″ sports a nice looking blue-themed design. Covering the top deck of the SUP is a thermosealed diamond crocodile pattern EVA foam traction pad that's comfortable under the feet and provides excellent grip.
(*Hover over hotspots for additional details)
Front bungee cargo area gives you a convenient and secure place to stash your dry bag, backpack, Crocs, and other gear.
1 of 12
Rear bungee cord storage area provides added cargo space and an alternate spot to secure your dry bag when there's a pup or passenger riding along at the nose.
2 of 12
Center carrying handle allows you to easily carry the board around when fully inflated and the Velcro closure doubles as a handy paddle holder.
3 of 12
Grab handle at nose makes it easy to handle the board in and around the water.
4 of 12
Rear grab handle is great for pulling the board along the beach as it elevates the fins and prevents them from being damaged by rocks and other hard objects.
5 of 12
Side grab handles are extremely helpful for climbing onto the board.
6 of 12
Side grab handles are extremely helpful for climbing onto the board.
7 of 12
Six stainless steel D-rings along board's rails allow you to easily attach a kayak seat, shoulder carrying strap, or additional gear.
8 of 12
GoPro camera mount at nose is great for capturing photos and videos of your paddling adventures.
9 of 12
Carbon fiber rail reinforcements provide added rigidity and toughness.
10 of 12
Raised kick tail at rear of traction pad for added control while surfing or performing advanced maneuvers.
11 of 12
Secondary inflation chamber provides increased stiffness and safety.
12 of 12
Located at the rear of the traction pad is a large raised kick tail which makes it much easier to control the board in the surf and during pivot turns.
Mid-board is a padded neoprene carrying handle with a Velcro closure. The carrying handle doubles as a paddle holder, making it easier to carry your gear and also providing you with a secure place to stash your paddle when you're out on the water and want to take a swim. Also positioned here is the inflation valve for the iSUP's secondary inner chamber.
There are six D-rings located along the rails of the board which can be used to attach the shoulder carrying strap, kayak seat, or for tying down large gear. The rails also feature two padded grab handles which are useful for climbing onto the board.
At the nose of the Cruise Carbon 10'8″ are four more D-rings, a bungee cord storage area for securing your dry bag or cooler, GoPro camera mount, and convenient grab handle which makes it easier to handle the board in and around the water.
Positioned at the board's tail is the main inflation valve, another bungee cargo area, and a fourth grab handle. The additional bungee storage area gives you a perfect spot to stash your gear when a paddler or pup is riding along at the nose and the rear grab handle is perfect for pulling the board along the beach as it allows you to elevate the fins off of the ground, preventing damage caused by rocks and other hard objects.
On the underside of the Cruise Carbon 10'8″ are two smaller fixed side fins and a large removable center fin. Bluefin SUP upgraded their normal fin box on the boards in their Carbon series with a universal US fin box which gives you a lot of added versatility.
Construction
The Cruise Carbon 10'8″ is the first Bluefin SUP board we've had an opportunity to review, and we're extremely impressed by the board's construction and overall build quality. In short, this board is a tank.
The Cruise Carbon 10'8″ features Bluefin SUP's ESL construction (Exo Surface Laminate technology) and it's constructed from high-quality, military-grade PVC. The core is made from super reinforced drop-stitch composite and the board also has a high-pressure laminated finish. Lastly, the outer PVC layer is treated with a UV resistant coating which prevents damage and fading caused by sun exposure.
Both rails of the board are reinforced with lightweight carbon fiber strips which add stiffness and toughness (they refer to this as FRS — Flex Reduction System)…
As mentioned, this board also has dual air chambers which provide a further boost when it comes to rigidity. The secondary inflation chamber is also a nice safety feature to have as it will provide buoyancy in the event of a malfunction with the board's primary chamber.
We didn't notice any sloppiness in terms of the board's fit and finish and it is very well-constructed. Of course, this is to be expected as any company offering a 5-year warranty has an extreme level of confidence in the build quality of their inflatables.
Paddling Performance
The Cruise Carbon 10'8″ is a blast on the water and the board provides a nice blend of stability, speed, and maneuverability. The tapered shape of the board's nose allows it to cut through wind and chop better than all-around SUPs with rounded nose profiles and the squared-off tail provides added stability and makes the board easier to maneuver.
This is a board that paddlers of all skill levels will enjoy. It's very stable under the feet and at 32″ wide, there's none of the awkwardness that you sometimes experience with wider boards. While ultra wide SUPs are unbelievably stable, they can make it difficult to maintain a proper paddling stroke.
Lastly, the Cruise Carbon 10'8″ feels very similar to a traditional hard SUP under the feet. The double air chambers and carbon fiber reinforced rails make it one of the stiffest boards we've ever reviewed — if not the stiffest.
Likes and Dislikes
Overall, our first experience with Bluefin SUP's inflatable paddle boards was very positive. This is a company that is serious about making the best boards they possibly can while keeping the price point at a level that most can afford. The Cruise Carbon 10'8″ offers serious bang for the buck and is sure to be a big seller for the company.
As mentioned, we were very pleased with the build quality of the board and love the fact that Bluefin SUP includes a 5-year warranty with all of their inflatable paddle boards. Given that the industry norm is 1-3 years, any company willing to offer a 5-year warranty is making a bold statement about the longevity and overall quality of their iSUPs.
We were also very impressed with how feature-rich the Cruise Carbon 10'8″ is. This board comes loaded with premium features and absolutely nothing was left out. From the GoPro camera mount to the multiple grab handles and bungee storage areas, this SUP's many features give you a ton of flexibility in how you want to use your board.
The included SUP accessory bundle is also a tremendous value and is the most complete that we've seen to date. In addition to all of the essentials, Bluefin SUP has also thrown in some additional items that are premium add-ons with other brands (more on that below).
As far as dislikes go, the only thing that we'd love to see improved in the future is a reduction in the board's overall weight. At 35 pounds, this was the heaviest all-around board of this size that we've reviewed to date and the weight might be a turnoff for some.
Bluefin SUP Cruise Carbon 10'8"
Durability
Features
Versatility
Stability
Speed
Portability
Warranty
Customer Support
Price
Specs
| | | |
| --- | --- | --- |
| | Length | 10'8″ |
| | Width | 32″ |
| | Thickness | 6″ |
| | Weight | 35 pounds |
| | Max Capacity | 287 pounds |
| | Price | |
What's Included
Bluefin SUP has packed an extreme amount of value in the included SUP accessory bundle. In the box is a premium wheeled iSUP backpack, adjustable carbon fiber paddle, upgraded dual-chamber triple-action pump, shoulder carrying strap, kayak seat kit, waterproof phone pouch, leash, and repair kit.
Backpack
A nice upgrade over Bluefin SUP's regular backpack, the Cruise Carbon 10'8″ comes with a premium grade roller bag that's incredibly durable and convenient. The exterior of the bag features a large zippered storage pouch, multiple grab handles, compression straps, and a clear luggage ID tag window which is great if you're planning to fly with the board.
Located on the bottom of the backpack are two oversized roller wheels that feature a deeply grooved traction pattern. These wheels make it incredibly easy to roll the bag behind you and the fact that they're so large means you'll have no problem pulling the bag over grass, dirt, sand, and more. There's also another grab handle on the bottom of the bag as well as some additional fabric for reinforcement.
On the rear of the pack is a final grab handle, two adjustable shoulder straps, an adjustable waist belt, and a padded back cushion for added comfort.
Paddle
Bluefin SUP includes a nice carbon fiber shaft paddle with the board which is adjustable from 170cm to 220cm. The lightweight carbon shaft has a glossy finish and there are printed measurements along the top of the paddle's handle for convenience.
The paddle blade is a design that we're very familiar with and it's incredibly durable. In addition to being made from tough nylon, the outer edge of the blade is covered by a thin protective rubber layer which provides added insurance against chips and cracks.
Pump
The included pump is also extremely nice. A significant upgrade over the typical single-chamber double-action variety that you see included with most inflatable paddle boards, this pump features a double chamber triple-action design that reduces the time and effort needed to inflate your iSUP.
On the back of the pump is an Action Control dial that allows you to change the pump's setting during the inflation process. When you initially begin to pump your board up, you'll set the pump to setting #1 which will utilize both chambers and add air on both the upstrokes and downstrokes. Once pumping becomes more difficult, simply change the dial to setting #2 which will activate single chamber mode. When you notice more resistance, just flip the dial to setting #3 to finish inflating the Cruise Carbon 10'8″ to the recommended pressure of 15 PSI. This third and final mode uses one chamber and adds air on only on the downstrokes.
Lastly, the pump features an easy-to-read pressure gauge on the top of the handle so you know exactly how much air is in your board when you're pumping it up.
Shoulder Carrying Strap
Another great premium add-on included with this SUP accessory bundle is an adjustable shoulder carrying strap. This strap is super convenient for long walks and it quickly connects to the D-rings along the rails of the board.
Kayak Seat Kit
When we opened up the box for the first time, we honestly couldn't believe that Bluefin SUP is also throwing in a kayak seat kit with the Cruise Carbon 10'8″. This is something that other companies are selling for more than $100 and it's included with the Cruise Carbon for free.
The seat features adjustable straps that quickly attach to the D-rings along the board's rails and it's very easy to dial in the perfect fit based on your size.
Also included is a carbon fiber kayak blade attachment that allows you to transform the include SUP paddle into a kayak paddle.
Waterproof Phone Pouch
Another unexpected treat that we found in the box is a waterproof phone pouch. In addition to shooting photos and video while you're out on the water, a phone gives you access to a variety of apps which can track your paddles — this handy case will allow you to do that without having to worry about water damage.
Leash
We love the fact that Bluefin SUP promotes paddling safety by including a coiled ankle leash with all of their iSUPs. The included leash is very nice and the ankle cuff is lined with a soft and comfortable neoprene material.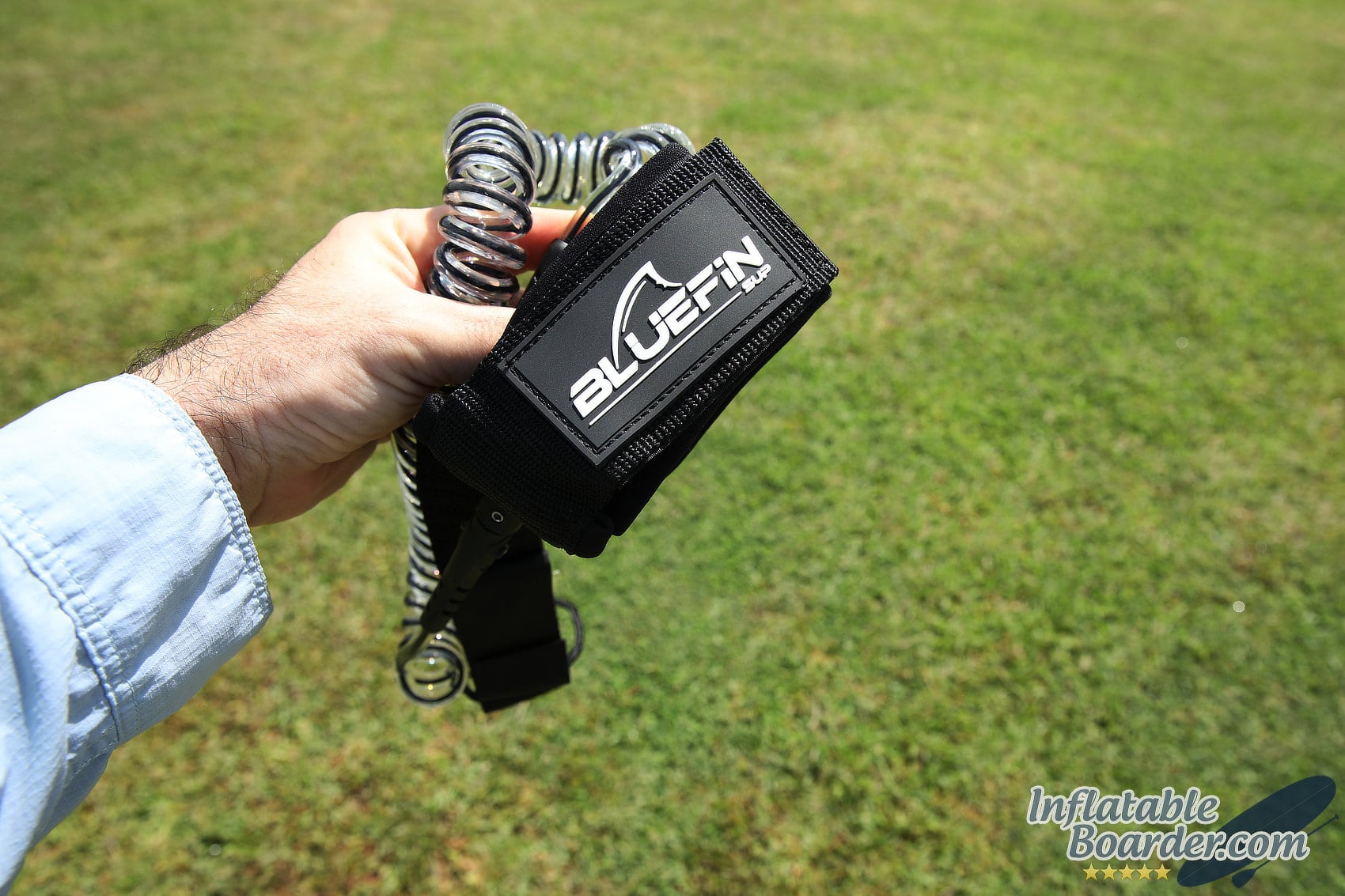 Repair Kit
Last but not least, Bluefin SUP includes an inflatable SUP repair kit. Inside of the blue plastic canister is a valve wrench and a few PVC patches.
Warranty
Every Bluefin SUP inflatable paddle board is backed by an incredible 5-year warranty. This is currently the best warranty offered in the industry and it speaks volumes about the company and their willingness to stand behind the gear they make.
Where to Buy it + Coupon Code
You can purchase the 2020 Bluefin SUP Cruise Carbon 10'8″ directly from the company's official website. In addition to the lowest price, you'll also get fast, free shipping and if you enter the promo code SUP30 while checking out, you'll also get an additional $30 discount on the board! FYI: This is a limited-time promotion and we're not sure how long it will be offered, so take advantage of it while it's available.
Final Thoughts
If you're in the market for an inflatable SUP, the Cruise Carbon 10'8" is a board that should be on your radar. This fun board offers unbelievable stiffness, rock-solid stability, loads of premium features, and a 5-year warranty — making it one of the most compelling iSUPs we've seen so far for 2020.