Hydrus Paradise Inflatable SUP Review | 2023
Inflatable Boarder is reader-supported and may earn a commission when you buy through links on our site. Learn more
Hydrus Paradise iSUP: Overview
The Hydrus Paradise touring paddle board offers speed and efficiency for distance paddling without sacrificing stability and capacity for longer trips or for beginner paddlers who know they want a high-efficiency iSUP rather than an all-around board. For 2023 the Paradise, along with Hydrus's other iSUPs, has received a new, lighter weight, construction, additional carrying handles, and a slightly relaxed rocker profile. The moderate nose rocker and slight tail rocker still make the Paradise a great choice for paddling in rougher waters and even getting into a little downwind SUP action.
— Hydrus Paradise Summary Ratings and Review —
Hydrus Paradise
Construction & Durability

Features and Versatility

Stability

Speed

Maneuverability

Tracking
Overall Score
The Hydrus Paradise is a versatile and efficient touring iSUP.
Pros
Excellent stability for its style thanks to its rigid construction, 30.5" wide point, and medium-volume tail
Woven and X-stitched drop stitch core reduces weight without losing stiffness
Carbon fiber stringers on the deck and hull reduce flex
Excellent speed and paddling efficiency make it great for distance and fitness paddling
Plenty of capacity and storage space for multi-day trips
Combed deck pad is comfortable and grippy
Nose and tail rocker allow the board to paddle up and over choppy waves and wake instead of plowing through them
Lifetime Warranty
Cons
I'd like to see one more pair of D-rings toward the tail of the board to make securing larger items to the tail easier
The stick-on GoPro mount is easy to use and allows you to place it anywhere on the board, but it is not as compatible with other accessories as a threaded mount.
Construction and Durability
The Hydrus Paradise inflatable paddle board features a heavy-duty dual-layer PVC construction with advanced Fusion and heat welding construction for maximum durability and rigidity while reducing weight overall. With their roots in the river, Hydrus has always focused on building products that last for a lifetime – and can take a beating while they do it. This newest generation of Hydrus iSUPs maintains this core value while making the boards even more approachable.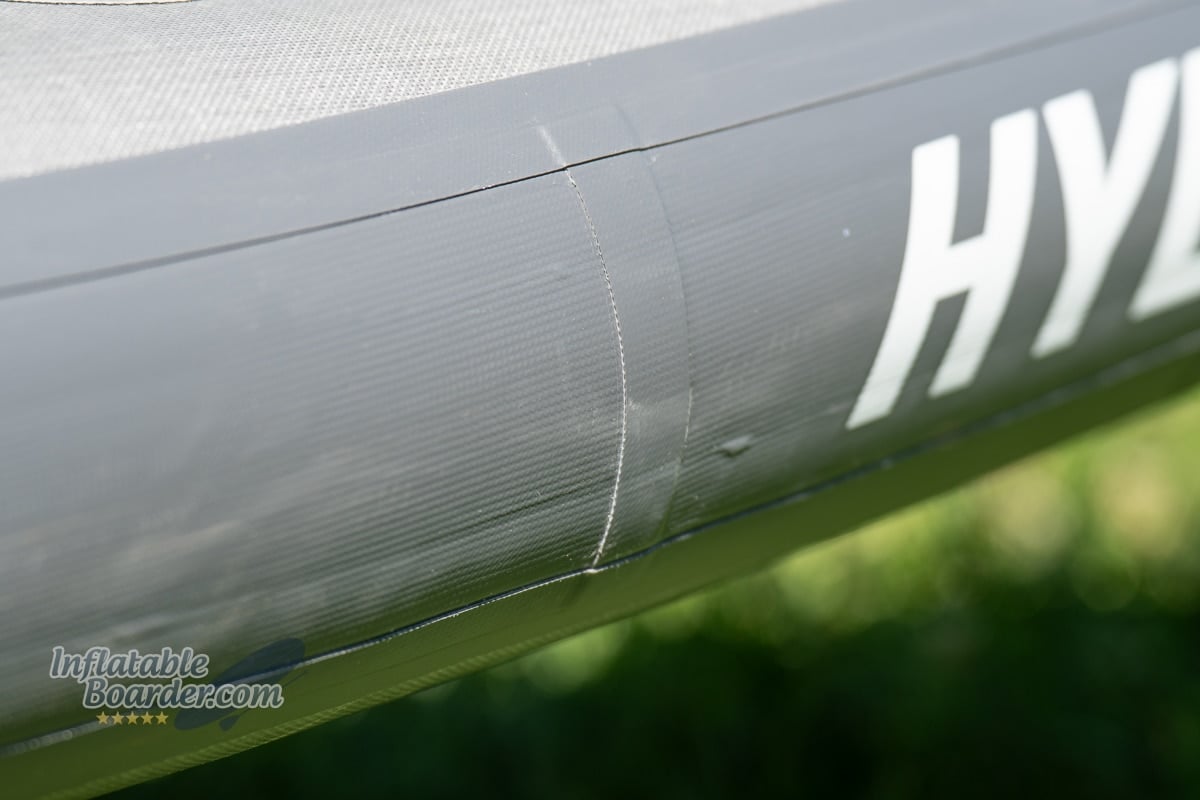 The biggest change for Hydrus in 2023 is their interior construction. The Paradise, and their other iSUPs, all got a big upgrade this year to a woven fabric base layer with X-crossed drop stitching connecting the top and bottom layers. These two materials choices are lighter than traditional knitted and V-stitched materials without losing any rigidity.
The dual layer PVC outer shell of the Paradise starts with a poured PVC coating over the fabric base layer. Then a layer of reinforced PVC tarpaulin is fused to the first layer through a combination of heat and pressure. This Fusion construction mechanically bonds the layers together without the use of adhesives. This not only reduces the use of glue, but reduces weight and reduces the chances for cosmetic or other manufacturing errors that can occur during a hand-glue construction process. The PVC tarpaulin material is reinforced with a heavy-duty composite fabric scrim that you can actually see on the board since the outer layer of PVC is left clear rather than dyed! This is the same fabric reinforcement that Hydrus has been using for years, including on their whitewater iSUPs and river-surfboards.
The deck and hull layers of the board are joined together by a heat-welded interior rail layer. Welding, again, mechanically bonds the layers together into a single layer of PVC material and is better able to withstand heat and high pressure than a glued construction. The inner rail band is then covered with a wider outer rail band for protection and then two narrow strips of PVC cover the edges of the outer rail band to further protect it.
The deck and hull each also receive a carbon fiber fabric stringer that is sandwiched between the board and another layer of PVC. These stringers help stiffen the board when inflated, but still allow it to be easily rolled up for transportation and storage when deflated.
The Paradise has a maximum recommended pressure of 20 PSI, but most riders will be very comfortable between 15-18 PSI without losing out on any performance on the water.
All together the Hydrus Paradise is well built with materials and construction methods that are designed to keep the board performing well on the water for years and years. Not only that, but at just over 23 pounds for the board, the Paradise is now 6 pounds lighter than the previous model!
With the new construction and lighter weight for this year the big question was "will the new Paradise be as rigid as the previous generation?" The good news is, most of the changes for this year are ones that we've seen to typically increase rigidity in an iSUP rather than decrease it. So we put the Paradise up on the saw horses for our bend test.
With a 170 lbs static weight placed over the standing area and the board suspended across a 7' gap, the Paradise deflected just 1.22" (3.1 cm) at 20 PSI. That's 1/10th of an inch better than the 2022 model, and well above our running average of 1.55".
To answer our question – yes, the Paradise is actually more rigid with this new construction than the previous version! But how does it feel on the water?
On the water, the Hydrus Paradise did equally as well. While standing, walking, and paddling normally I did not feel or notice any flex or bend in the board. So I took things up a notch and began bouncing up and down on it. Here I was able to notice a mild-to-moderate flex in the board, but once I stopped bouncing the board settled back down quickly and with a very comfortable rebound (not a tight, springy one). While sprinting on the Paradise during our speed test, I could feel just a little bit of flex, but not to the degree that I felt it was impacting the board's performance.
Overall the Hydrus Paradise has great rigidity on the water.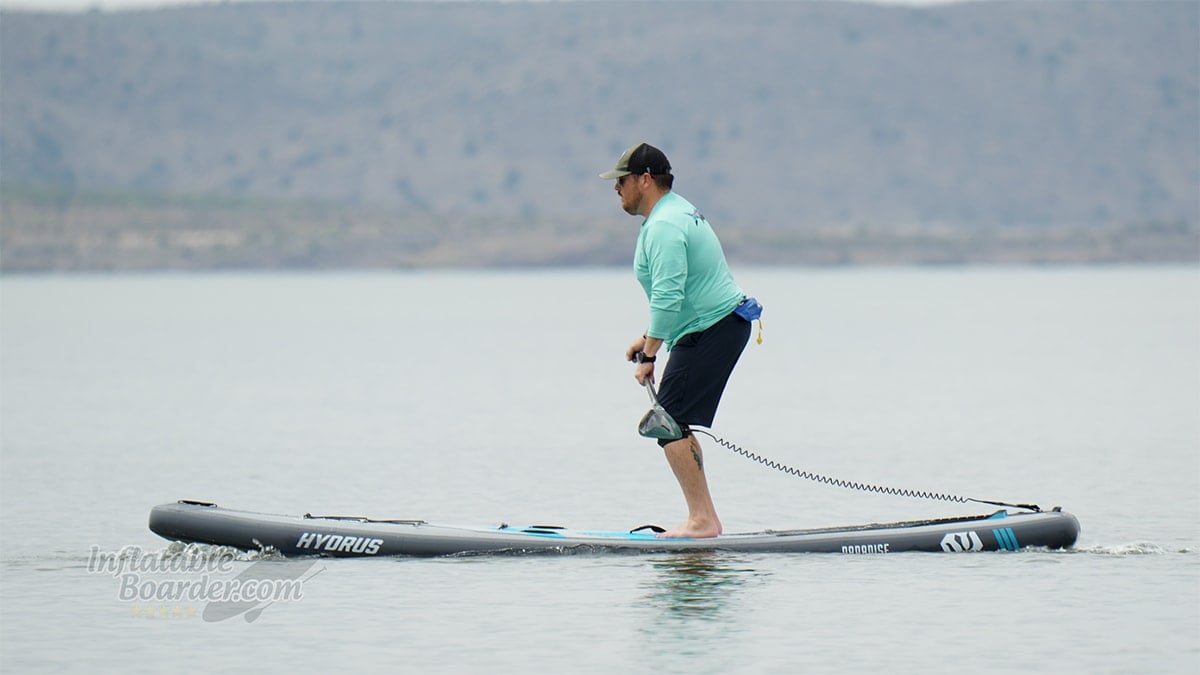 Specifications
Dimensions
Length
12' 6"
Width
30.5"
Thickness
5"
Weight
Max Capacity
300 pounds
Board Weight
23.4 pounds
Kit Weight

32 pounds
Buying Info
List Price
Warranty
10 years
Returns period
30 days
Features, Accessories and Versatility
The Hydrus Paradise is a classic touring iSUP. Its longer, narrower shape makes it fast and efficient on the water, but it's not so narrow that you can't easily load it up for a long distance/multi-day trip. The Paradise is actually quite stable as well as fast, so beginners who know they are interested in destination or fitness paddling will feel quite welcome on the Paradise.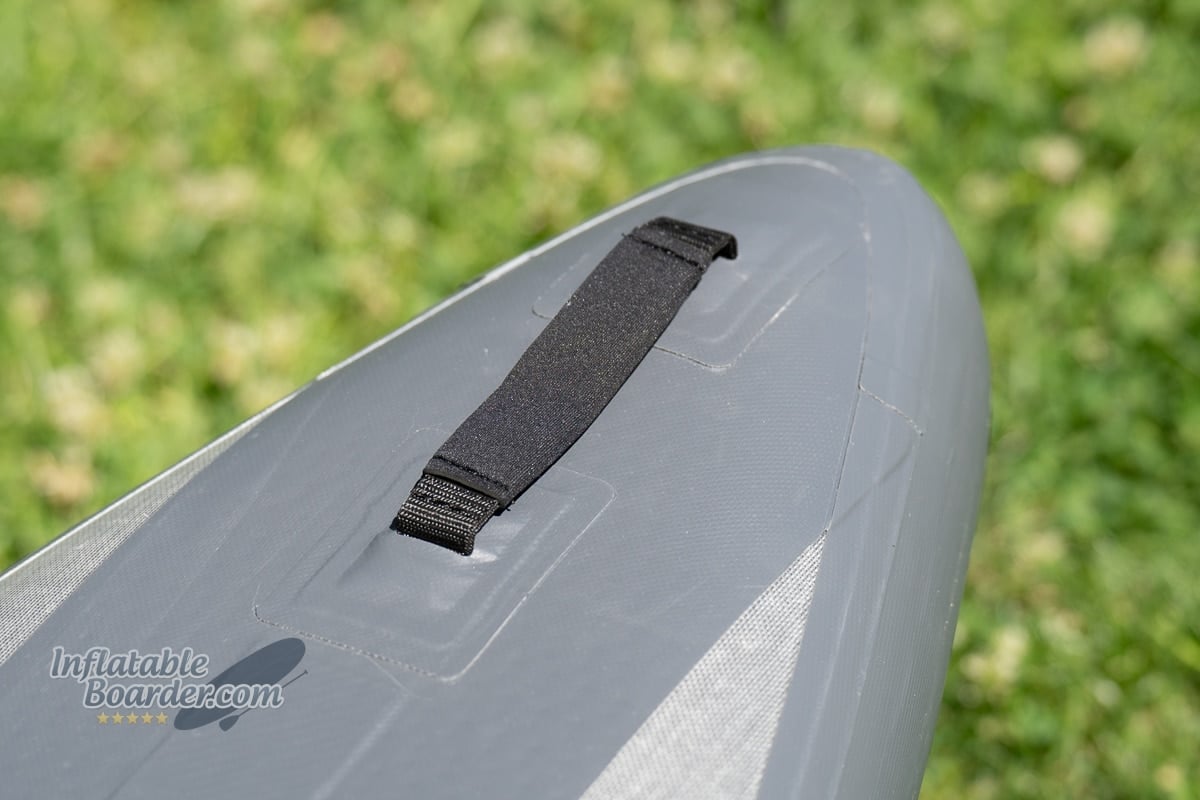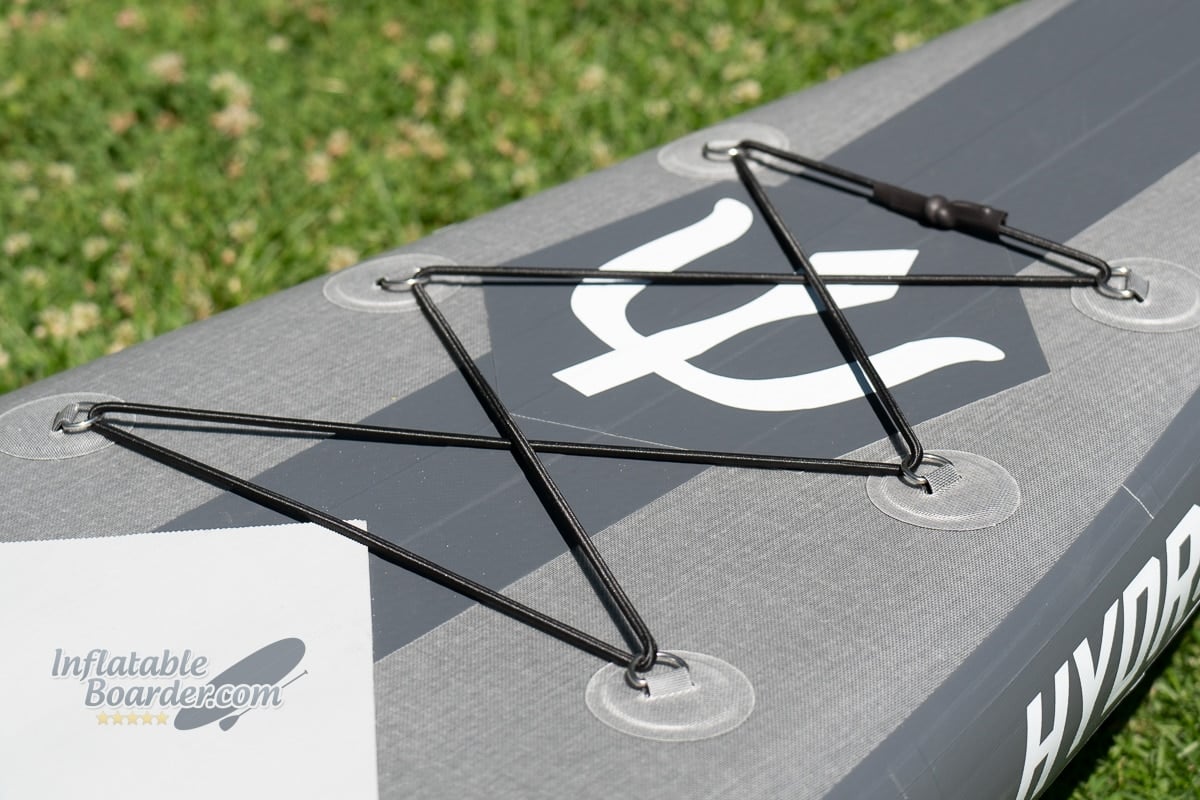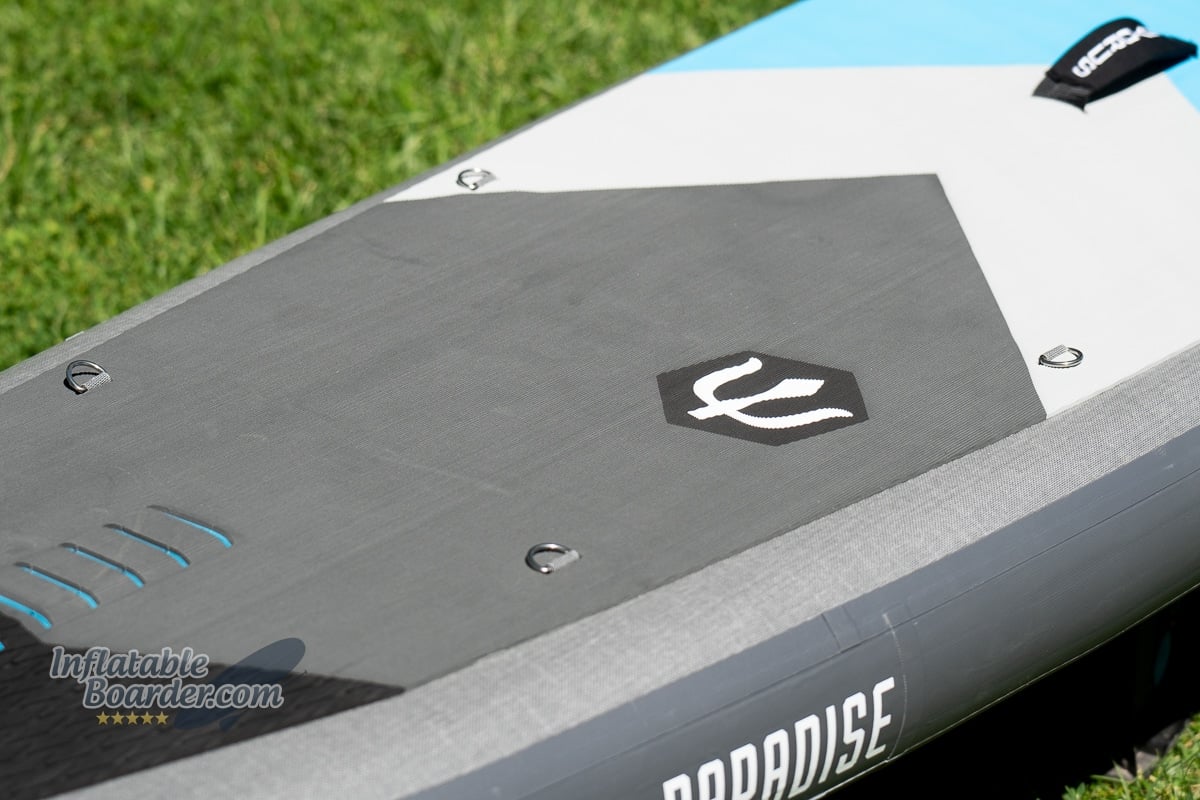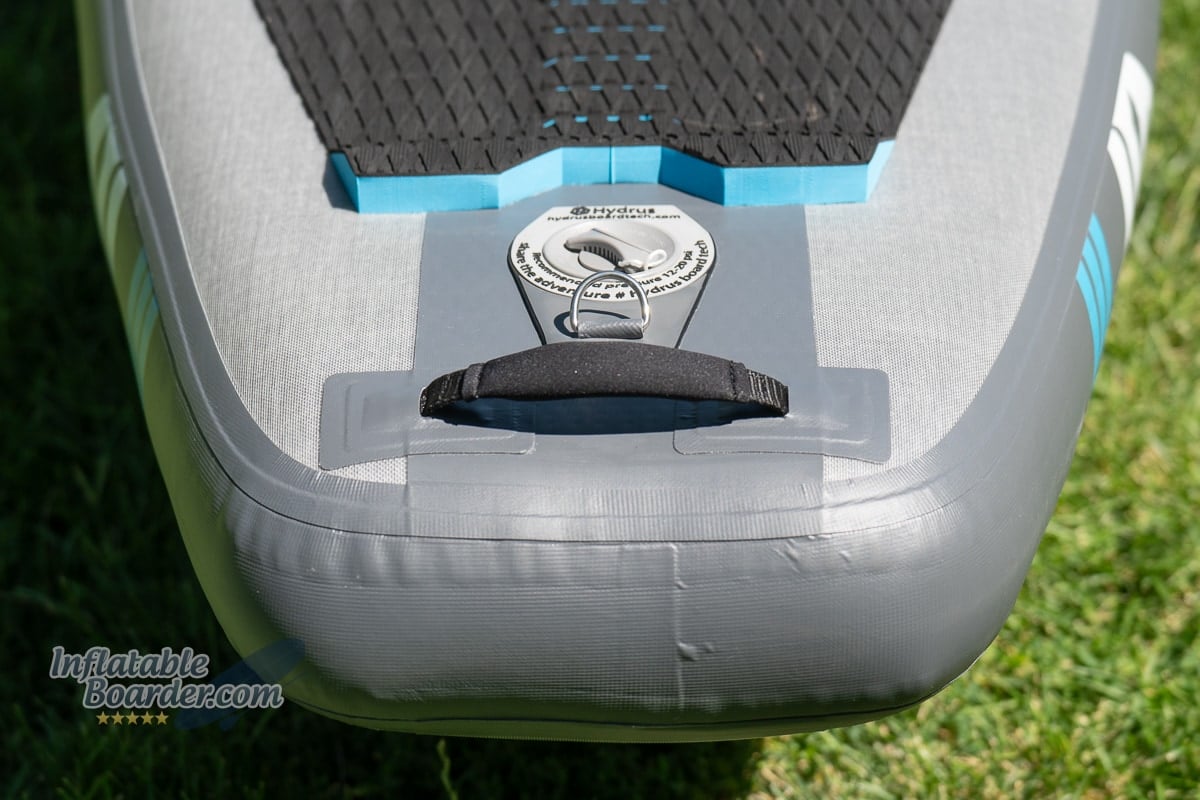 The Paradise is designed for paddling longer distances. The overall shape and performance of the board is its key feature, but the on-board features allow you to easily rig your board however you need. There's tons of cargo space and enough capacity and stability to even bring along a smaller passenger. While there aren't any dedicated accessory mounting points on the Paradise, it does include a stick-on GoPro mount that will work with a variety of different items from cameras to speakers to GPS units and more.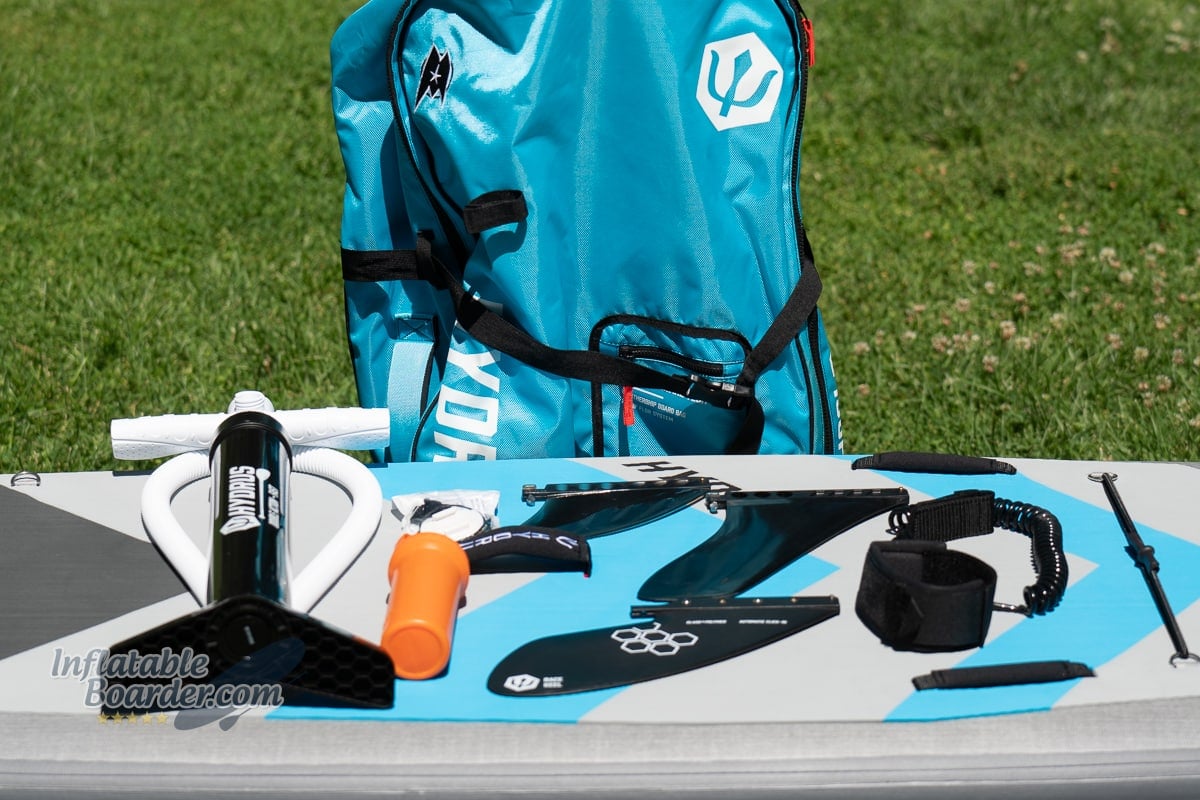 Included with the Hydrus Paradise is a double-action hand pump, coiled leash, repair kit, stick-on GoPro mount that will adhere to any of the flat PVC surfaces of the board, and three different fins – all of which fit in the included bag. The Hydrus Mothership iSUP bag easily holds all of the included accessories, has a dedicated pocket for the fins, double compression straps, and a very comfortable padded backpack harness and four handles. The Paradise does not include a paddle automatically, however you can bundle the Hydrus three-piece carbon fiber paddle with the Paradise at a reduced cost.
Paddle
Hydrus recognizes that picking your paddle should involve the same amount of thought and consideration as picking your paddle board. Because of that, the Hydrus three-piece carbon fiber paddle is not automatically included with the Paradise, however you can bundle it with the board at a great rate during checkout. The large-but-light paddle is excellent for paddlers over 160 lbs and is adjustable for paddlers under 5' through 6′ 5 " tall.
The Hydrus three piece paddle features a relatively large, 96 square inch, blade with a high-aspect rectangular shape. This type of shape favors easier, faster paddle strokes with a consistent feel throughout the stroke. With this overall blade size, I do recommended it mostly for paddlers over 160 lbs, otherwise it may be too large and tire you out more than a smaller 84-88" "medium" sized paddle blade. The power face of the blade has a dihedral ridge down the middle to help direct waterflow over the blade and reduce fluttering. The stiff blade is made from a combination of carbon fiber and Hydrus's proprietary Armalight material. While we aren't sure exactly what Armalight is made of, it is designed to be highly durable without weighing a ton. The Hydrus paddle overall is only 26 ounces and after a year of paddling with it (including on shallow rivers and whitewater) it is still working great with only minor cosmetic signs of wear.
The main shaft of the paddle is made of carbon fiber and has a medium-stiff flex profile. This lets you take advantage of that large paddle blade and really transfer power from your body into speed without losing energy by greatly flexing the paddle. However there is still some flex which reduces strain on your body and makes it more comfortable to paddle for long periods of time compared to stiffer paddle shafts.
The handle section is quite unique. In addition to a length scale for easily setting your paddle up and an indexing groove to keep the handle aligned with the blade, the grip is made of molded fiberglass. The grip itself has three, somewhat large, knurls on the front to provide grooves for your fingers, further indicating which way to hold the paddle (for newer paddlers) and providing a little extra grip without using a rougher texture. I have fairly small hands and was initially worried about this grip. After just a few minutes of paddling with it, though, I no longer noticed the knurling at all.
Stability
Touring iSUPs are mostly known for their speed and efficiency, and oftentimes at the sacrifice of stability. However, the Hydrus Paradise keeps things very stable while still maintaining that classic touring performance.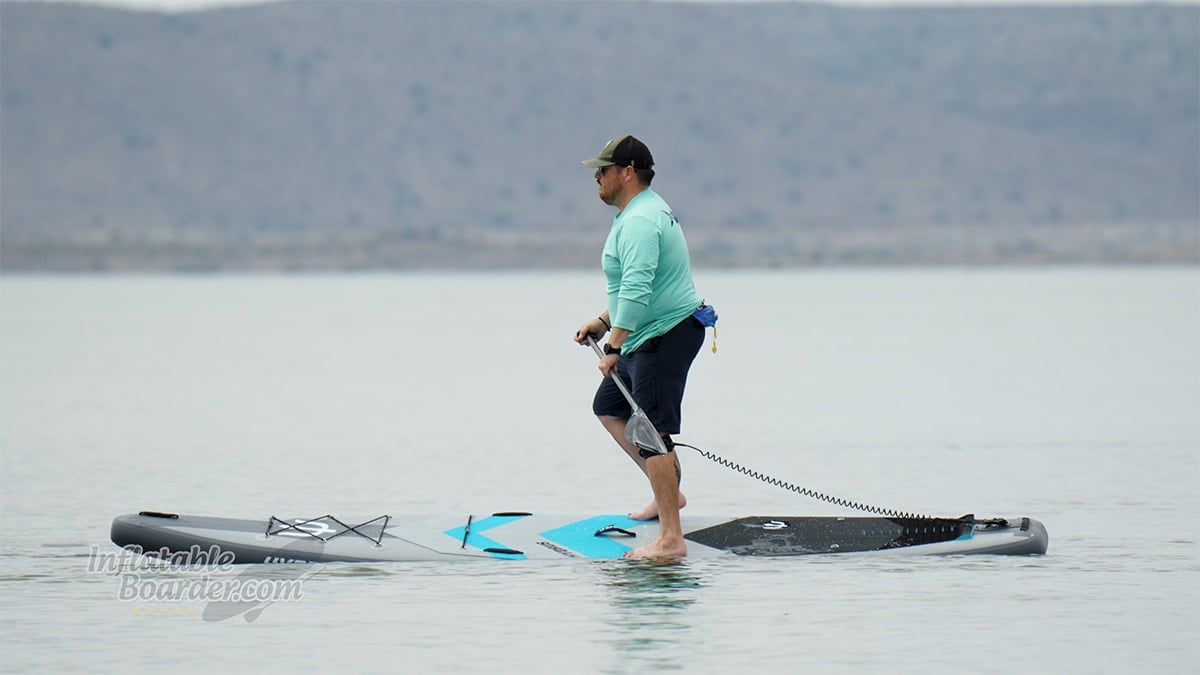 Stability is a product of multiple factors, but chief among them are width, shape, and (to a smaller extent) length. The Hydrus Paradise is 30.5" wide at its widest point, just in front of the standing area. That's significantly less width than an all-around iSUP (typically 32-33"), however the shape of the board does a good job of maintaining this width through the standing area before gently tapering to the nose and tail. The tail itself is squared off and has a medium width as well (19"), which also aids in the board's stability. While length isn't a primary factor in stability, the longer 12'6" shape does help make up a little bit of stability as it provides more contact surface area and more volume overall.
So what does this actually mean? Well, the Hydrus Paradise is actually very stable, even at just 30" wide. If you are a newer paddler, but know that you do want a board that will provide efficient paddling, good speed, and is fun to paddle over longer distances, then I wouldn't hesitate to recommend the Paradise to you. While the learning curve will be slightly steeper than on an all-around iSUP, you'll also take that curve farther than you can on an all-around.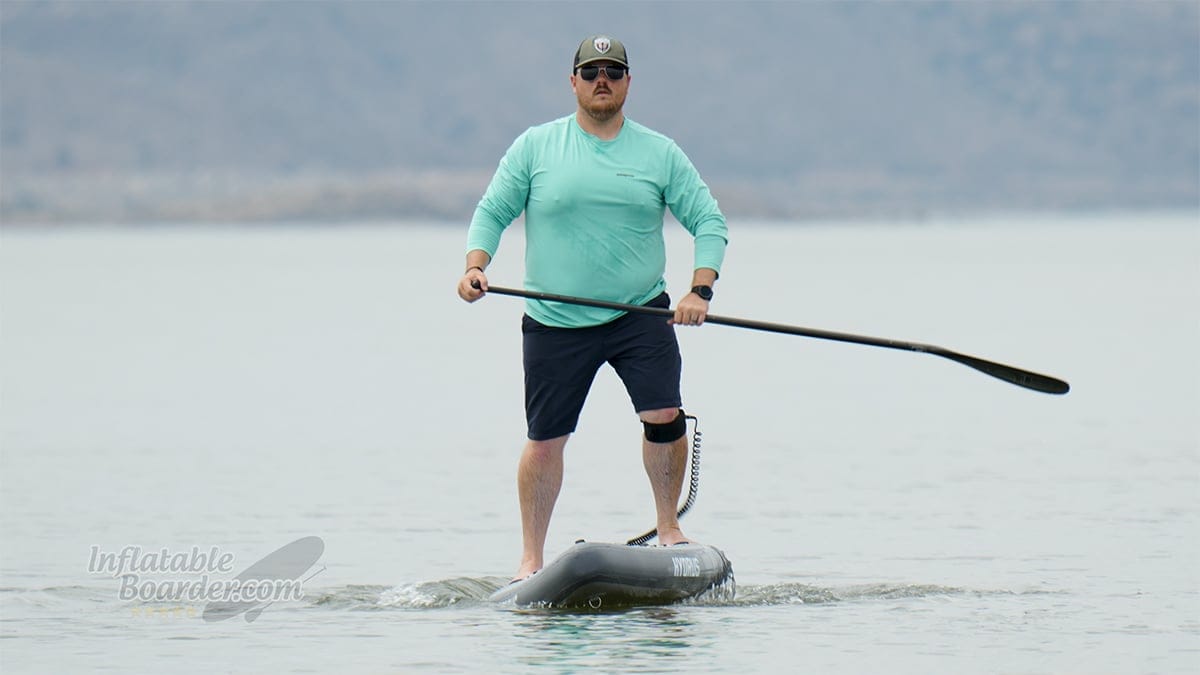 On the water the Paradise feels great. There's no twitching sensation and no unwarranted rolling or tipping either. I do credit part of this to the board's weight. In my experience I've found that as boards become lighter and lighter they lose a bit of their inertia and tend to be more reactive to shifts in weight, changes in the water, etc., which can sometimes feel twitchy. I've found this usually happens to boards that start to drop under the 21 lbs mark. At just over 23 lbs, the Paradise does a great job of riding that line between lightweight and not feeling twitchy or rolly.
While balancing the Paradise on its edge and rocking it back and forth, I likewise found it to be pleasantly stable. The board's gently-tapering shape keeps more of its surface area in contact with the water when it's on its rail, and the board doesn't "pop" back up as it resurfaces, but rather comes to the surface smoothly and predictably.
Walking back to the tail of the board is relatively easy, but it does progressively lose stability as you reach the narrower sections of the board (as predicted). Once you are on the tail, the extra grippy deck pad and indexing features give you high confidence in your positioning and make it easy to dip the tail and swing the nose around for a quick pivot turn.
Speed
The Hydrus Paradise touring iSUP is designed for efficiency and speed – and it delivers on both fronts extremely well.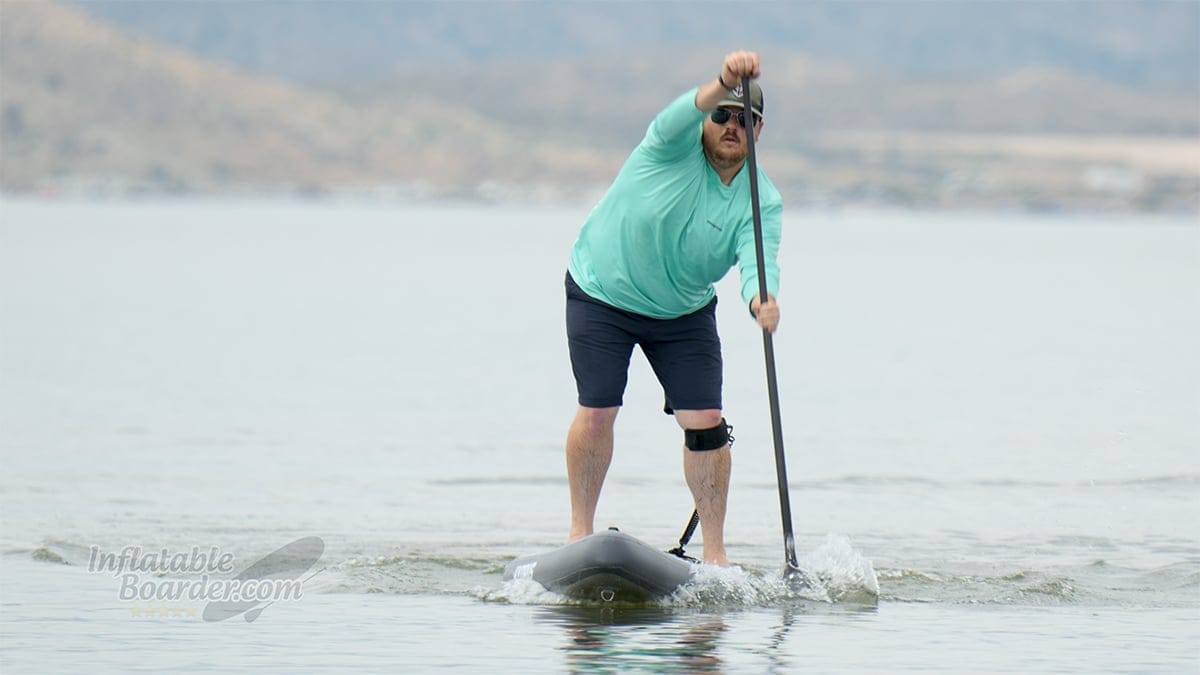 Our speed testing can be broken down into three basic measures. The first is sprinting and top speed, then cruising speed, and finally glide efficiency.
With its longer, narrower shape and rigid construction I was ready for the Paradise to really let it rip on a sprint, but even then I was still impressed by its performance. For a short, sustained sprint like you would encounter in a sprint race, the Paradise averaged 5.7 MPH while using the Hydrus three-piece paddle. For a top speed, I was able to get the Hydrus Paradise to clock 6.2 MPH at maximum effort.
At a more casual cruising pace – one that you could maintain for miles and miles at a time – we found the Hydrus Paradise to average around 4.3 MPH at just 25 strokes per minute. That's essentially a cadence that allows you to paddle continuously with a slight pause between strokes so there is no "gap" in cadence when switching sides.
Lastly, in our efficiency and glide test we found the Hydrus Paradise to move through the water an average of just over 26 feet with each paddle stroke before it begins to noticeably slow down. That's a gliding ratio of 2.1 board-lengths per stroke.
With each of these tests, the Hydrus Paradise either tied for, or was the fastest in the category of classic touring iSUPs (12'6" x 30"). It wasn't quite fast enough to take the top honors overall, but it sure was close.
Maneuverability and Tracking
Touring paddle boards like the Paradise are designed to maximize efficiency over long distances and that typically means prioritizing straight-line tracking over maneuverability. The Paradise falls within this paradigm, but can still be maneuvered around without too much issue. The Hydrus Paradise includes three different fin sizes. For all of our testing we used the 9" touring-style fin.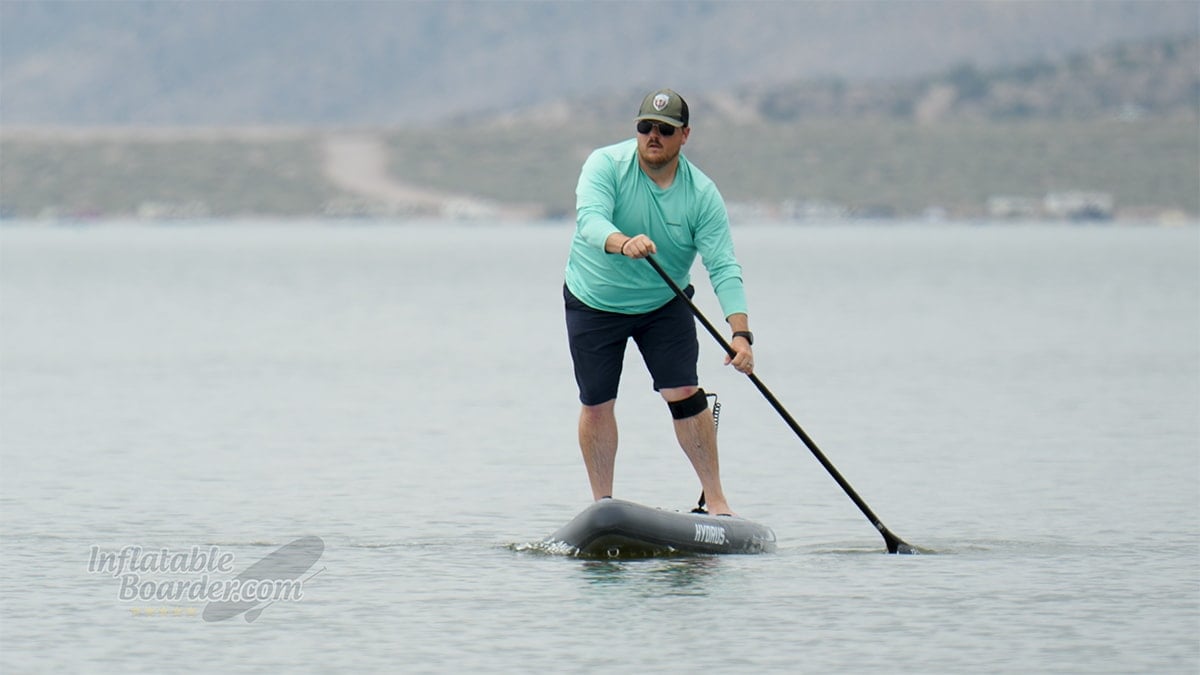 Longer paddle boards are typically more difficult to turn in large degrees simply because there is more board length you need to push through the water. In addition to that, fin placement, size and shape, along with the board's shape and profile all have an impact on maneuverability.
In our maneuverability stress test we make every iSUP turn a complete circle from a standstill using only forward sweep strokes. These arcing strokes are easy to do, commonly used by beginner paddlers, and while they are good for small course changes, aren't actually great for turning in a full circle. But because of this, they do help highlight the maneuverability strengths and weaknesses between boards. Using only forward sweep strokes, the Hydrus Paradise requires an average of 8 strokes to turn in a complete circle. That is on the slower side of things overall, but is still quite manageable for a longer paddleboard.
Using the opposite stroke (the Reverse Sweep) allows you to turn faster, but does halt any forward momentum you have. With reverse sweeps, the Paradise makes the same circle with just 4.5 strokes – much faster. Of course there are other ways to turn as well. A well-executed pivot turn, where you step back to the tail of the board and lift the nose, can have you spinning circles with fewer than two strokes.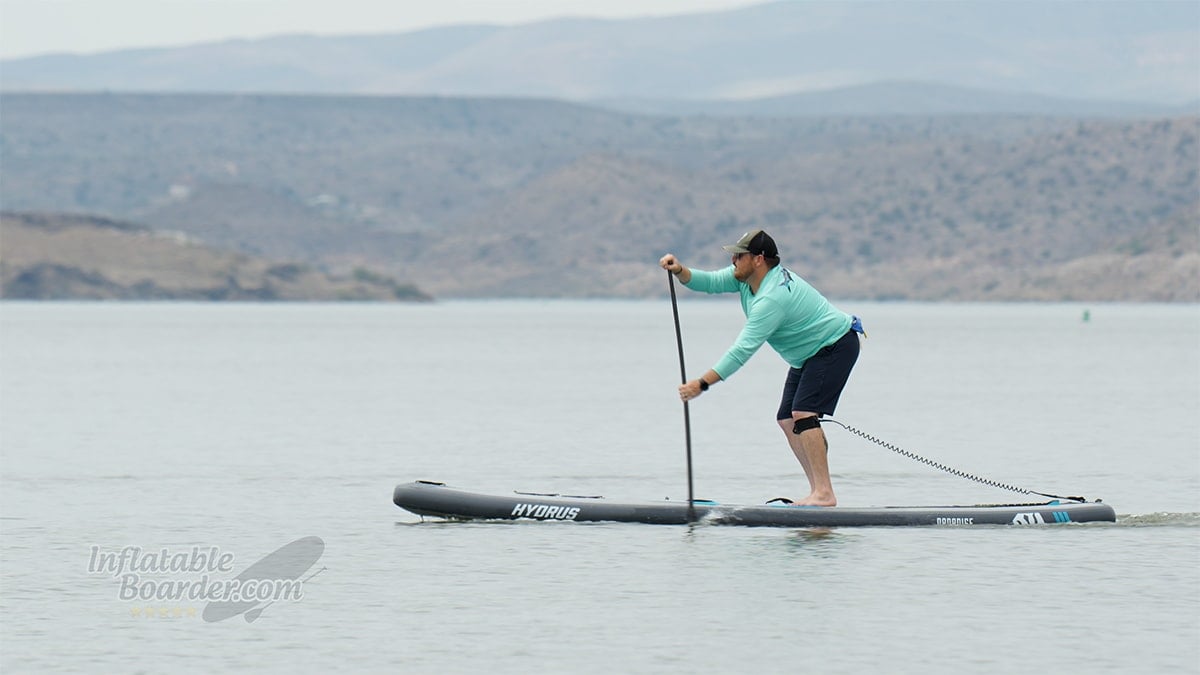 Straight-line tracking performance is often directly opposite of maneuverability performance. In this case the Paradise touring iSUP is designed for excellent tracking over long distances.
In our tracking test we measure how far off course a paddleboard will drift when paddled for 10 strokes on a single side. After getting the Paradise up to cruising speed toward our target, the 10 strokes left us an average of only 5° off course. That's a fantastic result with very few paddle boards testing better than this.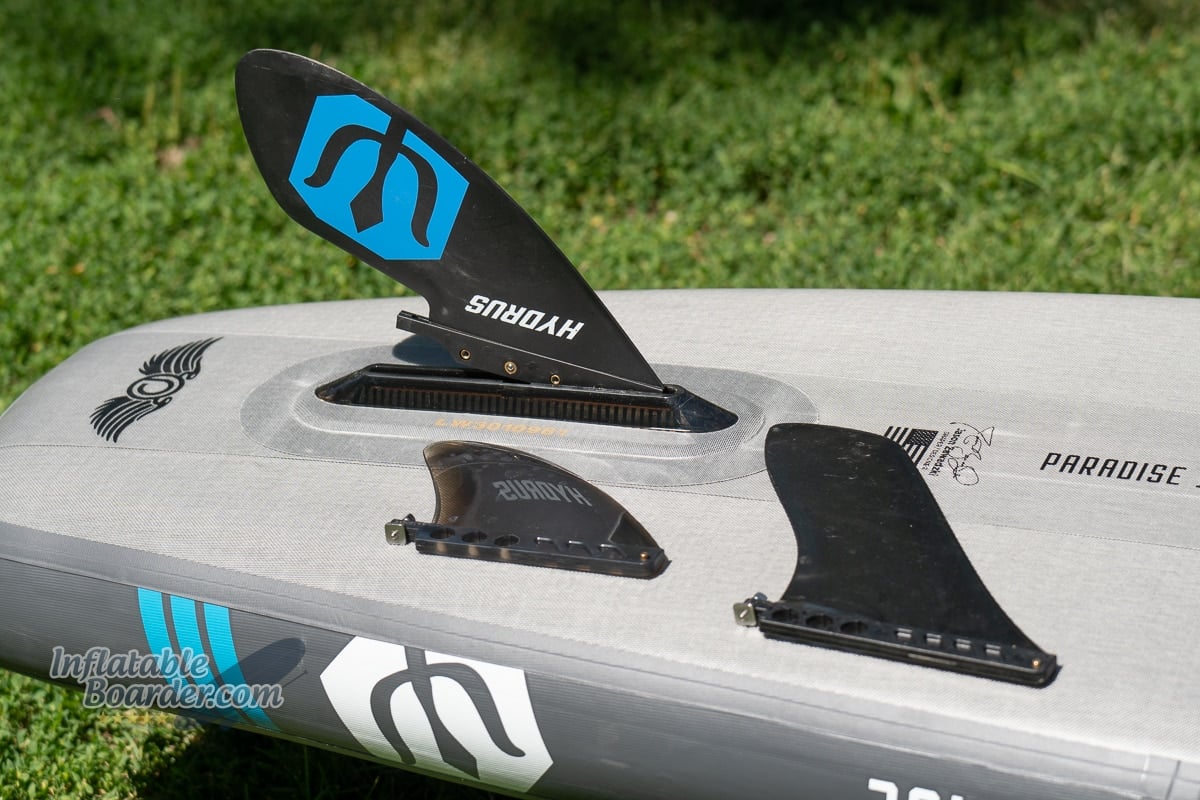 As mentioned in the section intro, the Paradise comes with three different fins. For our testing we used the 9" touring fin (on the right in the photo above). Most inflatable boards come with some flavor of a 9" fin, so this allows us to more reliably compare results across our testing. Also, the longer fin with its broad shape is aptly paired with the touring-style board as it should, theoretically, provide the best tracking performance. Also included is a 6.5" quick-release keel-style fin (shown partially in the fin box above). This fin has nearly the same surface area as the touring fin, but in a shorter shape that is greatly swept back. It does provide more maneuverability at the cost of slightly reduced tracking. It also has the benefit of easily shedding any aquatic vegetation you may paddle through. Lastly, the 4.5" gummy fin (middle of the three shown above) provides the most maneuverability, but the least tracking. It is flexible and has the shortest draft, so it's ideal for paddling in very shallow conditions where you are more likely to bump into a submerged object (or the river/lake bed).
Warranty and Customer Support
Hydrus is one of the few iSUP companies that offers a lifetime warranty on their iSUPs. They believe in the quality of their materials and construction and are willing to back it up over the expected lifespan of the board – which is typically around 10 years before the PVC material itself begins to degrade in any iSUP. Hydrus extends this warranty to the Hydrus paddle and the Mothership SUP bag as well. Leashes, pumps, and other items are warrantied for 60 days. Hydrus also offers a 30-day return period on all of their products. Hydrus prides themselves on their prompt and robust customer service. You can reach Hydrus with any questions via email, web form, phone, or social media.
Overall Impressions/Review Summary
The Hydrus Paradise is an incredible touring iSUP. It's fast and efficient. It tracks very well. It's capable of carrying everything you need for an afternoon or a week on the water. It's stable enough for newer paddlers, but fun and functional for advanced paddlers as well. To be totally honest, I had a hard time writing the "cons" section at the beginning of this review. With great performance, a fantastic warranty and customer service, and a very reasonable price point, it's easy to see why the Hydrus Paradise should be your next paddle board.
Hydrus Paradise iSUP FAQ
Is the Hydrus Paradise good for beginners?
If you are a beginner paddler who knows they want a fast board that is great for paddling long distances, then the Hydrus Paradise is a great option. If you are looking for a super-stable board for simple cruising around the shore, then I would recommend the Hydrus Joyride.
Can I paddle the Hydrus Paradise with passengers or dogs ?
You can, however you'll want to be mindful of the overall stability of your crew. The Passenger handles make a great spot for kids to ride along.
Does the Hydrus Paradise include a paddle?
The Hydrus Paradise does not automatically include a paddle, but you can bundle the Hydrus three-piece carbon fiber paddle with the board at a reduced price during checkout.
How long does it take to inflate the Hydrus Paradise?
It takes 8-10 minutes to inflate the Hydrus Paradise to 15 PSI using the included hand pump depending on how fast you pump. We do recommend electric SUP pumps as great accessories for hands-free inflation.
Is the Hydrus Paradise worth the price?
The Hydrus Paradise is a high-performance touring iSUP made with high quality materials and construction methods. It's backed up by a lifetime warranty and excellent customer service. I do believe the Hydrus Paradise is well worth the price.